Sup guys. I'm back from my first trip in exactly a year, and my first non-Japan trip since 2016. Yeah after 3 consecutive trips to Japan (or more accurately Tokyo) I decided I had to go somewhere else. I felt I had enough of the cityscapes that Tokyo had to offer me, and the fact that every trip to Japan ate up too much of my savings meant I decided to look for somewhere cheaper and less developed. After eliminating the nearby countries because I wanted to travel out of the region, I ended up with one option – Nepal. Not that I was going to go mountain climbing or hiking, but I figured that the country would be different enough from what I usually see on my travels, and it can be done on a decent budget that does not put my wallet on a significant strain.
ARRIVAL IN KATHMANDU
1st day, tired from having to wake up at 4am for the flight, and arrival was a huge mess. Visa application and payment was slow without any proper instructions, spent 2 hours just getting past immigrations, and upon leaving the arrival I was bombarded with an immediate swarm of taxi drivers who refused to leave me alone even when I pretended not to speak English. Poor bargaining skills meant I ended up paying more that I think I should for a trip into town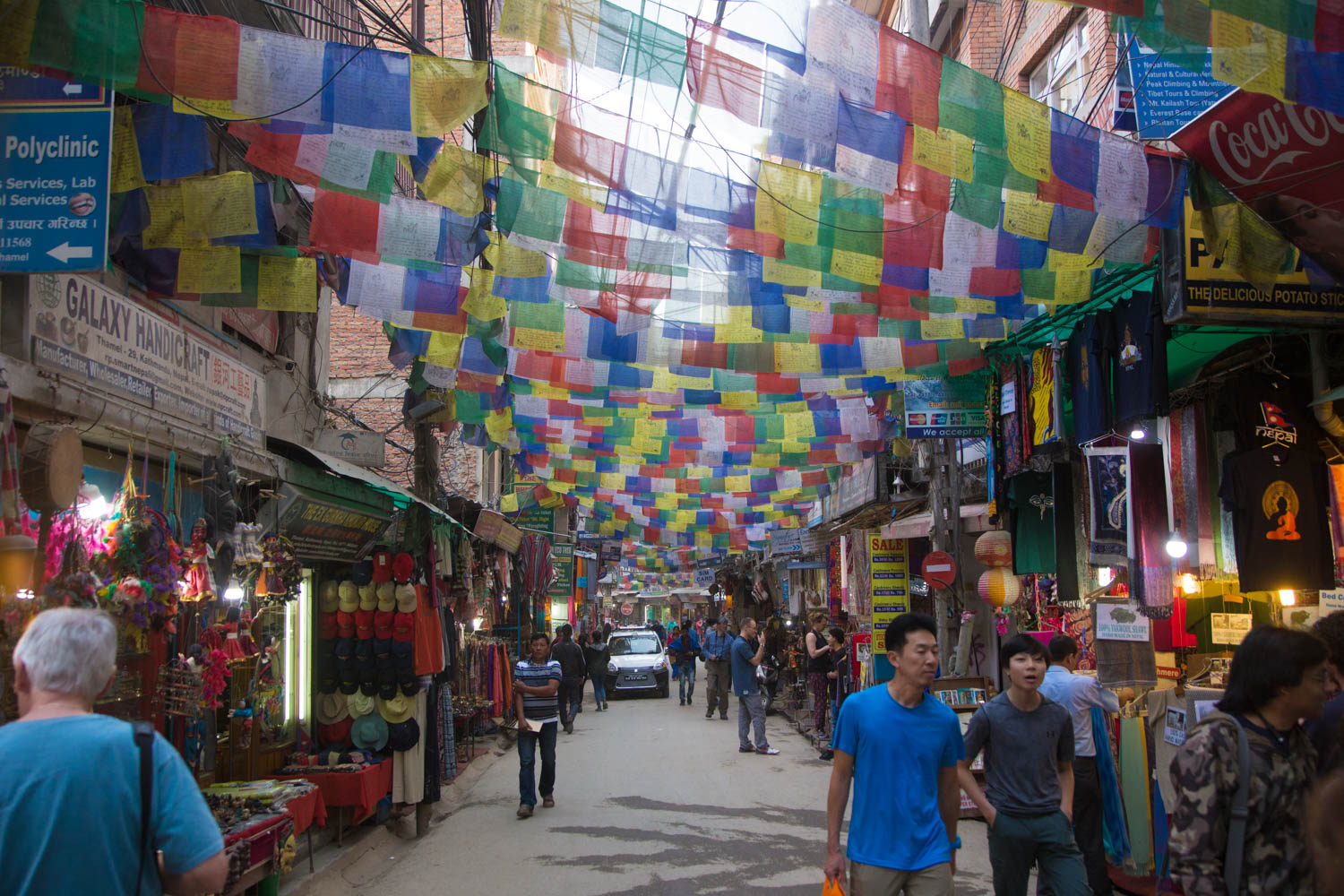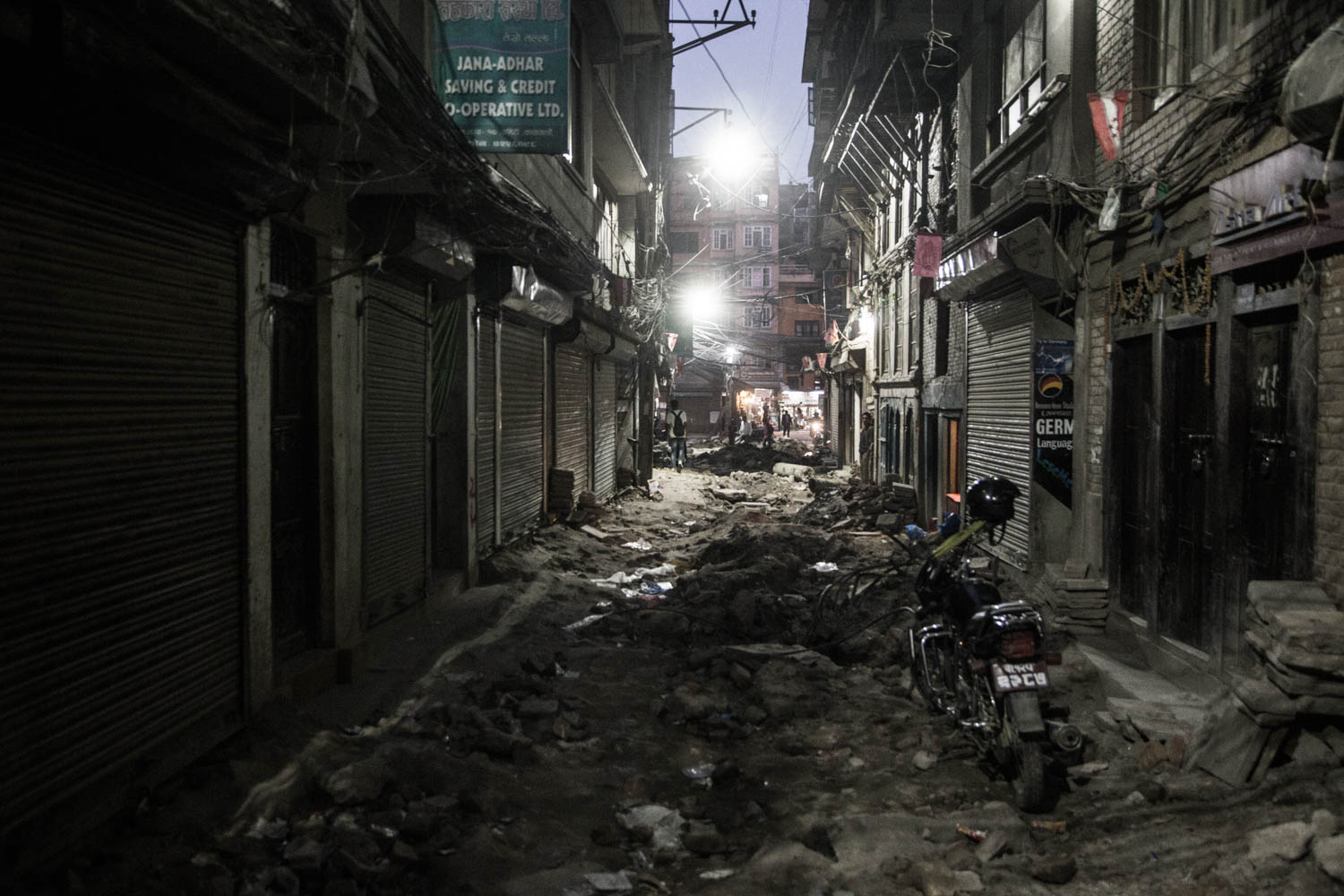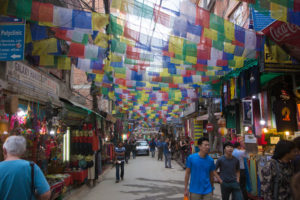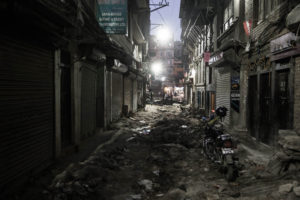 My first impression upon stepping into Thamel, the main area of Kathmandu, is that their streets are a mess. The taxi driver dropped me off at the wrong spot and the lack of street signs to indicate my location meant the only thing I could do was look at the shapes of the streets to locate myself. Pretty much dirt streets everywhere, though the flags hanging everywhere add some much needed colour and vibrancy to the nearby area, which is pretty much the tourist hotspot. Wander down a deserted street, however, and you'll still see the effects of the earthquake a few years earlier: shuttered stores, broken up roads, exposed pipes etc. Above second picture was taken after I took a wrong turn from one of the busiest roads from the area. Pretty sobering for me to see such a street among the hustle and bustle of the tourist area.
Kathmandu Durbar Square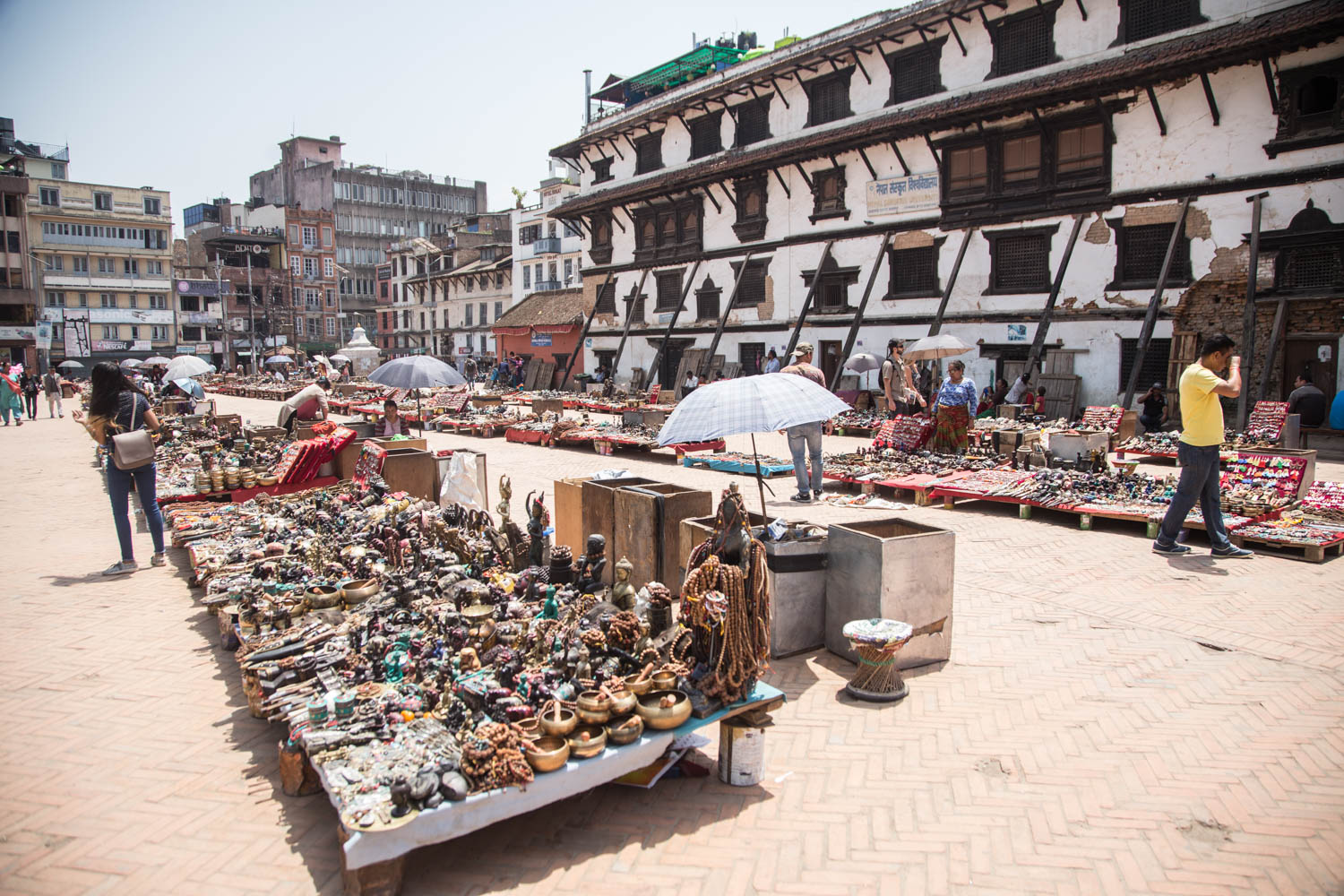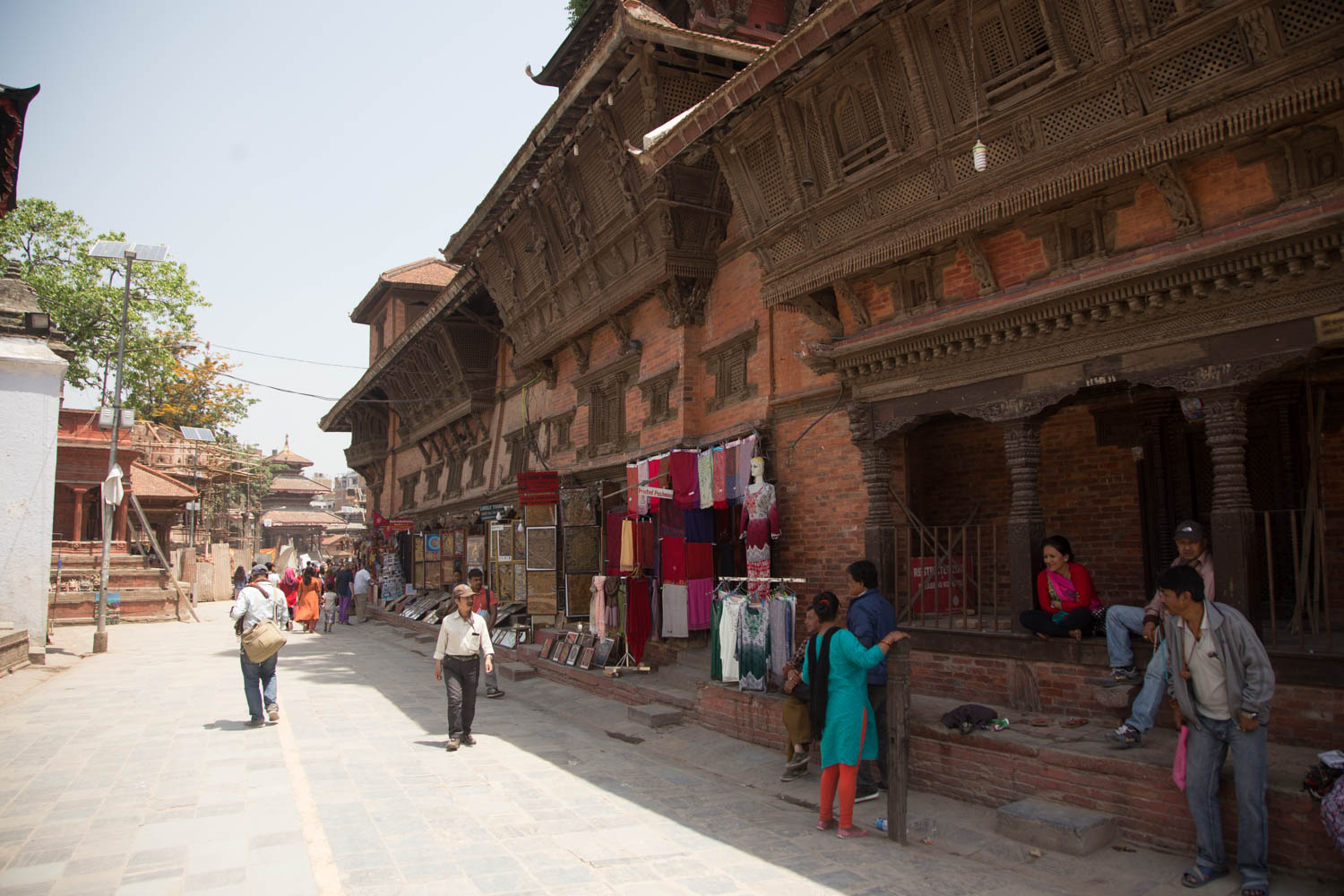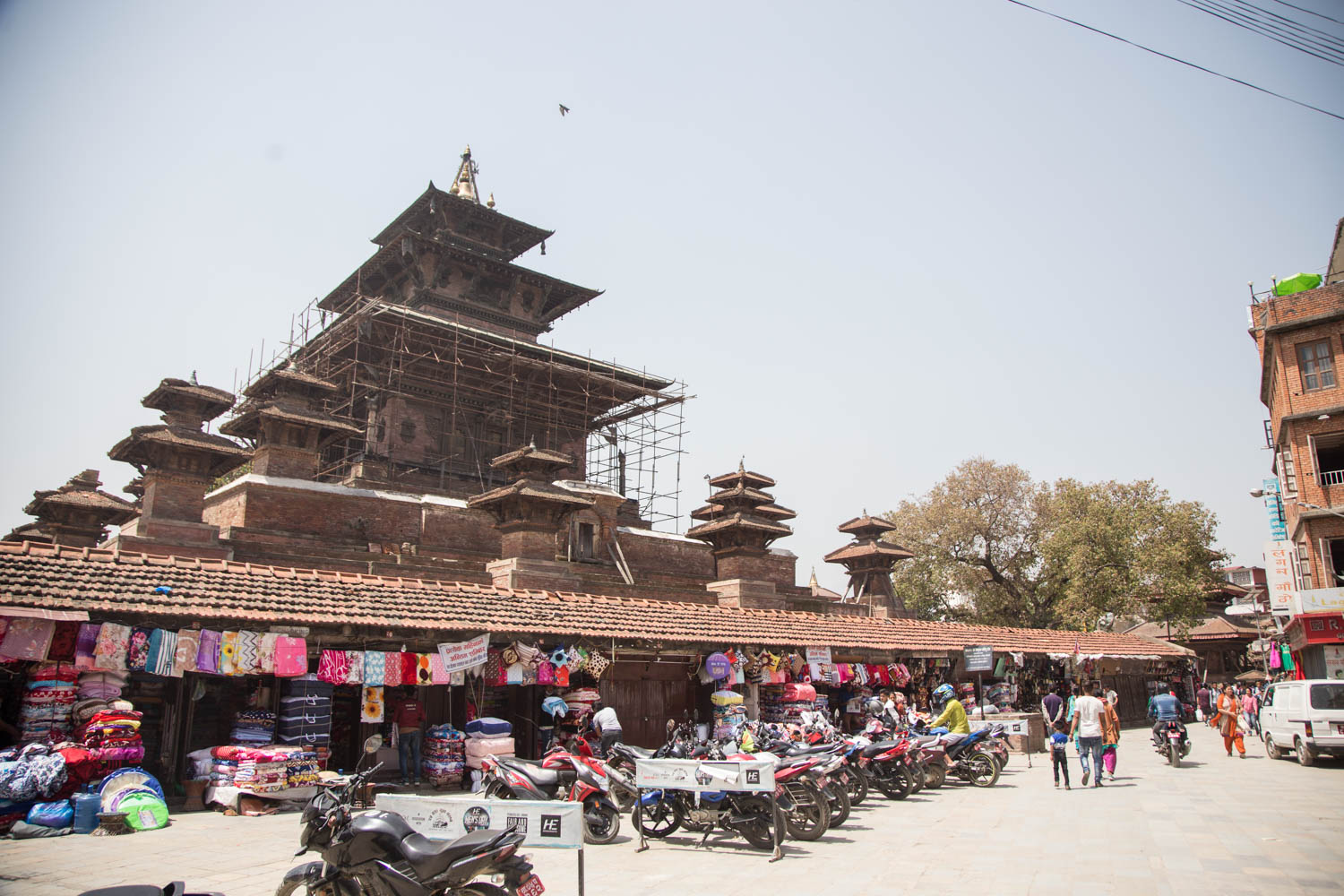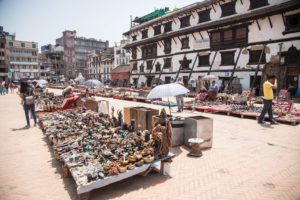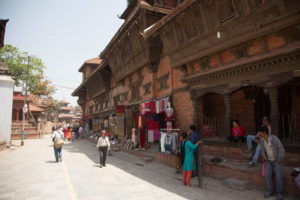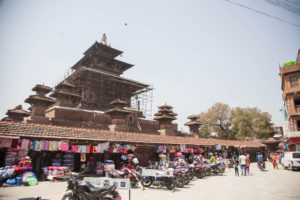 After spending the previous day settling in, bitching about my hotel room's lack of basic toilet functionalities, booking a new hotel and moving into a new hotel the next morning, I finally settled in and started exploring the area. First stop was the nearest tourist hotspot, the Kathmandu Durbar Square, one of 3 Durbar Squares in the Kathmandu Valley region. I'm not much into the history side of stuff, I'm just there to admire the buildings. 1000NPR (~$10 USD) for tourists to just enter the main street and access some other area that appears to be their palace, which was a complete ripoff. Payment for entry to their palace is fine, but just to access a street for me to get from one point to another was ridiculous, considering the alternative detour was a much longer walk. Being the idiot that I was I paid to get in, until after lunchtime when I found a side road into that main street.
Most of the buildings there were under restoration works, including their main palace. The aforementioned ticket provides entry to the main palace courtyard which also leads into a small area of the palace where people are doing restoration works. There were a couple signs in English talking about the history of the place, but I expect it will be better with a guide around. Being the cheapskate I was though, no guide for me so I was just wandering around reading signs and looking at stuff. Back on the main street, most of the other buildings were temples, which curiously does not seem to be open throughout the day, while there were also a couple of shops lining the streets selling their local touristy stuff. Further out was an open market of sorts that somehow sells almost exclusively sells stuff like statues of Buddhist and Hindu gods. For a tourist attraction I would expect them to sell stuff that attracts tourists on a more general level.
Swoyambhunath Stupa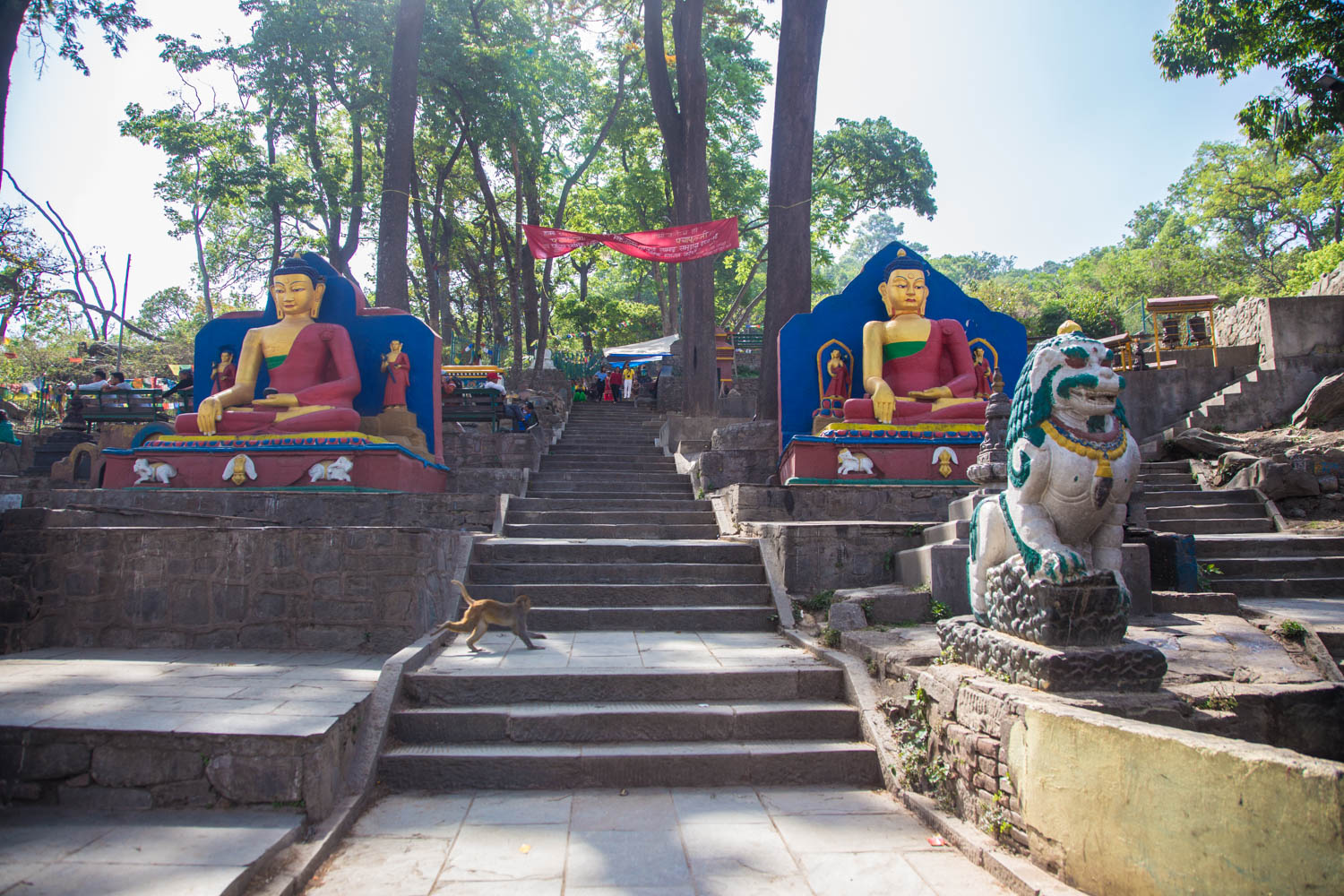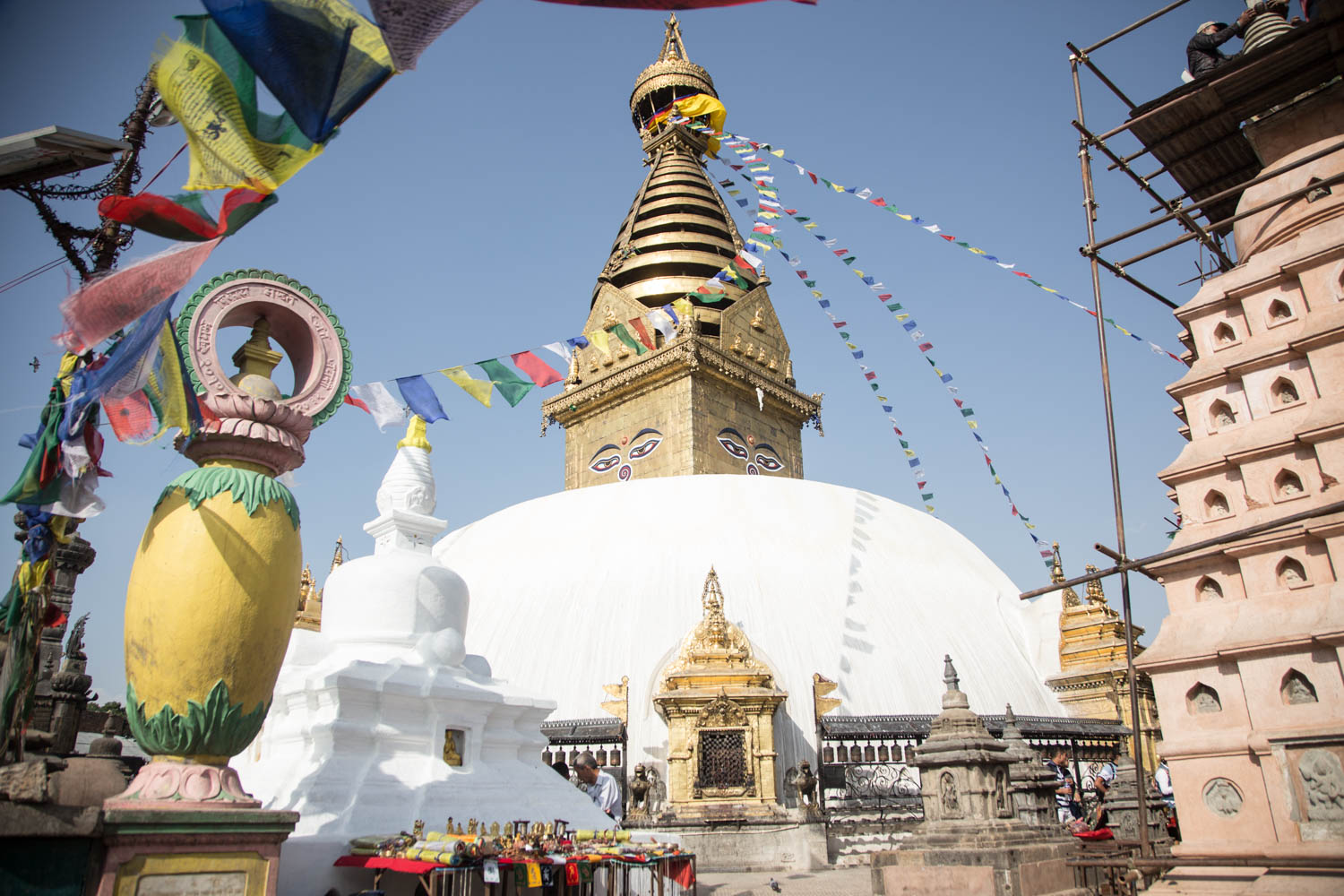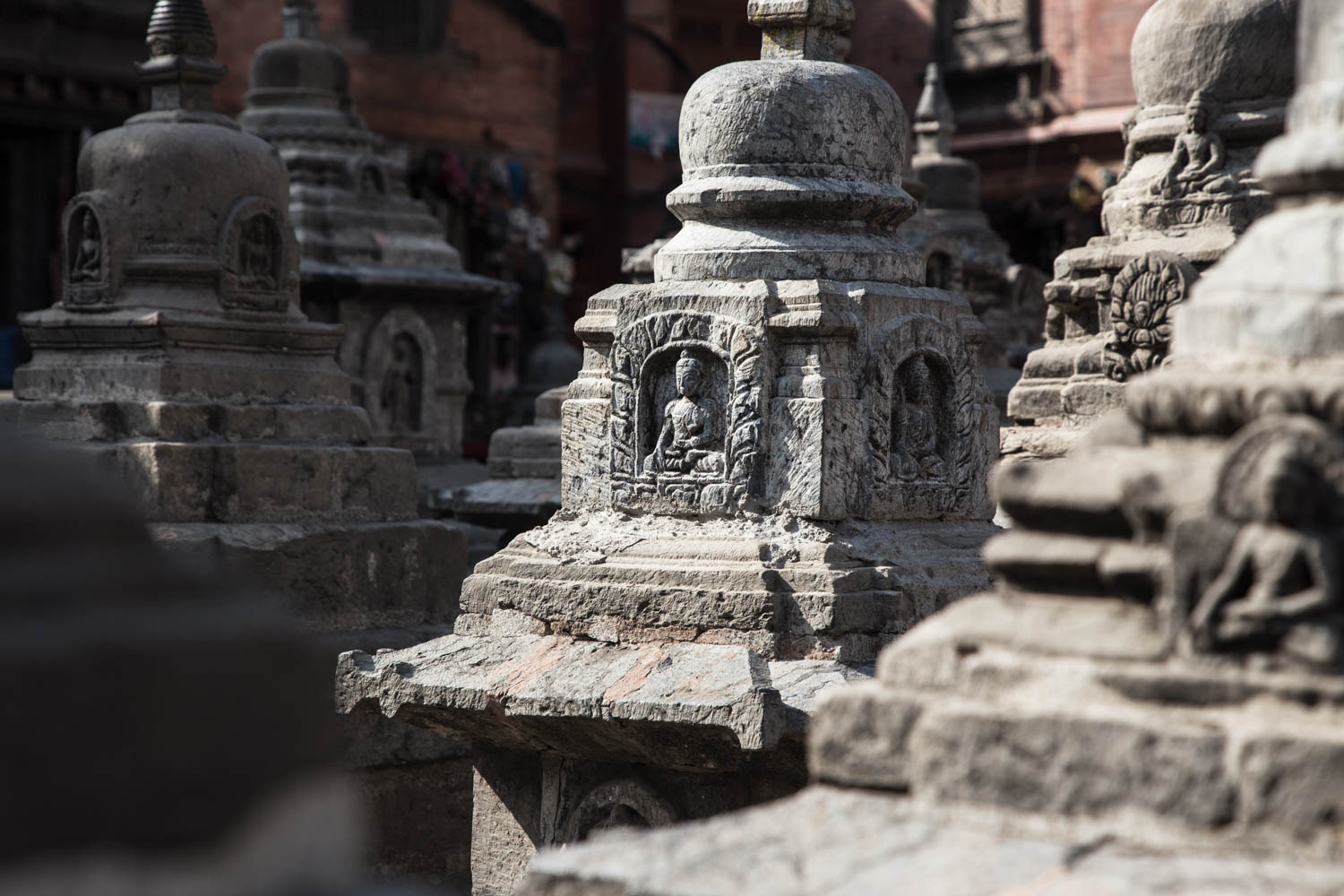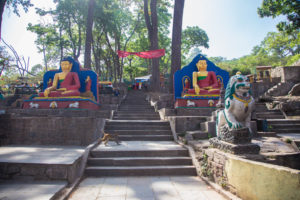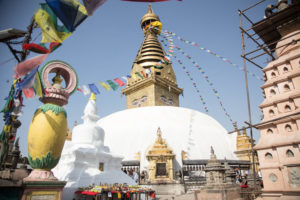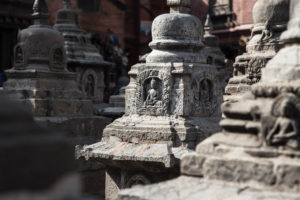 A short distance out from Thamel is the Swoyembhunath Stupa, a dome shaped religious structure, which is situated atop a hill that seems high but isn't that difficult a climb. Also a paid entry area but I found a free entry area at the back when I was leaving. It's a pretty impressive place, it's bigger than the pictures make it out to be. The entire area is a little messy though, littered around the stupa were numerous smaller shrines and small pillars of miniature stupas. These were however really detailed despite the size which made it really impressive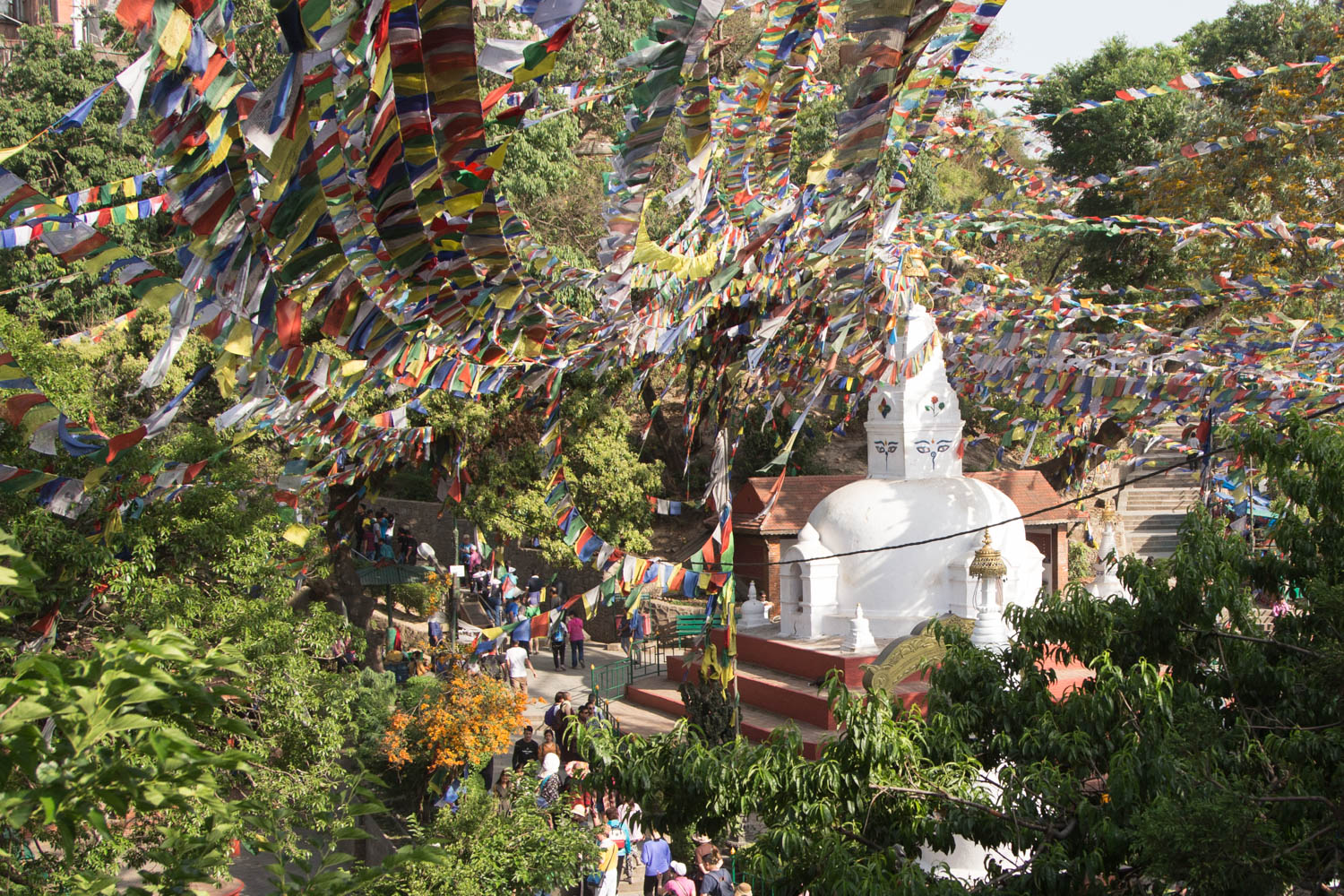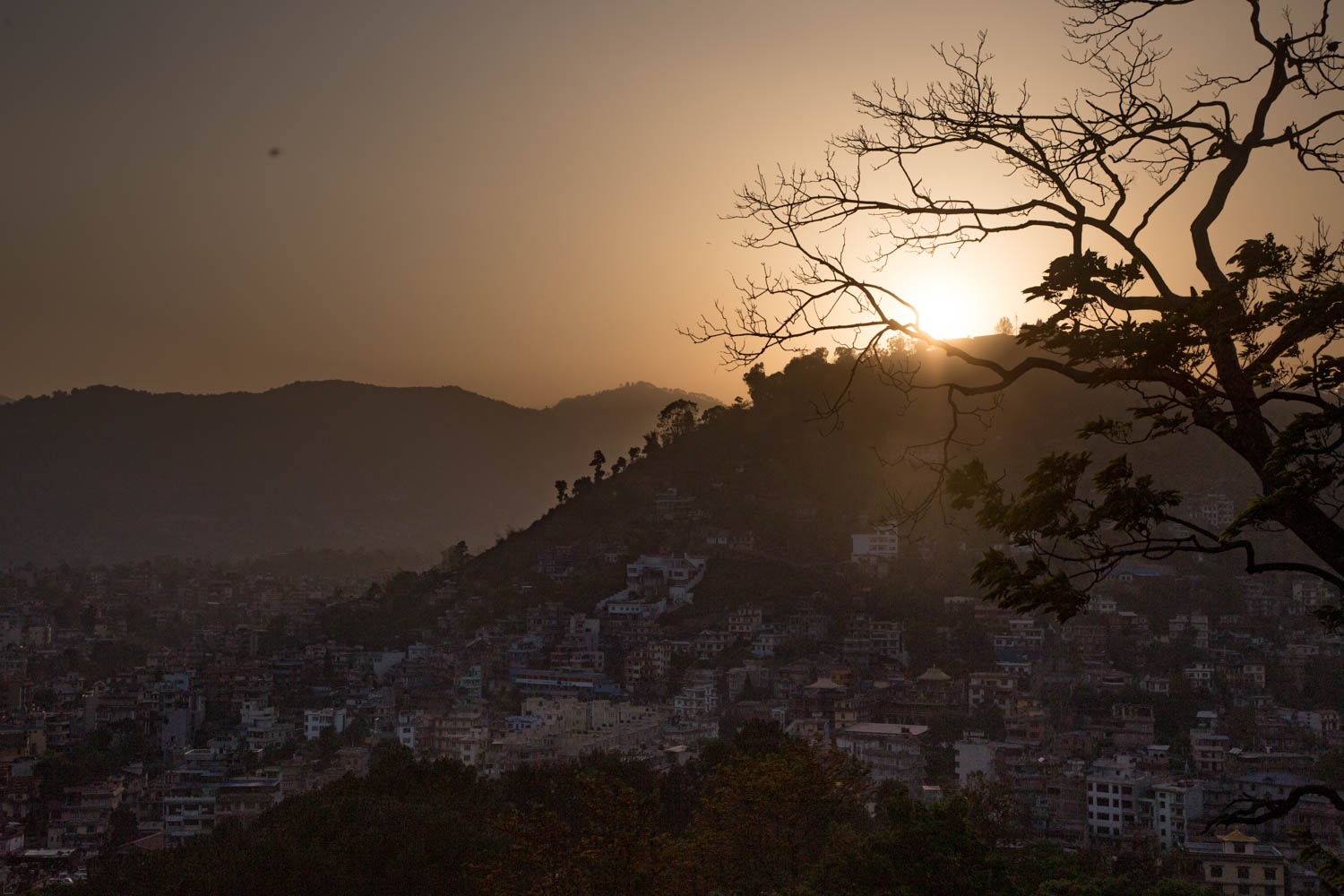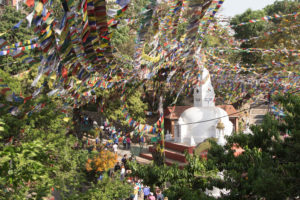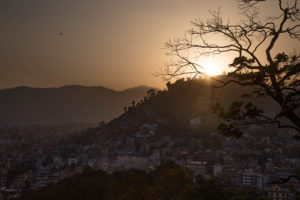 Further back was a garden of sorts with a small stupa with prayer flags hanging down towards it from literally all directions, which added a lot of colour to the area. The seeming mess from all the hanging flags is just part of the charm of the area. A pond with a Buddha statue was also there, and people were paying to buy coins to toss into a container below the statue for some reason. In other words, the people there were literally throwing money. Further in was a monastery and a look out point with a pretty good view of the surrounding area out to the west, basically a good spot to watch the sunset which I did after hanging around there for 2 hours.
This place is also known as the Monkey Temple, because…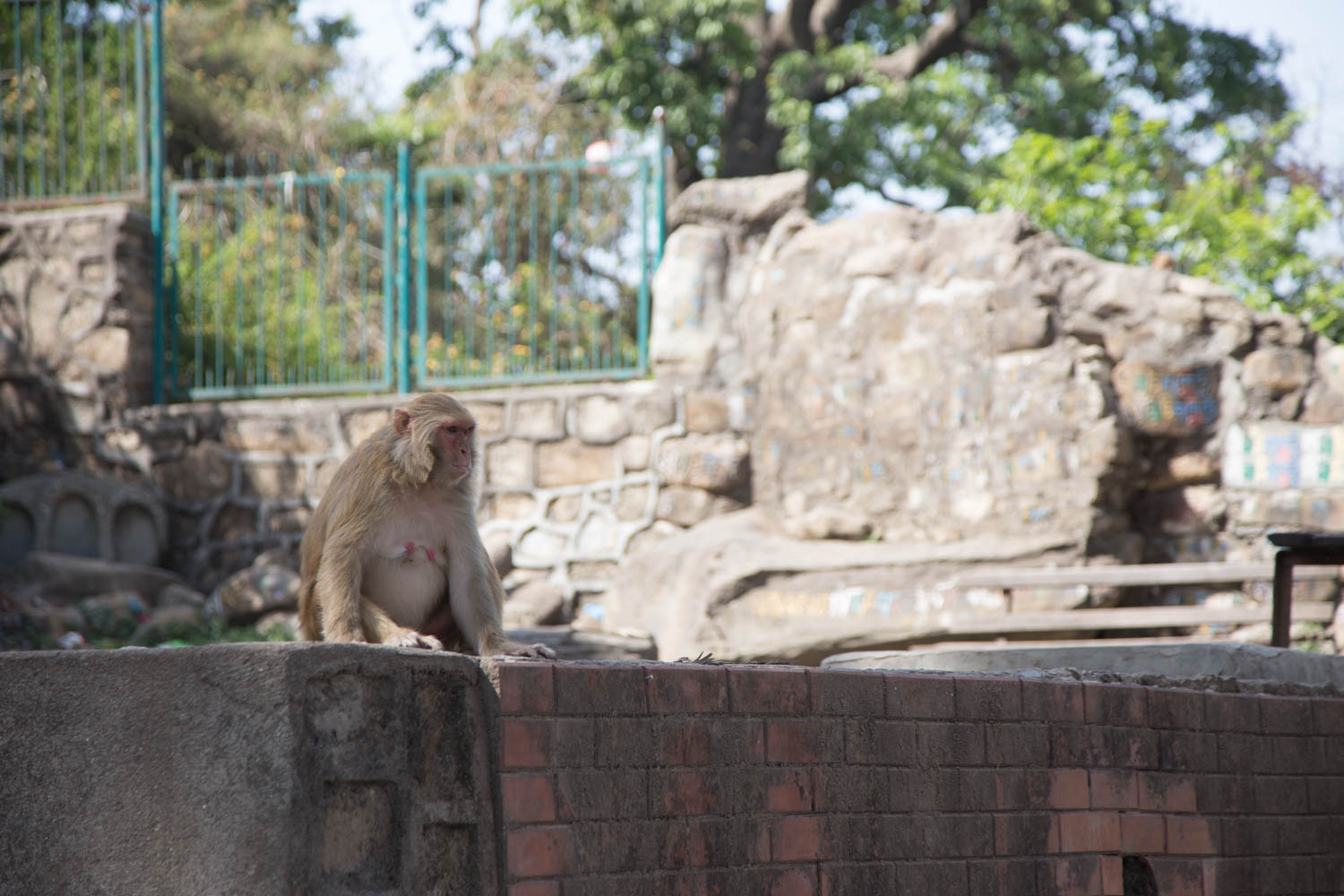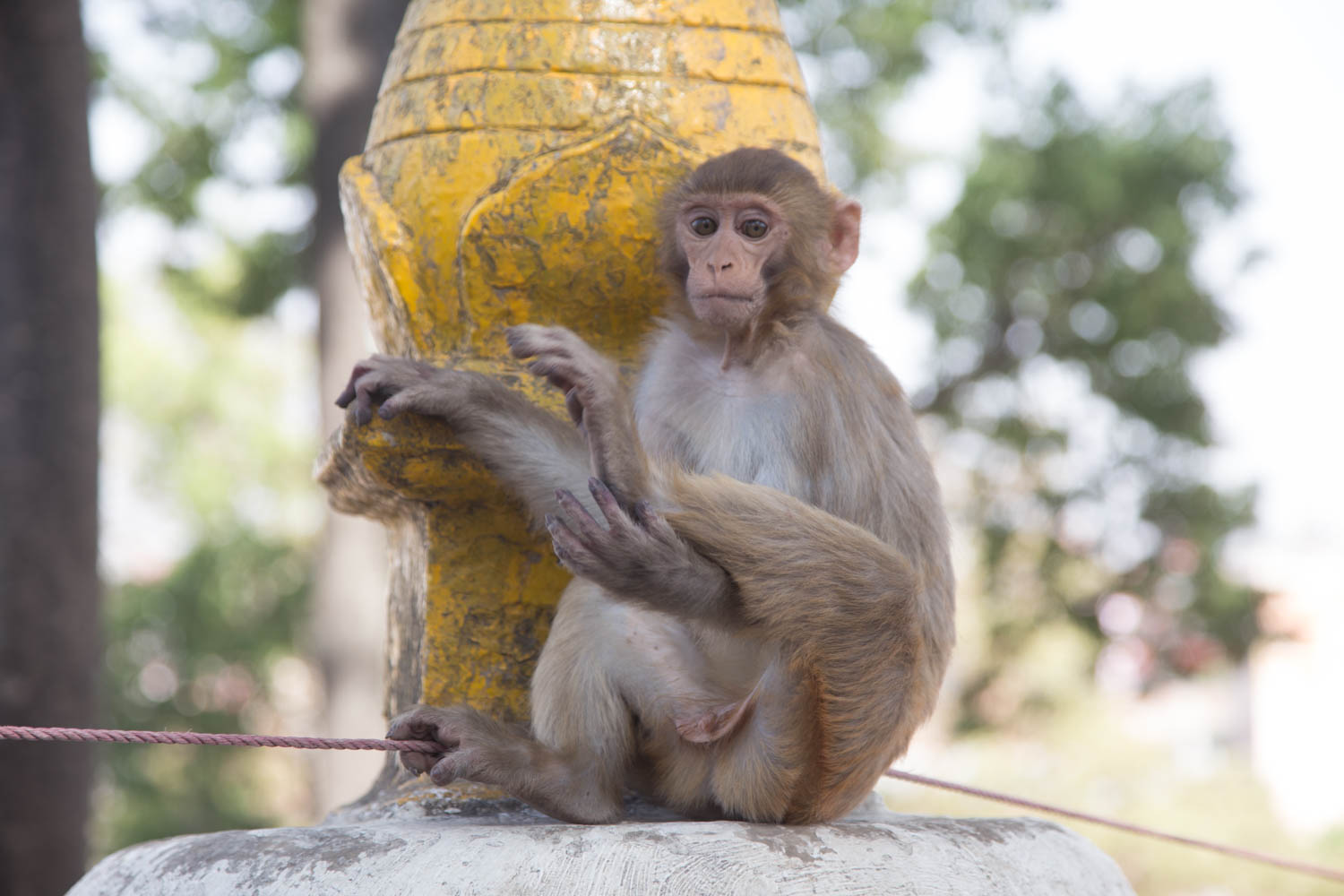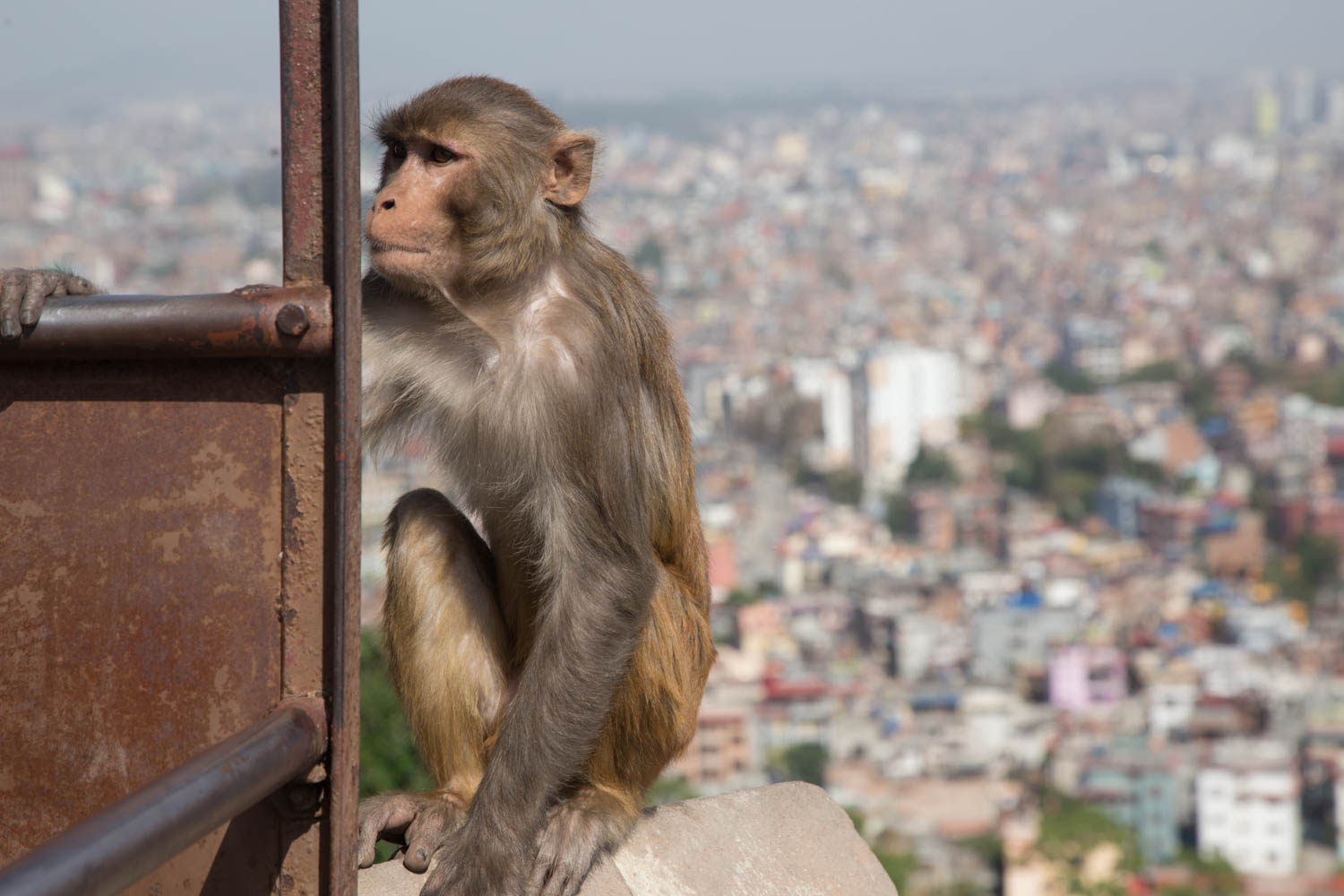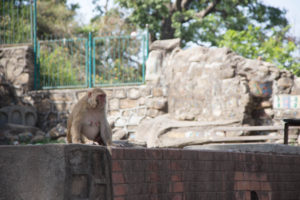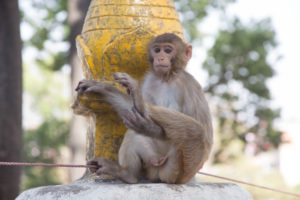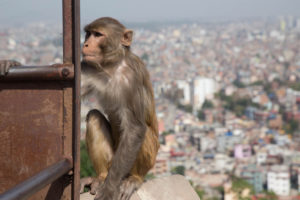 Monkeys, monkeys literally everywhere. They're generally docile until they spot food, in which case they go into full asshole mode as I learnt the hard way. Screw that one monkey that decided to try to steal my ice cream while resting at the bottom of the hill. The two of us had an intense stare-off after he failed to do so, which lasted all of 5 seconds before I decided to throw away my ice cream for my own safety.
Boudhanath Stupa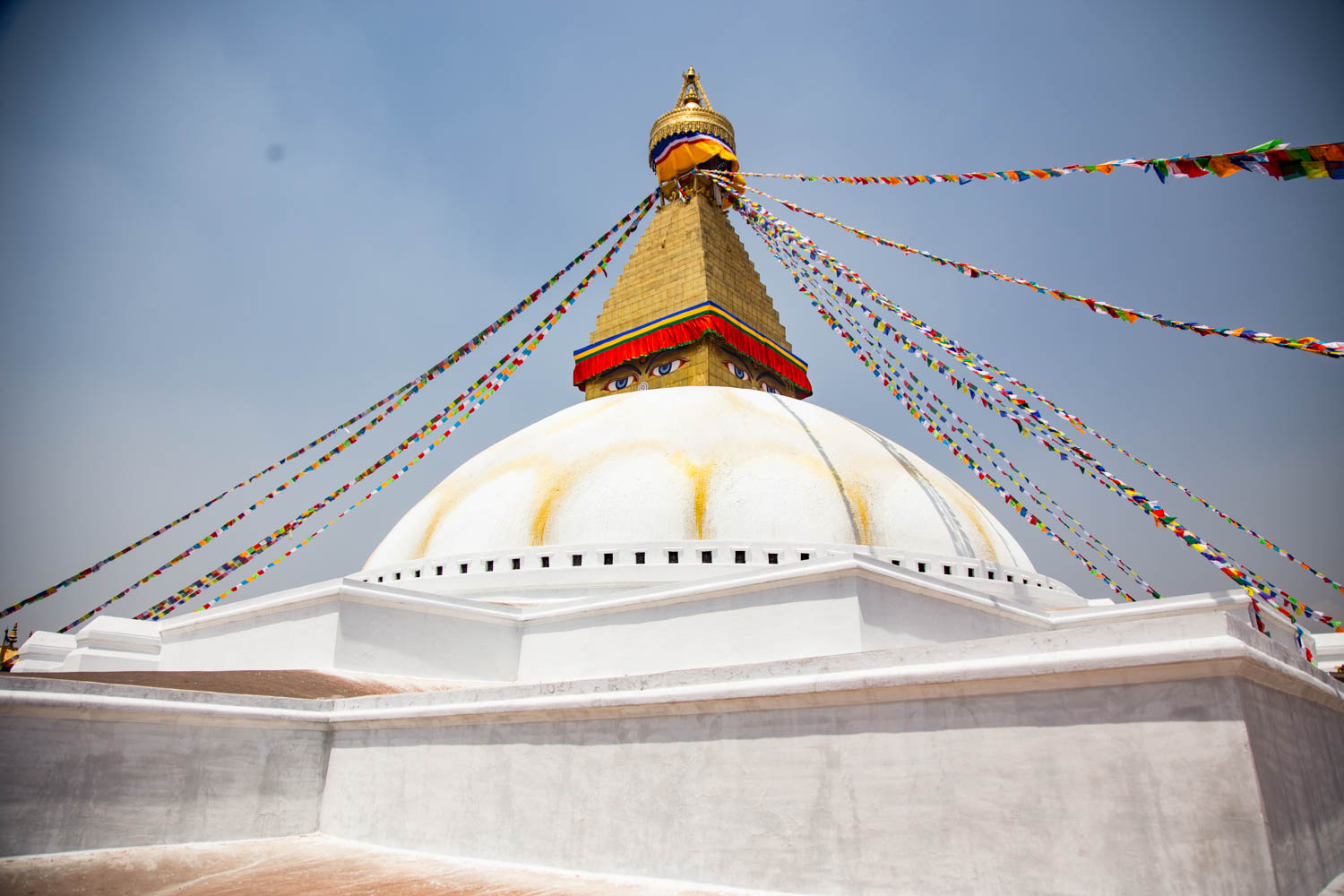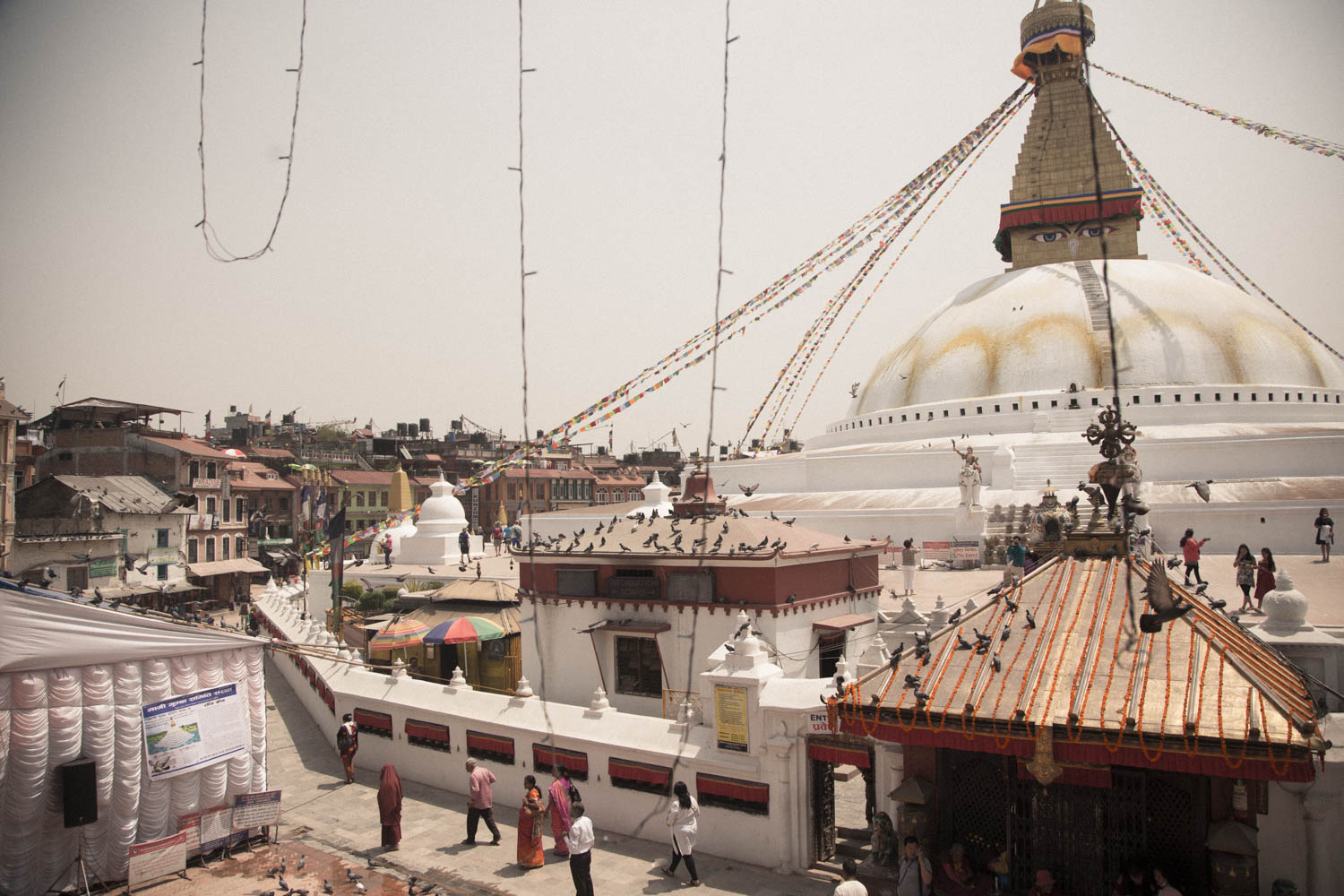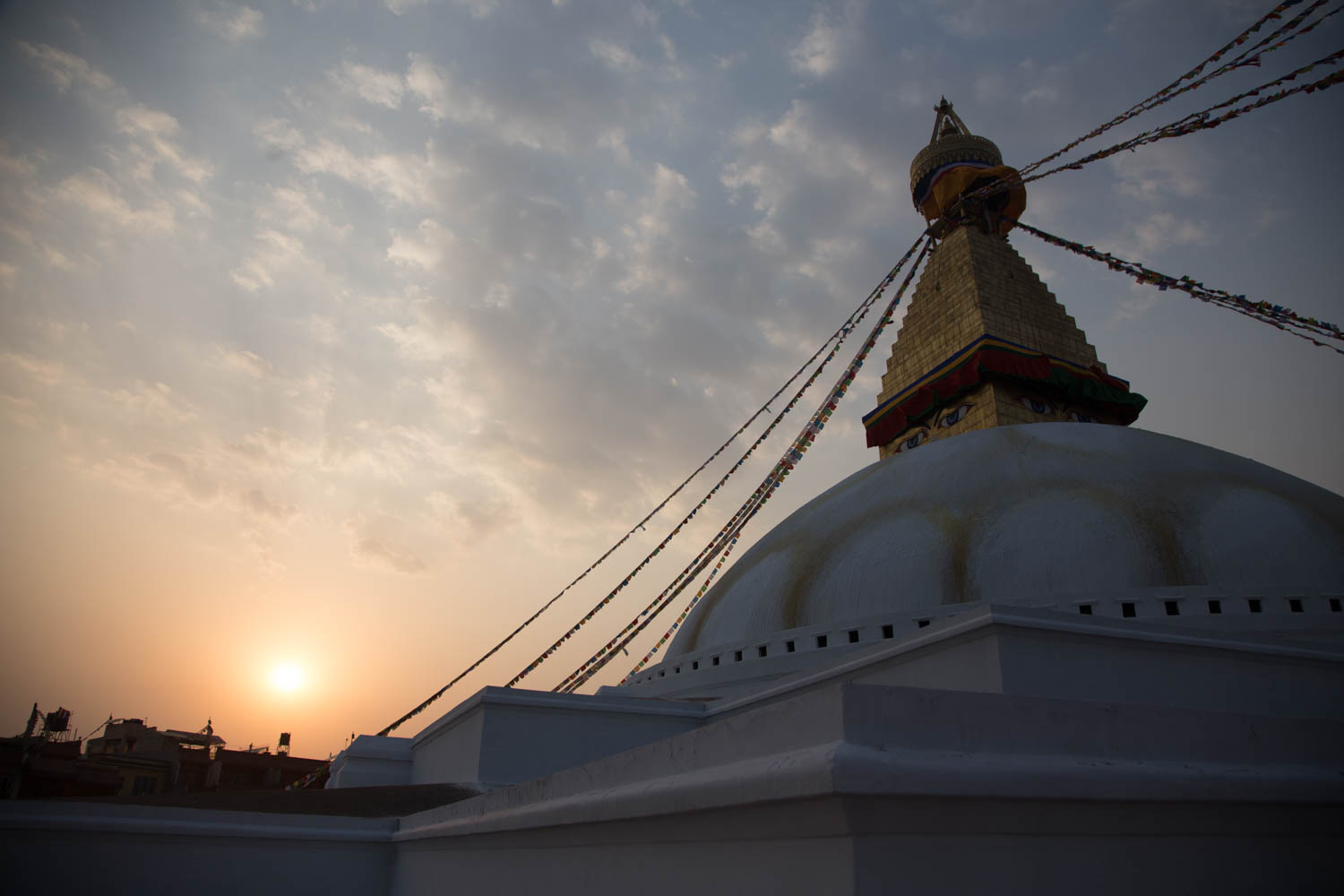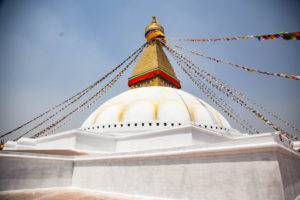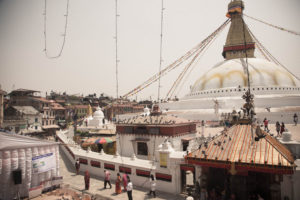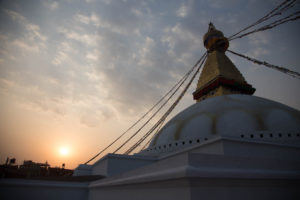 About 2 hours stroll from Thamel is Boudhanath Stupa, which is even larger than the previous one. Again another ticketed area that I paid for until I found another small road bypassing the ticket booth. I'm starting to see a trend here. The stupa itself has multiple floors, though tourists are only allowed up to the first floor. Surrounding the stupa is a circle of hotels, shops and cafes, some of which had seats with pretty nice views of the stupa. I dropped by again while heading back in the evening and I found a great view of the sun setting in the background. In the evening there were also a pretty big group of people performing prayers, which seemed pretty interesting and which I ended spending at least 15 minutes just people watching.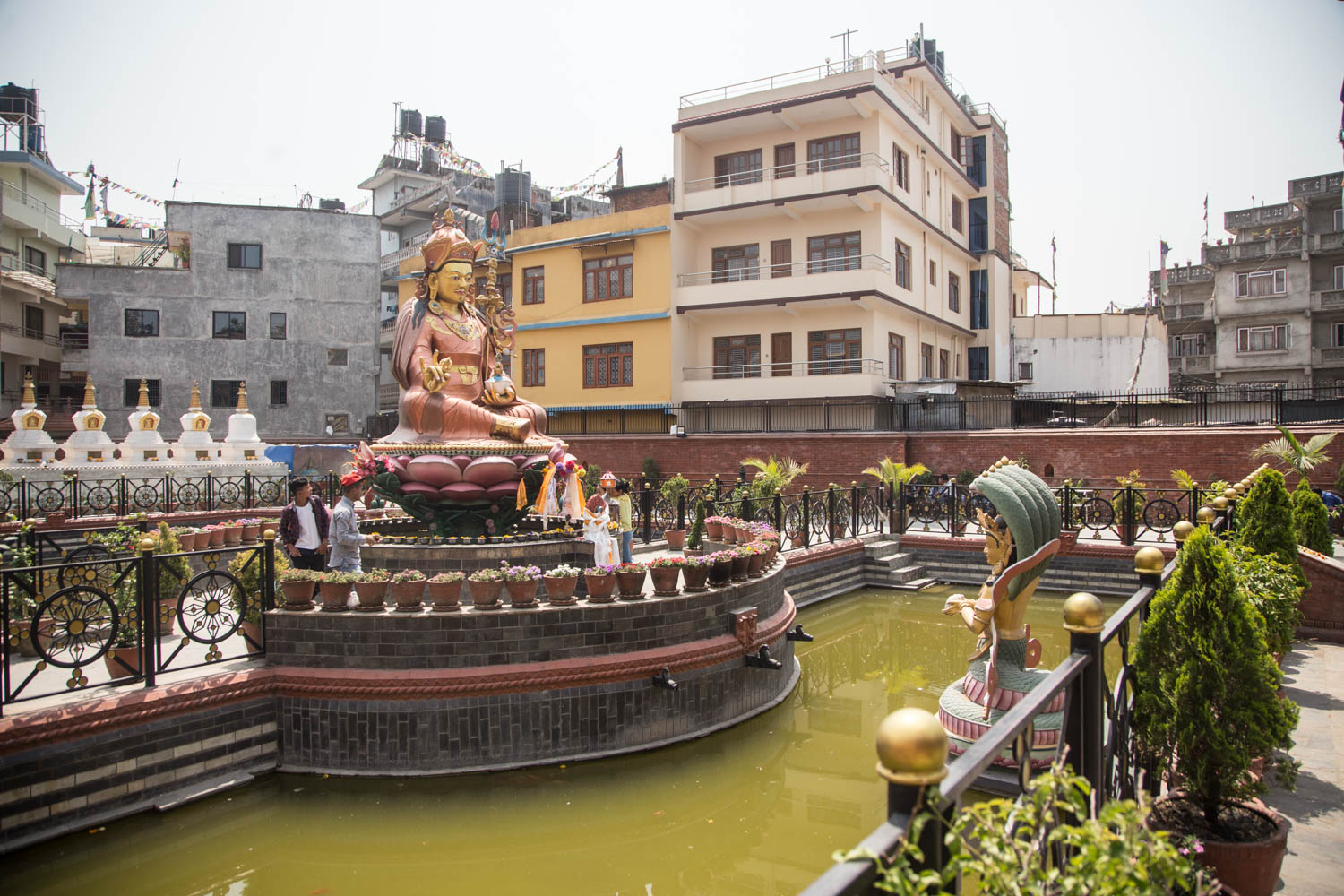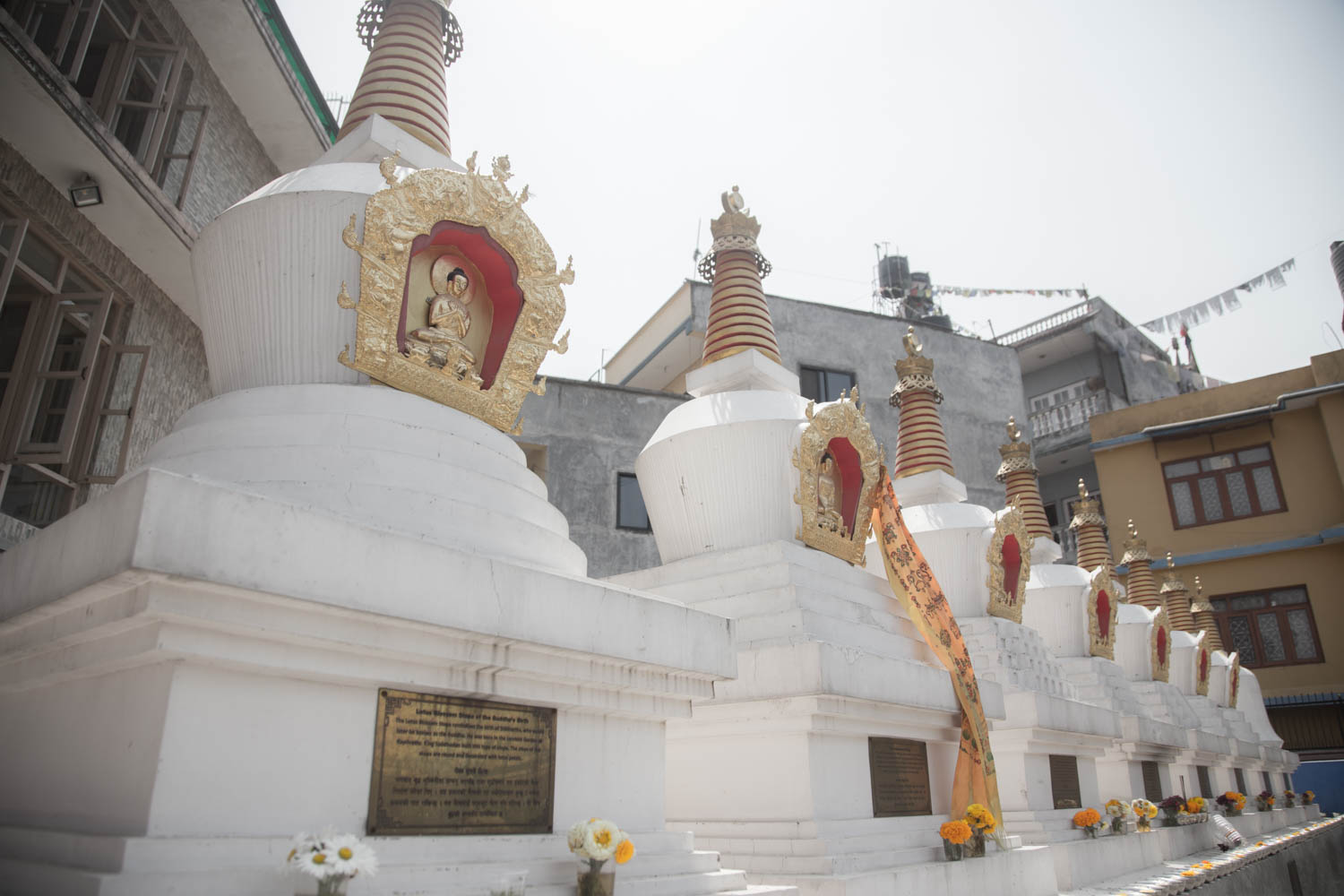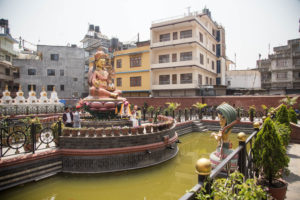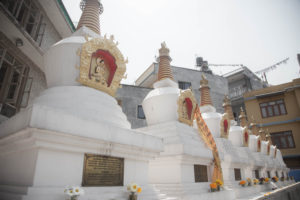 Next to the stupa area was a garden that I can't be bothered to google the name for, which was really nice. Just a small handful of the occasional passerby meant it was really peaceful, a nice escape from the hustle that is the stupa next door. There are a bunch of Buddhist statues in there, and notably a row of mini stupas at the back which IIRC symbolises the various stages of Buddha's path to enlightenment. This would have been a nice place to relax for a while longer if not for the lunchtime sun.
Shechen And Kopan Monasteries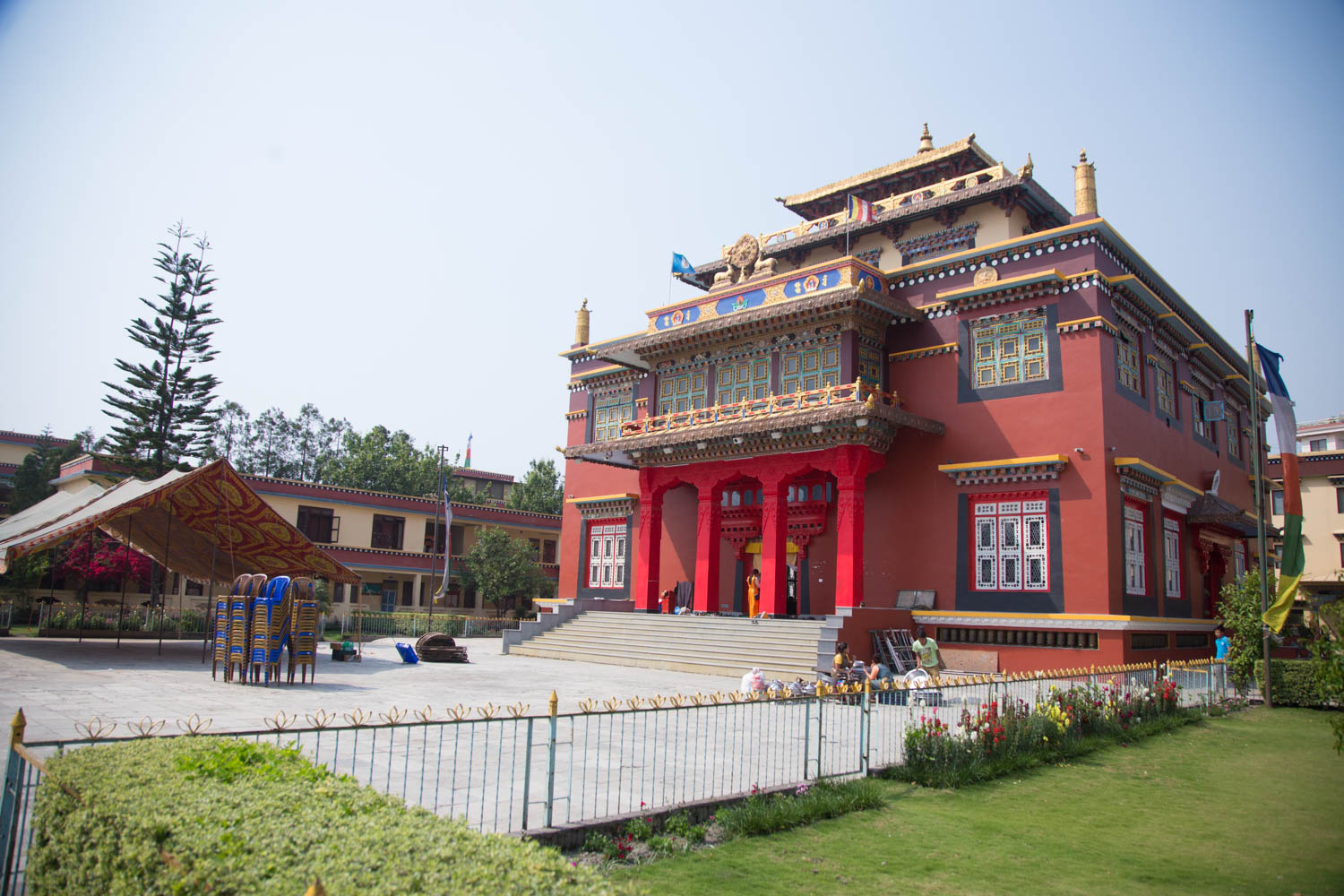 The area is also well known for a large number of monasteries around the area, there's even a large hand-drawn map at the stupa area showing the locations of the monasteries around the area. I decided to head to a couple, first being the Shechen monastery just a few minutes walk away. The whole area around the monastery is pretty big, but the lack of tourists and some general uneasiness meant I didn't explore too much and only entered the main courtyard with the monastery. The building itself looks really good and somehow kind of what I expected from a monastery having never seen one before, with the intricate designs on the pillars, railings and windows all contributing to the overall impression. The monks were having their prayers at that time so no pictures of the interior, but it was pretty much what I expected of a monastery with the religious statues and prayer stuff around.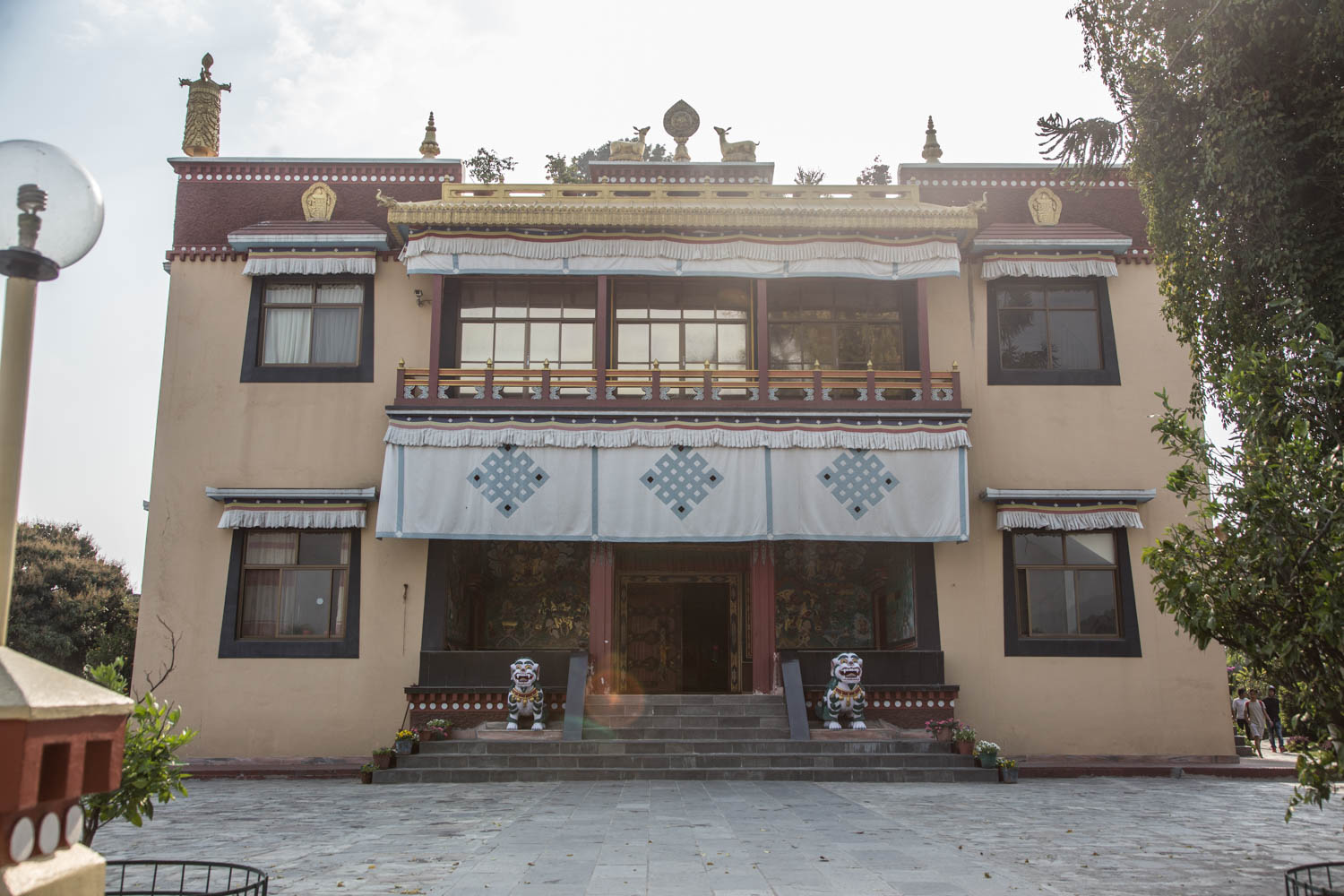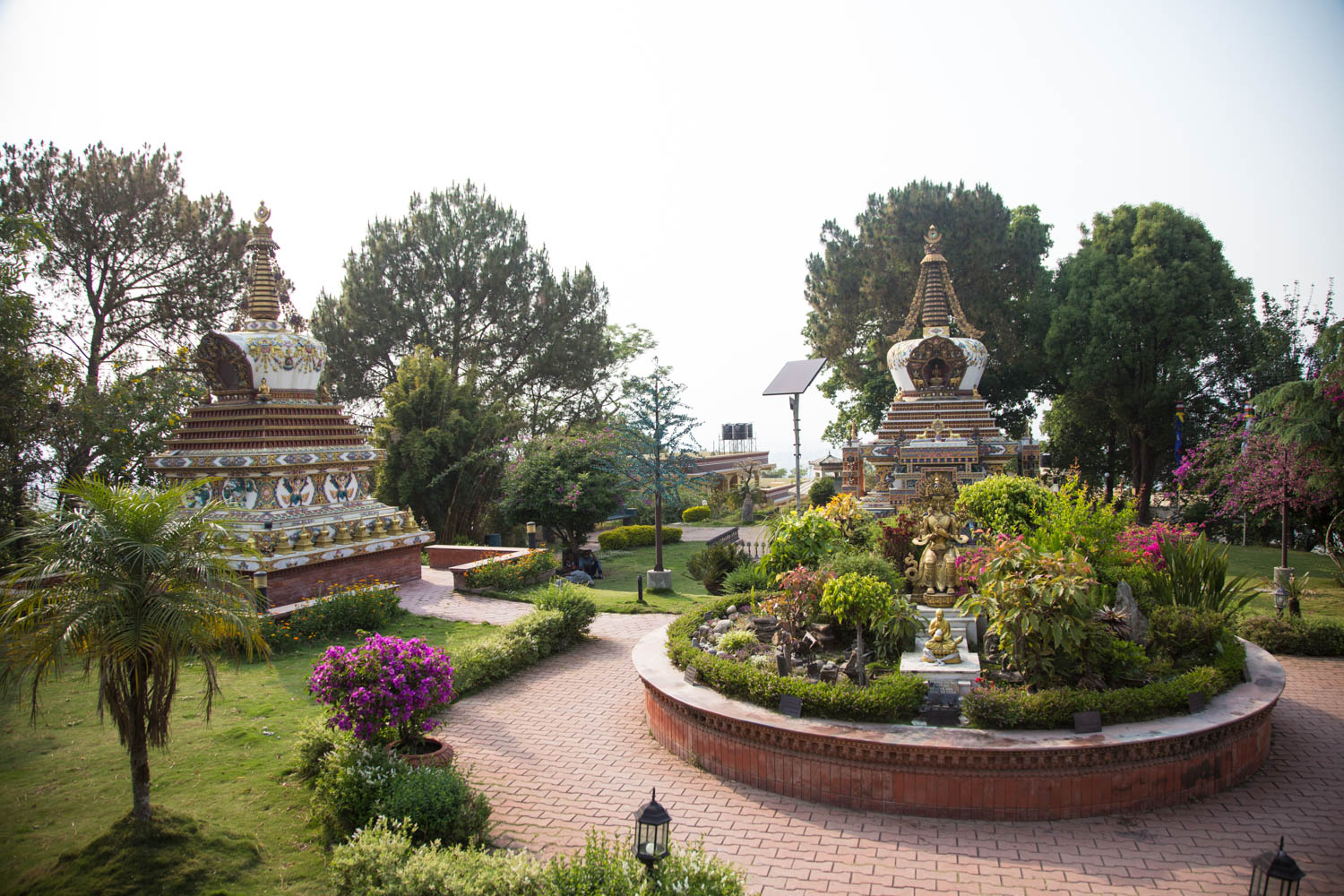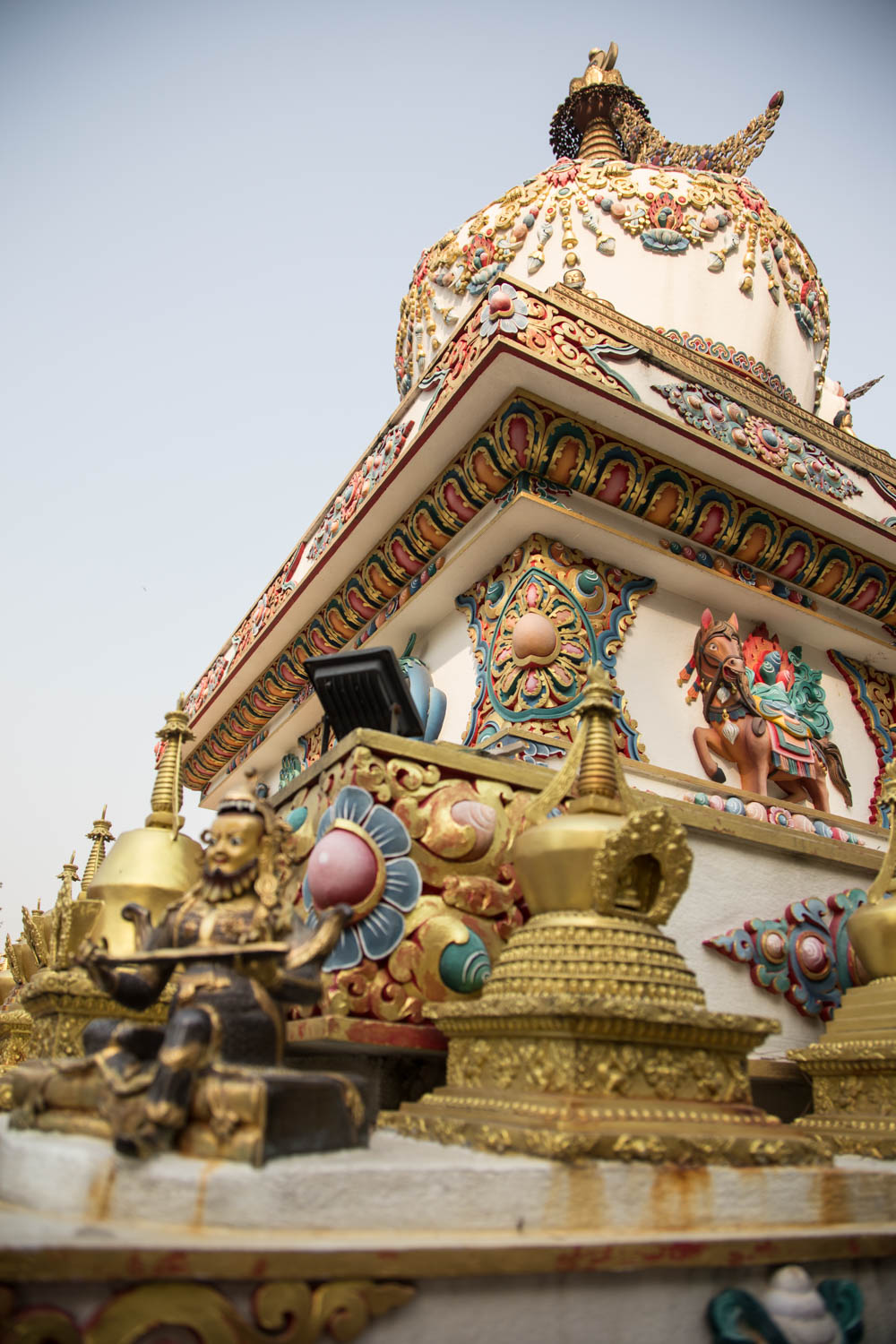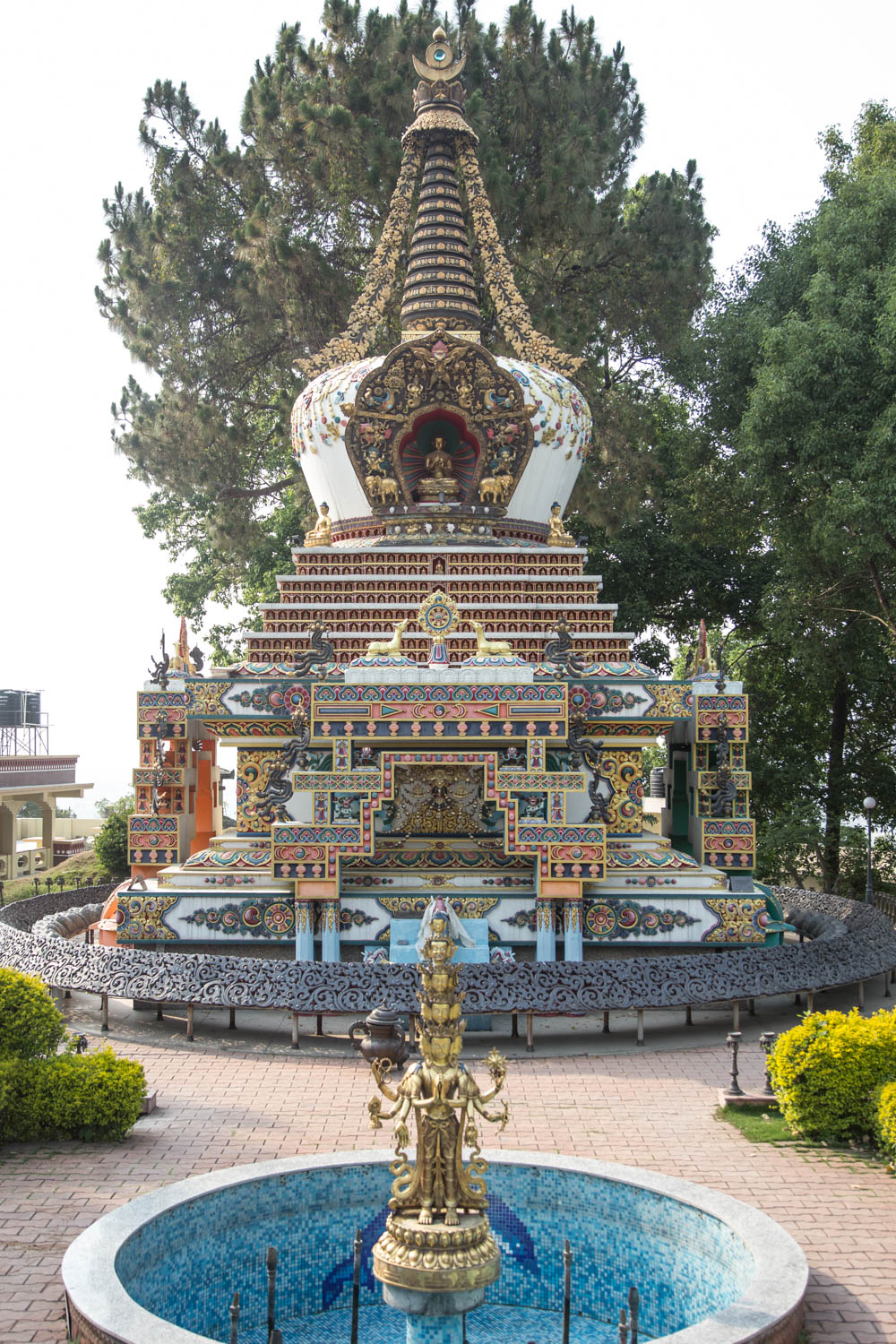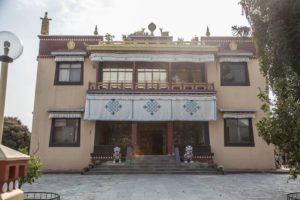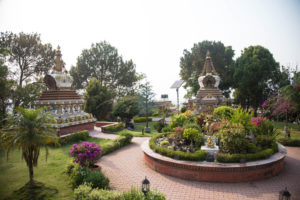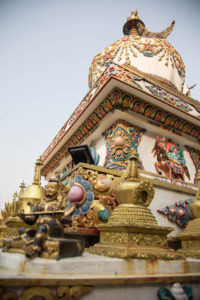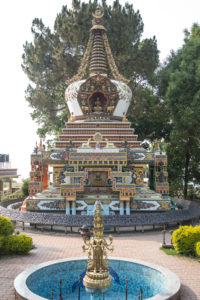 Up on top of a hill, about an hour walk from Shechen, is Kopan Monastery, which based on what I saw is hands down much more impressive than Shechen. The monastery itself maybe isn't much to shout about, it took me a while until I realised why though: the simple windows make it look like any other house. The rest of the compound however is on a completely different level. At the back is a perfectly maintained garden with some of the best looking monuments I've seen so far, while the monks' living quarters were built downwards into the side of the hill spanning at least 2-3 floor across a large area. Not to mention the top gave a great view of the surrounding area. There were quite a lot of tourists around the area though, surprising for such an out-of-the-way place.
Patan Durbar Square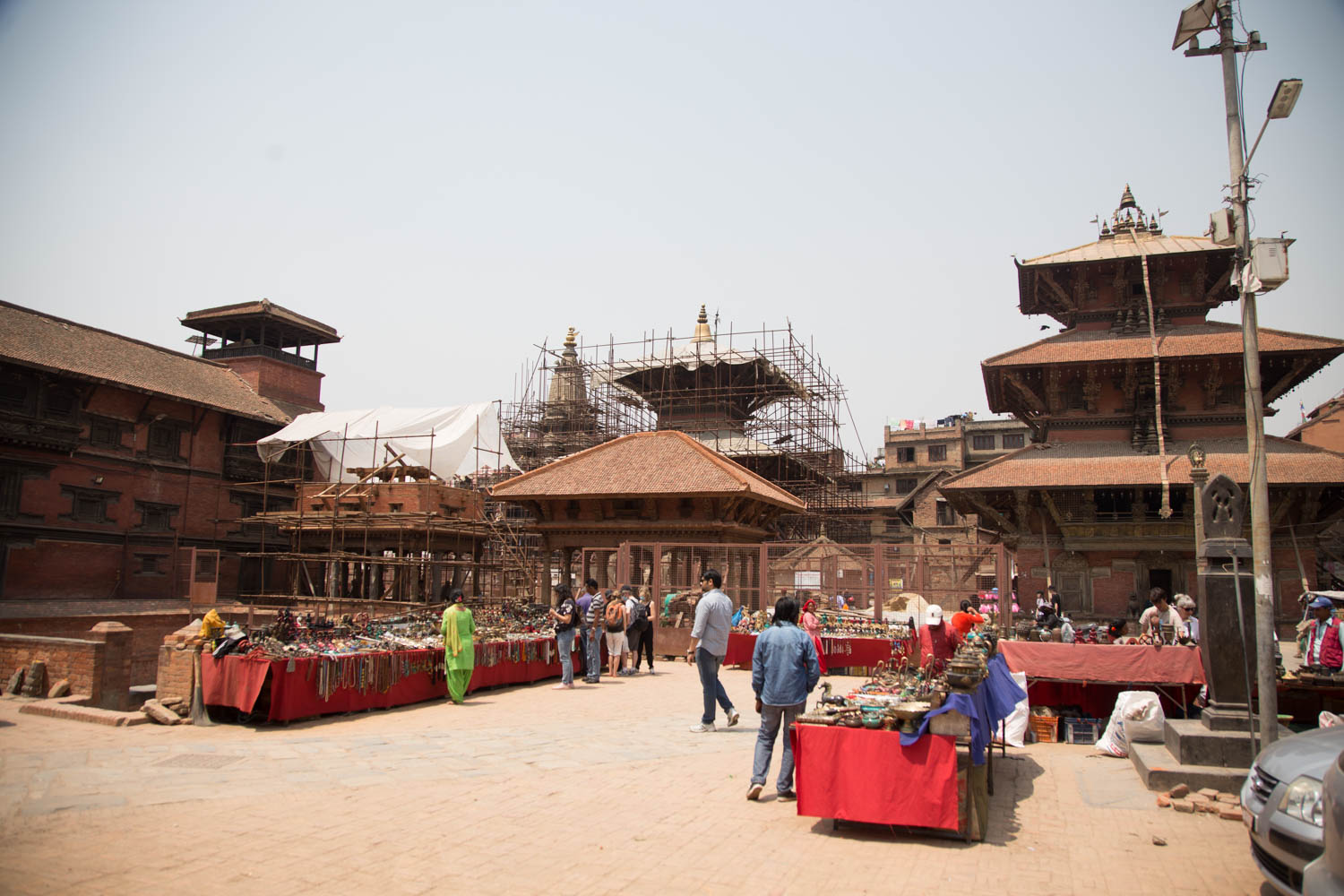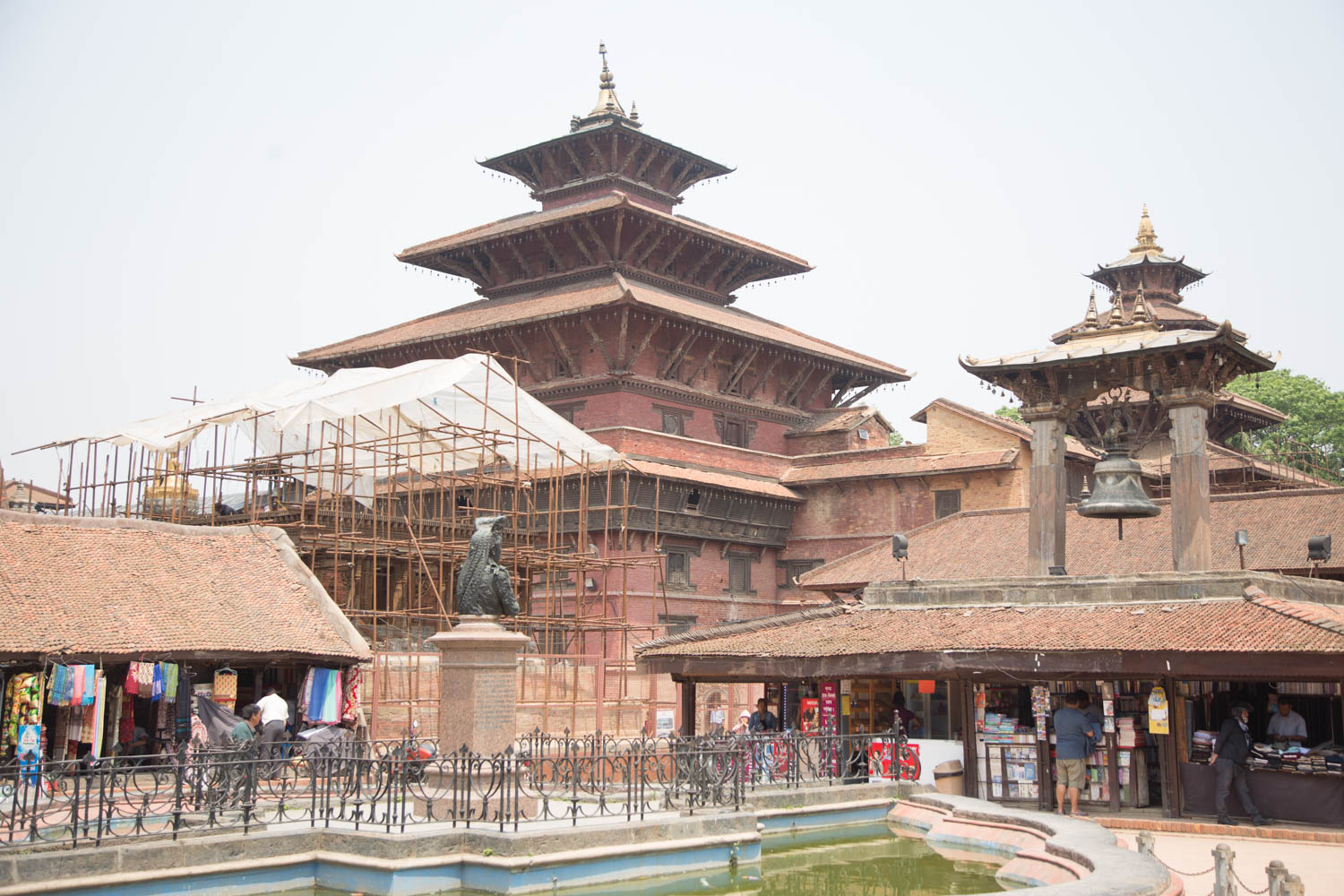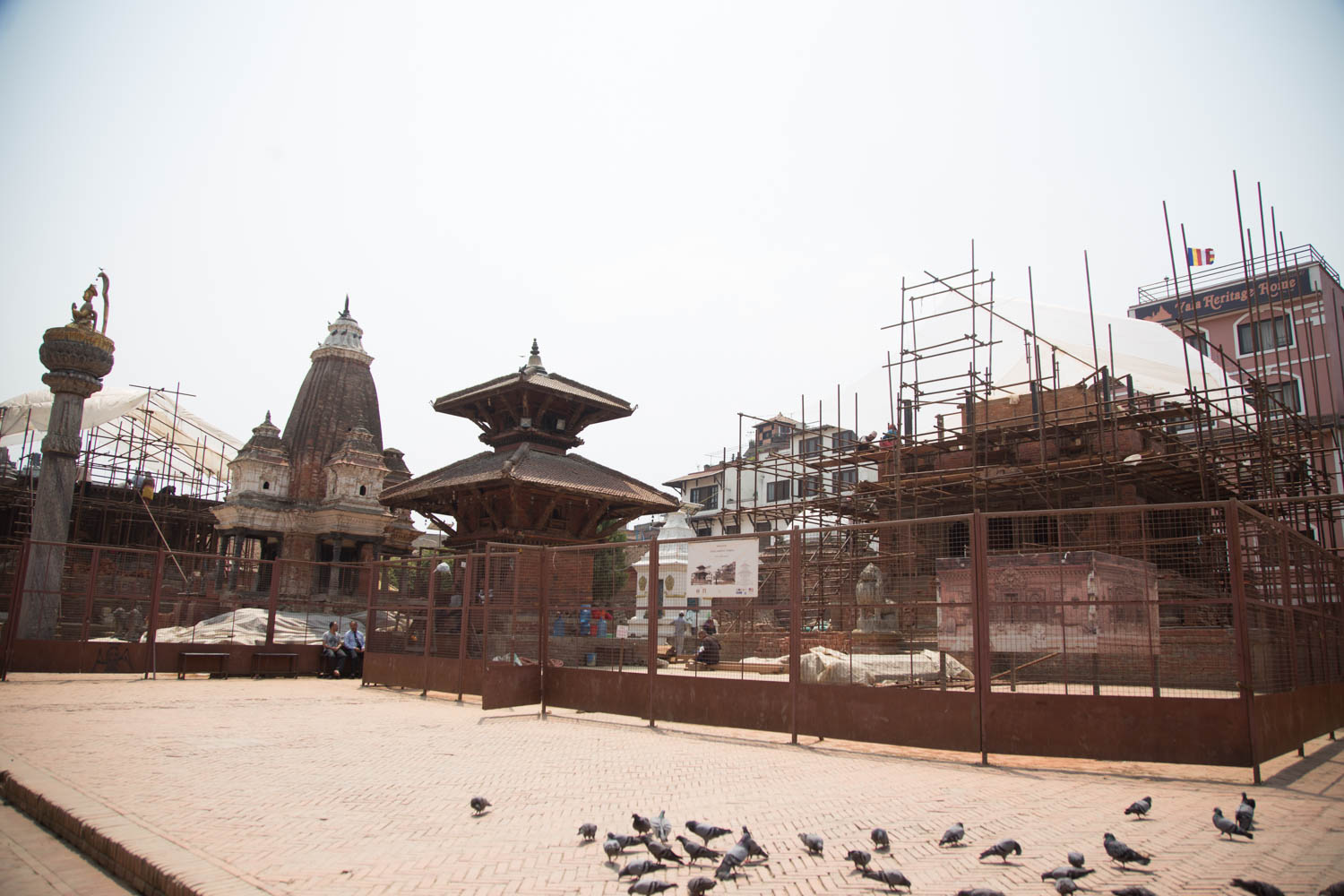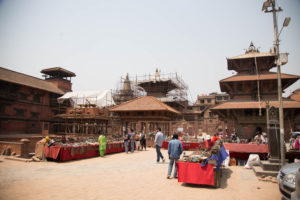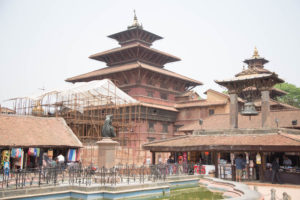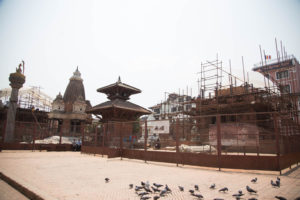 The next day, I took a 2 hour walk from Thamel down south towards Patan, where I'm immediately greeted by the Patan Durbar Square upon navigating out of the small streets. Another 1000NPR just to enter the main street, it took me 2 days to learn the tricks around here, walking along the sides this time to find a side road into the area. I was occasionally stopped by the officers for ticket checks, but they left me alone the moment I started looking like I was looking for my ticket in my bag, Way too easy to game the system.
The main street area is much smaller than the Kathmandu Durbar Square, pretty much a straight road from one end to the other taking less than 3 minutes to get across. Again, most of the buildings are under restoration, and no ticket means I couldn't access the ticketed areas, which was just as well as I felt the 1000NPR wasn't really worth it.
Temples around Patan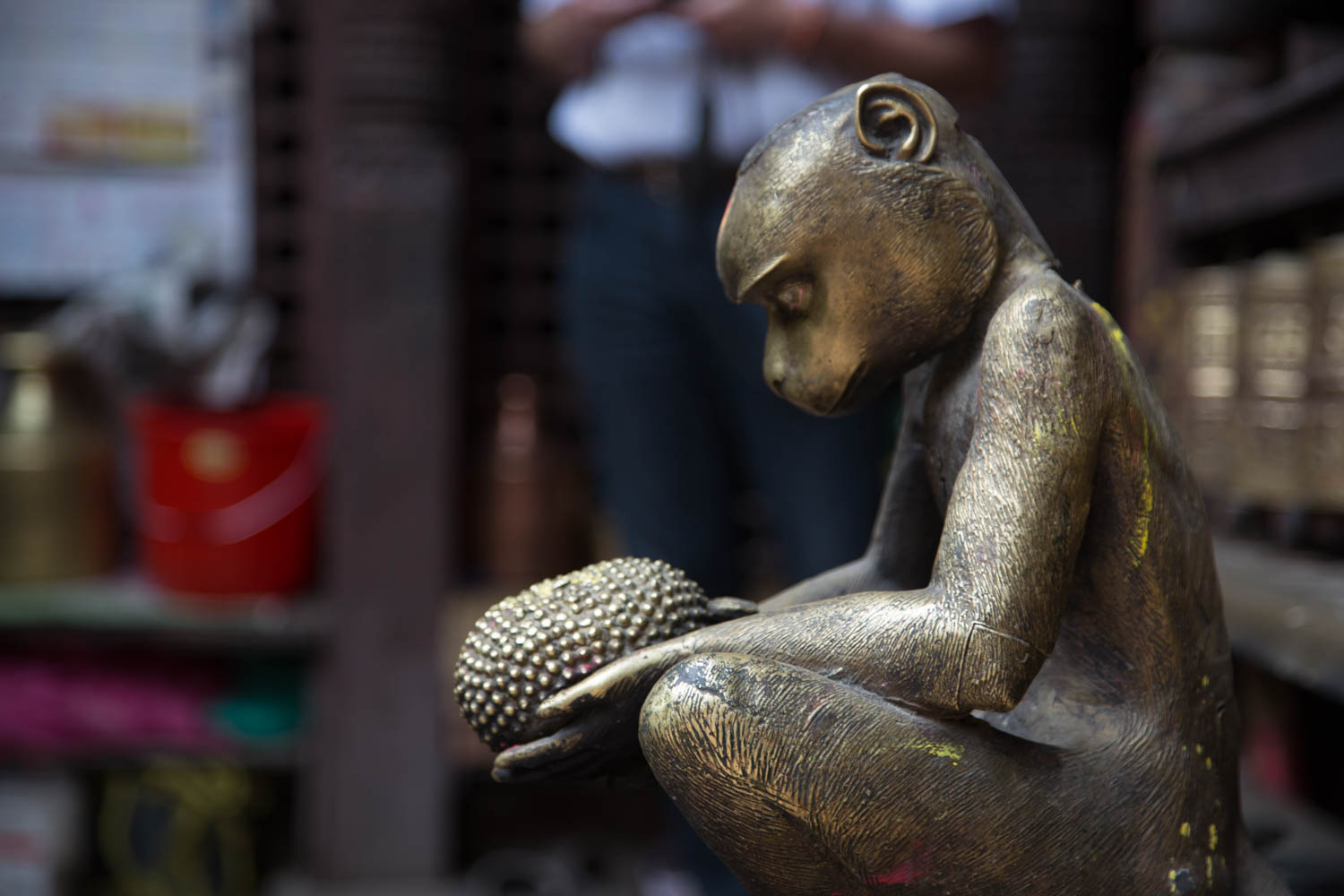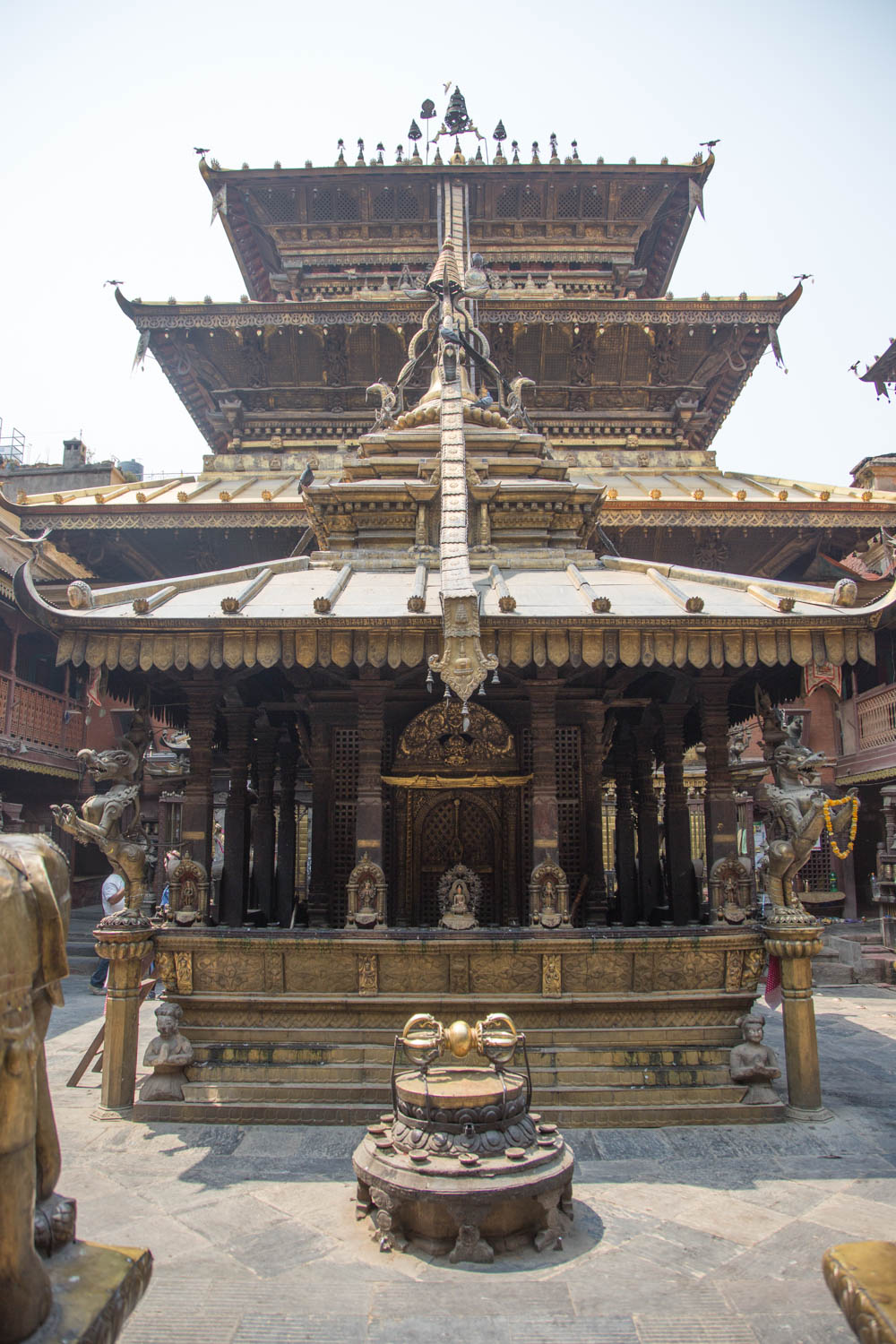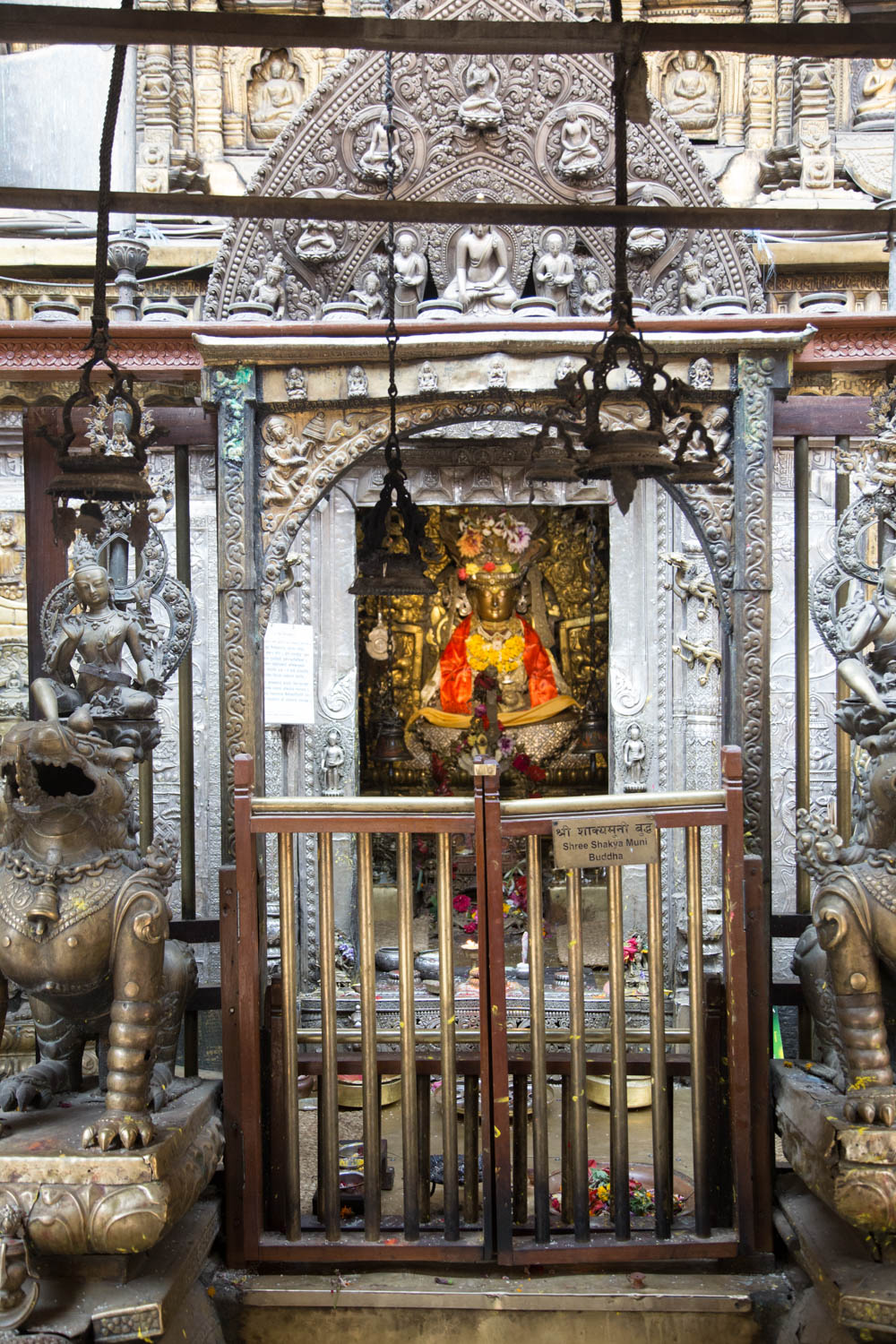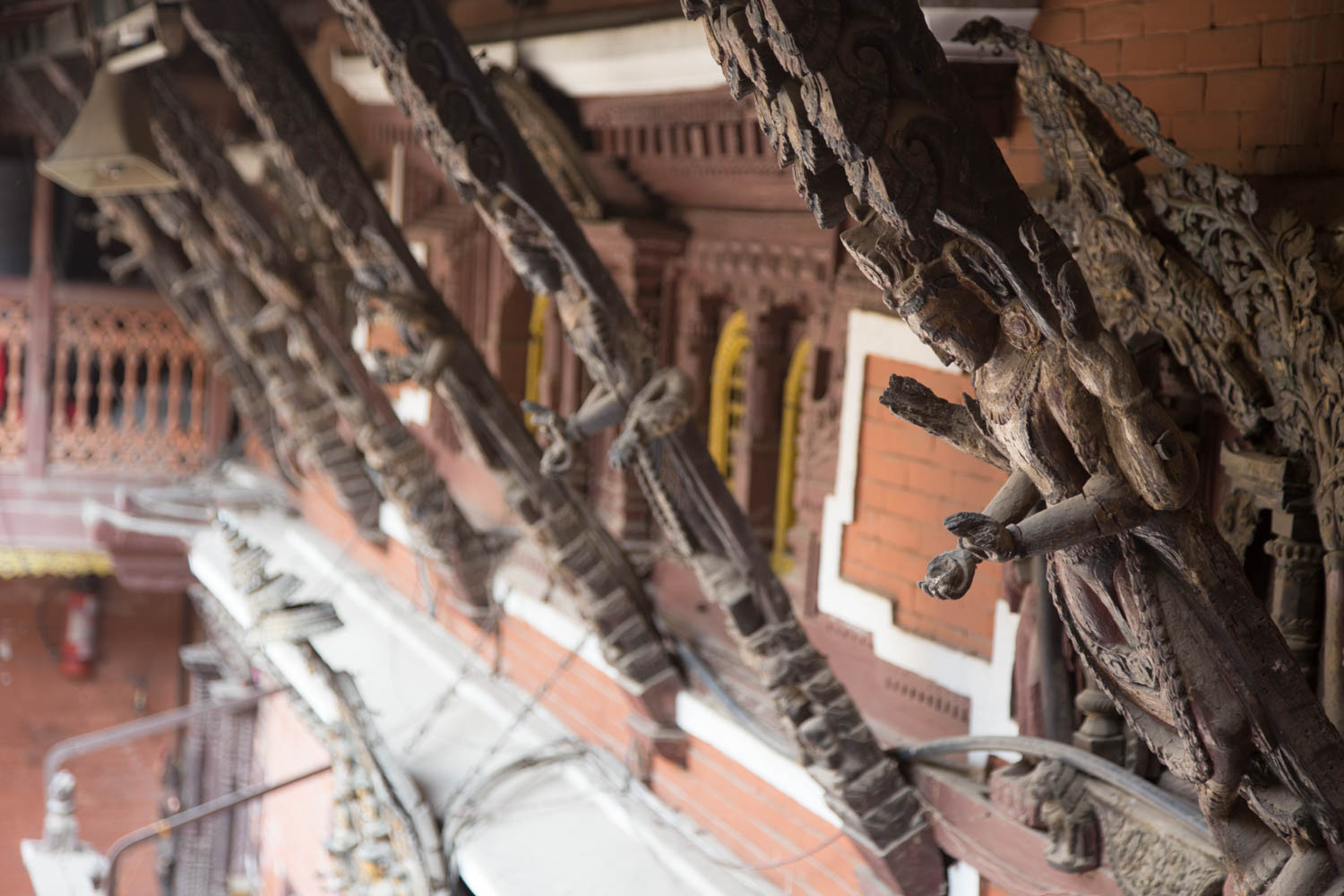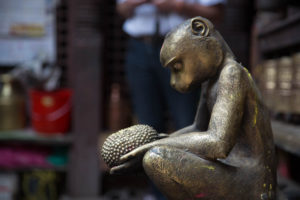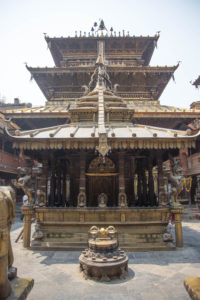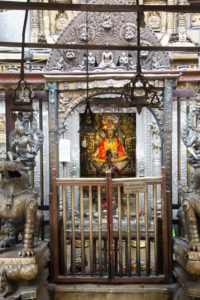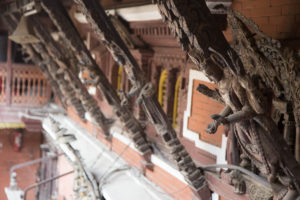 What were more worth entering were probably the smaller temples around the area. They're still ticketed, but they're not a blatant tourist ripoff. First I entered was the Golden Temple, which at a ticket price of just 50NPR is the cheapest and likely the best deal around the area, as the temple itself, although small, is one of the most beautiful I've seen so far. As the name suggests the entire temple is covered in gold, from the shrine to the statues and monuments everywhere.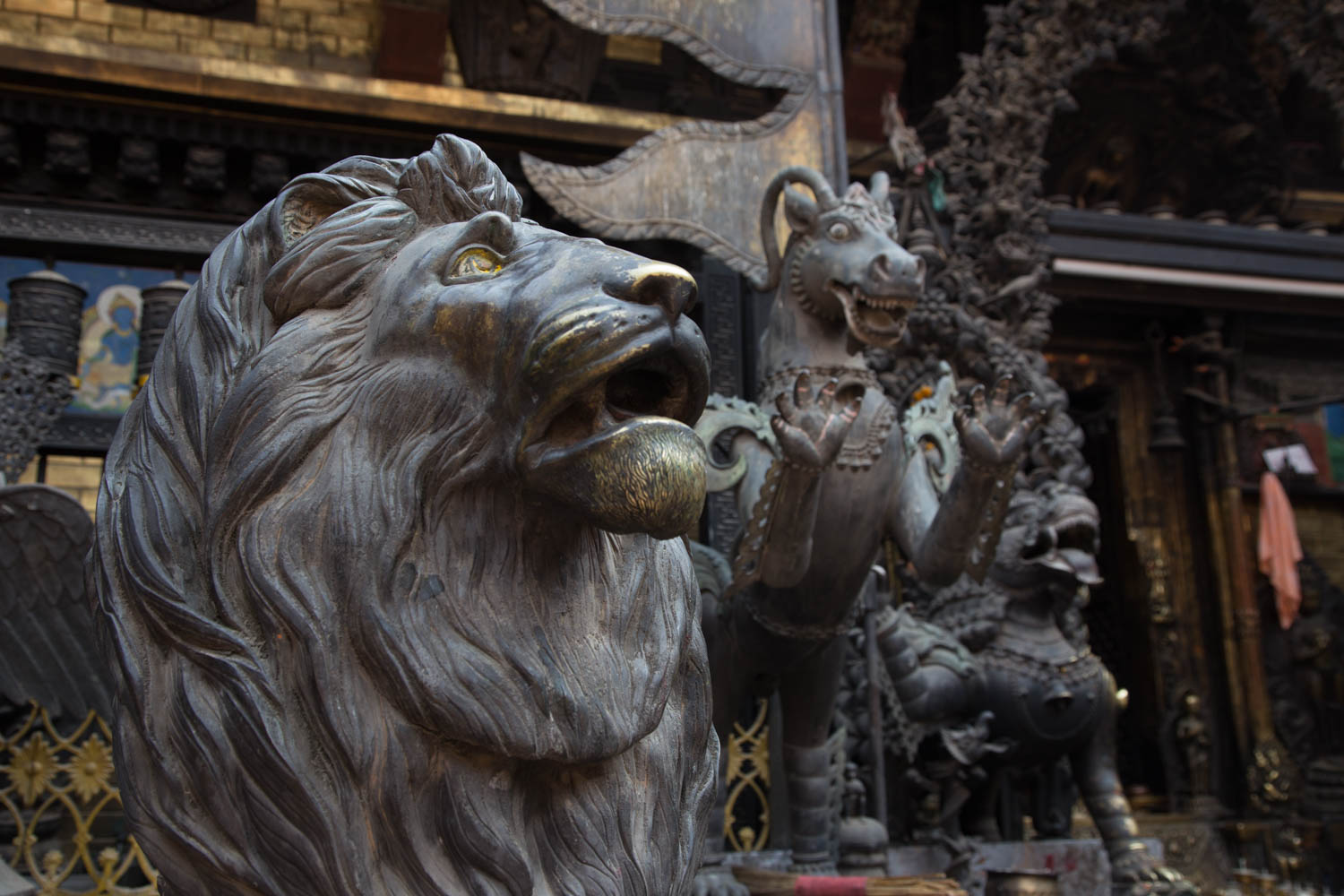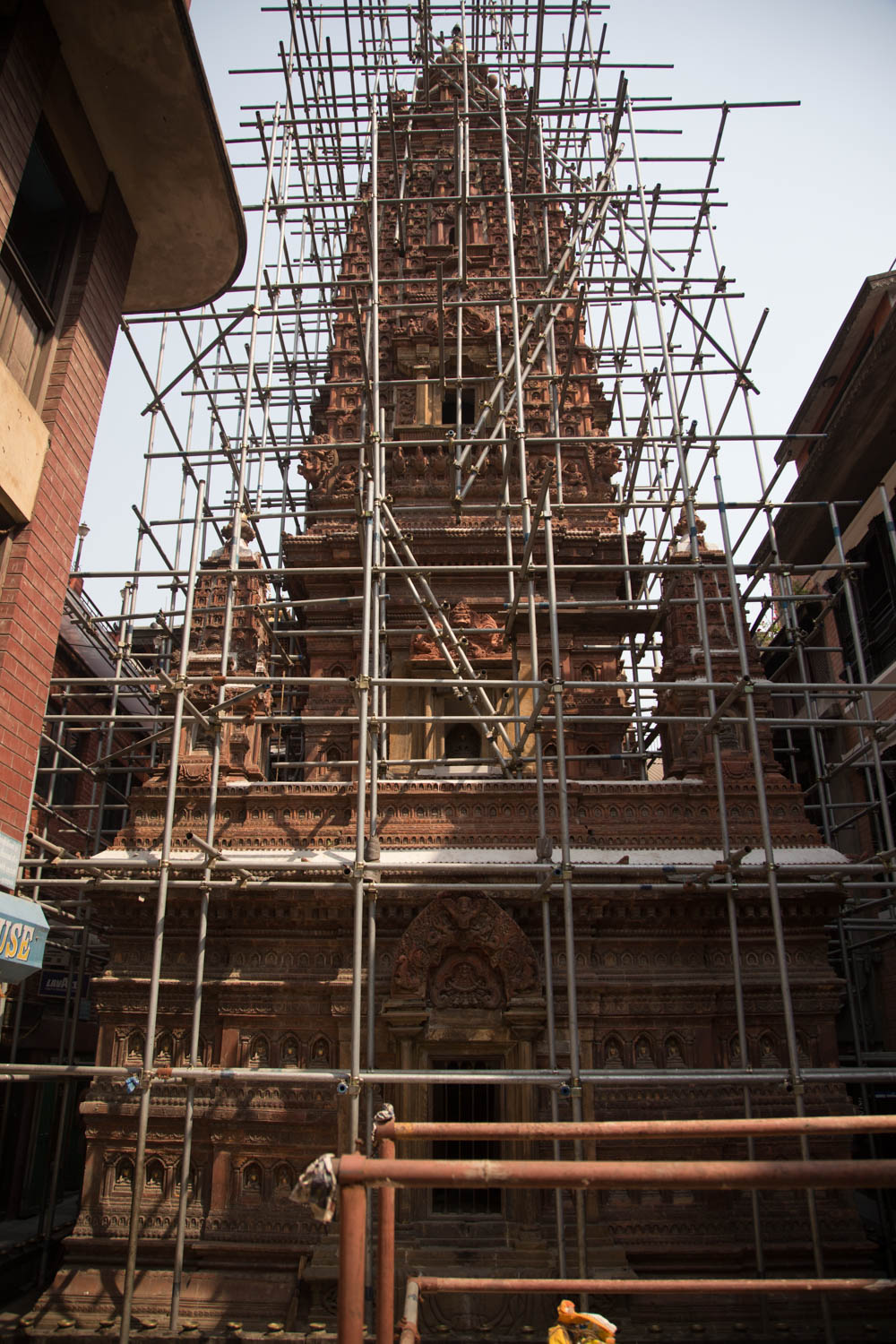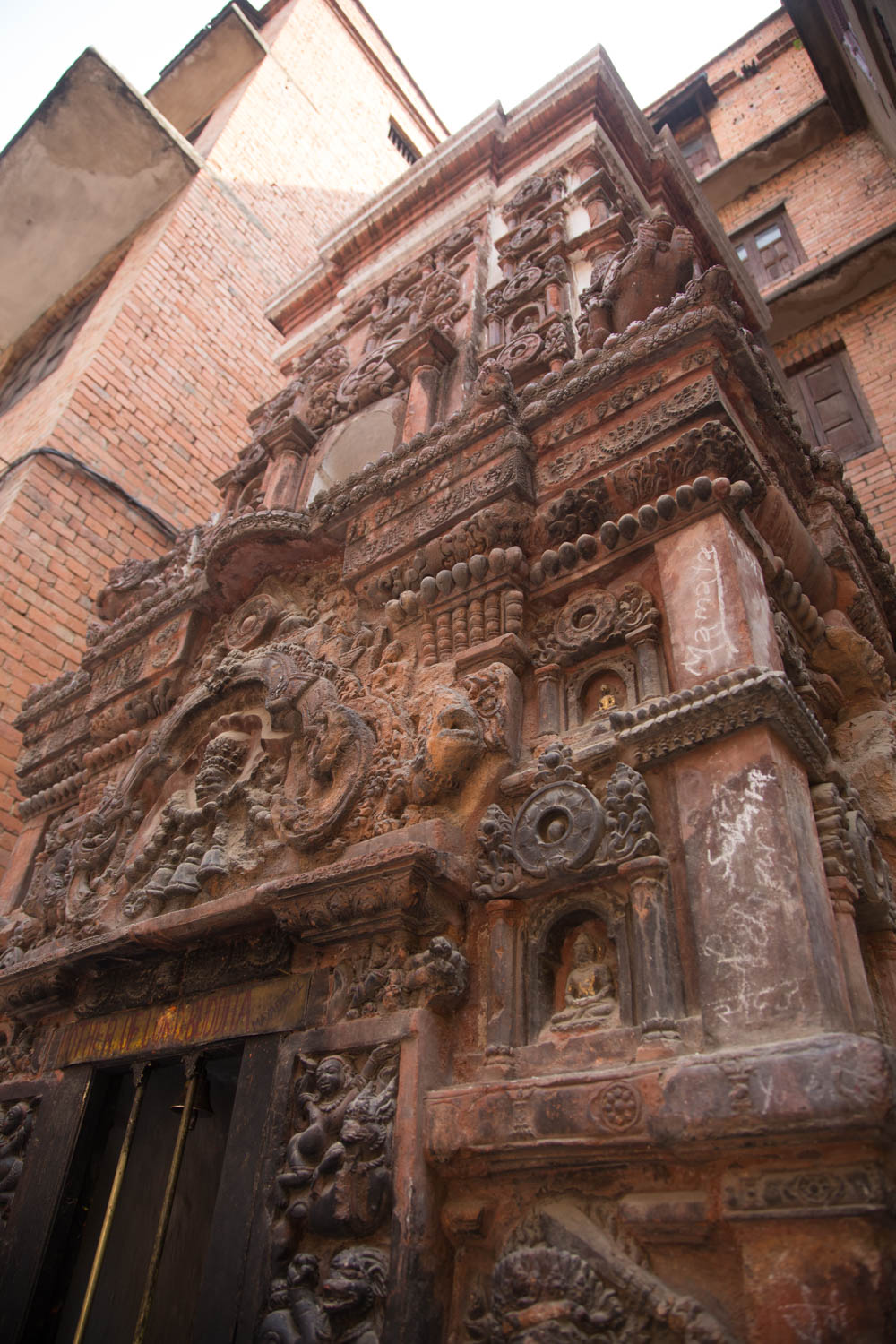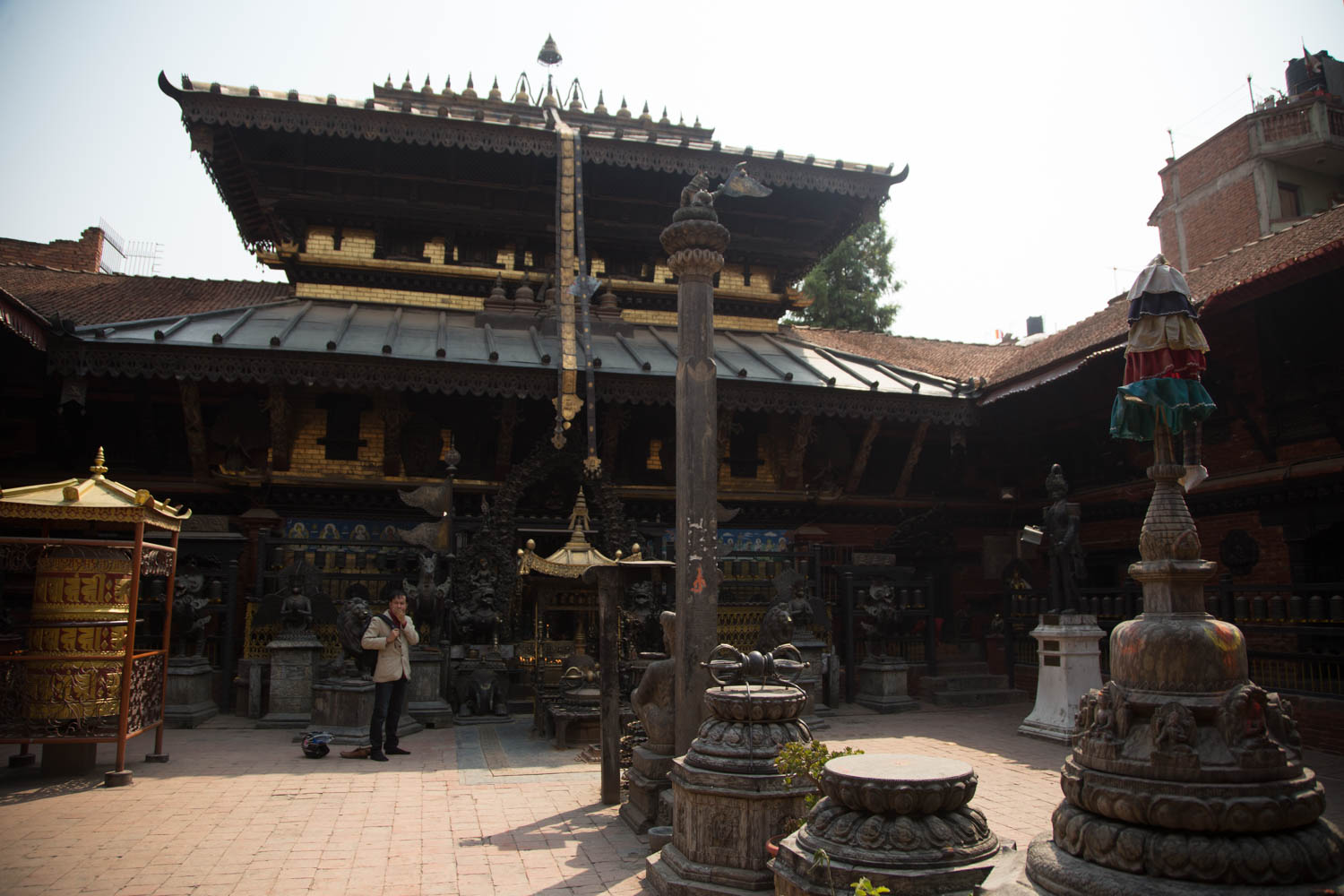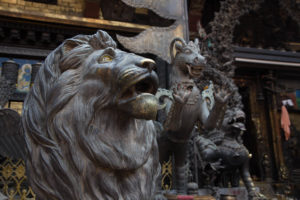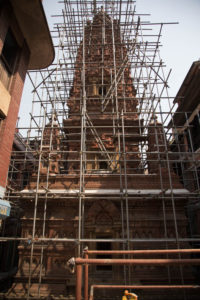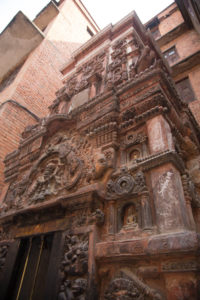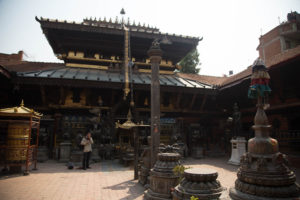 Quite some distance away are the Mahabuddha and the Rudra Varna Mahavihar temples (had to google the name for the second one, too long to remember). 1 ticket for 200NPR to enter both temples. The Mahabuddha temple was undergoing heavy restoration works so the entire central structure was covered by scaffolding. A shame because it definitely would have looked nice without the scaffolding, the entire structure was covered in mini Buddha sculptures.
2 minutes walk away was the Rudra Varna Mahavihar temple, which was closer in style to the other temples visited so far. Strangely for a Buddhist temple they had some surprisingly western-looking statues inside, the lion looks pretty realistic. Behind was a small stupa which, while nothing to shout about, was quiet and peaceful enough for a short rest from all the walking.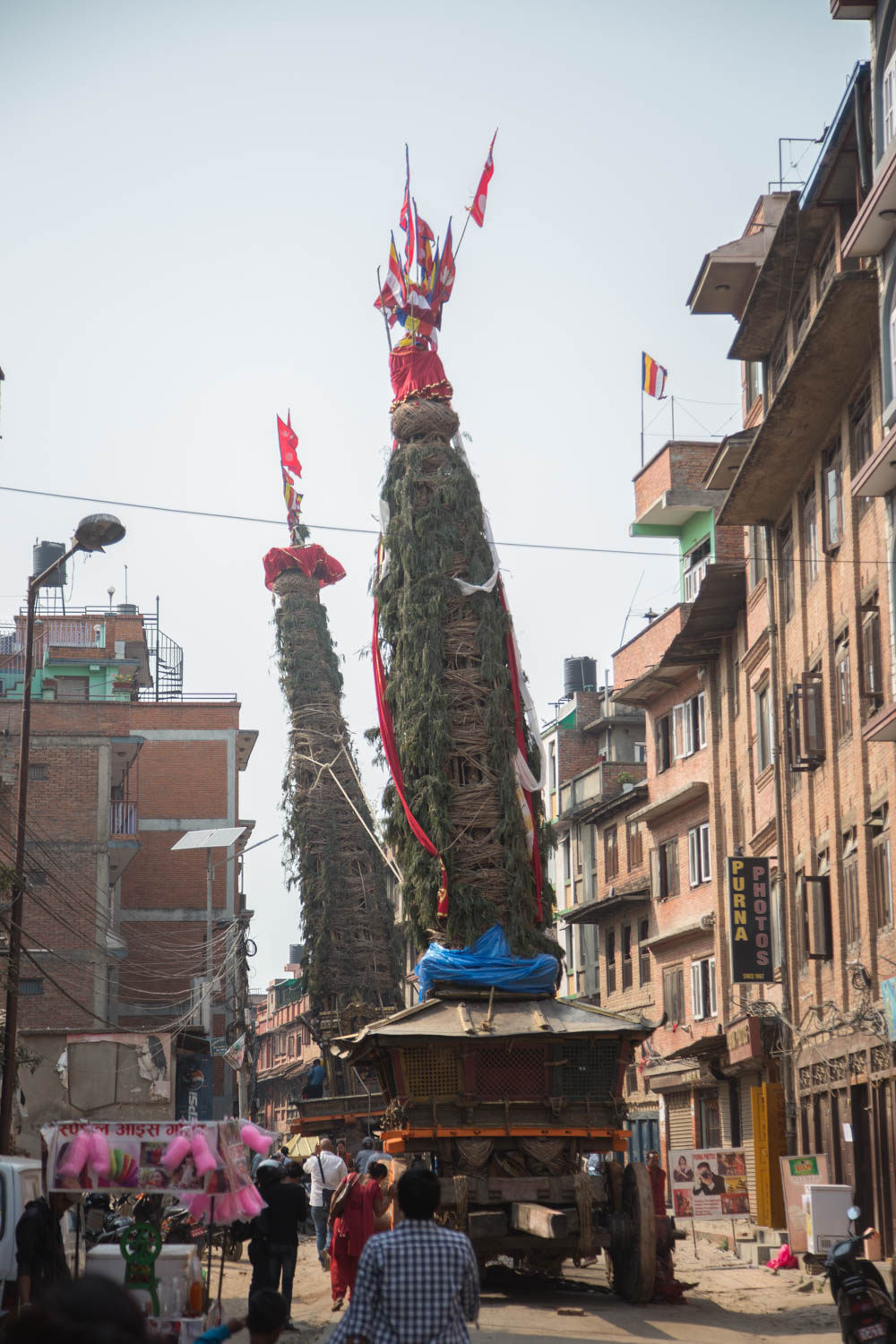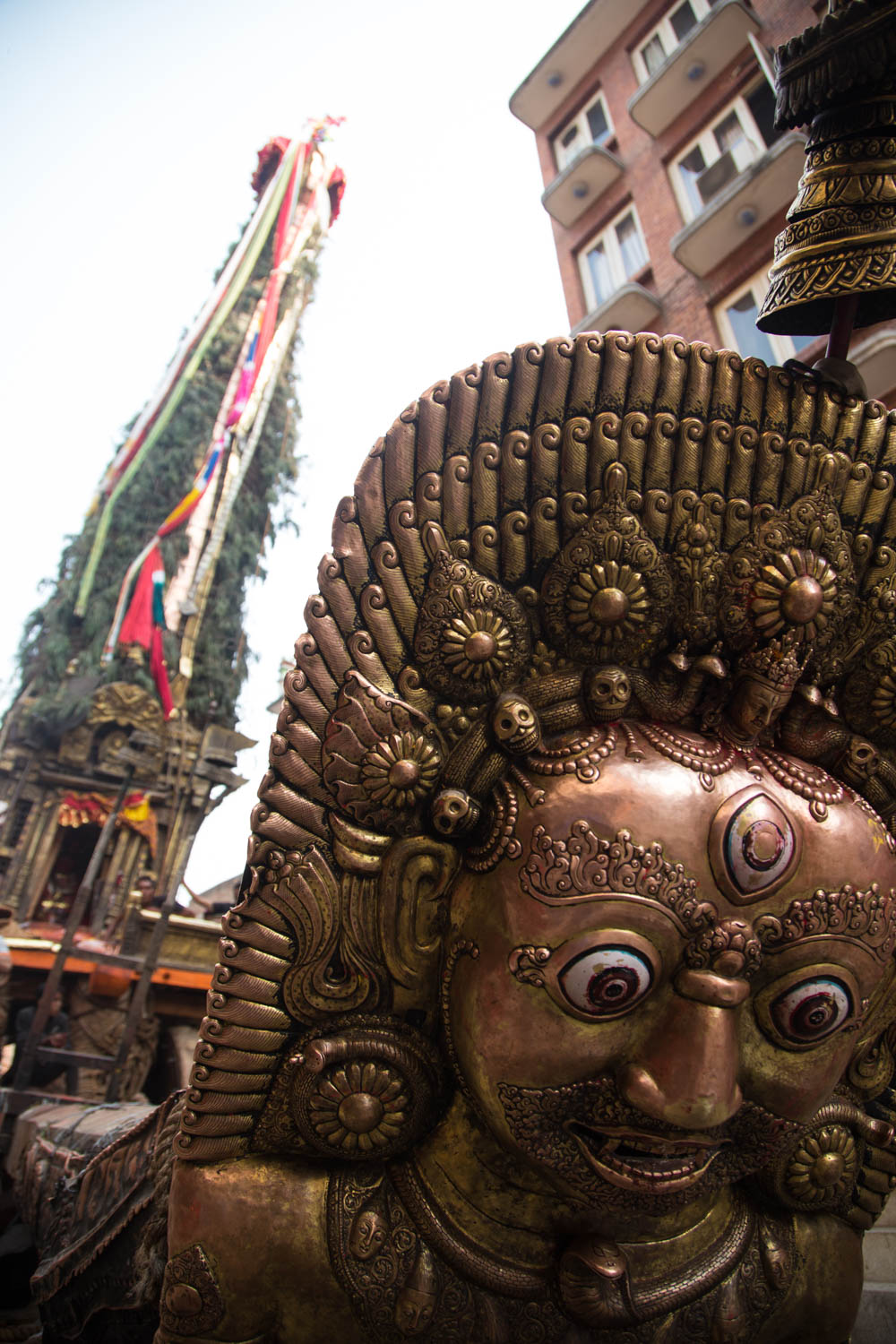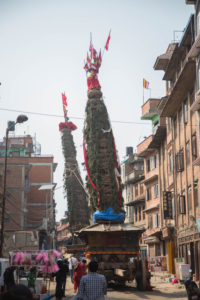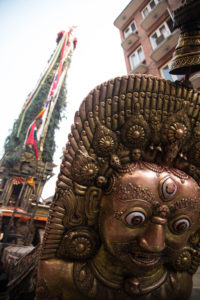 Random addition to this part of the post is this structure I spotted while leaving the temple. A pair of approximately 3-floor high structures on wheels, covered in flags, which a bunch of people were struggling to move down the street. At the front a beam extends out with a face that seemingly represents a god of some sort, as almost everyone were paying respects to it as they walked past it. Until now I still have no idea what this is.
Journey to Pokhara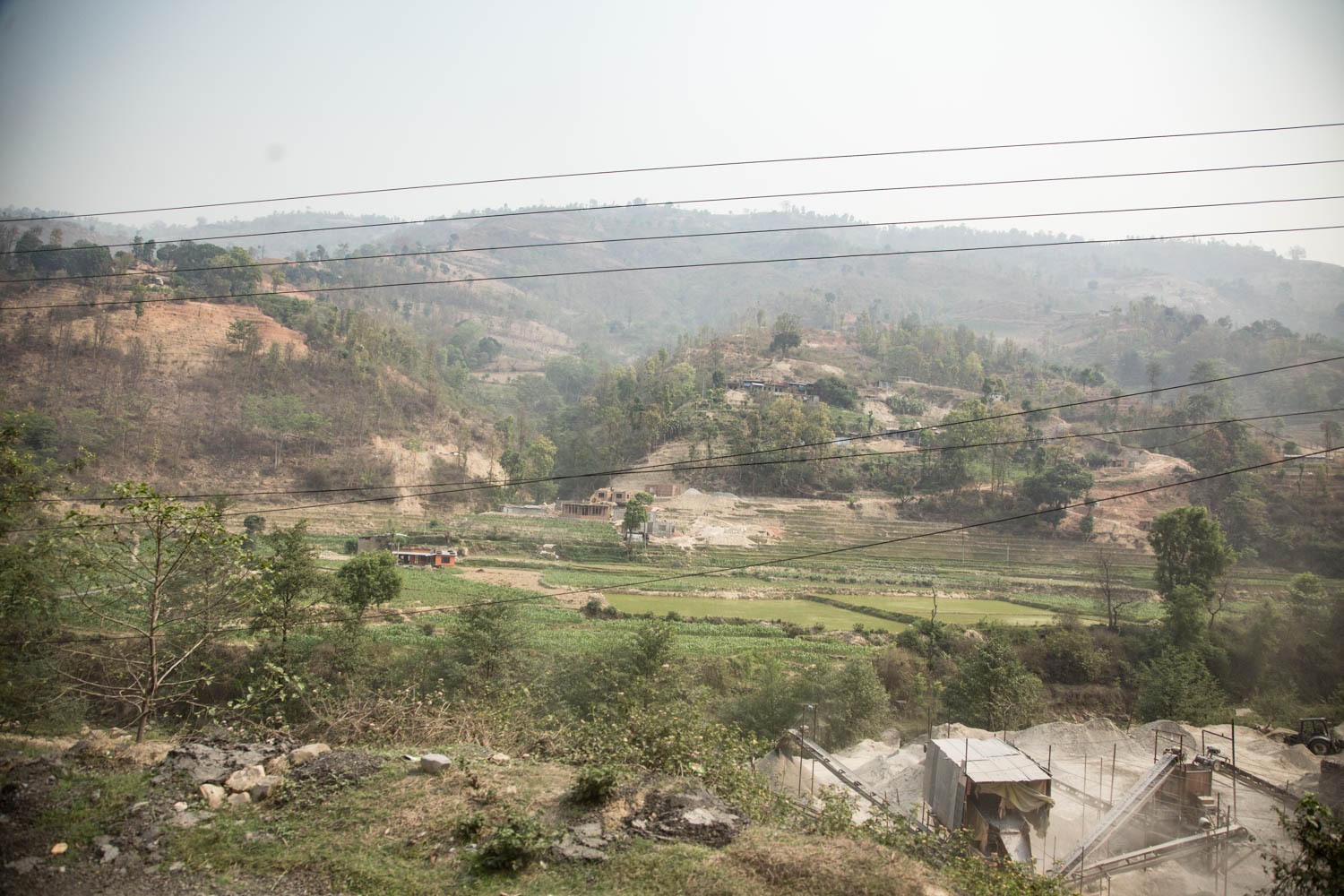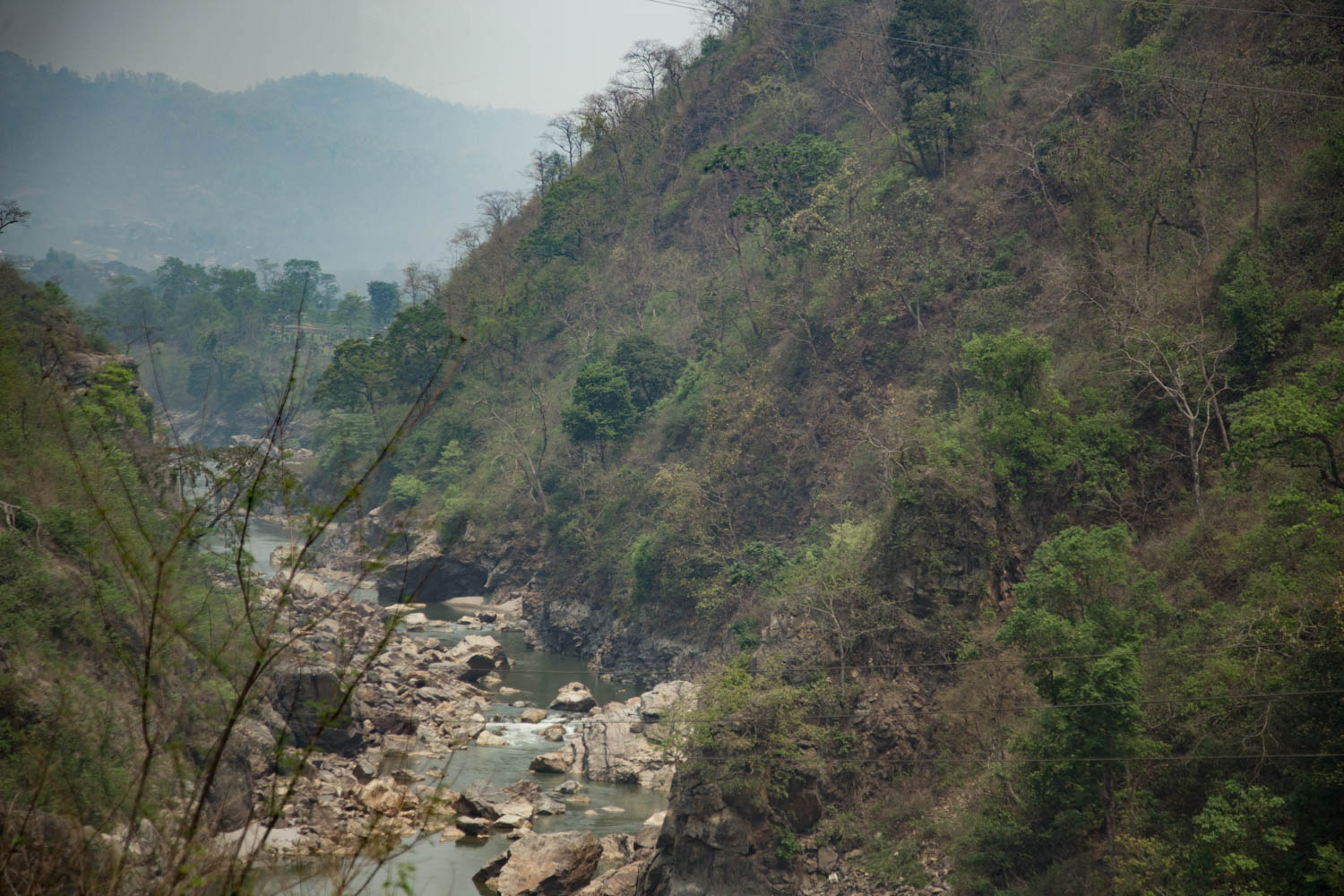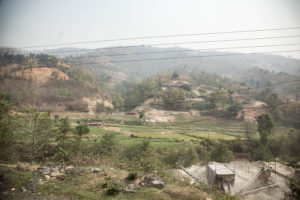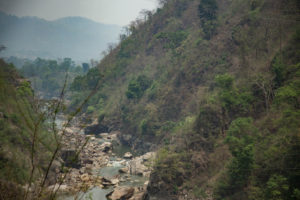 After 3.5 days in Kathmandu where I felt I've exhausted all possible nearby walking locations, I finally made my way to Pokhara for the mountain and lake views. Being the budget traveller I was I decided to head to the bus area in the morning to bargain my way up a bus instead of going through the hotel or travel agency for the bus ticket. Bargaining succeeded after walking away from one and got a ride for 600NPR (USD$6), which admittedly felt a little cheap for an 8 hour bus ride.
The bus ride is all about the views. Once the bus got out of the town area it was basically about 6 hours of mountain, river and village views while the bus winded along the mountains, which was pretty awesome. Unfortunately the bus wasn't exactly a smooth ride and it ended up being pretty tough to take any photos at all, although sitting at the back of the bus isn't as bad as some websites make it out to be. Whoever complained riding at the back of the bus along this route sucks haven't tried sitting on a military 5 tonner in a forest. I took the same route back to Kathmandu at the end and I spotted a couple of groups rafting along the river as well.
Pokhara and Phewa Lake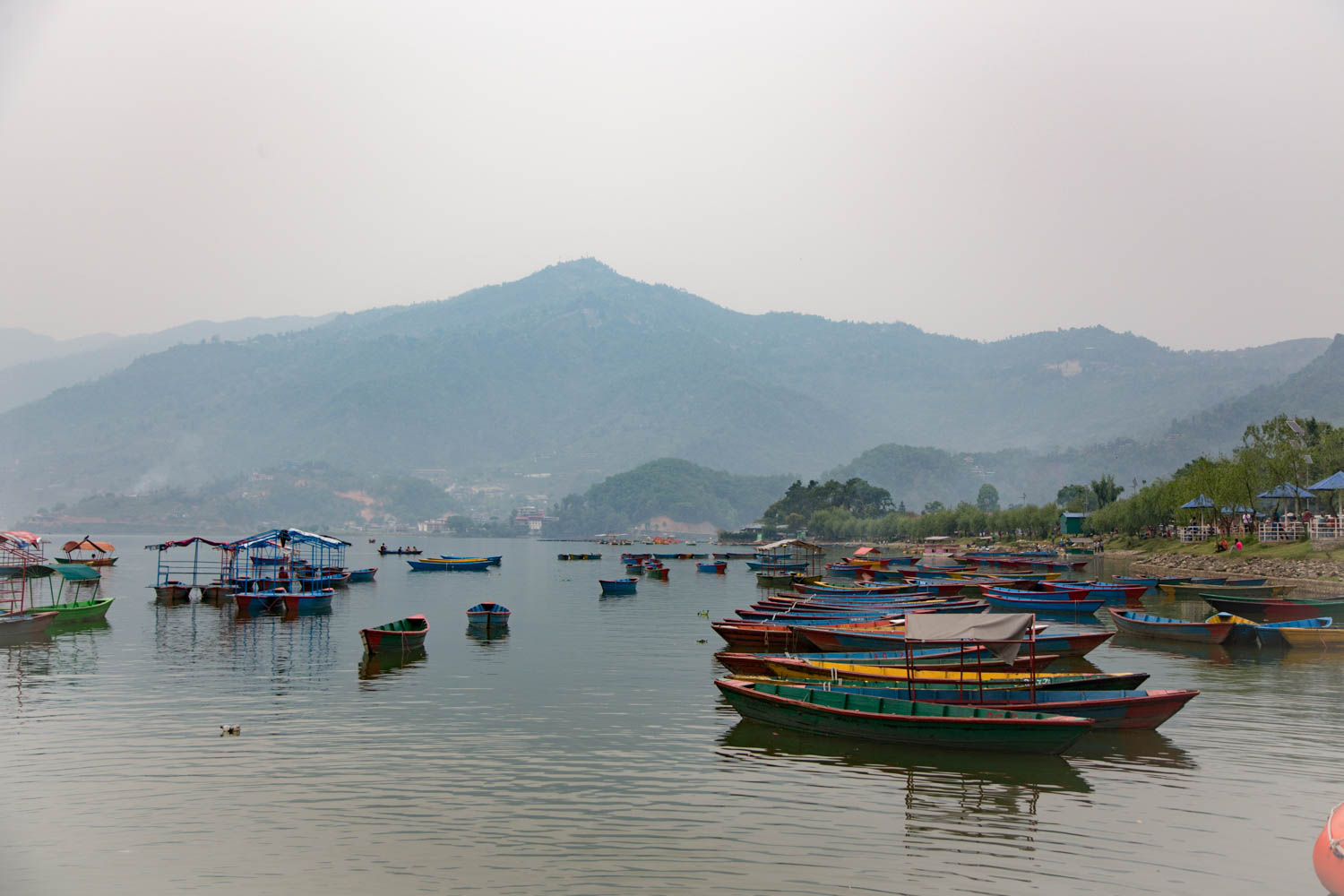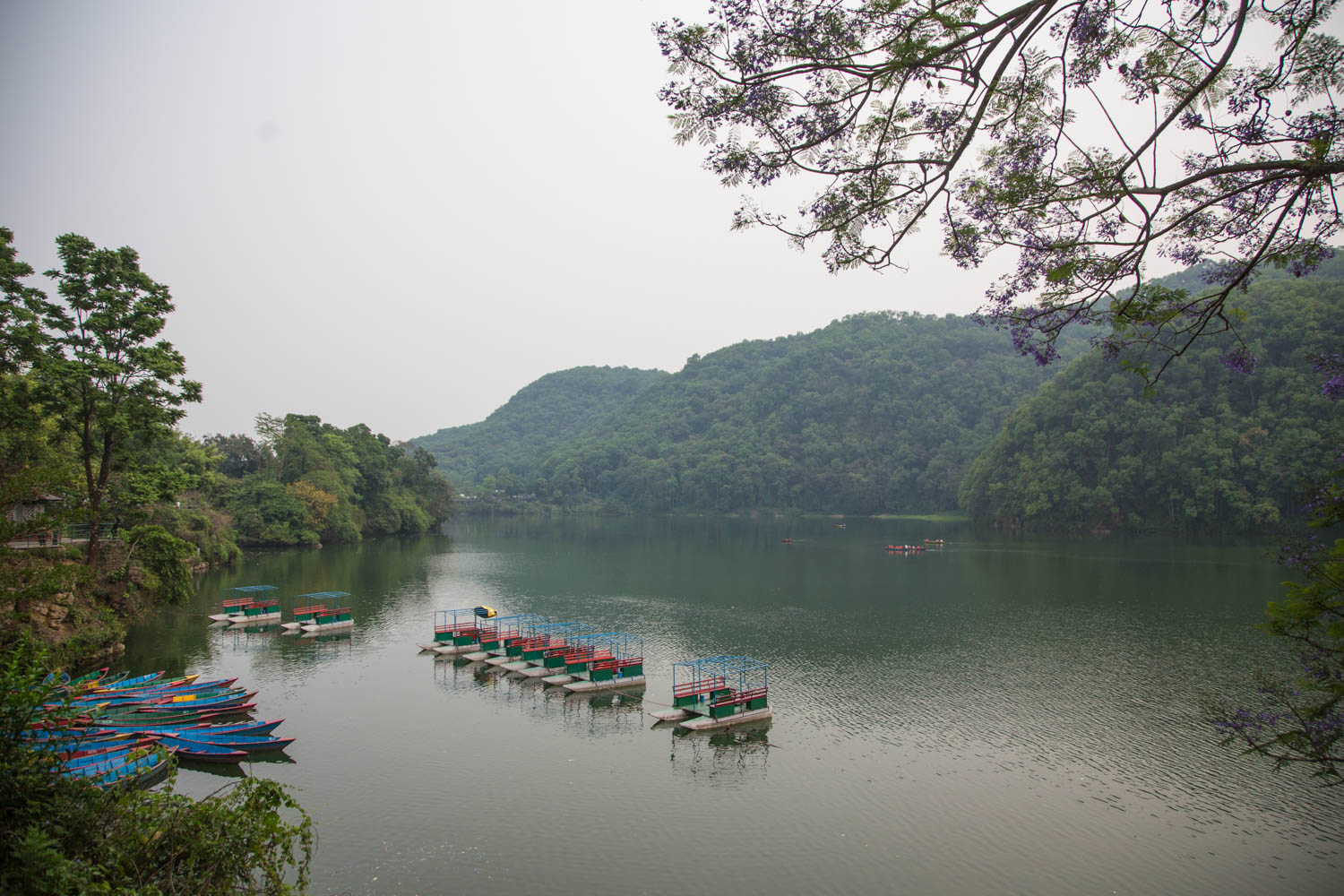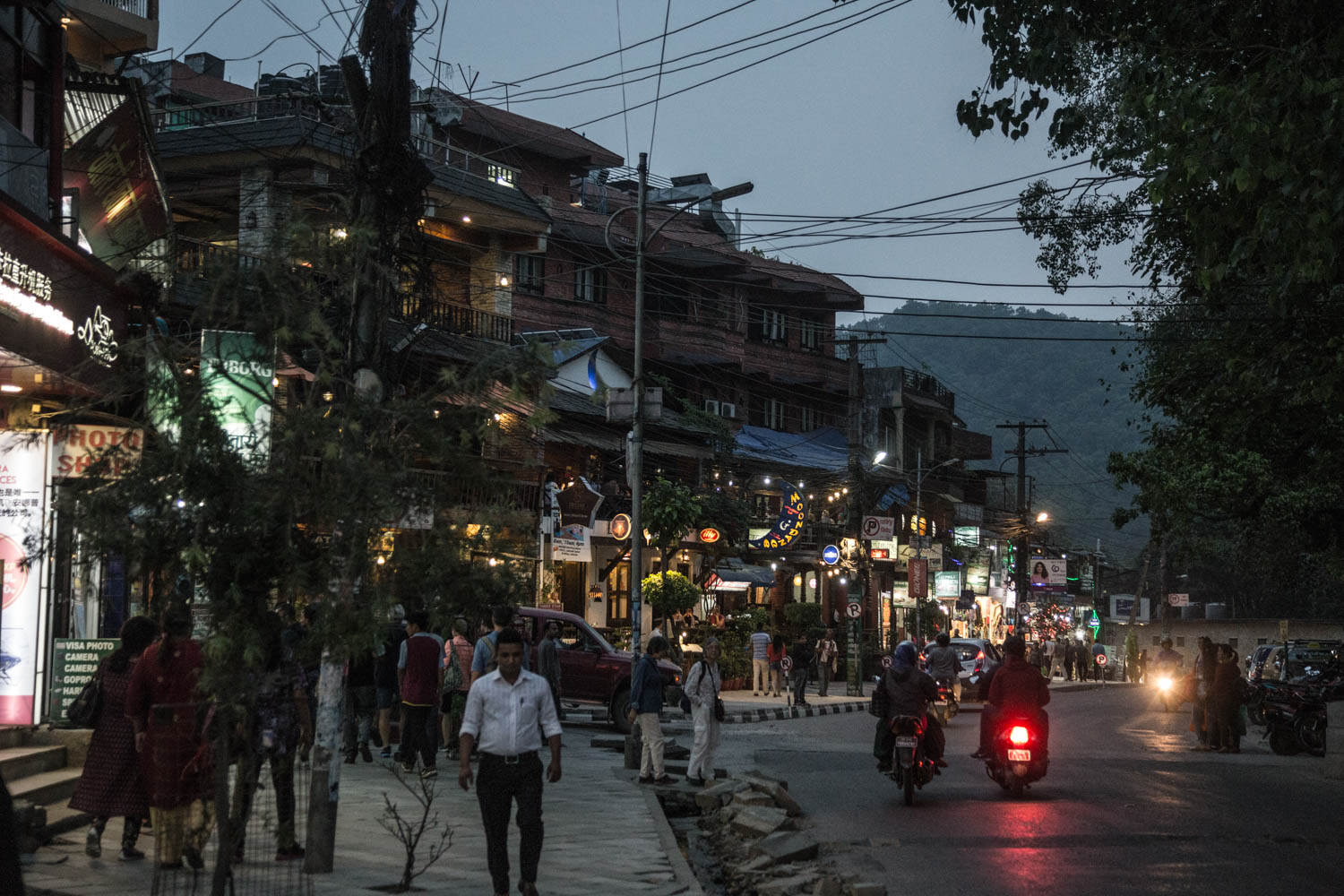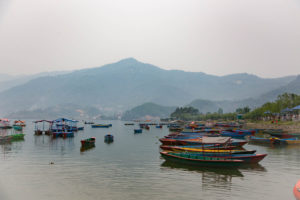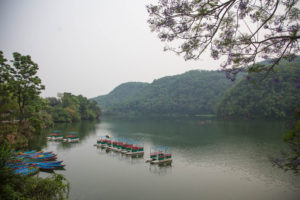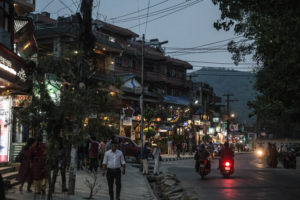 My hotel in Pokhara was just a couple minutes walk away from the most prominent feature in the area, Phewa Lake. Plenty of boats for rental there to rip off the tourists. In the middle of the lake was Barahi temple with boats ferrying locals over, though I didn't head over as I pretty much had enough of temples for now. In the background was just endless mountains, which though nice looking wasn't what I had in mind as the area was covered in fog/haze and I couldn't see any of the snow capped mountains I had expected. Learned a few days later that the view only clears up during the monsoon season in June, so I guess I was unlucky with the view, though I probably wouldn't have enjoyed walking around in the rain either.
The main tourist area itself was simple, just a single long street of shops leading from one end of the lake to the other. It's a total far cry from Kathmandu. Where Kathmandu seemed to have taxi and rickshaw drivers trying to ambush you at every corner, Pokhara seemed to only have a handful, which felt so much more peaceful. No guesses as to which place I enjoyed more.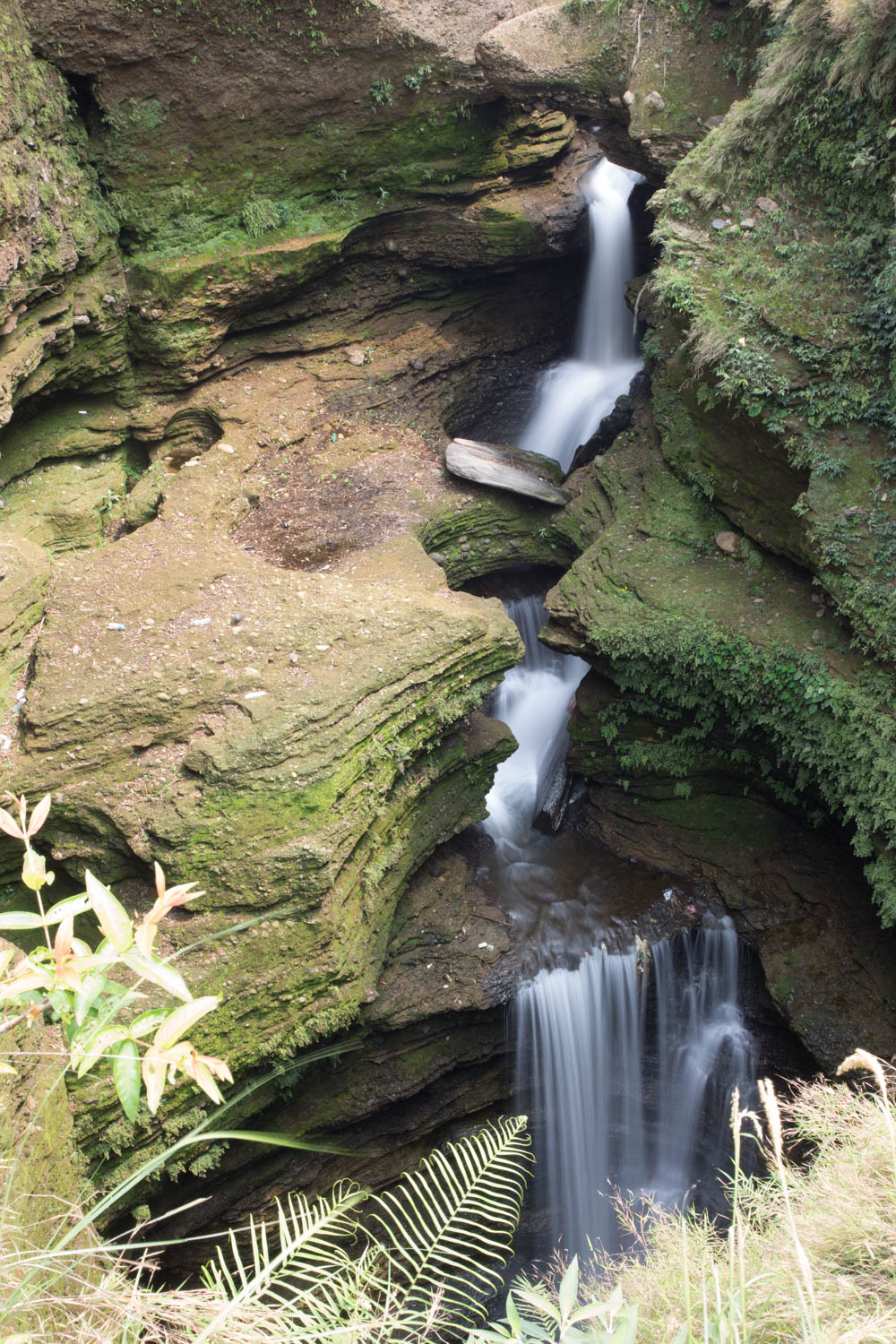 Southwards of town is the World Peace Stupa, with a couple of sights along the way. First is Davis Falls, which admittedly isn't exactly impressive at that time, apparently when the water flow increases during the monsoon season it looks better. Furthermore the waterfall starts at our ground level and goes underground, so only a small part of the waterfall can be seen. Still, for a 30NPR entry fee I'm not going to gripe too much, and I got some decent long exposure photos as well so I'm fine with that.
Directly opposite the street from the waterfall is the Gupteshwor Mahadev Cave. 100NPR to enter the cave, which I eventually felt was a total ripoff even at that price, because the furthest part of the cave which was apparently the feature of the entire area was closed for maintenance. In other words, other than a small shrine somewhere halfway down, I paid 100NPR to climb down a bunch of rocks and back up without seeing anything. No photos in there as well which sucks for photographers like me.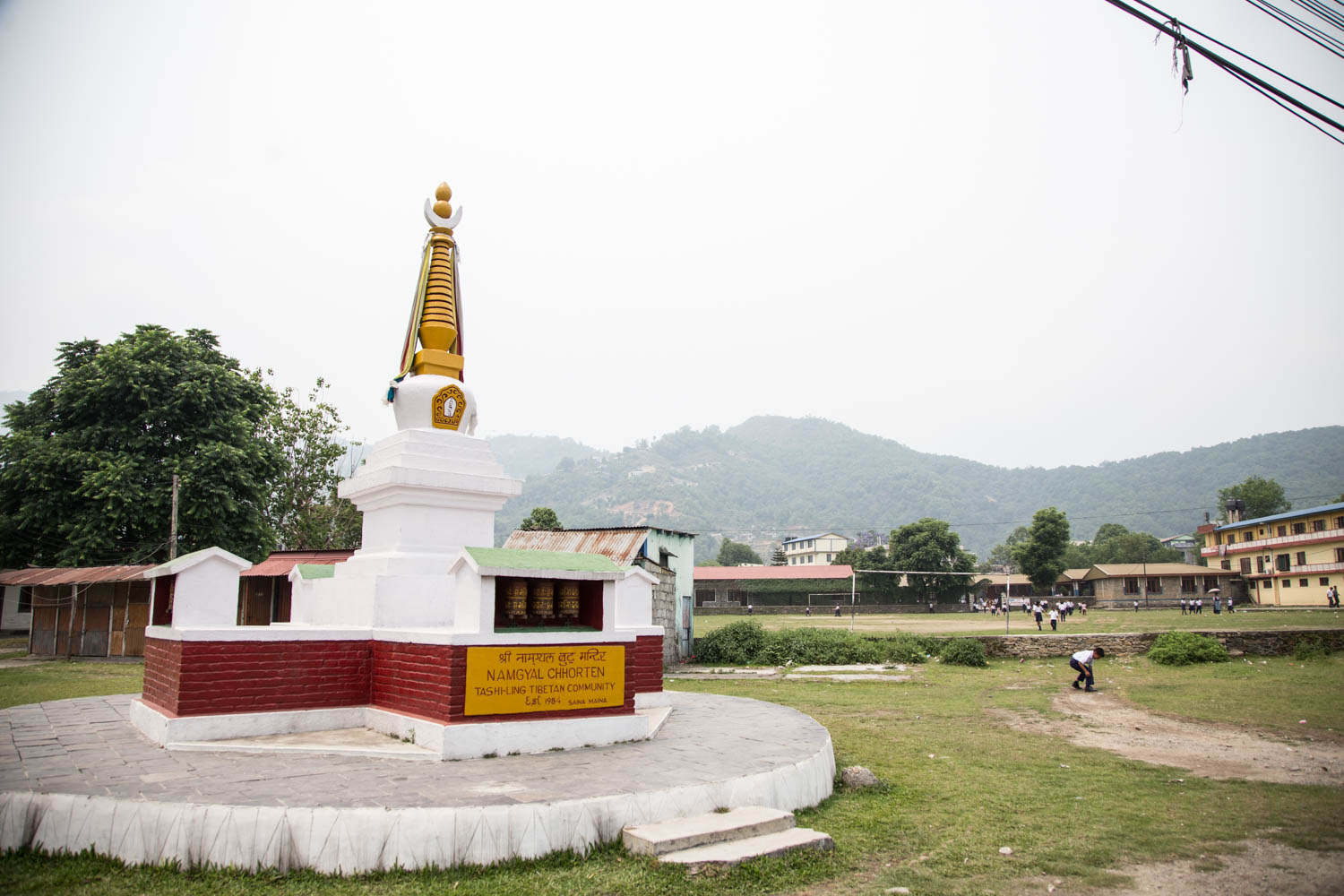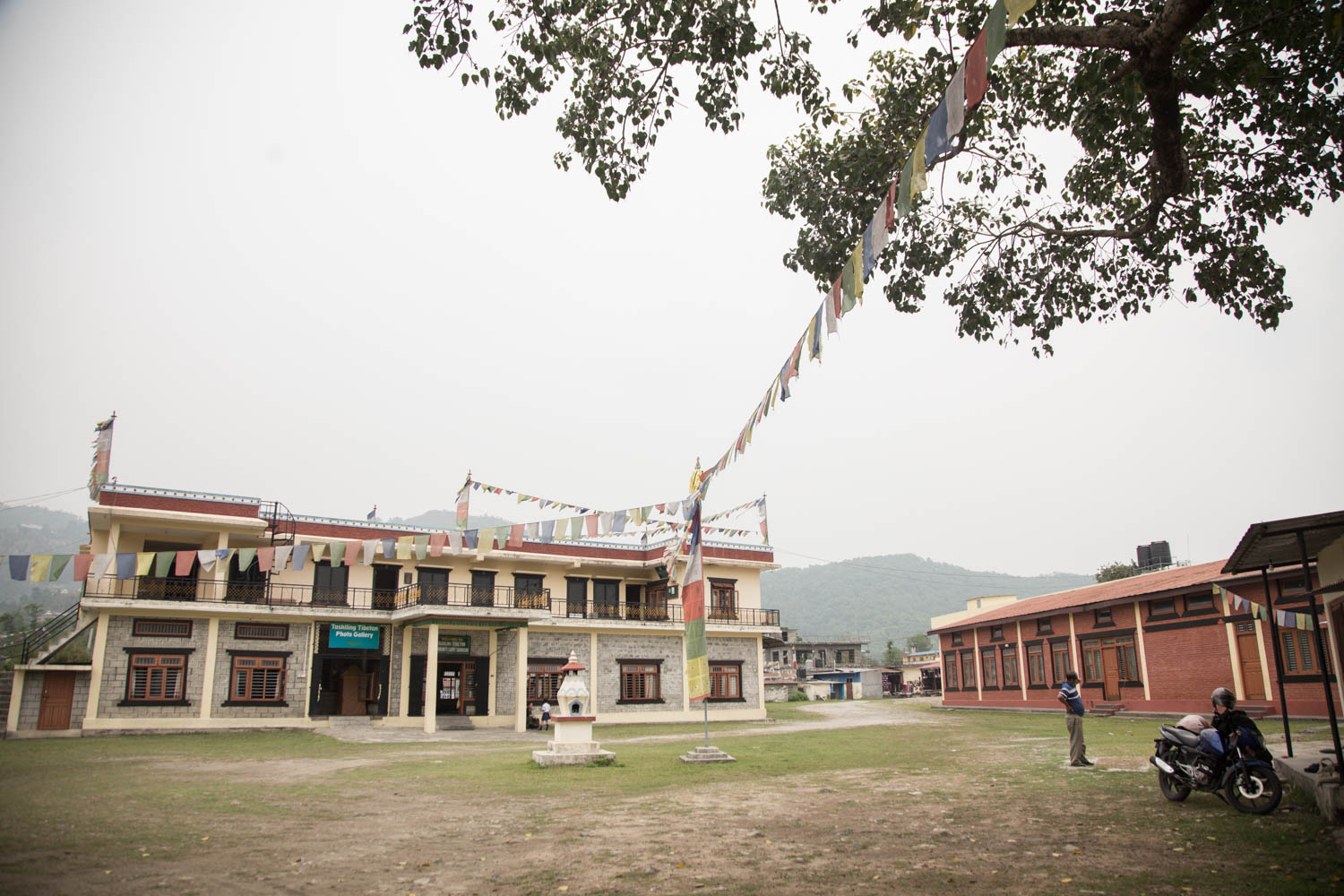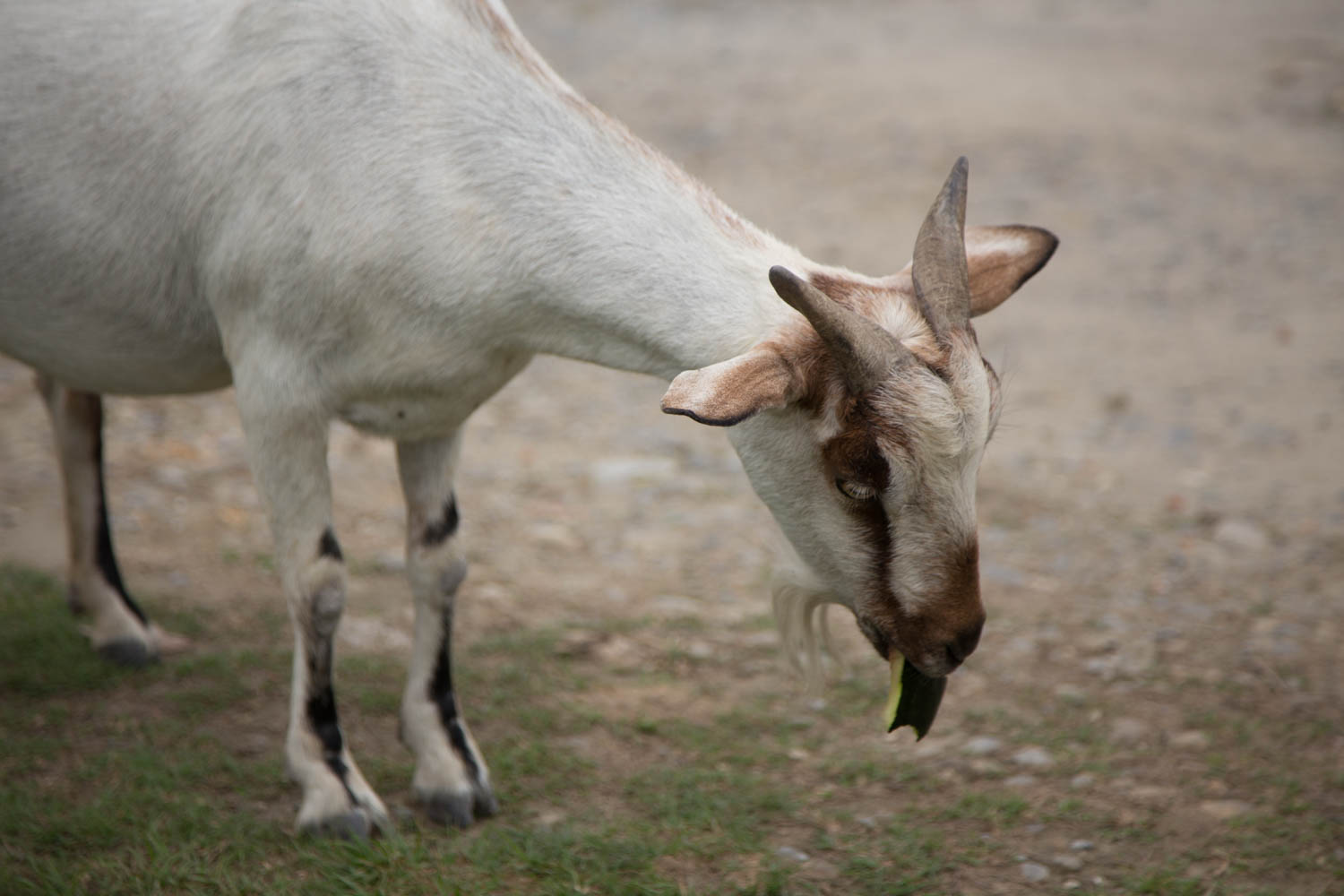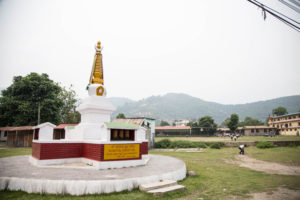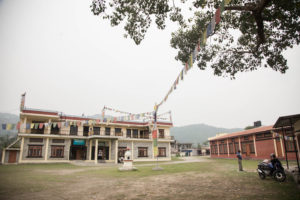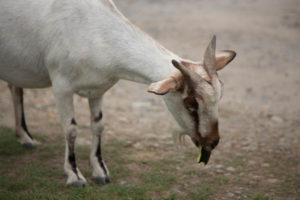 Around the area as well is the Tashiling Tibetan Village, which is one of the number of villages scattered around Nepal where Tibetan refugees have settled. Kinda not what I had imagined though. Quiet the village may be, but the houses just feel a bit too modern and clean compared to what I had in mind. Around the central square are what appears to be some mini museums displaying the history of the village and the handmade carpets from there. Again one of those places that would probably be better experienced with a guide. Still, it's a nice place to take a break, there's a huge banyan tree around the central square where I managed to strike a conversation with a French tourist, with whom I spent the next few hours climbing up to the stupa and had a couple dinners with.
World Peace Pagoda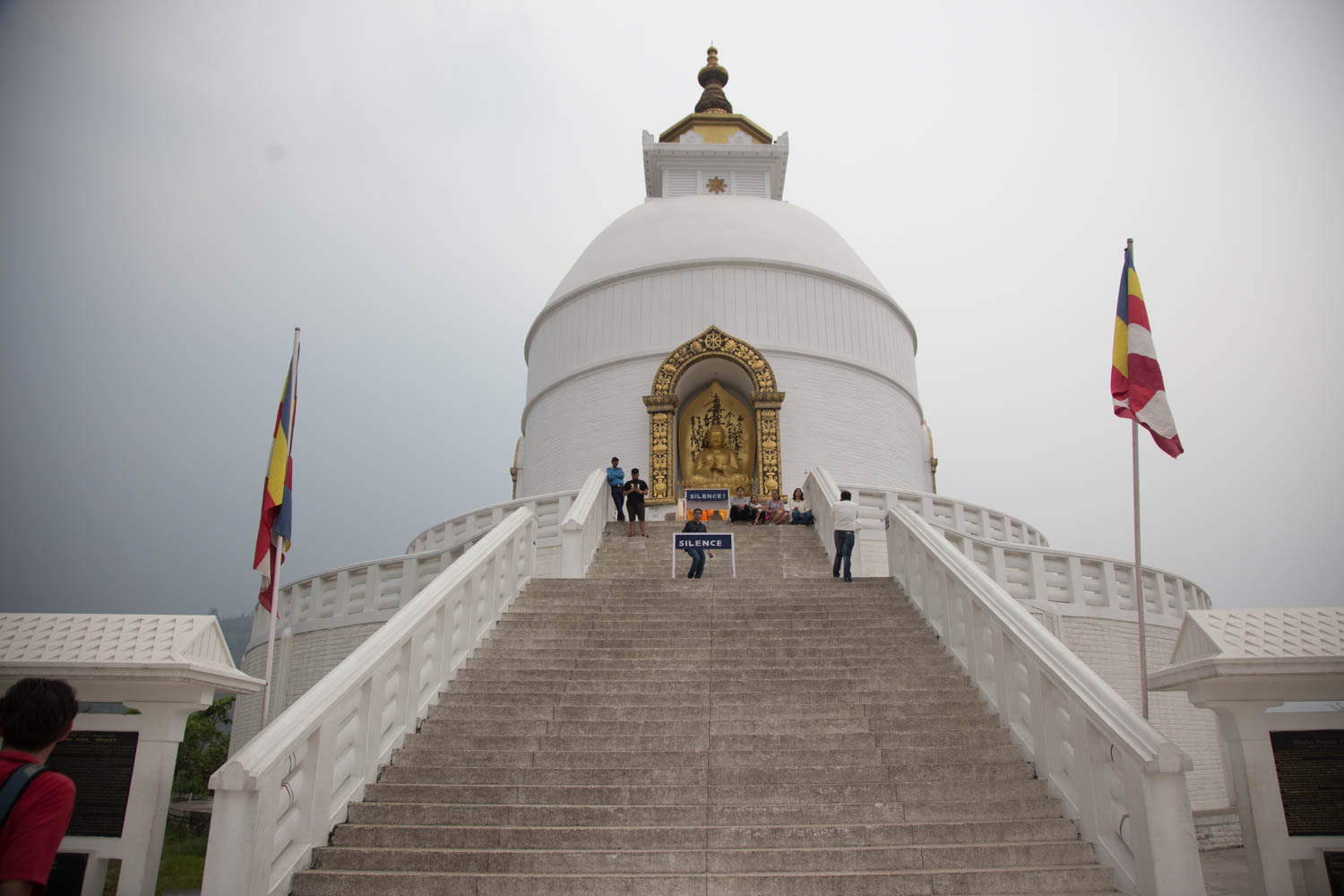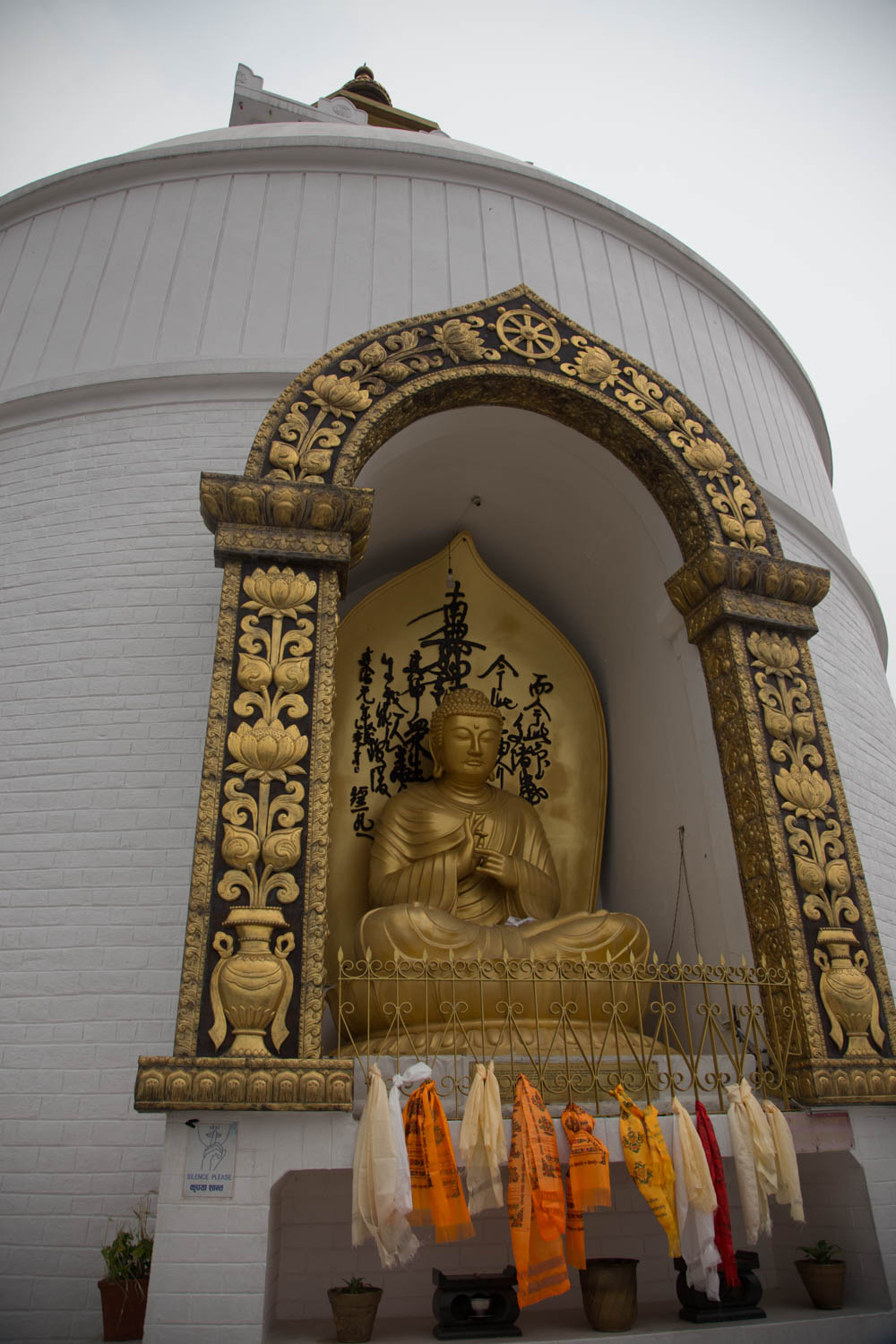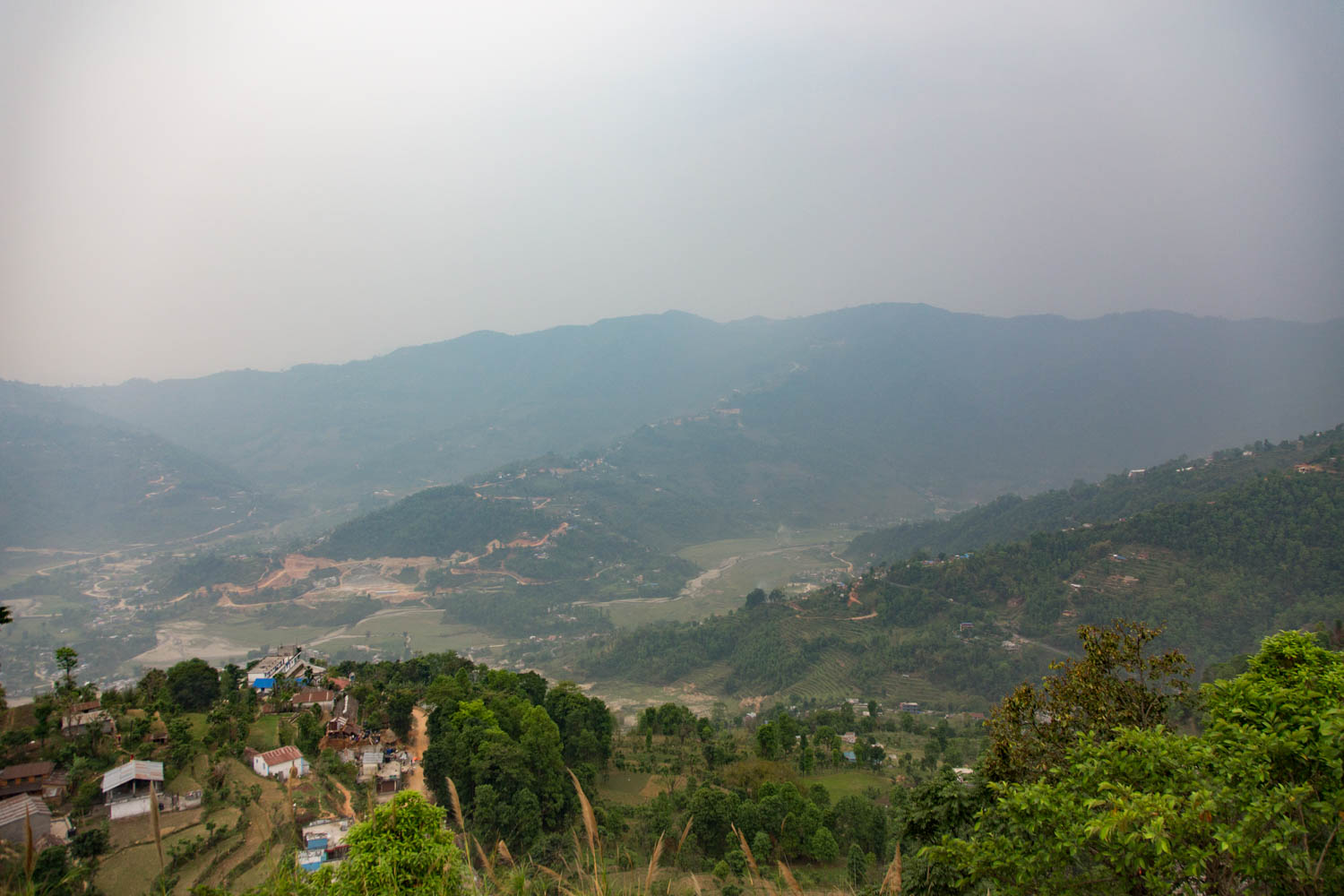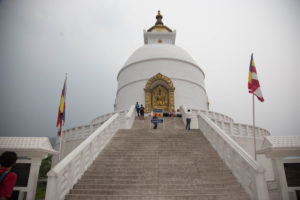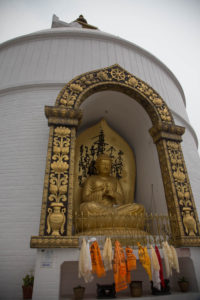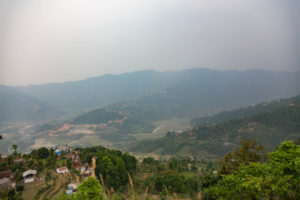 About an hour's climb from the village is the World Peace Pagoda, situated on top on Ananda Hill and can be seen from across the lake. This isn't a big place by any means, but it's made impressive with the backdrop of the unblocked mountains and lake. A simple white structure with Buddha statues built into all 4 sides, the simple colours just make the entire area seem even more peaceful than it already is. Surprisingly for a tourist attraction and a UNESCO Heritage Site, the place isn't exactly swarming with tourists, which I enjoyed, not having to squeeze with dozens of tourists. Bonus points for free entry. Sadly my plan to watch the sunset up on there was disrupted by an incoming storm and I had to make my way down with my new friend after spending all of 20 minutes up there, which was a pity considering the time we took to get up there.
A couple of days later I rented a bike and tried to cycle up by the less well-travelled road from the north around the lake, which turned out to be a huge mistake. A rain earlier in the morning led to certain roads being a huge muddy mess, and once I got to the slopes fatigue set in and I ended up having to push the bike up the slopes all the way, having cycled so far than u-turning was not an option. What was an original plan to hopefully reach the peak at 3pm for a 45 minute rest and a drink turned into a 4.30pm arrival and immediate descent without any rest in an evening shower. Bad decision all around
Paragliding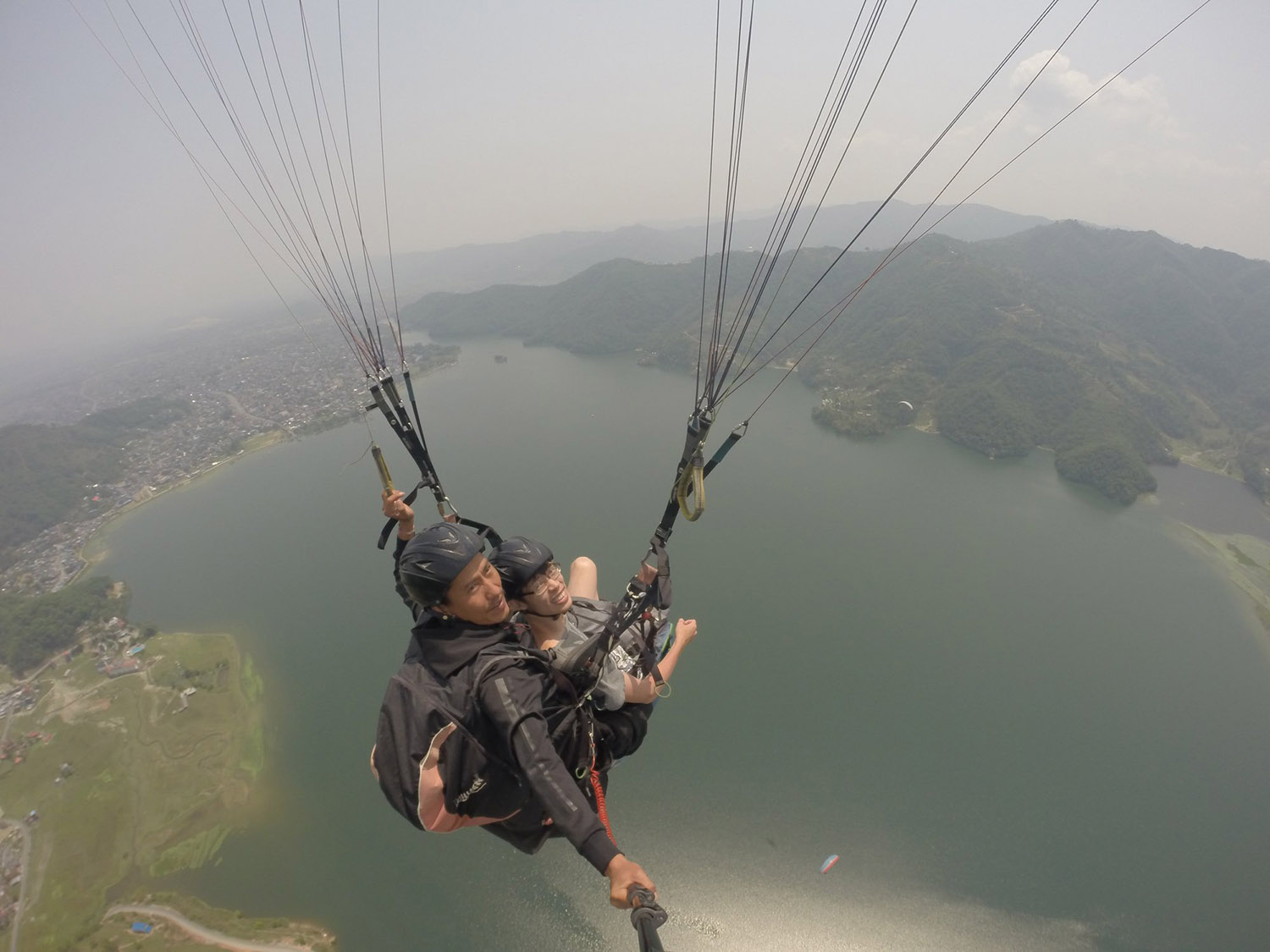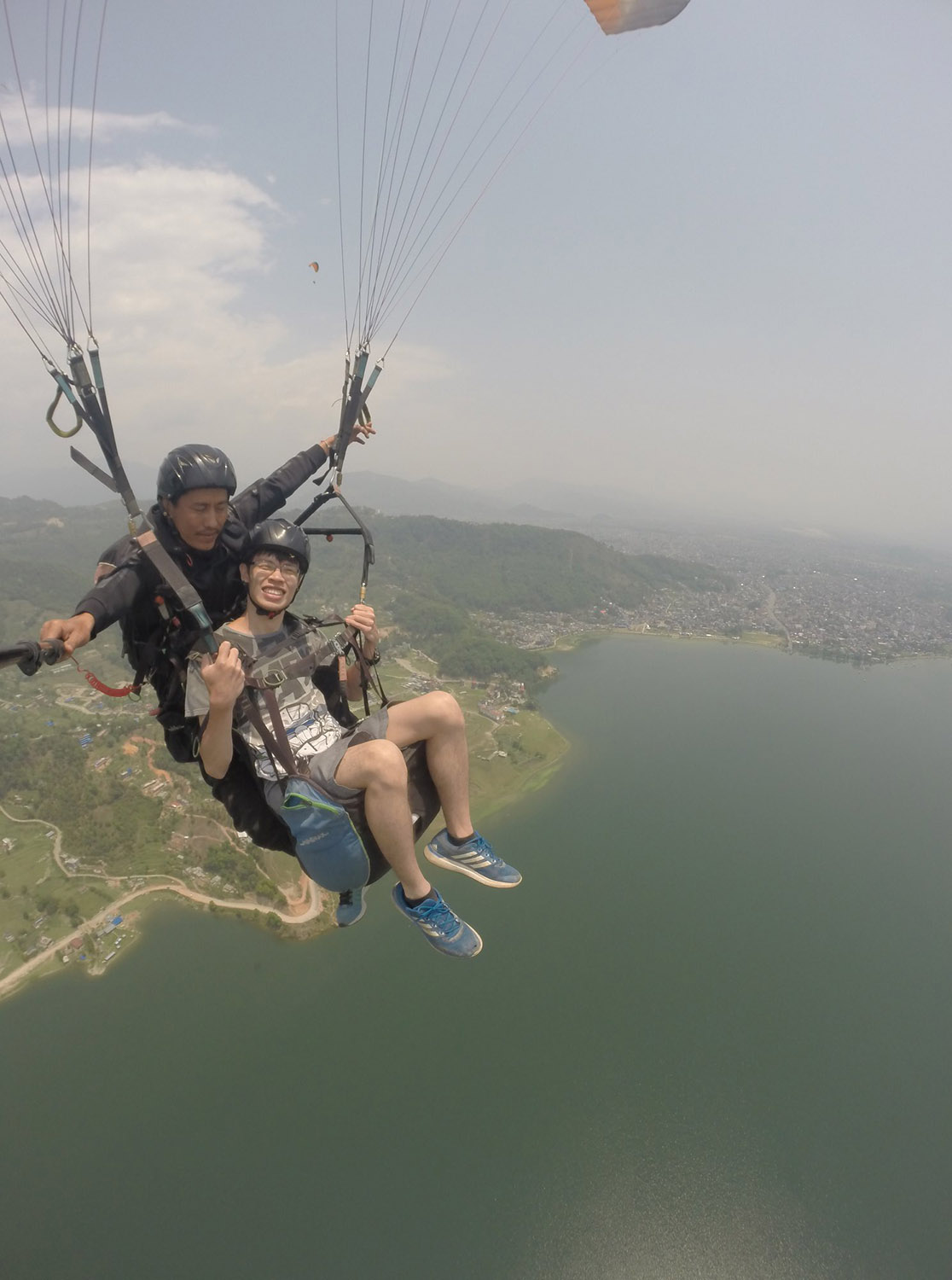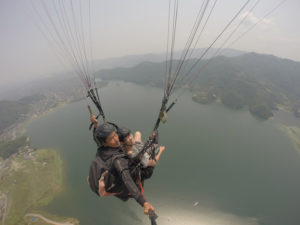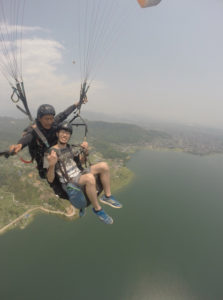 I actually nearly had a heart attack while writing this part, as the CD containing the photos that the paragliding company passed me was not working, and all data recovery methods I tried were not working. Eventually Facebook-messaged the paragliding company in the slim hopes that they had copies of it. Couldn't believe my luck when they actually told me they had it. I only got the photos so far though, I'm still trying to get them to send me the videos, but even if I can't get the videos eventually, getting the photos for memories is better than nothing.
Anyway, back on topic. Went for paragliding, one of the most popular activities in Pokhara outside of hiking. The price was decent, ~USD$60 for a half hour ride, with a bonus acrobatics component for free because I didn't have cash for the full acrobatics part. It's more fun than I expected, as being the idiot that I am the initial expectation was to just float in the sky for 30 minutes, but we just kept going higher and the view just kept getting better. The acrobatics session was unexpected considering I told the pilot I'm broke, but it was fun, seemingly dropping in freefall in a spiral motion. The lake and mountain view was awesome, and the weather up in the sky was a far cry from the hot sweaty weather experienced in town. If I could make any complaint it would probably be just the hazy weather that restricted the view of the further regions, but as explained by my pilot the view clears up during the monsoon season, so I guess it's just a matter of wrong timing.
Walking around Nepal
If you noticed, I described most of the distance travelled by time spent walking, meaning I literally walked for most of the trip, only taking the occasional taxi when I'm too tired and far away to walk back. This was part of my plan all along, as on top of spending less money travelling, I also get to see stuff I don't see on taxis. For example, on the way to Boudhanath Stupa I saw this along the road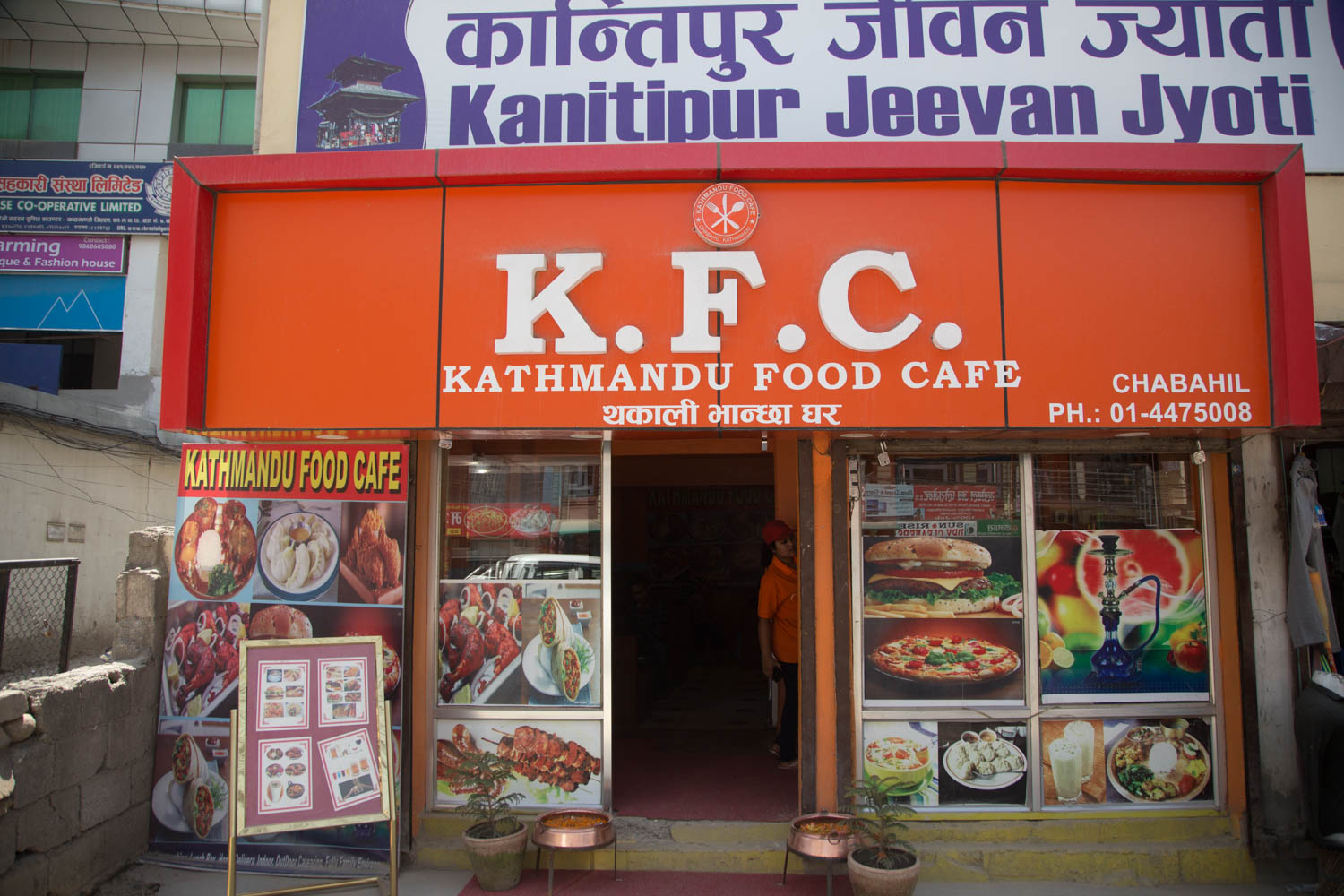 I know the acronym makes sense, but I wasn't expecting to see KFC stand for Kathmandu Food Cafe instead of the KFC that we all know. I'd eventually get to see the original KFC further down the road, though surprisingly I didn't see a single McDonald's anywhere the entire trip. Maybe McDonald's isn't a thing around Nepal
I also saw this around the outskirts of Kathmandu, which eventually turned out to be a more than regular sight after spending a few days there.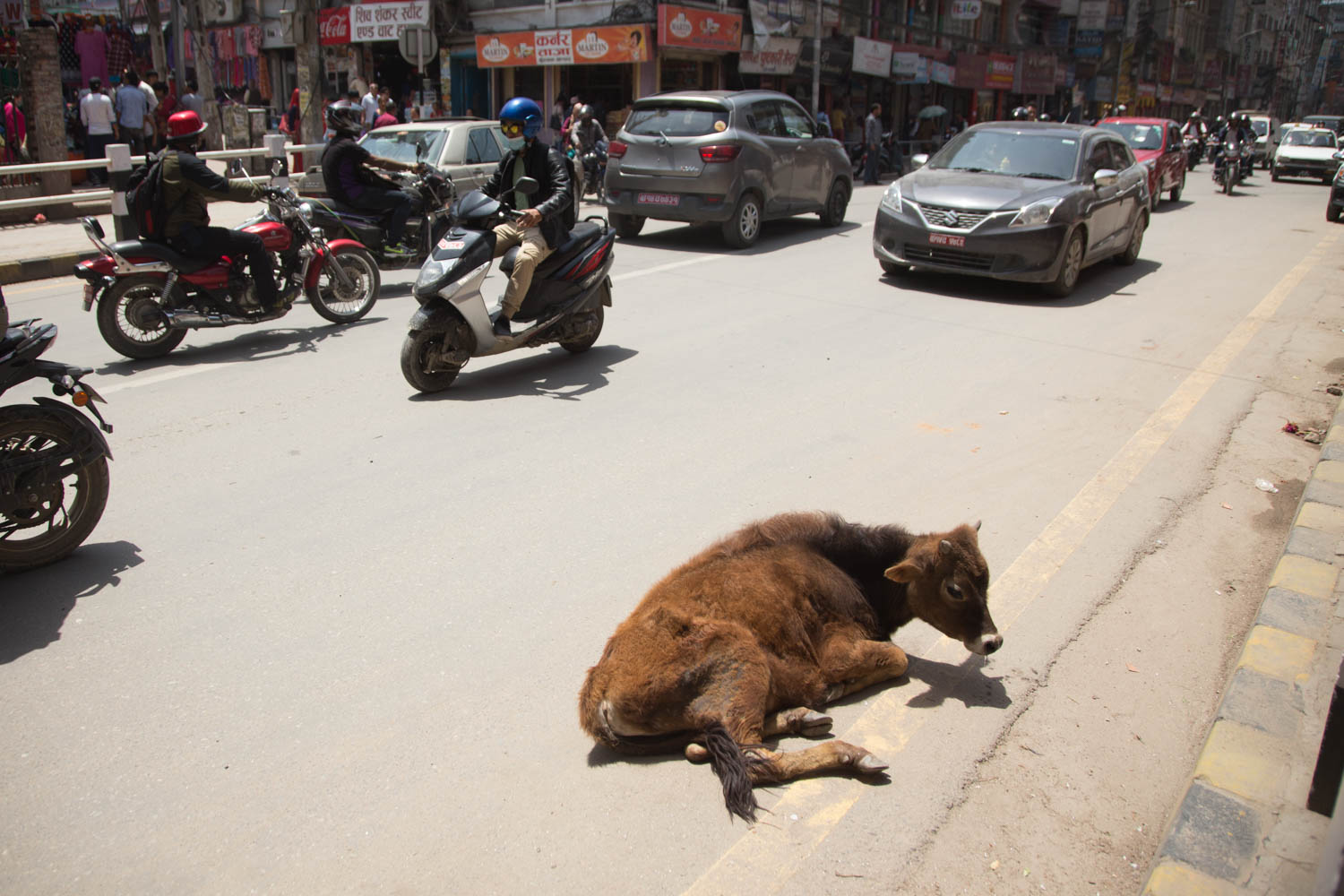 Walking around Kathmandu and Pokhara felt like different worlds. Kathmandu tended to be more built up and once I got out of the tourist areas I often found myself in small alleys like the one below, which, while peaceful and nice looking with the old looking brick buildings, felt a little claustrophobic at times, not to mention confusing when my GPS starts screwing up.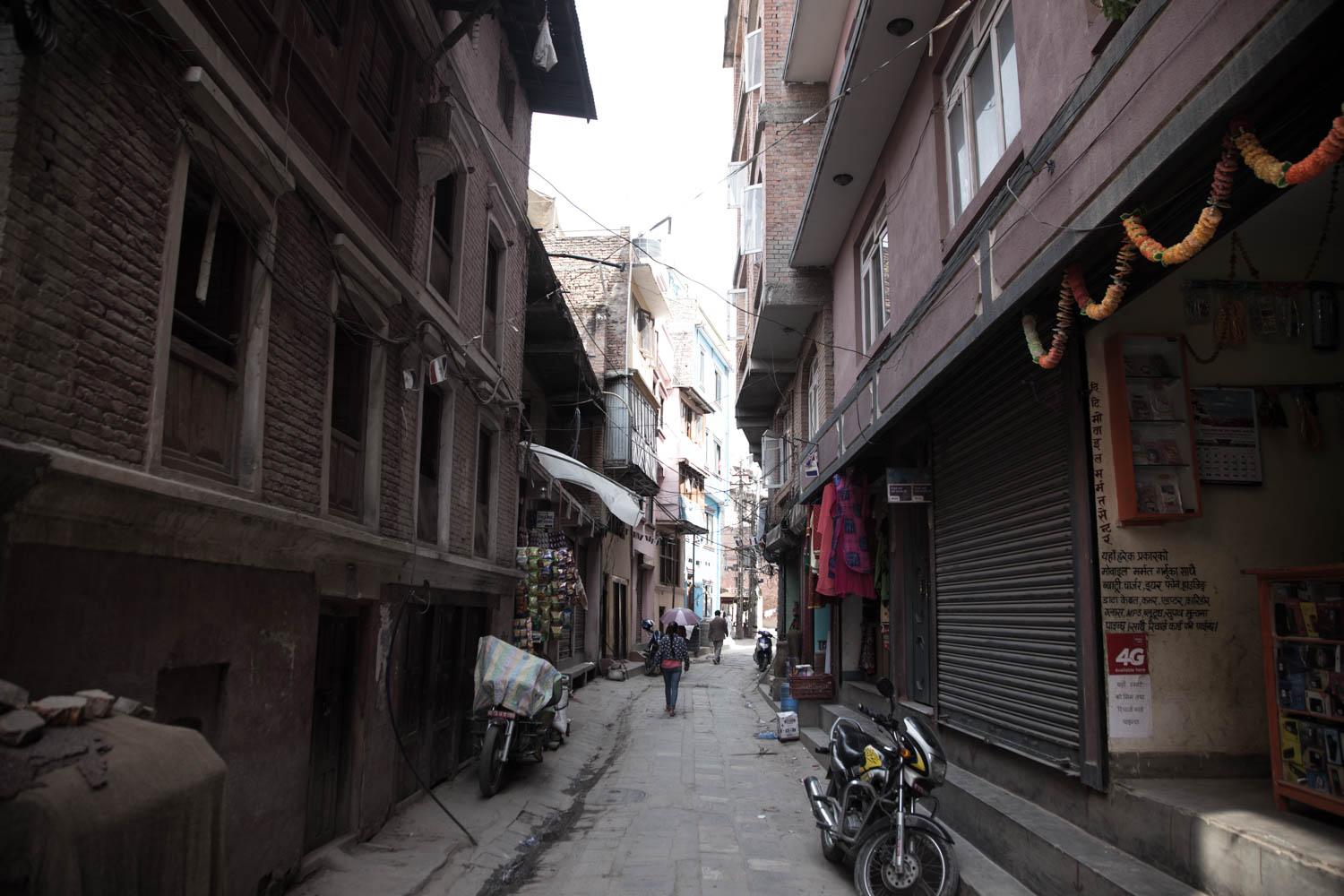 On the other hand, upon getting out of the Pokhara main area it's mainly rural areas, which was a breath of literal fresh air compared to Kathmandu. Several times along the lakeside road I'd get to see views like this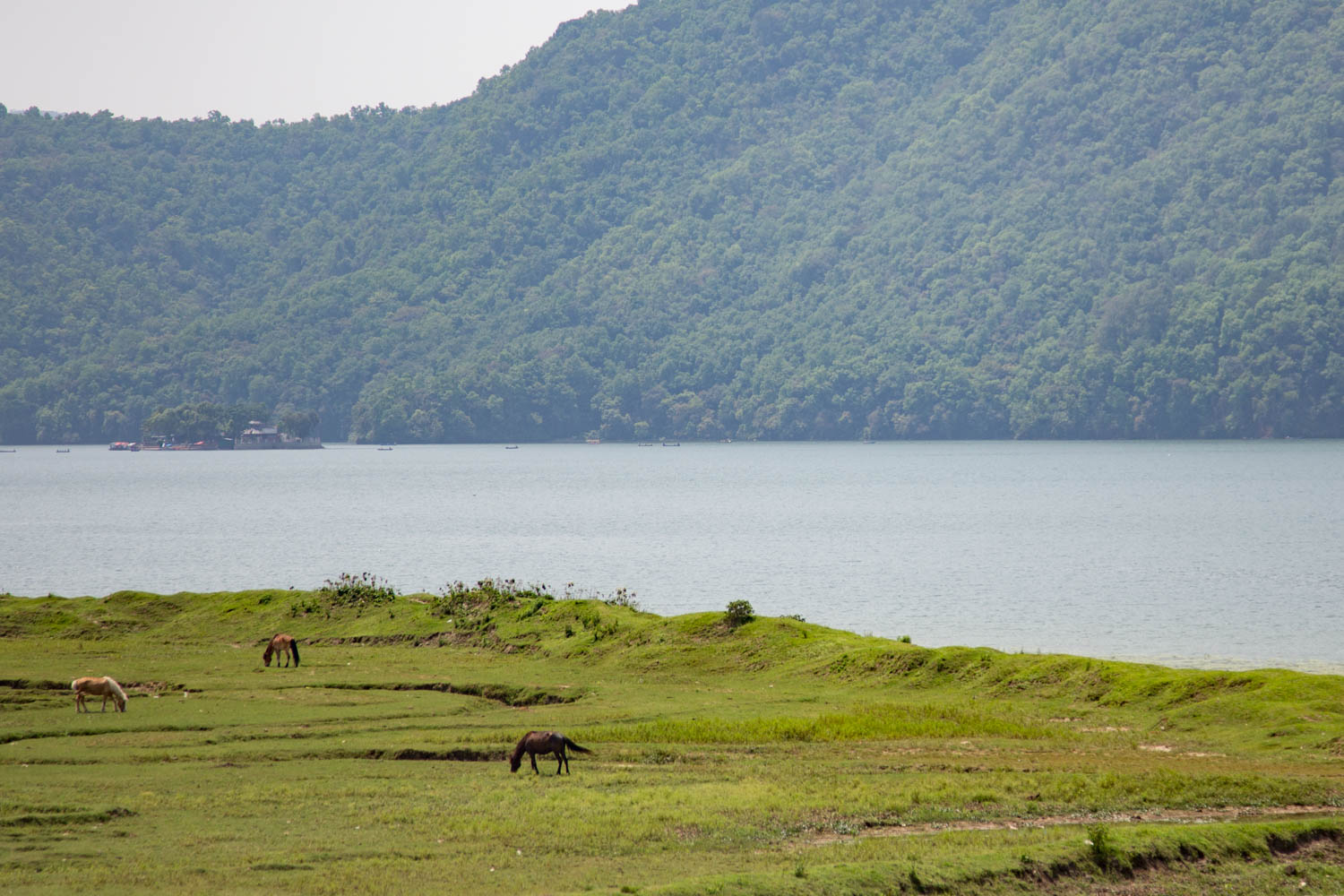 Turn away from the main roads and try going up the hills, and I'd be greeted by buildings that are closer to what I imagined as villages, with the short brick houses spaced far apart, wooden gates and the terraced hills where the locals plant their crops. Along the path to the World Peace Pagoda there was even a sign saying "Welcome to Kodi Village" which I sadly neglected to take a photo of.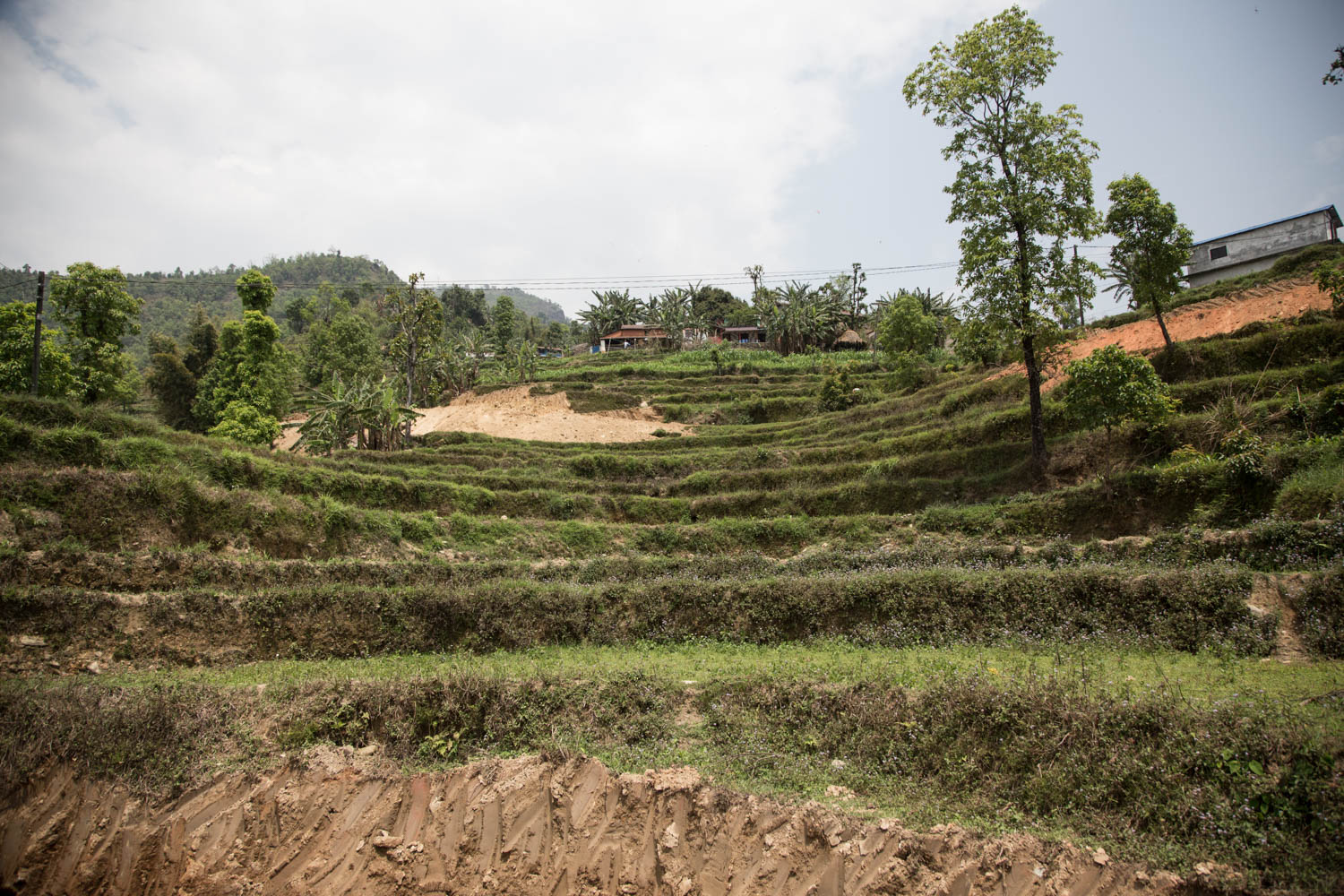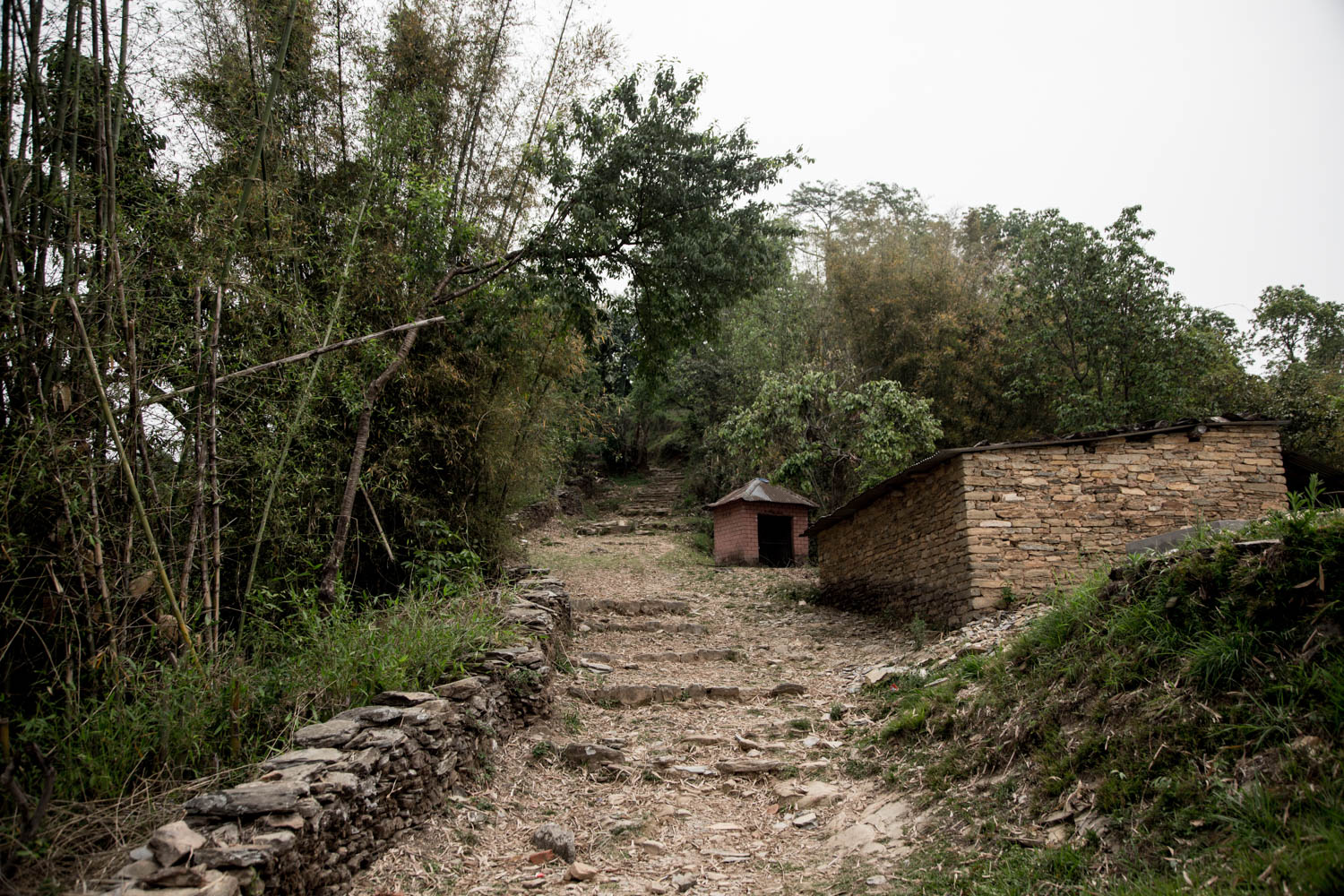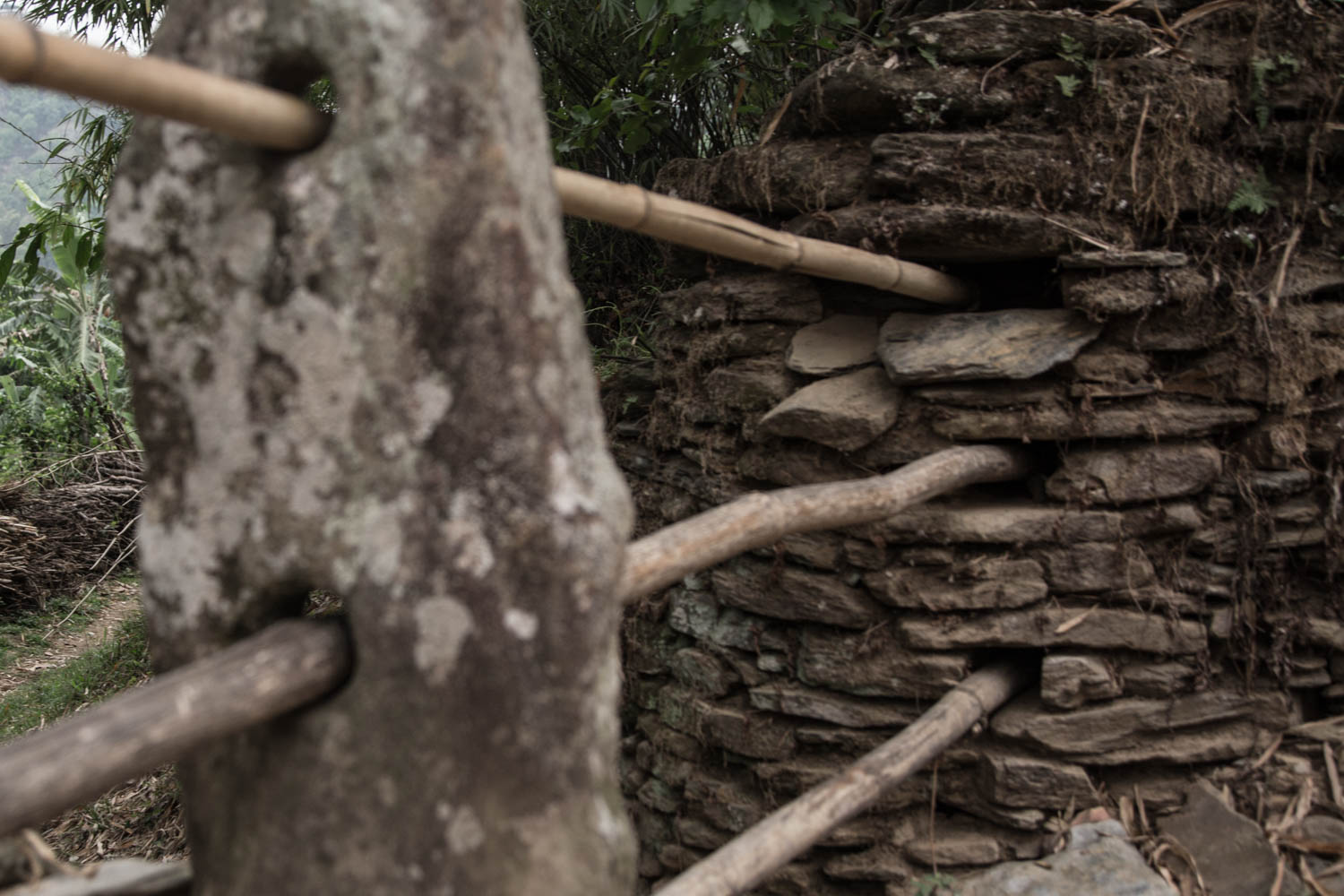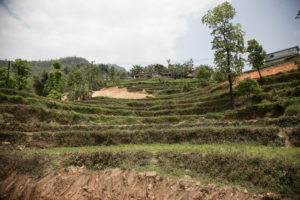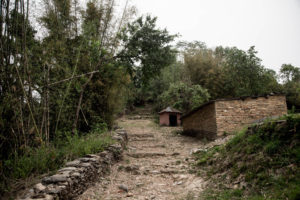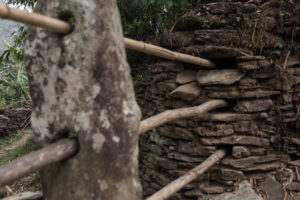 I actually had the fortune to enter one of the local villager's houses. Maybe it was a misfortune as it turned out the kid who invited me in just wanted to fleece some money from me at the end, and being the poor traveller myself I could only afford 20 rupees to spare him or I'd be broke myself. Kid must feel hard done by getting so little money from spending time with me, though I doubt I'd give him more if I had more cash anyway. But I digress. No photos of the house interior as it'd be rude, but the interior was really very basically furnished with just dull grey concrete walls. The kid shared a bedroom with his sister, with the beds having just a very thin mattress which as a result felt kind of hard. His mother offered a bowl of berries, which I have no idea what is it, it looks like some sort of orange-coloured raspberry with a sorta tangy taste, thought it tasted kind of good. I eventually spent about 15 minutes talking to him and his sister, learning about them and their lifestyle, partially because I had no idea how to excuse myself to leave, until the kid offered to bring me to a nearby temple.
People of Nepal
One thing I did a lot of was photographing people. Mostly people going about their daily lives, like selling meat, vegetables and fruits, since the way they're selling these are rarely if ever seen in Singapore anymore.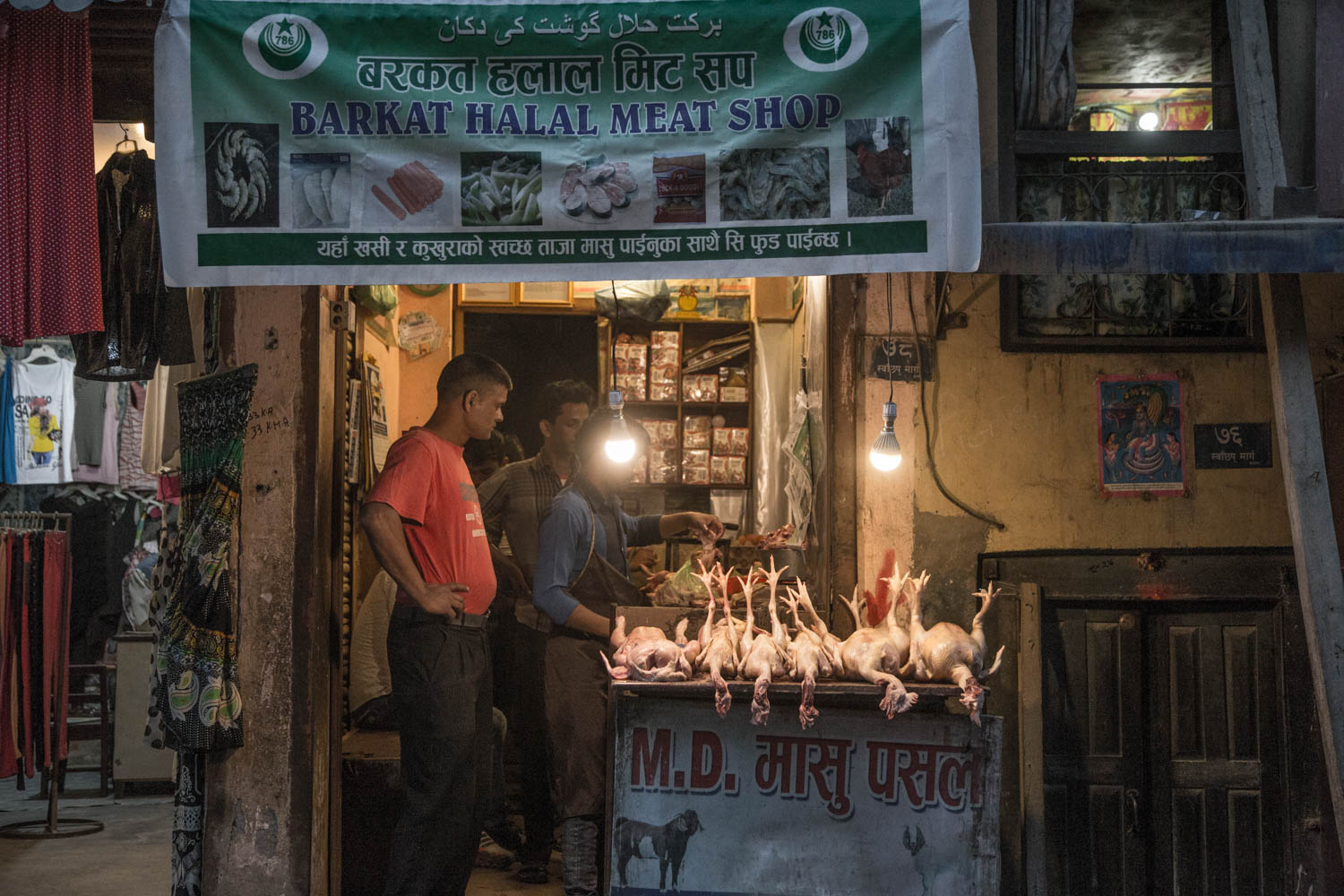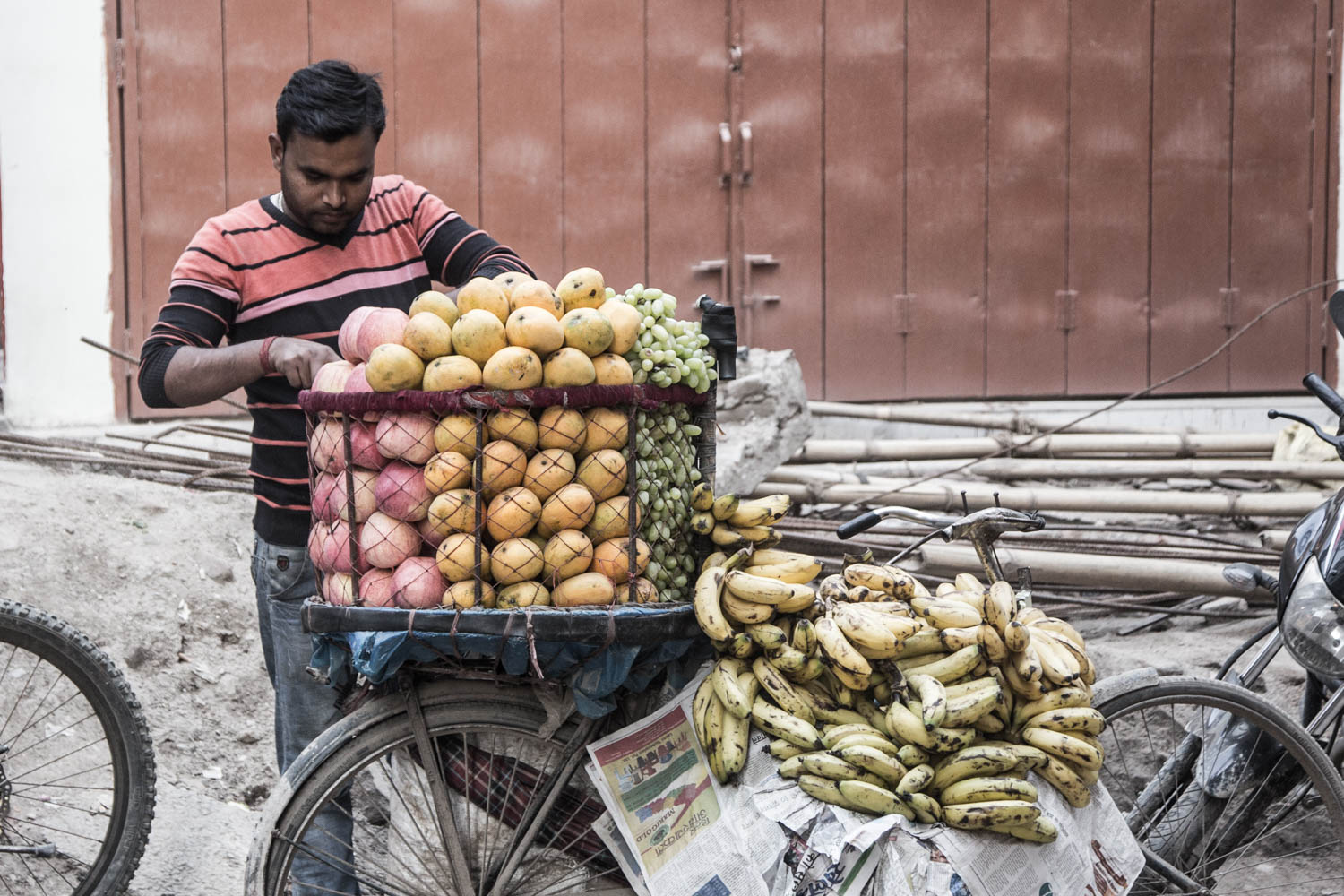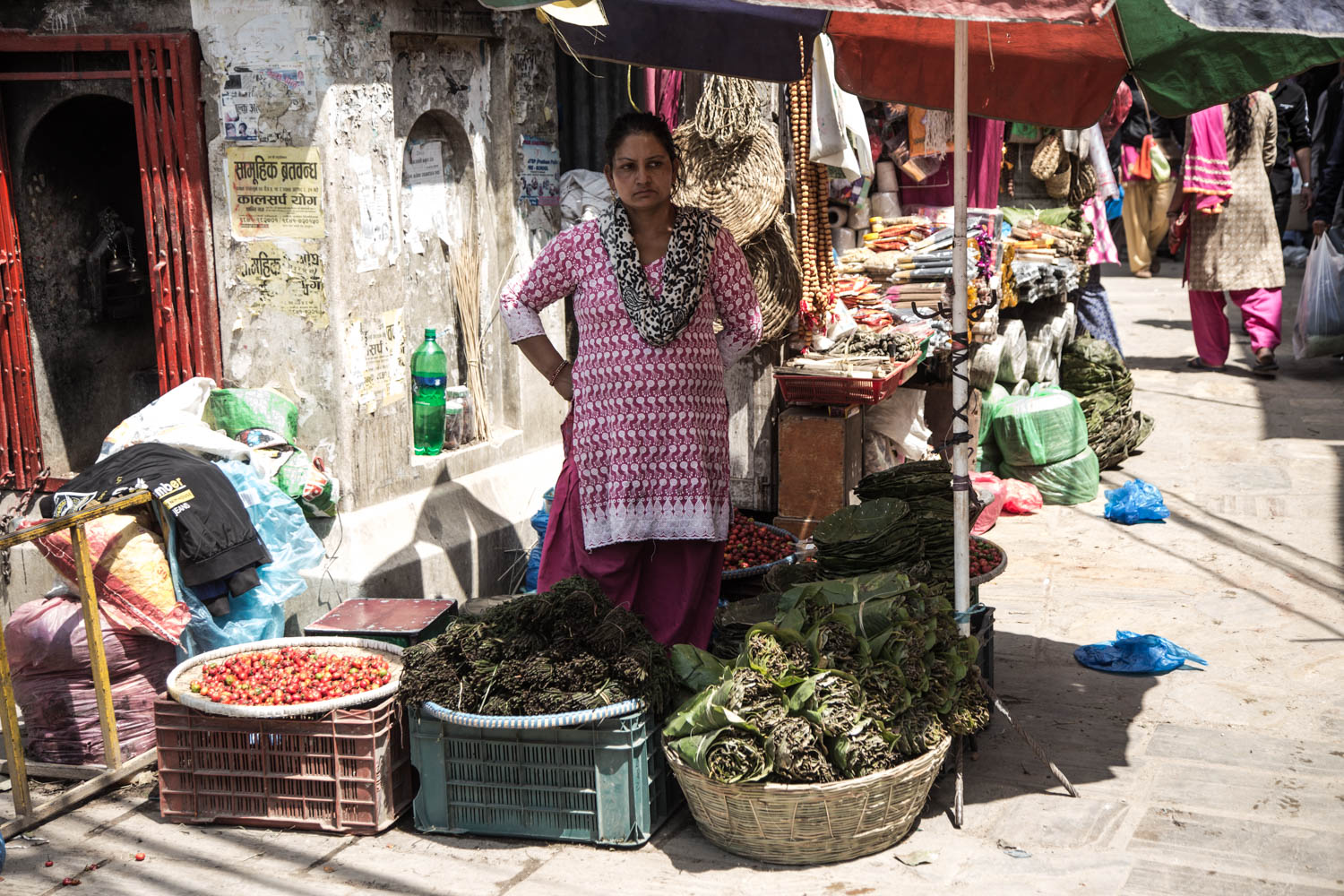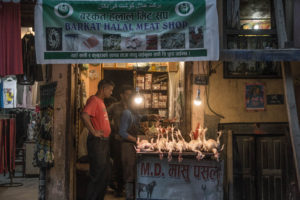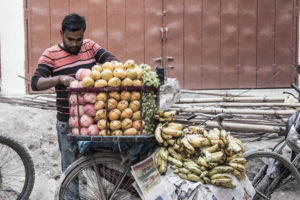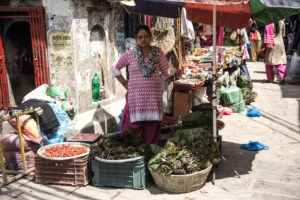 Apart from selling groceries, also people doing other work. Not often do we see guys literally standing at the door of a moving bus to get passengers on.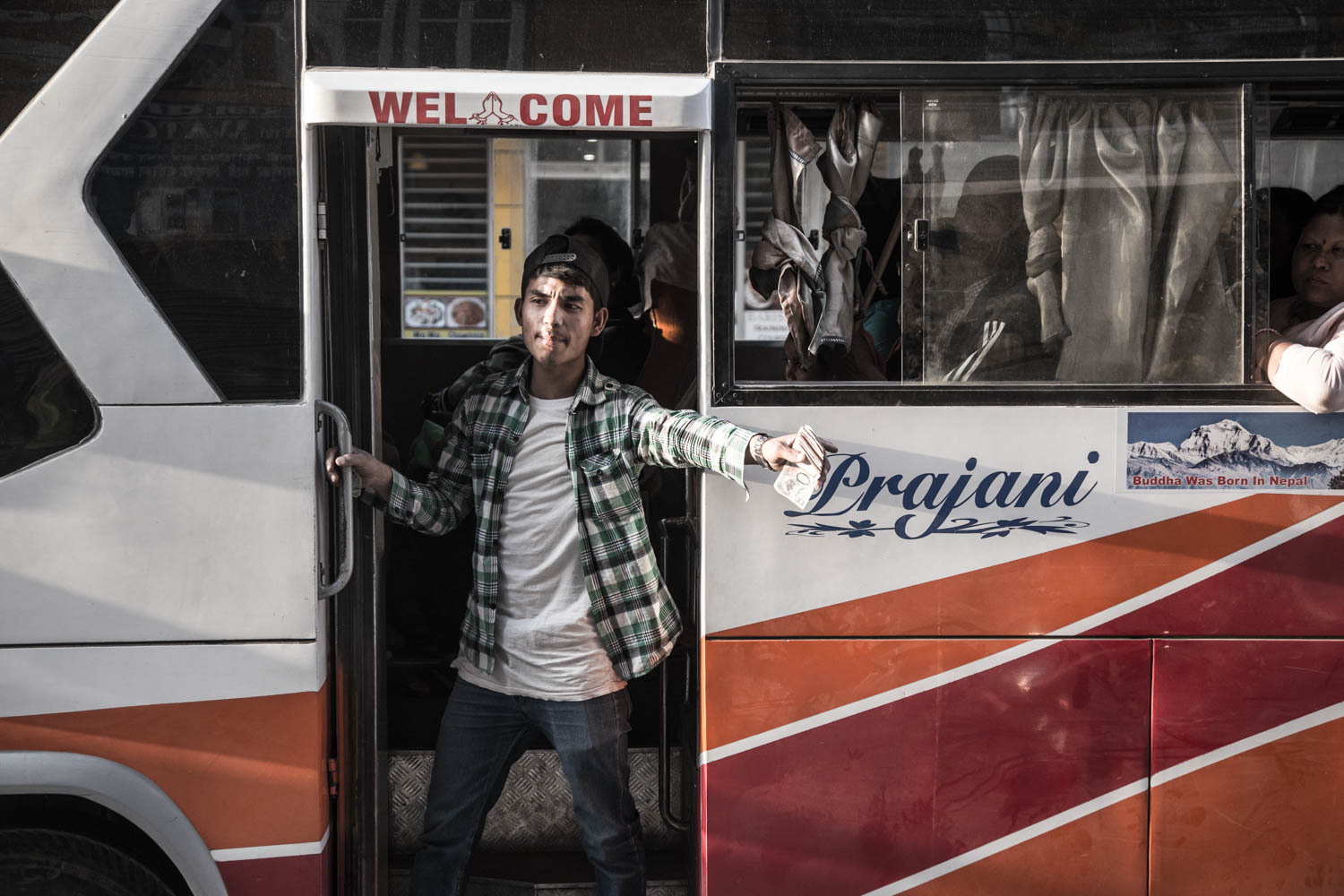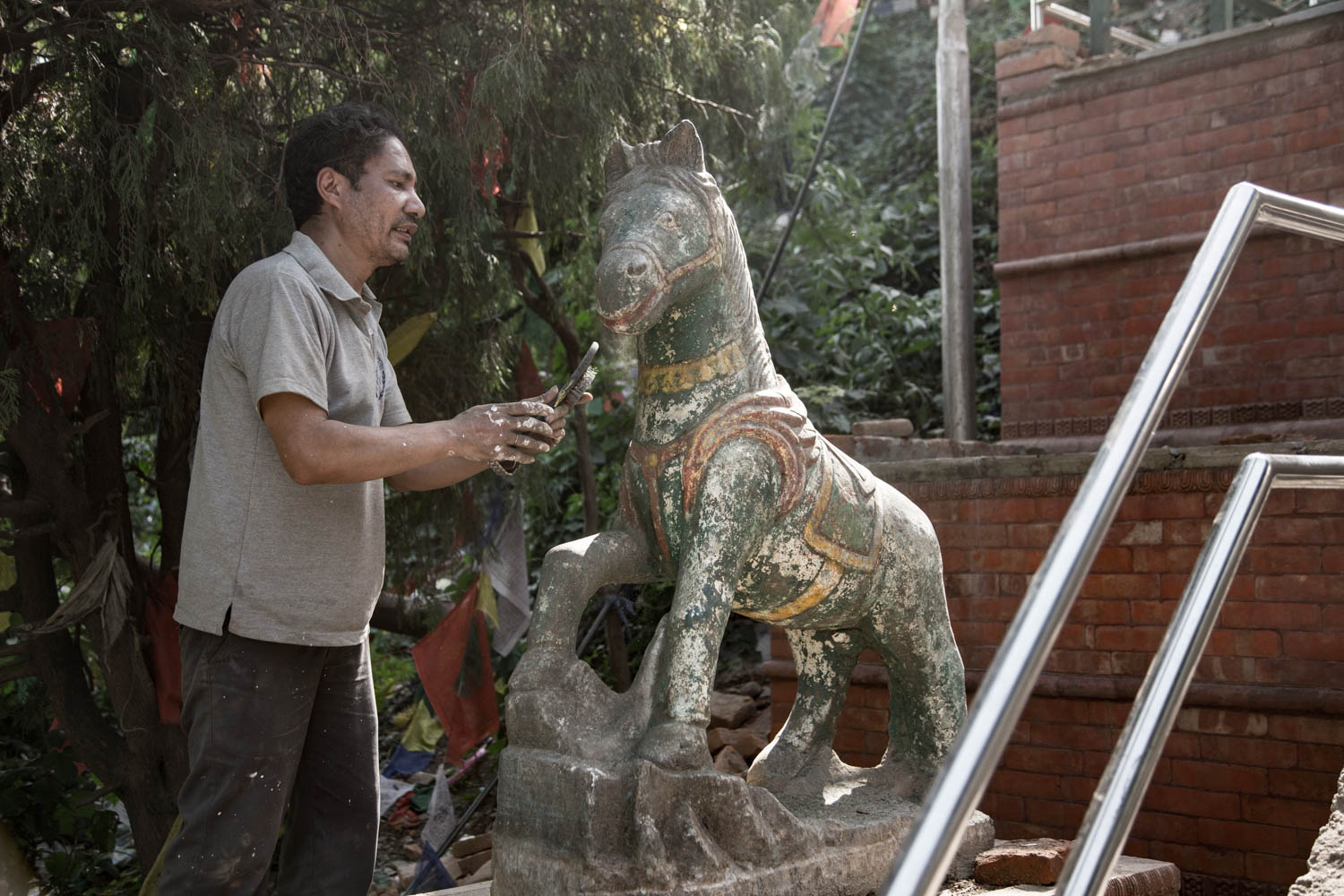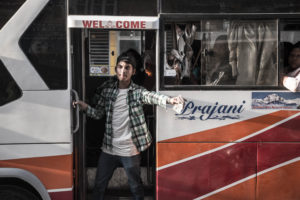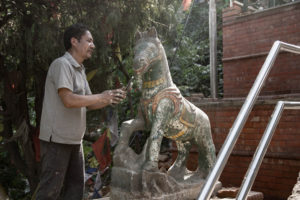 Also some photos of locals just chilling, because why not?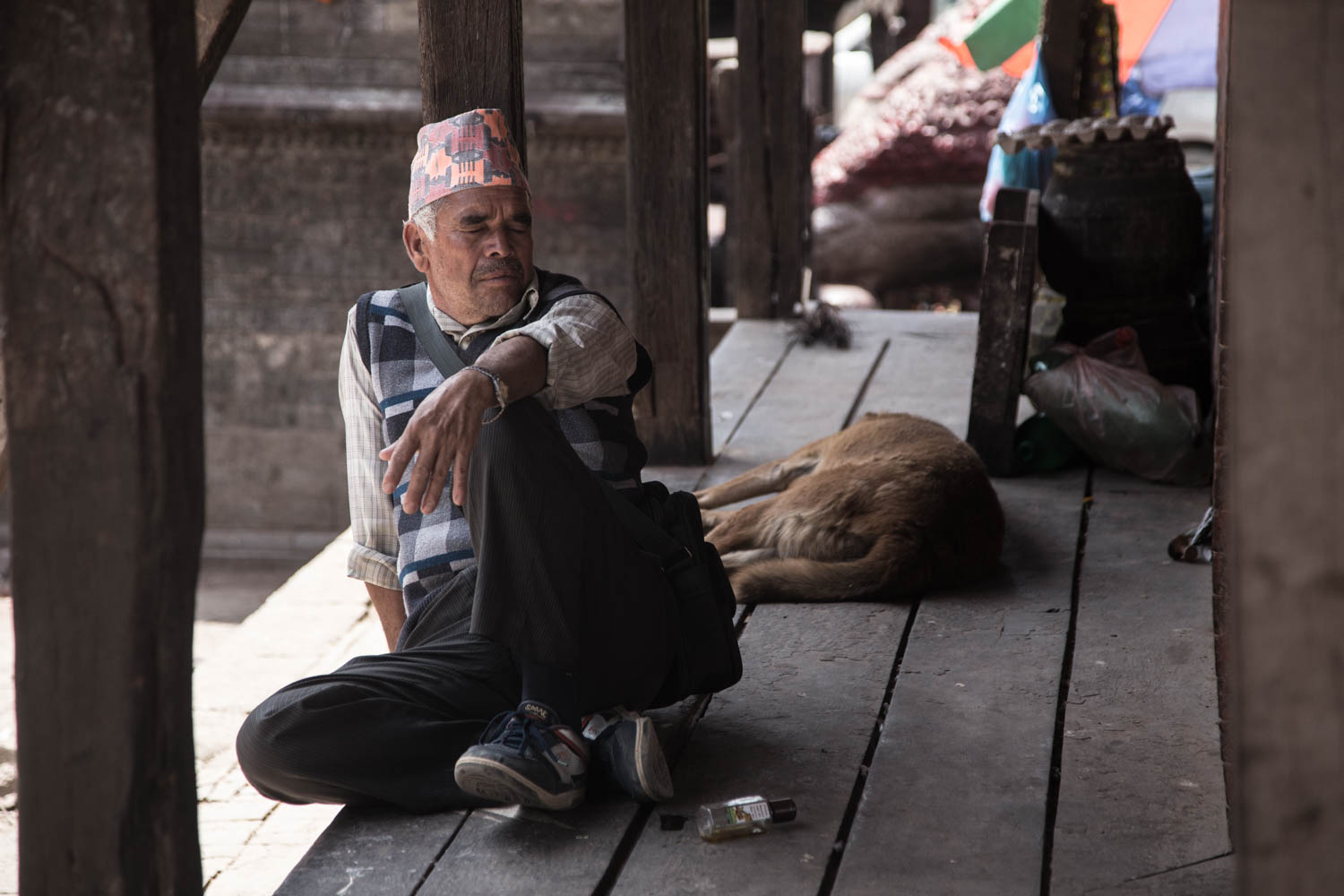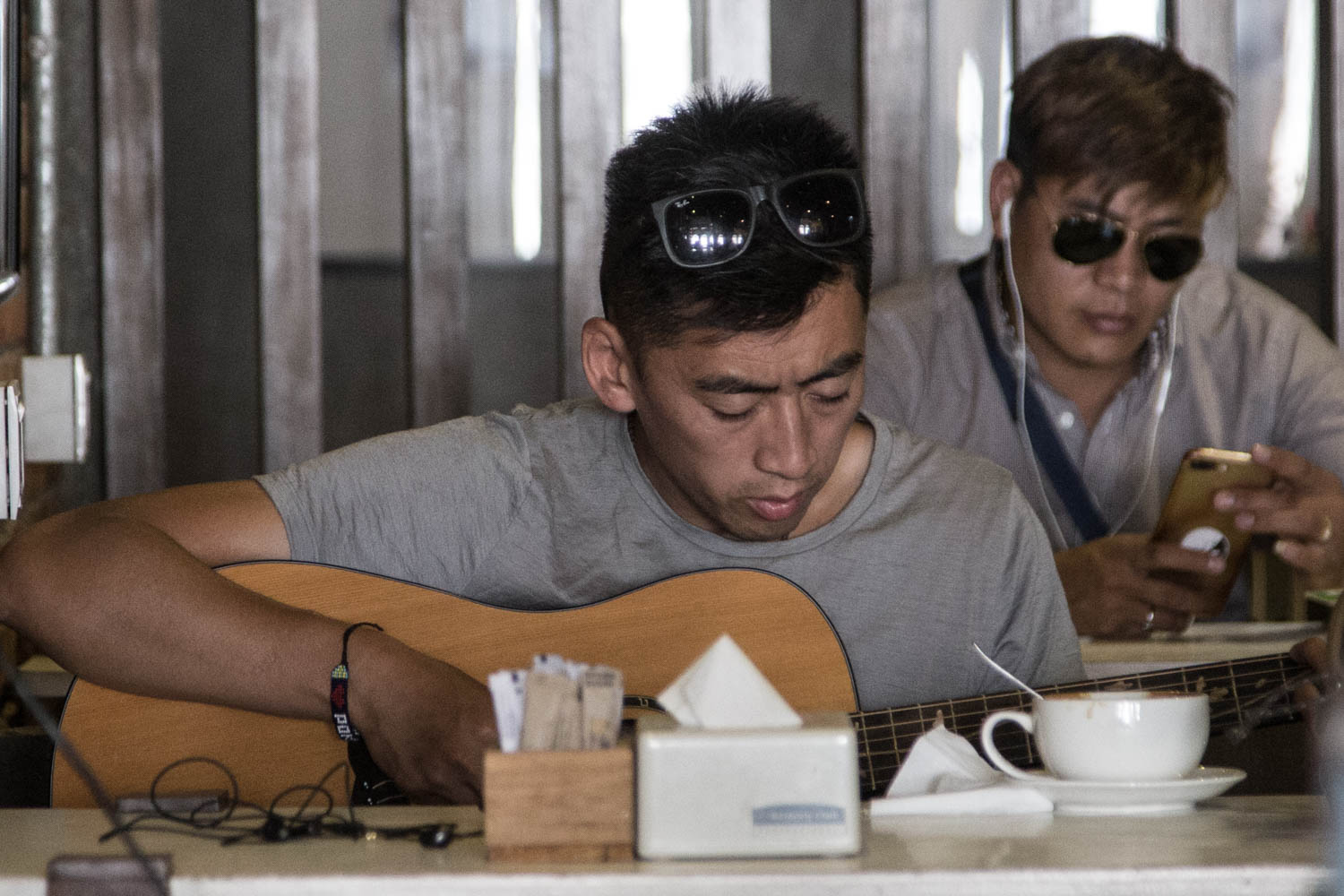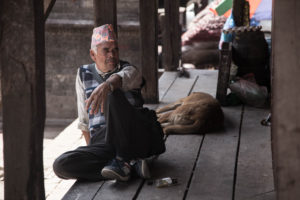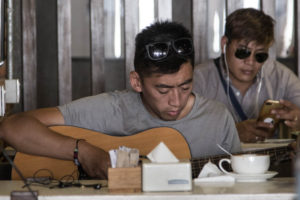 But by far my favourite human photos are the below kids. Each of the below groups of kids saw me with my huge-ass camera, and probably not often seeing such stuff excitedly approached me with curious looks to my camera, at which point I felt it was safe to ask if I could take their photos. The expressions they have when they see the photos were priceless. The last group of kids were probably the best, they just wouldn't leave me alone. Even when I walked away the first time, when I turned back I found the group still following me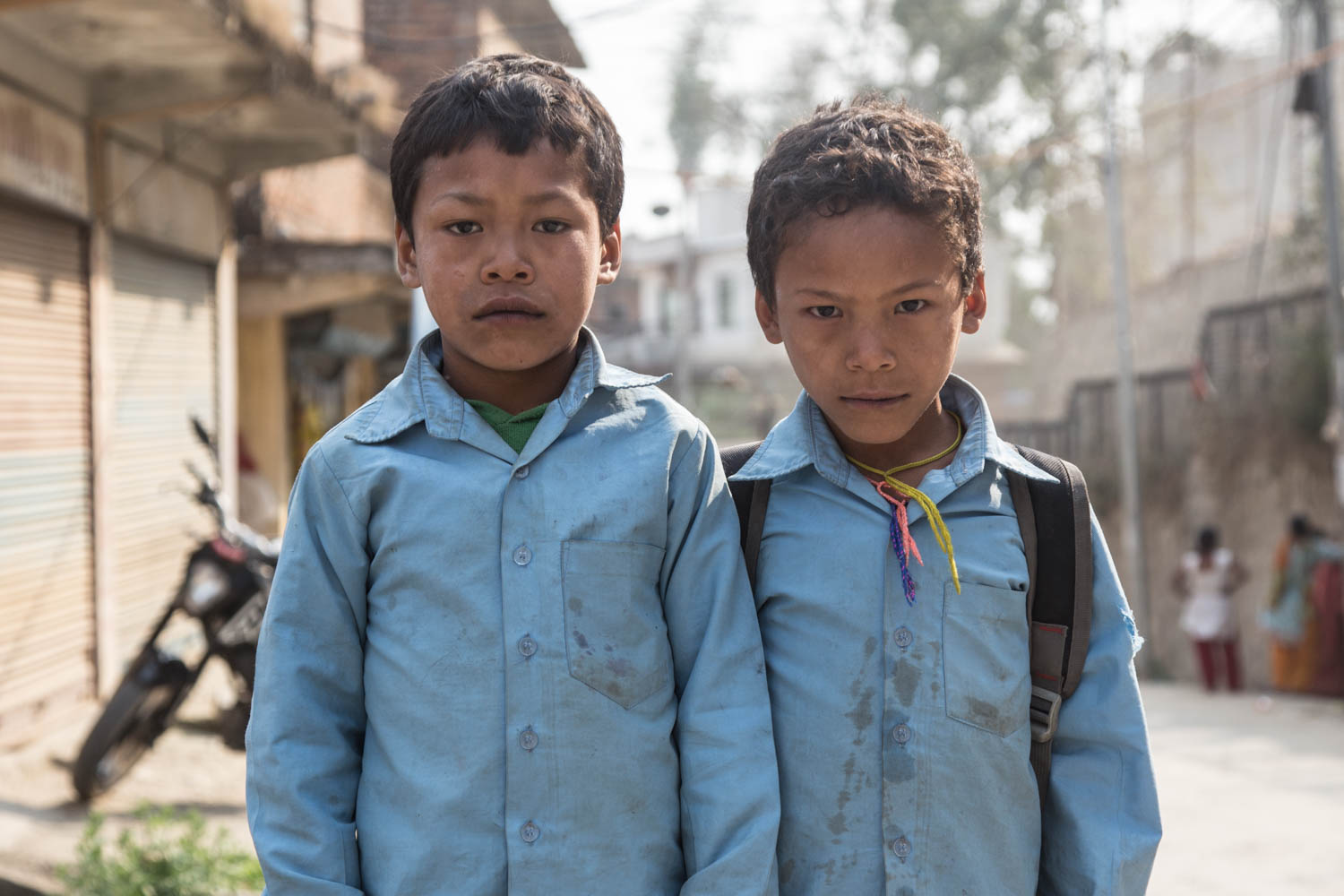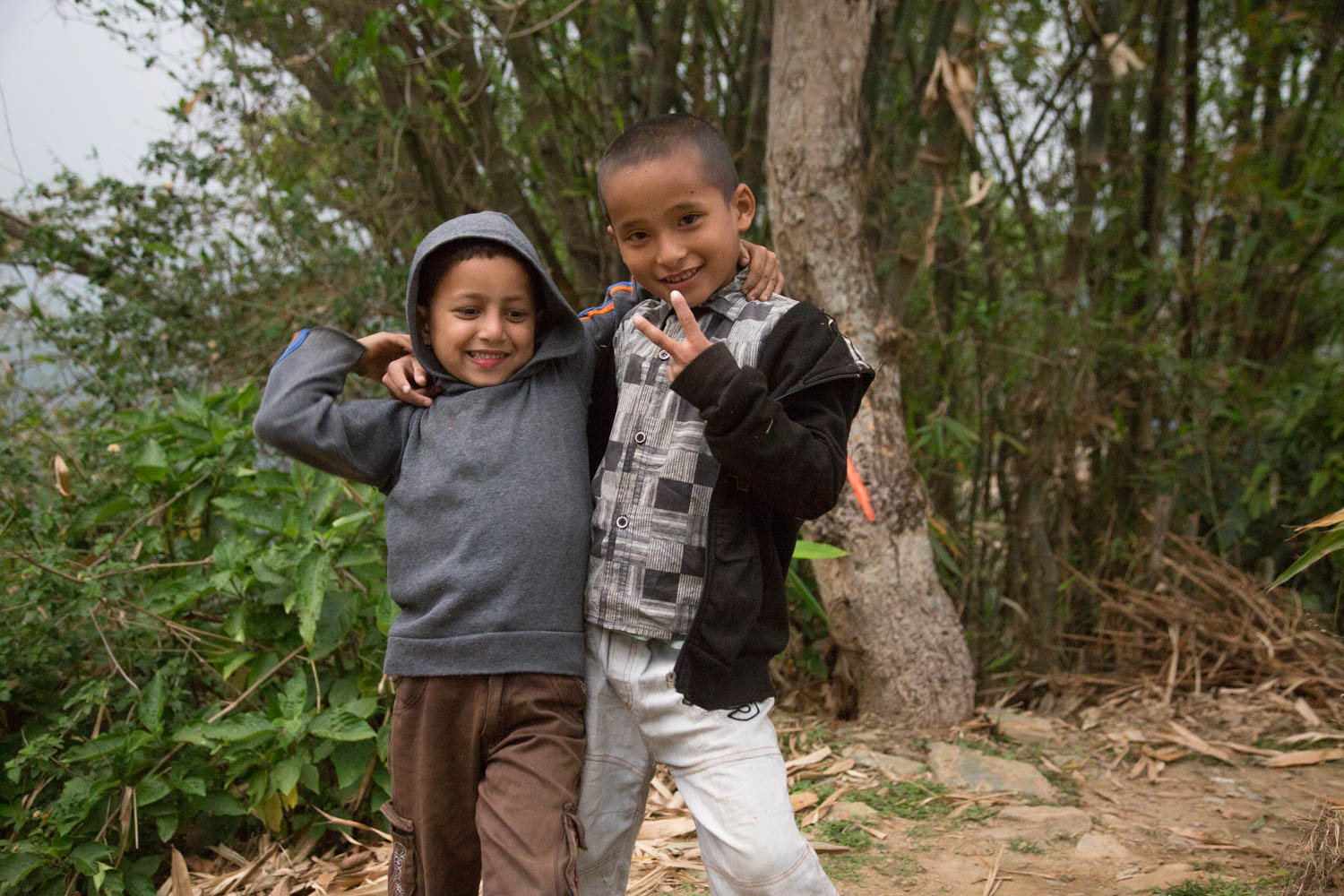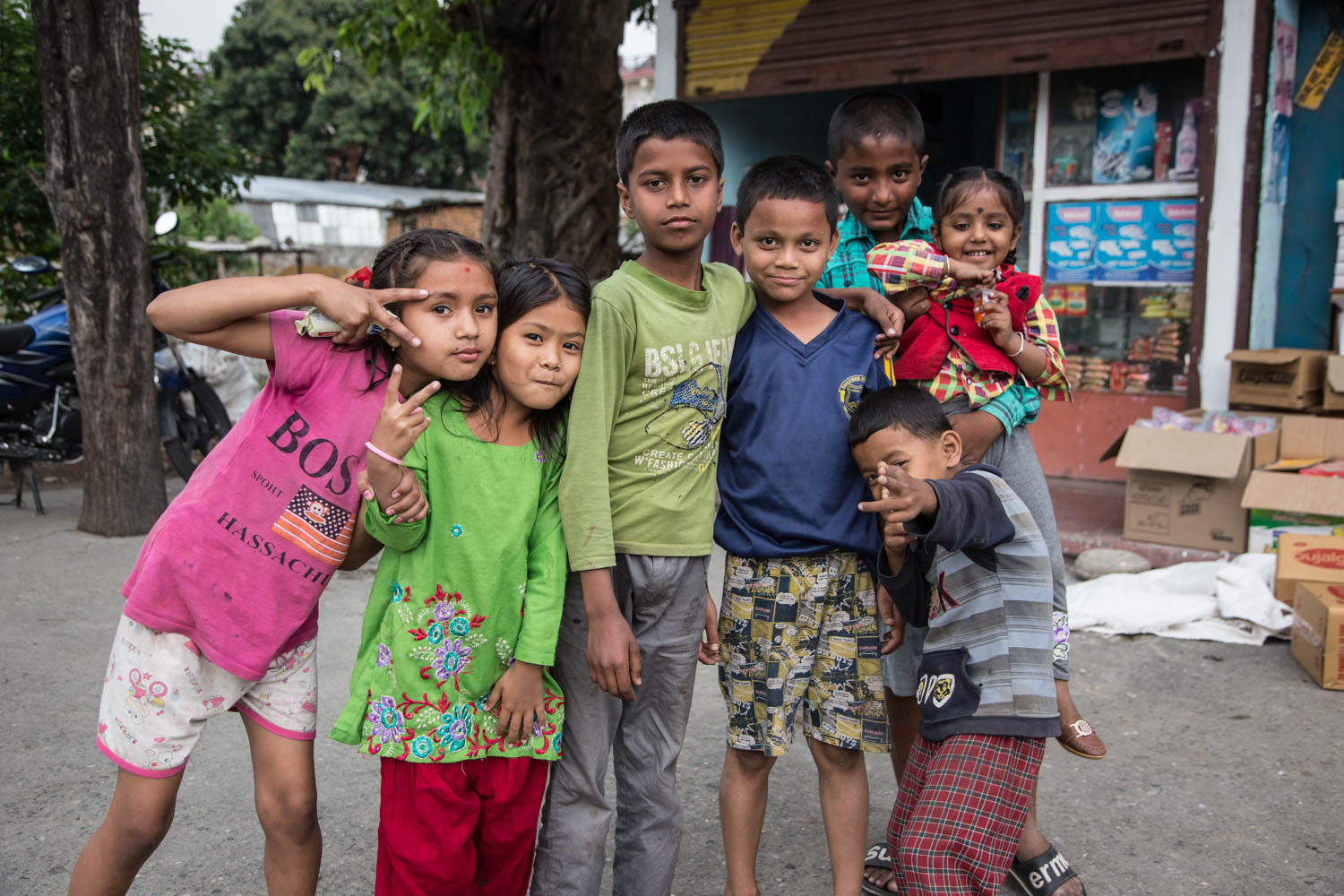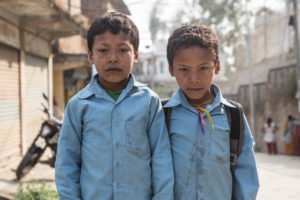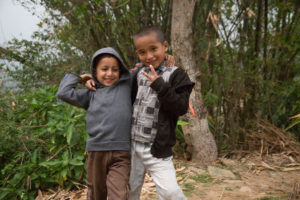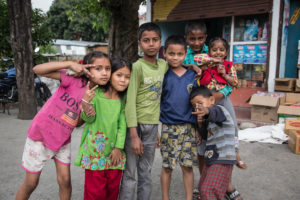 And so, rather abruptly, comes the end of the post. Some poor planning meant I basically spent the last 2 days in Pokhara with absolutely no plans and nowhere to go, but I can't say I didn't enjoy myself. The paragliding was fun, and I loved those interactions with the kids, even if one eventually tried to fleece me. I however kind of feel Nepal isn't much of a place for sightseeing, as it's kind of easy to run out of things to see nearby after spending a couple of days around. It's more of a country made for trekking, which is what it is well known for in the first place. I might consider going back next time to trek next time, though probably not in the near future.
Meanwhile, I'm already planning my next trip end of the year, back to Japan again, though not to Tokyo anymore – Japan's bigger than just Tokyo. I'll be heading down south to Fukuoka, which I expect will be fun. Until next time.