So after about a month of procrastination, I've finally decided to get on with this. I've been back in my favourite country, but nope I'm not back in Tokyo. After 3 previous trips into the capital of Japan I figured it's about time to check out what the rest of the country has to offer., and barring any unforeseen circumstances it will hopefully remain this way for future trips. First up on the list, Fukuoka and its neighbouring prefectures.
Trying out a different method of photo posting this time, rather than posting individual photos separately I'm trying out grouping all photos for a particular section as a slideshow to reduce the amount of scrolling
Hakata Toumyou Lighting Festival







On the first night I was in Fukuoka there was this lantern/light festival that covered a significant portion of Hakata, with thousands of lanterns lined up in various intricate patterns in shrines, along the streets, inside buildings topped off with one fantastic display covering an entire soccer field. I'm not really sure what is the significance of this event, but it seems to be a pretty big annual event judging by the scale, and with the number of people queuing to pray at the shrine. Photos can't really do this justice as one can't really get the scale of the lantern patterns compared to being there in person (it's huge). If anyone will be in Fukuoka in October this event is worth taking a look
Momochi Seaside Park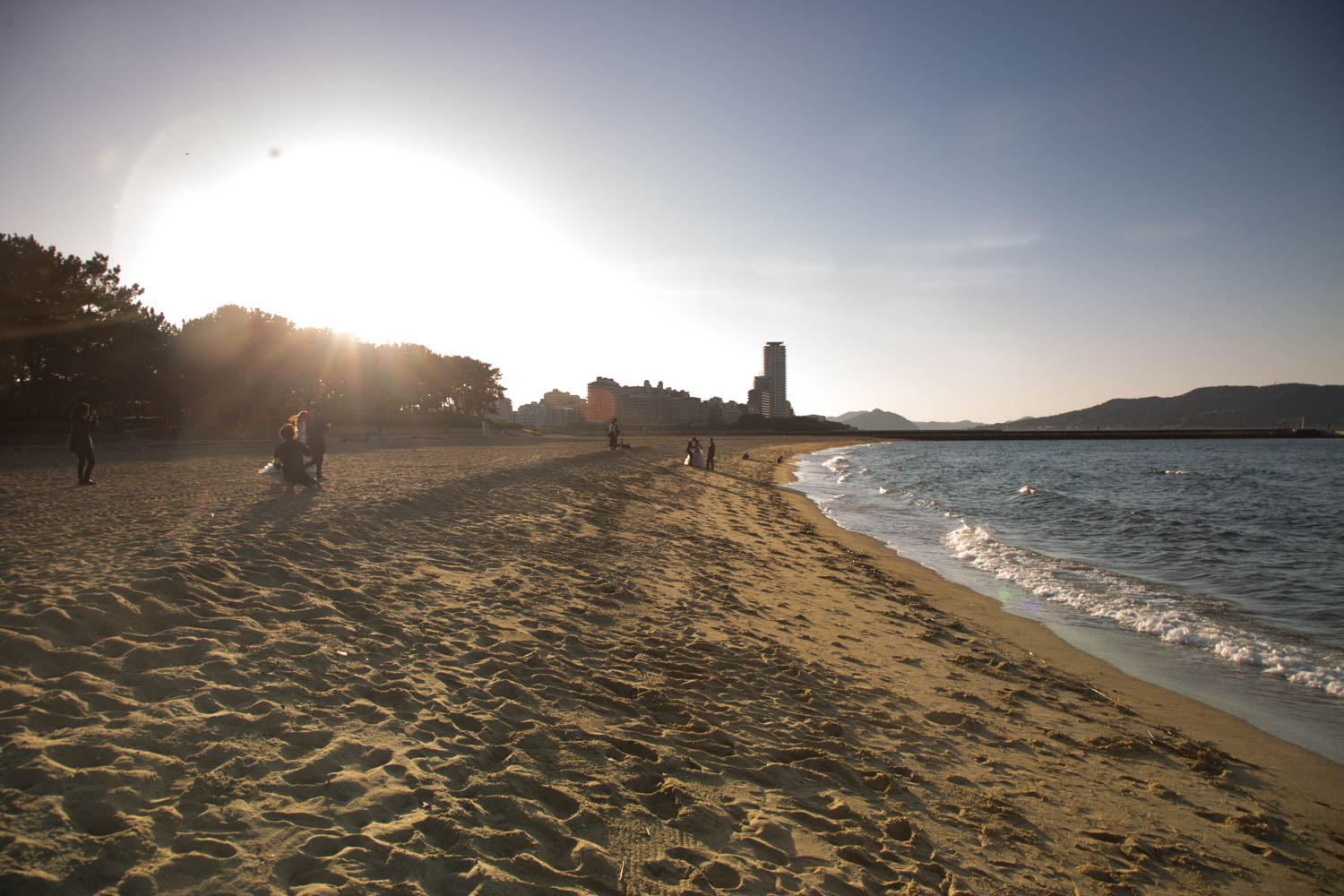 So visiting a beach in autumn isn't exactly a common idea, but considering I've been to Japan three times before and have yet to see a beach there I figured I might as well. Obviously the atmosphere during autumn is different from the beach season during summer, but there are still a handful of groups playing volleyball and beach soccer around. How these people play with 15 degree winds blowing in their faces is beyond me.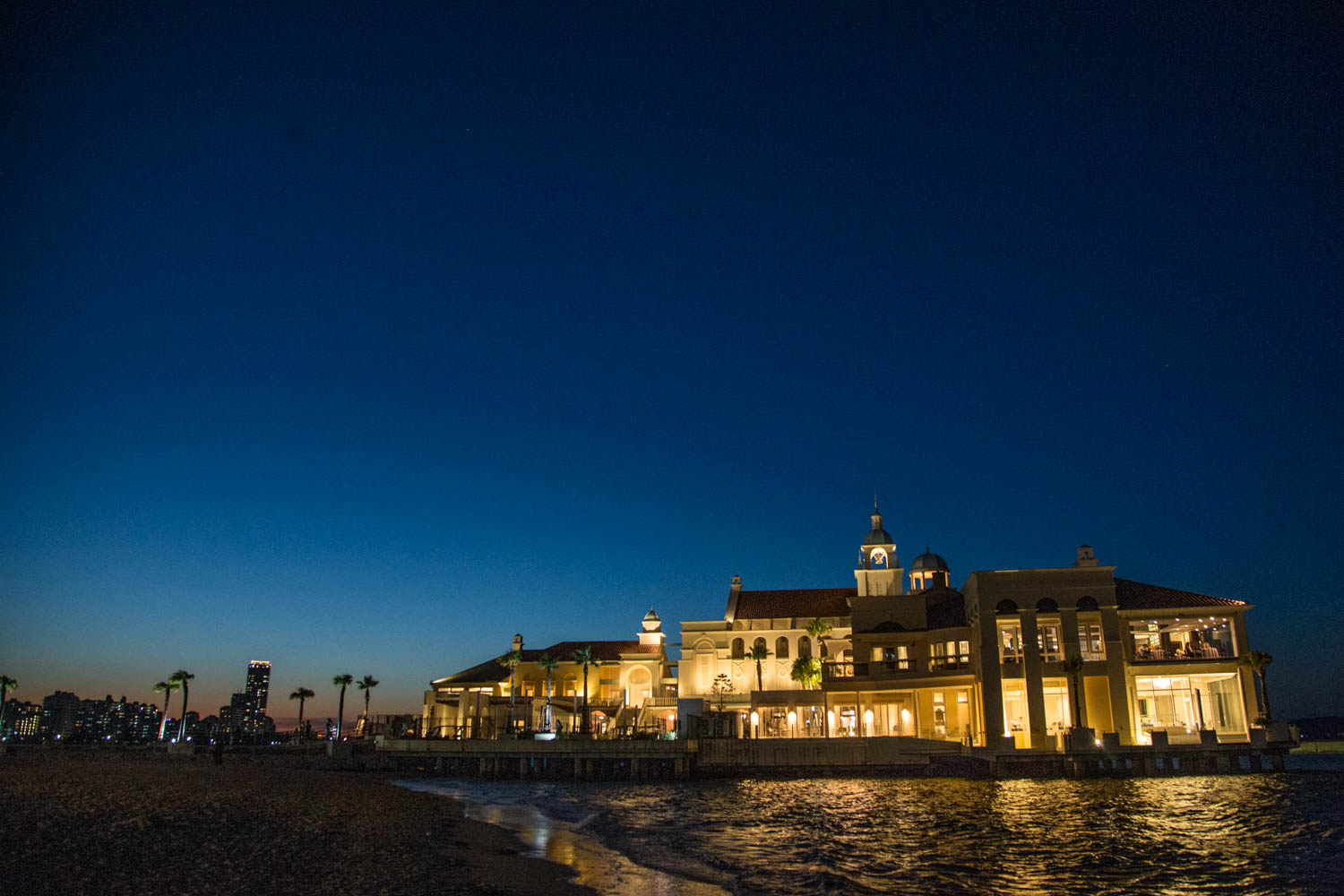 Pretty much the main attraction of this beach is the Marizon building, a seemingly European style building which apparently functions as a wedding location. It's likely the look of the building and maybe its location on the seaside, but it appears fairly well known, with a sizable group of people hanging around taking photos during sunset. To be fair with the sunset in the backdrop the building actually looks really good so I kinda get its popularity
Shikishima Island
A rather impromptu trip as the original plan to visit a nearby cat island was scrapped due to us messing up train times and not being able to make the boat time. Since we were already halfway there we decided to explore another nearby island. Enter Shikishima.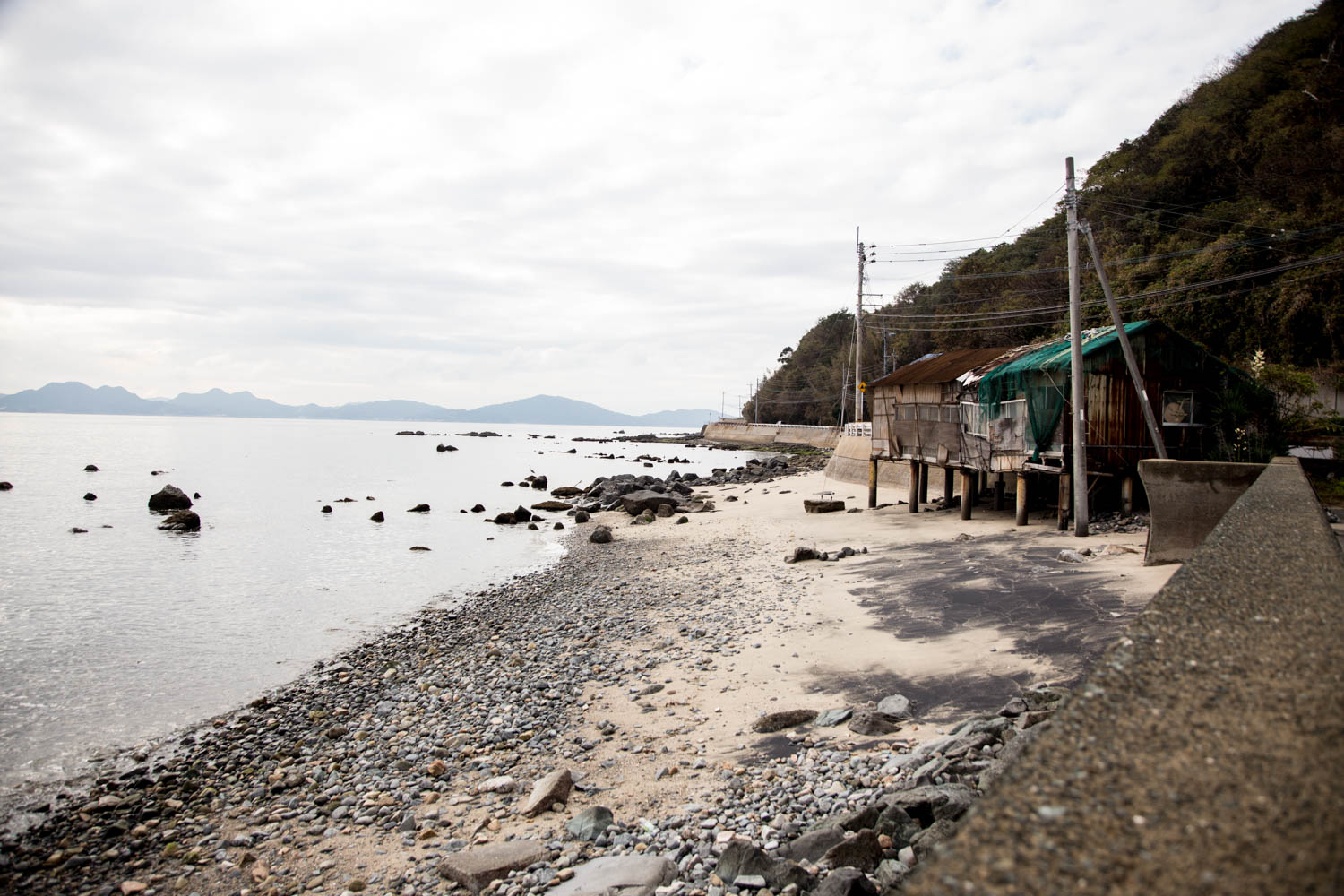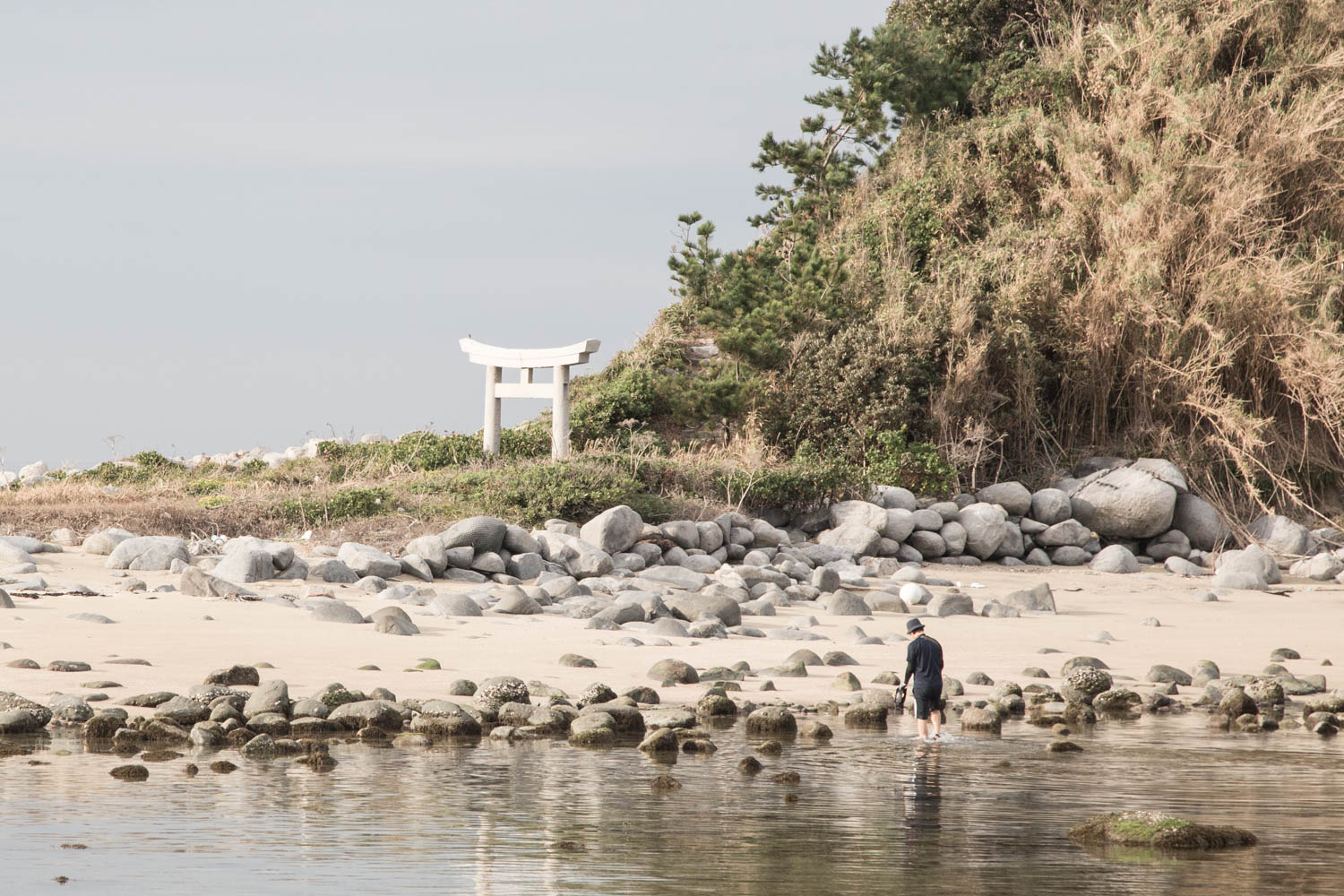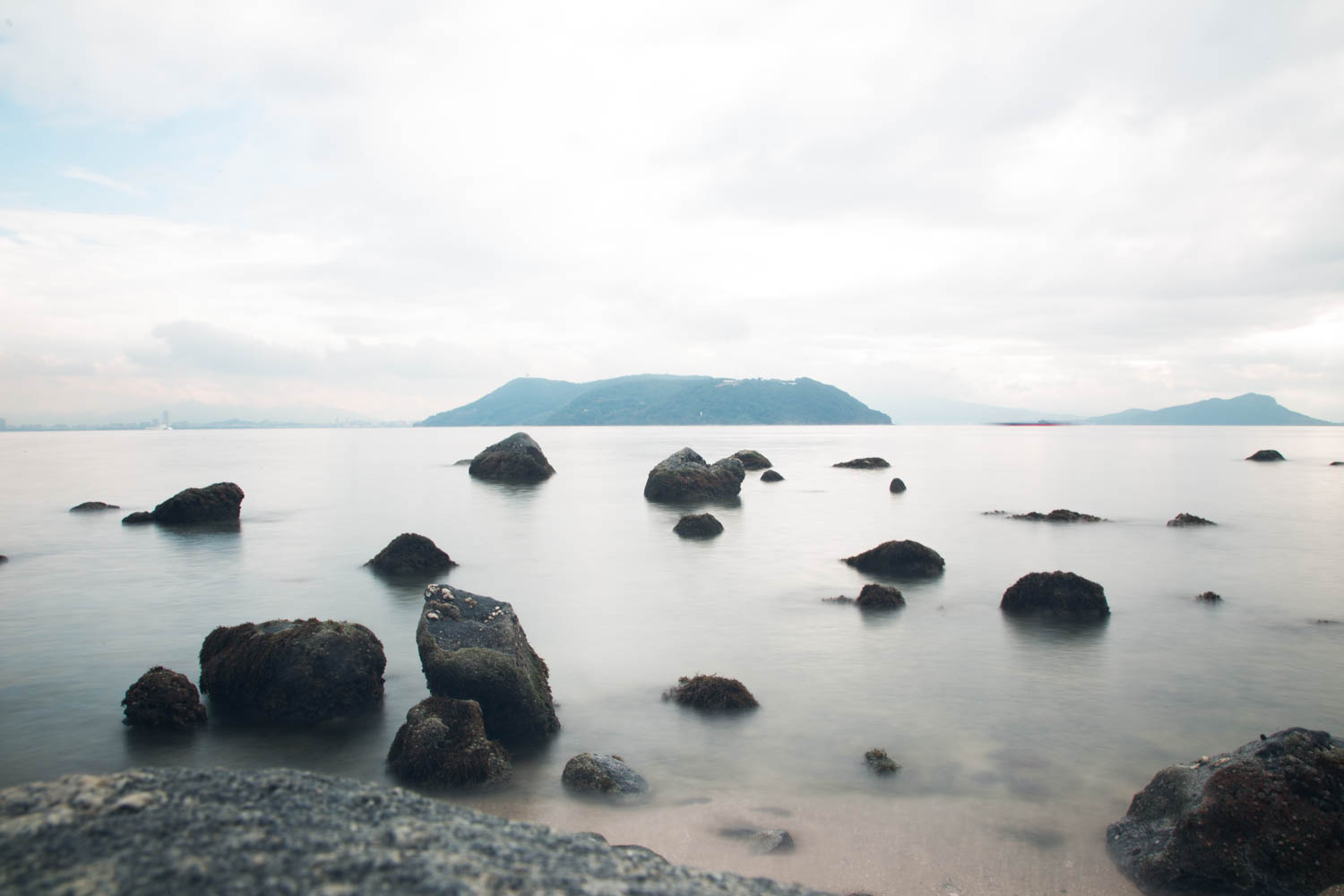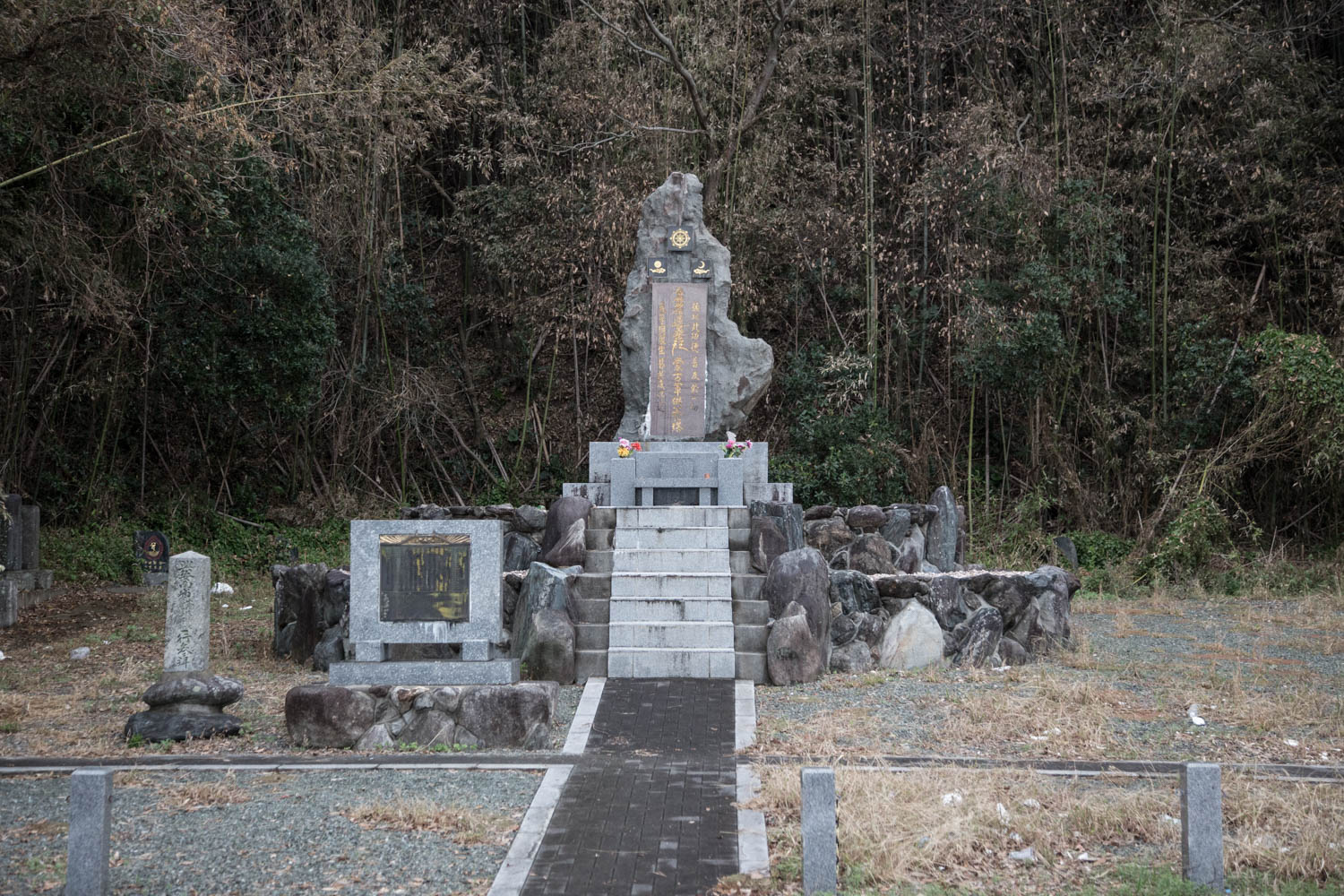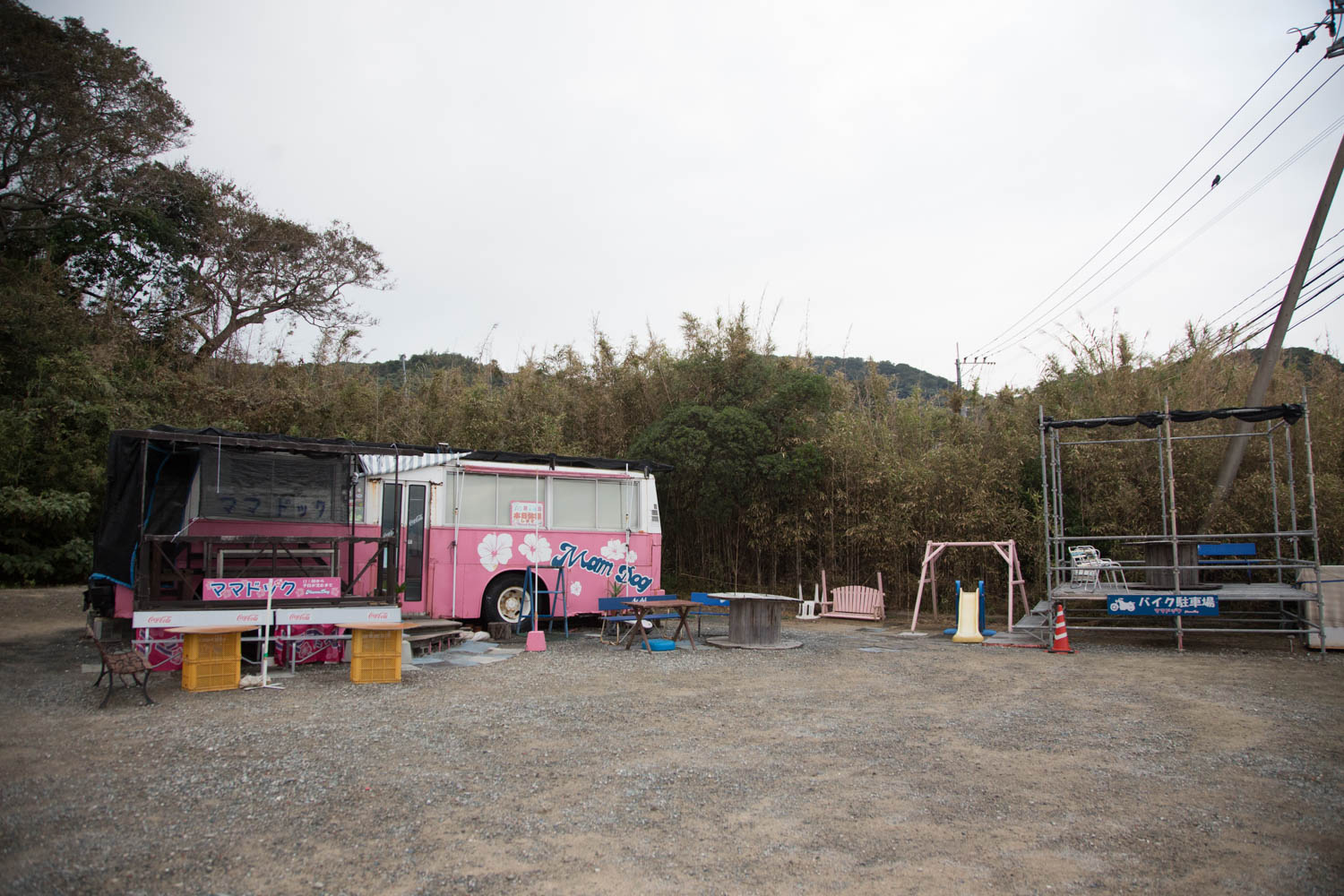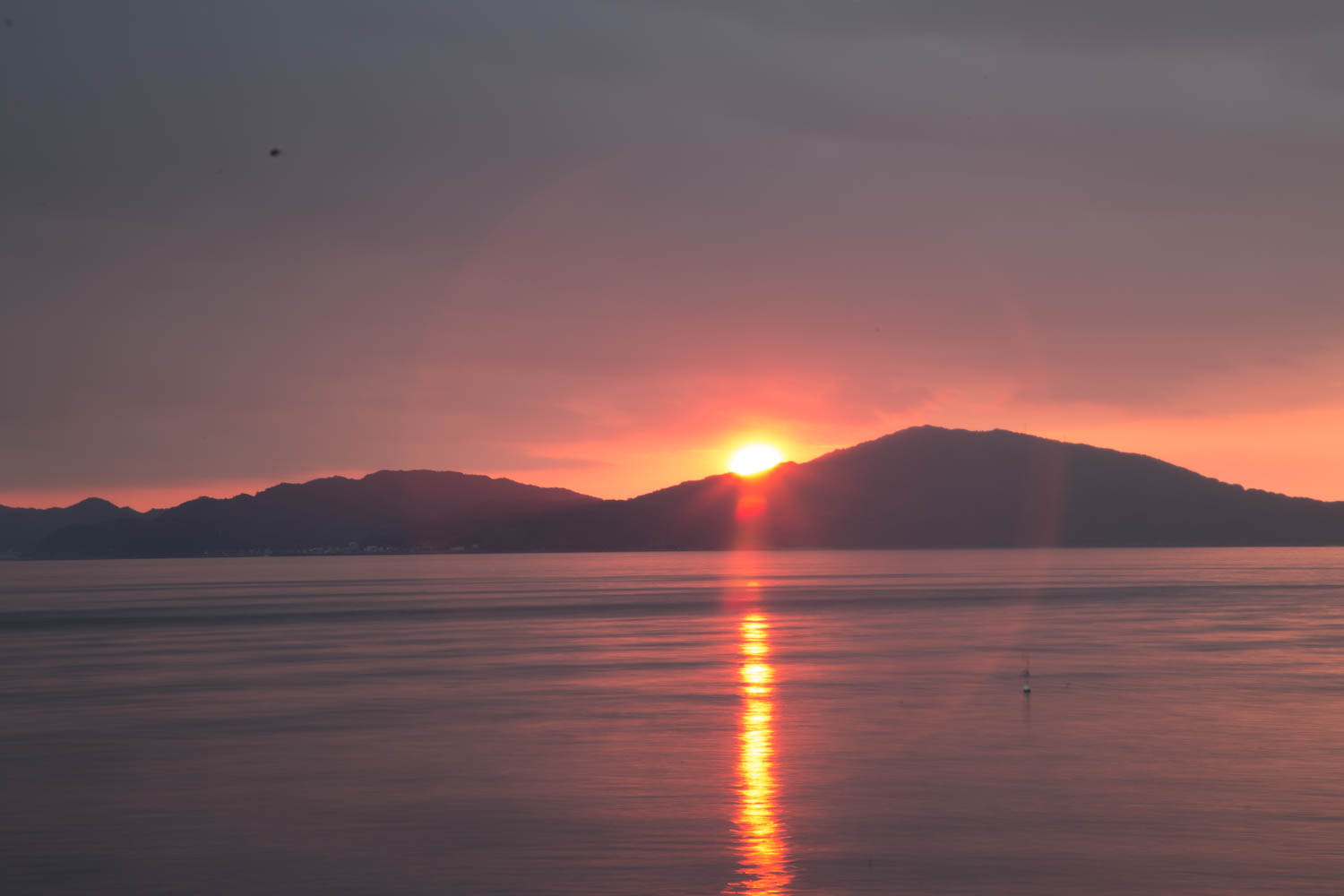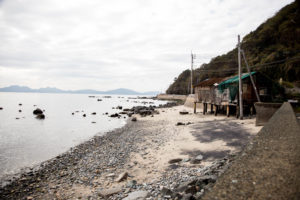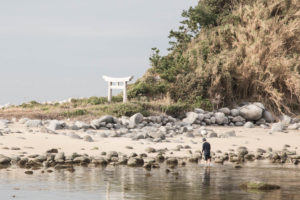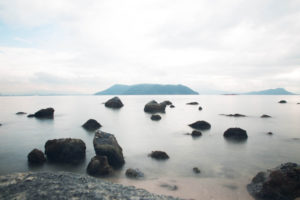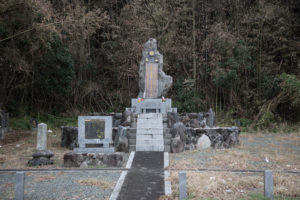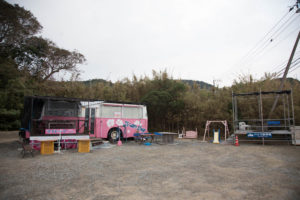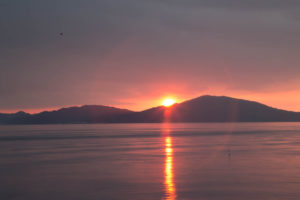 To be honest we went into that island with absolutely no idea what was in there. Exactly the way I like to travel. All we did was take a bus (which coincidentally decided to pass by us right when we were walking past a bus stop) up to the northern tip of the island and stroll our way back down along the coastal road. I suspect the island would be more crowded during the summer especially at the beach on the northern part, but in autumn there wasn't much to look at; the northern part was just home to a resort which seemed to be popular among the older generation, as well as a small shrine on an island that was inaccessible unless we were willing to get ourselves wet. Once in a long while there'd be something slightly interesting to see; a Mongolian monument and an unused bus repurposed as a rest stop/cafe springs to mind. We did get to see an insanely awesome sunset just as we were about to finish our walk though, so it was a pretty great end to the day.
Ramen
Because one cannot go to Fukuoka and not talk about ramen, I unexpectedly ate way more ramen than I would have liked (also partially because I was lazy to find other stuff to eat), to the point where I've sworn off ramen for at least the next 2 months. The hot spot for ramen is the row of yatai stalls along the river near Nakasu, with about a dozen of these street stalls lining the street. Besides ramen they were also selling other stuff like oden and yakitori.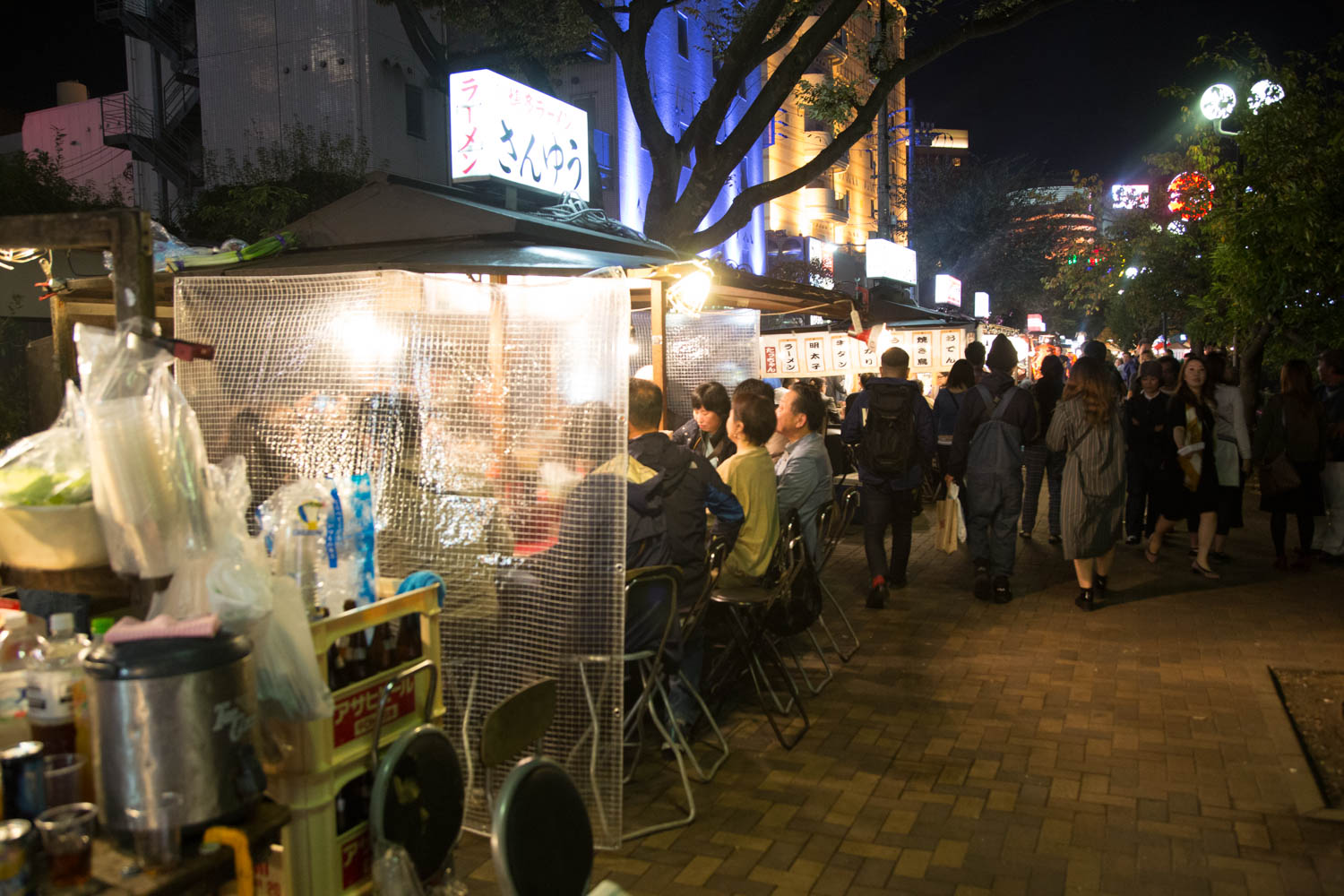 The place is nice for the experience of eating at these street stalls, plus if it happens to start raining while eating you'll also get to see the stall owners in action setting up the shelters, it was pretty fascinating how they managed to stuff all those shelter boards in literally every corner of the stall. The food was so-so though, not bad but not mind blowing, although I did try yaki ramen which I've not seen anywhere else yet, which was pretty decent tasting as well. Like Ichiran, this is worth a visit if only just for the experience
The title of best ramen of the trip, though, belongs to…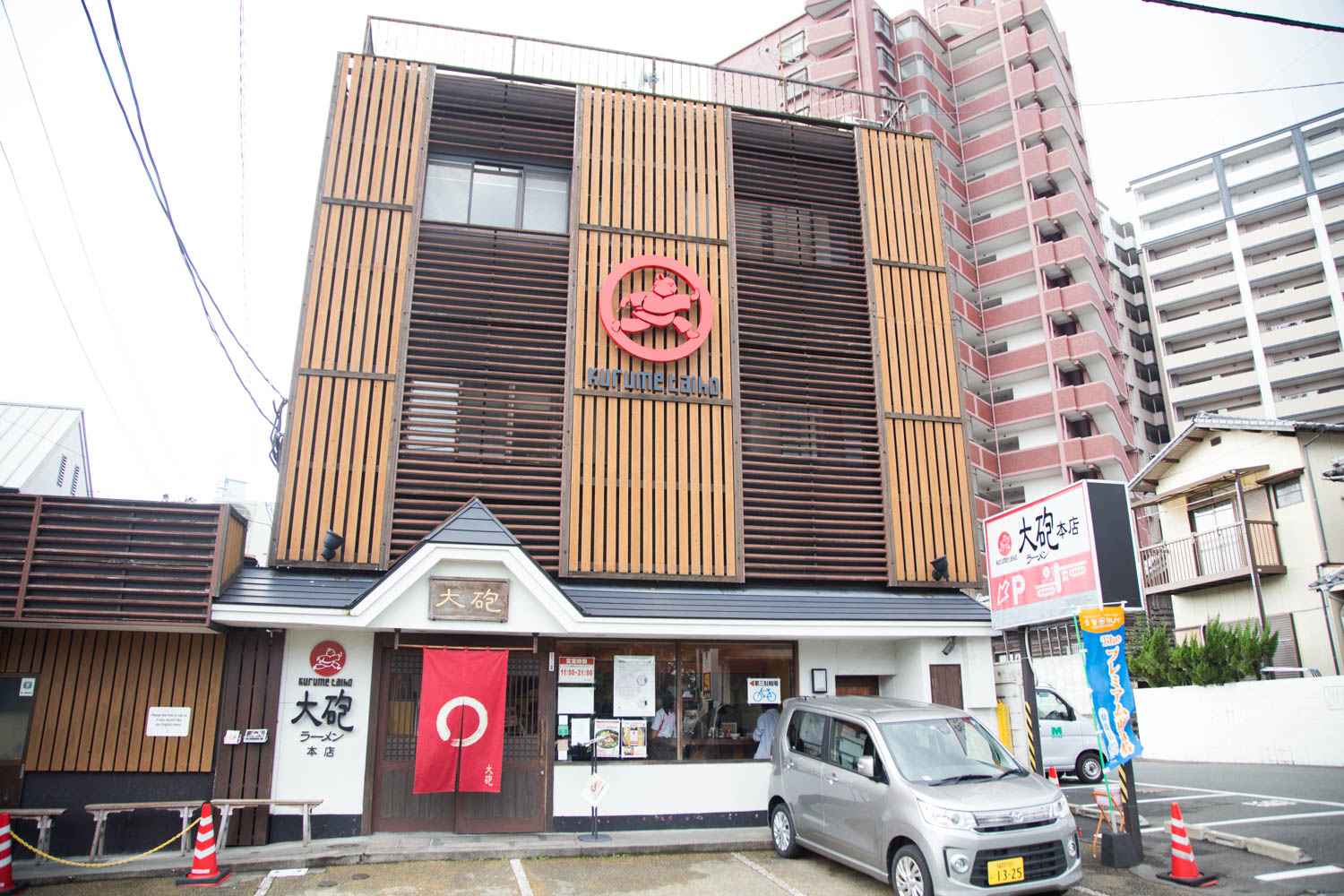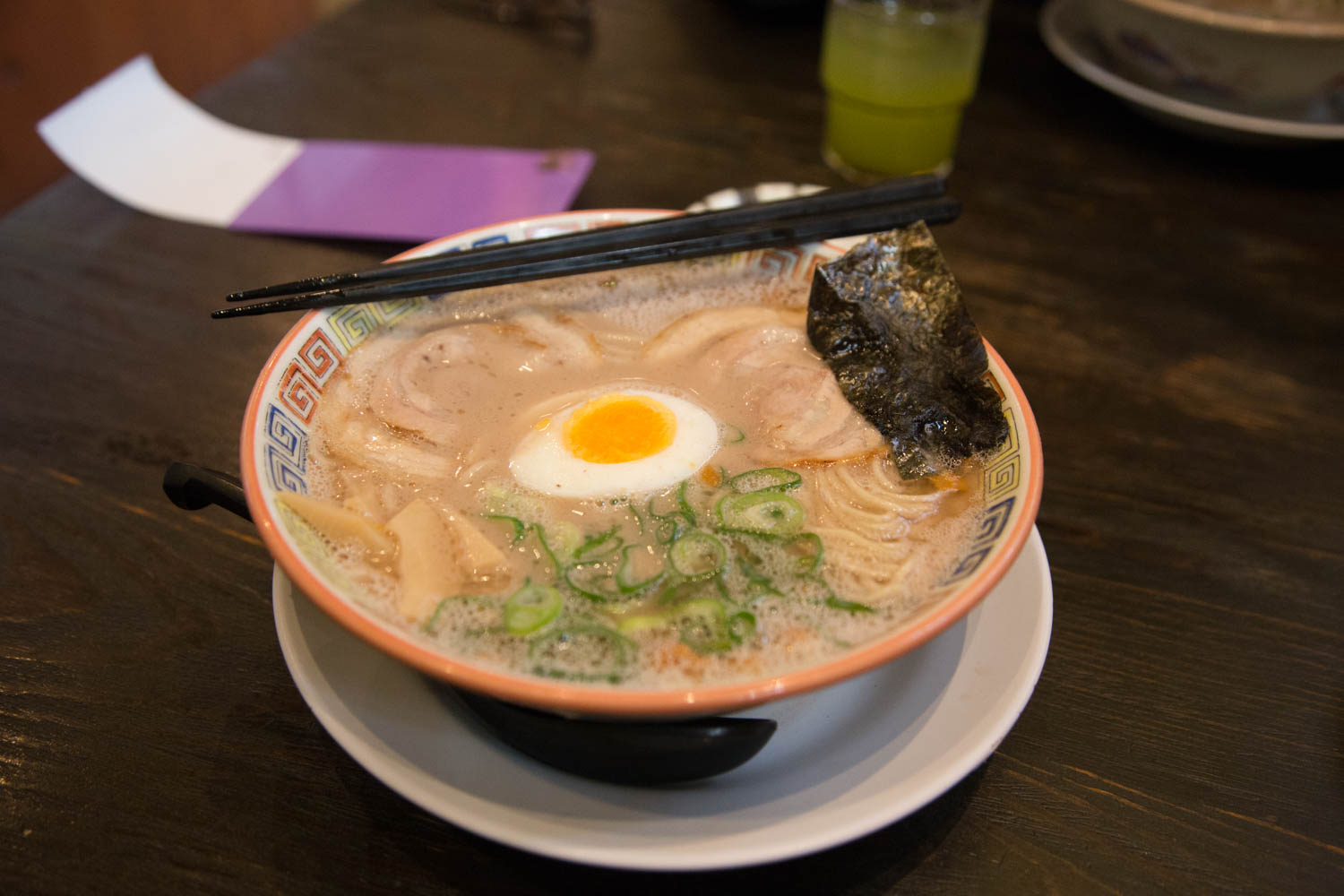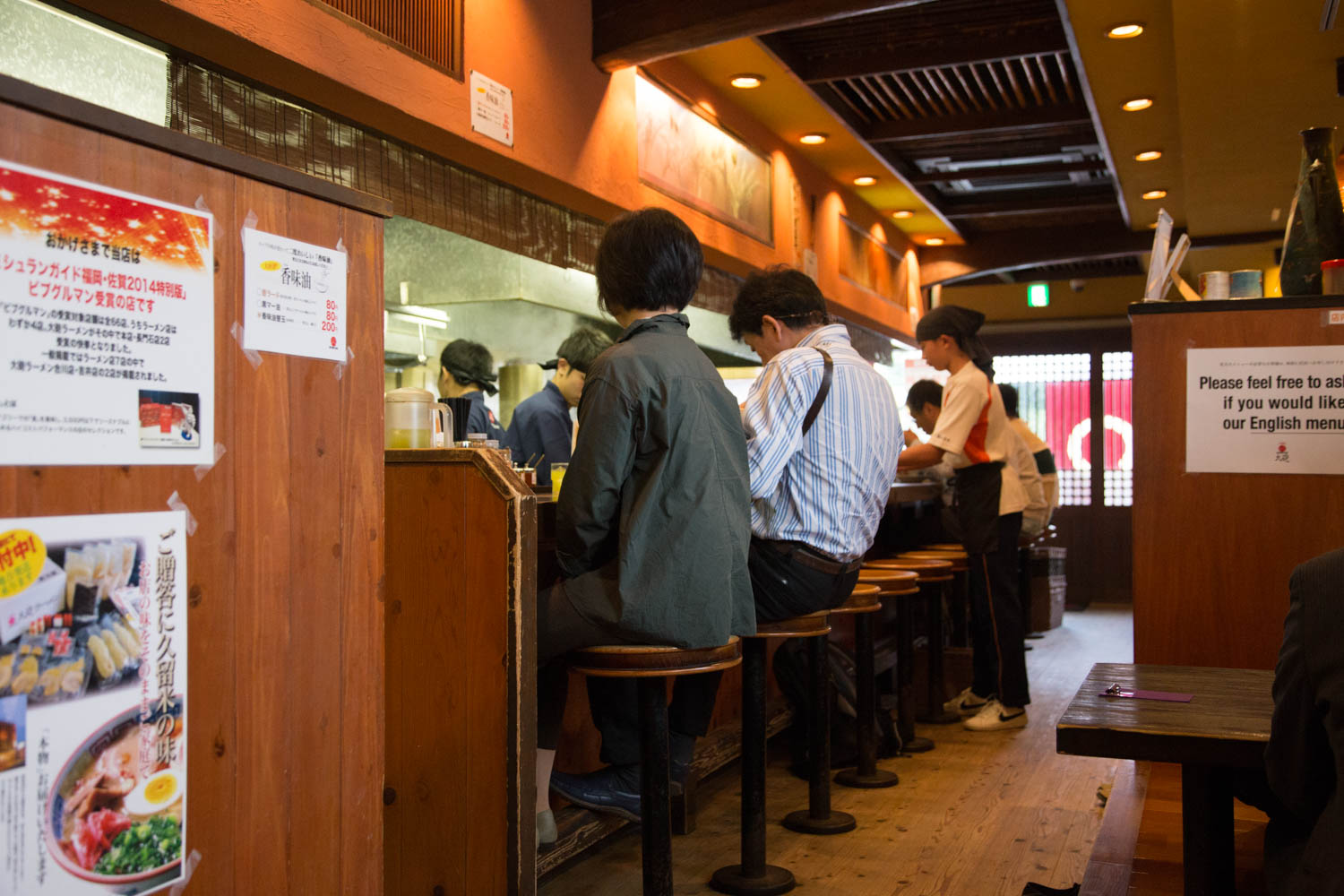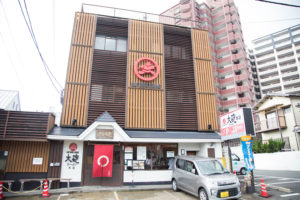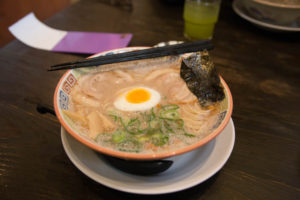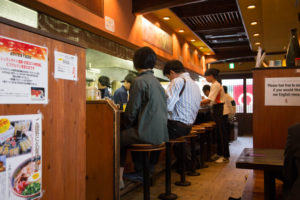 Taiho Ramen in Kurume, also known as the "birthplace of Tonkotsu ramen". I think they have a store in Hakata as well, but with the original store down south in Kurume city it was worth spending the time travelling down just for this. People rave about Ichiran which also hails from Fukuoka, but Taiho just owns Ichiran hands down. The texture of the ramen was pretty great, but the main star was the soup; the amount of lard they put in the soup made it fantastically flavorful. Plus this place actually felt like a proper restaurant with actual people manually taking orders, which made it feel much different from a typical ramen chain that uses ticket machines which are all over Japan these days. This place is definitely worth a 30 minute train ride down from Hakata station. 100% will go again if I'm ever back in the area.
Beppu
After spending the past 5 days exploring Fukuoka and the nearby areas, it was time to explore further out. First stop is Beppu, famous for its hot springs and the 7 hells. Unfortunately there wasn't enough time to soak in one of the hot springs, but we did manage to finish visiting all the hells of Beppu, which are hot springs with waters up to 100 degrees, and obviously are meant for viewing rather than bathing in. The station sells a pass that covers the entrance for all 7 hells as well as the bus that goes to the hells. There's actually 8 hells here but one of them dropped out of the "Beppu Hell Alliance" (I can't remember the exact name, but they do have a group for the hells), so the pass only covers the remaining 7 and does not provide entry to the one that dropped out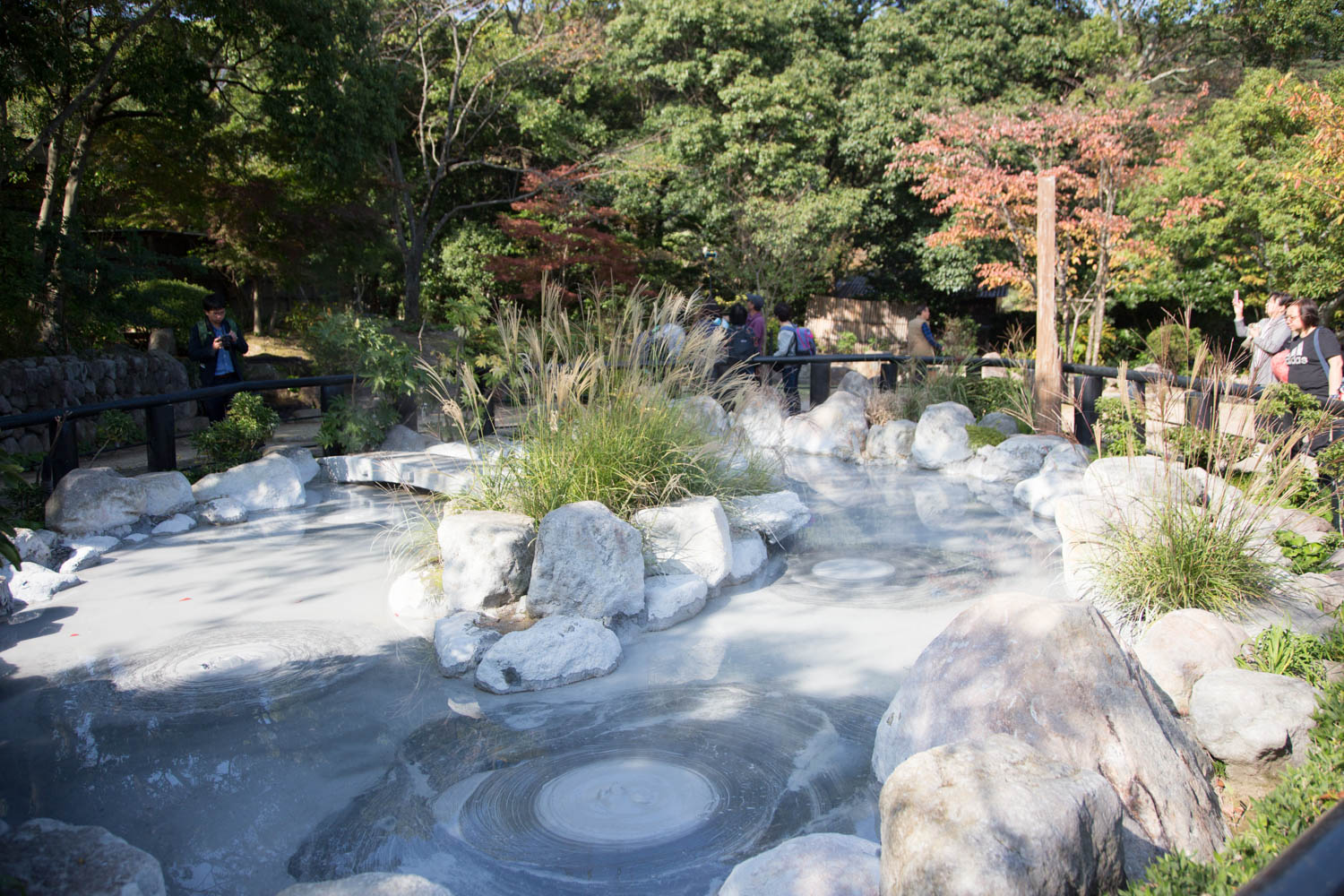 We started off at the Oniishibozu Jigoku which features boiling mud pools leading to mud bubbles forming in the pools. There's also a free foot bath in here which for some reason is objectively less crowded than similar pools in the other hells, so this is the place to rest if you ever want to soak your feet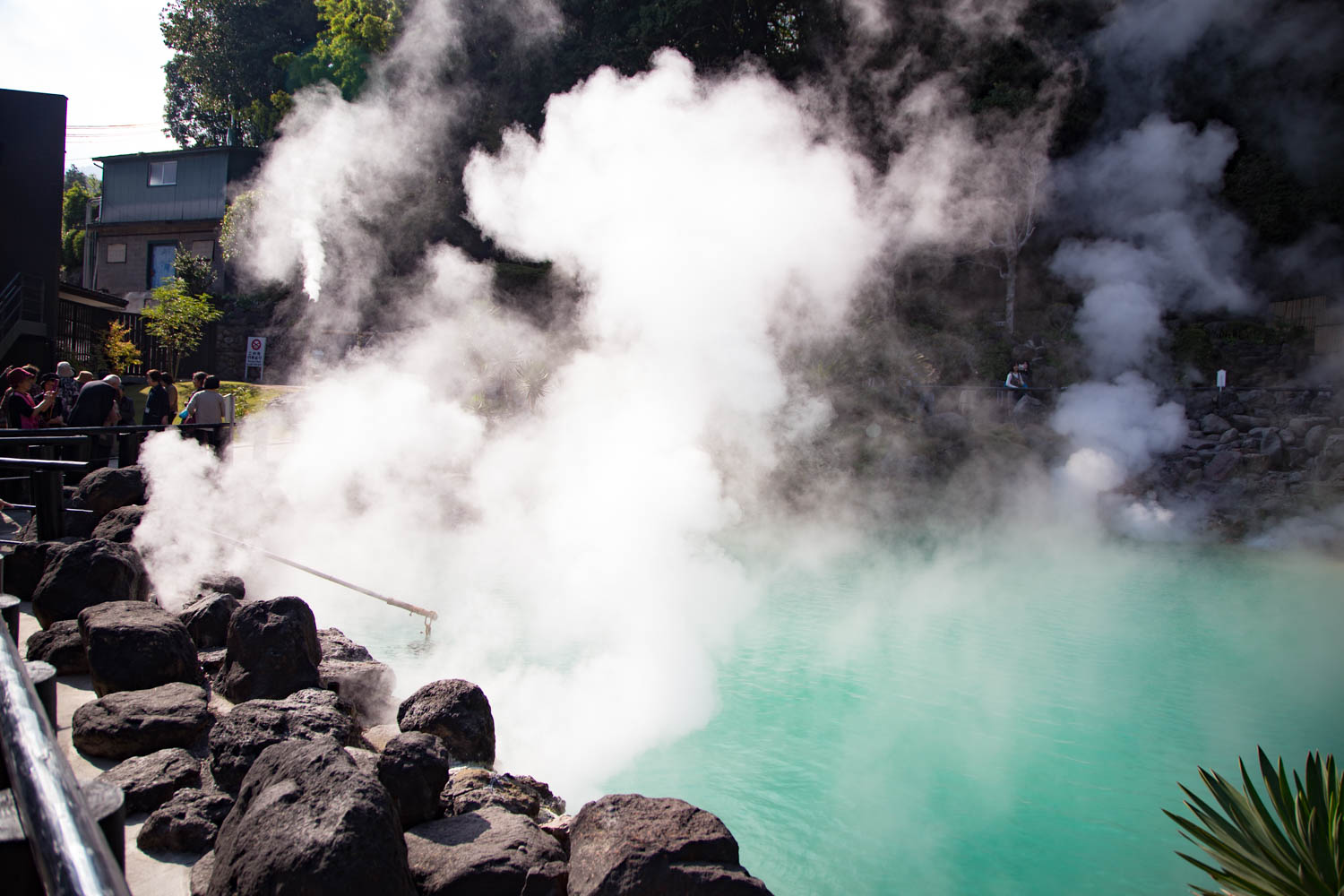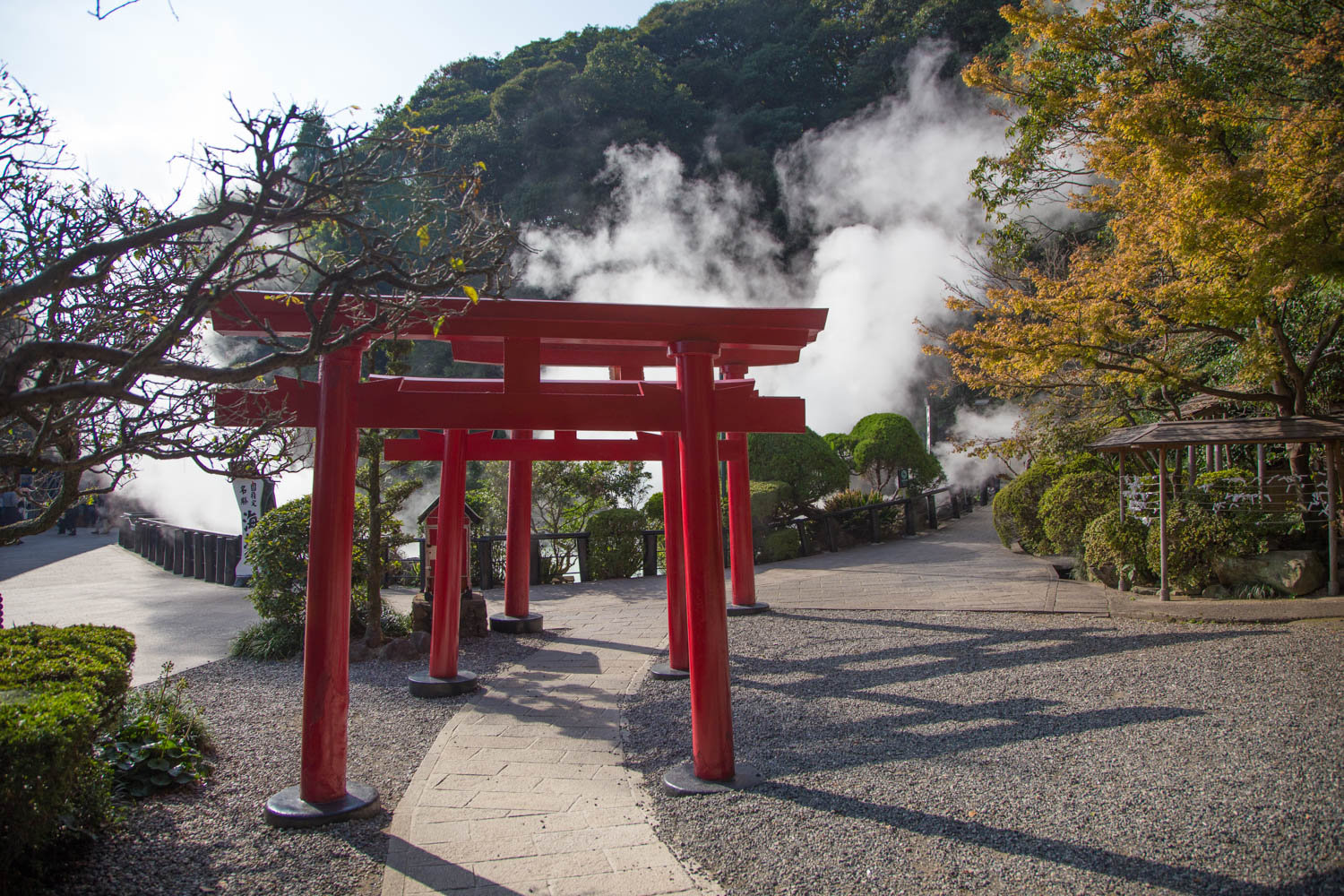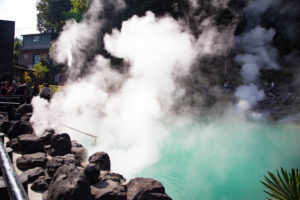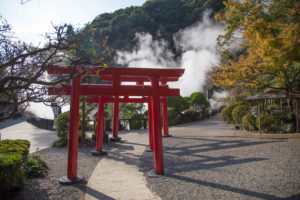 Next is the Umi Jigoku (Sea Hell), which was one of the most crowded and easily the most beautiful hell among the seven. One of the biggest hells in the areaThe hot spring is pretty much a perfect shade of blue, I don't think I've ever seen anywhere with water as blue as this. Nearby is a small shrine with a couple of torii gates which serves as a great backdrop to the blue hot spring. The rest of the area is filled with gardens that are also home to a couple of smaller, orange coloured hells. Easily the most impressive hell among the seven.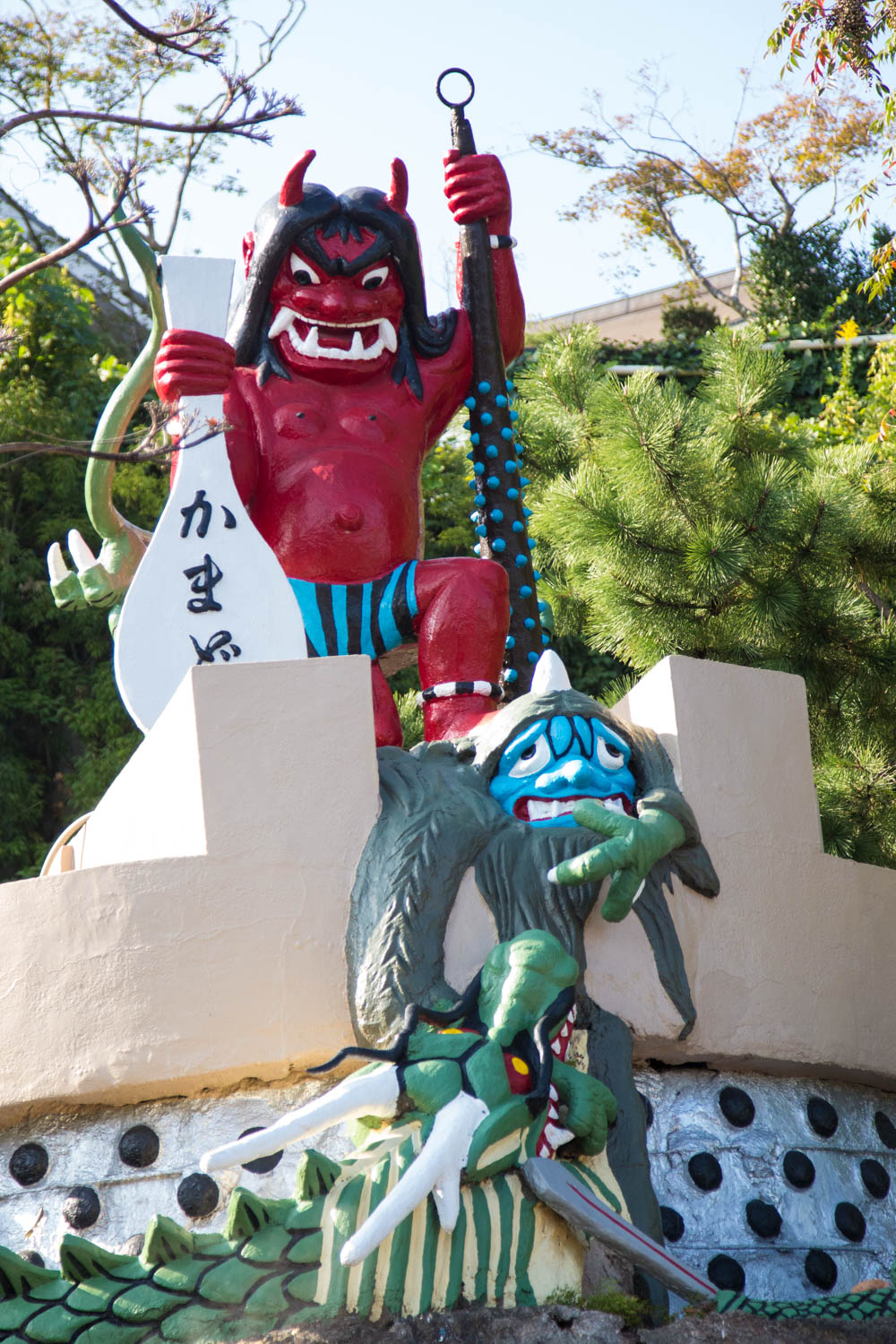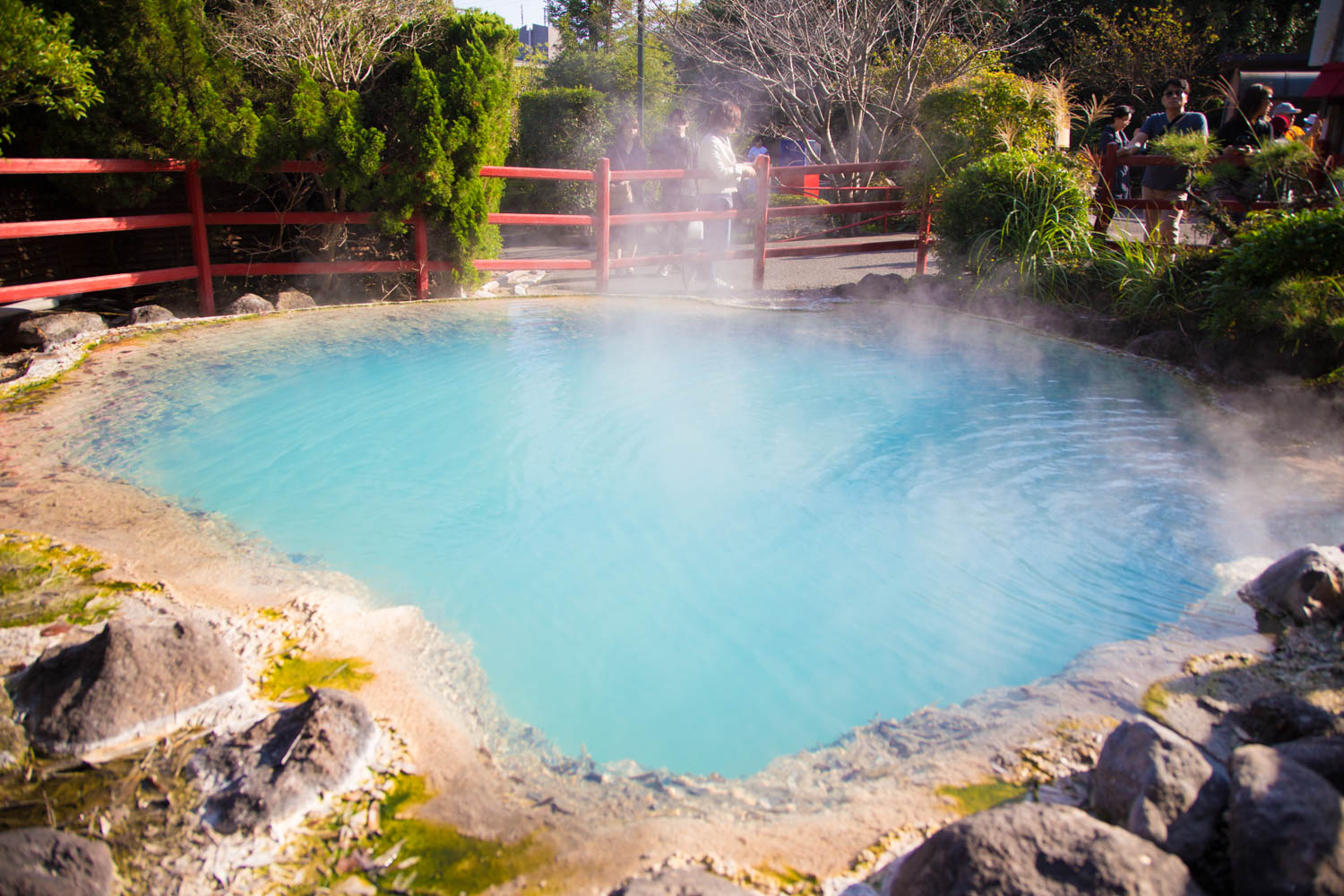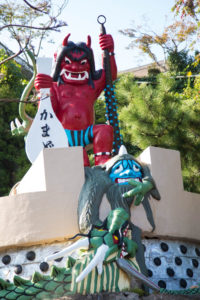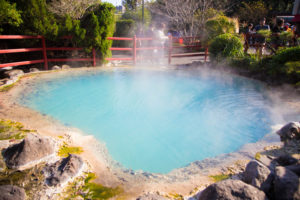 Following that is the Kamado Jigoku (Cooking Pot Hell), featuring a demon statue which represents the cook. As per the name, there are stalls selling snacks cooked or steamed by the hot spring, though these are slightly pricey so we didn't try any of them. There's a foot bath here which is insanely crowded, go to the one at Oniishibozu Jigoku if you want a foot soak.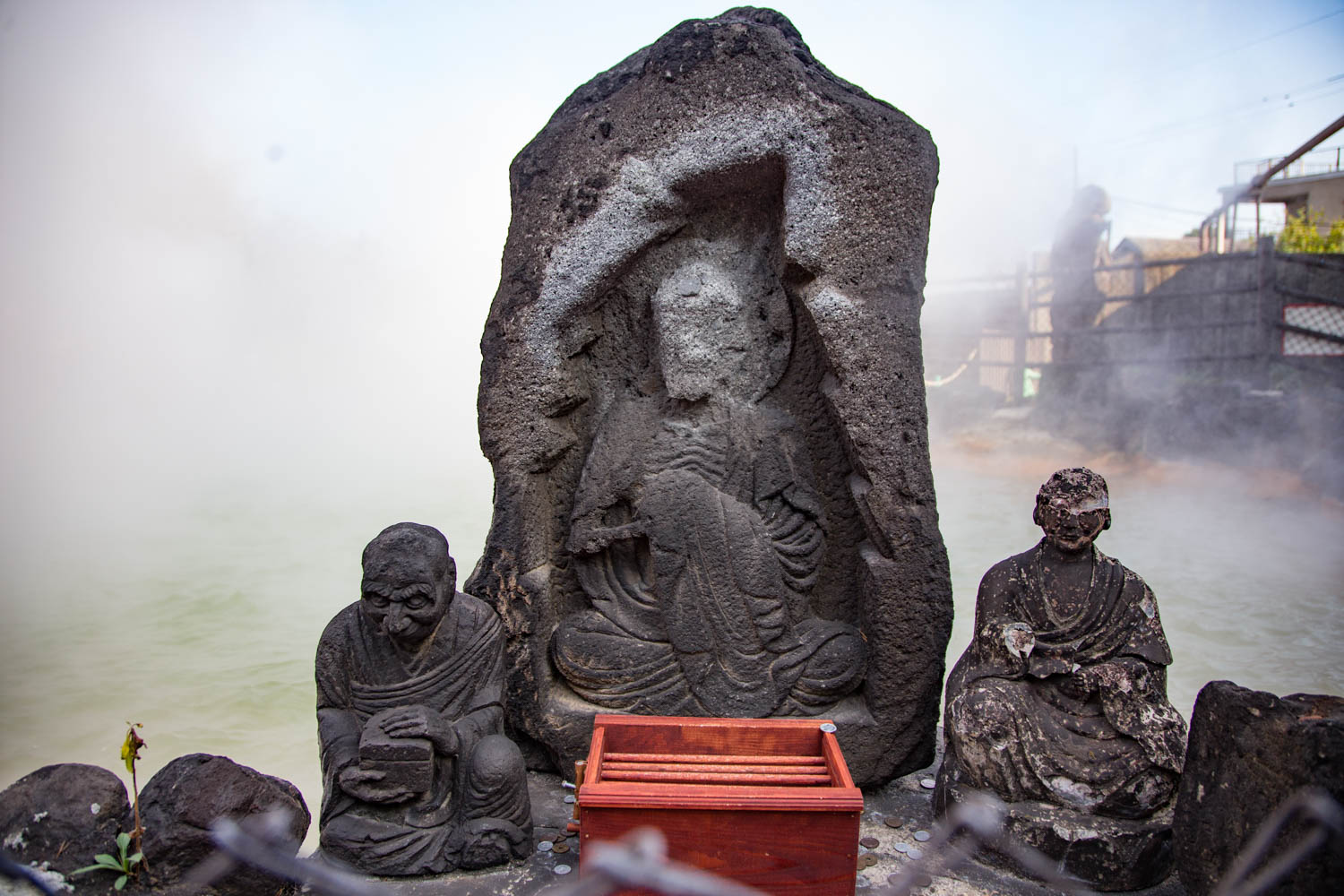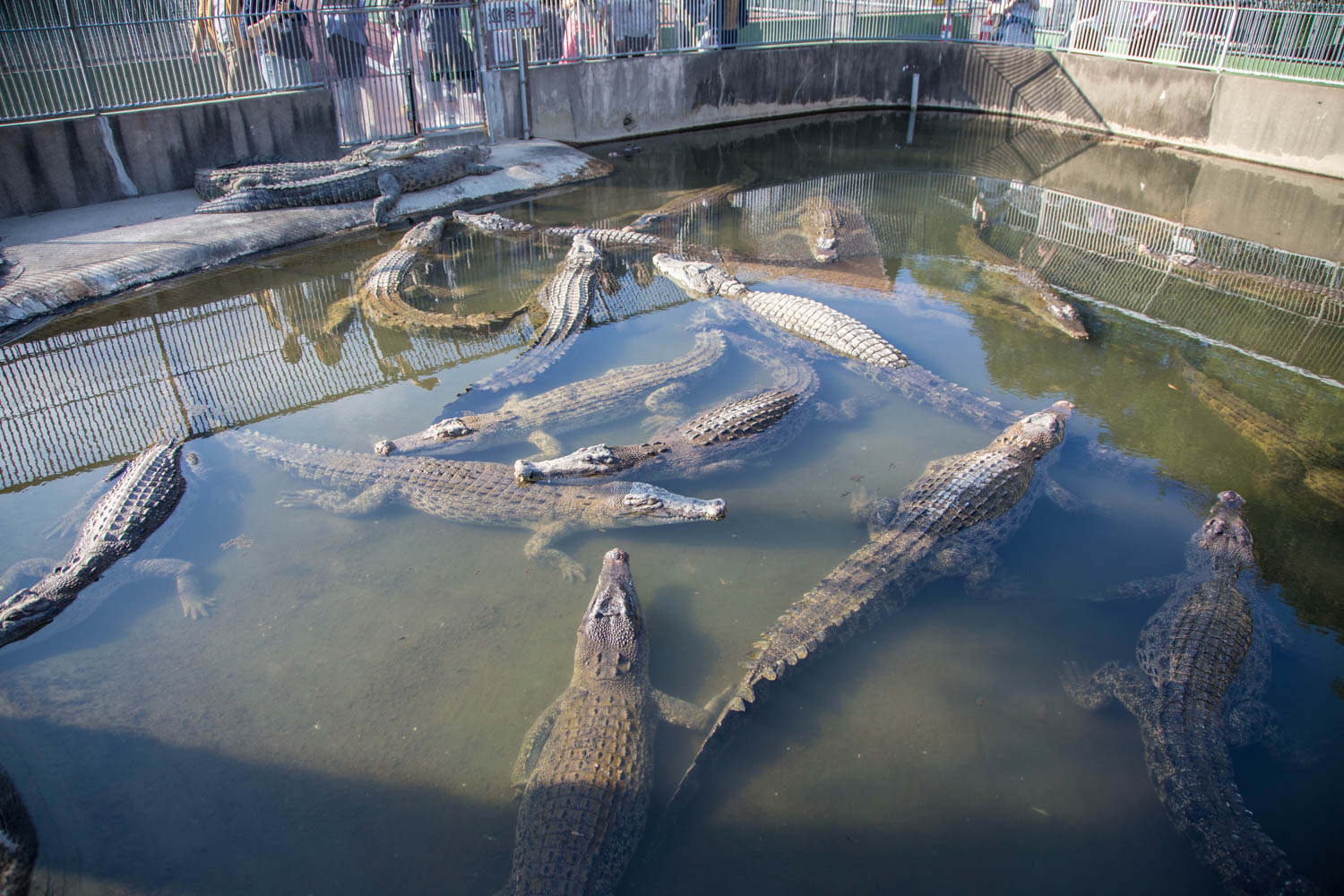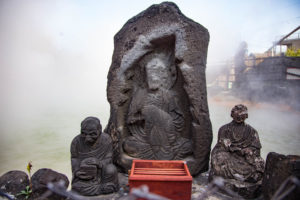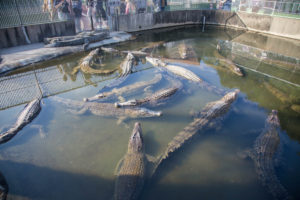 Opposite the road is Oniyama Jigoku (Mountain Demon Hell), in which for some reason a large number of crocodiles are kept and bred. The signs explain that the pressure generated by the heat from the hot spring promotes the breeding of the crocodiles. How pressure is linked to crocodile breeding is neither obvious nor explained, so we'll just take the signs at their word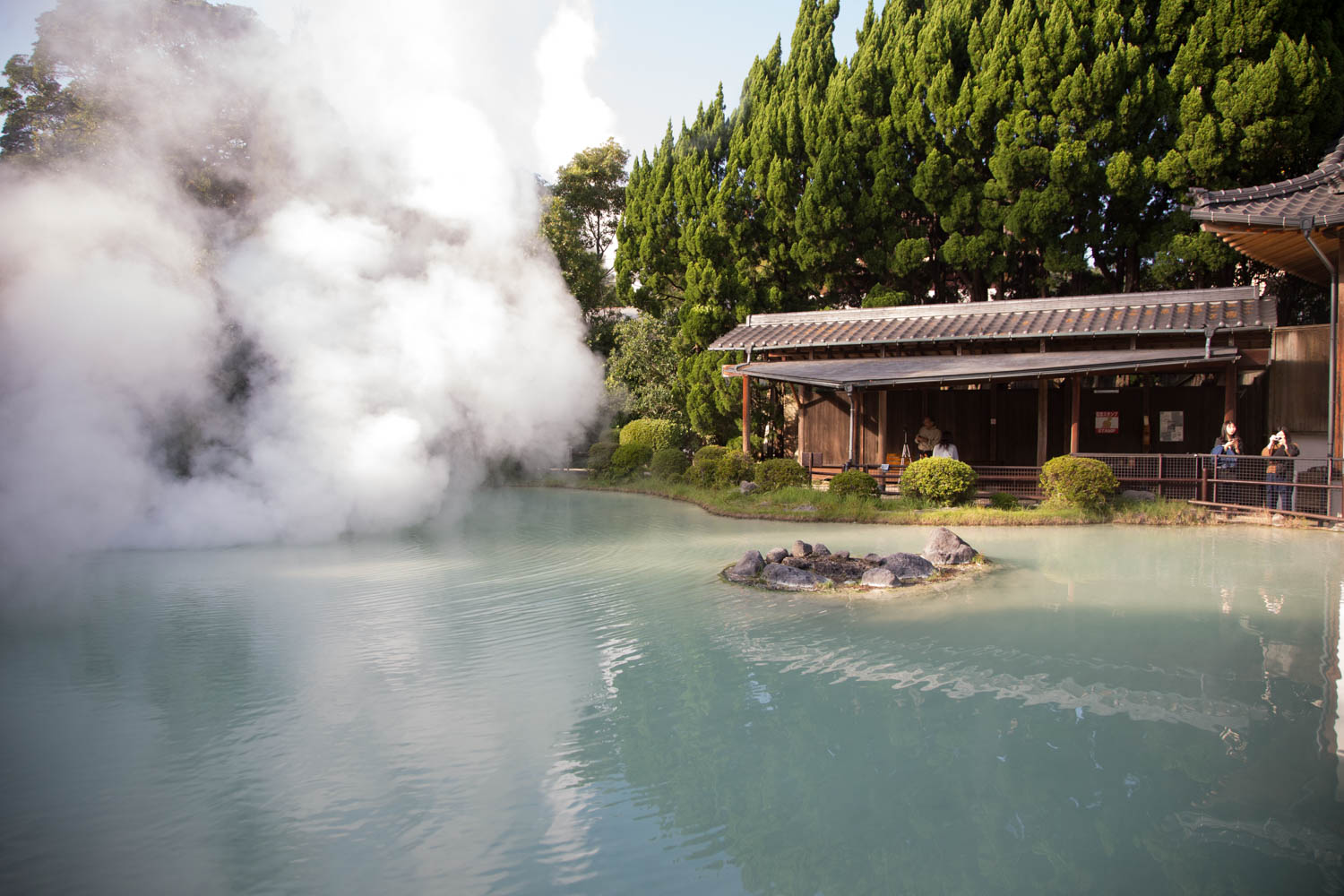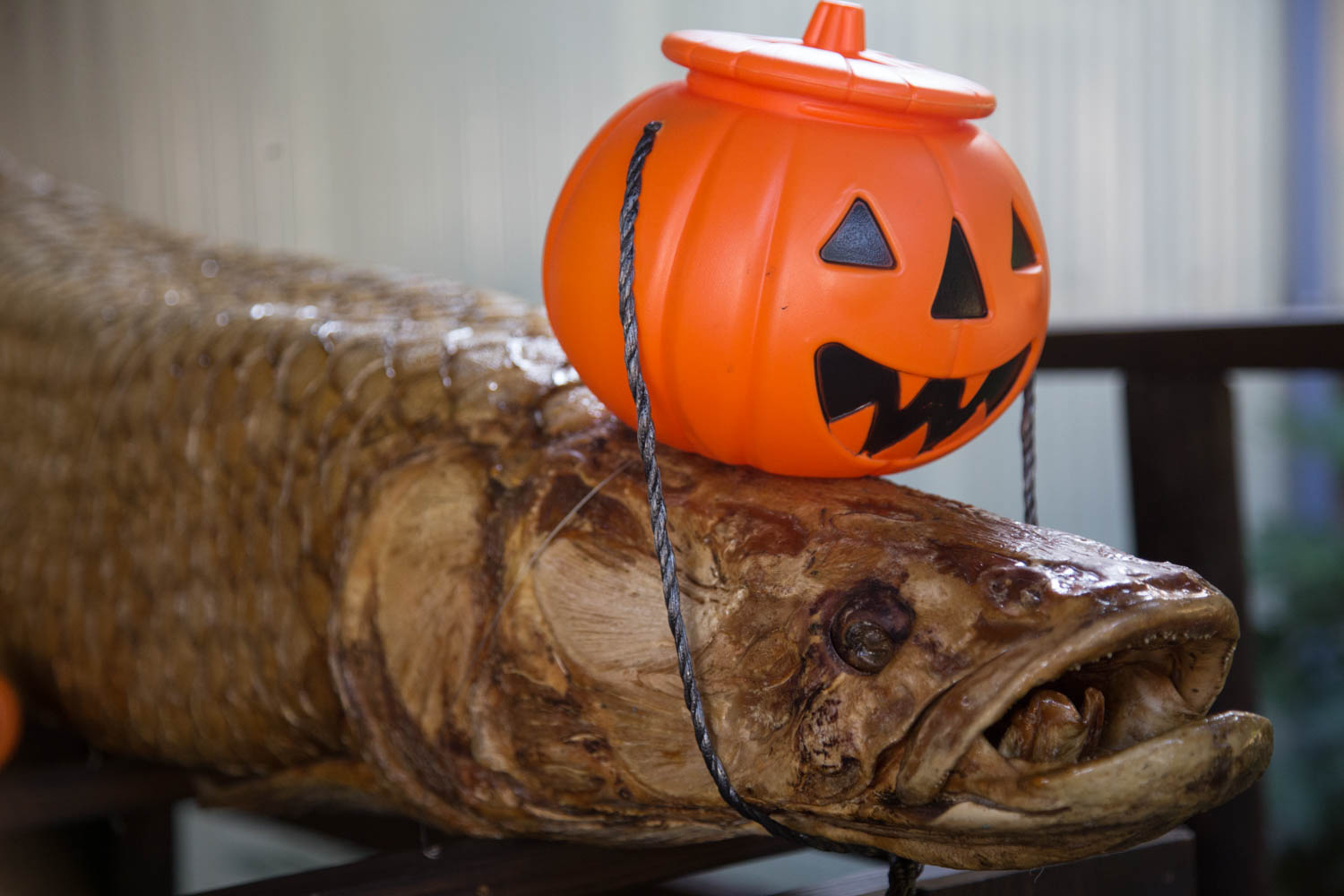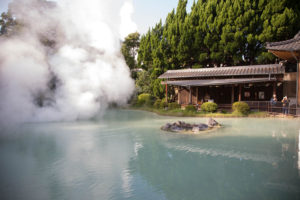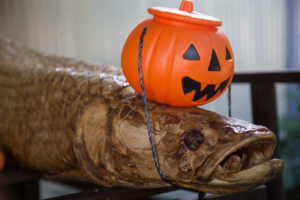 The last one in this area is Shiraike Jigoku (White Pond Hell), where the main feature is the pond that is a pale blue in color rather than the white that the name describes it as. For some reason there is a small aquarium in the area that is pretty run down and has nothing much to see.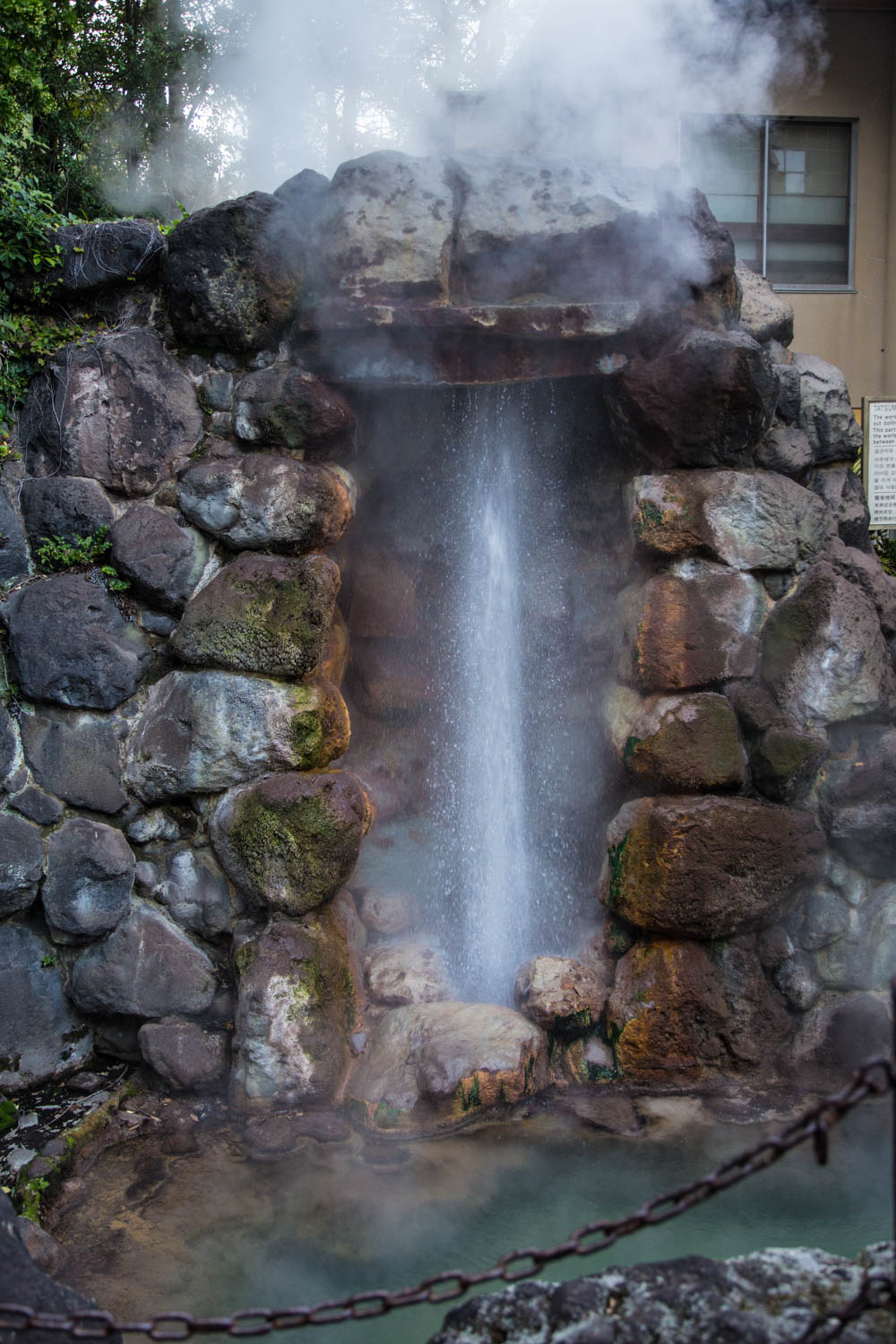 The next two hells were a short bus ride away and adjacent to each other. First up was Tatsumaki Jigoku (I loosely translate it as Tornado Hell). The sole feature of this hell was the geyser that erupts every 40 minutes or so for up to 10 minutes. Because they limit the height which the geyser can erupt to by building a cover over it (IIRC it can go up to 30m unblocked), it's not as impressive as it could be, plus if your timing sucks you could possibly wait for the entire duration. If there's one hell that can be skipped it is this.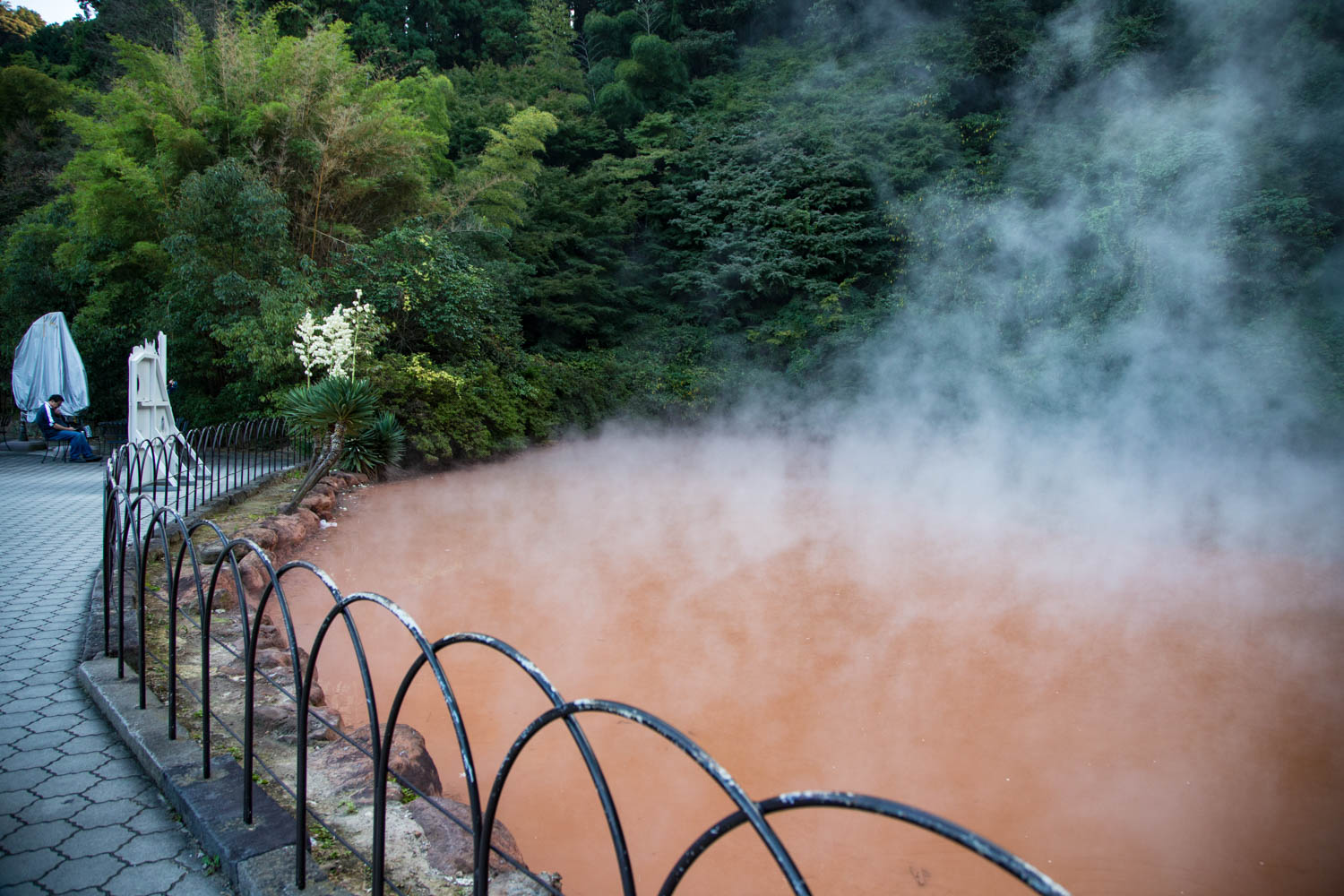 The last hell just beside this is the Chinoike Jigoku (Blood Pond Hell), which features a pond of red water, hence the name "Blood Pond". This place was actually pretty nice, but because we spent too much time waiting at Tatsumaki and we were trying to catch our bus (which we ended up missing anyway), we sadly didn't spend too much time in here.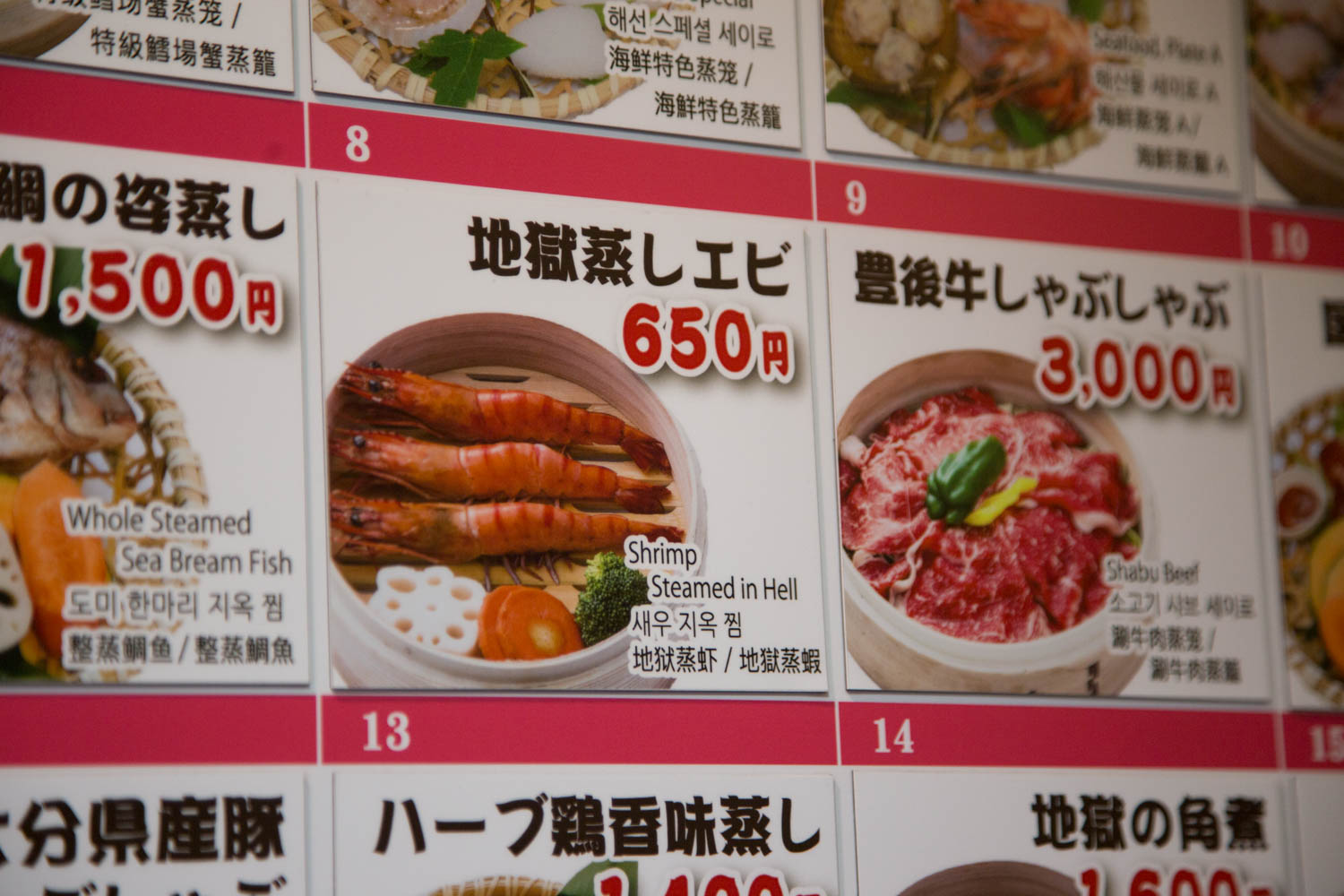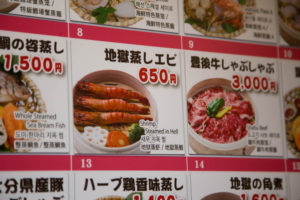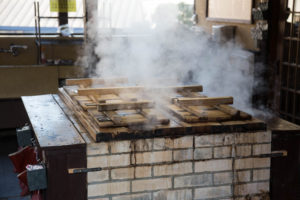 As mentioned there were plenty of places selling food steamed or cooked with the steam from the hot springs. Although we did not eat any of them, we had a great time just laughing at the English translations of the dishes; a lot of them actually had the word hell added to them, just to emphasize the fact they were cooked with the hot spring steam. Take for example "Shrimp Steamed in Hell", if interpreted literally it's like they found a way to bring those shrimps down into hell for steaming. There were plenty of such dishes, this is just one of the many.
Kumamoto
With the JR Pass which I purchased the day before for my ride to Beppu, I decided I might as well make full use of it and explore some other prefectures. As the pass only covered the train ride up to Kumamoto, that was where I ended up heading to. Due to time constraints (my plan included a visit to a shrine in Saga that I really wanted to visit 2 hours by train), I only had about 2 hours or so in Kumamoto, so I just picked the main attraction, Kumamoto Castle. Yea not exactly my usual style rushing around like that, but these things do happen occasionally.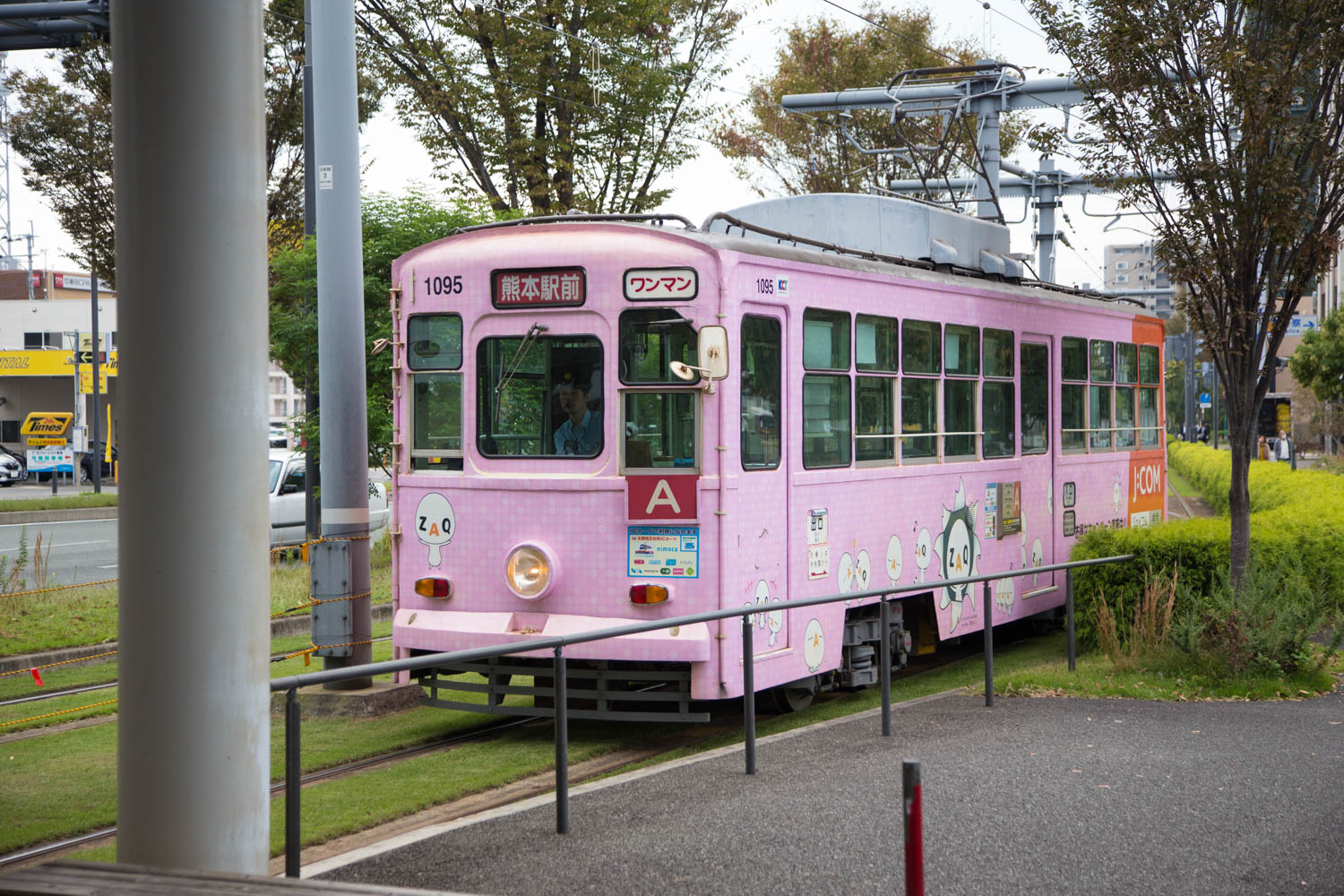 First impression upon arrival in Kumamoto was how old school their transport system was. Instead of subways the main form of transport around the city are buses and trams. I've been to Japan a couple of times (admittedly mostly to the same place, but still…) and this is the first time I've actually seen a tram operating in the main city of a prefecture.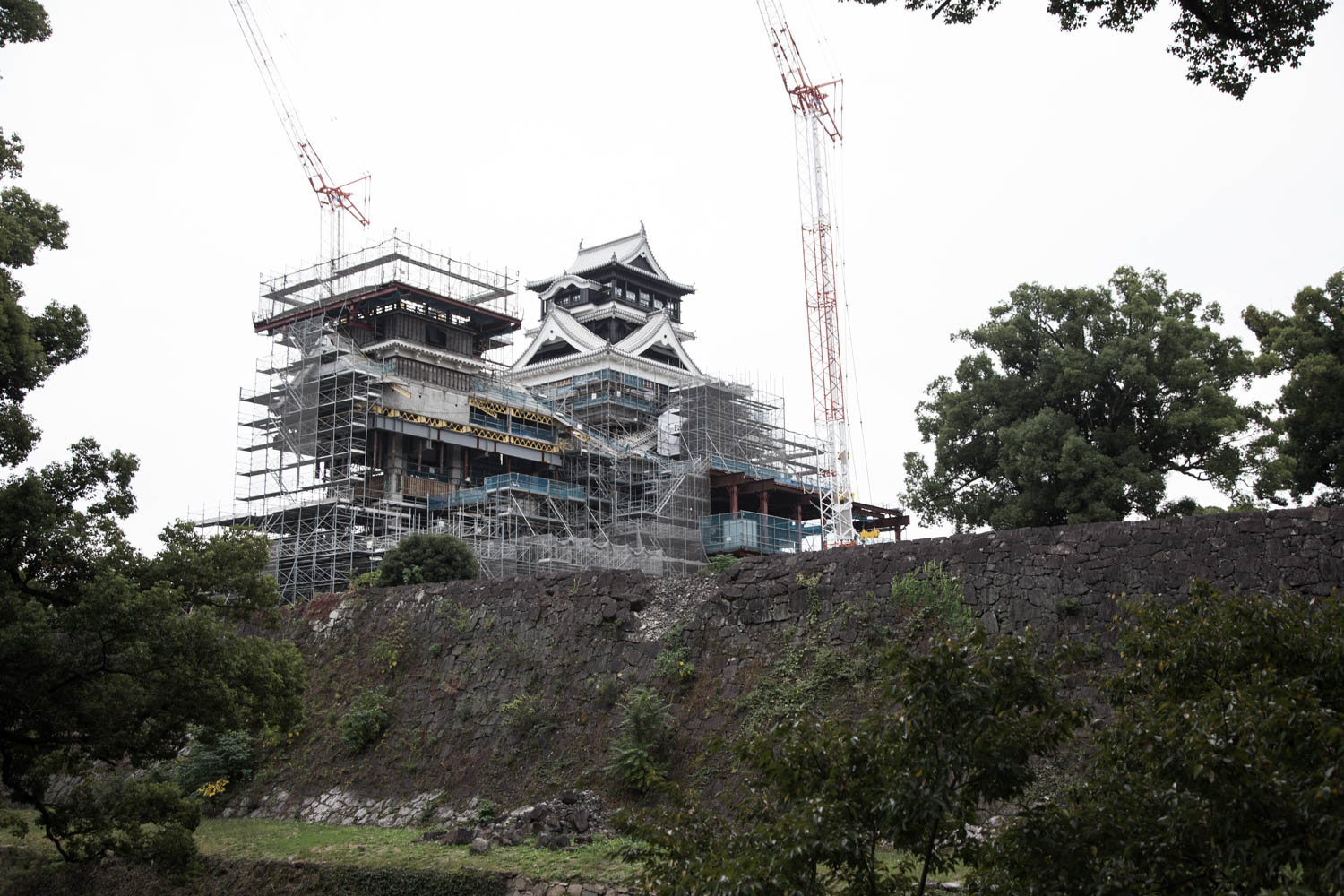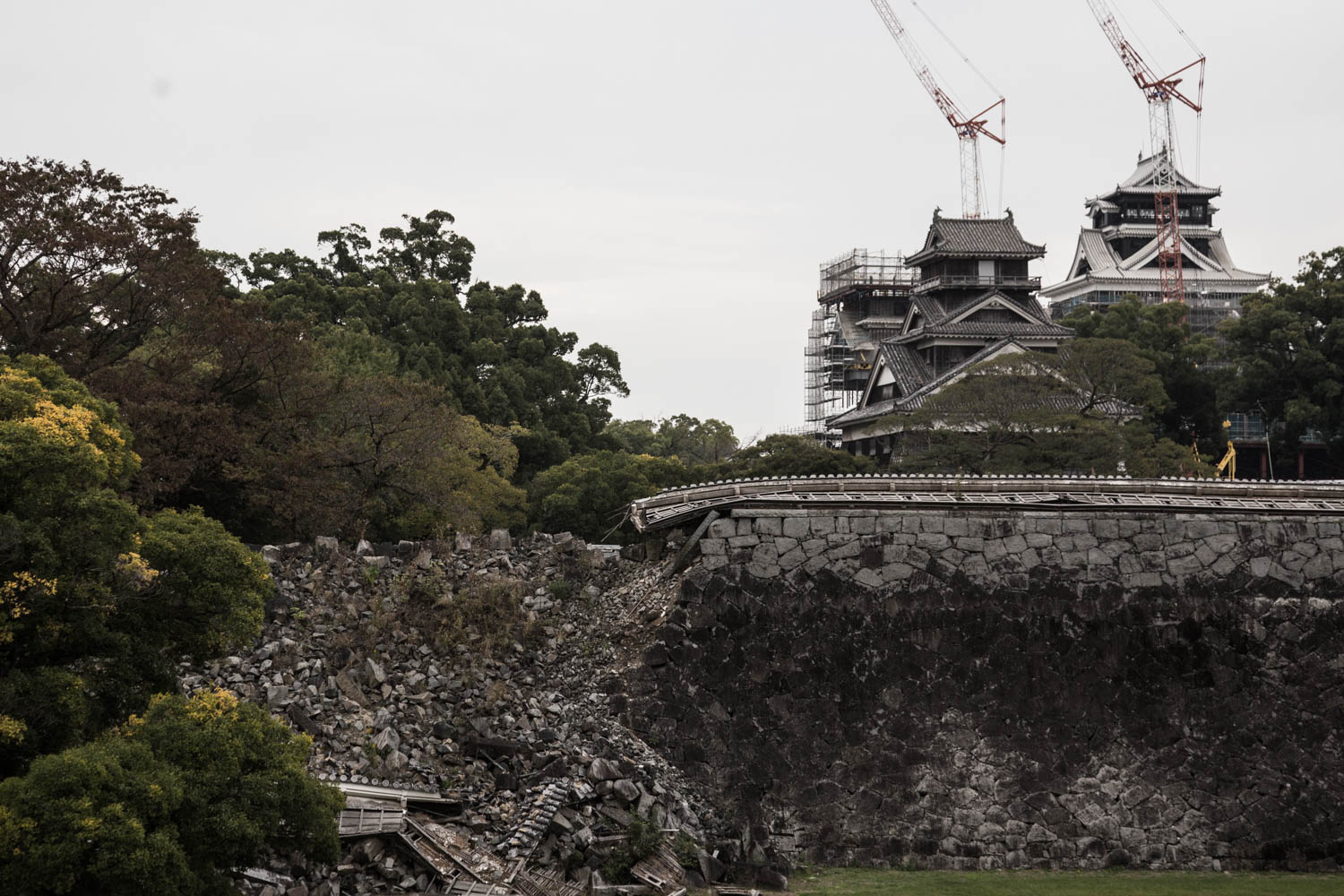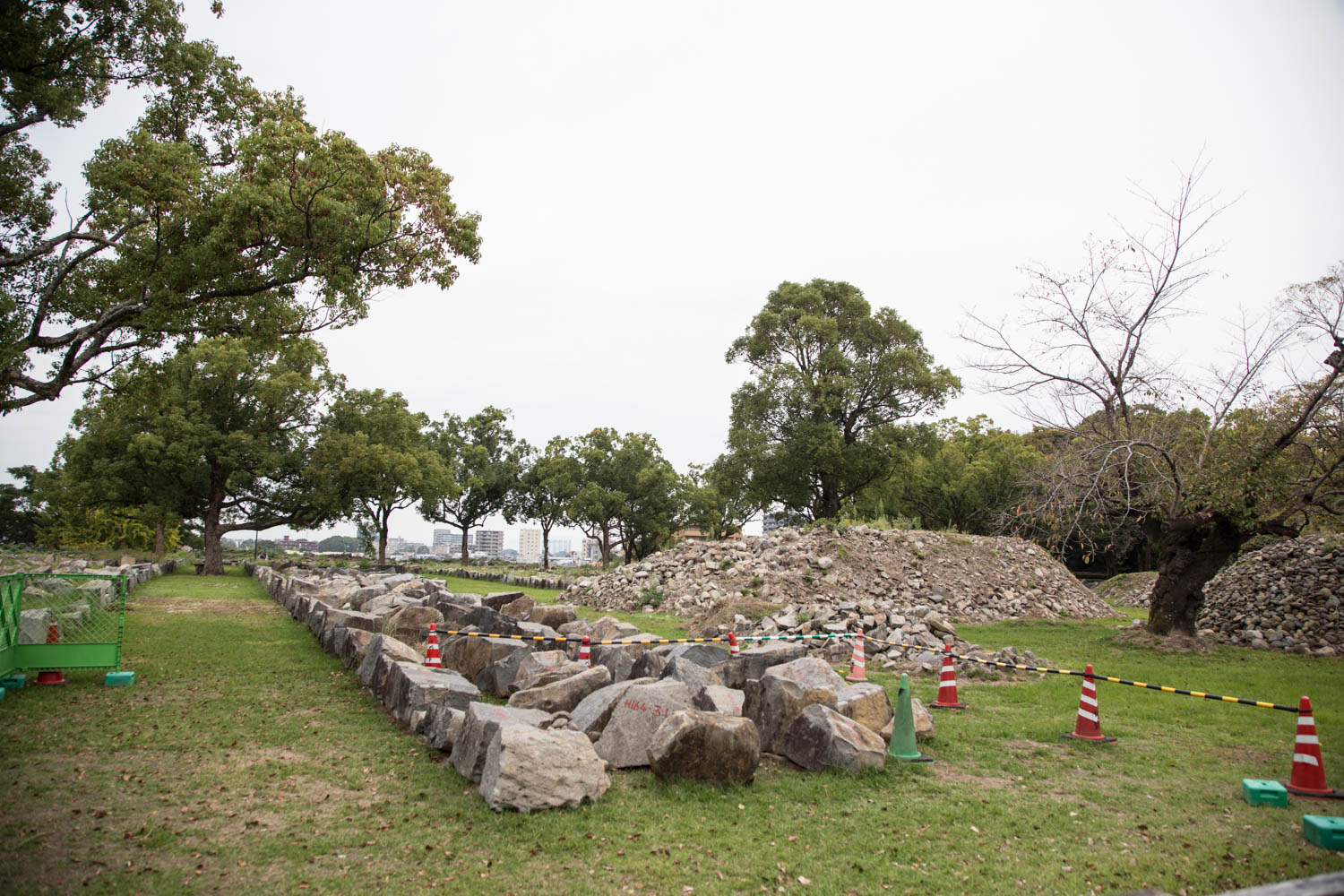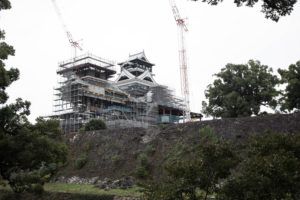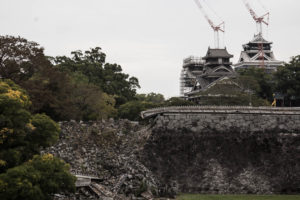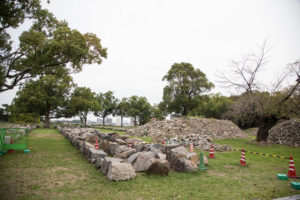 It was only after arriving at the castle and trying to find my way in before I remembered that there was an earthquake a couple of years ago which seriously damaged the castle. Due to this the entire castle area was closed off for repair works, so we could only see the castle from afar, but even then you could see the extent of the damage with parts of the castle wall collapsed and such. Coincidentally my earlier trip to Nepal also brought me to places recovering from earthquakes, and it's still sobering to see the after effects of such events, even more so in a developed country like Japan.
Shrine Visiting
So on this trip I decided I'm going to start my goshuin collection, which is basically a collection of stamps from the shrines that are written in a book called a goshuincho. My aim is to eventually collect a goshuin from at least one shrine in every single prefecture in Japan. With 7 shrines from 5 prefectures visited this trip, I feel like I'm off to a good start
Kanda Myojin, Tokyo
OK I lied. I did go to Tokyo, but in my defense I only went there for a day to visit that sushi restaurant which I really liked. Since my fixed plan for Tokyo is just for lunchtime I figured I might as well spend the rest of the day sightseeing and visiting some places I haven't been to before. Enter Kanda Shrine near Akihabara, where I started my goshuincho collection.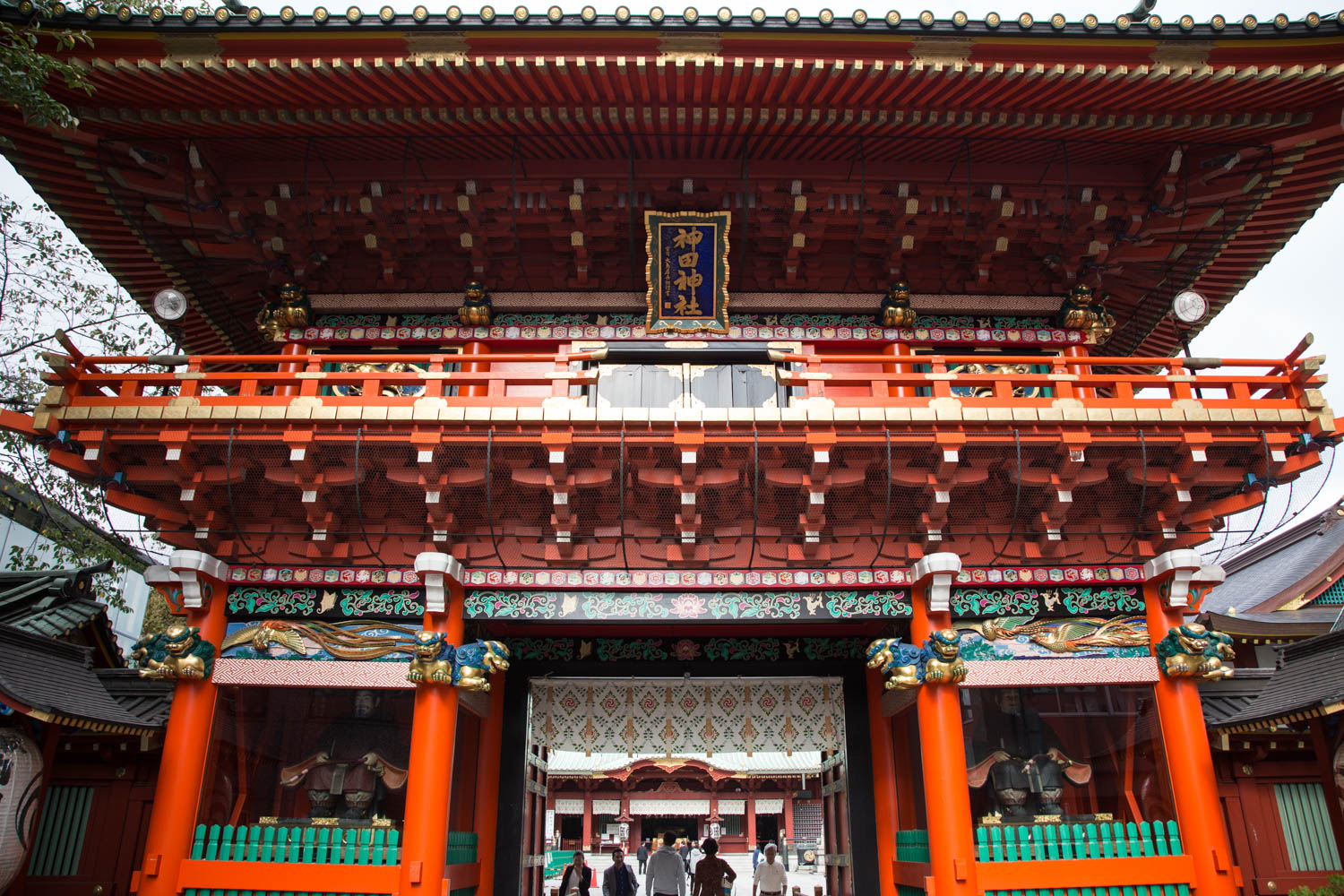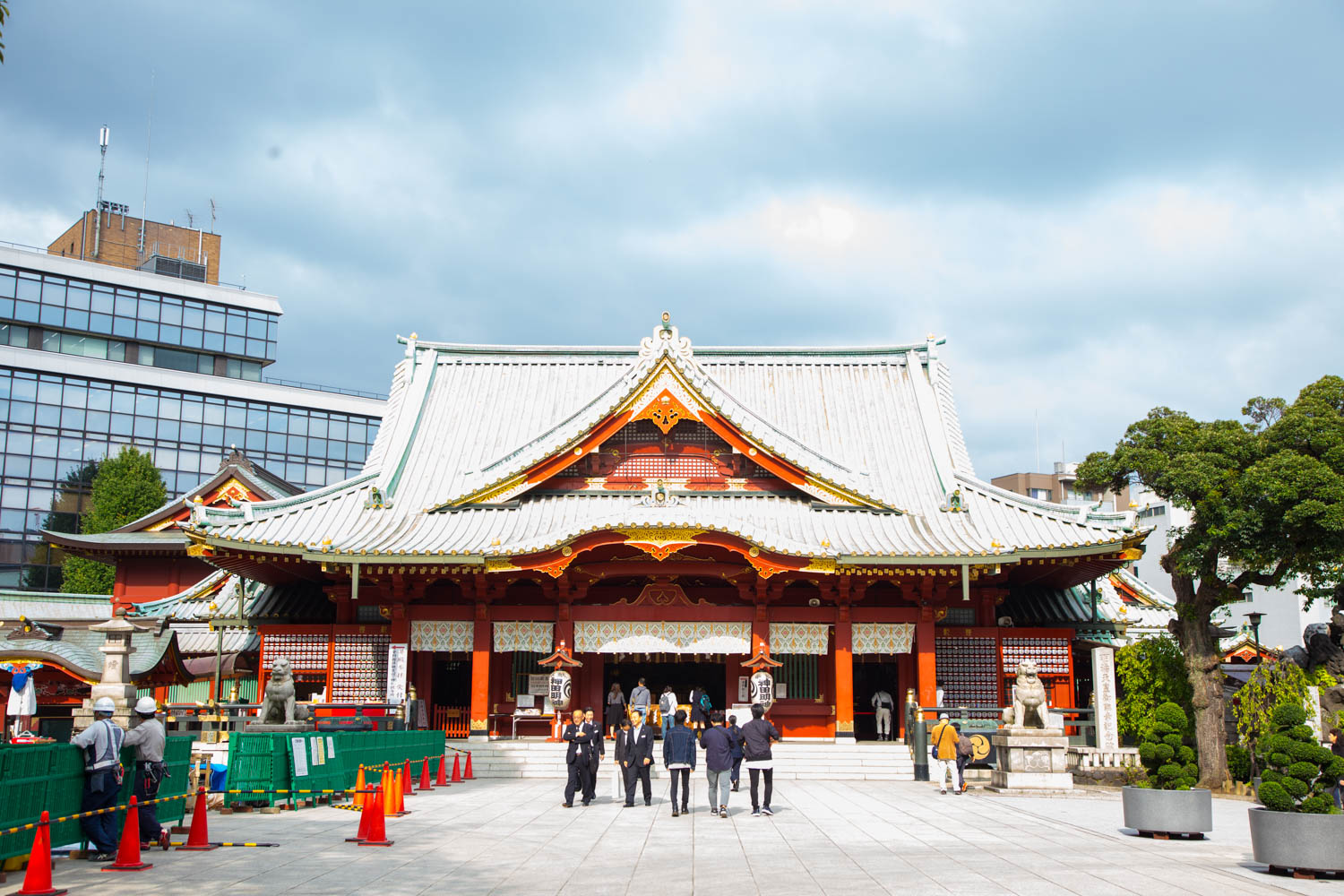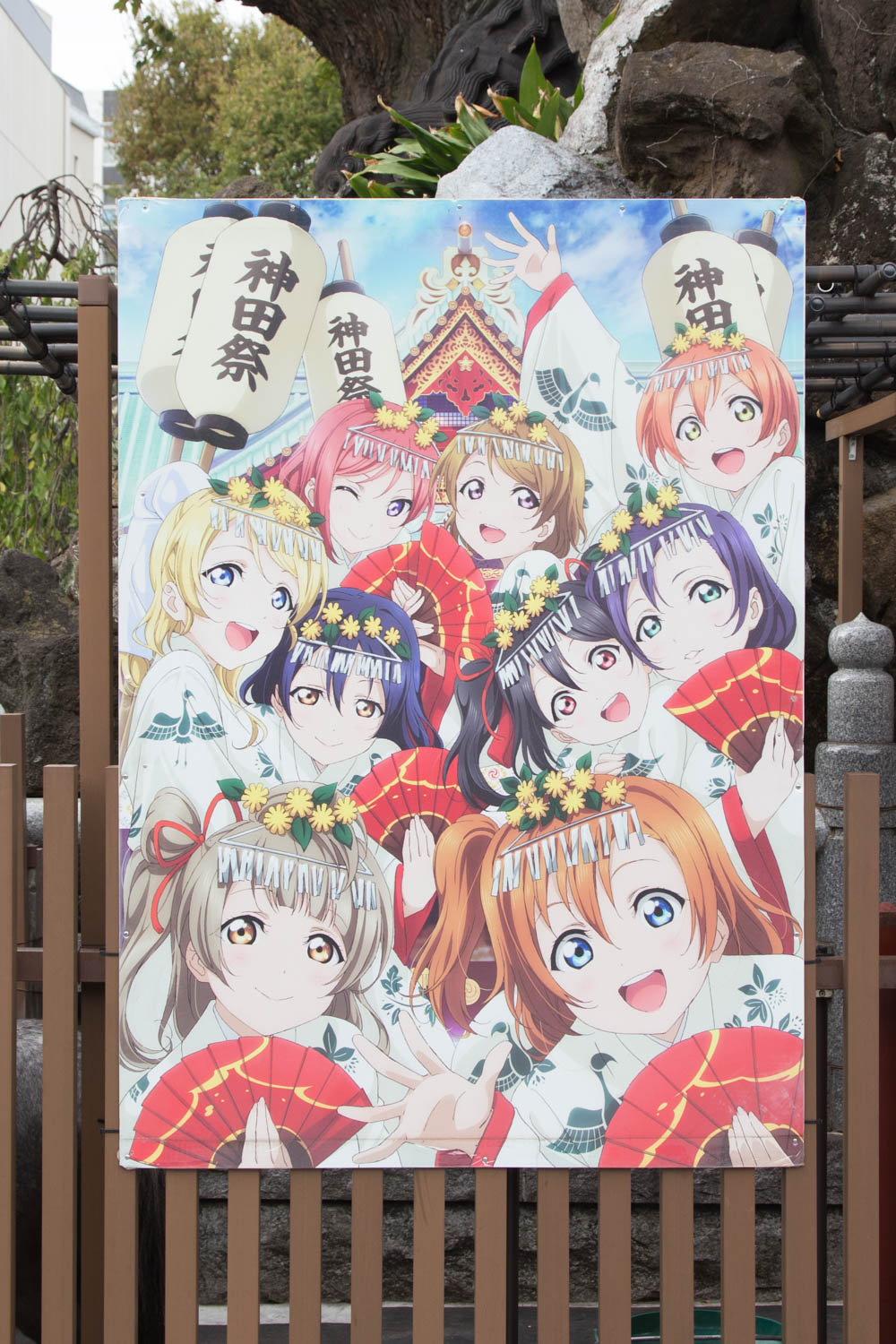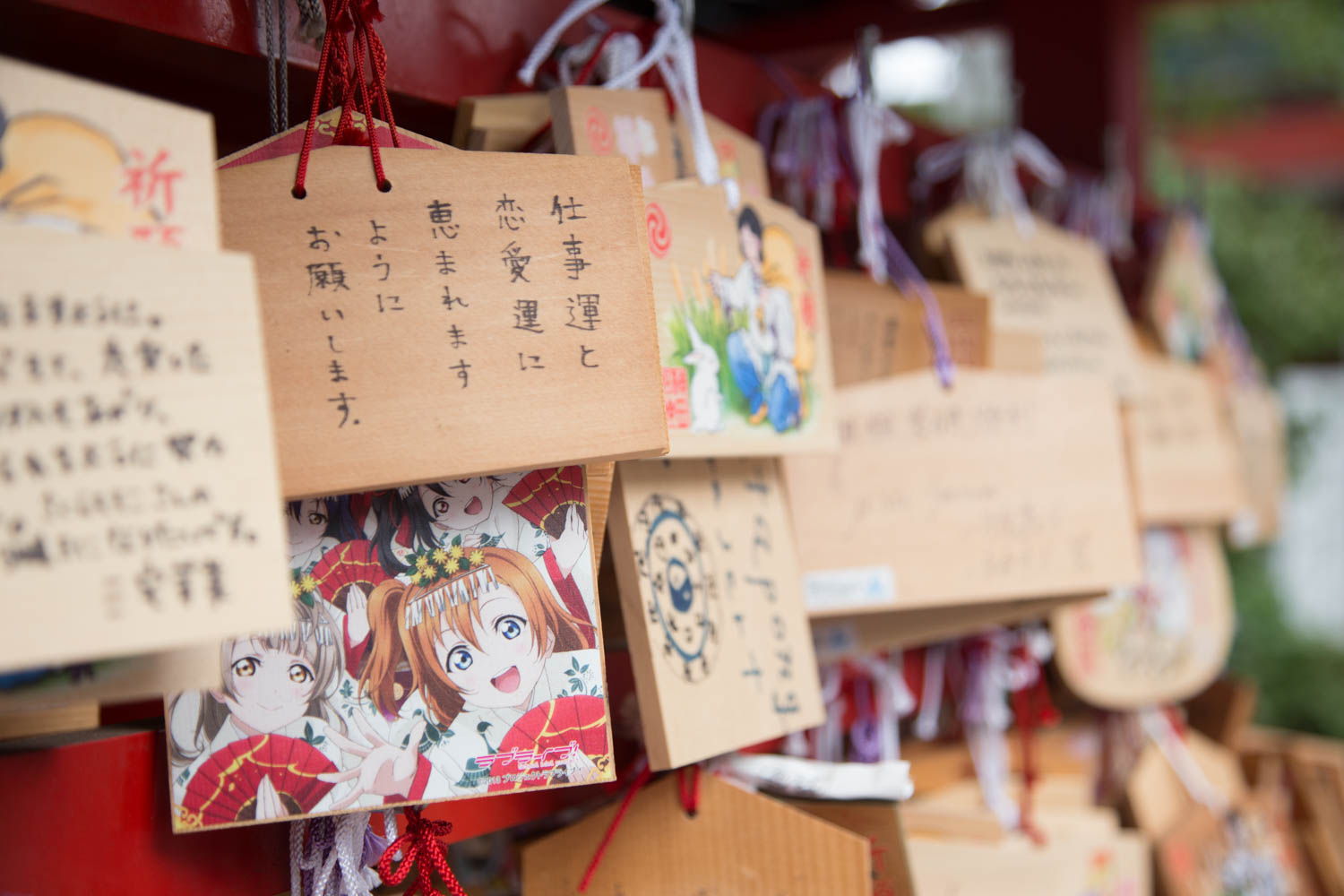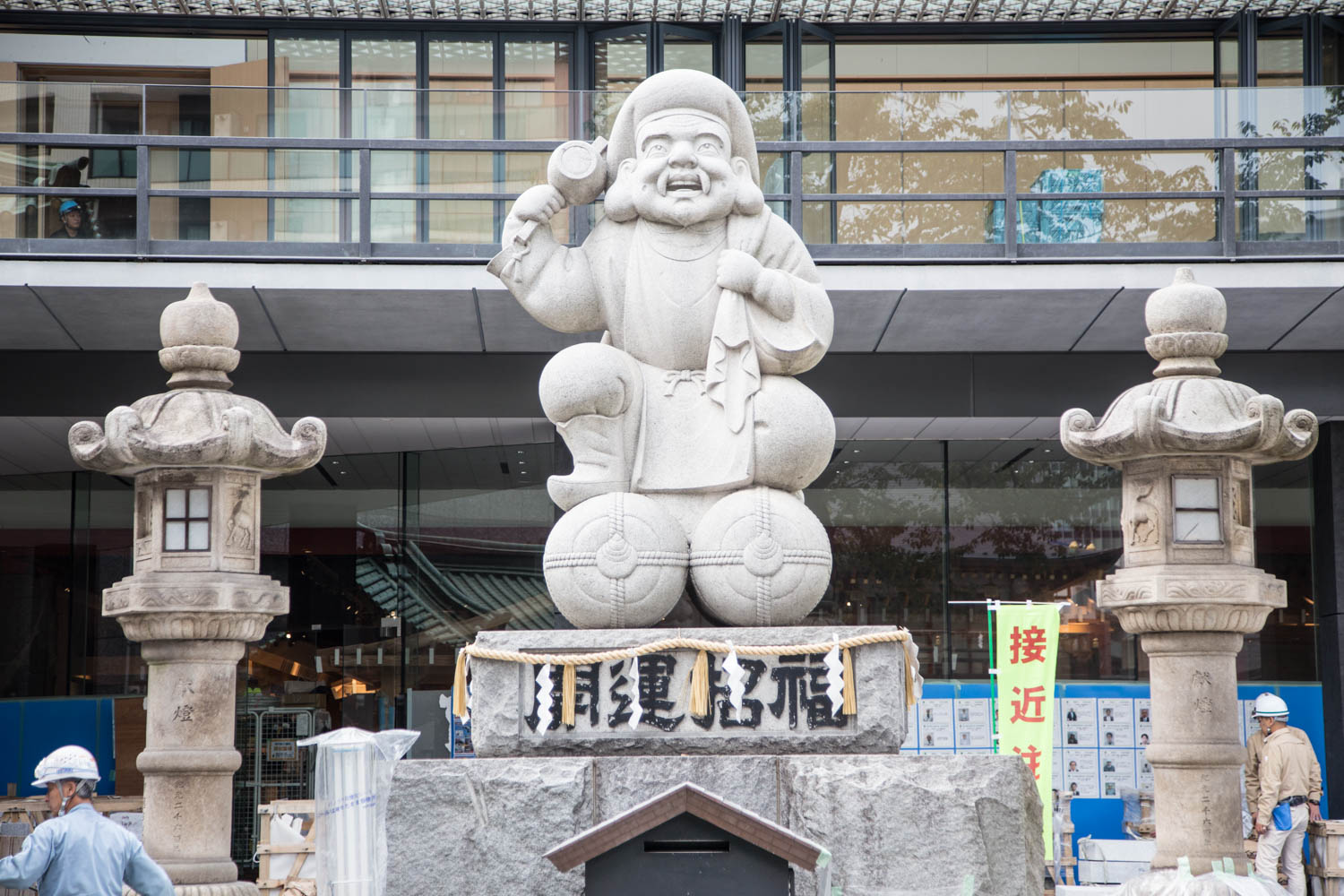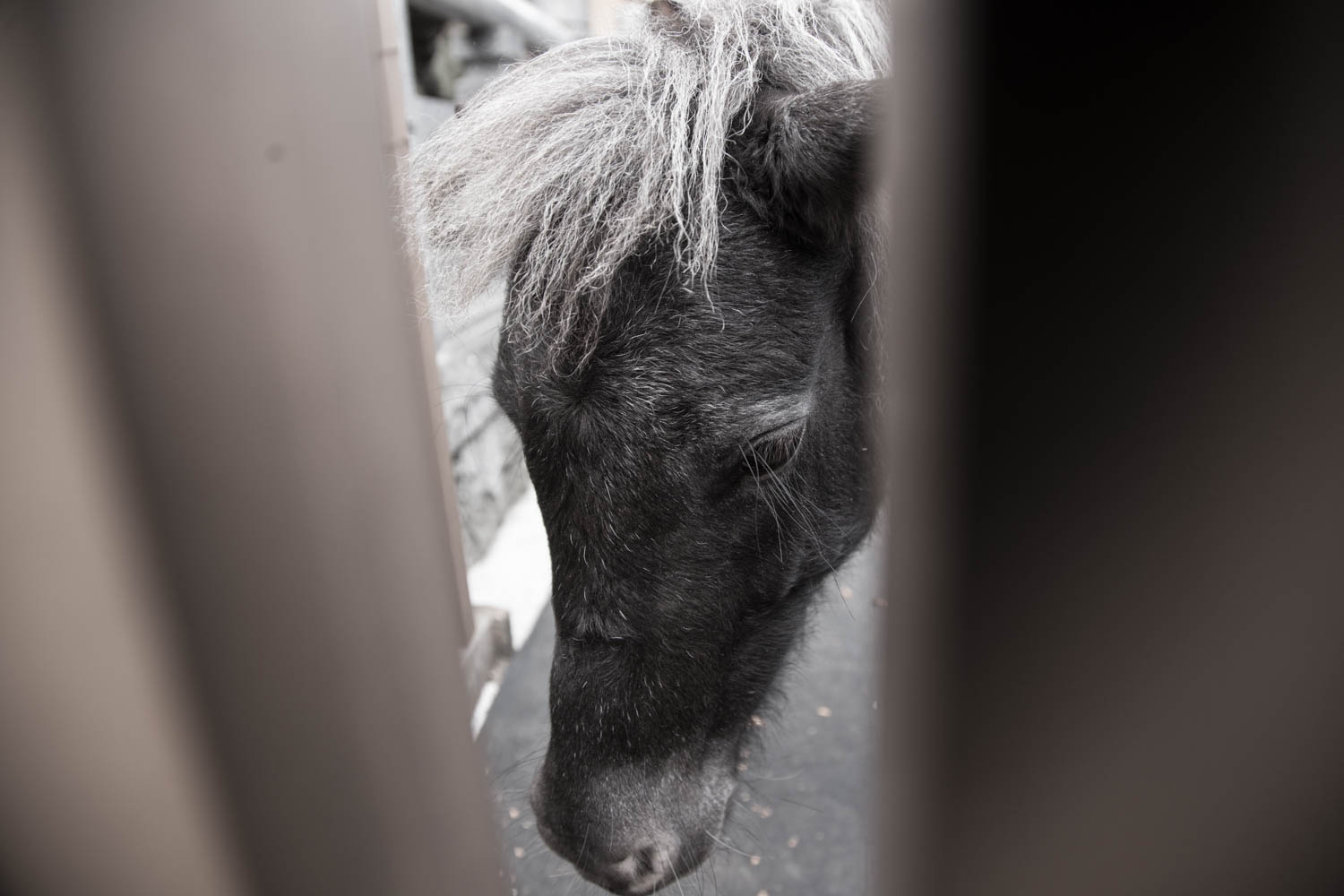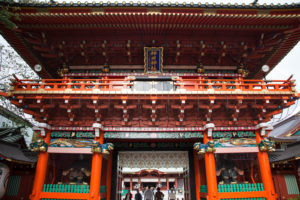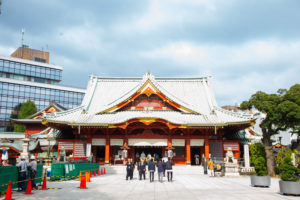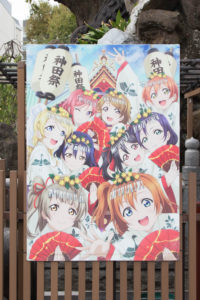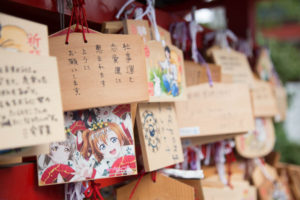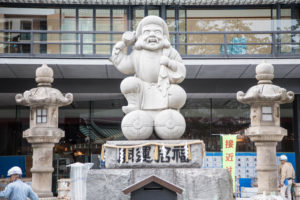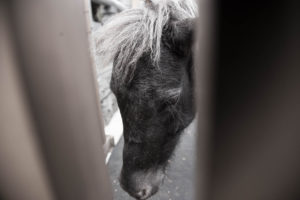 Even from far the front gate immediately attracts attention with the amazing details on it. The courtyard area of the shrine was under renovation with a rather modern looking building under construction on the side, which kinds of takes away the charm of the shrine, but it still is one of the more impressive shrines, and I got to say the statue in front of that modern building is pretty cute. The shrine is also famous for its association with the anime Love Live, which the shrine has made full use of as Love Live images can be found almost everywhere in the shrine grounds.
If there's one thing I'd criticize the shrine about, beside the shrine building was a small pony/donkey which I assume is the shrine mascot or something. The animal was fenced up in an area that is about the size of my bed, which is insanely small. The poor animal just looked so sad, at least give the poor thing a space big enough to at least walk around.
Kushida Shrine, Fukuoka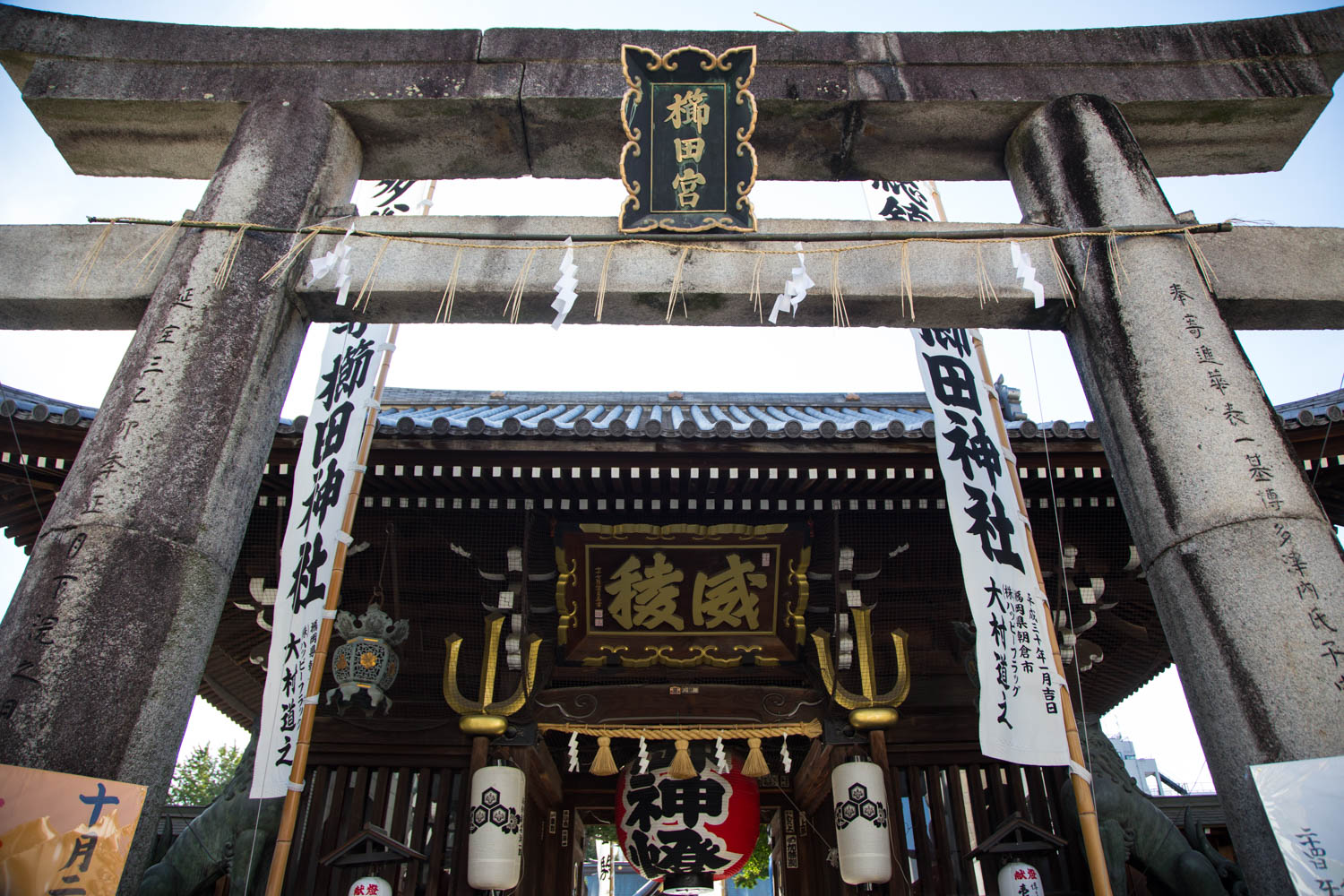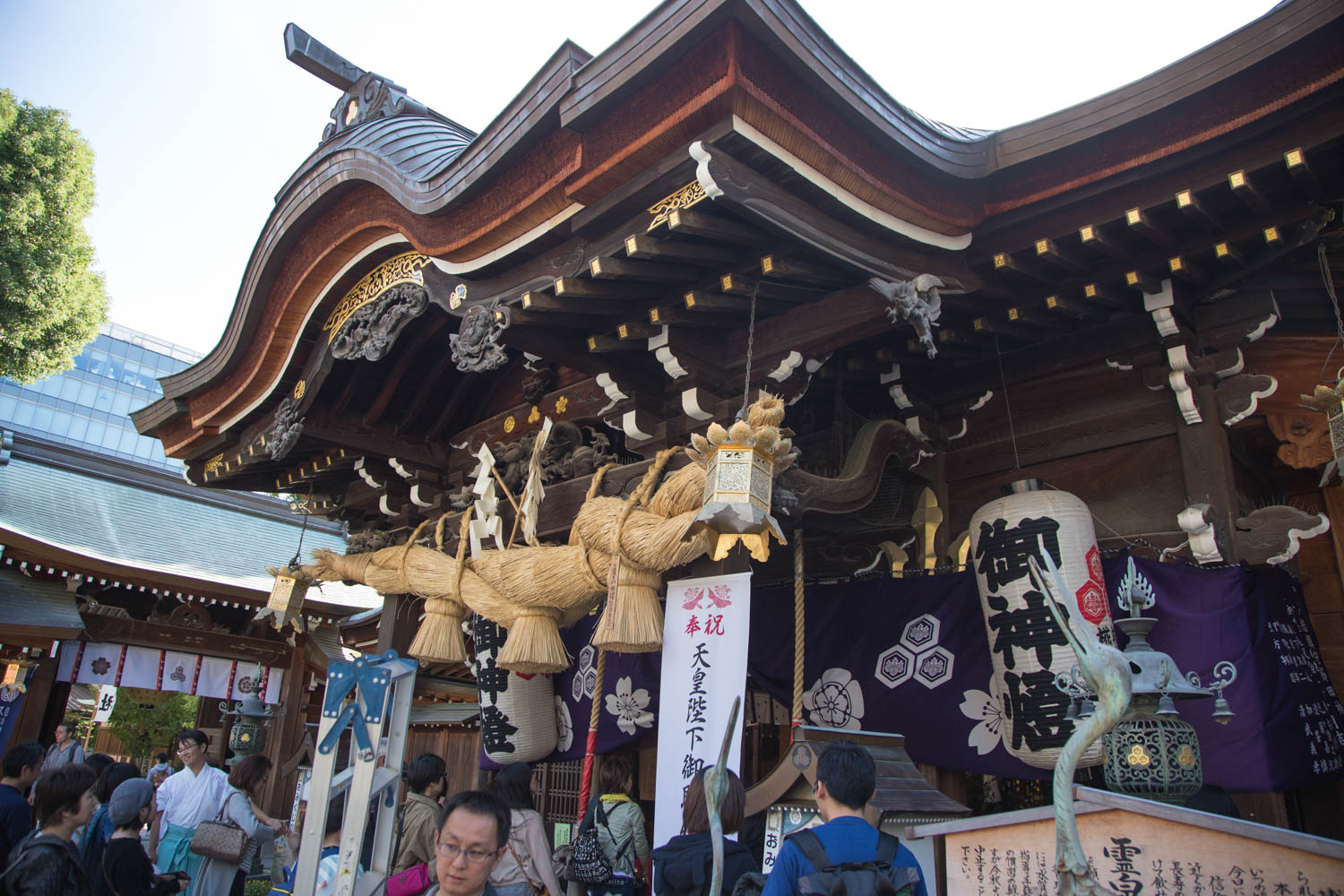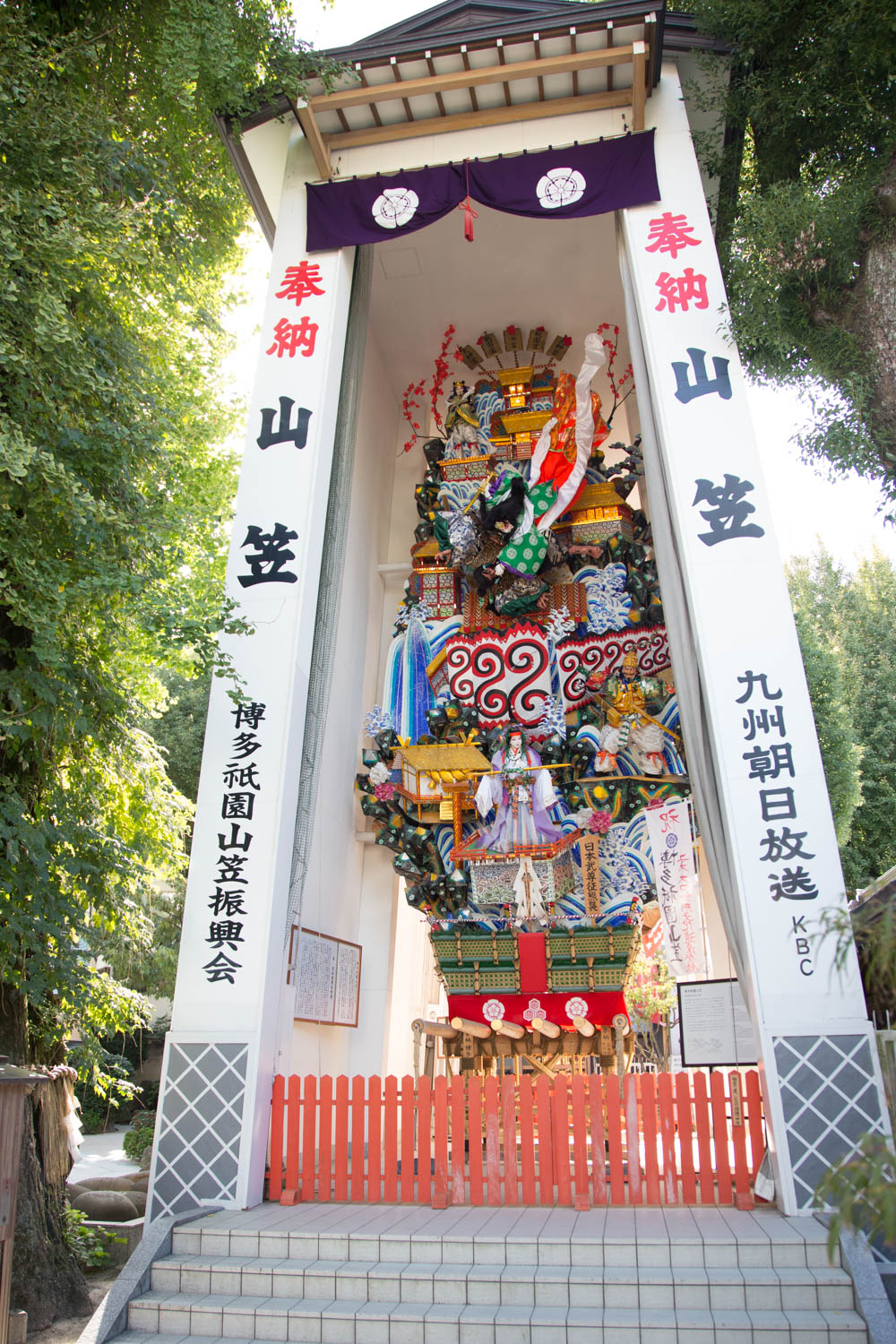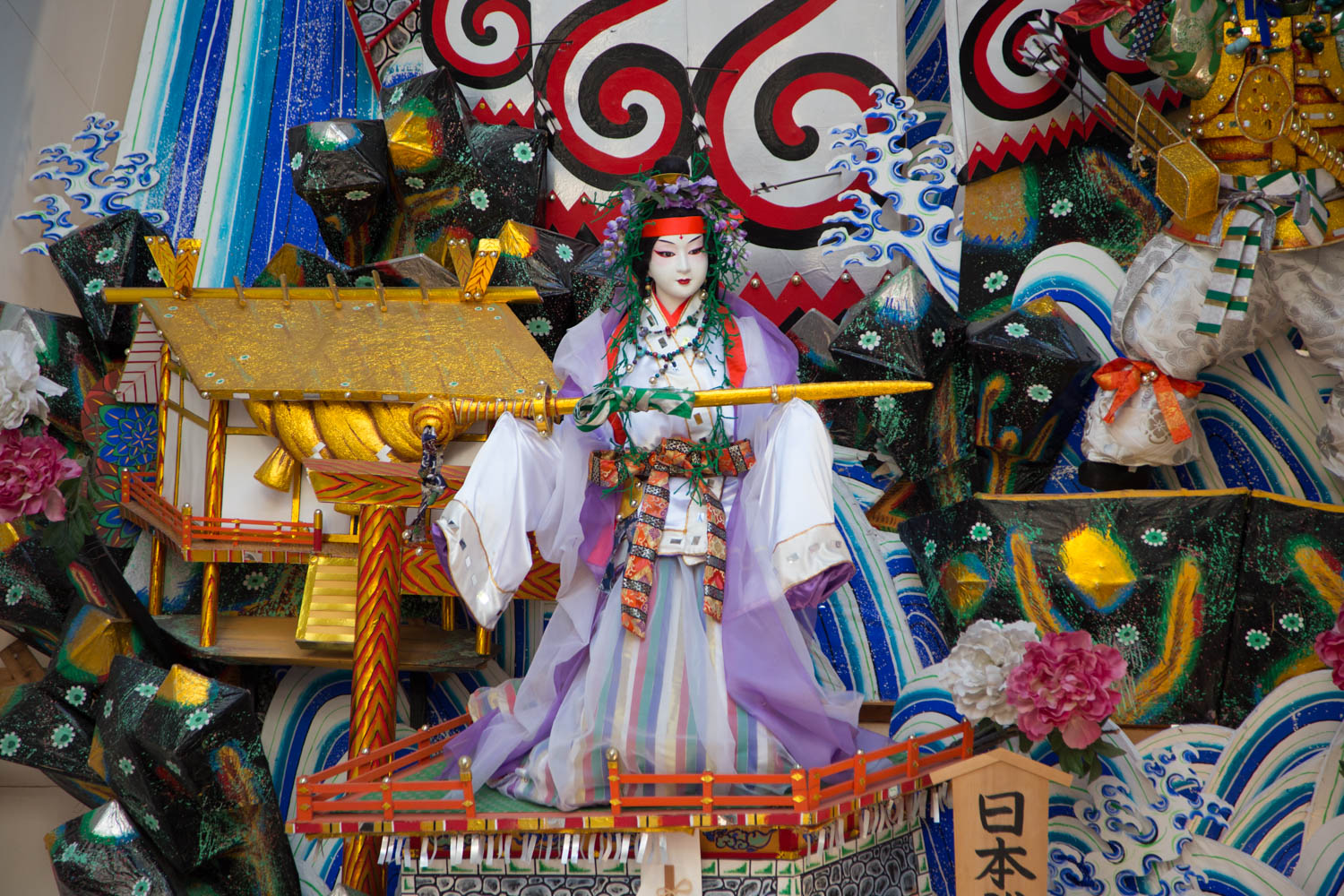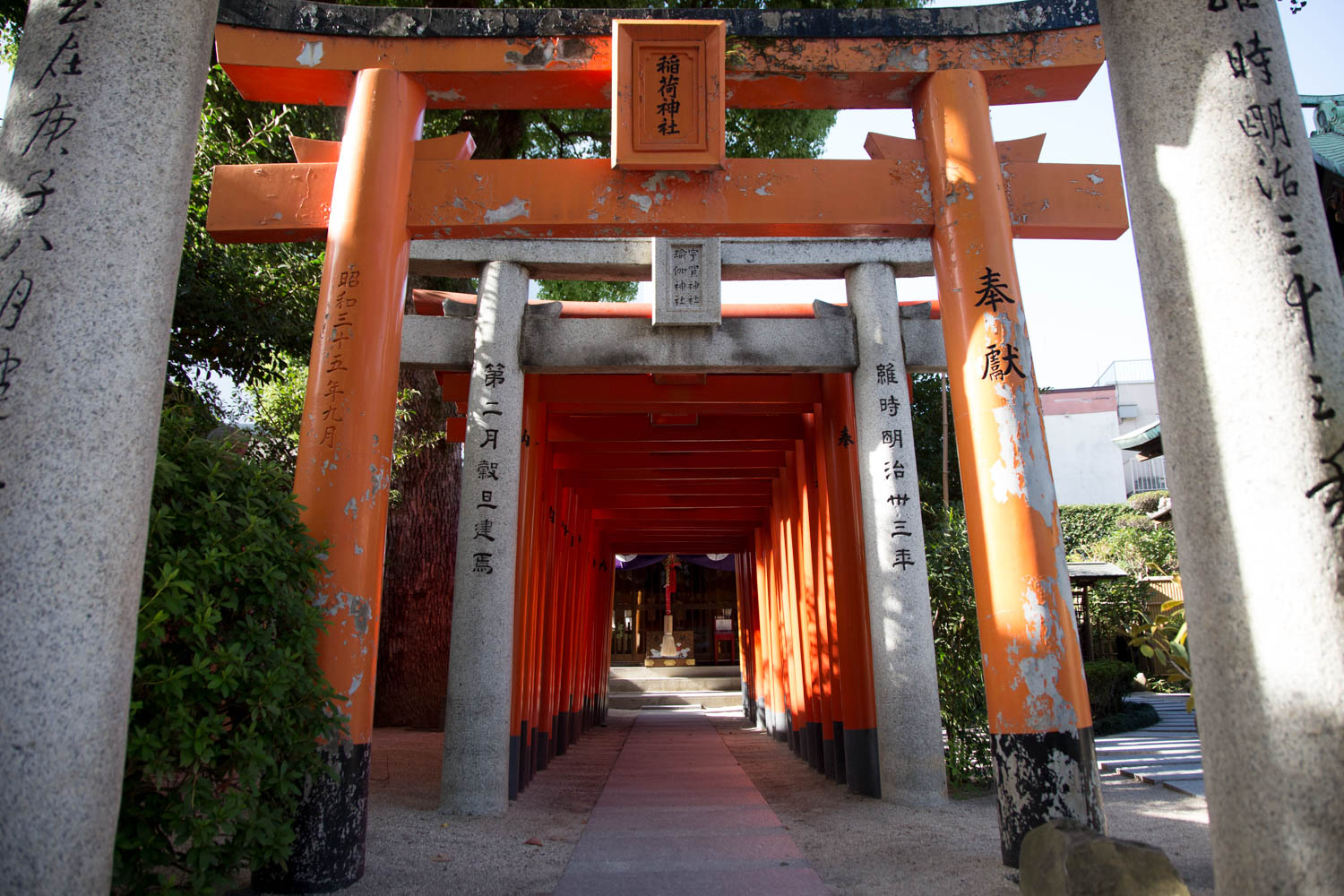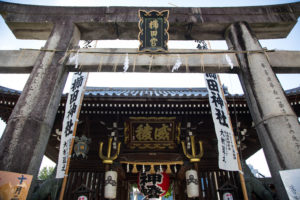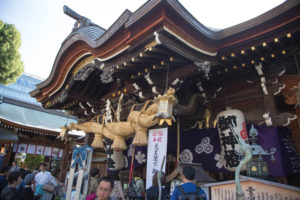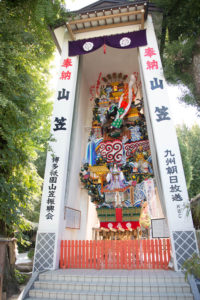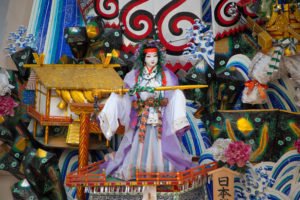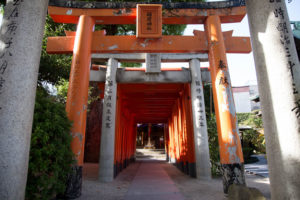 Because this was literally right behind the first hotel I was staying at in Fukuoka, I figured might as well drop by to take a look. One of the main shrines of Fukuoka, with a handful of smaller shrines around its perimeter. Easily the most notable aspect of the shrine is the display of one of the floats they use for the Gion Yamakasa Festival, which at about 10-15m in height and the amount of details on it was a really impressive sight.
Dazaifu Tenmangu Shrine, Fukuoka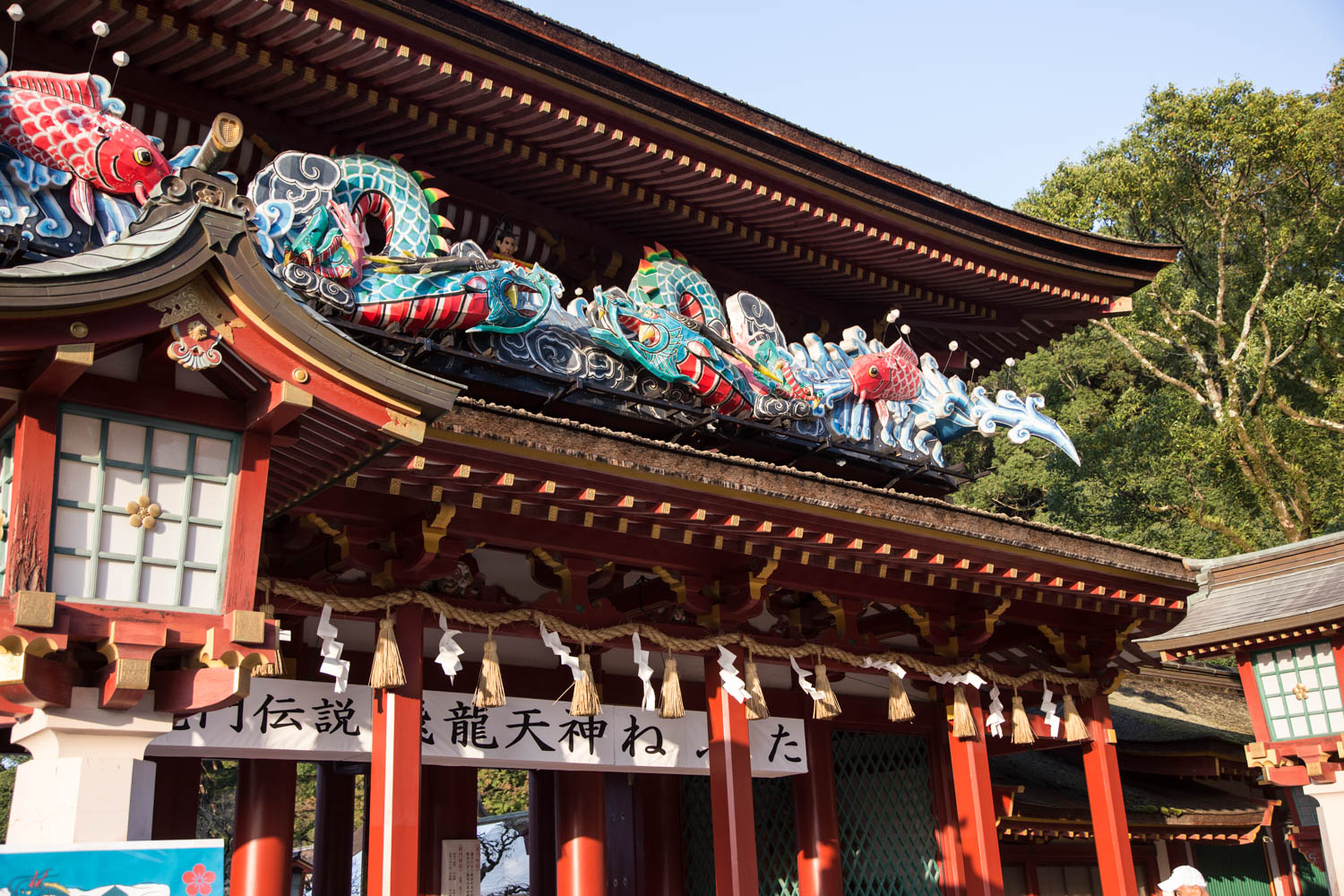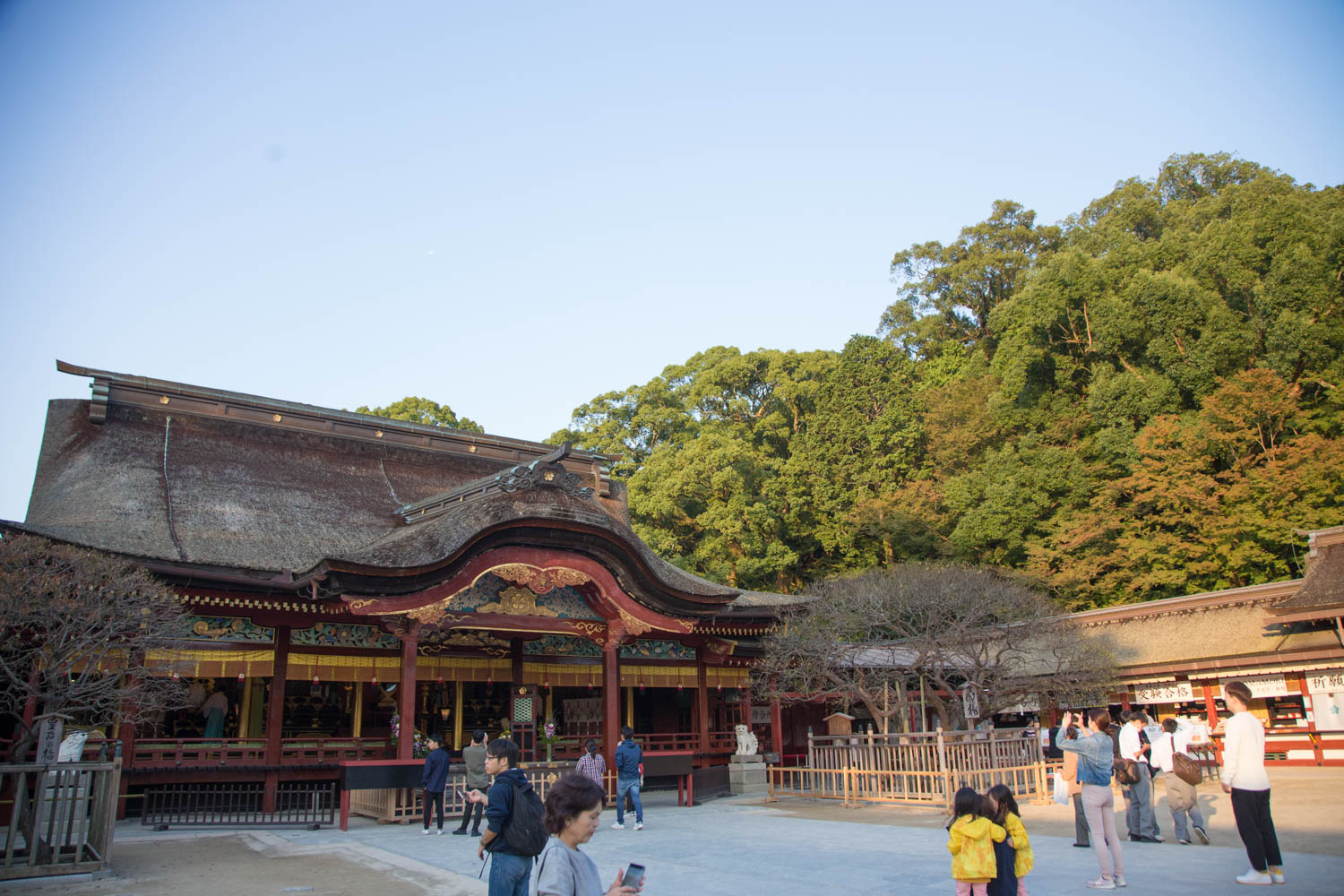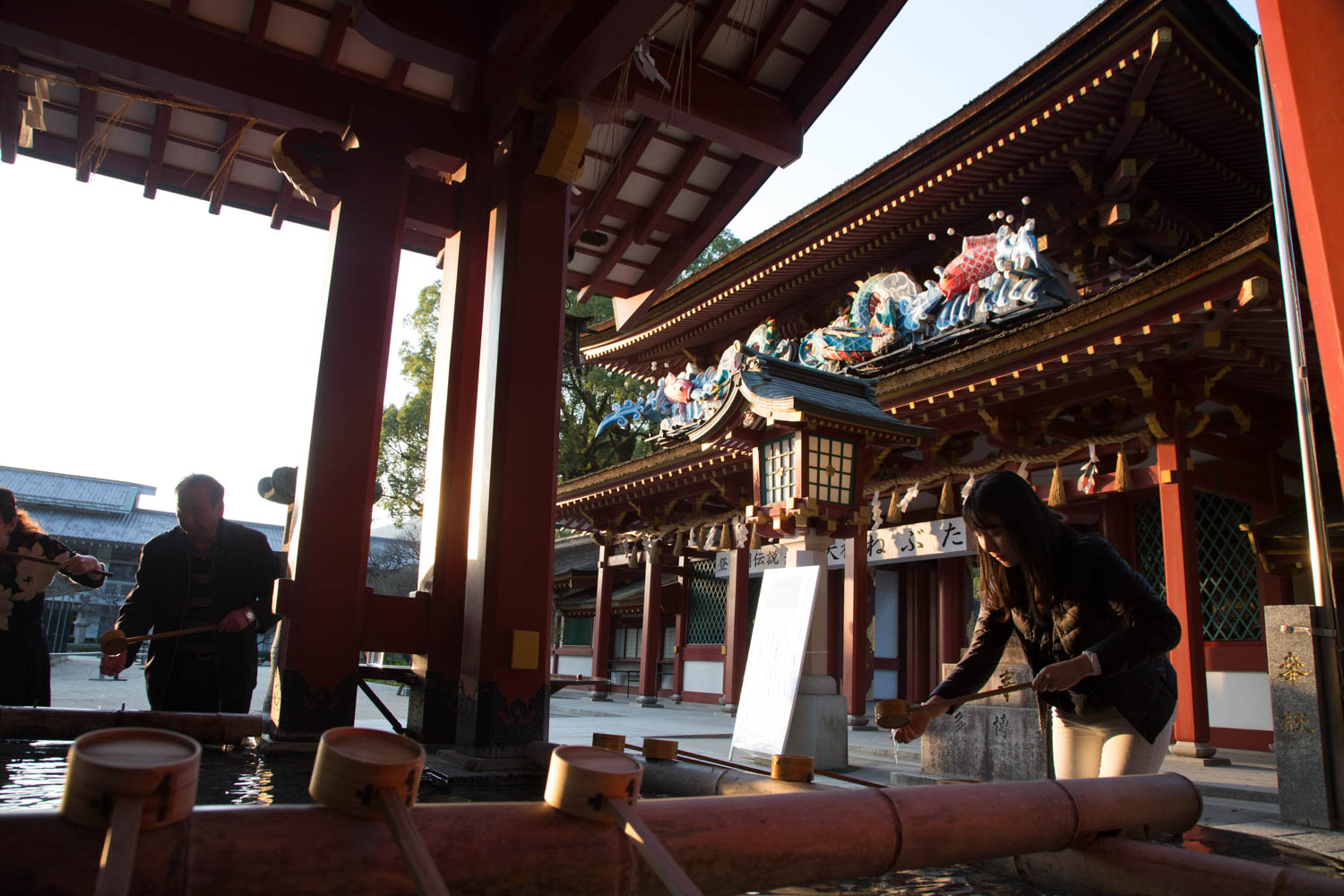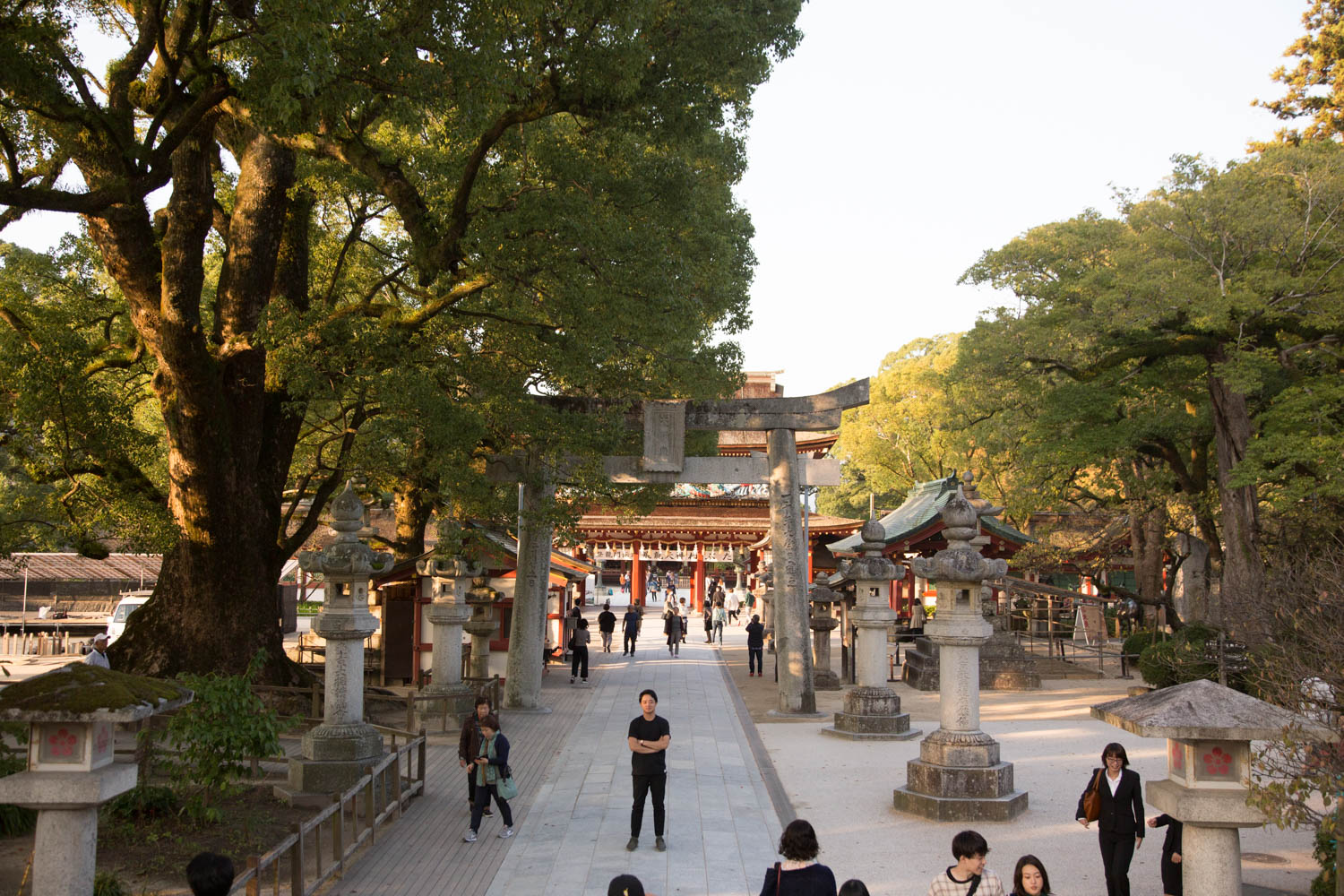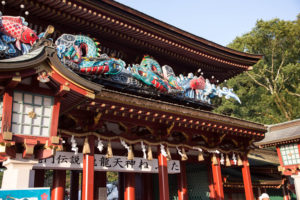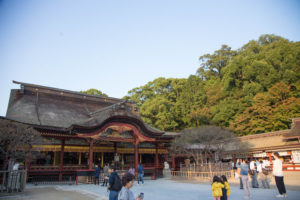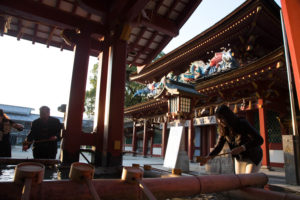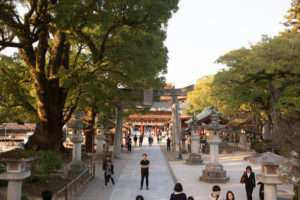 One of the more colorful and impressive shrines on this visit, and the most important Tenmangu shrine in Japan, located in Dazaifu a short train ride away from Hakata station. The shrine grounds is pretty large with some really beautiful gardens and ponds. Crossing a pair of arched bridges will lead to the main hall, with its intricately designed entrance and buildings. With the forested mountains surrounding the sides of the shrine the scene would have looked fantastic if the autumn leaves were in full colour, too bad we came just a bit too early for autumn foliage
Chirikuhachimangu Shrine, Saga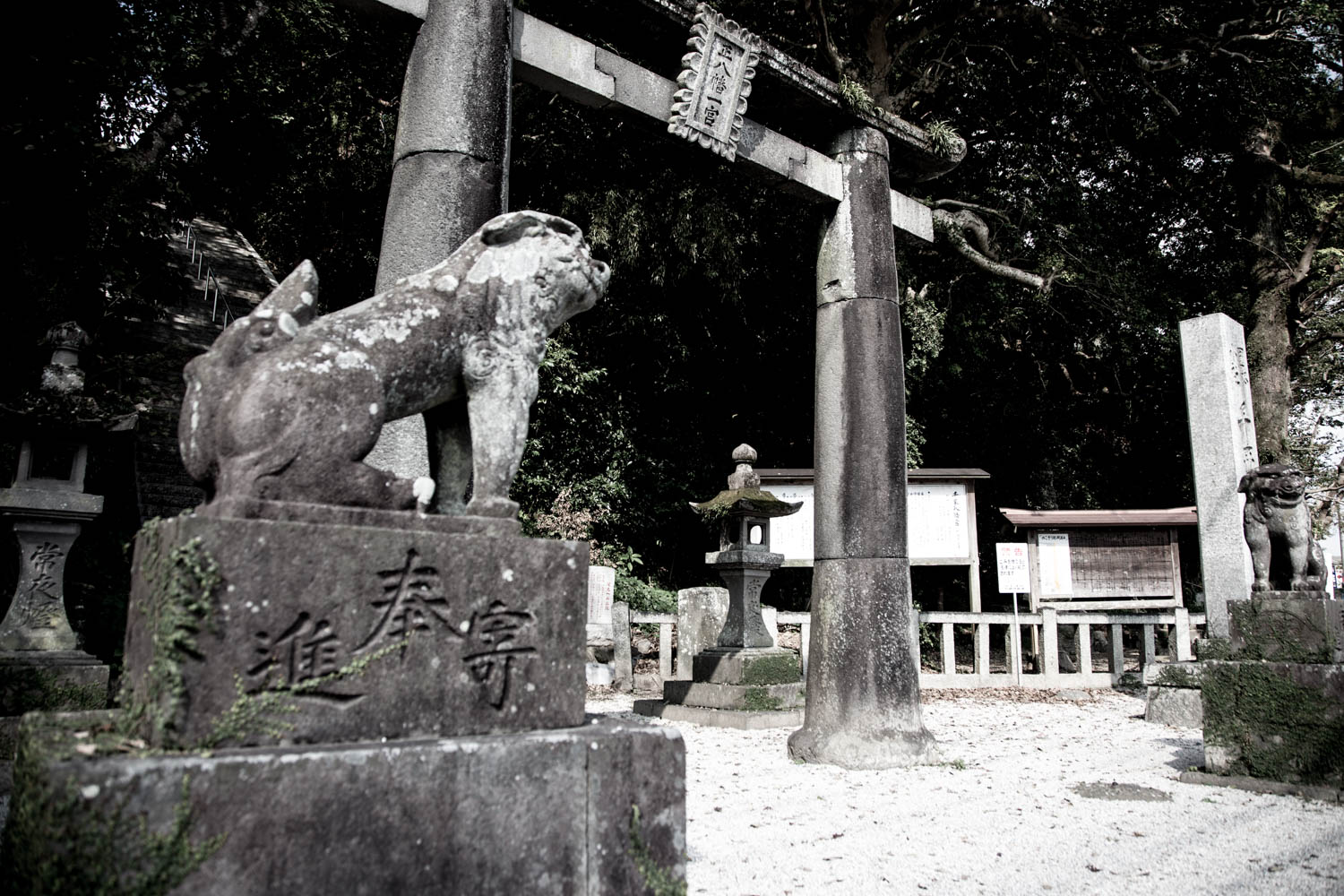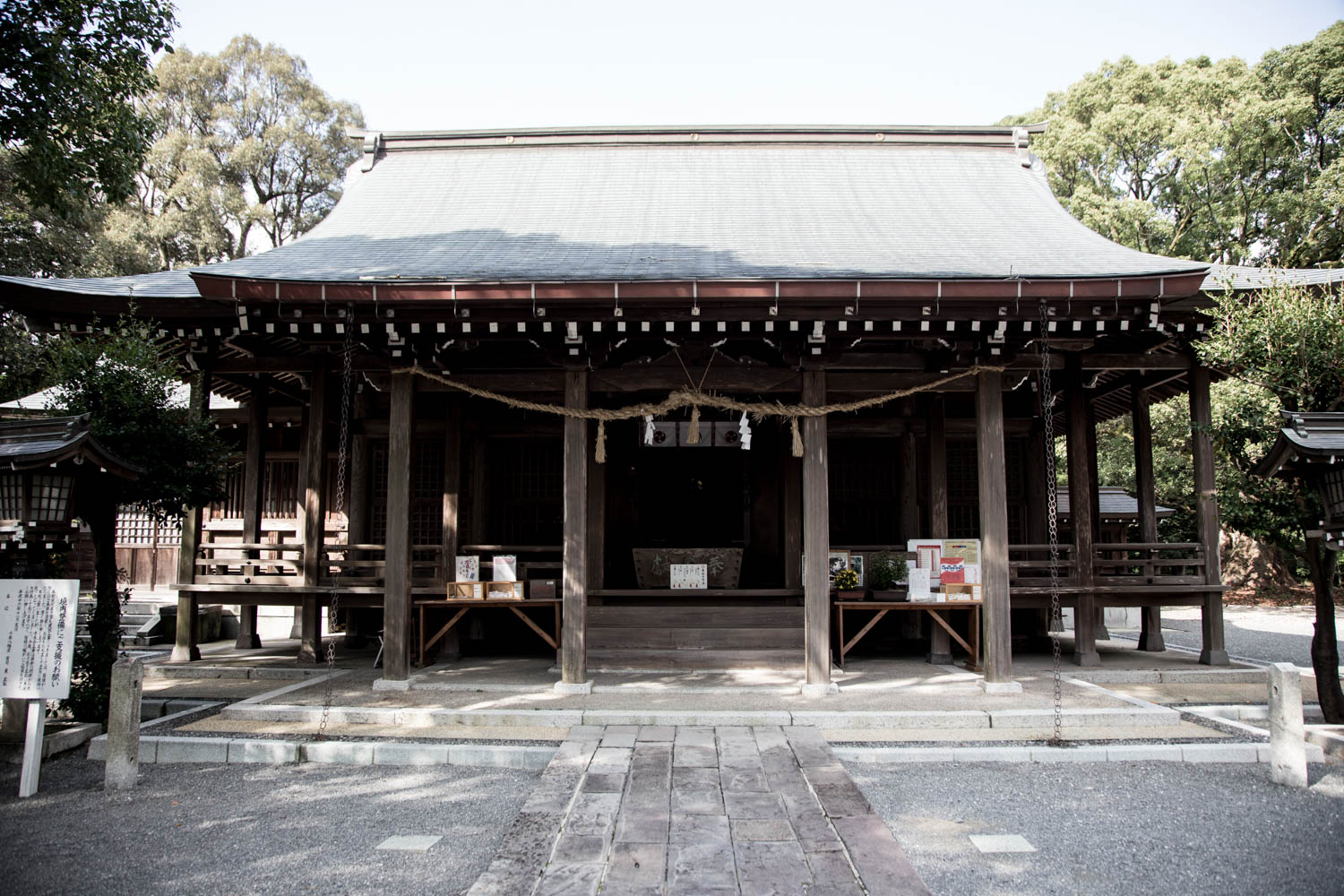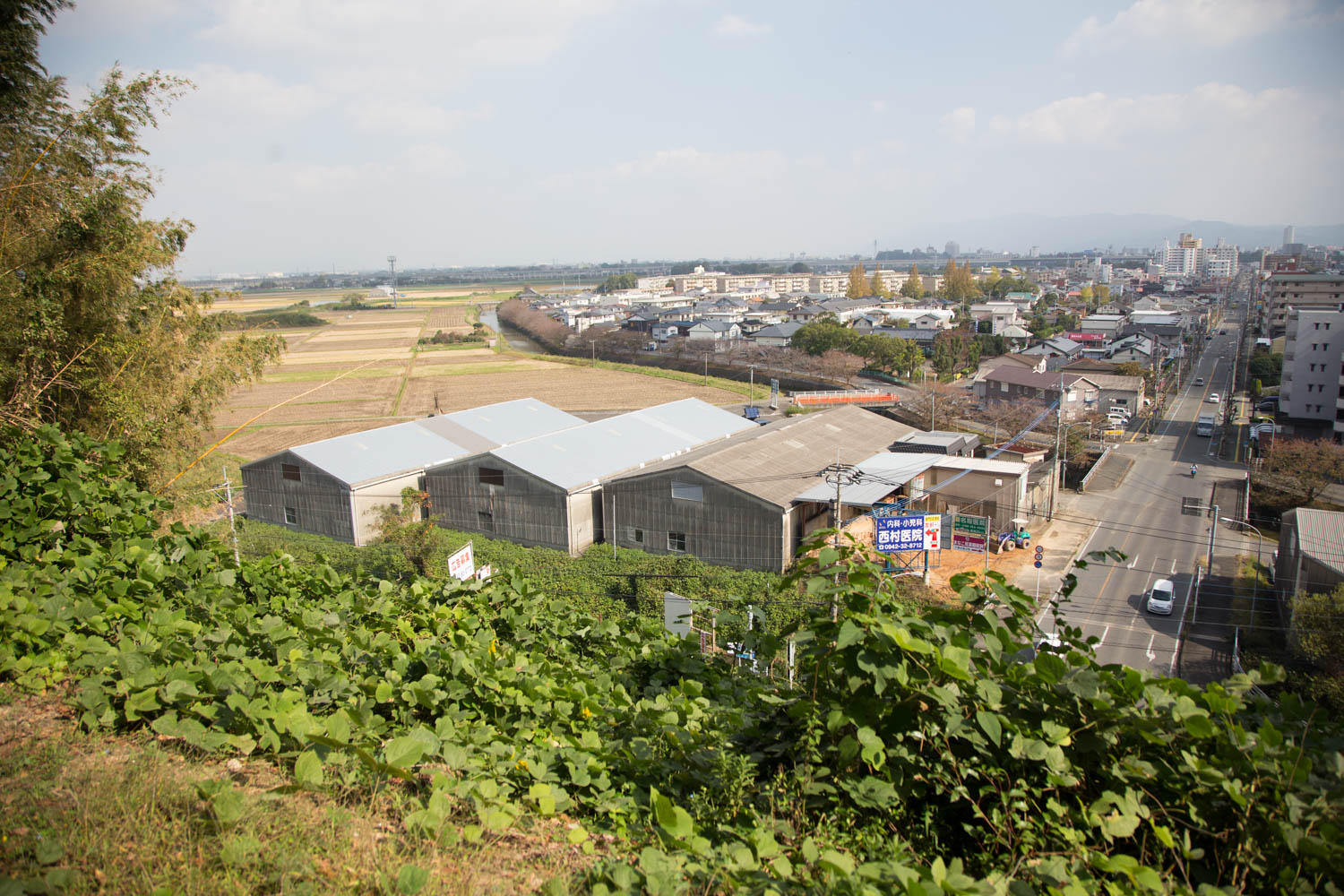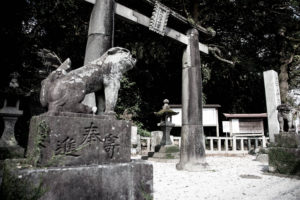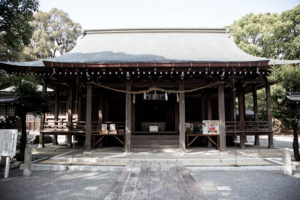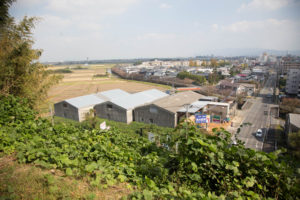 A pretty non-descript shrine located along the border of Saga and Fukuoka prefectures in Miyaki near Kurume, situated on top of a hill. Apparently one of the oldest shrines in the area, the shrine itself isn't very large but the top of the hill did provide a pretty good view of the surrounding area.
Asami Hachimangu Shrine, Oita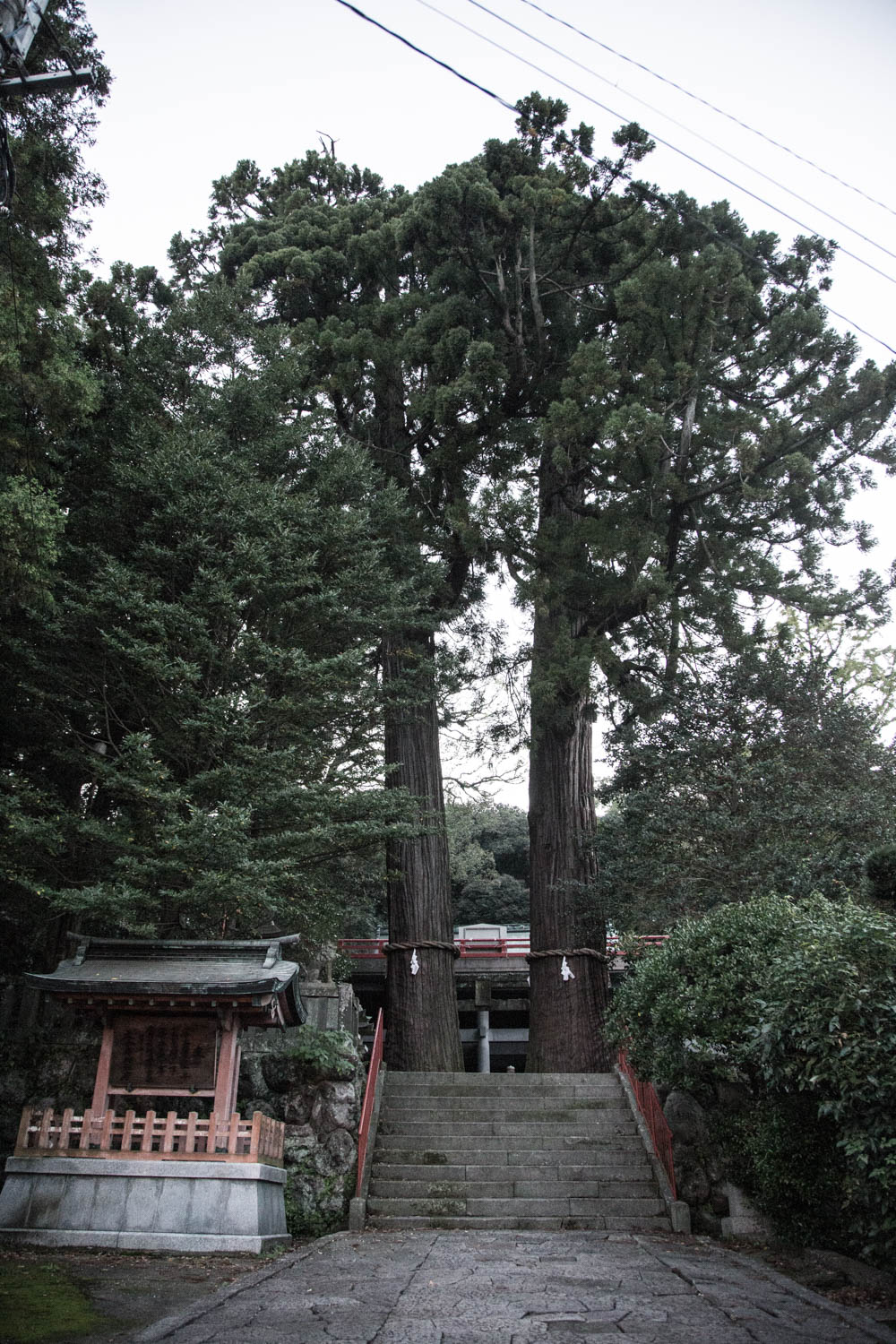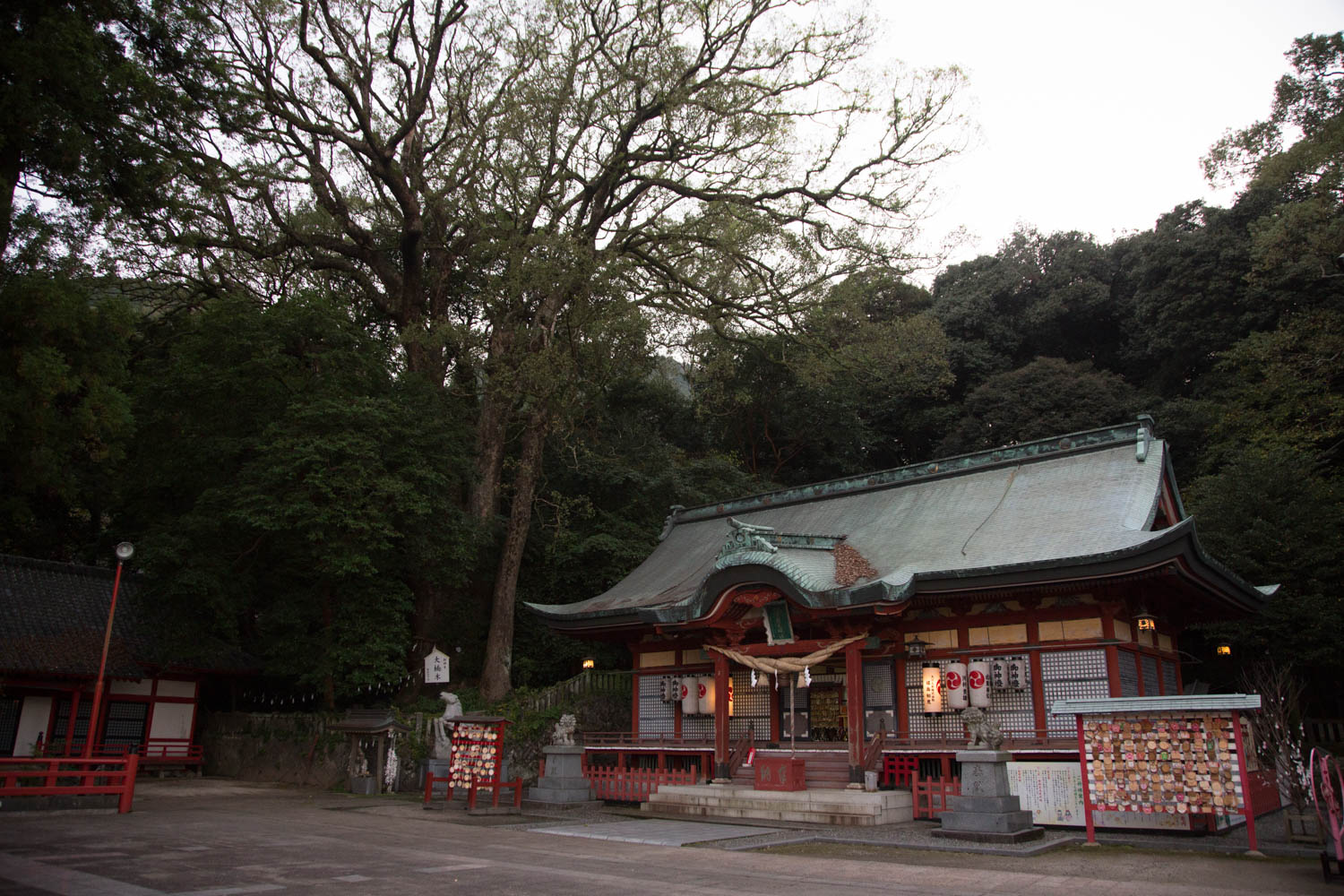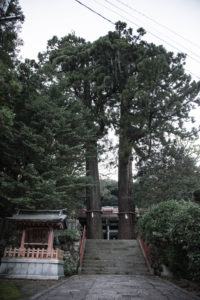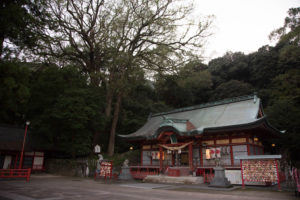 Apparently the most well known shrine in Beppu, decided to visit this shrine to collect my goshuin purely because this is the only day I would be in Oita Prefecture. Located about 15 minutes brisk walk from Beppu station (any website claiming it can be reached in 10 minutes walk is a liar), the entrance is flanked by 2 huge cedar trees, with the shrine on the upper levels of the area. The shrine is also home to another shrine dedicated to hot springs, aptly and hilariously named the Onsen shrine, as I found out when I got my goshuin and the priest asked me whether I wanted one or two goshuins; not knowing anything at the time I just got both and found out the existence of this second shrine after the priest finished the goshuin.
Kumamoto-Jo Inari Shrine, Kumamoto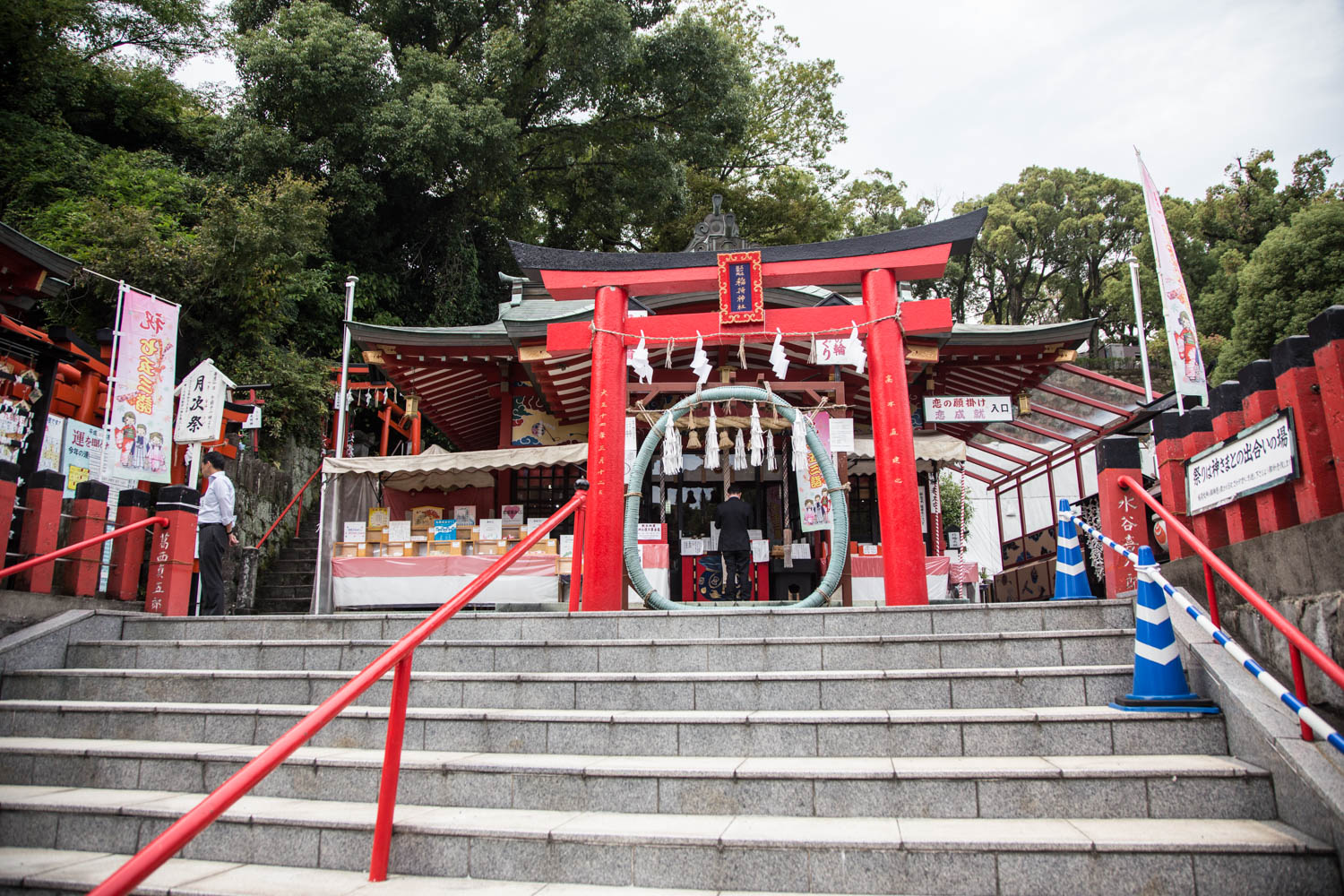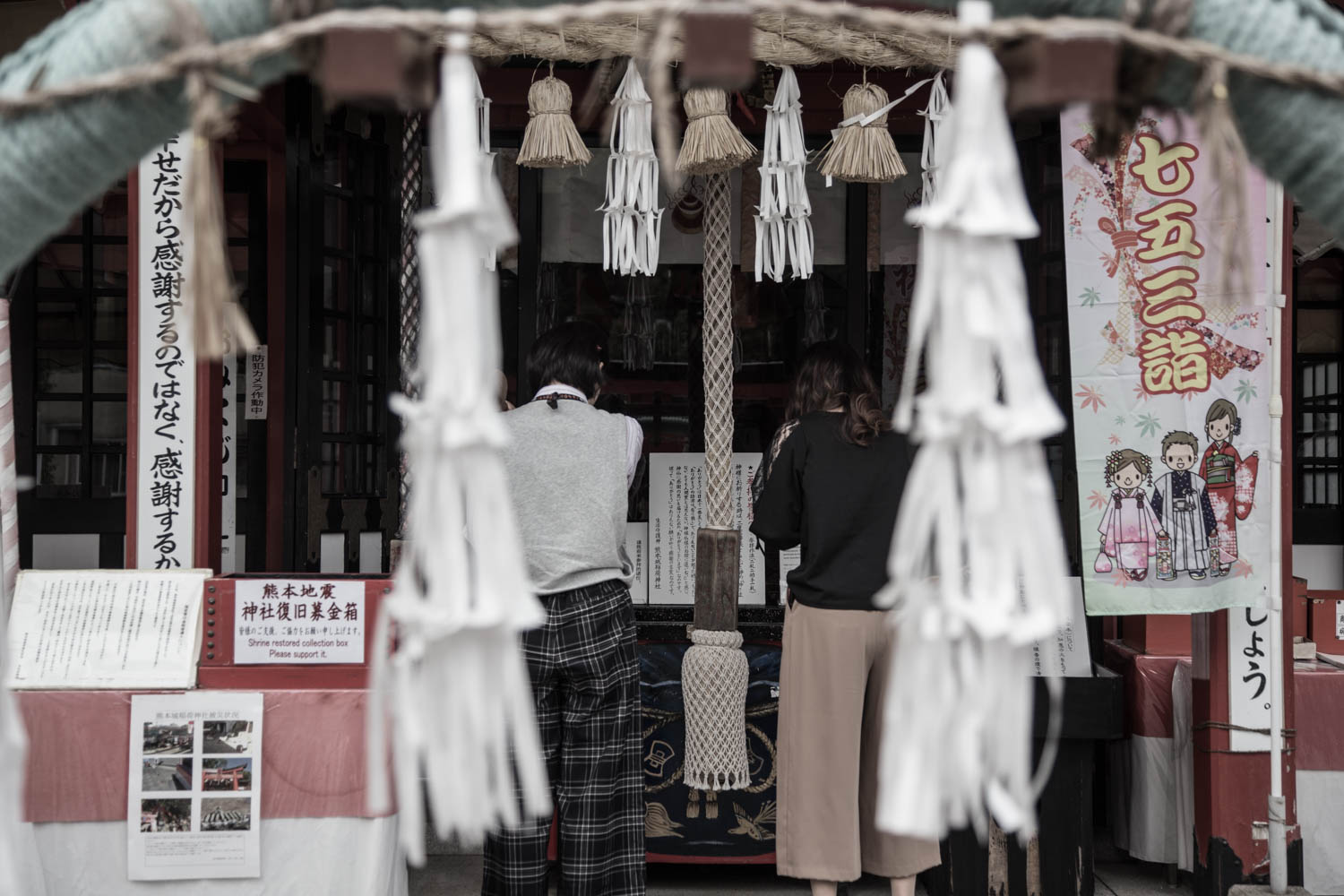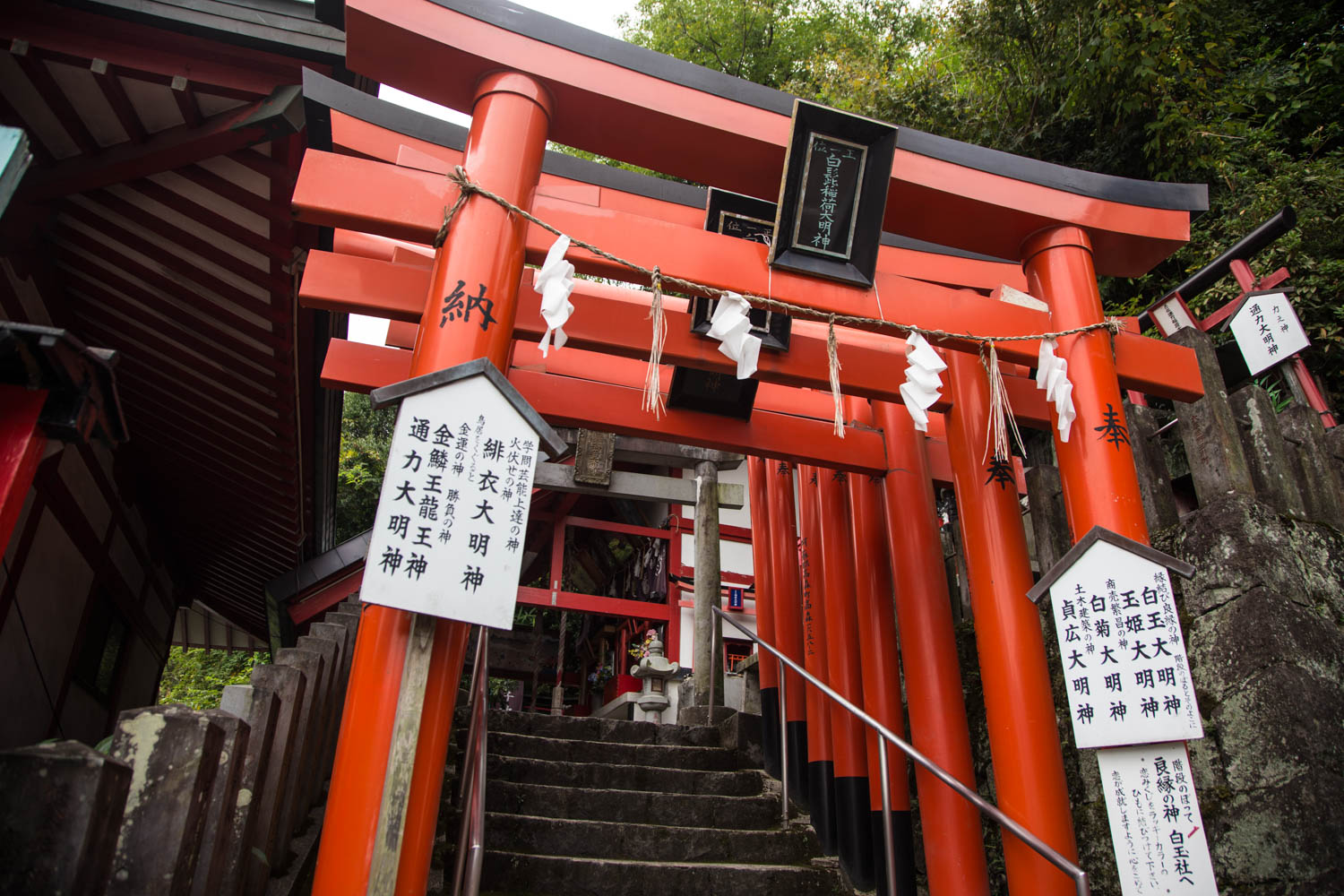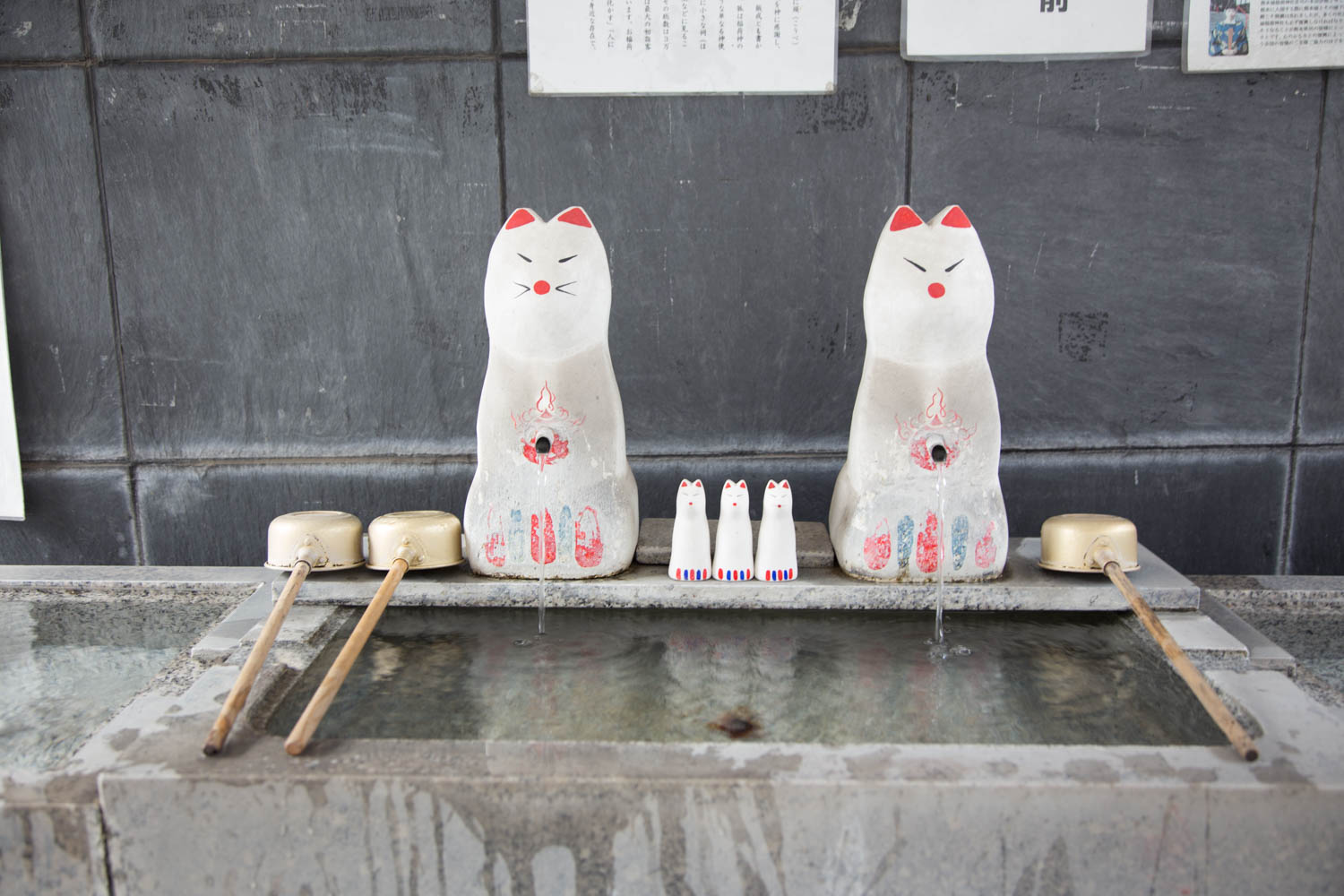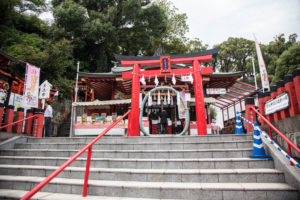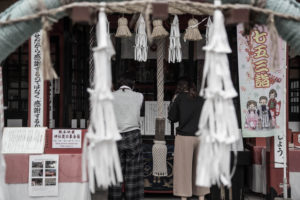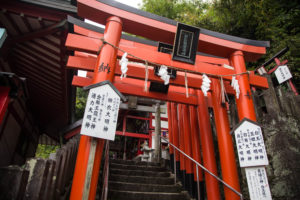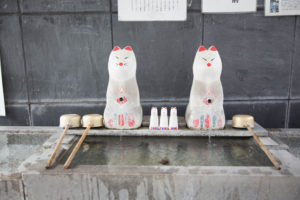 Because I had just a small window to wander around Kumamoto in order to make it to one last shrine I wanted to go to (the next one on this list), I decided to visit the one nearest to Kumamoto Castle, which is aptly named the Kumamoto-Jo Inari Shrine. Well, at least I definitely know which prefecture this belongs to when I look back at my goshuin collection. Located just along the castle walls, this one is a pretty small Inari shrine, and is the namesake shrine of Kumamoto Castle.
Yutoku Inari Shrine, Saga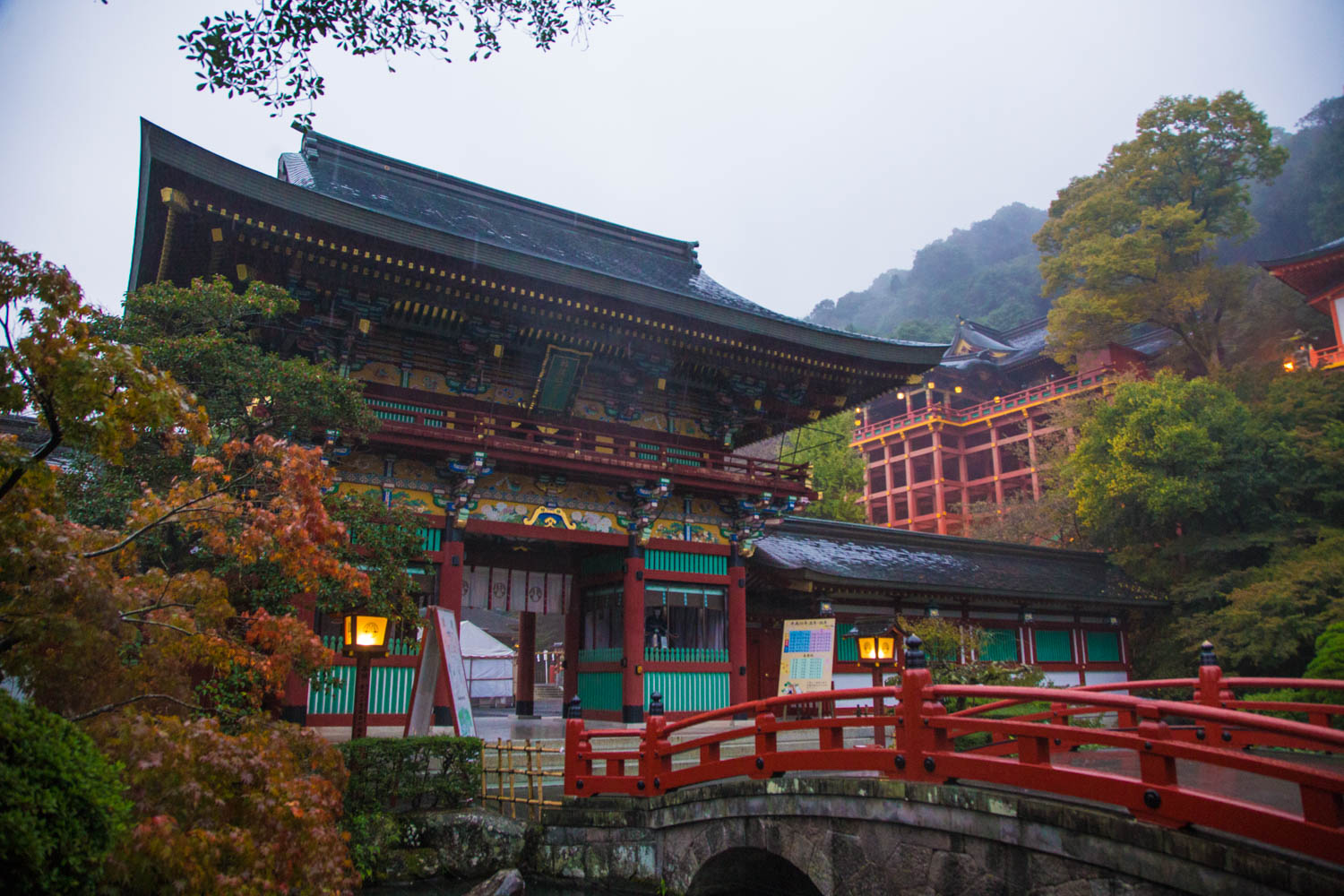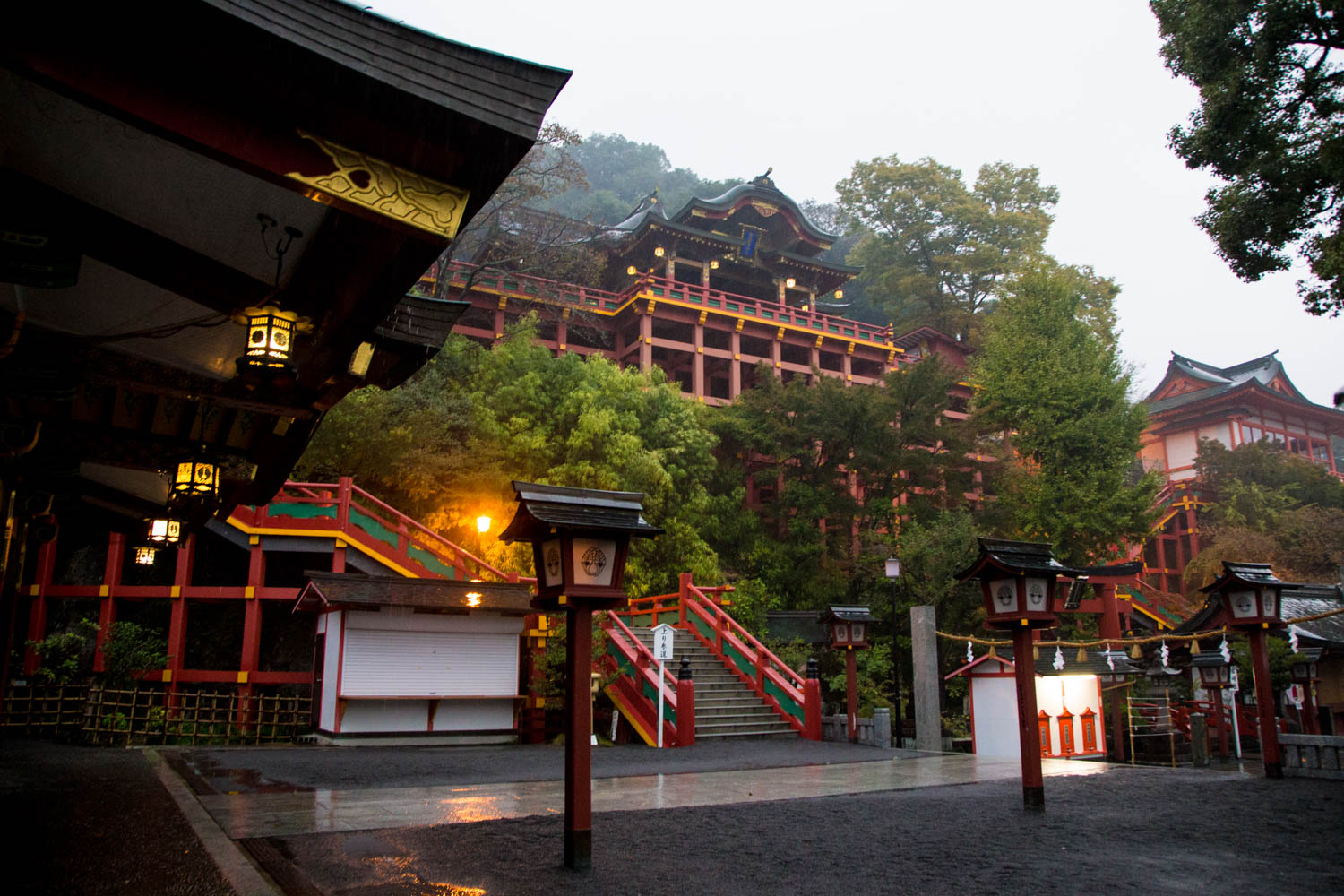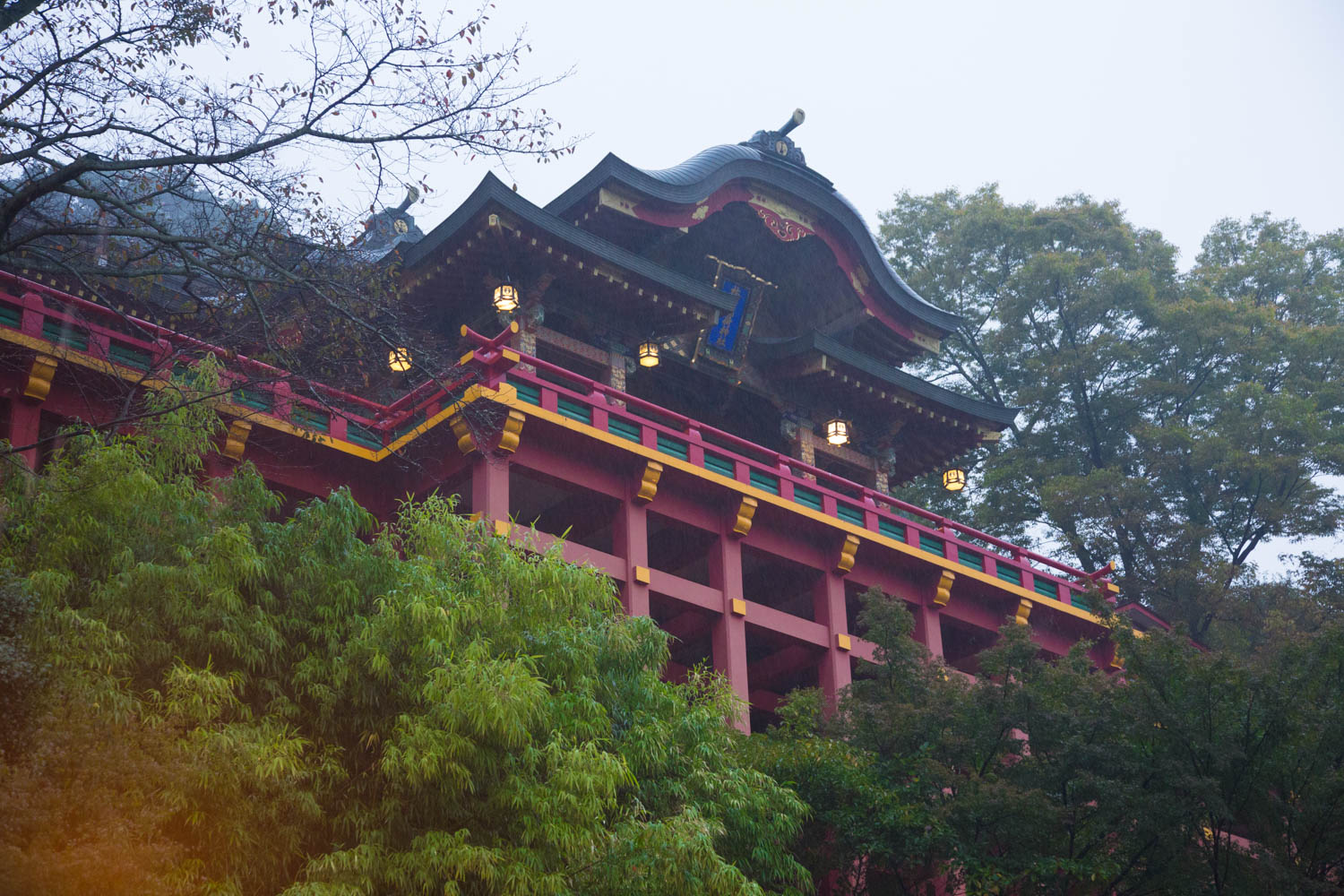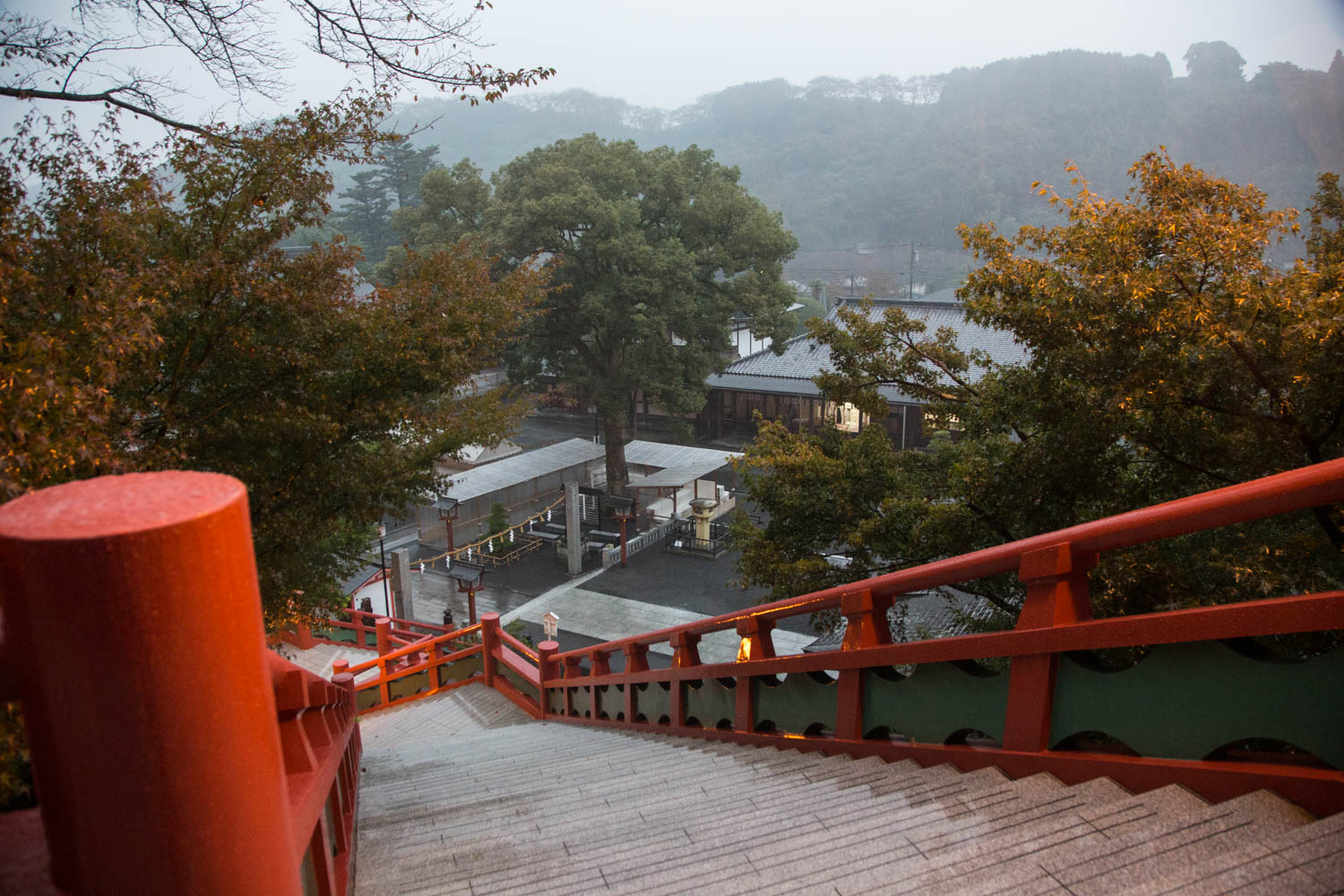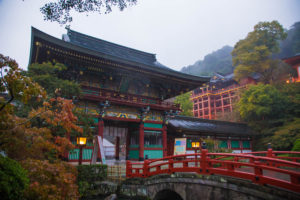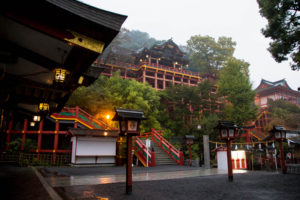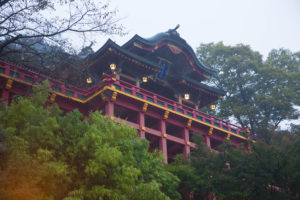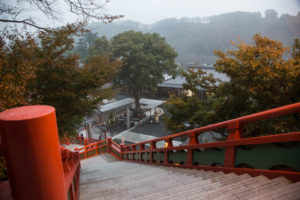 The final shrine of the trip, and the one shrine I told myself I must visit on this trip, solely because this place is known as one of the big three Inari shrines in Japan, alongside the infinitely more famous Fushimi Inari shrine in Kyoto. Despite the stature, this place was extremely out of the way, and with the shrine closing in about 45 minutes when I reached the station with the bus seemingly late, I had to take a 30 minute brisk walk in the rain in order to reach this shrine. Barely made it in time to get my goshuin, but the shrine architecture itself was fantastic and was worth the effort to make it down for a visit. The main shrine itself is on the upper level which towers over the surrounding trees, and the criss-cross structure of the support just adds to the impressiveness of the entire shrine itself.
Other Short Visits
There were a couple of other places that we just simply dropped by and didn't spend too much time in, or we didn't see enough stuff to be able to write up a full section. This is the best of the rest.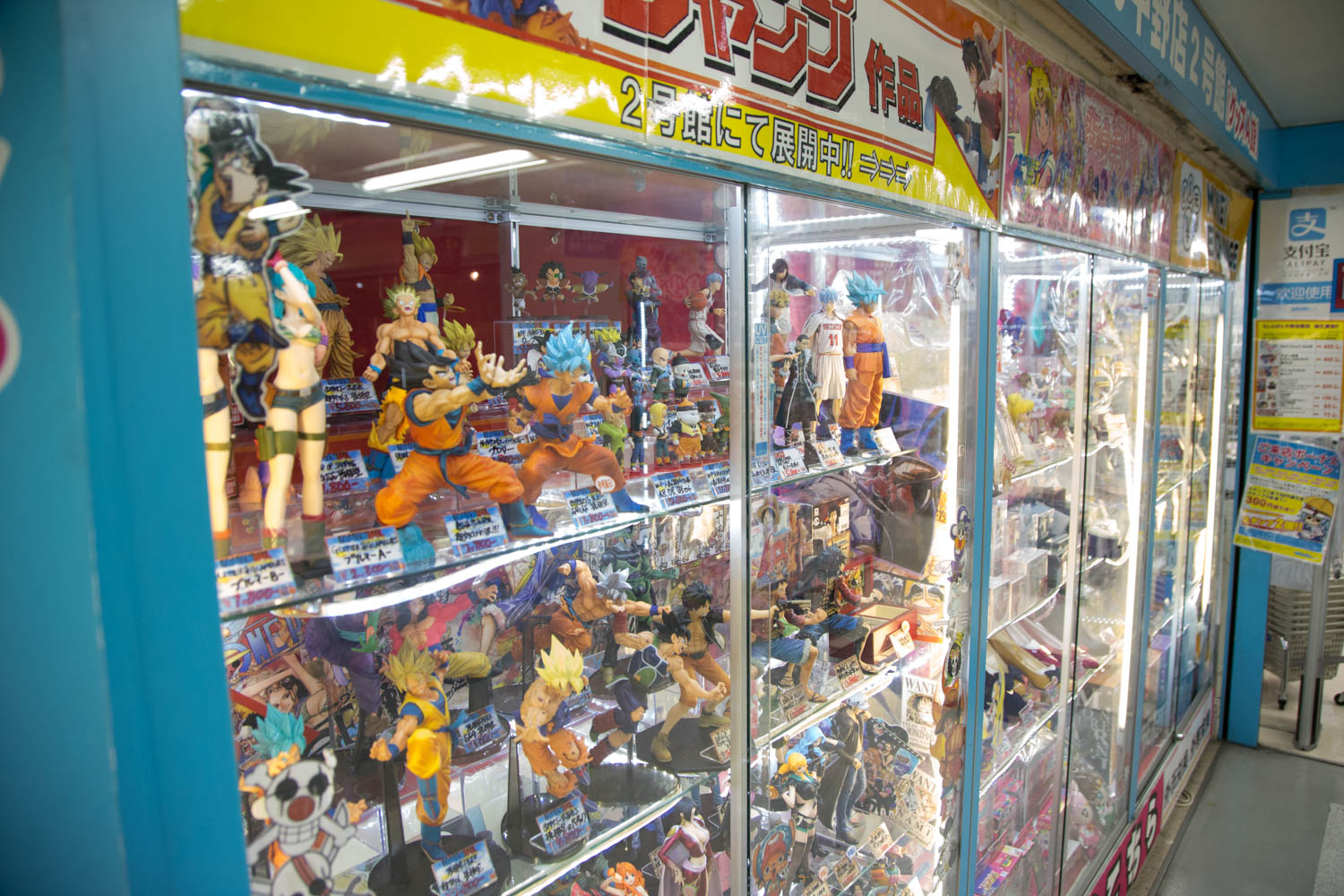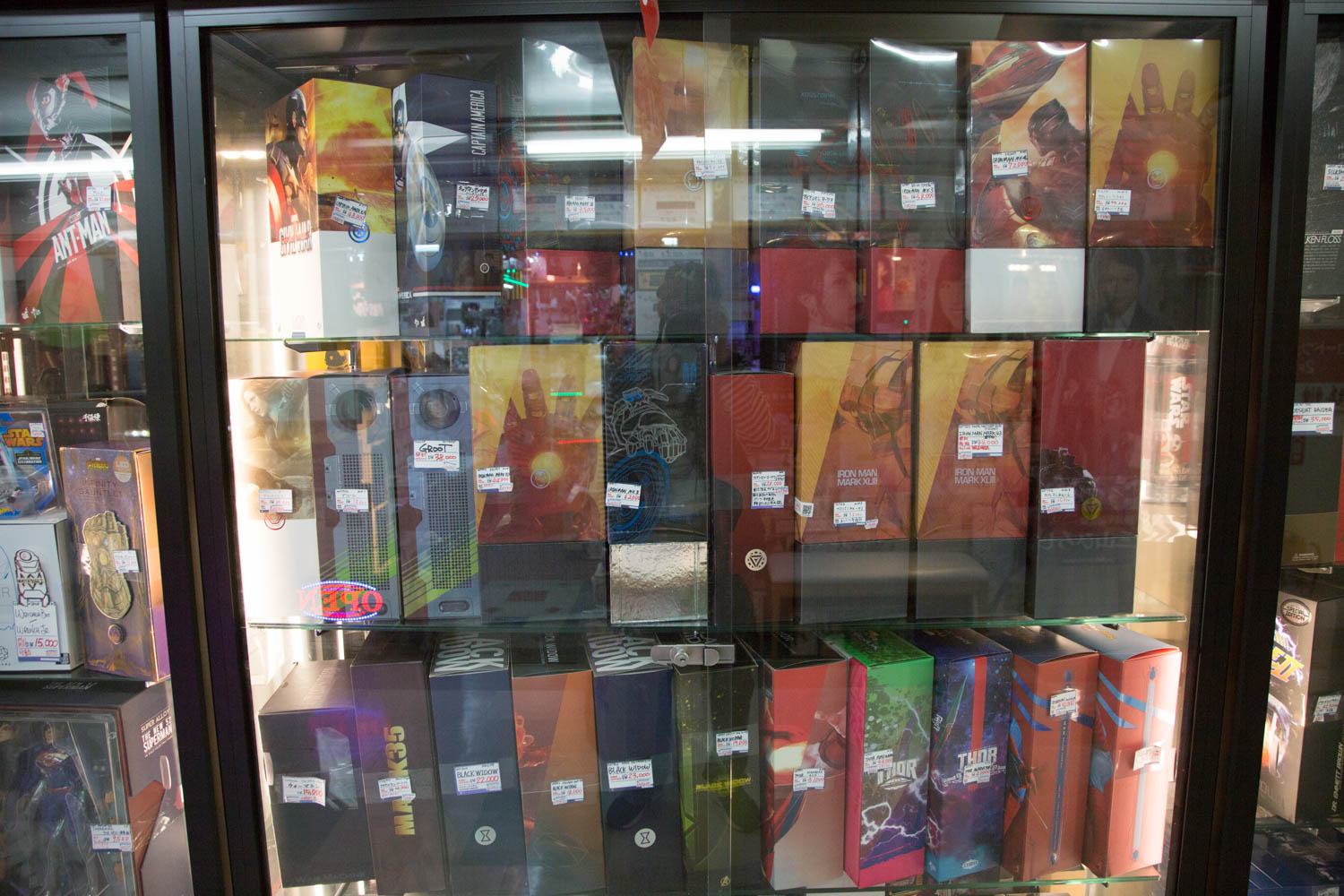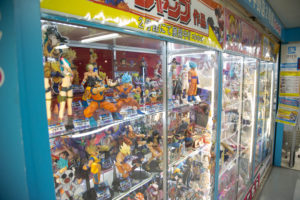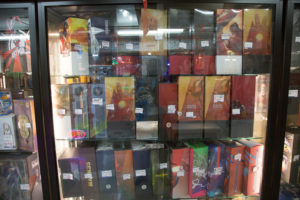 For my day in Tokyo, I'm obviously not going to be spending 6 hours just chilling at a shrine, so I decided to go figure hunting. After nearby Akihabara failed me I decided to go to Nakano Broadway, which is a shopping arcade style place selling loads of anime and movie figures. Surprisingly the selection here is comparable to the more famous Akiharabara, and even easier to navigate as all the shops are just contained in a single building of 4 storeys.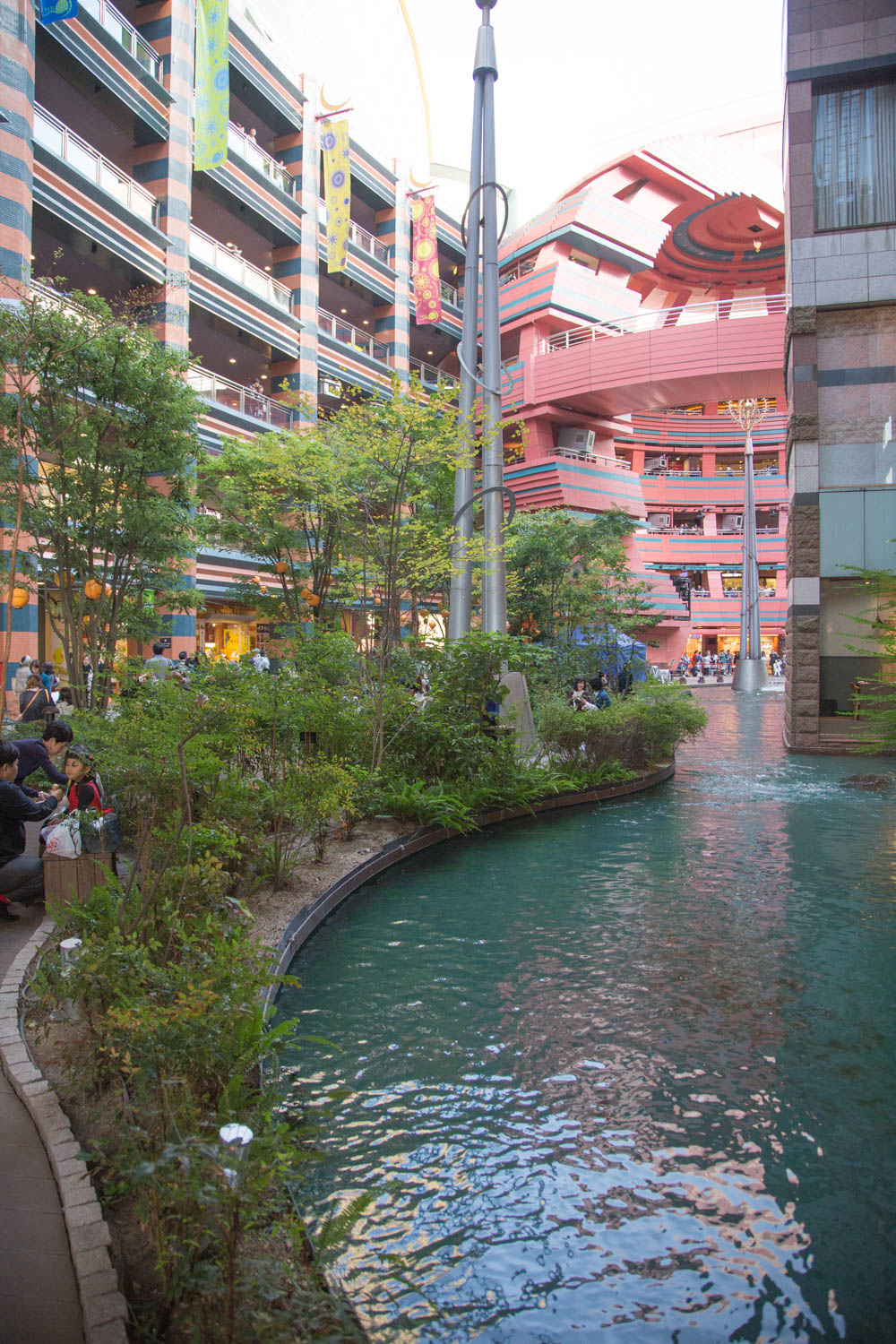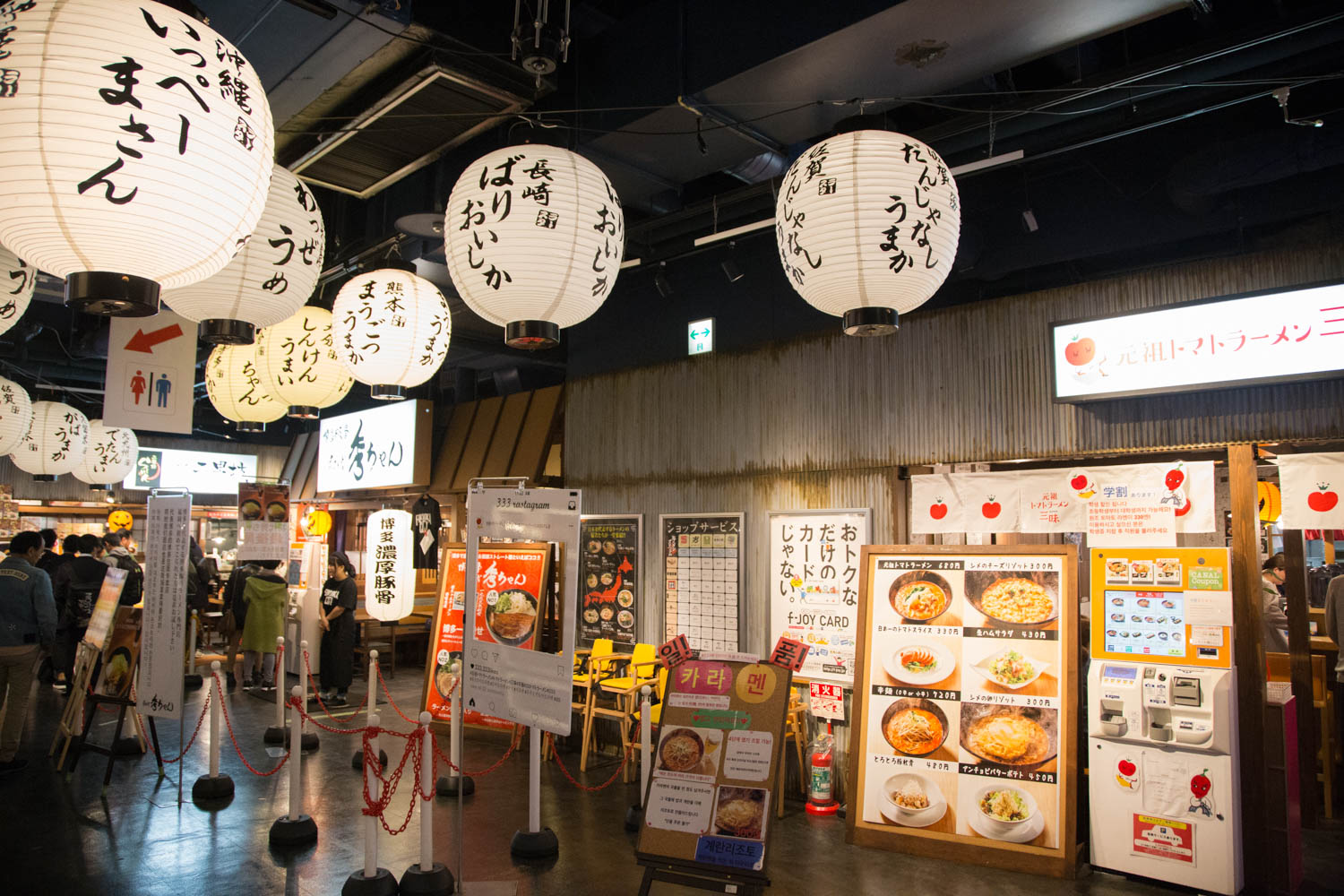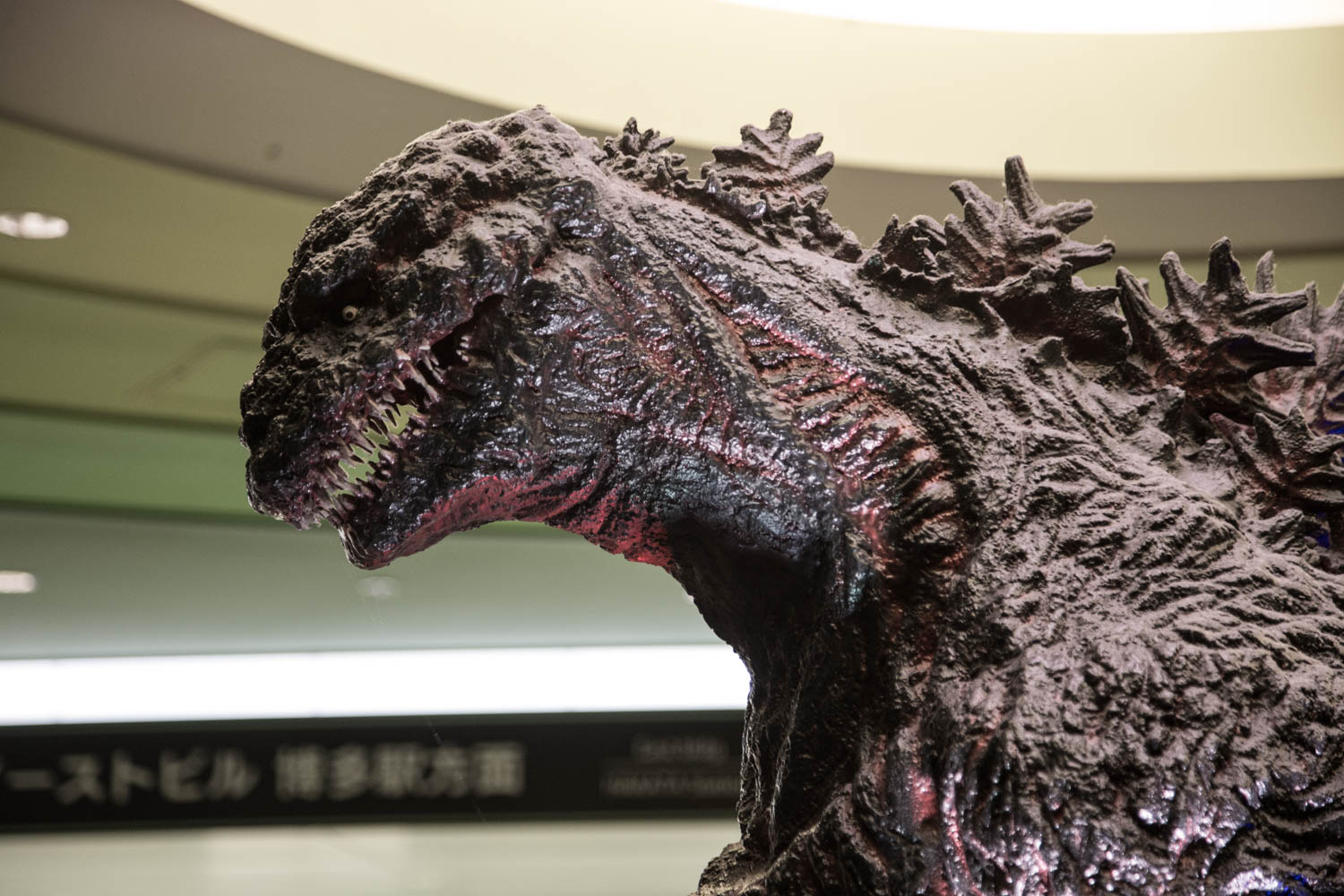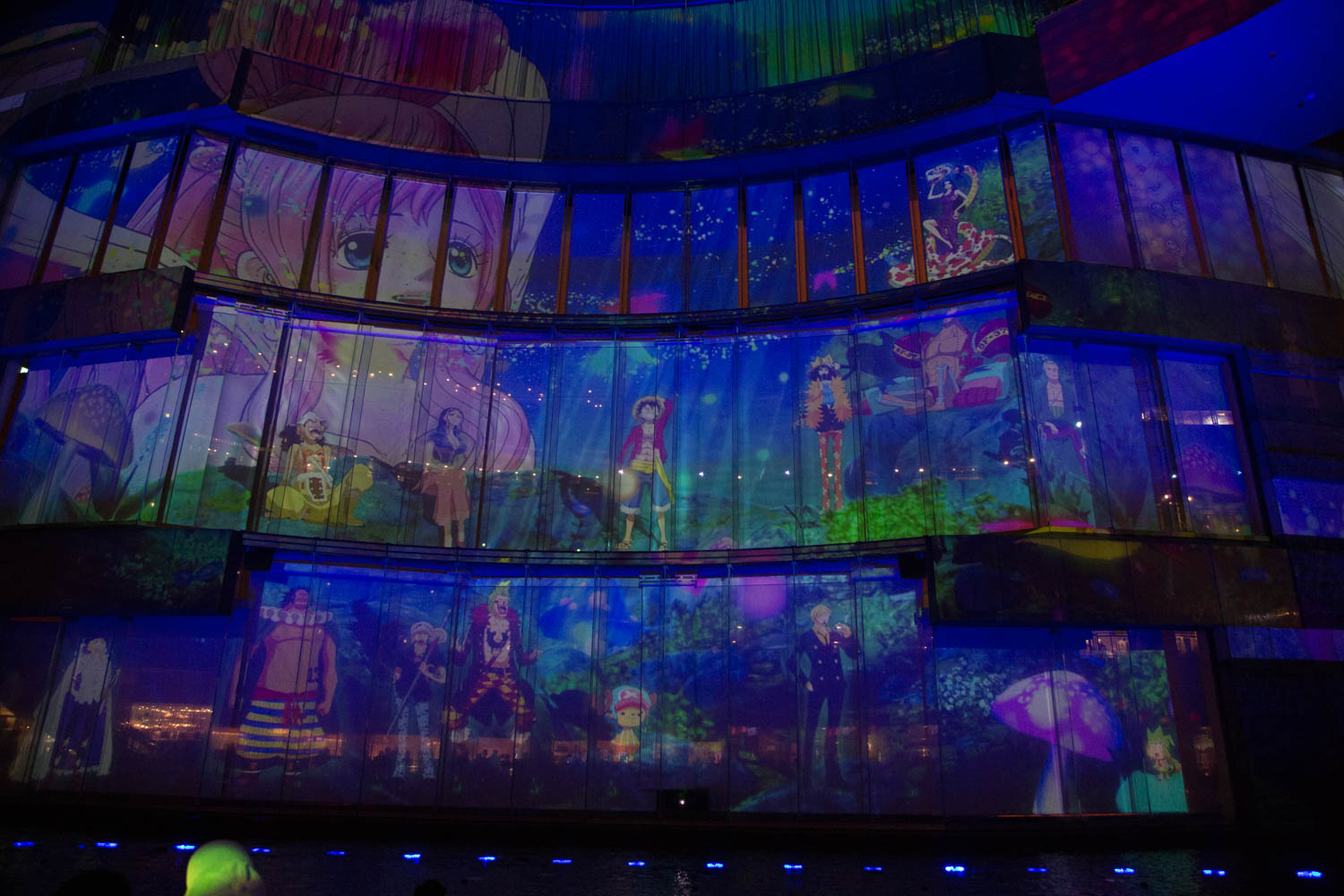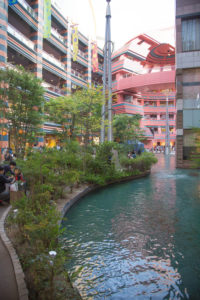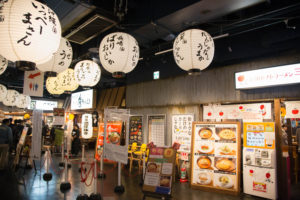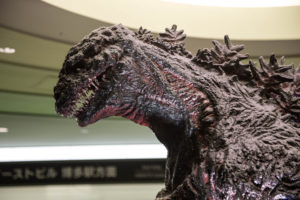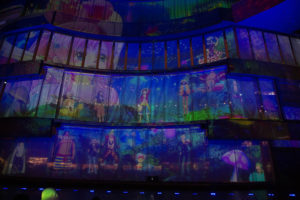 Dropped by Hakata City Canal after visiting Kushida Shrine on my first day in Fukuoka, as it was literally just 3 minutes walk away. Probably the most famous shopping place in Fukuoka alongside Hakata Station, the place is named for the canal that passes through part of the mall. As with all shopping centers it has the usual stuff and nothing special in terms of shops, other than the JUMP shop selling merch from Shonen Jump comics. The top floor has the pretty well known Ramen Stadium, selling ramen from various parts of Japan, had one for dinner which was so-so. The main feature for me, though, was the two fountain/light shows which featured Godzilla and One Piece, which were fantastic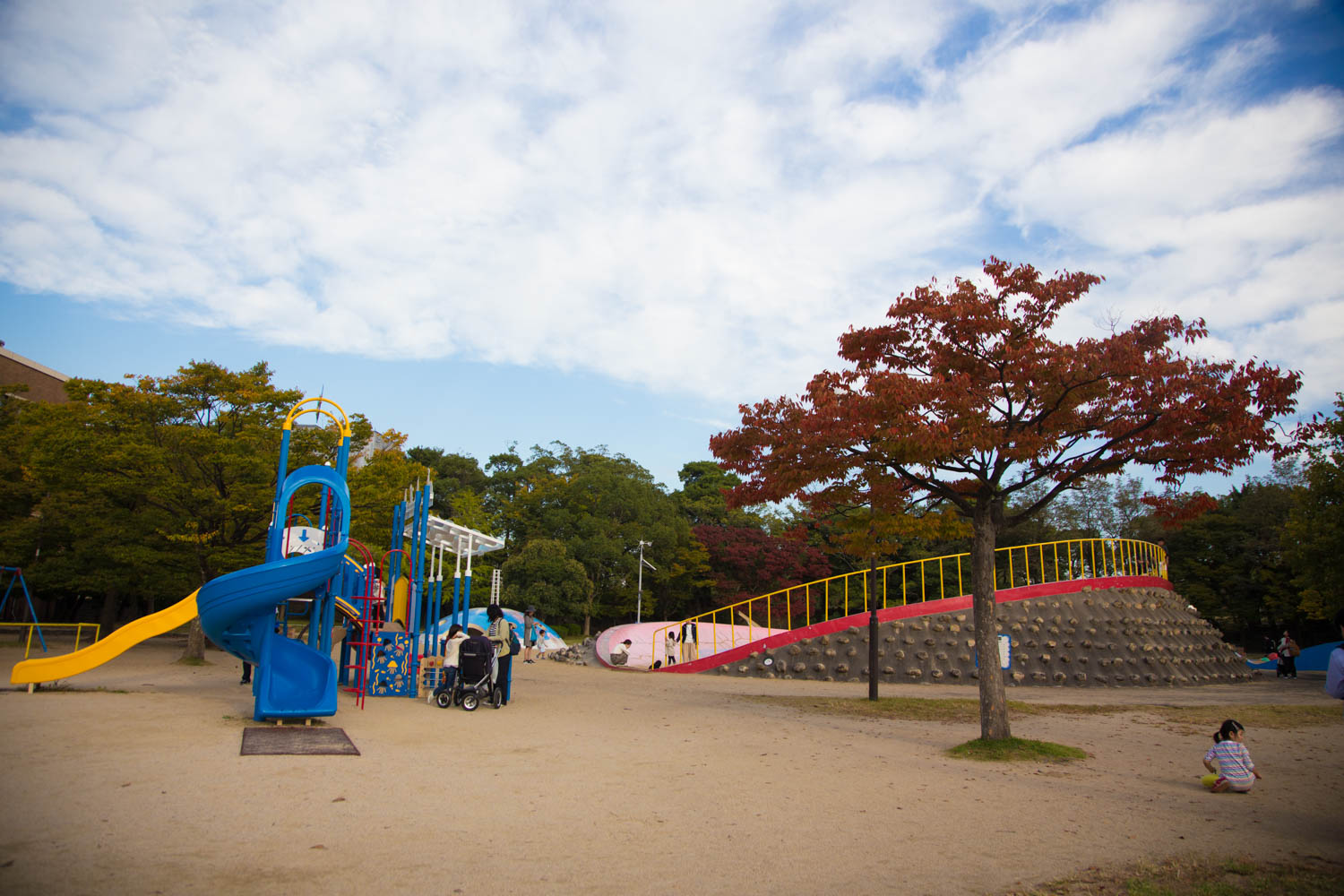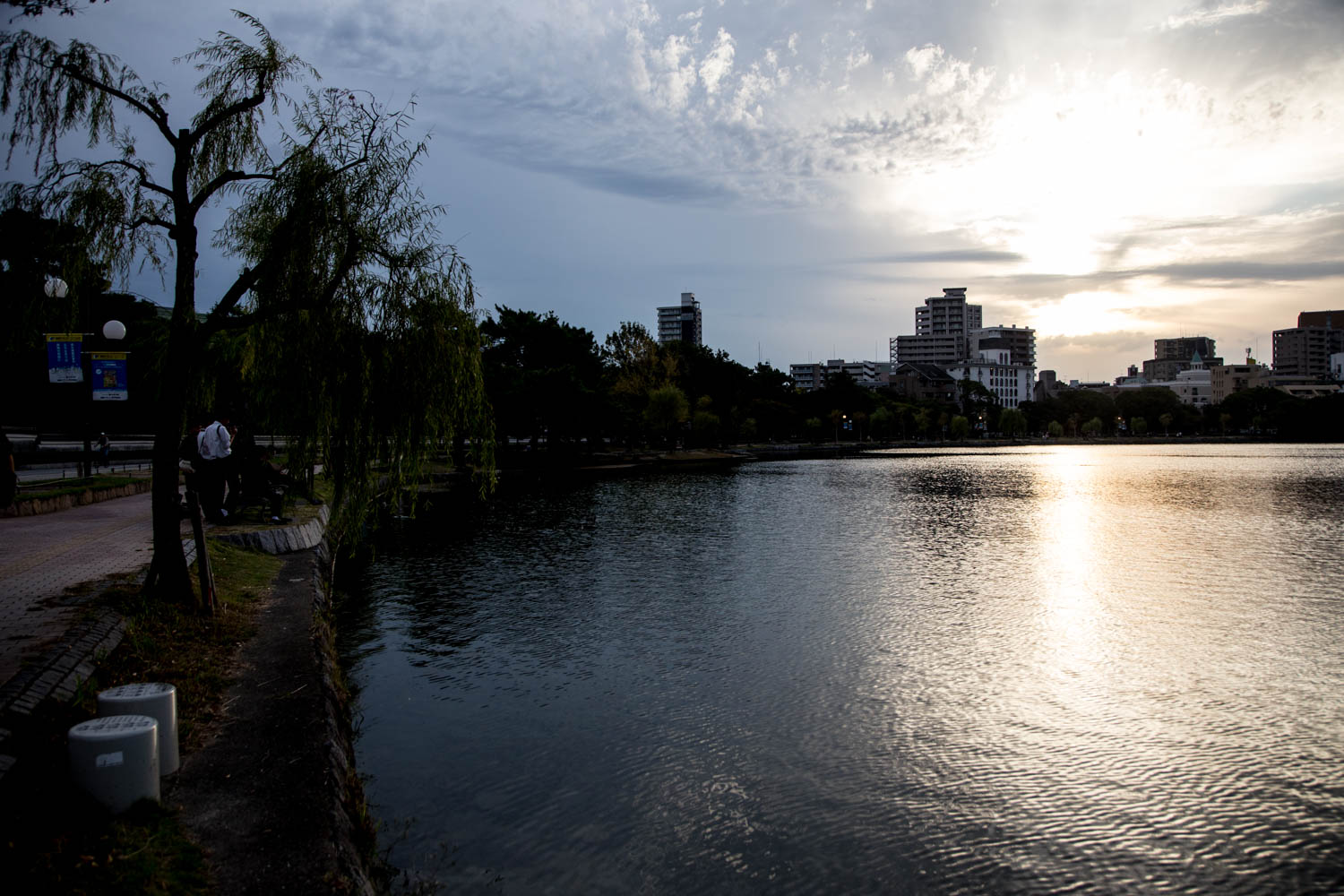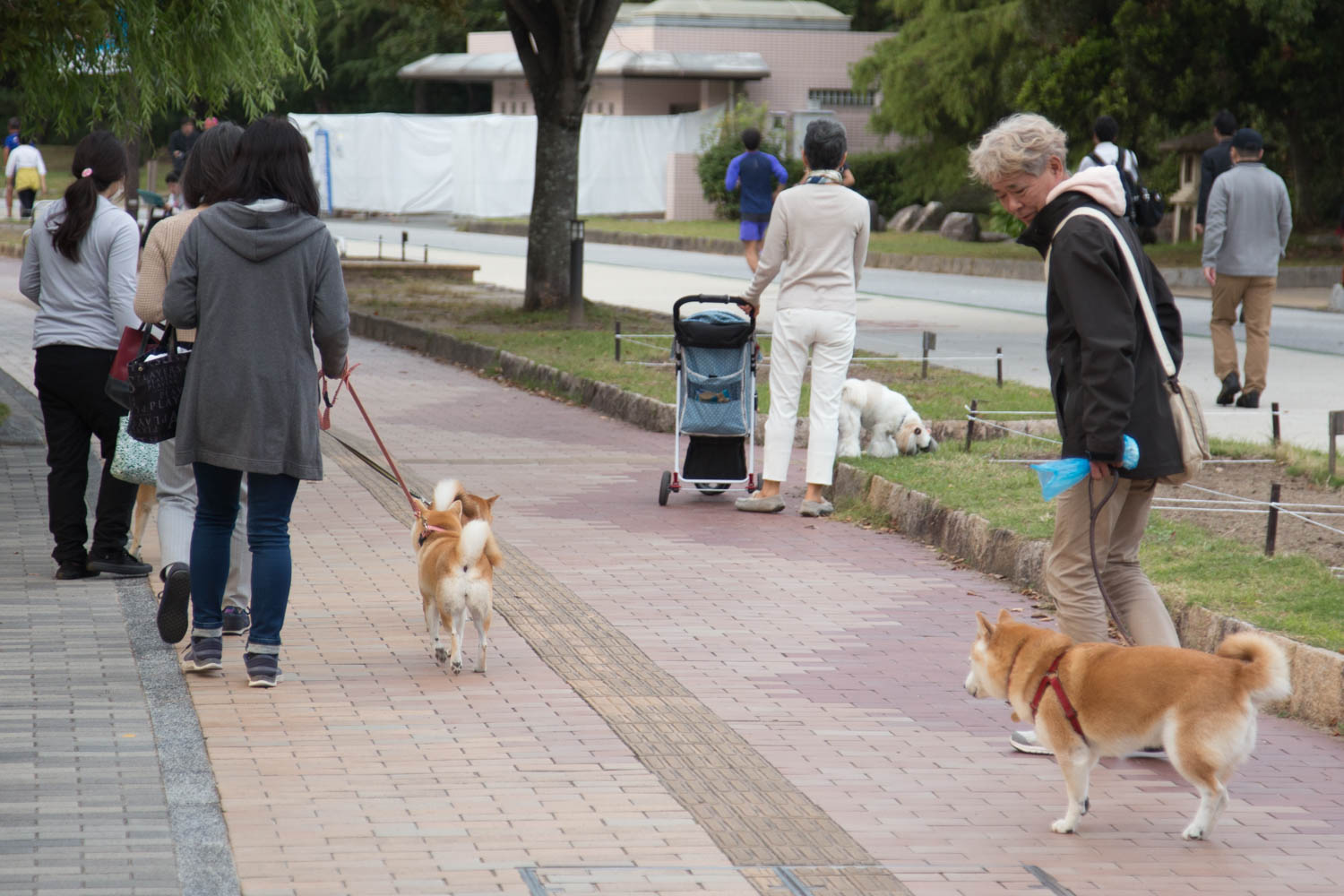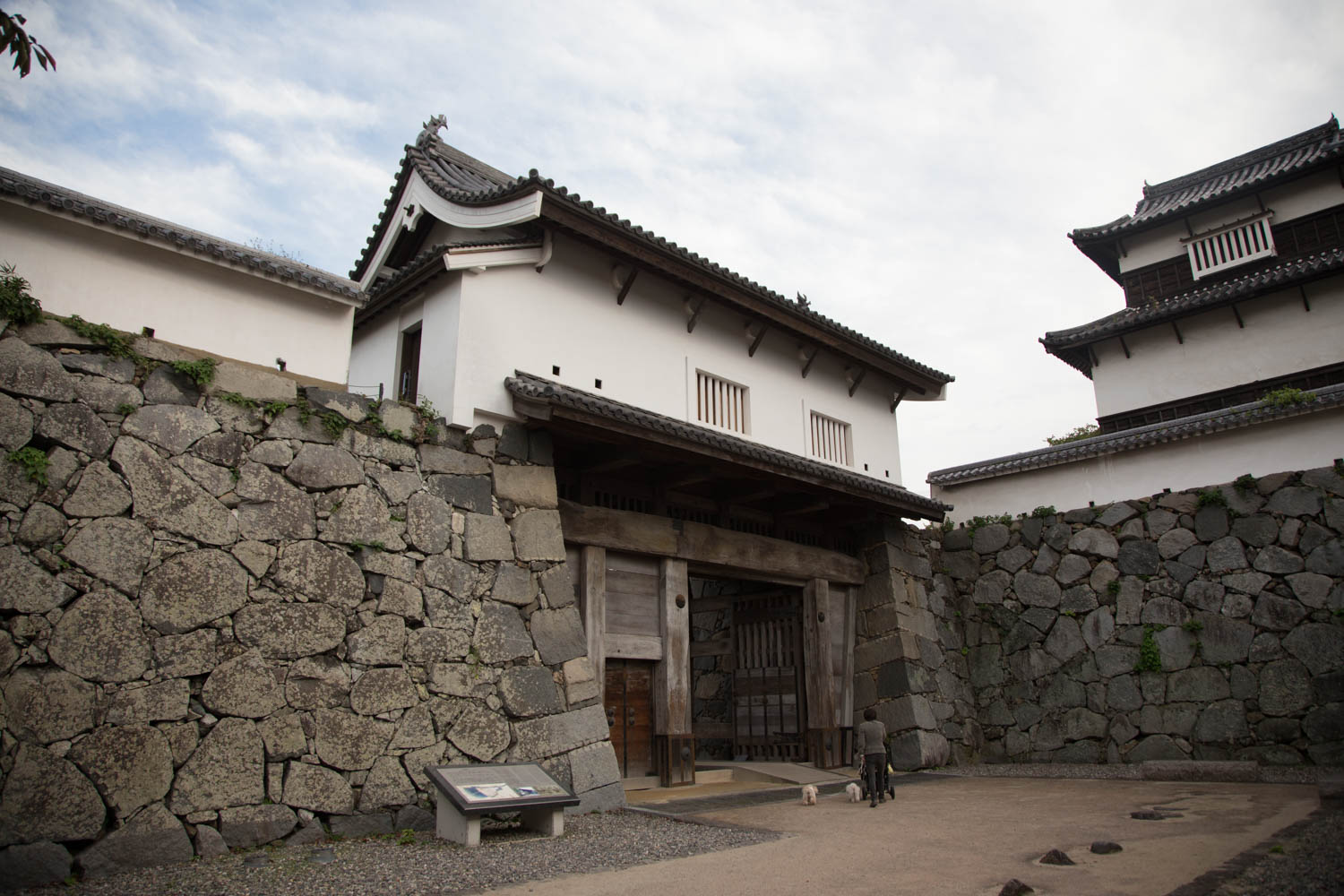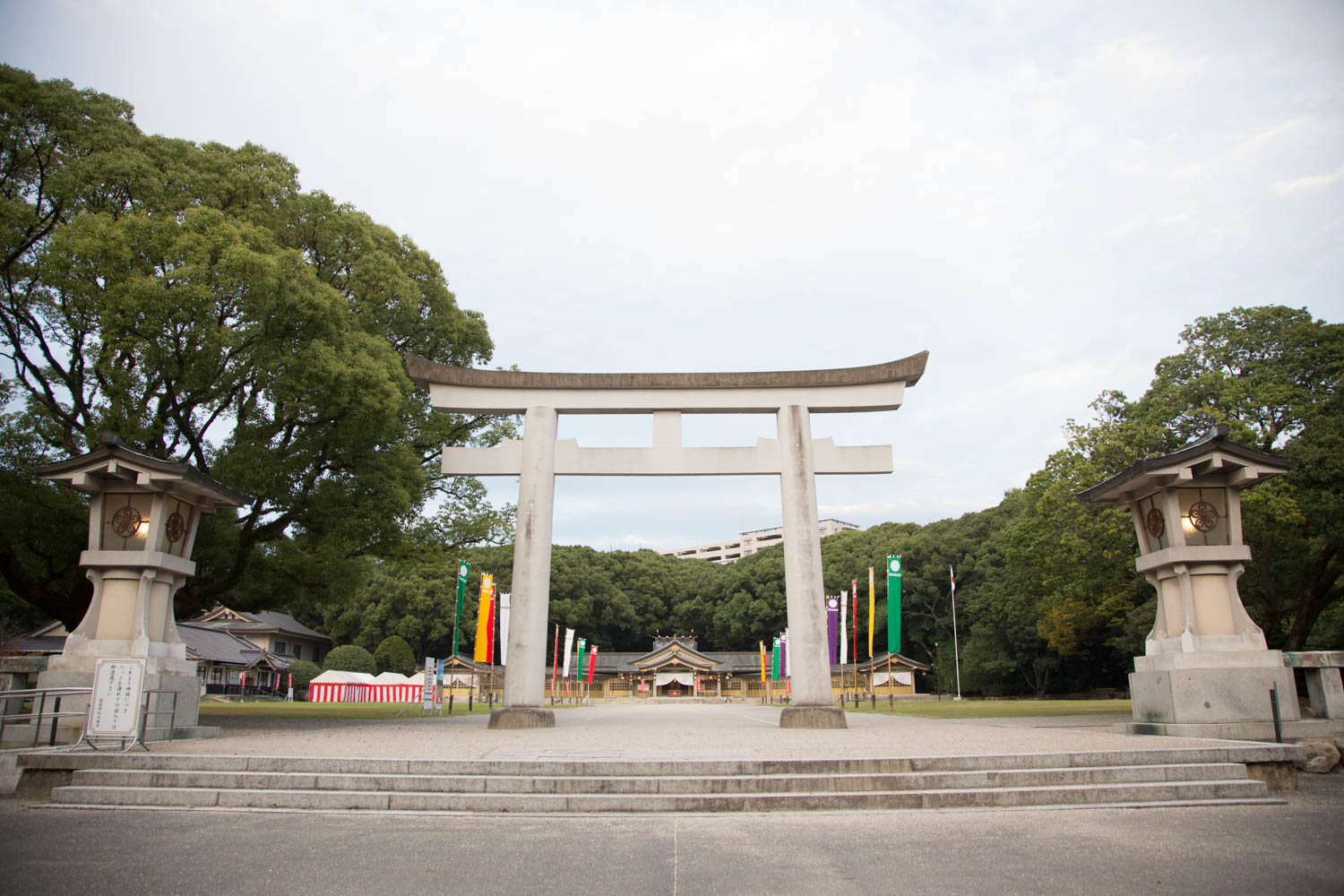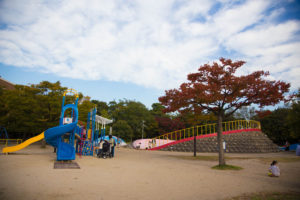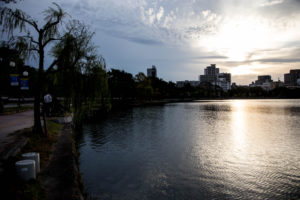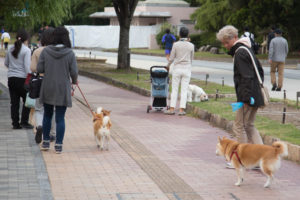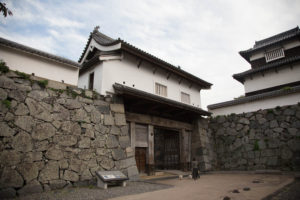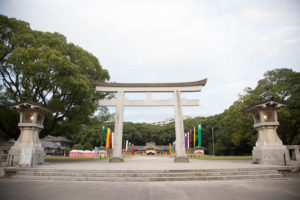 Ohori Park is in the vicinity of the ruins of Fukuoka Castle, which was what we were trying to find in the first place, but due to us taking random detours we eventually forgot our plan to search for those ruins, hence the lack of content for this part. Besides the ruins, the park is pretty much a family place with kids at playgrounds, people taking dogs for walks, couples chilling beside the lake, we even chanced upon 2 groups of students who are from photography clubs taking photos of the lake. There were also a couple of small restored castle buildings along the outskirts of the park, though we could only see the exterior so there wasn't much to see. Just opposite the road was the Fukuokaken Gokoku Shrine which was impressively large (we had no idea the shrine was there in the first place), too bad the shrine was closed when we got there so we missed out on another goshuin.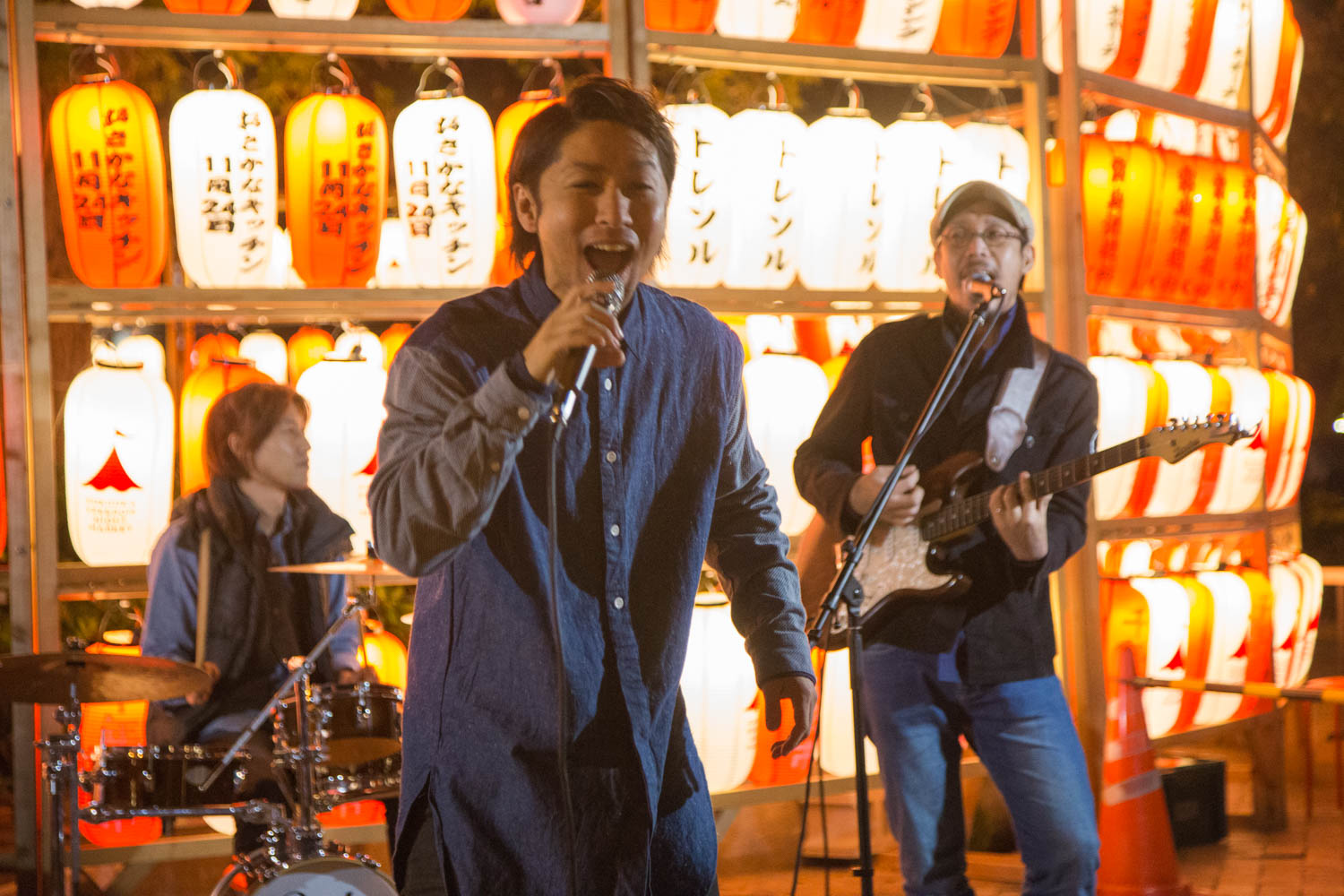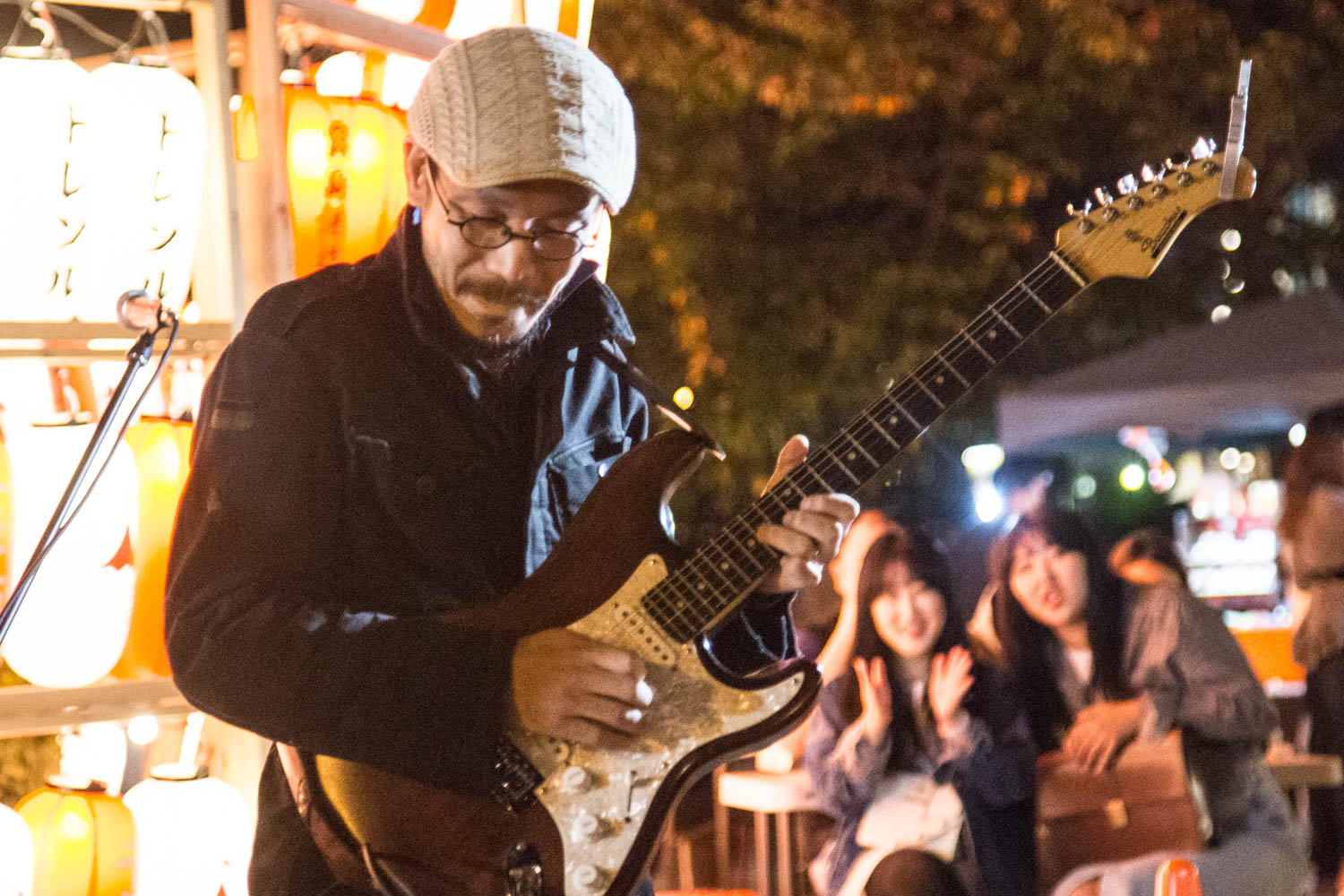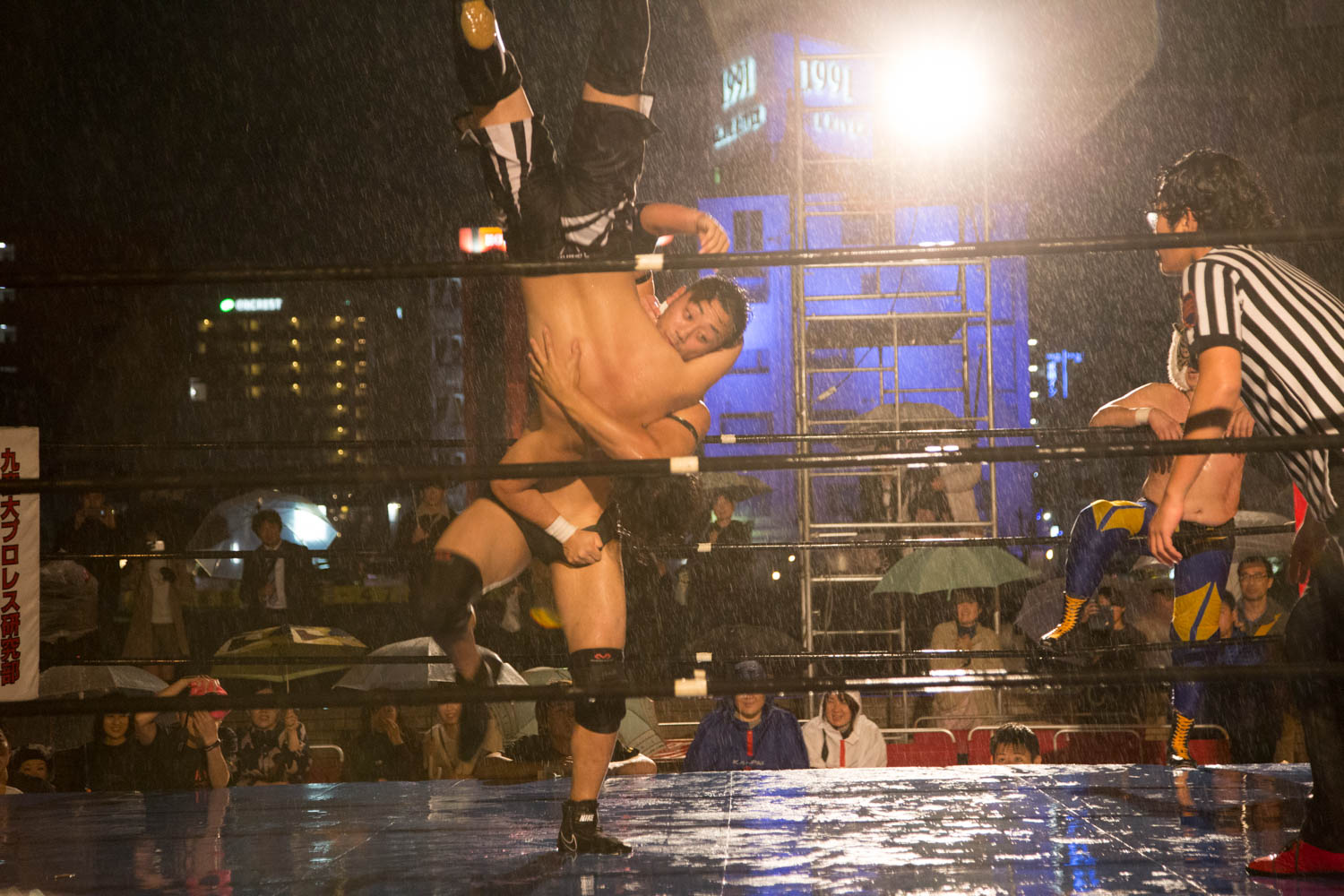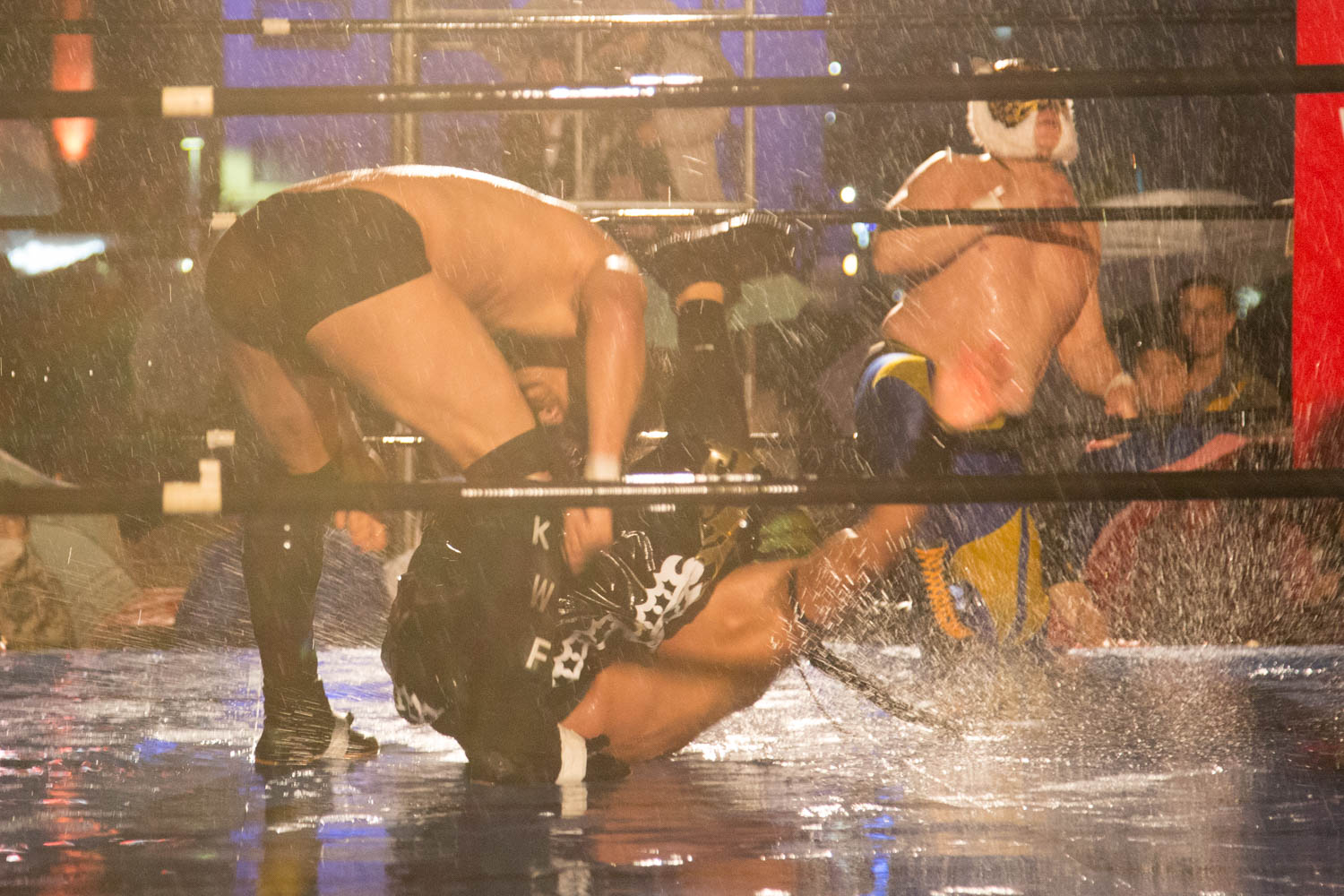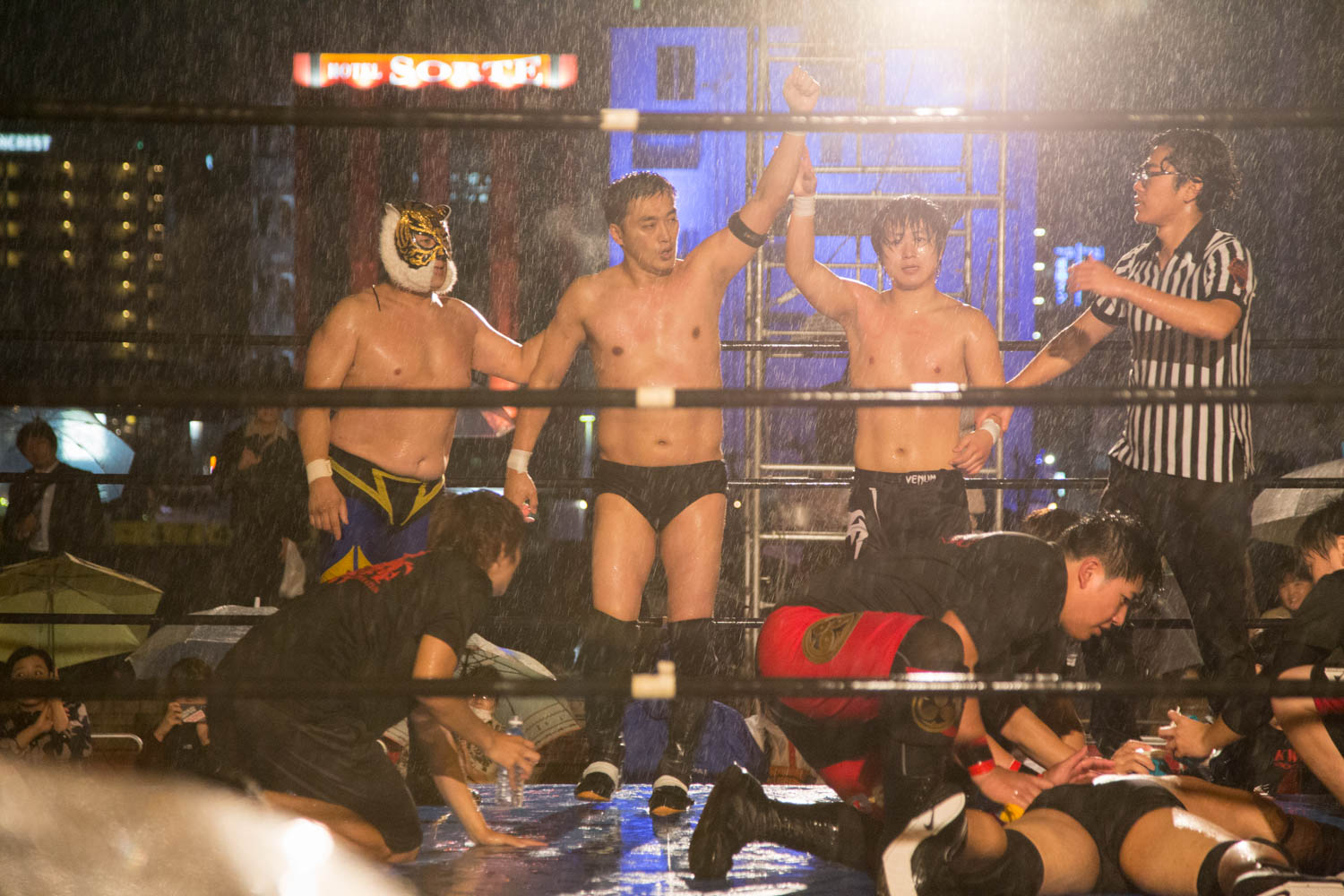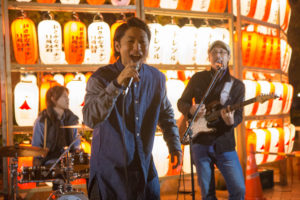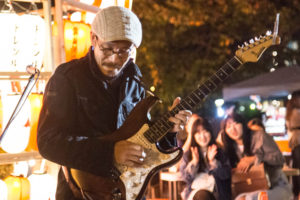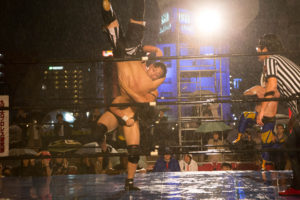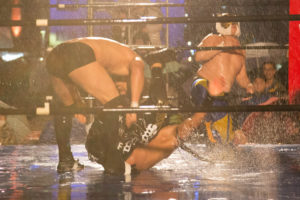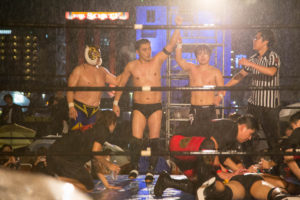 There was also an event along the river every weekend called the Freedom Night Market. Despite the name "market" it's just a whole bunch of stalls selling street food like takoyaki and yakitori, nothing special. The fancy thing are the side events happening at the stage area. I passed by on 2 separate occasions, on the first there were a couple of live performances with some pretty good music. I had to make time for the Toumyou watching happening the same day though so I only had photos of one band. The second time an indie wrestling promotion (Kyushu Wrestling Federation) had a show there. What made it more awesome was the fact they were having an outdoor show in the middle of the rain. Huge respect to them for continuing on with the show even as the rain grew steadily heavier, must not have been easy pulling off some of those moves in the rain.
And that wraps up my fourth Japan trip. I skipped out on writing about the third one as it was about Tokyo again and I didn't go to enough new places to create substantial new content, but with this being an entirely different area this was worth writing about. I've decided I'm going to try to avoid revisiting places if I can help it. I like Tokyo, but Japan is too big for me to keep revisiting the same places over and over again. I'm currently considering where next in Japan I should visit, thinking of either flying up north to Aomori and moving downwards, or heading to the Shikoku region. Either way, it's going to be an entirely new adventure again next trip.