Hey guys. Wassup? It's been a while since my last activity here, so I'm finally back with more stuff. What's it about?
YES IT'S ANOTHER HOLIDAY!!
YES IT'S BACK TO MY FAVOURITE COUNTRY JAPAN!!!
This time to Osaka first, and back to Tokyo after that. You could say this was a pretty impromptu trip, as I only decided to go less than 2 months before the actual trip. Blame SCANDAL and their 10th Anniversary live, I couldn't resist that at all. Anyways it was a pretty eventful trip with some really great moments as well, and since this trip was actually pretty long I'm going to break it into a couple parts just like the last time. As I'm writing this I realise it's been more than a month since I've been back before this is even up. Procrastination at its finest.
On this trip I also took a lot of videos, and made them into a compilation clip, which took up a lot of my time upon my return (blame procrastination). If you're lazy to read, just watch, it more or less covers everything I'm writing here and in my next 1-2 posts. There are quite a few things in there that are only on video.
If you're bothering to read through, then let's go ahead
ROUND 1: OSAKA
Day 1: ただいま、日本 Back to my paradise
Yep, it felt really good to be back, and a couple of memorable moments already upon reaching. First time needing to open my luggage for checks at customs (I don't think I looked suspicious though), and also helping a Chinese lady who fainted, who was almost definitely a Singaporean or at least Malaysian judging from the terms her family was using like orh ceh (bruise). And yeah, my train ticket got eaten by the machine on the way in so I had to spend another $15 paying to get out at my destination because I didn't have a ticket at the exit. Such is life.
Much less travelling on the first day this time compared to the previous time, managed to dump my luggage at the hotel and set off exploring before lunchtime. First stop, Osaka Castle Park.
My main motive here was to look for some free street performances, because it's the weekend and SCANDAL took their first steps playing street lives in this same place. I was sadly disappointed as the park had all sorts of noise except street performances. Well, I guess the lone busker under the bridge counts.
Really nothing much for me to see here TBH, so I made my way up to the famed Osaka Castle that this entire area is named after.
Osaka Castle as seen from opposite the moat
And directly in front of it. Humongous stuff.
I've never actually seen any of the castles in Japan before (the Imperial Castle was closed the first time I went to Tokyo), so the size actually kind of intimidated me a bit. Some really impressive architecture there, though the fact that the top isn't symmetrical with the rest of the building kind of bugs me a bit. No photos of the inside, as the castle is actually a reconstruction and I couldn't bring myself to spend a couple hundred yen seeing something that wasn't the original.
One of the shrines surrounding the area
High school band members practicing in the park. Brings back memories of my own secondary school band days
Just having a quick nap
Coming down from the shrine back to the station I had to walk through a pretty considerable portion of the park, and this is when I realised how many things there are in the park. Among the things I saw was a shrine, a pretty large fountain-park area with a number of kids, some kids having baseball practice, and even an entire marching band holding their practice there. The last one was some really nostalgic stuff as I remembered I used to do that back in secondary school. Ahh memories…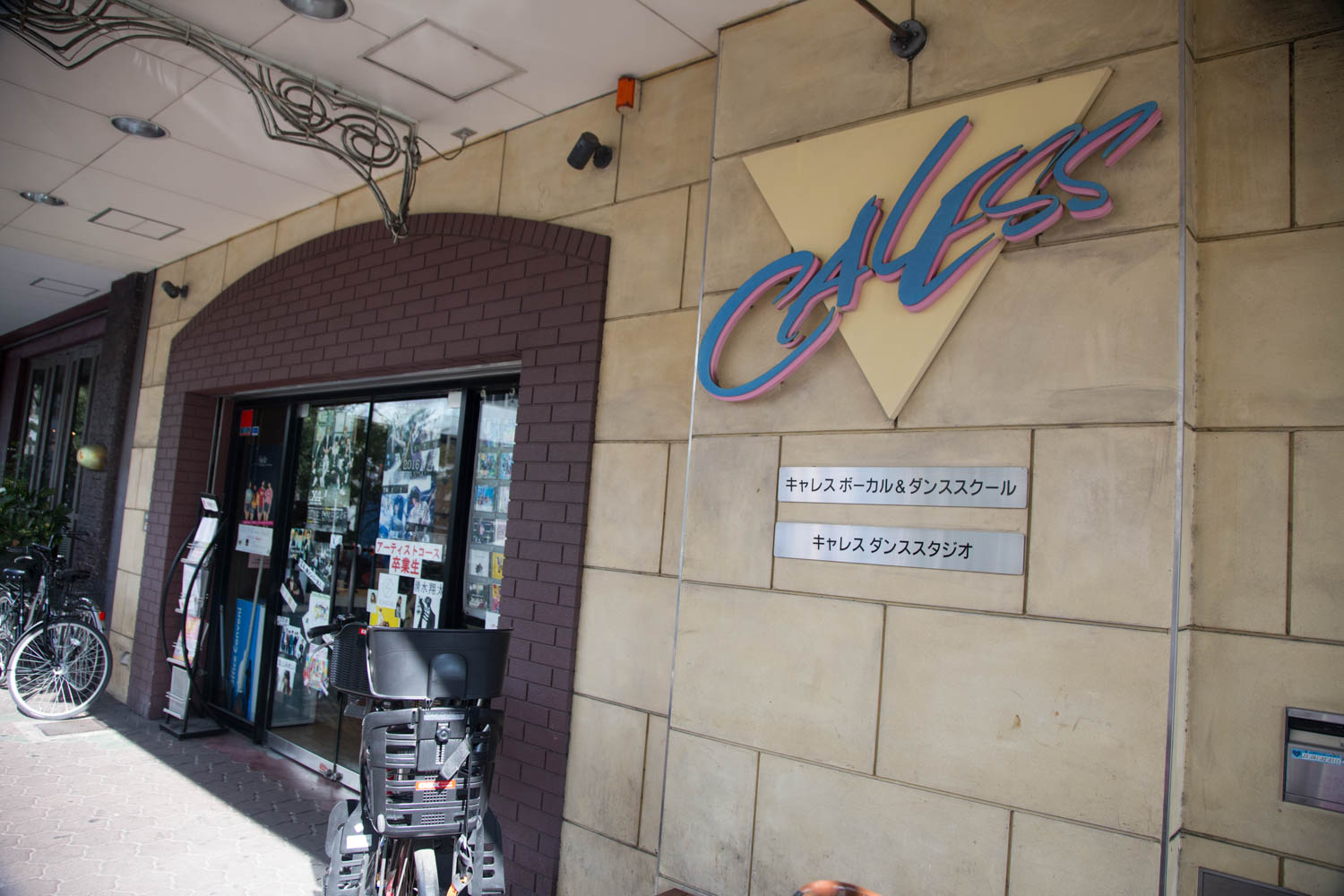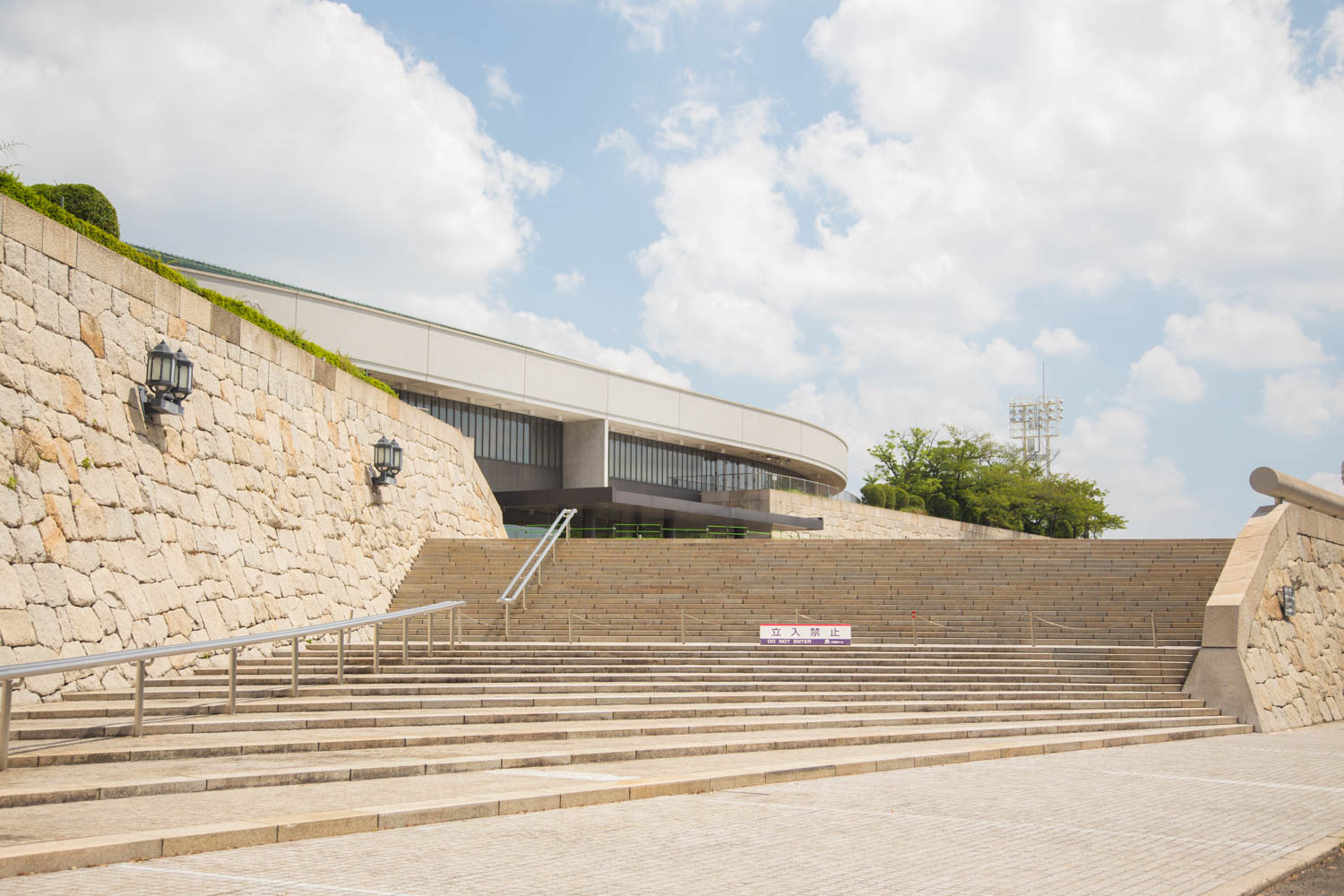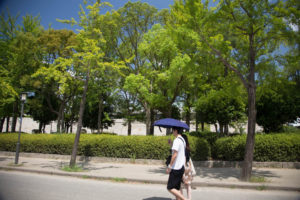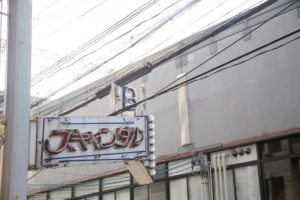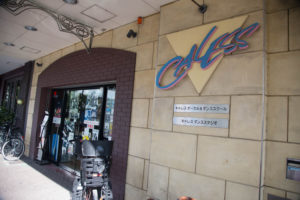 One of the reasons why I decided to visit this area first was because the Osaka Castle area and nearby Kyobashi area are significant areas in SCANDAL's history, so I decided to do a small little pilgrimage since they're all in the area. 1: Shiroten, a small area in Osaka Castle Park where SCANDAL used to do street performances when they first started out. 2: Caless, a dance school in Kyobashi where the members first met and formed. 3: Scandal, an *ahem* adult shop which the band took their name from. 4: Osaka Jo Hall, the venue they aimed to perform in when they first formed, and finally actually performed at in 2013.
A bit of SCANDAL history there, just had to put this in although I know no one cares lol.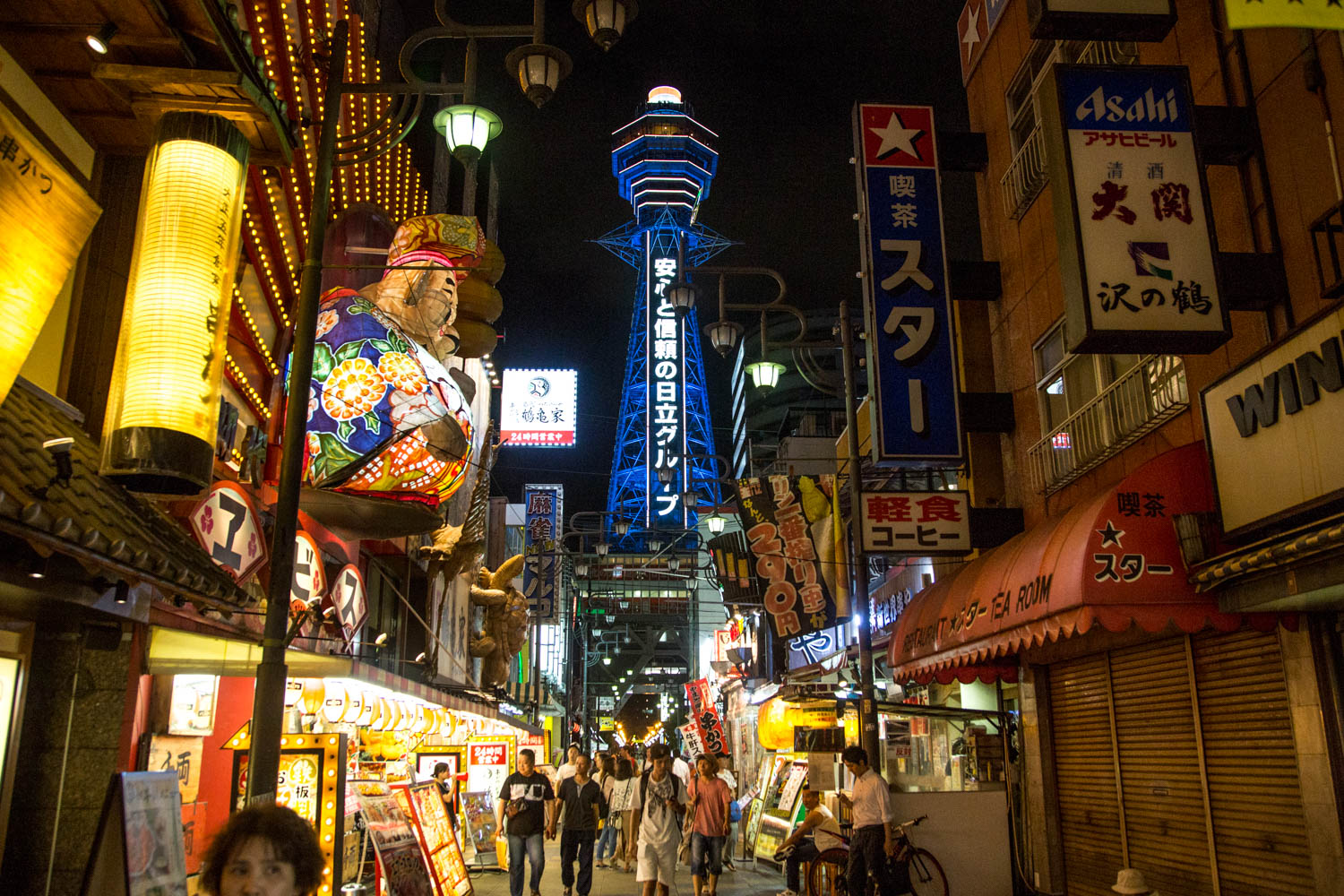 Shinsekai area, probably only worth visiting at night
I went back to my hotel earlier to check in and rest up, and didn't want to travel too far out for dinner (Namba can wait for another day). so I went to nearby Shinsekai. Travel guides talk about this place as a relatively seedy place compared to the rest of Osaka, but I don't see how seedy this place can get IMO with all the lights and crowds.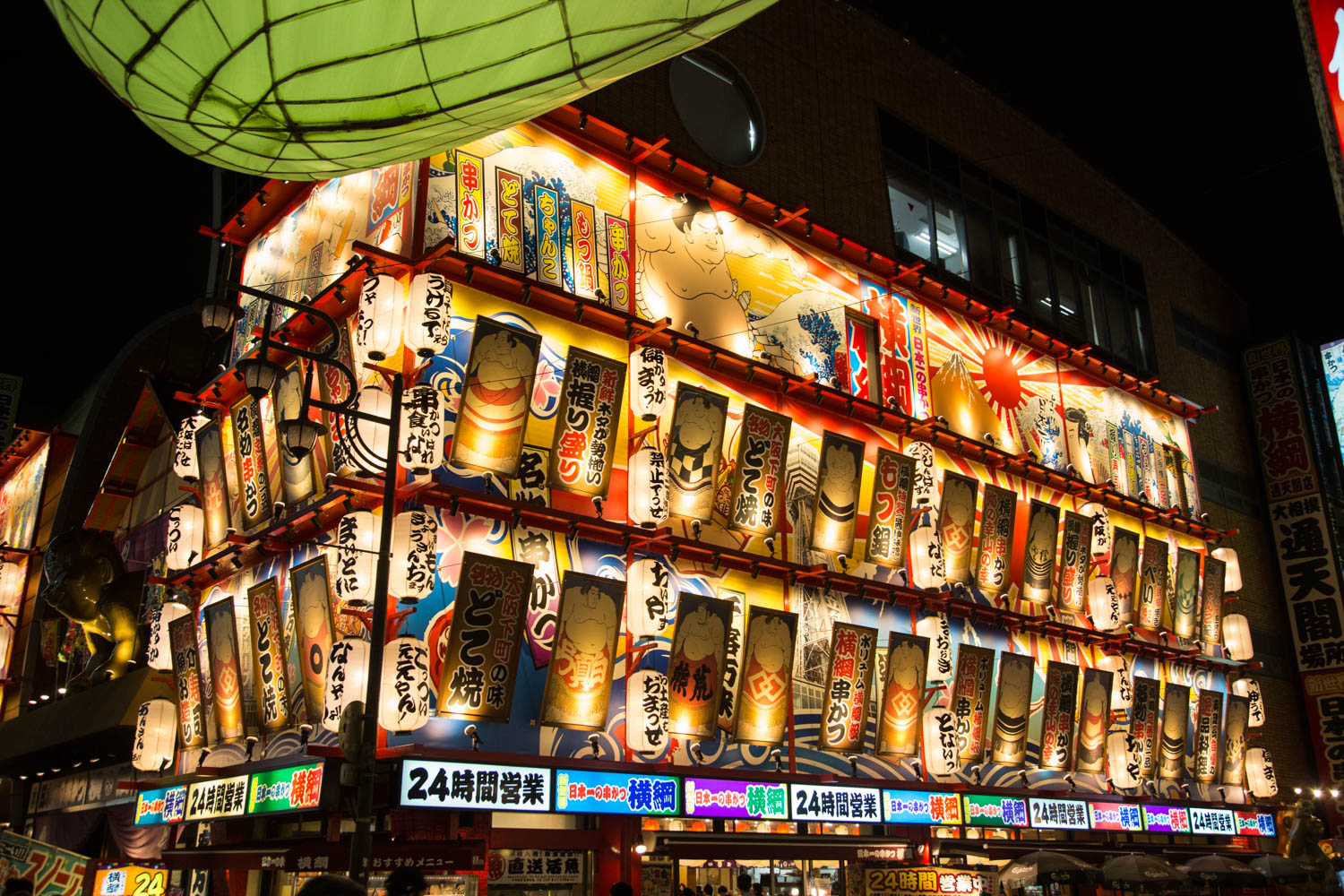 Really elaborate decorations everywhere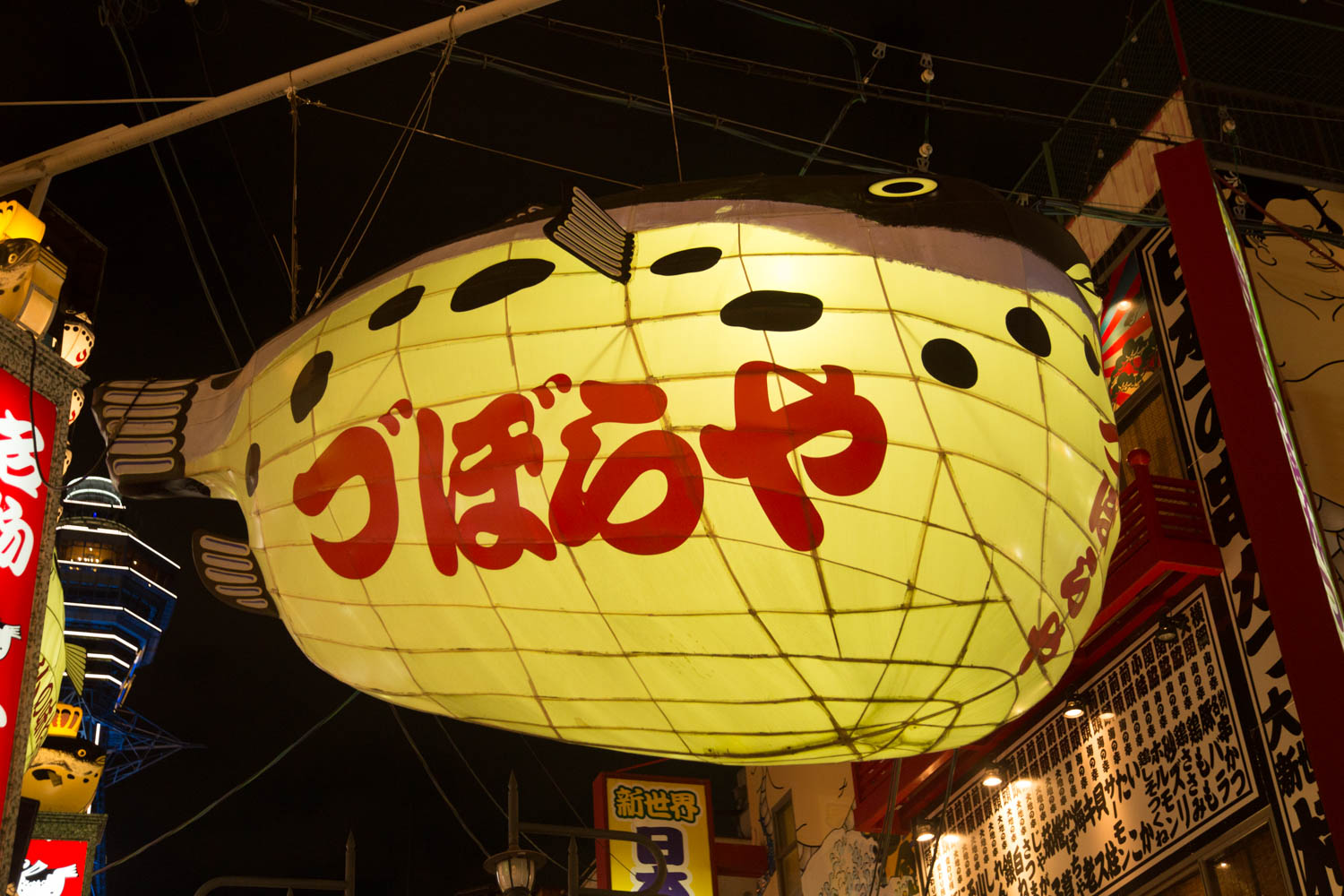 And a huge puffer fish that everyone is absolutely fascinated with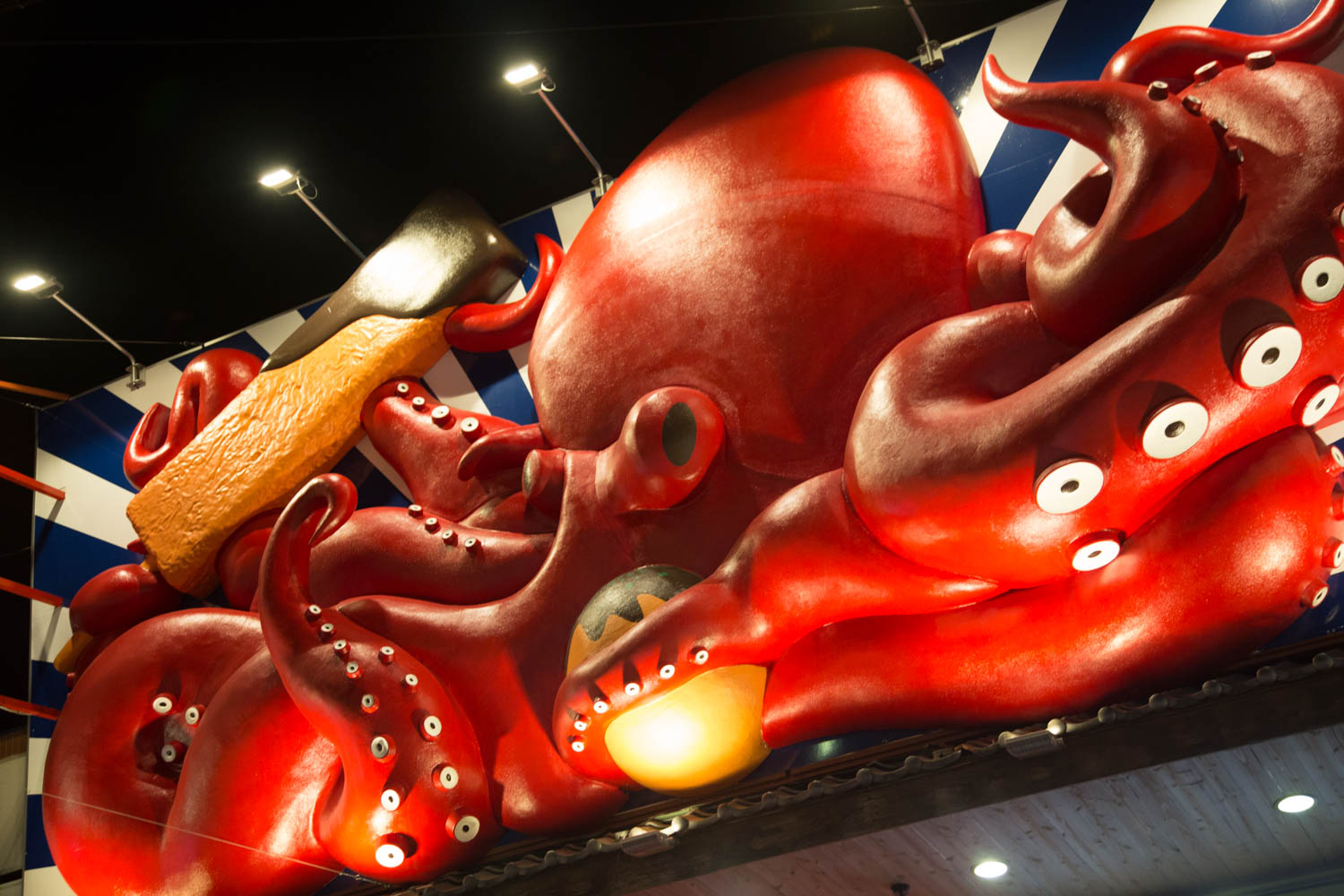 Japan's decorations are absolutely top notch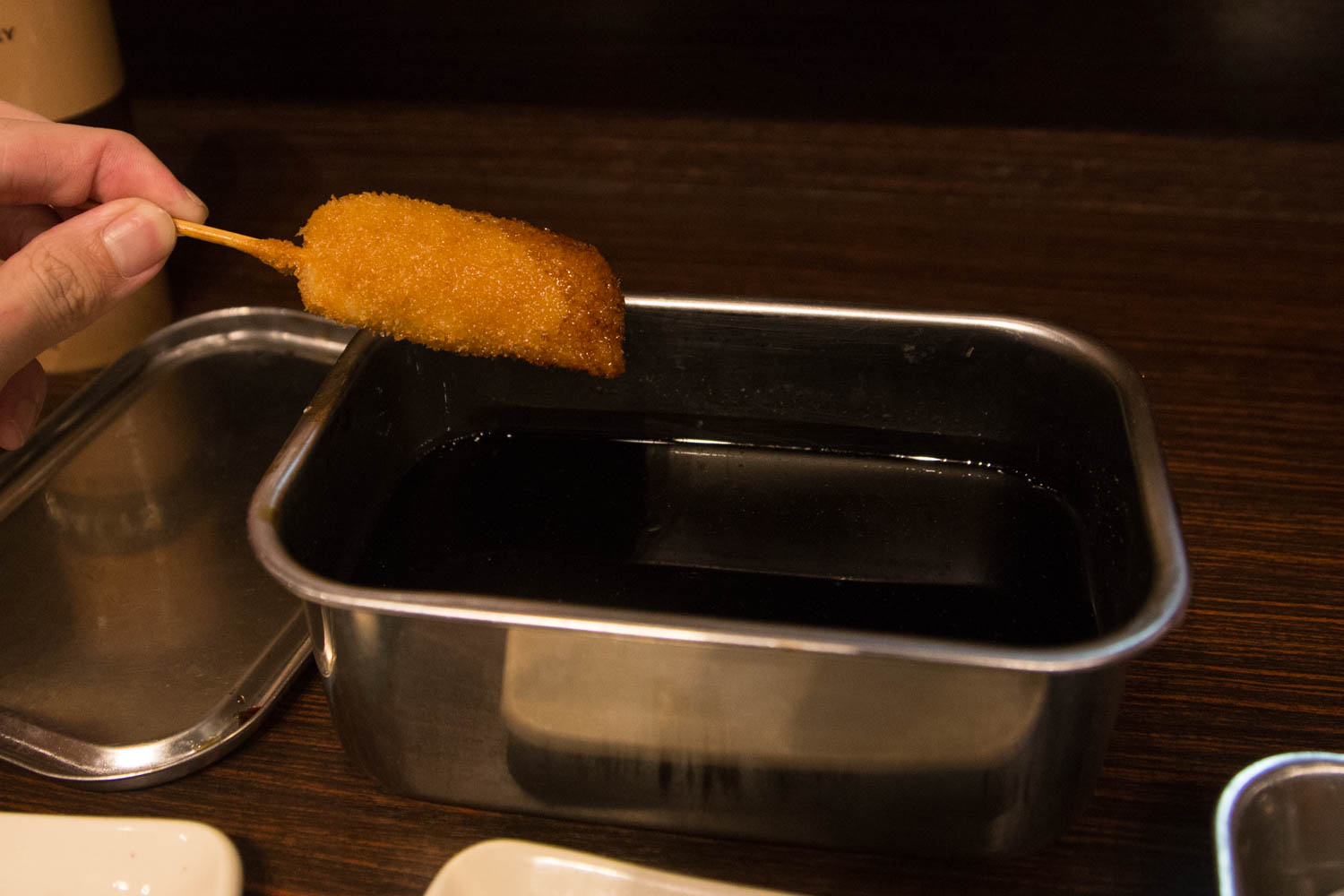 Dinner for the night, just one of many kushikatsus I ate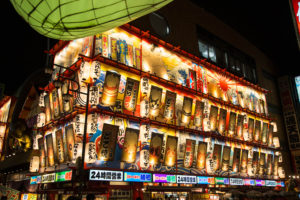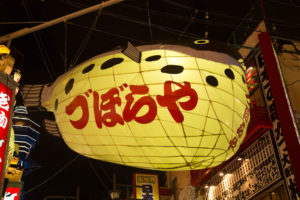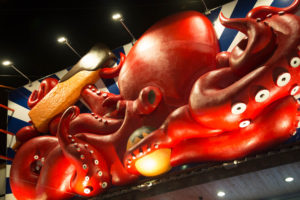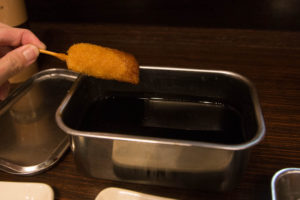 Some really elaborate decorations everywhere, especially along the main street of the area. Most of the shops here are selling kushikatsu, which is basically deep fried skewered meat/seafood/vegetables dipped in a sauce. The photo doesn't look really impressive, but with the sauce it's actually pretty good.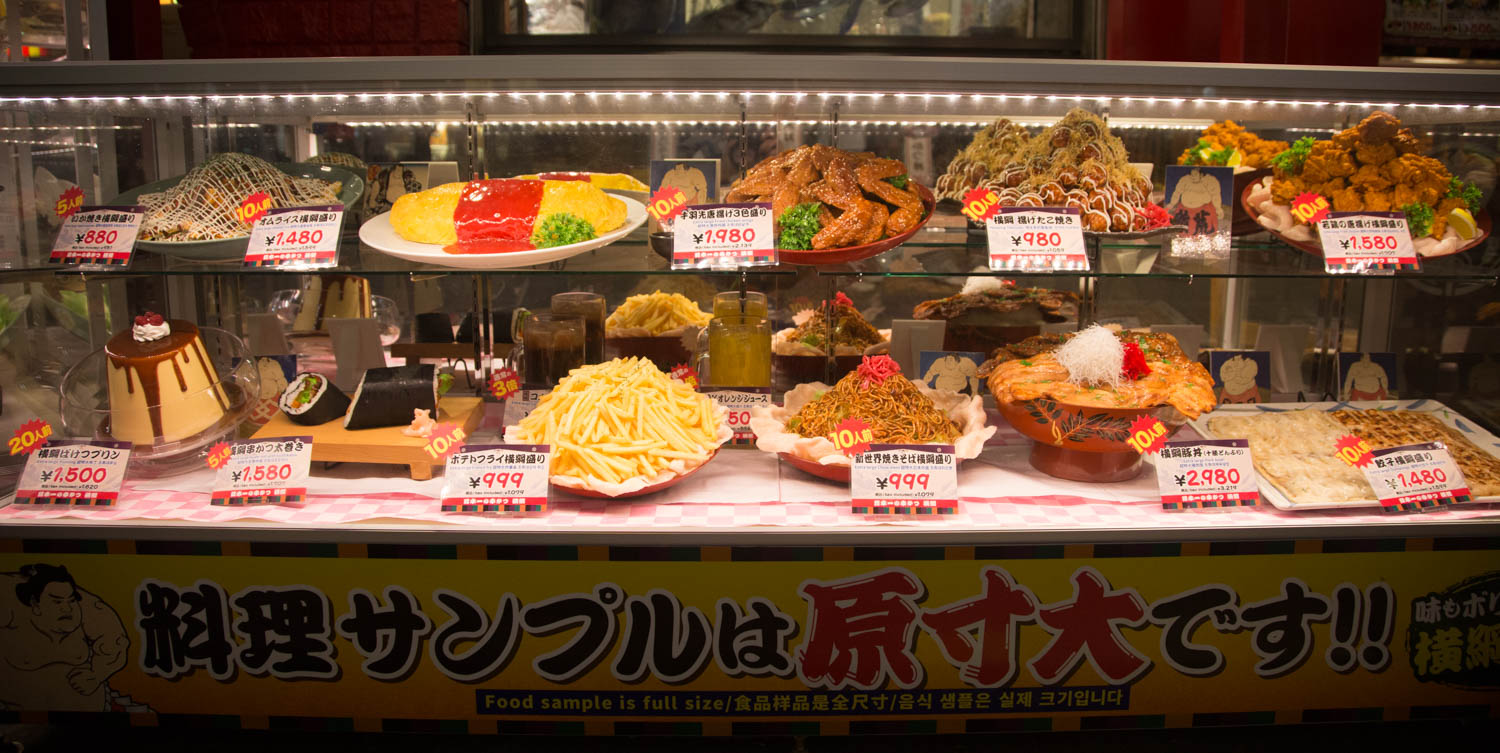 10pax meals for a 1pax price. Literally eat till you drop
I chanced upon this opposite where I was eating, and I literally went OMG at the portion. Almost everything sells at a 10pax portion for a 1pax price. Even though I take pride in my stomach capacity this was definitely not something I would try to take on myself. Perhaps if I revisit this place with a group of friends it might be worth trying.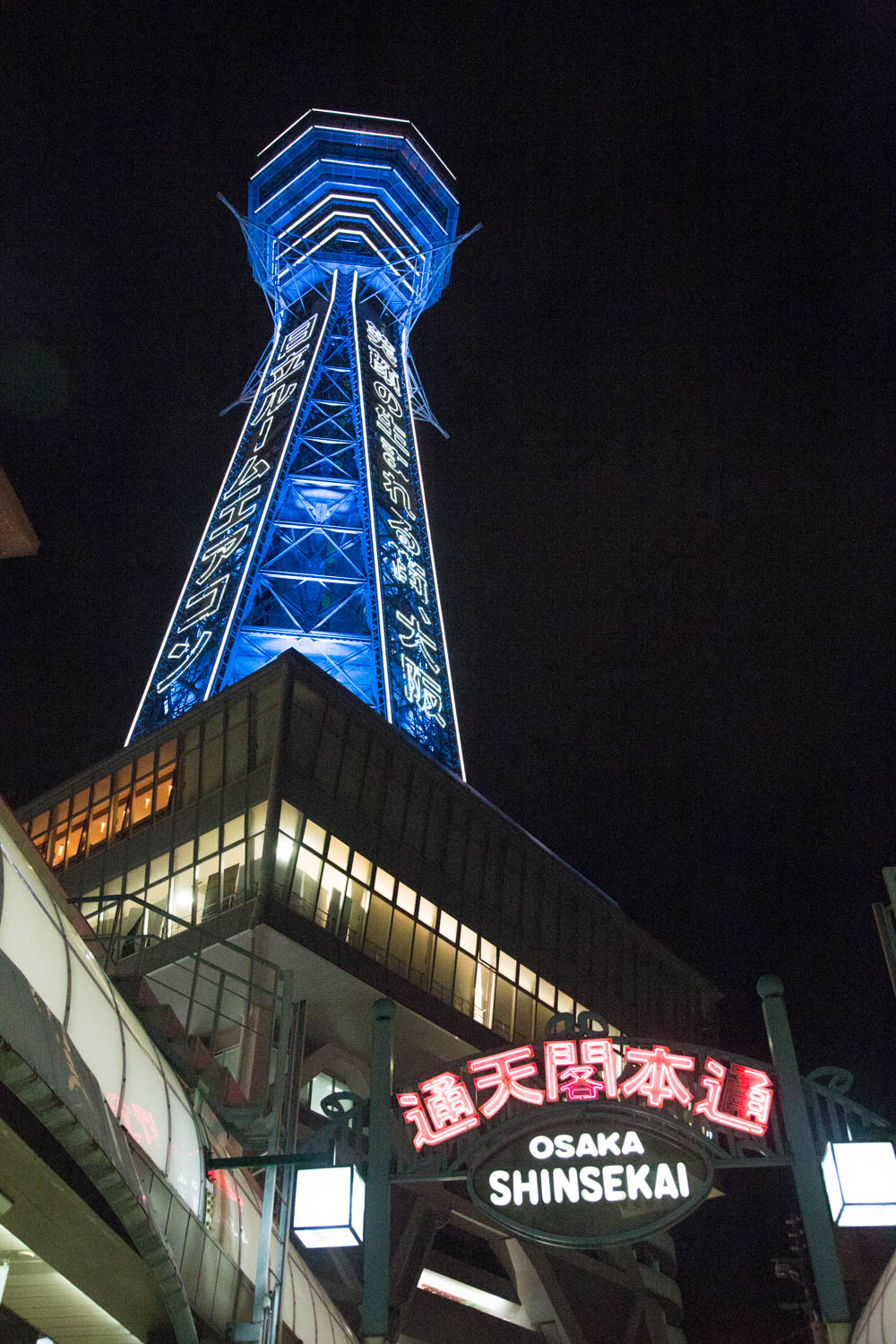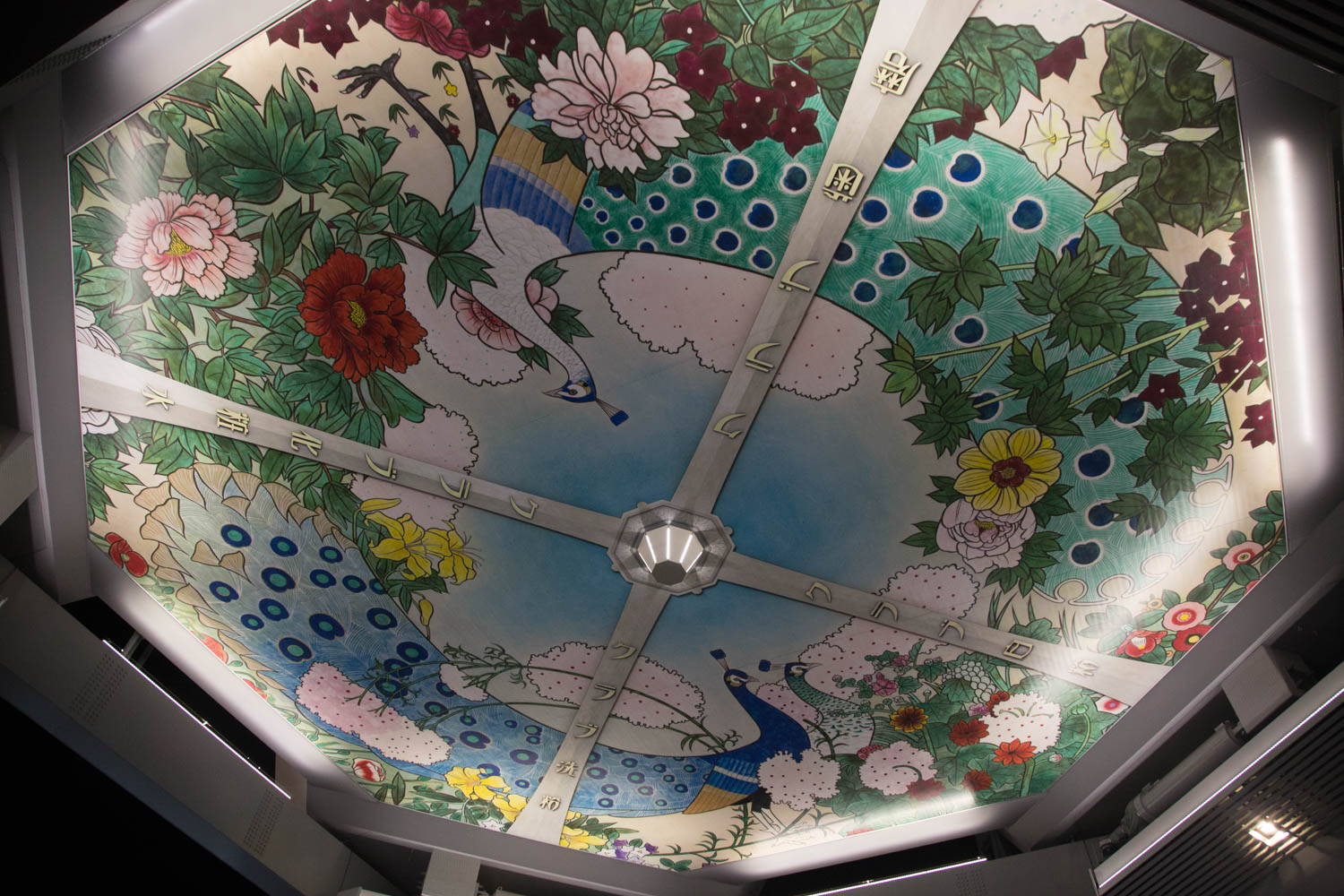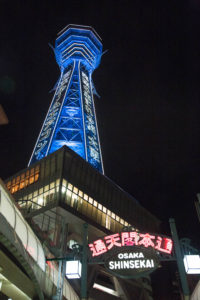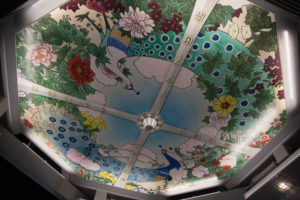 At the center of the area, Tsutenkaku Tower. For an observatory it isn't very tall, so it wasn't worth going up (I probably get higher views from my house). I like how the bottom of the tower is decorated though, too many times this kind of observatories are hollow from the bottom up, so to see one covered at the bottom and decorated was pretty fresh.
Day 2: SCANDAL TIME
Yep, once again the reason I'm here in Japan is for SCANDAL. Anything for SCANDAL. SCANDAL is bae. SCANDAL is life.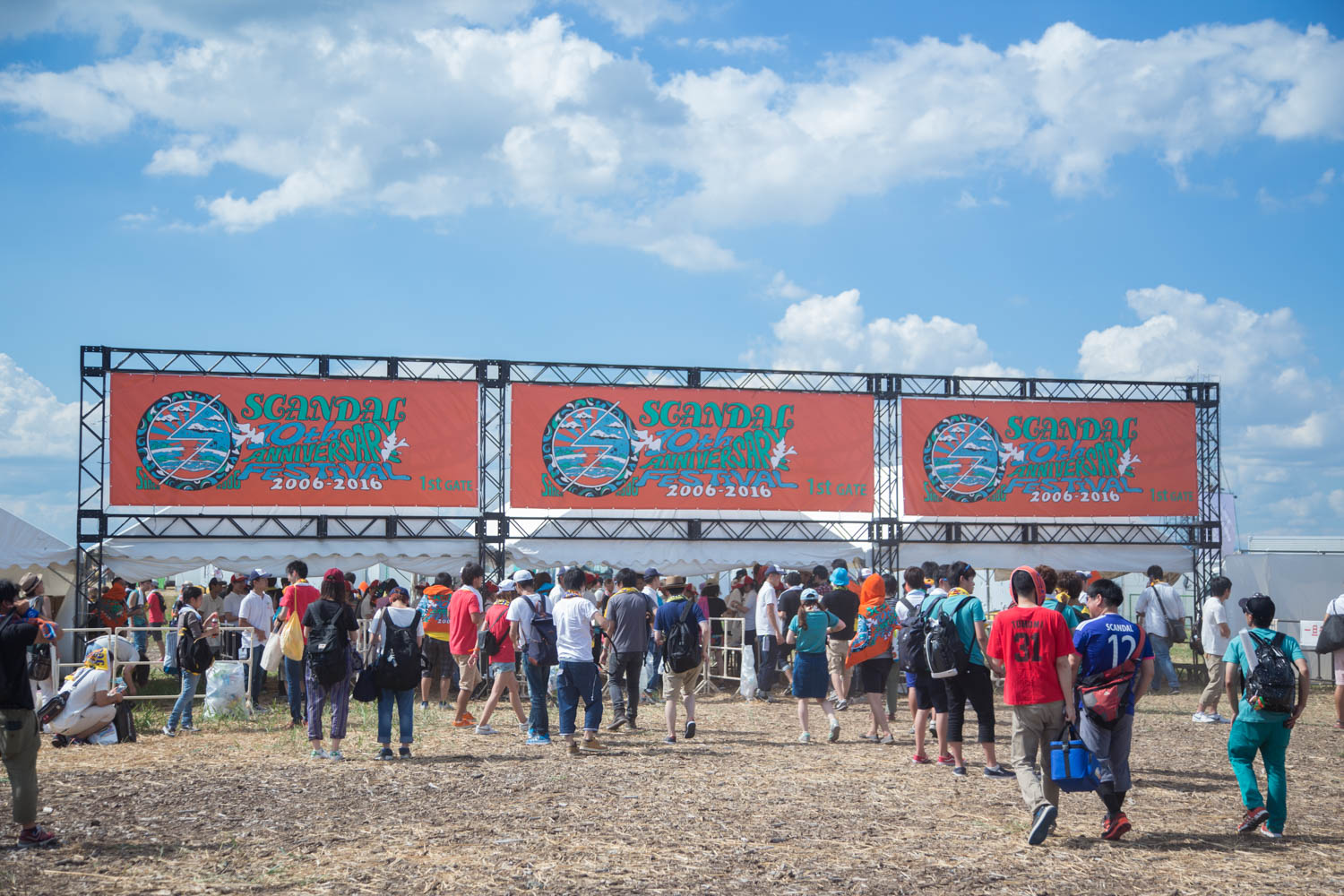 The entrance to the concert area. IN THE MIDDLE OF FREAKING NOWHERE!!!
Getting off topic here. There isn't really much to talk about in terms of photos, since unlike the last time it's held in the middle of literally nowhere, and I had to reach pretty early to buy stuff and camp for my viewing spot so there wasn't anywhere I could go before this.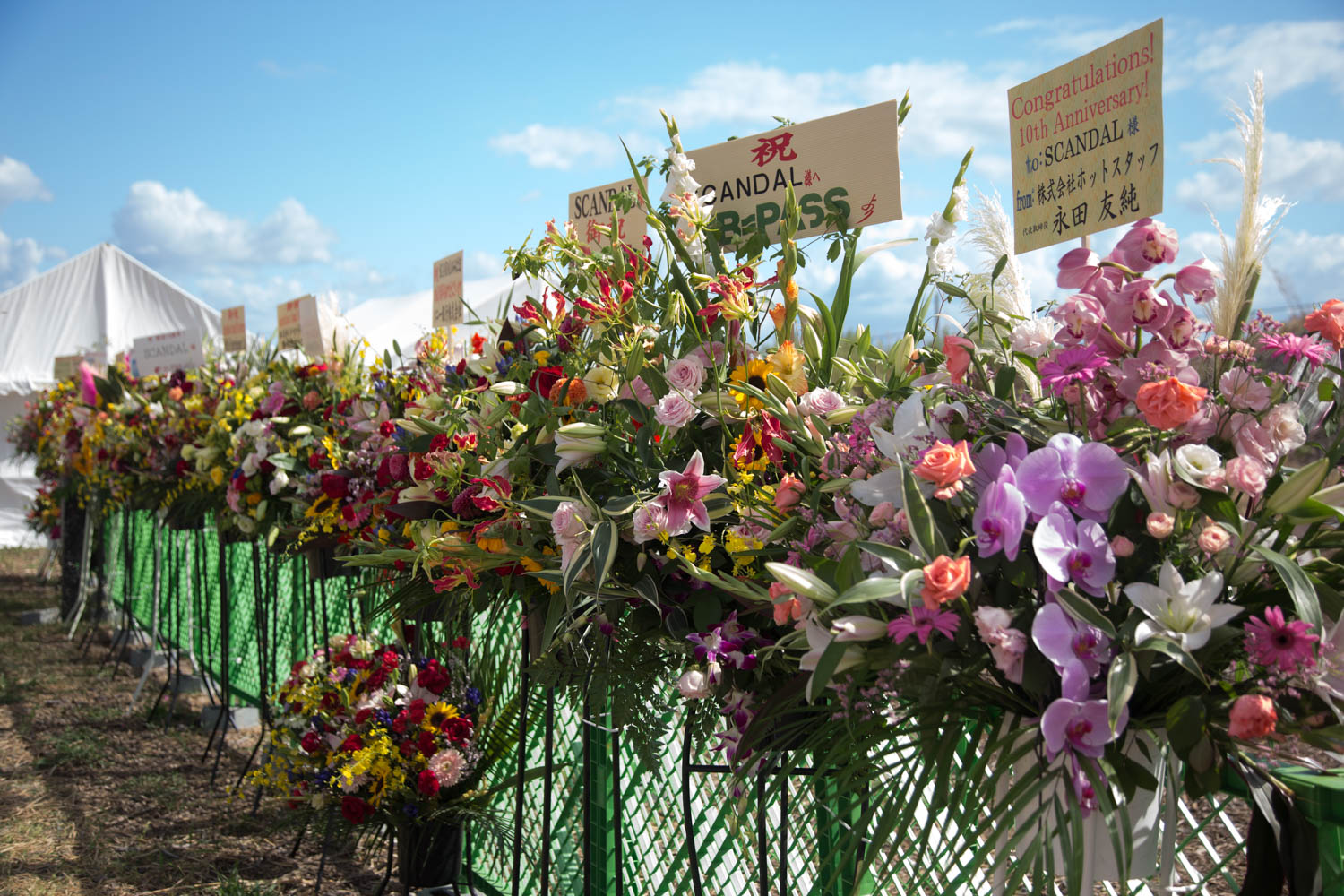 All the congratulatory flowers to SCANDAL.
Despite the lack of material, I still feel the need to talk about something here. I'm trying to avoid talking about the concert, so let's talk about the heat. Oh yes the awesome summer heat. Soaking in the 37deg sun for 4 hours waiting for the concert to start definitely is no joke. To put things in perspective, I bought a bowl of shaved ice and made my way back to my spot in the audience. The navigation through the crowd took 10 minutes, the shaved ice completely melted in 5. I ended up drinking syrup instead.
Day 3: Temples, skyscrapers and fishes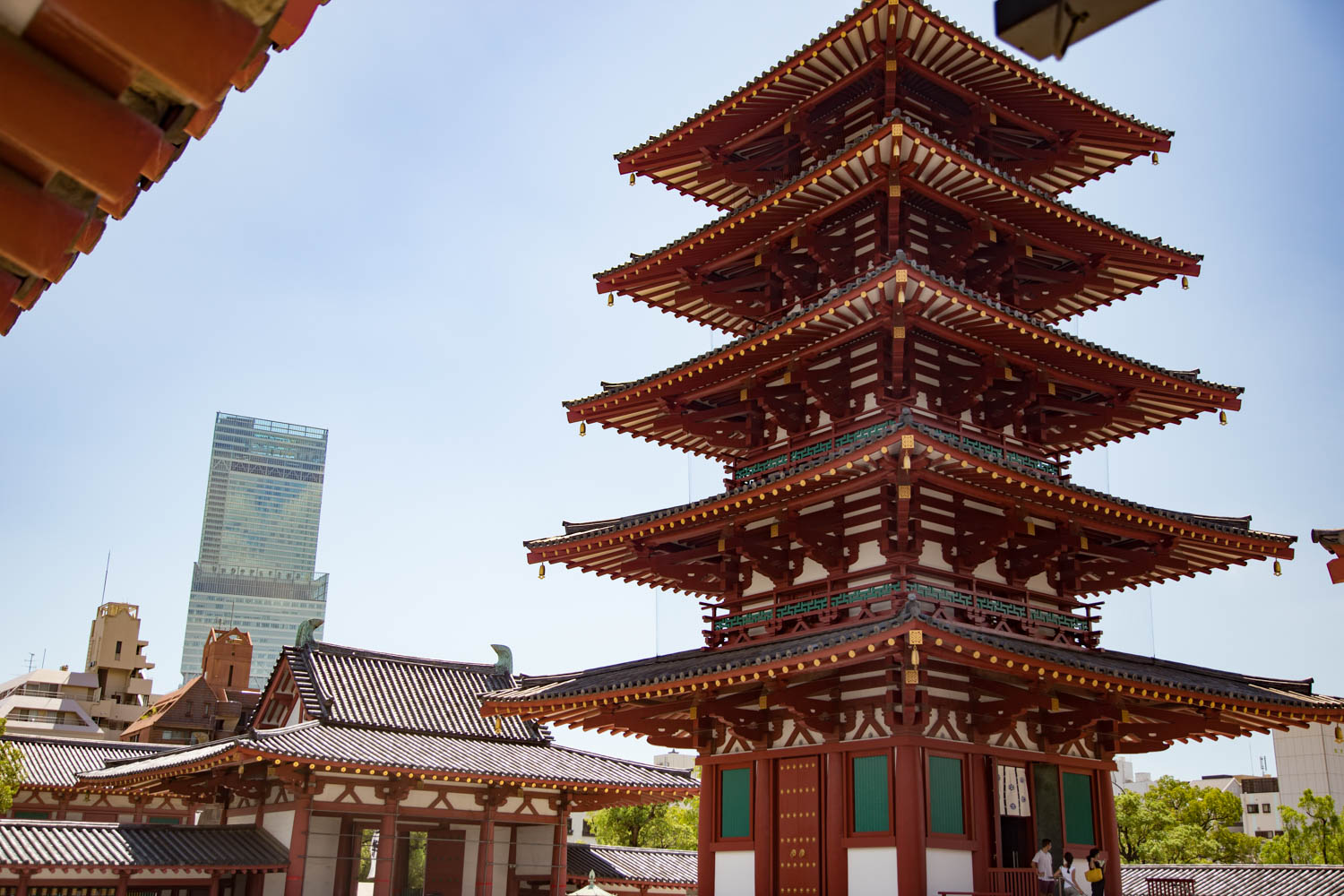 The center of Shittennoji Temple, with the 5-storey pagoda
My muscles were still pretty much aching from the exertions of the previous day, so I decided not to squeeze with the crowds and go to somewhere more peaceful. Enter Shittennoji Temple, which is a short walk from Tennoji Station, which is a -not so short- walk from my hotel. This is one of the oldest shrines in Osaka, and it's actually quite big. The centerpiece is this 5-storey pagoda in the courtyard, it's impossible to miss, but the outer perimeter also has quite a few things to see.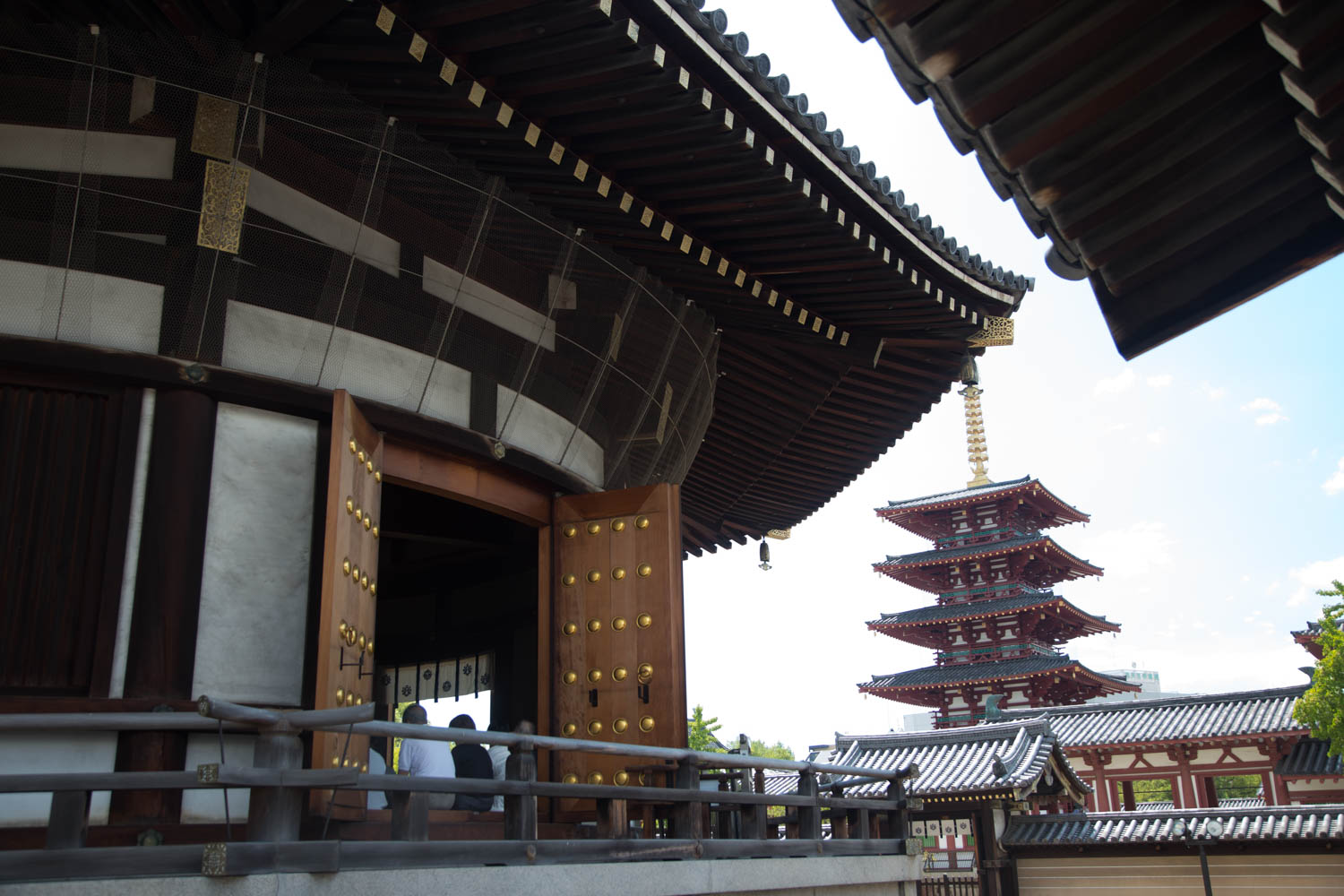 People praying in one of the buildings around the area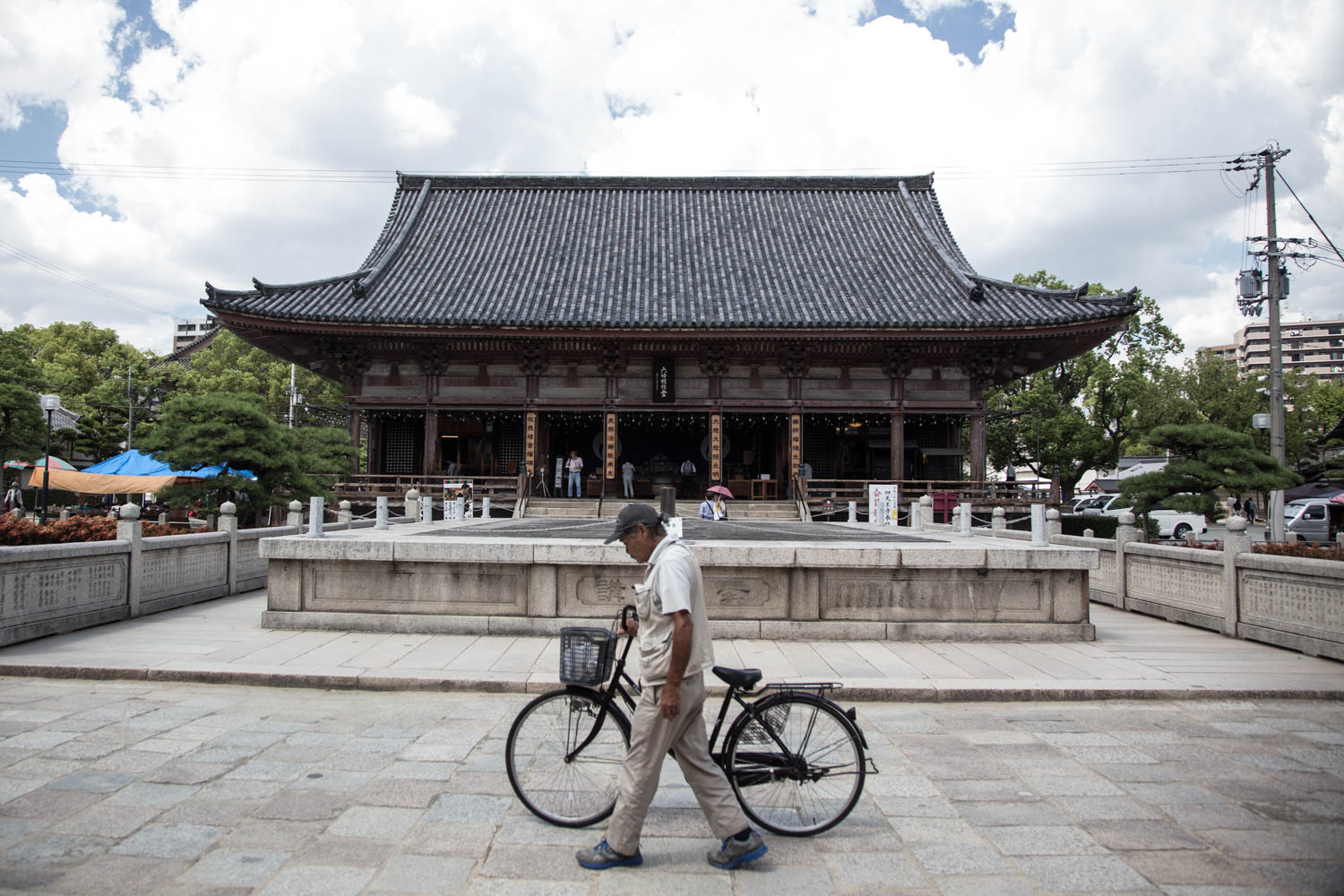 More praying areas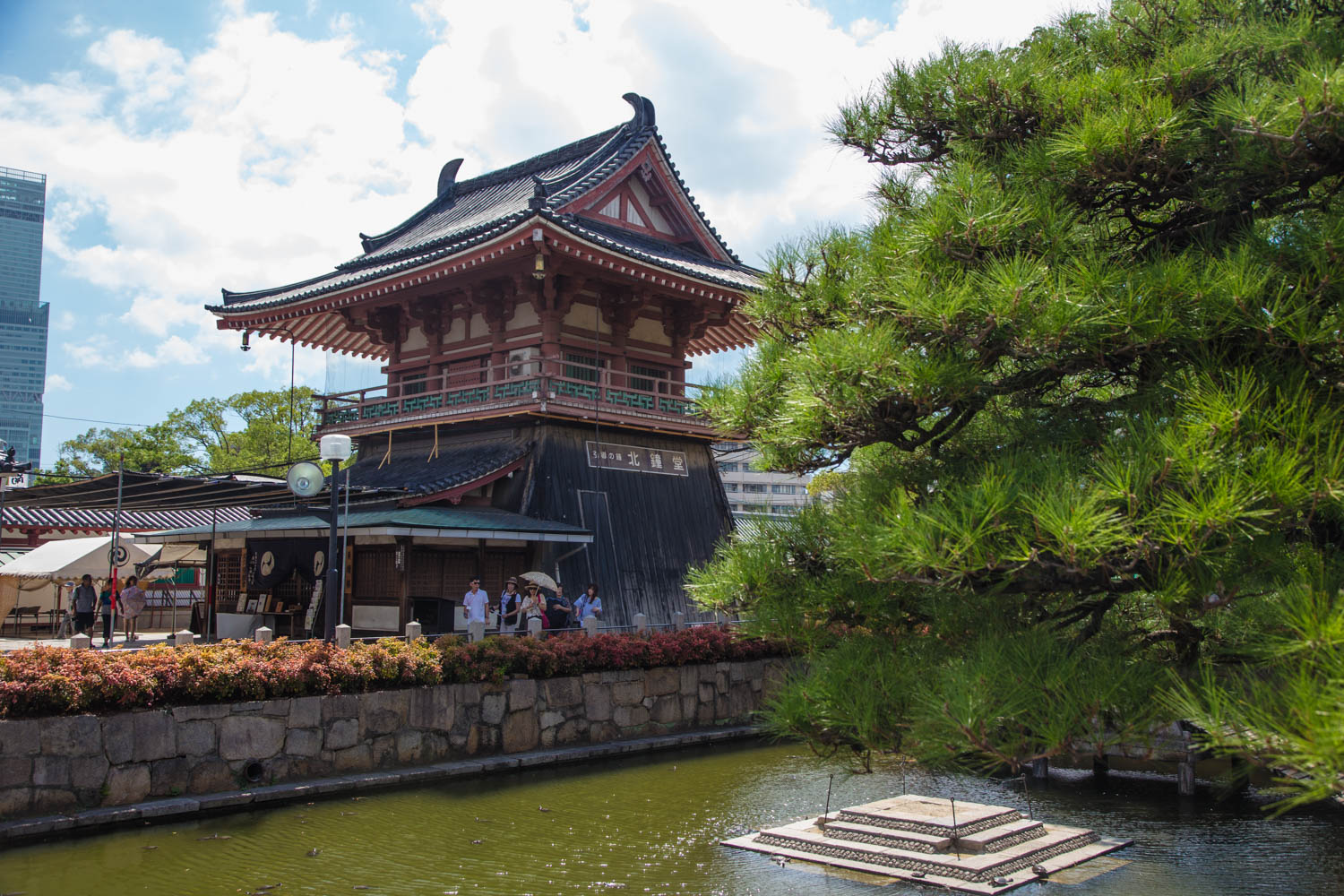 And one that manages to look pretty cute and cool at the same time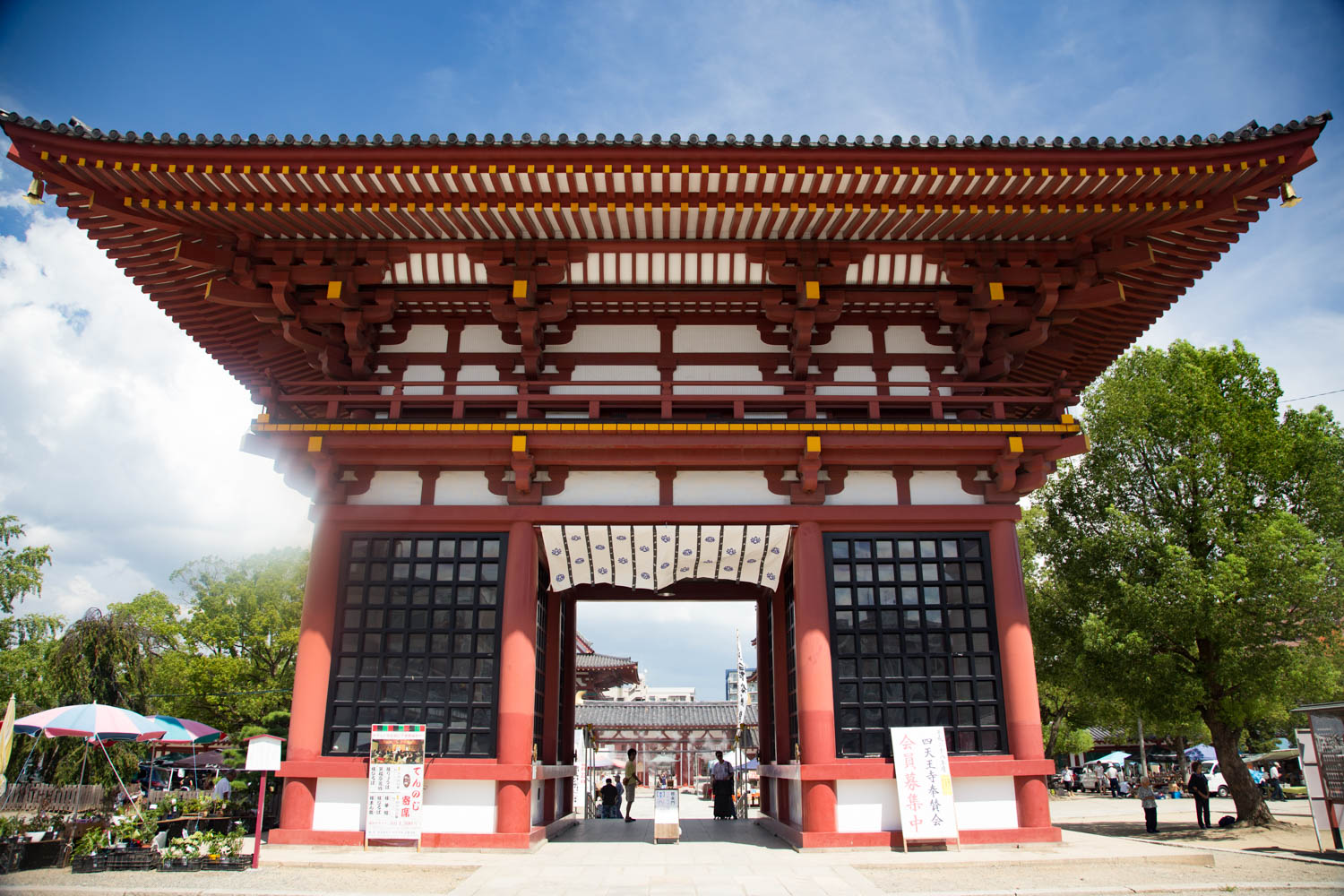 Entrance to the temple.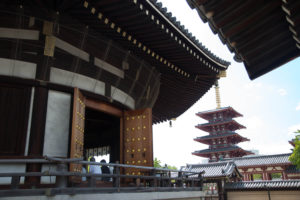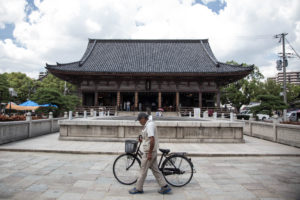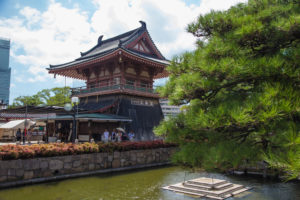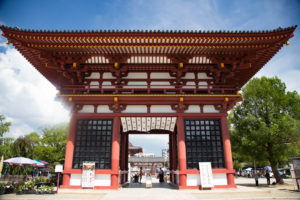 A walk through the outer areas saw quite a number of other praying areas, as well as a small flea market (apparently it happens only on the 21st and 22nd of every month). It even has its own mini museum of sorts. There's also apparently a garden which I couldn't find the entrance to, a pity because pictures online looked pretty good.
Compared to my first two visits to other shrines this felt totally new because of the atmosphere. The last two times happened to be weekends so the shrines were basically filled with tourists, but I actually felt pretty peaceful in there, except for the couple of times where there were Chinese tour groups entering the place.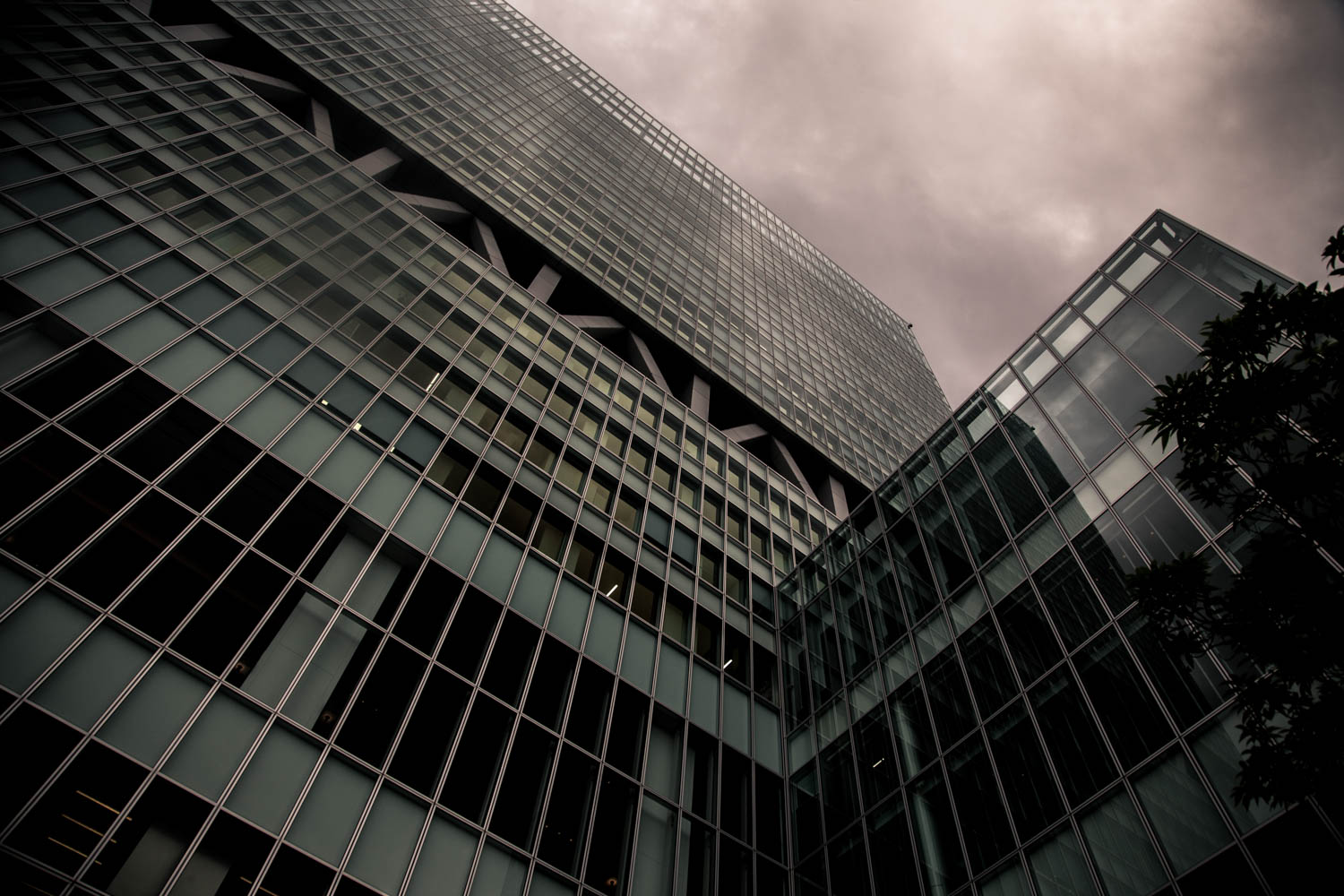 After that, a short walk back to the station, and opposite to Osaka's tallest skyscraper, Abeno Harukas. I don't usually visit observatories, but I had time to burn and I was nearby, so why not?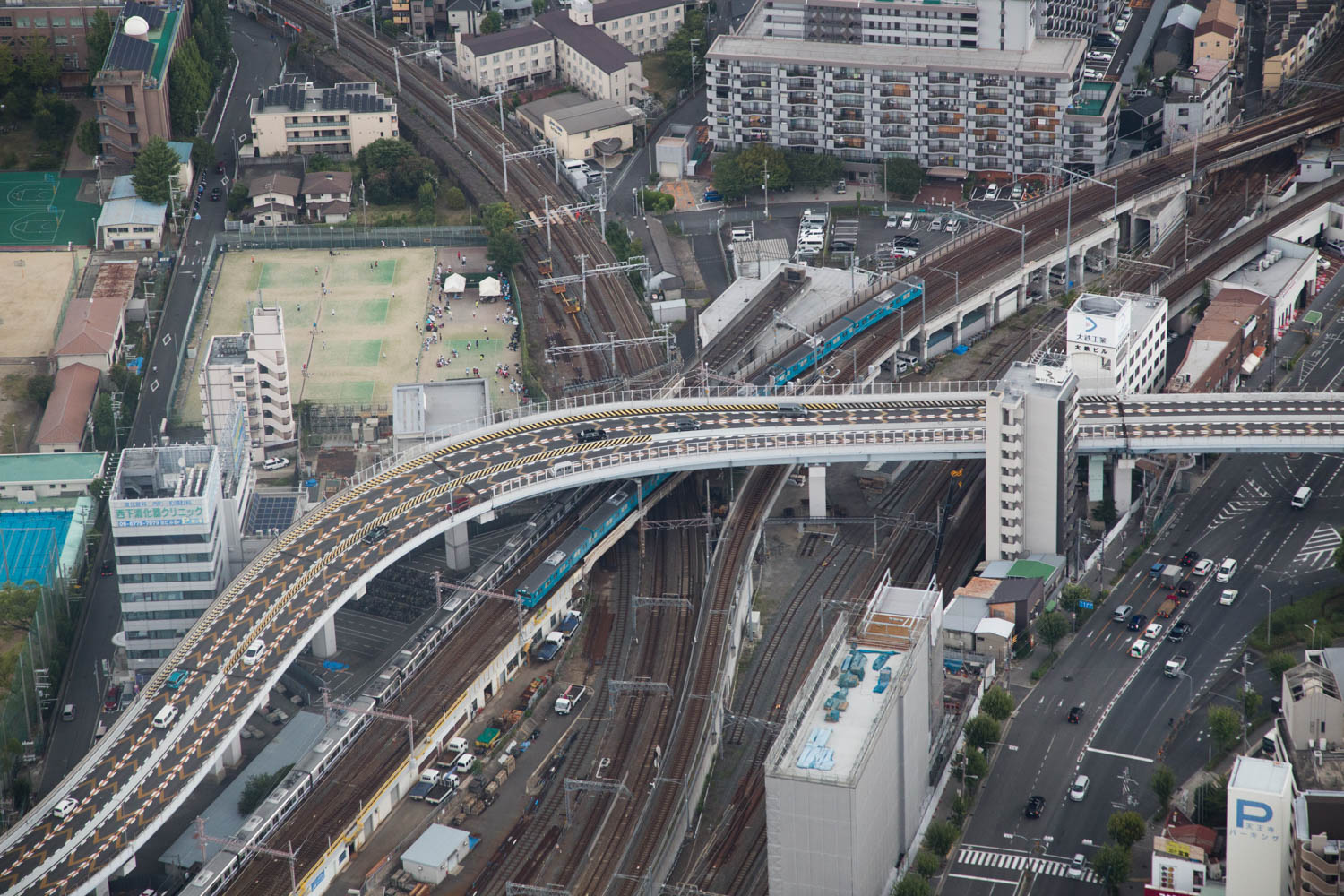 Railways running below the observatory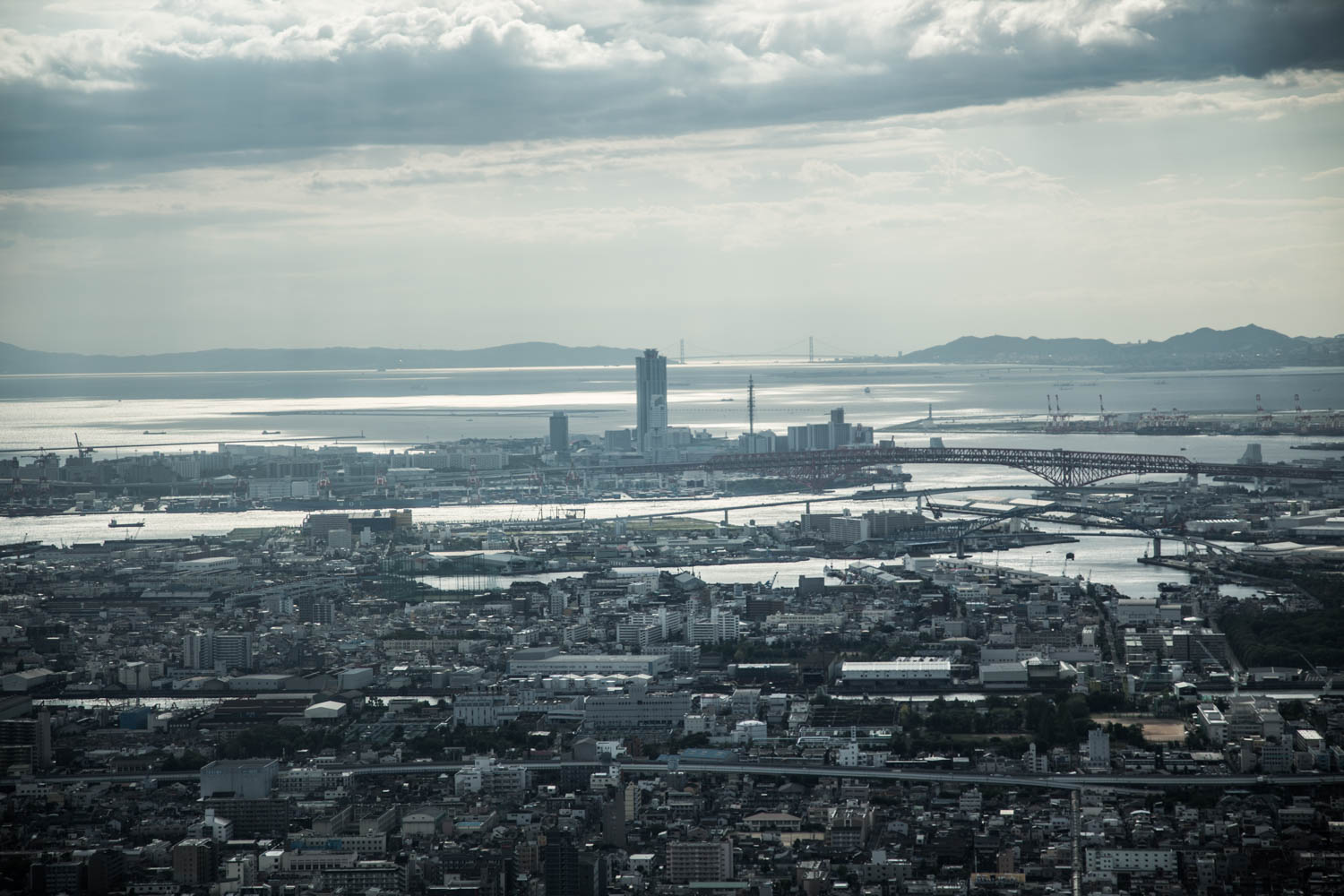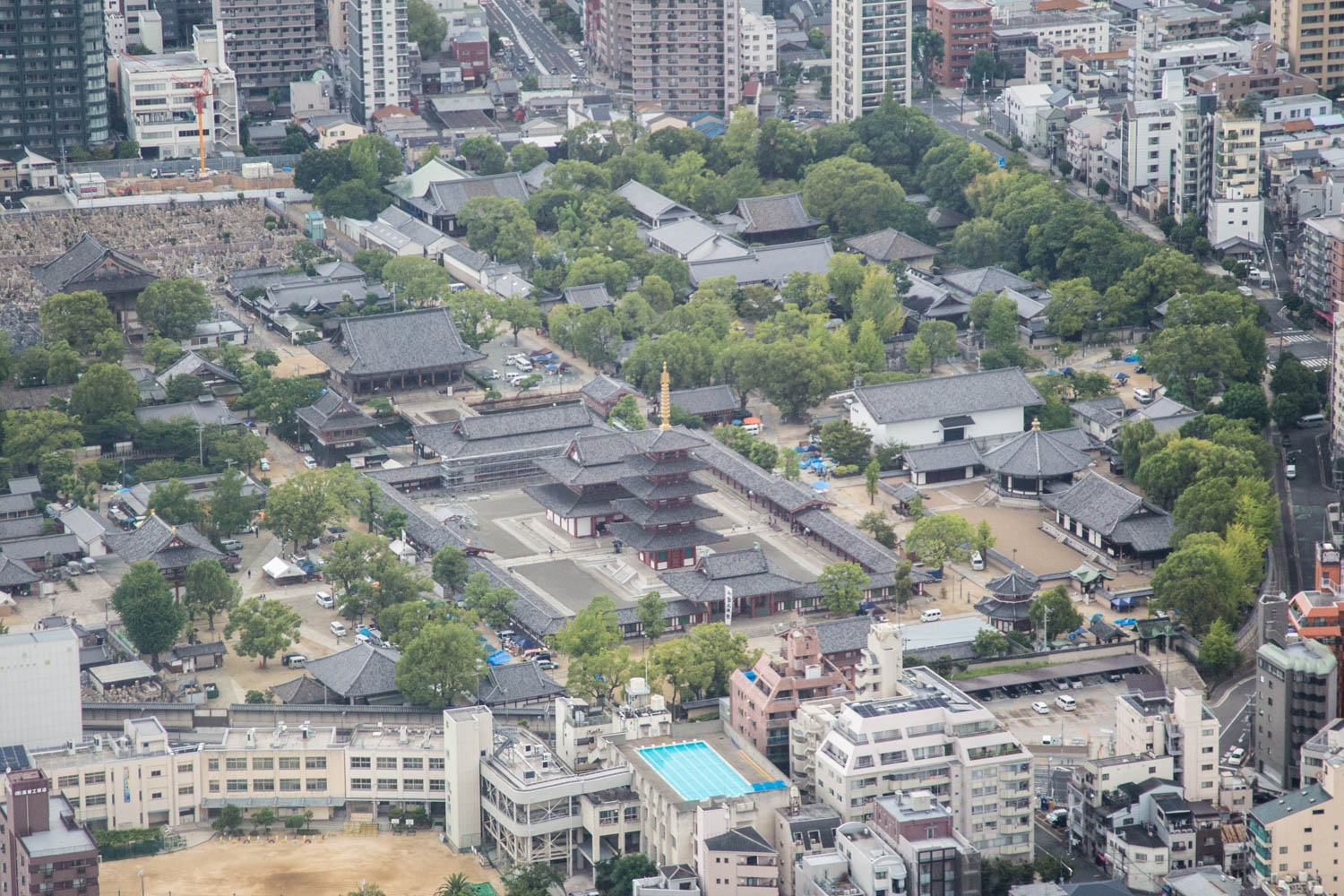 View of Shittenoji Temple where I was at earlier, from the observatory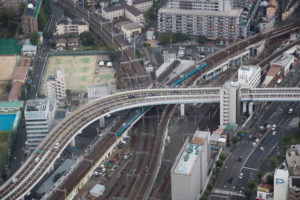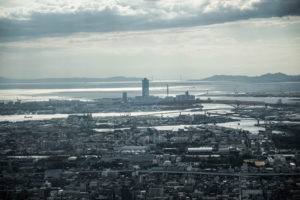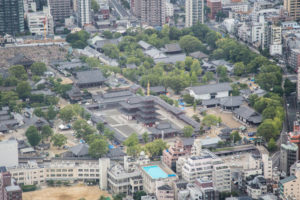 The trip up to the observatory was actually pretty awesome. The back of the elevator was transparent and there were lights on the elevator shaft so there were light streaks as we went up. All the kids were pretty awed by it while I was just being entertained by the kids' reactions.
At the top was a 360 deg view of the entire city, basically the standard observatory view. There were signs littered everywhere indicating buildings in that direction, and how far away it is. Pretty useful for nearby sights like Shittenoji Temple and Tsutenkaku Tower, but pretty much useless when they're so far they're basically invisible, especially when there are buildings surrounding it. I had a pretty good time watching trains running under me though.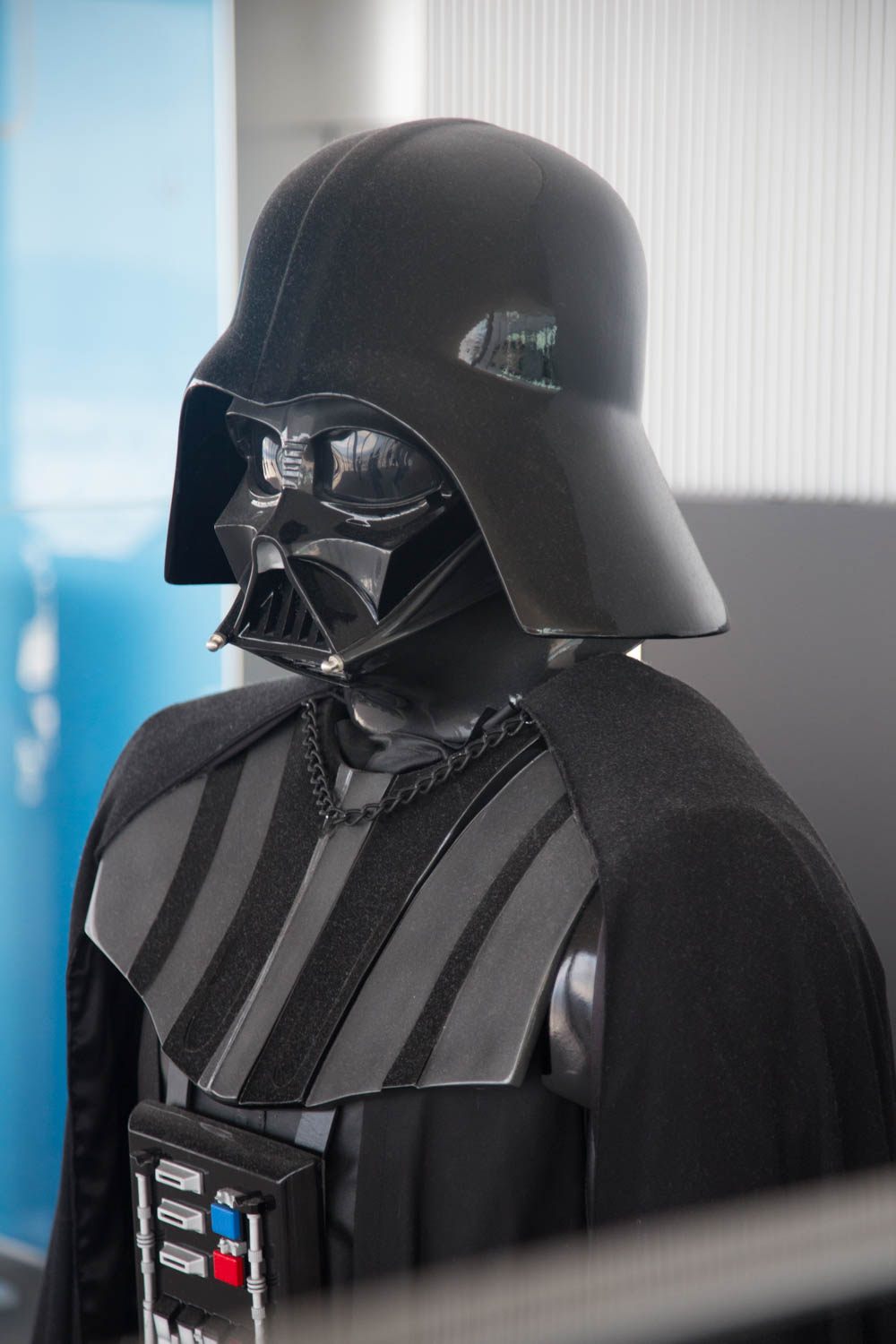 A wild Darth Vader appeared
Down at the entrance of the observatory they had this museum showcasing some Star Wars stuff, so being the geek that I am I just had to enter, never mind it costs $20 for something I'd probably spend less than an hour in (it looked pretty small). No wonder they had that Darth Vader figure standing in the middle of the observatory. The exhibition was called "Star Wars Visions" and contained mainly artwork and props. Unfortunately no photos were allowed and staff were everywhere so I can't sneak any photos, but the artwork were really cool, there were a couple depicting the princesses drawn in very classical style which were damn awesome. You can see a few of the artwork on Google by searching "Star Wars Visions", really worth a look.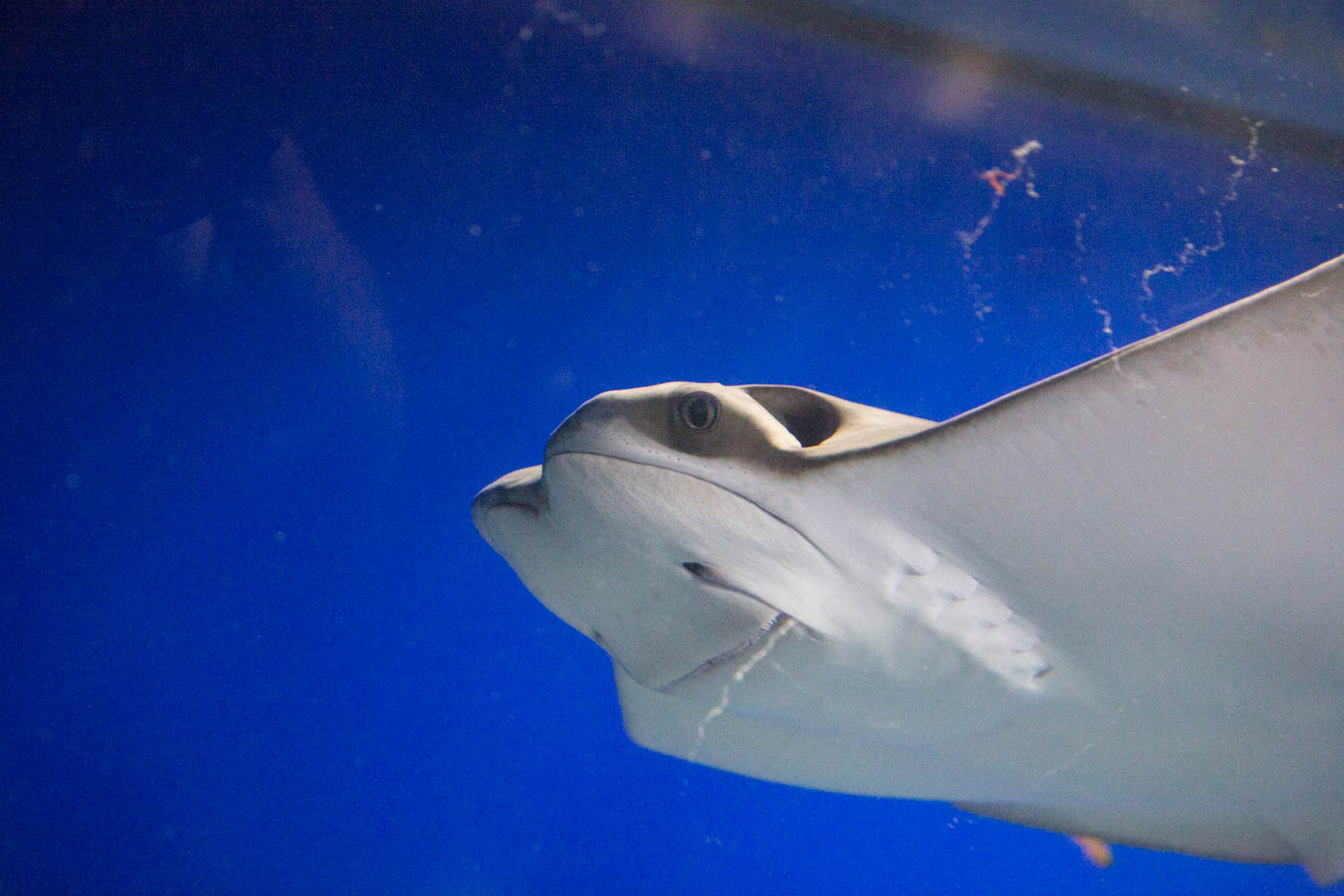 Probably my only good shot of a marine animal
In what was an unexpectedly busy day for me (so much for resting), I rounded it off by travelling a bit further this time to the Osaka Kaiyukan Aquarium. To put it really simply, the place is huge. Even from the outside it's probably about 8 storeys tall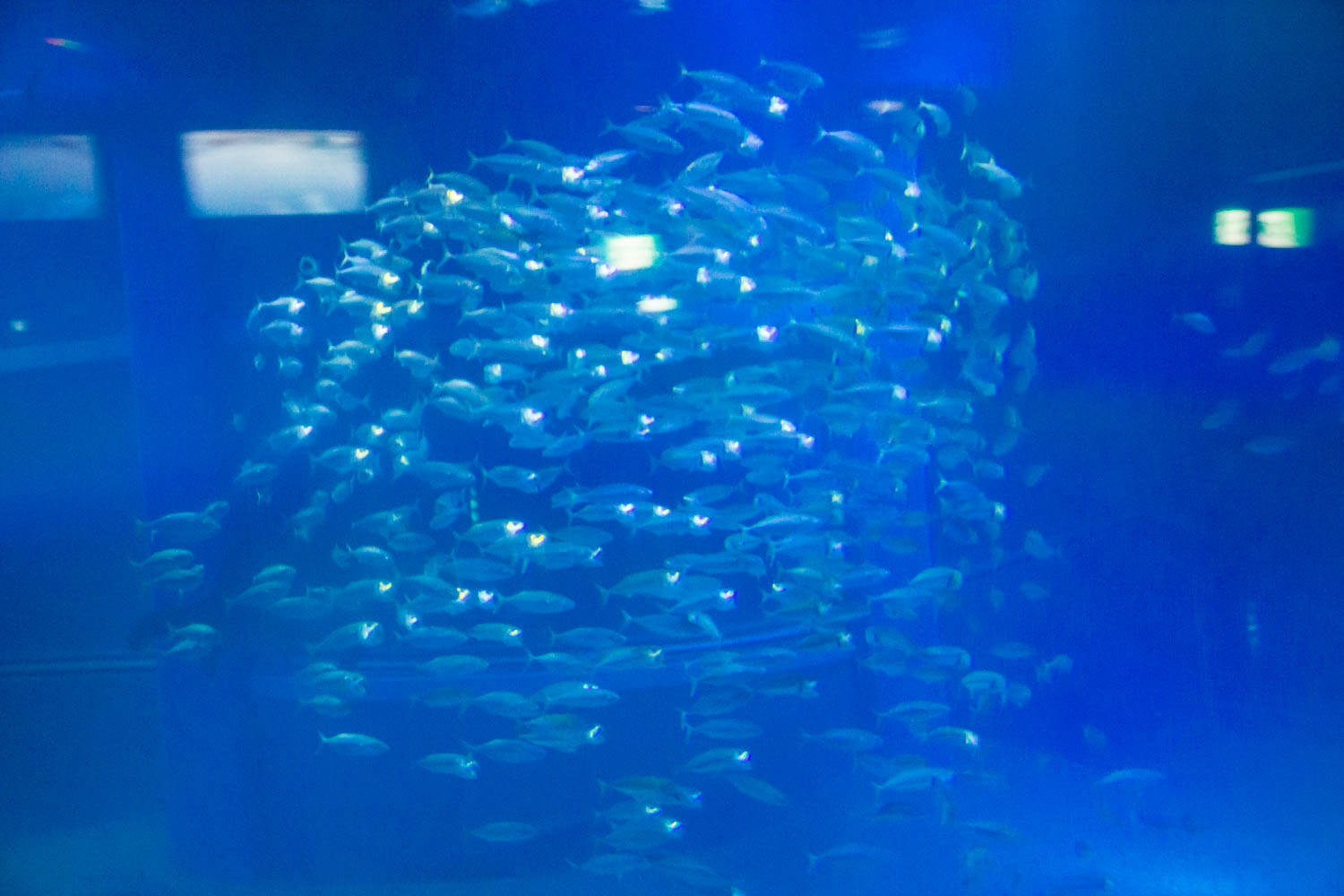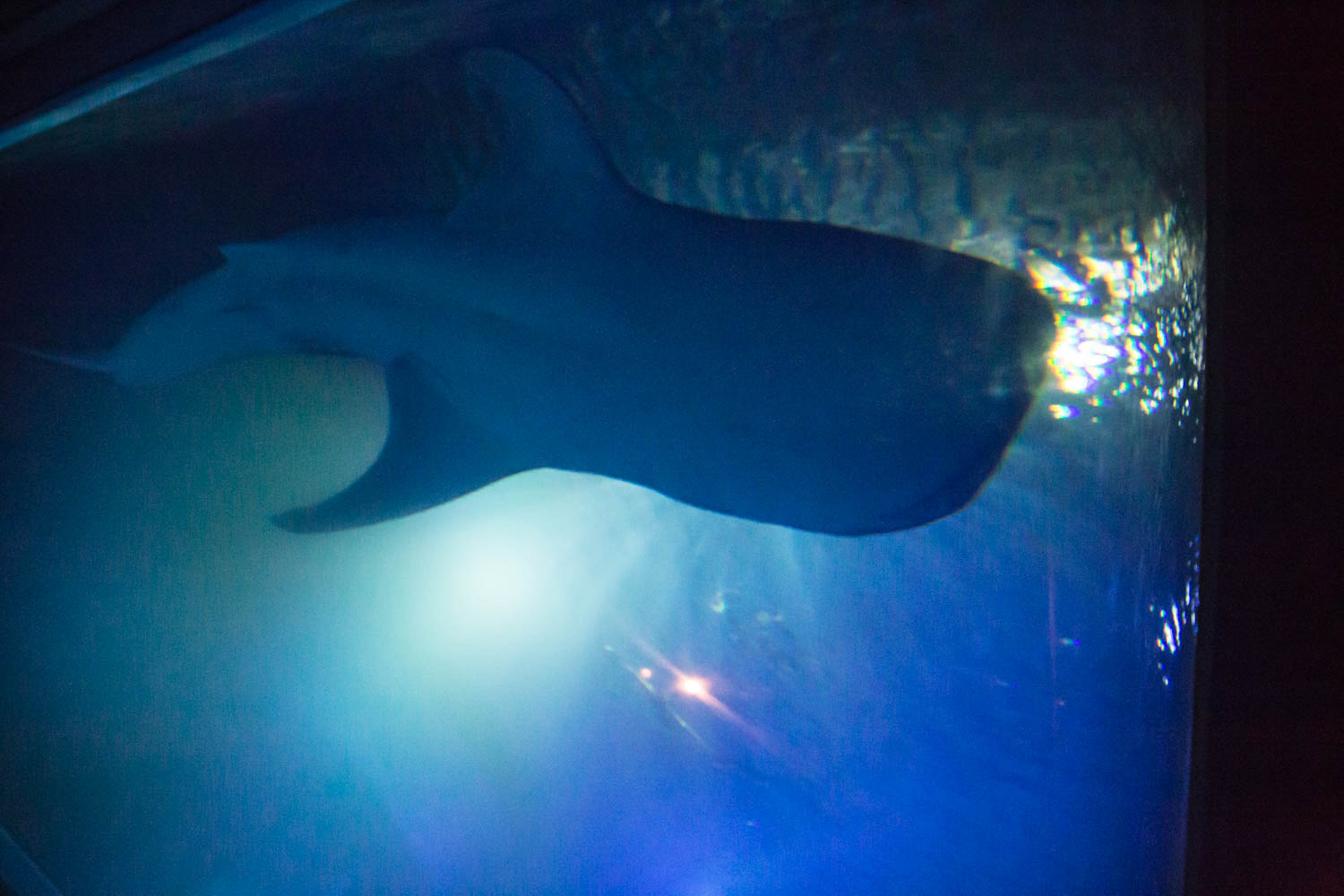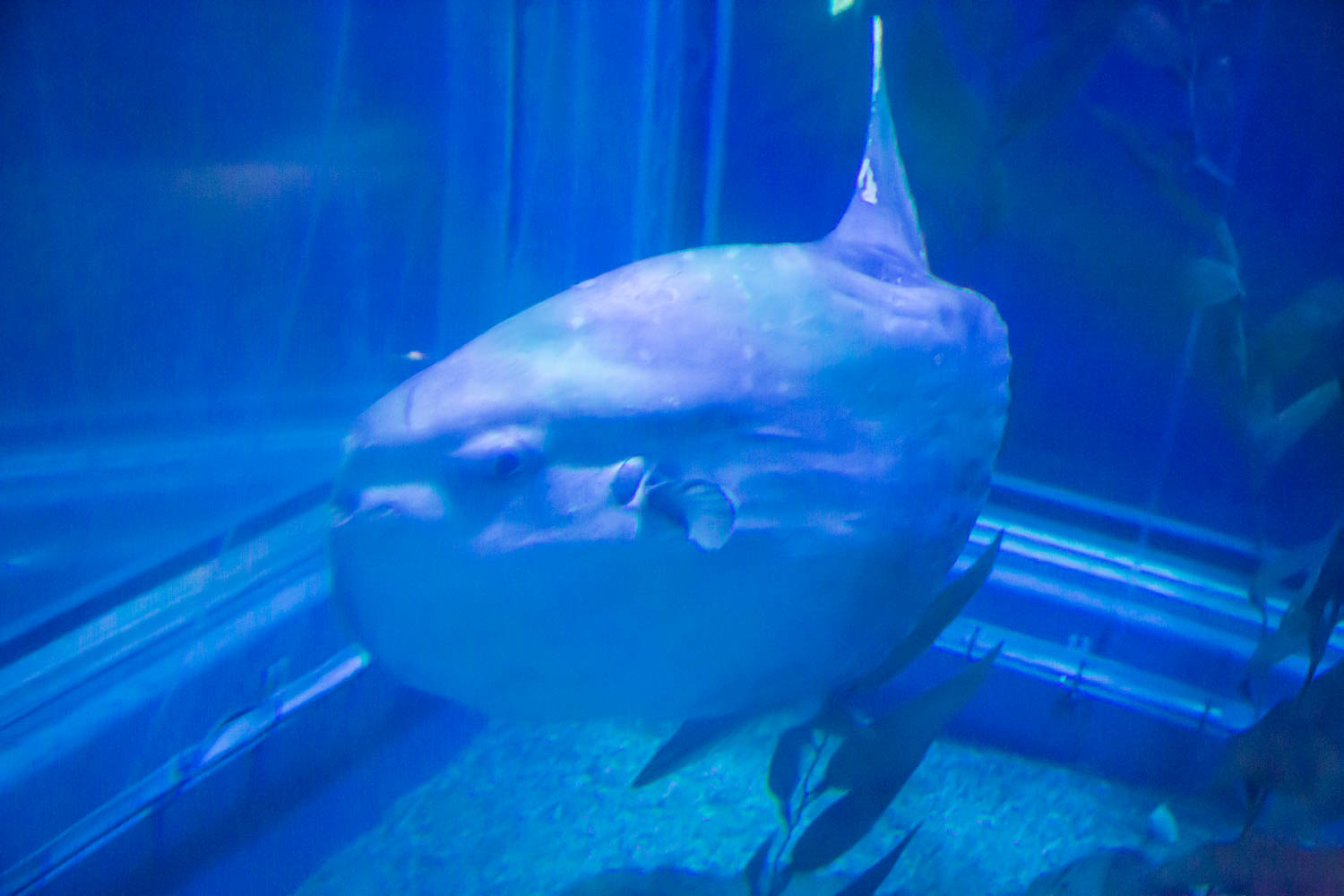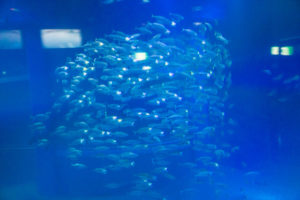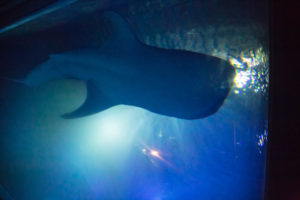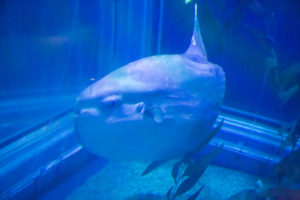 As expected of any aquarium, the huge central tank with a boatload of all kinds of fishes is the main attraction. I don't really remember how high it is, I just remember the route basically circled this tank quite a few times as I went downwards. Also some other stuff included the sunfish, or mola-mola. That was something I wasn't expecting to see in there. It was crazy dark in there though, my camera's low light capabilities were really severely tested. Actually, scratch that, most of my photos ended up really shitty.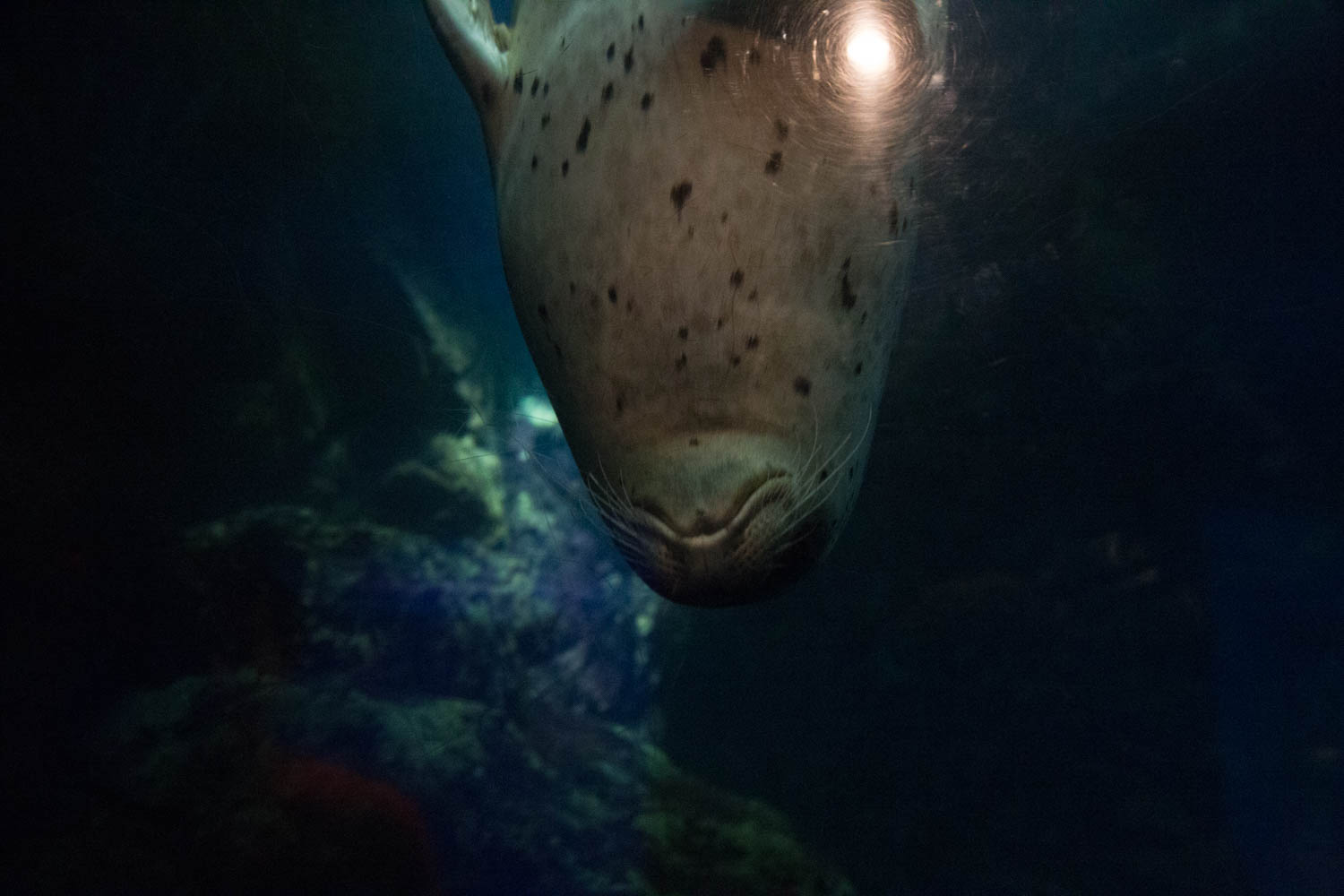 Otters just having fun!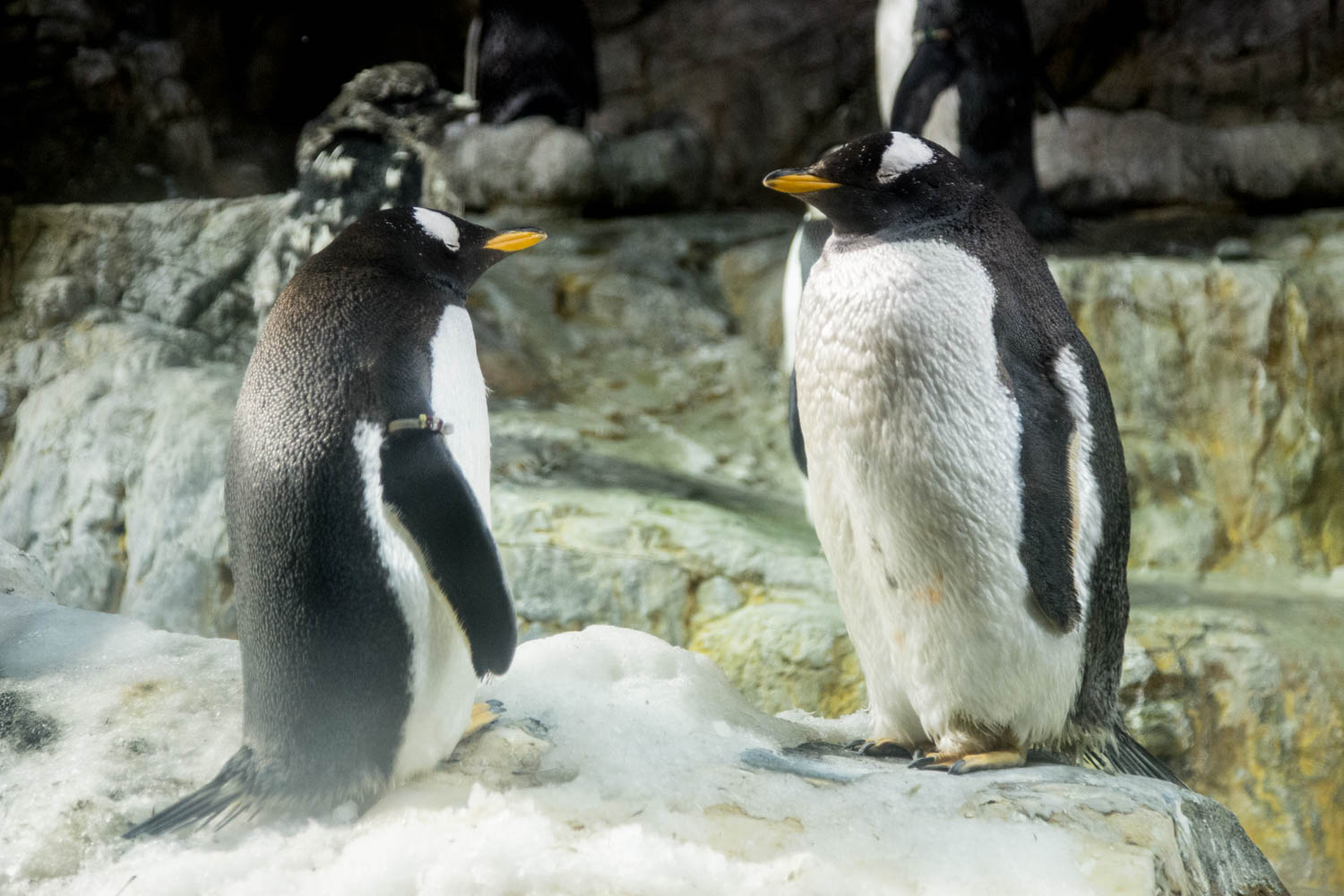 Penguins, probably my most favourite animal in the world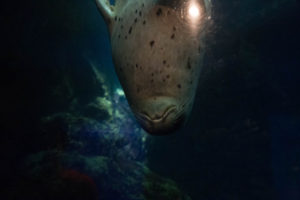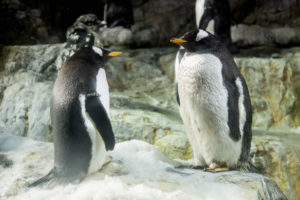 Other than fishes, there were also a couple of exhibits with otters, penguins and at least one type of bird, can't remember which. I actually had quite some fun with the otters, their exhibit stretched a couple of floors down so I managed to catch them swimming and literally toy with them a bit, as seen on my Instagram.
Yep, see what I did there? Lol. Anyway, towards the end there was also (pretty unexpectedly) a petting area with stingrays. Why of all things would you wanna pet a stingray I have no idea, but it seems to be popular with the kids, and even a couple of adults.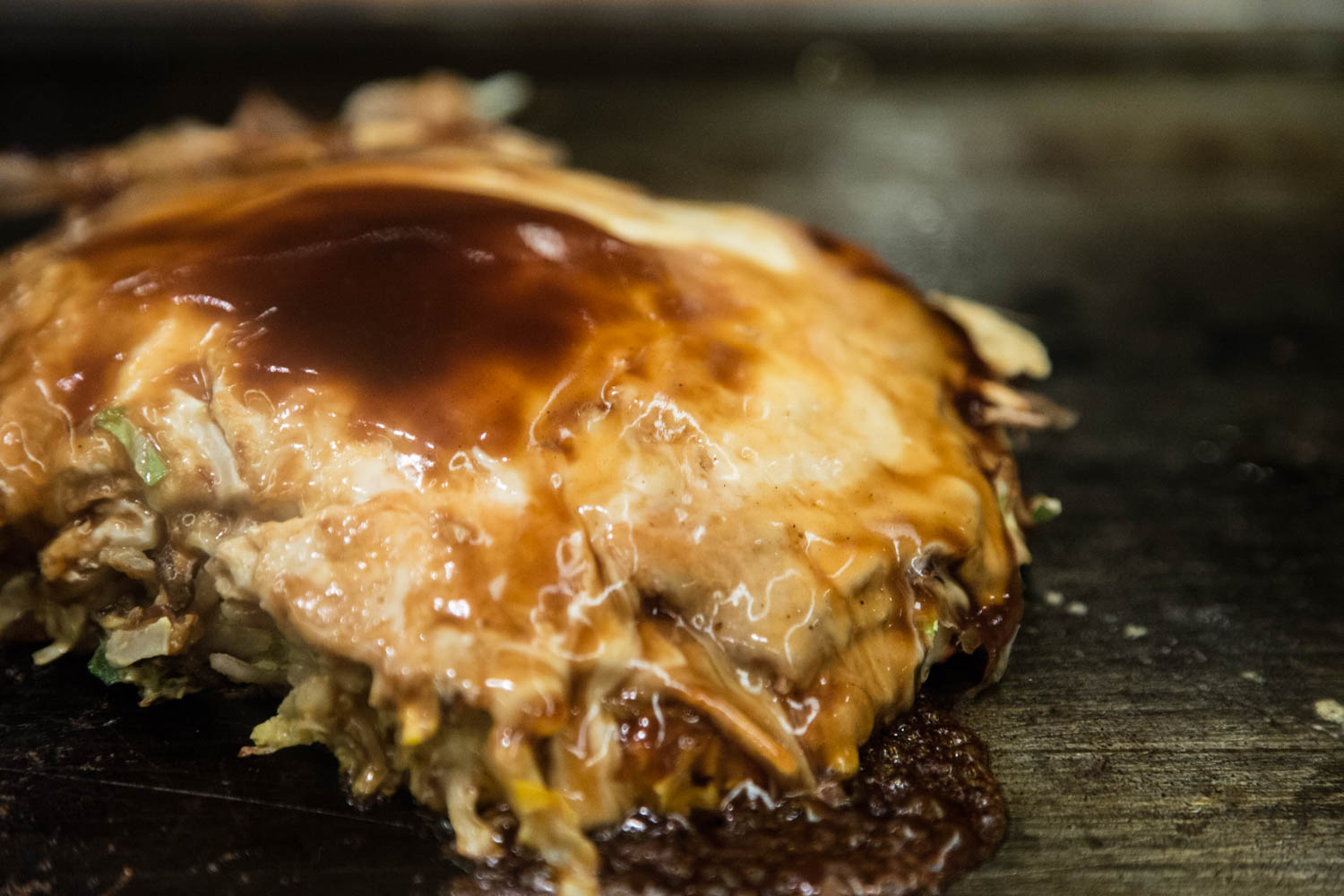 Ended off the day with some Osaka-styled food I always wanted to try – okonomiyaki. OK technically I've eaten it once, but that was at Hakone at a street stall which cost 500yen per plate. This was the real deal, made fresh on a grill right in front of me. And it tasted damn awesome. I suck at descriptions so I'm not going to attempt to describe how awesome it is. Probably the only negative part is it fills the stomach really fast, maybe because of the flour, though not that it stops me from finishing it up.
Day 4: Shopping Day!! Shinsaibashi / Dotonbori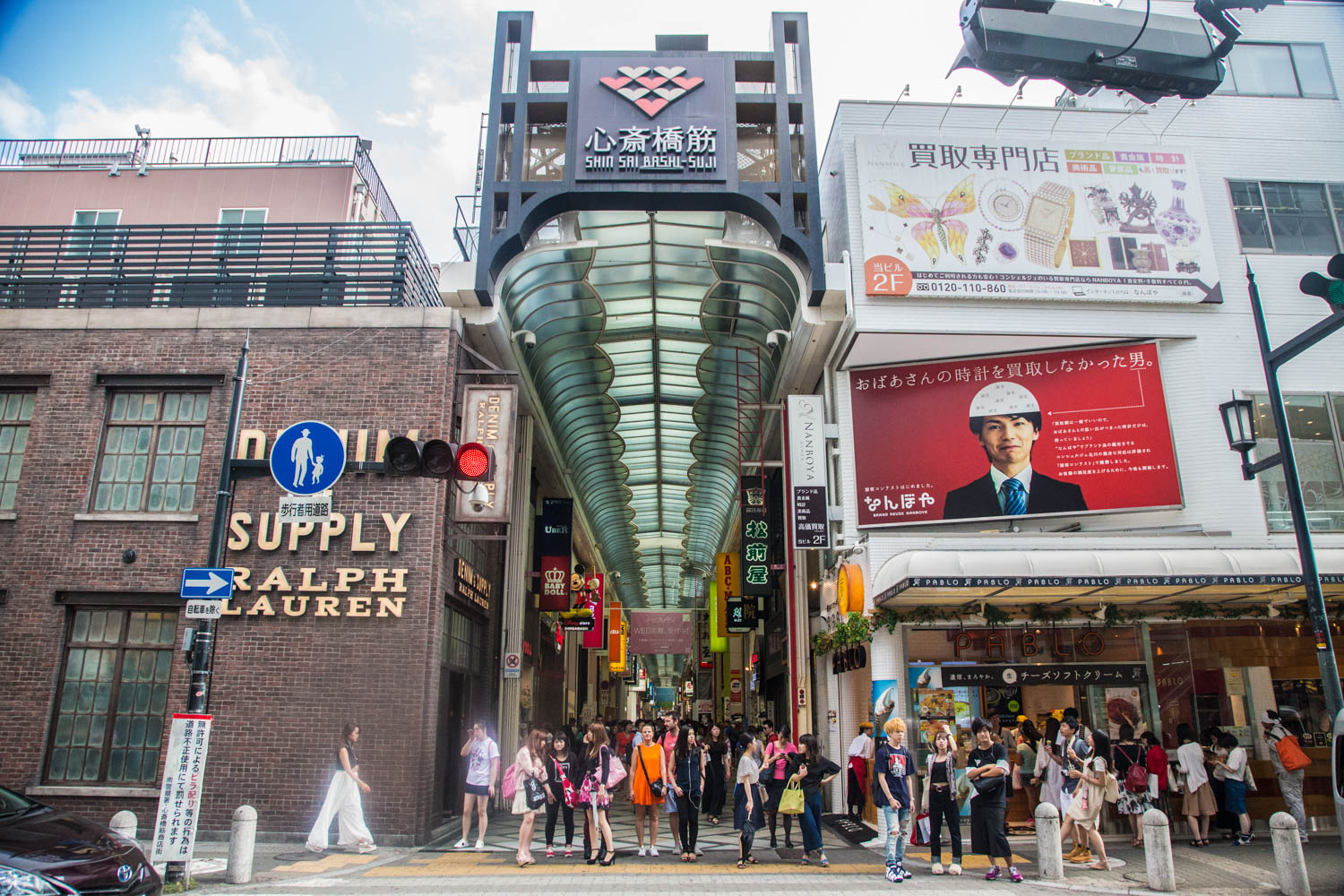 One of the many entrances to Shinsaibashi
Actually no, there wasn't any actual shopping, I just visited the main shopping streets of Osaka, Shinsaibashi and Dotonbori. I actually spent the morning exploring a small area called Denden Town, which is what I feel a poor man's version of Akiharabara. That area is supposed to have some anime-related stuff, but there actually wasn't much, so I didn't really take any photos. I have a couple of videos though, highlights include this super retro game shop selling really old school console games, as well as a Gundam shop where literally everything was on discount, was really tempted to get something from there. I tried to upload gifs of the videos though, but it didn't display so I'm assuming it doesn't work.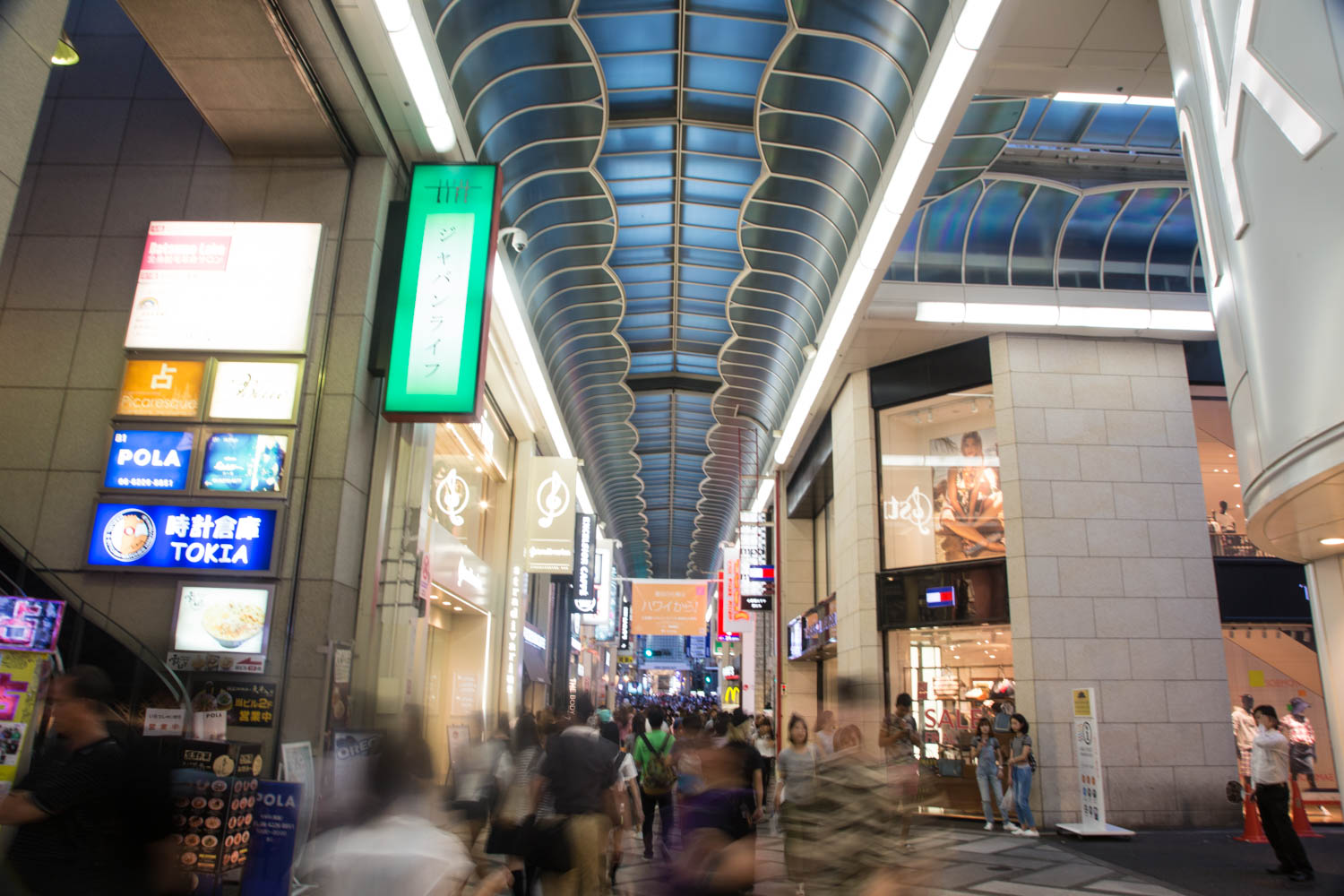 Inside of the shopping street, full of people.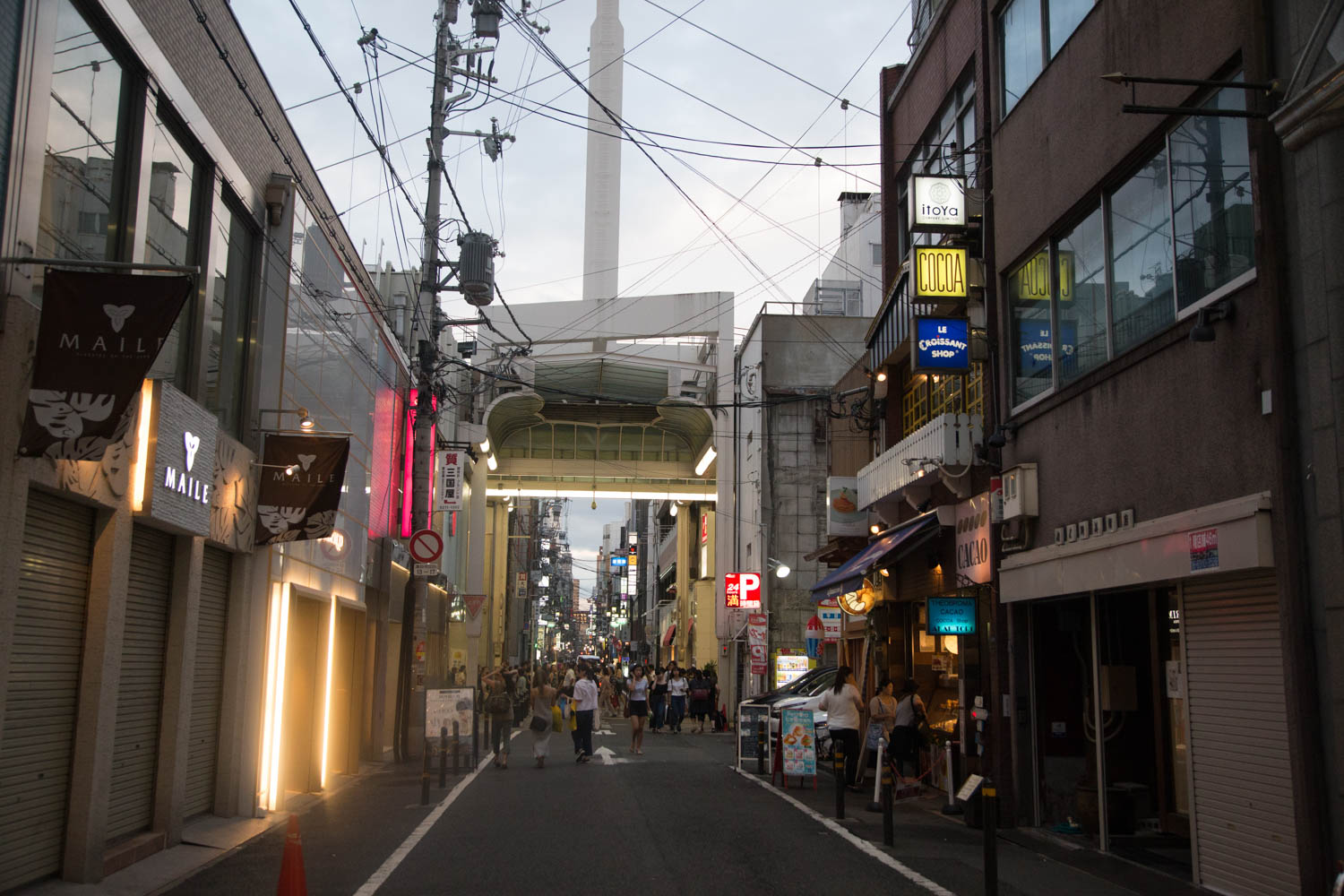 Just one of the countless side entrances into the main shopping area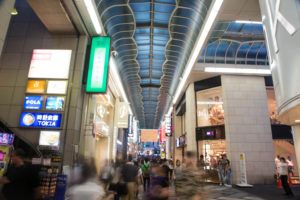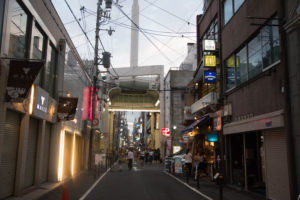 The main shopping area itself was really long, probably about 30 minutes of non-stop walking from the start to the end, so obviously it's going to be much longer if there's going to be actual shopping done. There are also shops along the outer perimeter, those along the main road seemed to be more of the higher class shops like Gucci IIRC, while the main shopping street itself seemed more affordable with shops like H&M and the like. I'm not really a shopping guy though so I was basically there just to check out the area. There were a few interesting shops along the way though, I remember there was one Calbee shop where they were selling snacks at the front and candy inside, and they had this big "chandelier" made of giant gummy bears. I doubt those are edible, imagine the ants real ones would attract, but it was an interesting design (at least for me).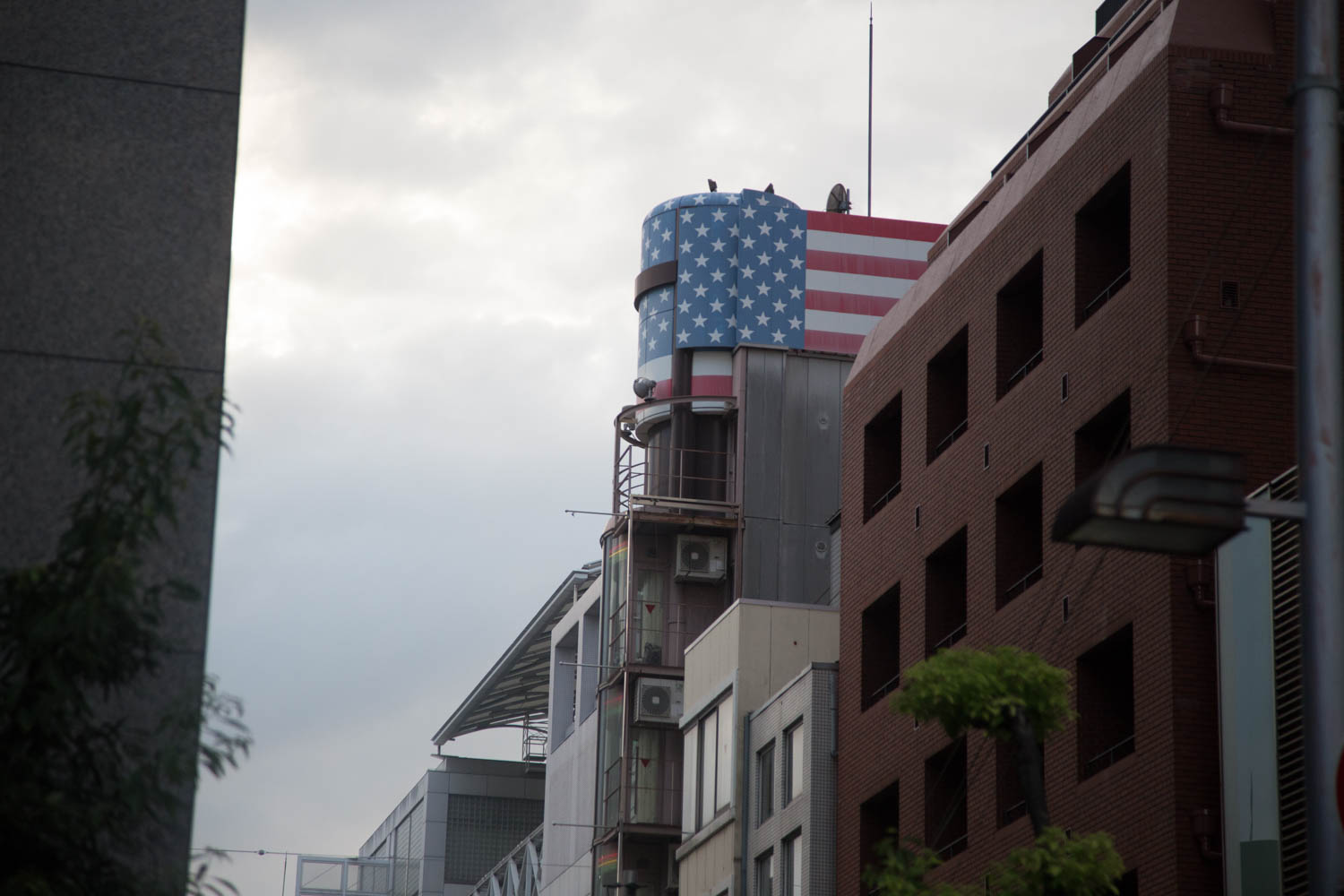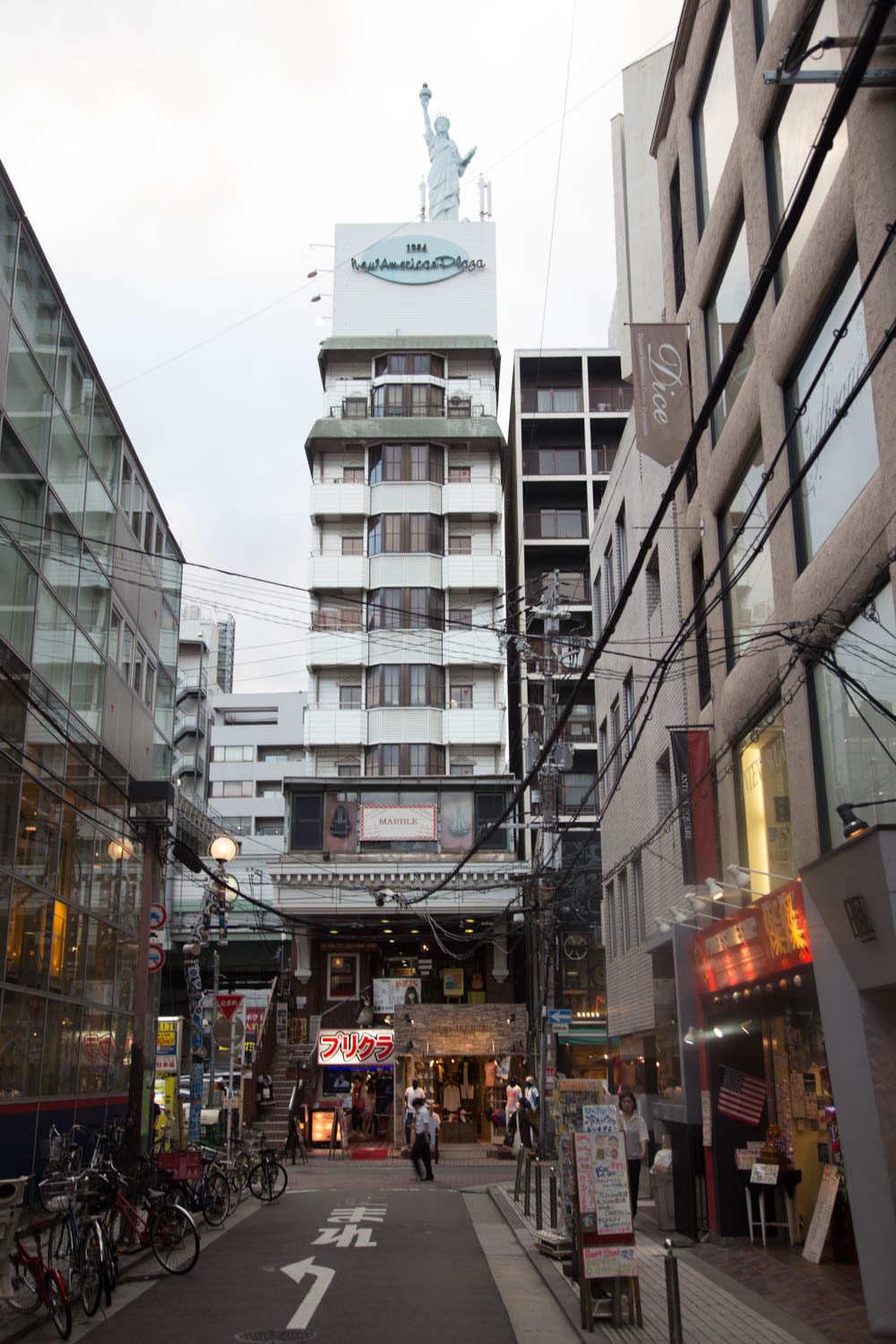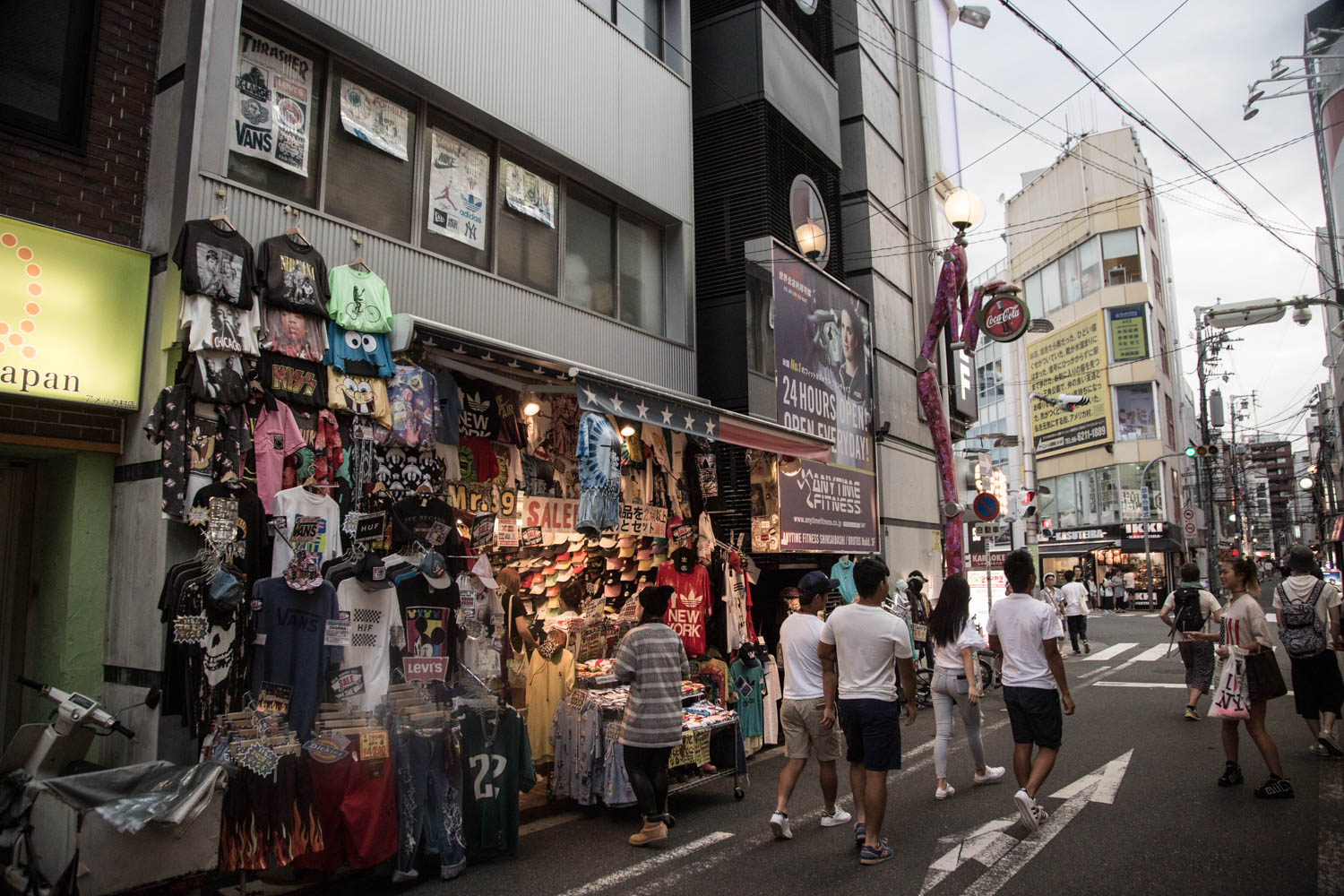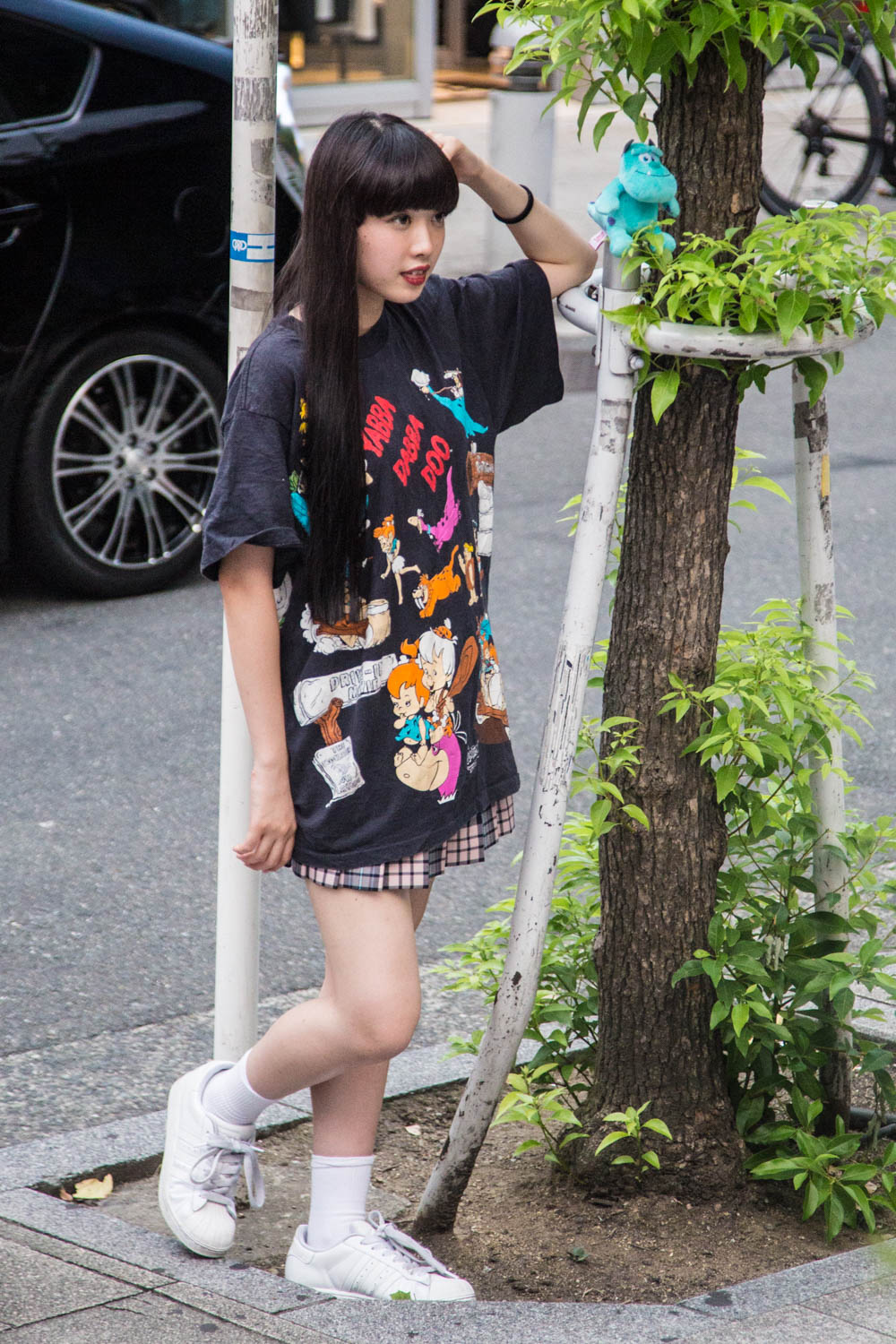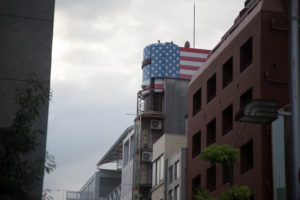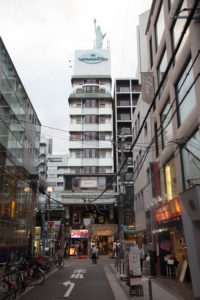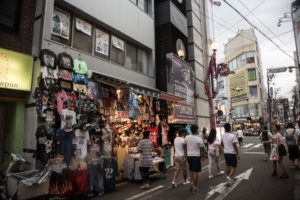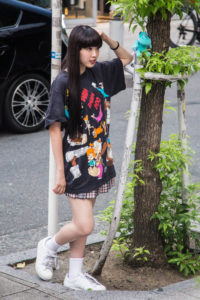 Just nearby was Amerikamura, which as the name suggests sells a lot of American street fashion and stuff, and complete with American flag and mini Statue of Liberty. It's not that far away, but it was a bit troublesome to find since there aren't any signs pointing to it. It's a pretty cool area with the deco, and apparently it's really popular with the youngsters. Even on a weekday evening the park there were filled with teenagers just basically hanging out, one of them was even doing a small photoshoot with her friend.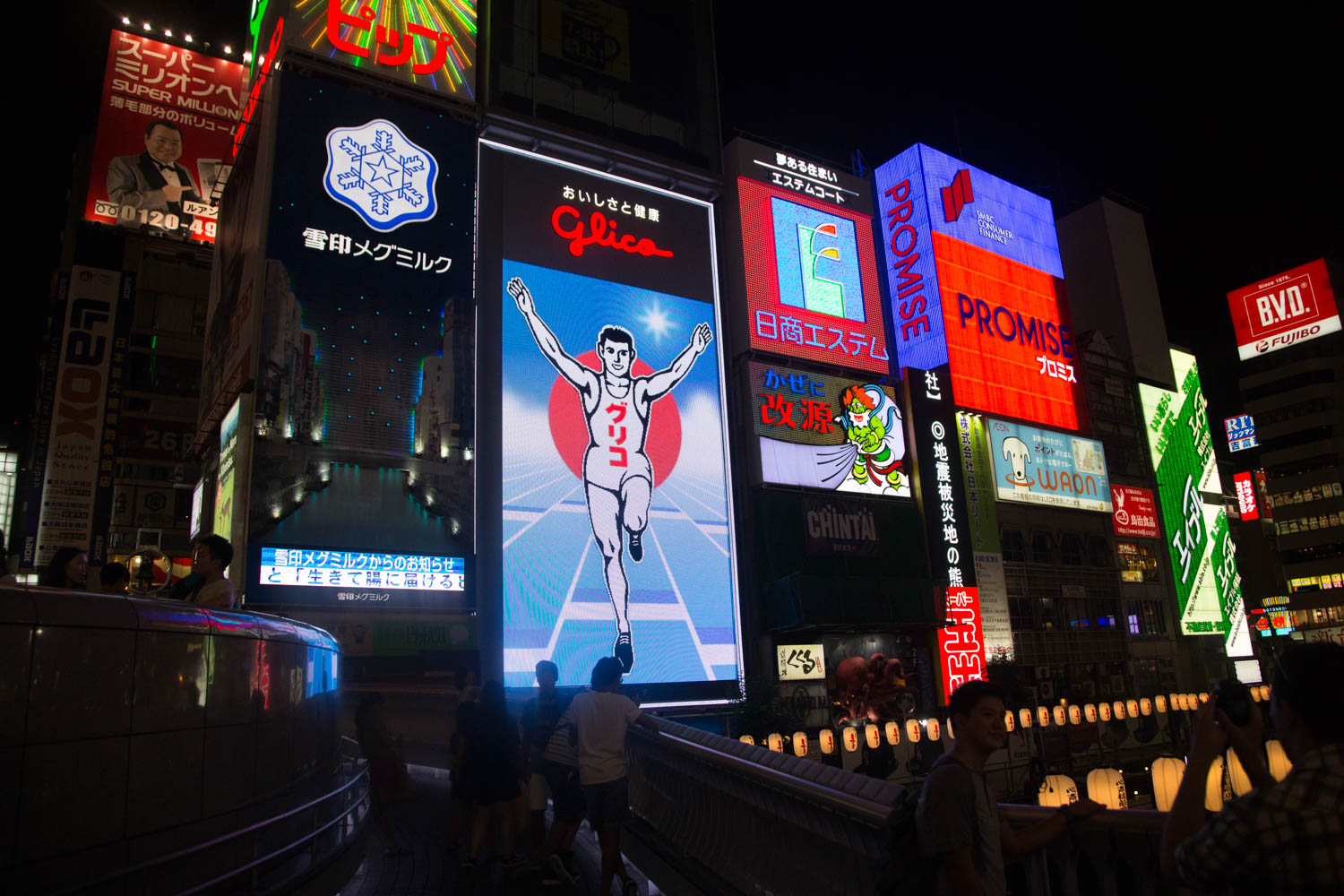 The famous Glico sign. And everyone around the area imitating it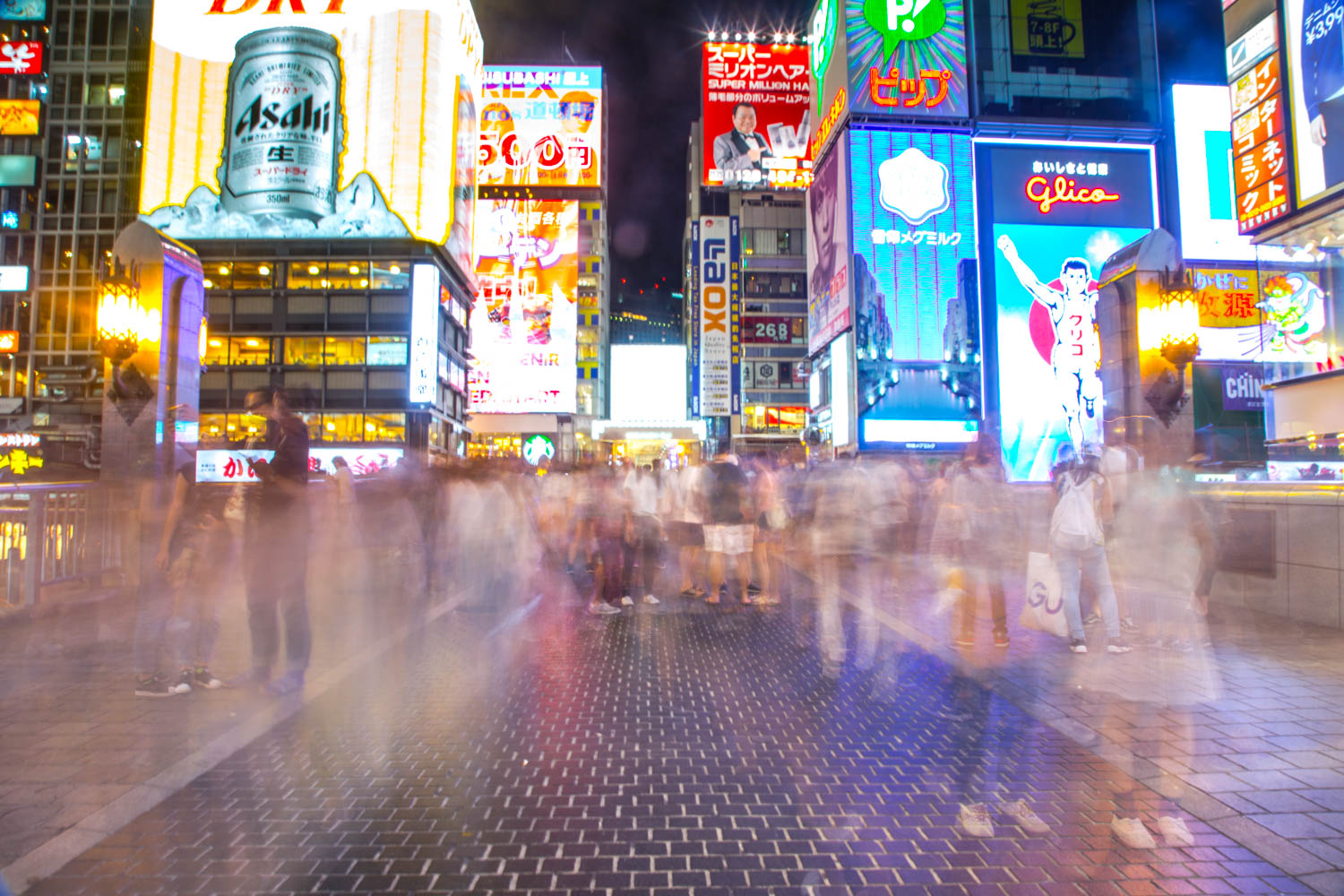 And the crowd passing through the area.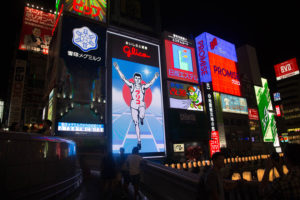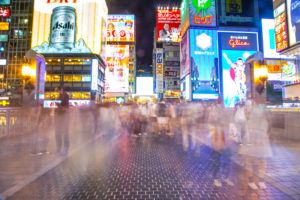 Ending off the day at Dotonbori, Osaka's food heaven. I deliberately made the decision to visit this place at night because this place is the most vibrant when all the lights come on at night, and was not disappointed. The showpiece was definitely the famous Glico sign, I was actually kind of surprised by the animated background as I was expecting the signboard to be pretty static, once in a while they even change the background. All the tourists in the area were just posing for photos by imitating the guy, and all the time I was just secretly judging every single one of them XD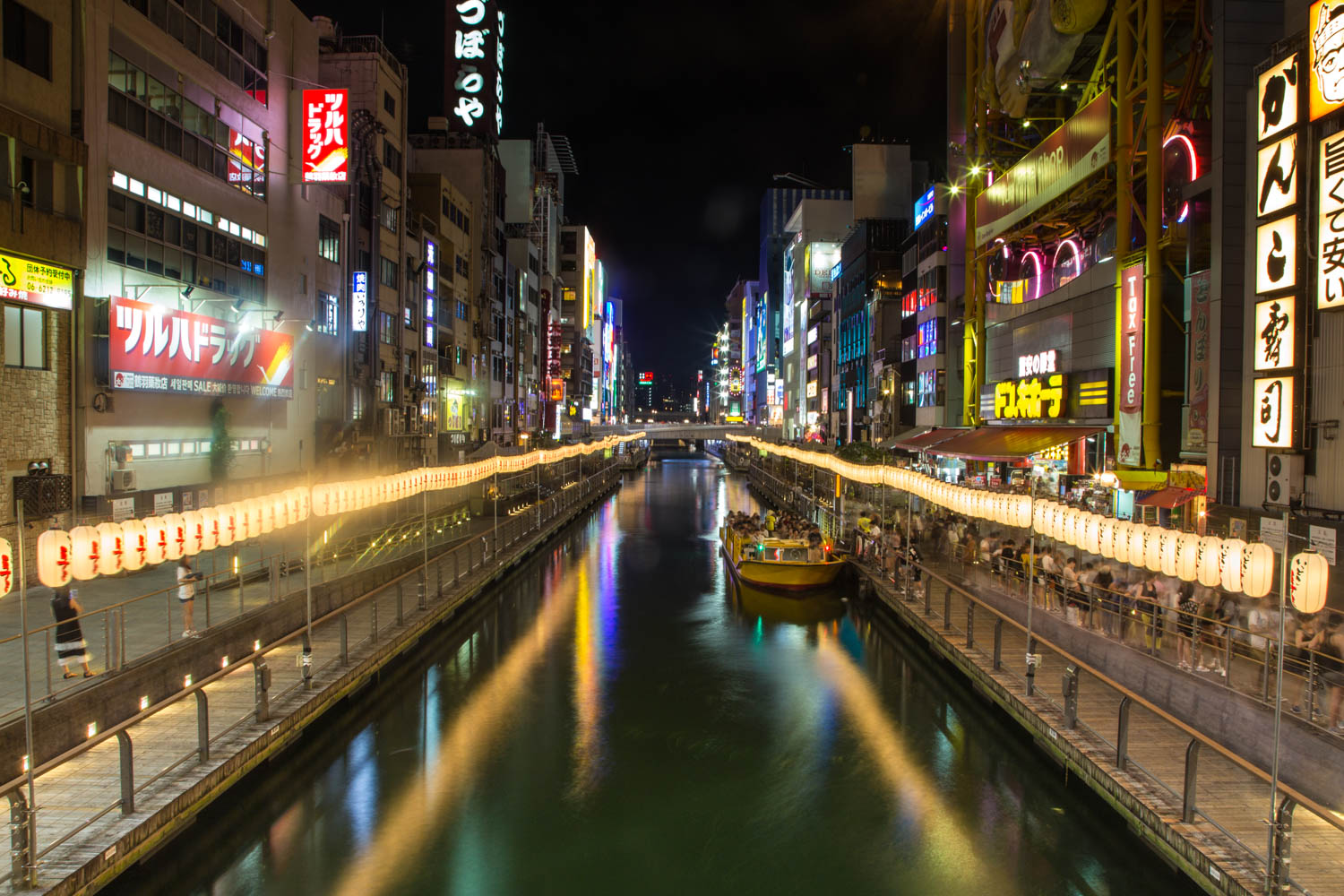 Lanterns lighting up the side of the river

Panaromic view of the lantern chain stretching along the river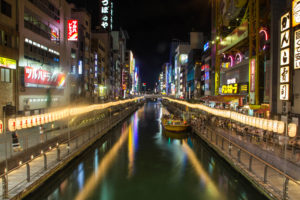 During the summer months, the river that runs along the area is decorated with hundreds of lanterns for a few hundred meters. Although the lanterns brought out the summer feel pretty well, I felt it would have been better if there was some sort of festival accompanying it to really add to the atmosphere. Maybe I chose the wrong day to visit, I don't think it's possible that such a crowded area wouldn't have any sort of festivals to celebrate the summer months.
Unfortunately I've had too much of walking to explore this place and the main Namba area in greater detail. Looks like a plan for a future trip to Osaka.
Day 5: Cup Noodle Museum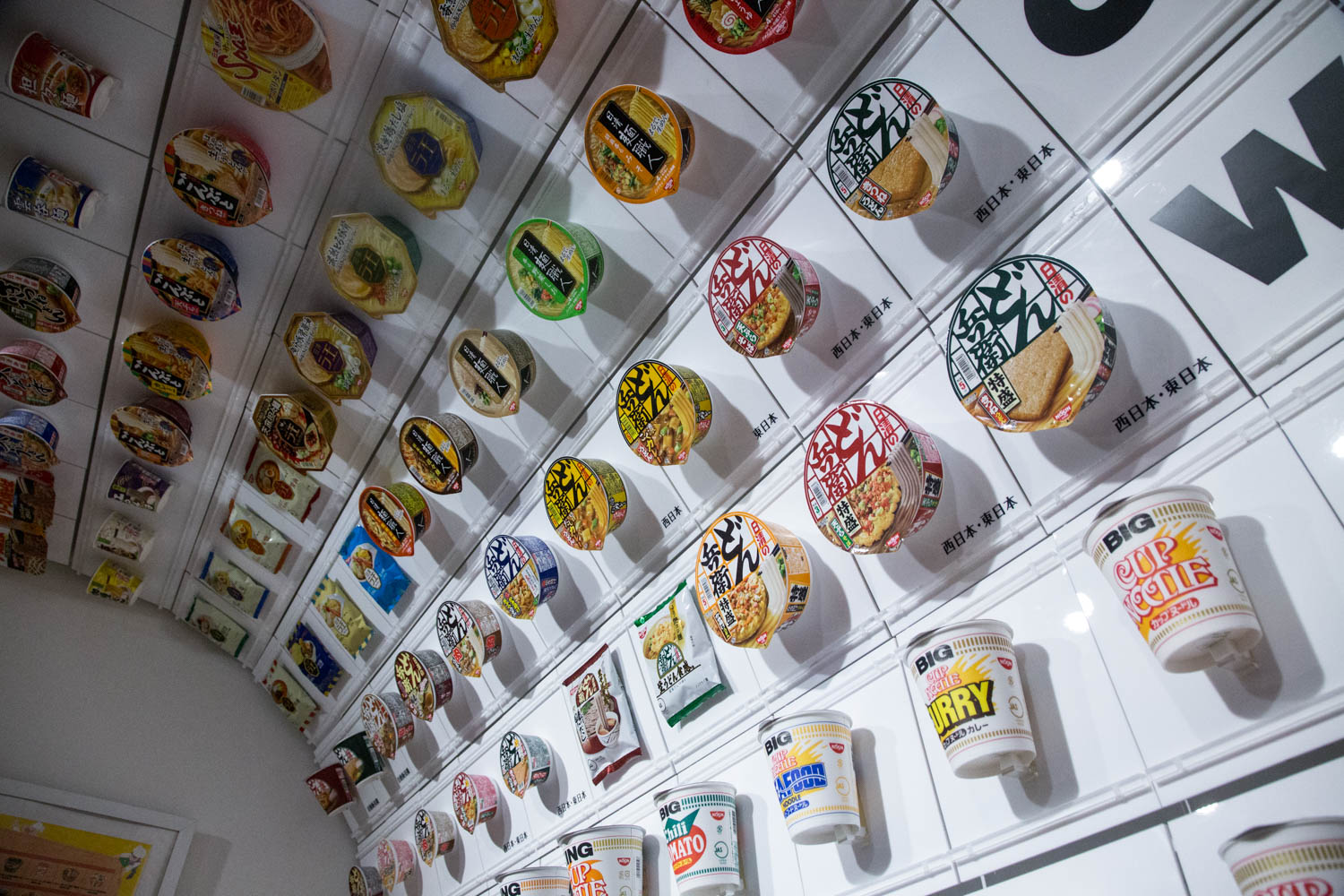 Cup noodles here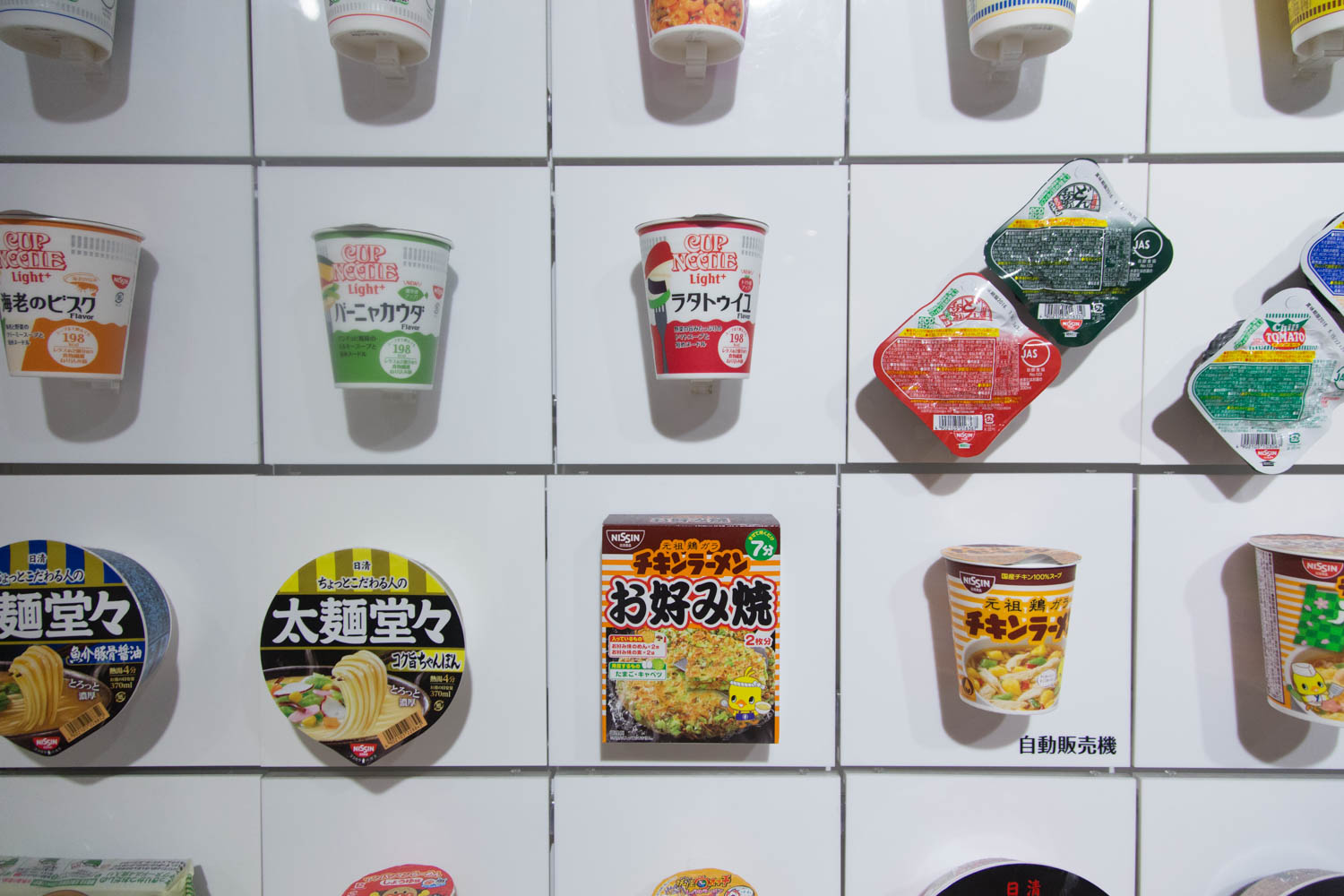 Cup noodles there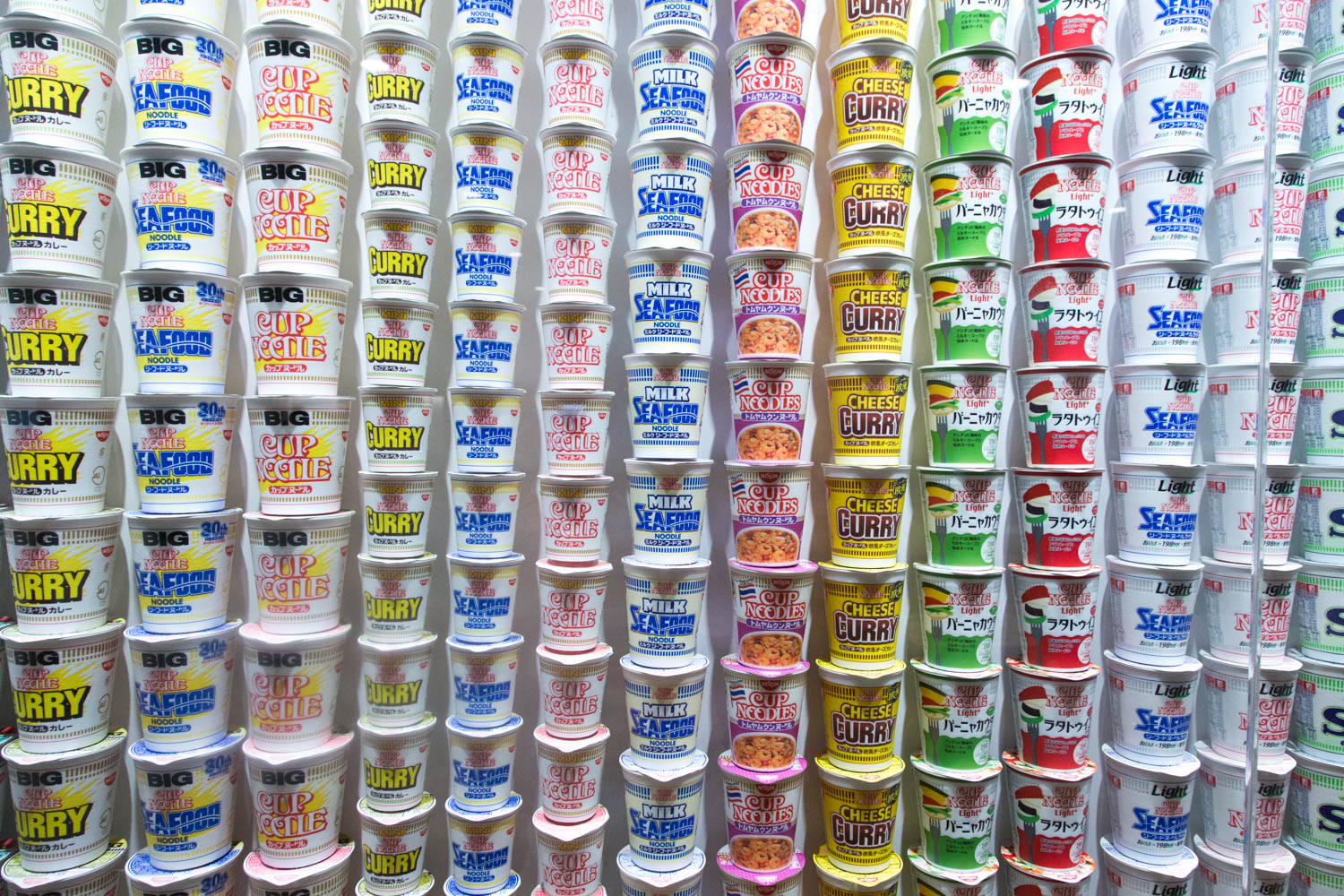 Cup noodles everywhere!!!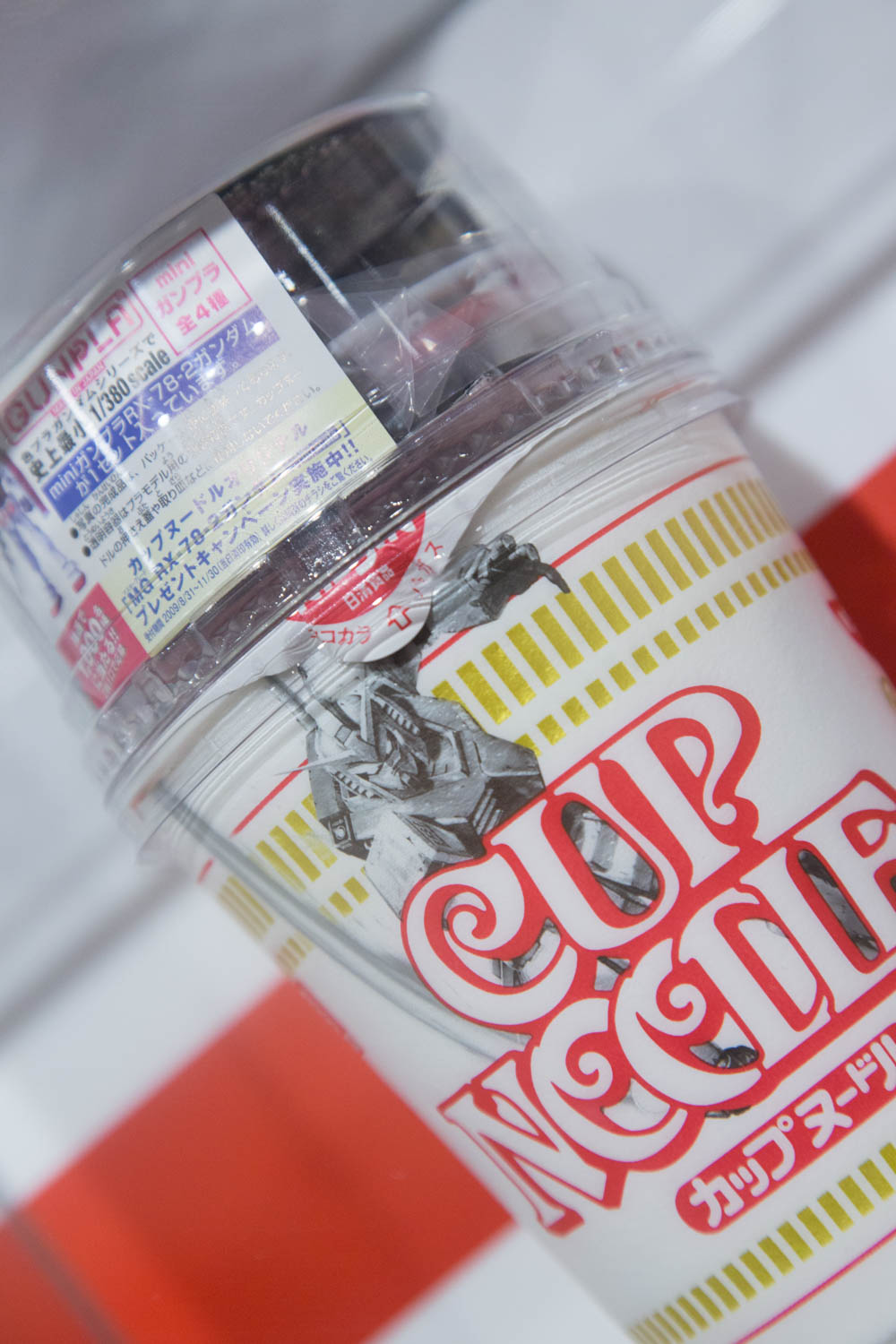 Even comes with free Gundam models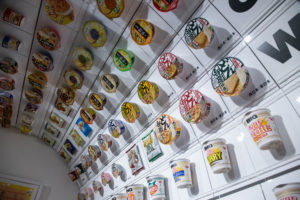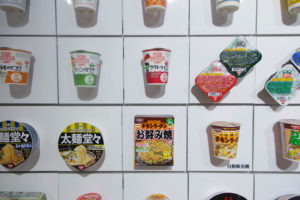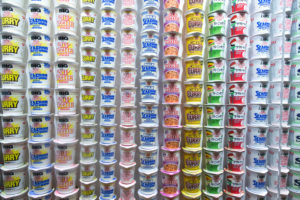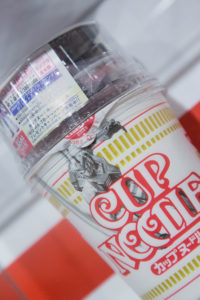 For this day I decided I had enough of the main city itself, so I made the journey further out to the Cup Noodle Museum. Yep, my favourite midnight snack has its own museum in Osaka, and it's free entry!!!
Yep, mountains and mountains of cup noodles everywhere. If all these cup noodles were actually real food I could literally just sleep in there and survive without any problem. They had this huge area where people could pay 300 yen to make their own cup noodles, which I did. Unfortunately no photos of the process, as I was busy taking videos instead. There was also an area with vending machines where people could buy cup noodles, which I did and left me feeling kinda ripped off when I saw the prices in supermarkets.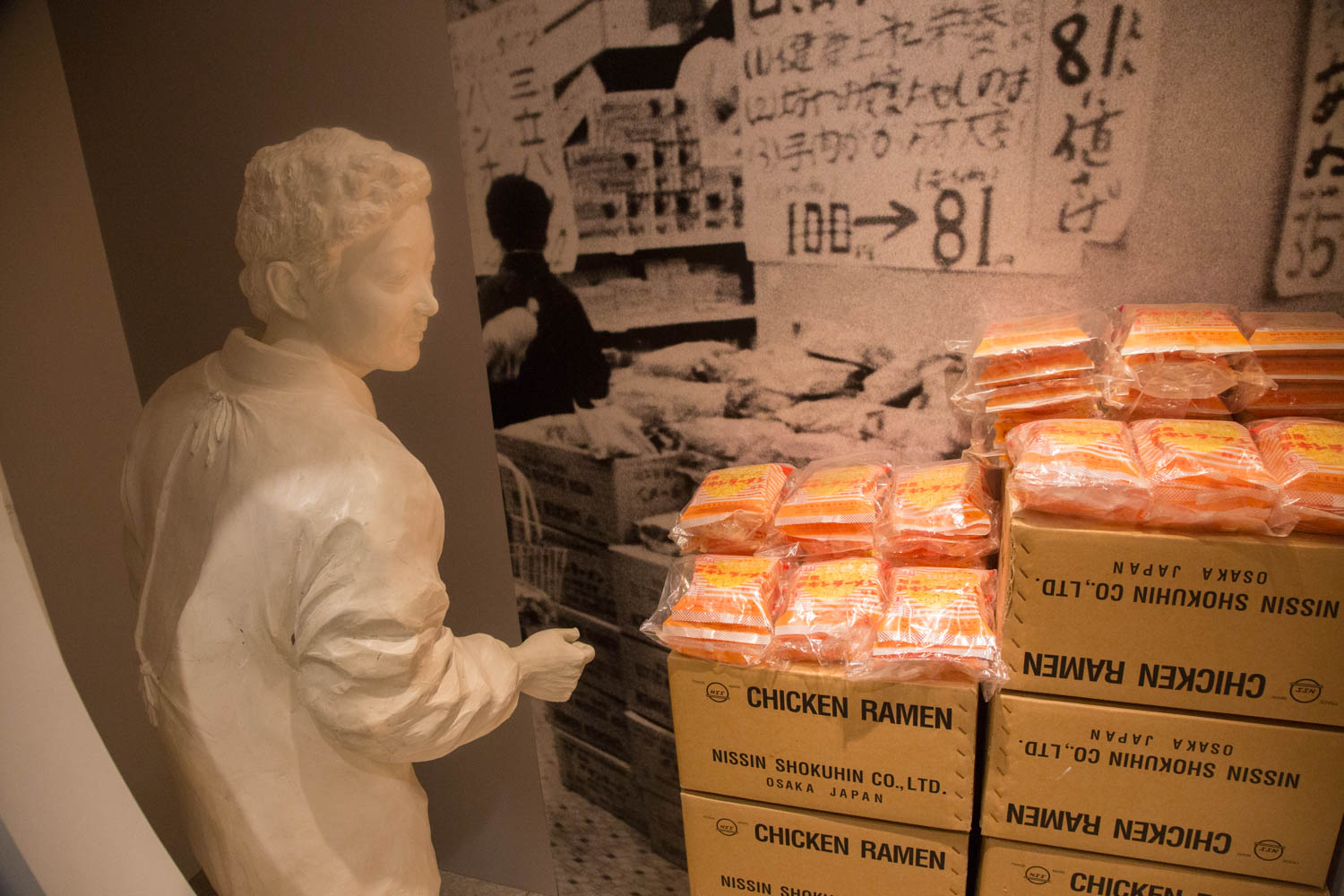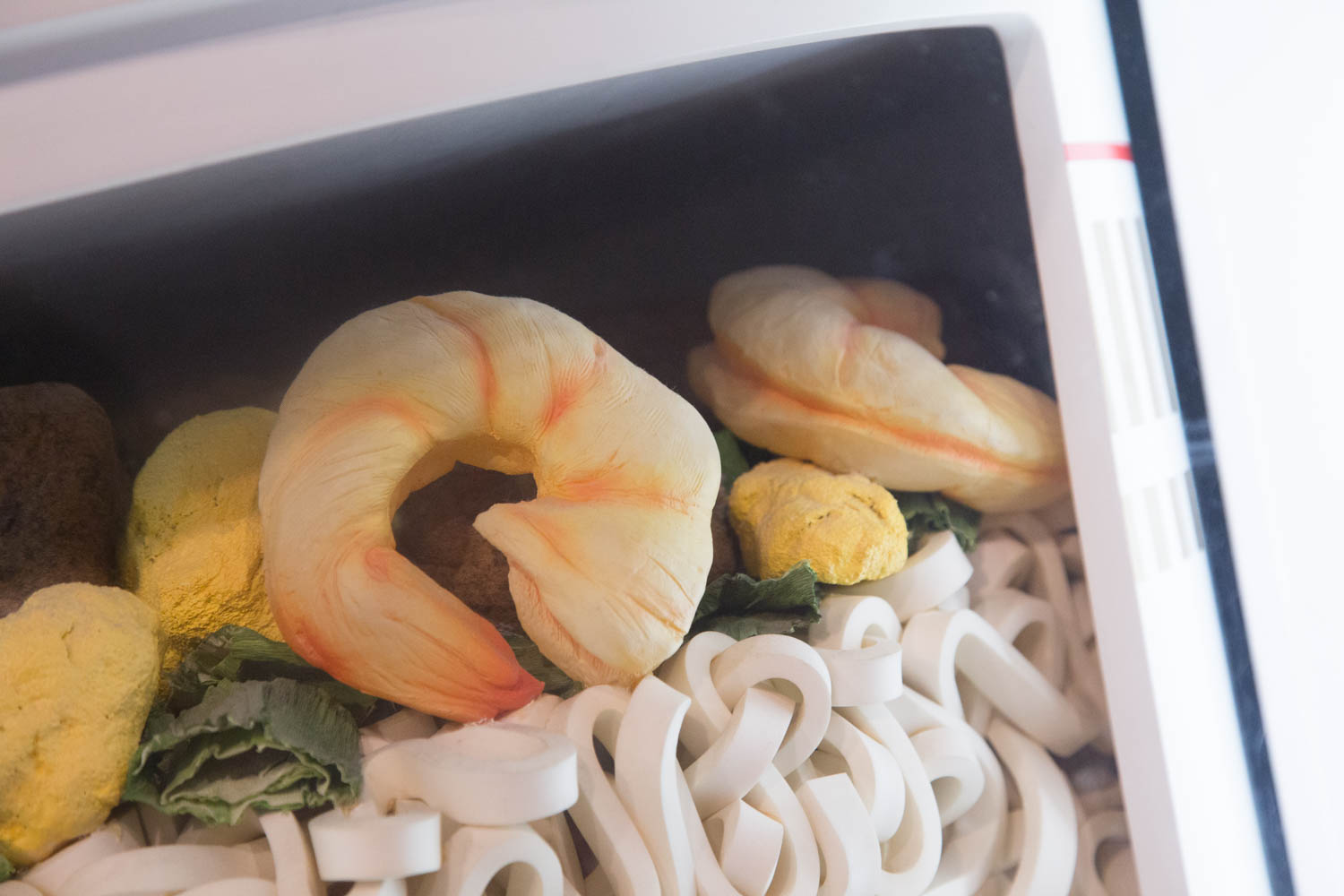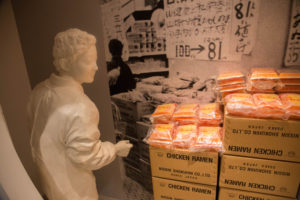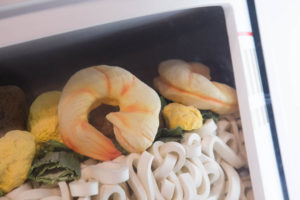 And of course, the obligatory history of cup noodles exhibits. The museum itself was quite small actually, and the exhibits portion probably only stretched across a 100m wall. If this place was paid entry I would say it's not worth it, but since it's free it's actually worth a visit if there's spare time. Quite a few interesting stuff there, seeing what kind of cup noodle collabs they had in the past (a notable one was the Gundam tie-in where they gave a free Gundam model with the noodle), and of course the cup noodle design area watching how the people pack the noodles.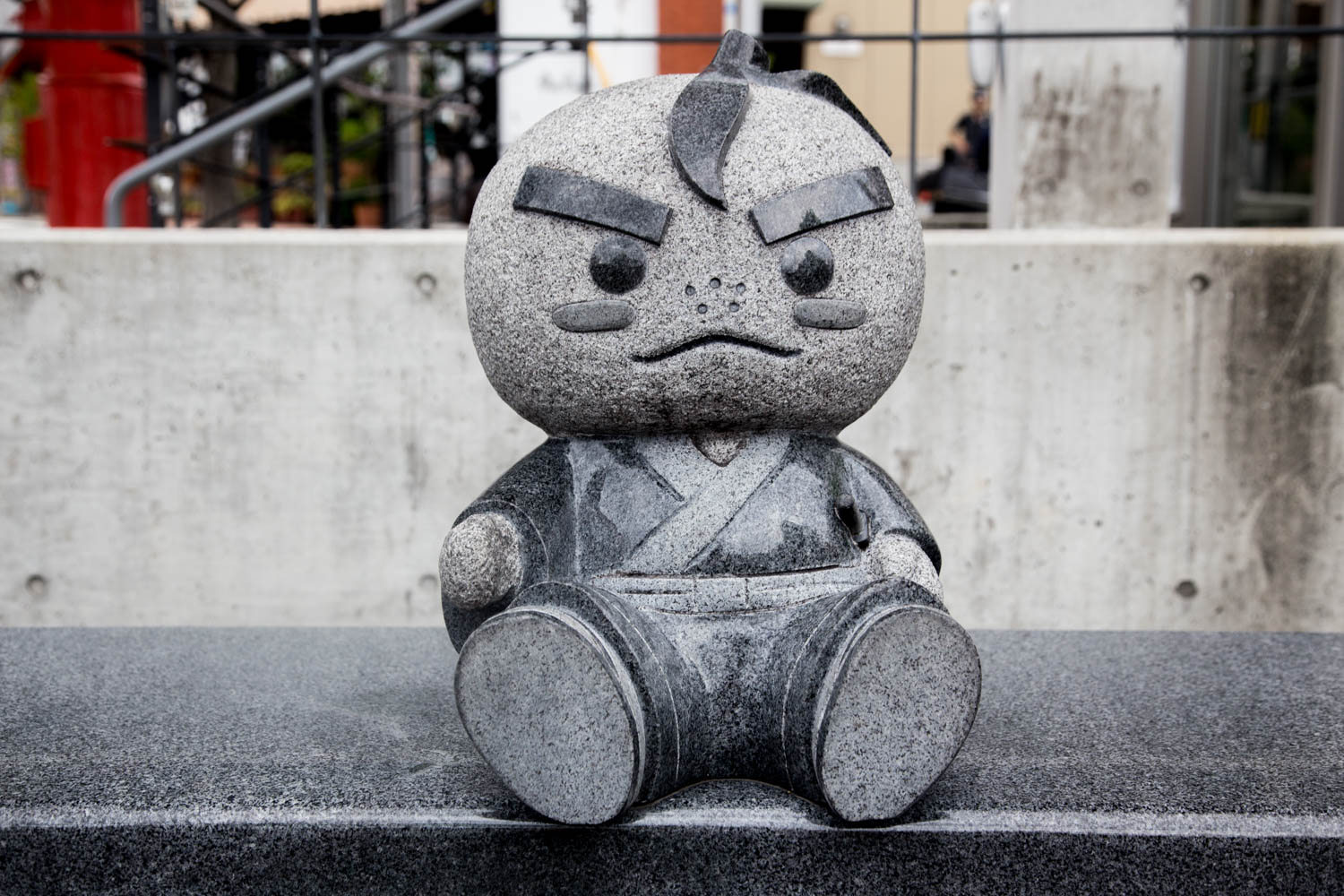 Mascot of Minoh Town, one of the cutest mascots I've ever seen
Headed to nearby Minoh Town after that. This is the entrance to Minoh Park, a pretty large forested valley on the outskirts of Osaka. I decided I needed some natural air after all the cityscapes I've been seeing the past few days. And yeah they have their own mascot. Apparently it's some sort of citrus fruit guy (I just found out 5 minutes ago), it actually looks really cute IMO. As expected of Japan.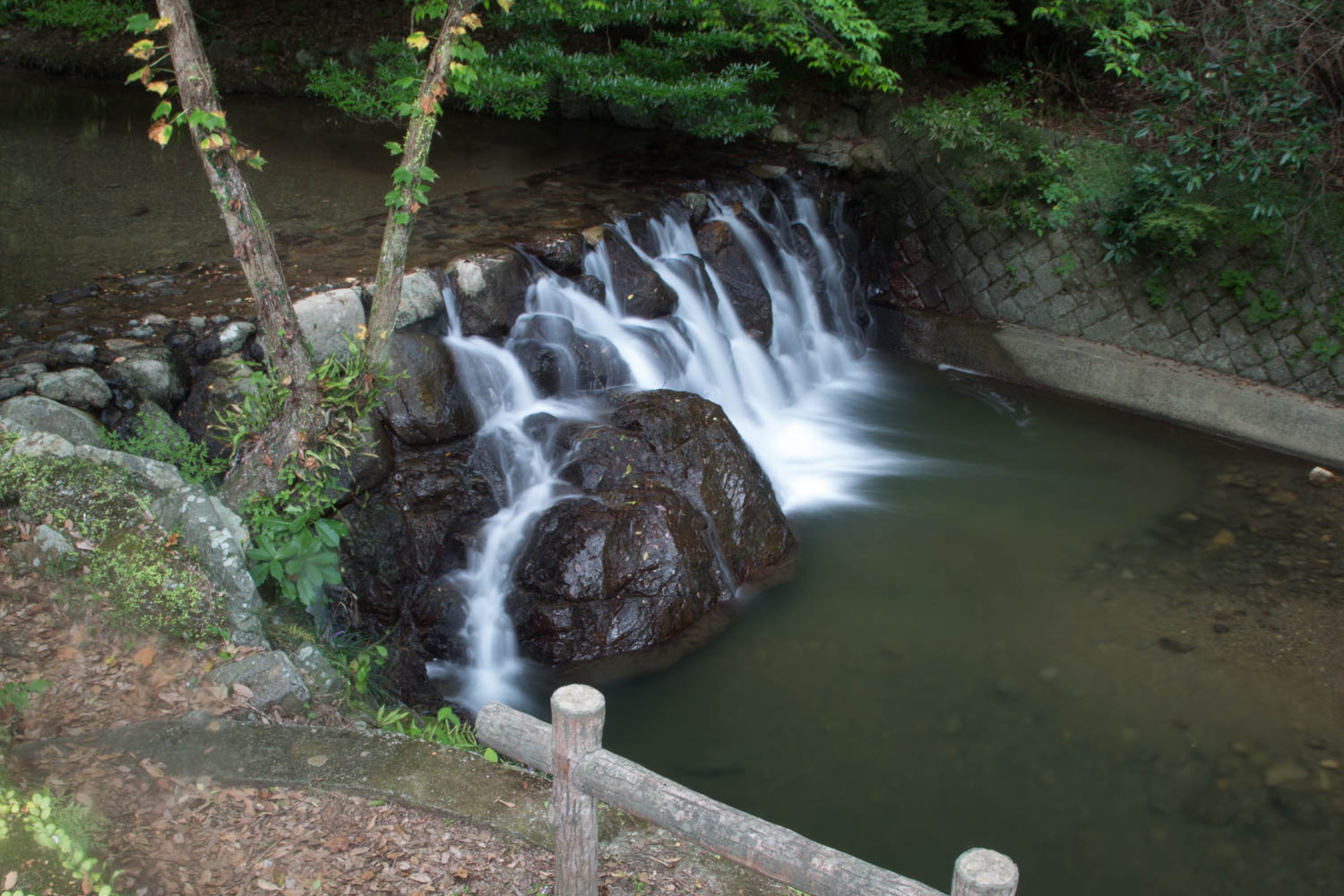 The path through the park runs along the park, together with the occasional small waterfall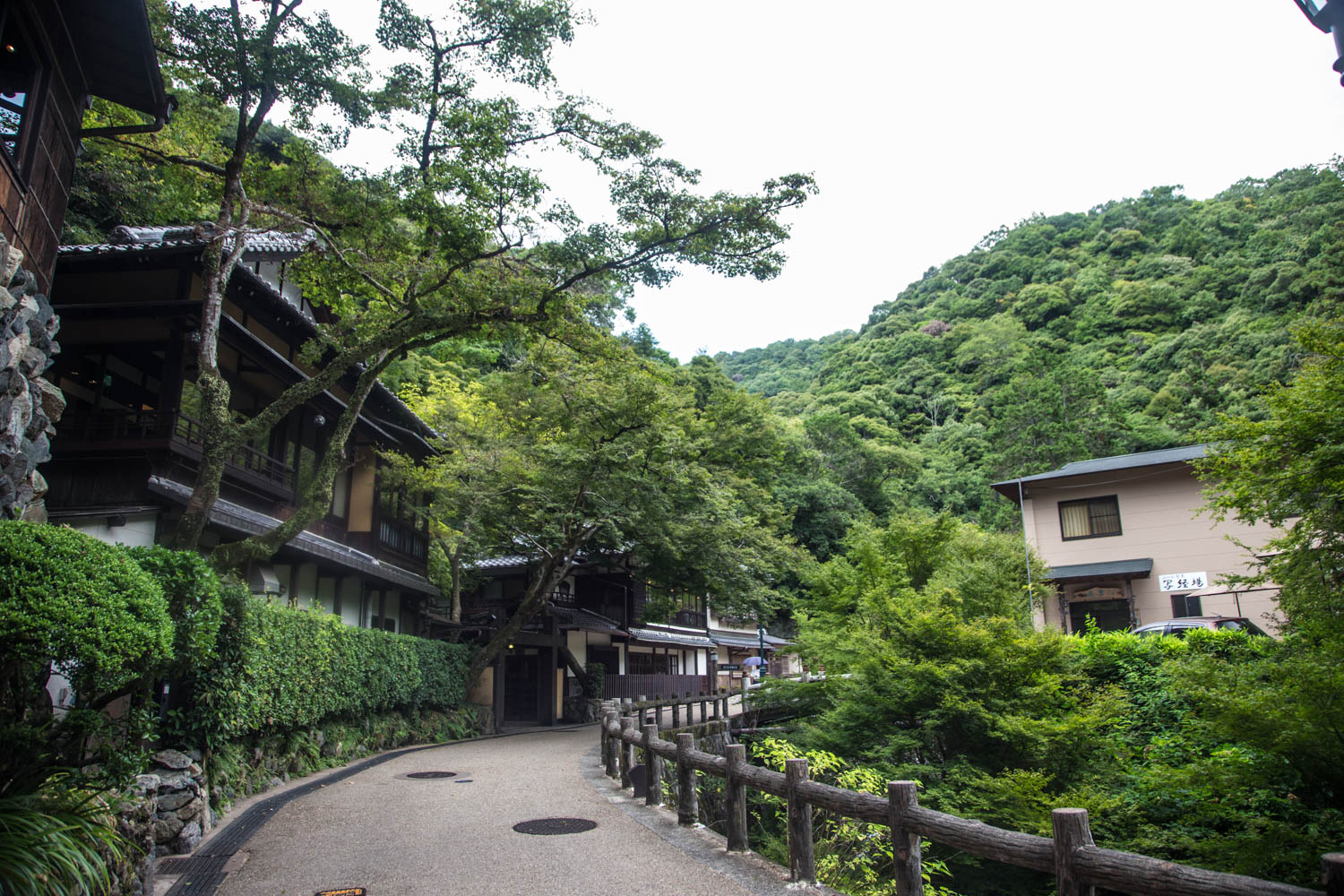 Some really rustic looking buildings running along the main path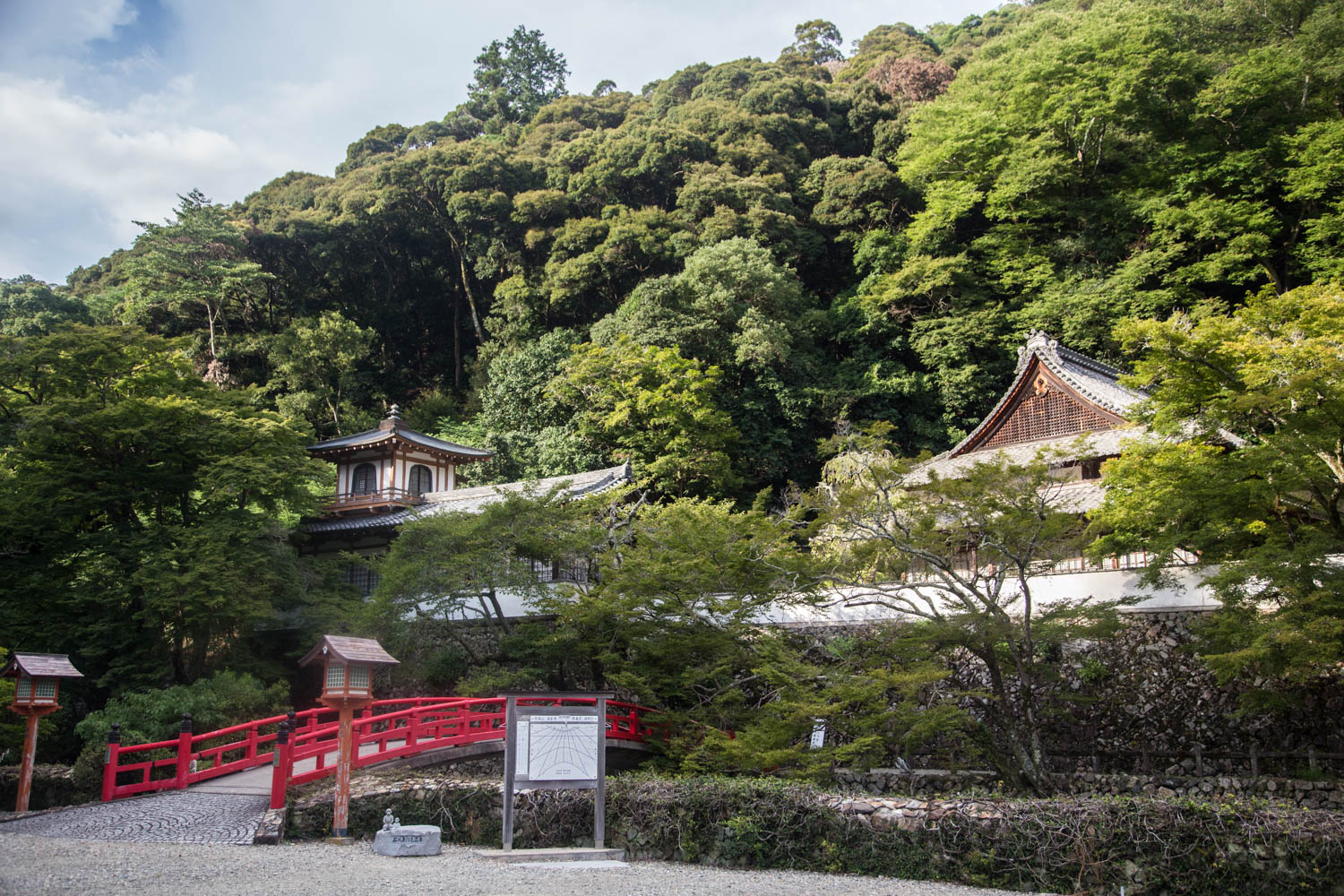 Part of Ryuanji Shrine, stretching across both sides of the river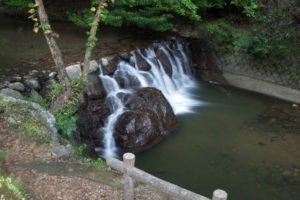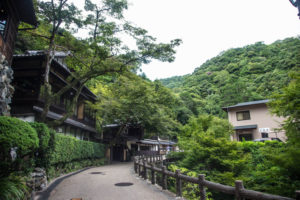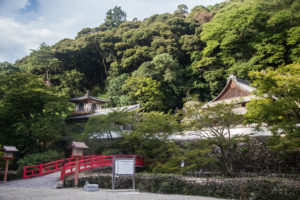 Despite the fact it was supposed to be pretty much forested, there were still quite a few things to see. The rustic buildings at the beginning of the trail really added a lot to the peaceful feeling of the area, helped by the fact it was really quiet, with maybe a few other hikers and joggers on the way there. There was also Ryuanji Temple, which at first glance looked kind of small and unimpressive, until I realised it stretches to the other side of the river and also went up the hill to a small secluded shrine.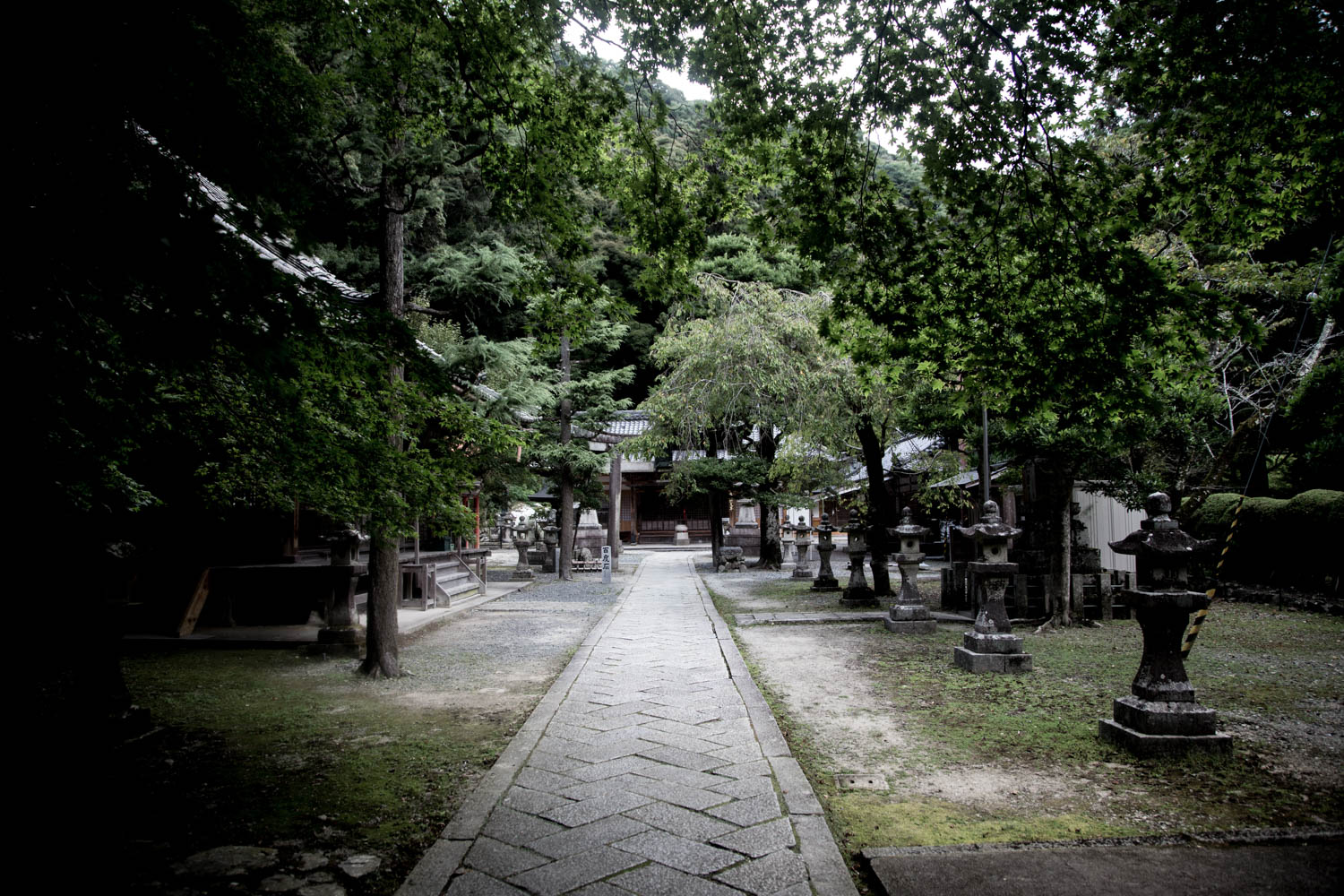 A small secluded area of the shrine that gives off a huge eeriness
I didn't explore the part opposite the river, but I went up to the secluded shrine, and the environment coupled with the silence gave me a really eerie feeling, as if I shouldn't be there. So much that I didn't even think of taking photos in case it was forbidden and I got caught. I imagine if I went up at night I would have been scared shitless.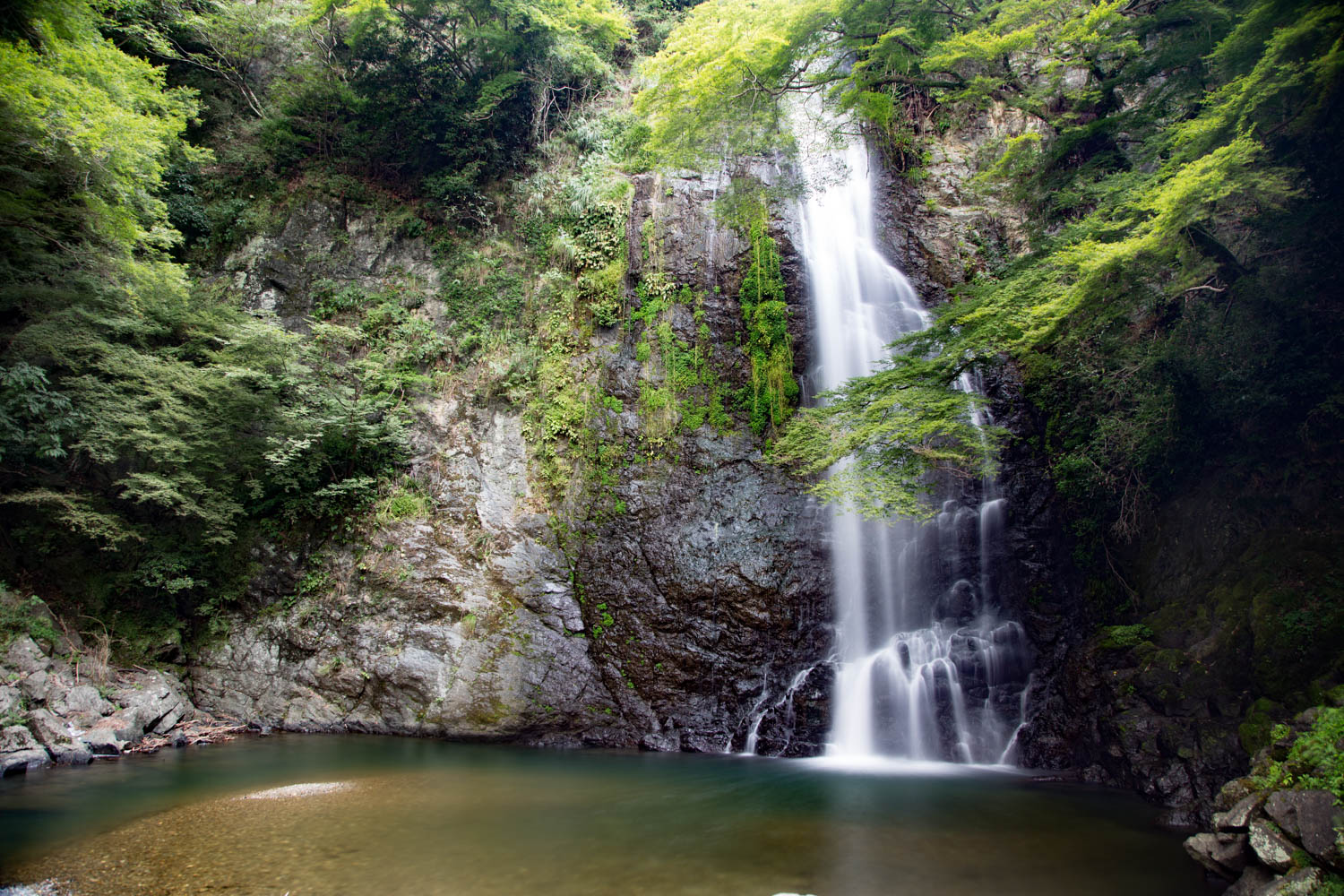 Minoh Falls by day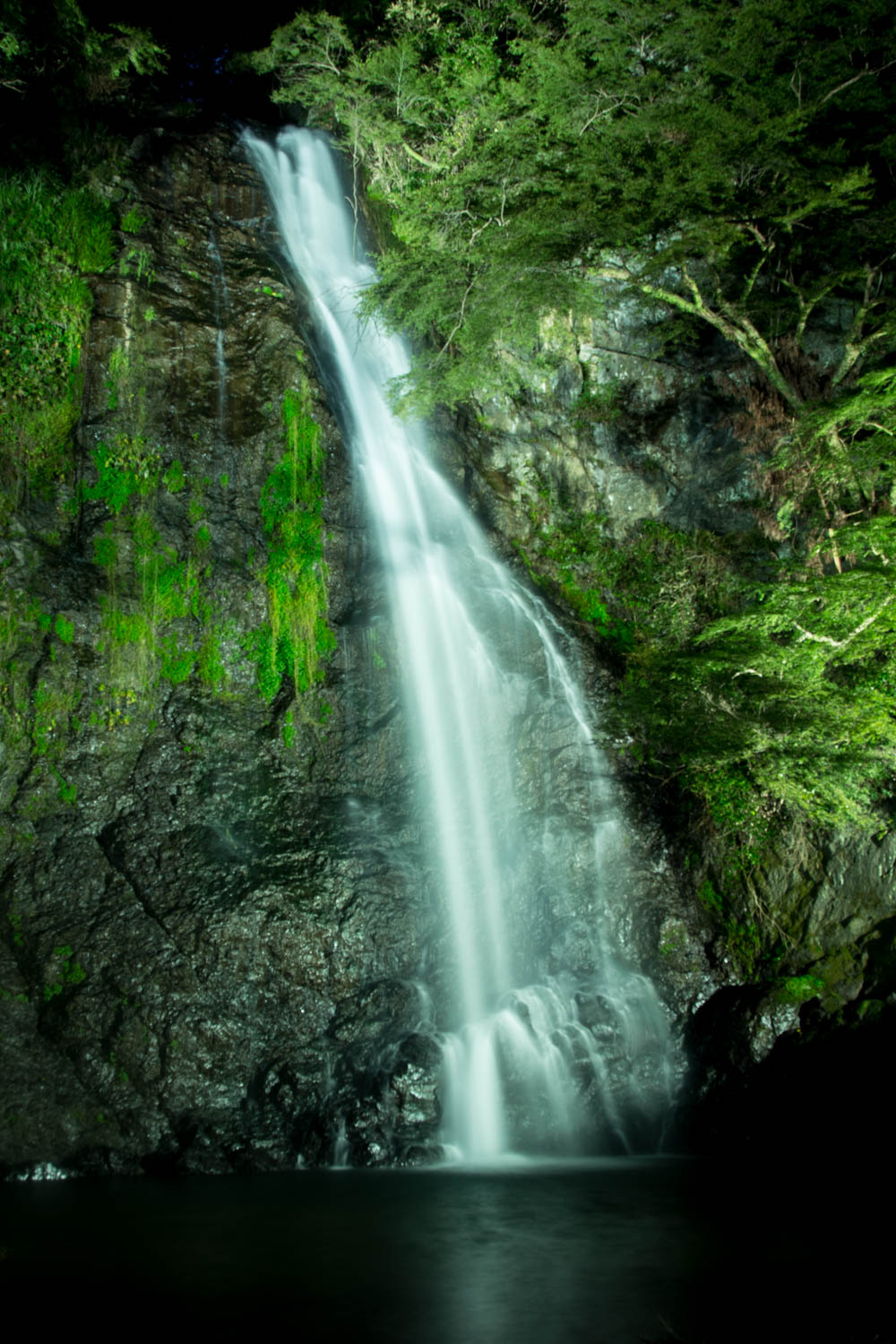 And by night, beautifully illuminated.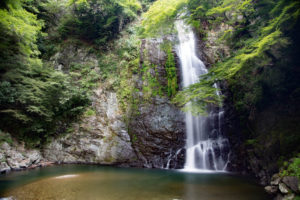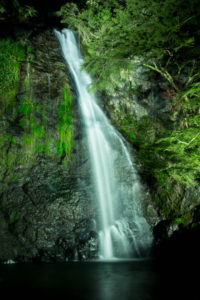 Anyway, the main attraction of this entire park is the waterfall, or Minoh Falls, found all the way at the end of the main trail. During the summer months the waterfall was illuminated with green lights on both sides, which created a pretty unique view not often seen. There was supposed to be a festival accompanying this, but it was a one time event held a month before I went, so this was all there is to it. Kind of trespassed to get the above shot though, as I didn't really like how the tree was blocking the waterfall, and I ventured into a blocked off area which went closer down to the river. I had a bit of a scare as I spotted the patrol vehicle when I was down there, but I don't think anyone saw me though.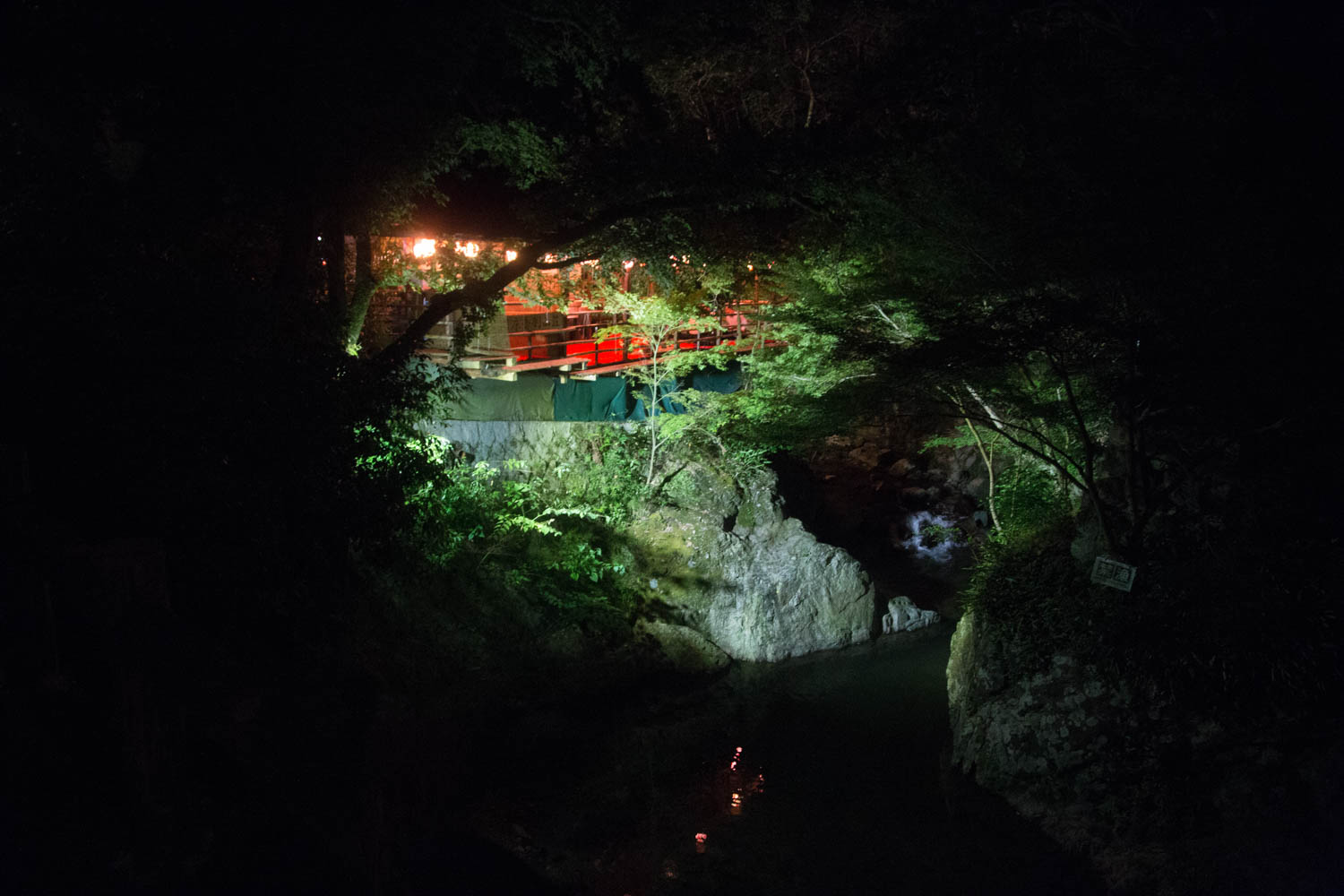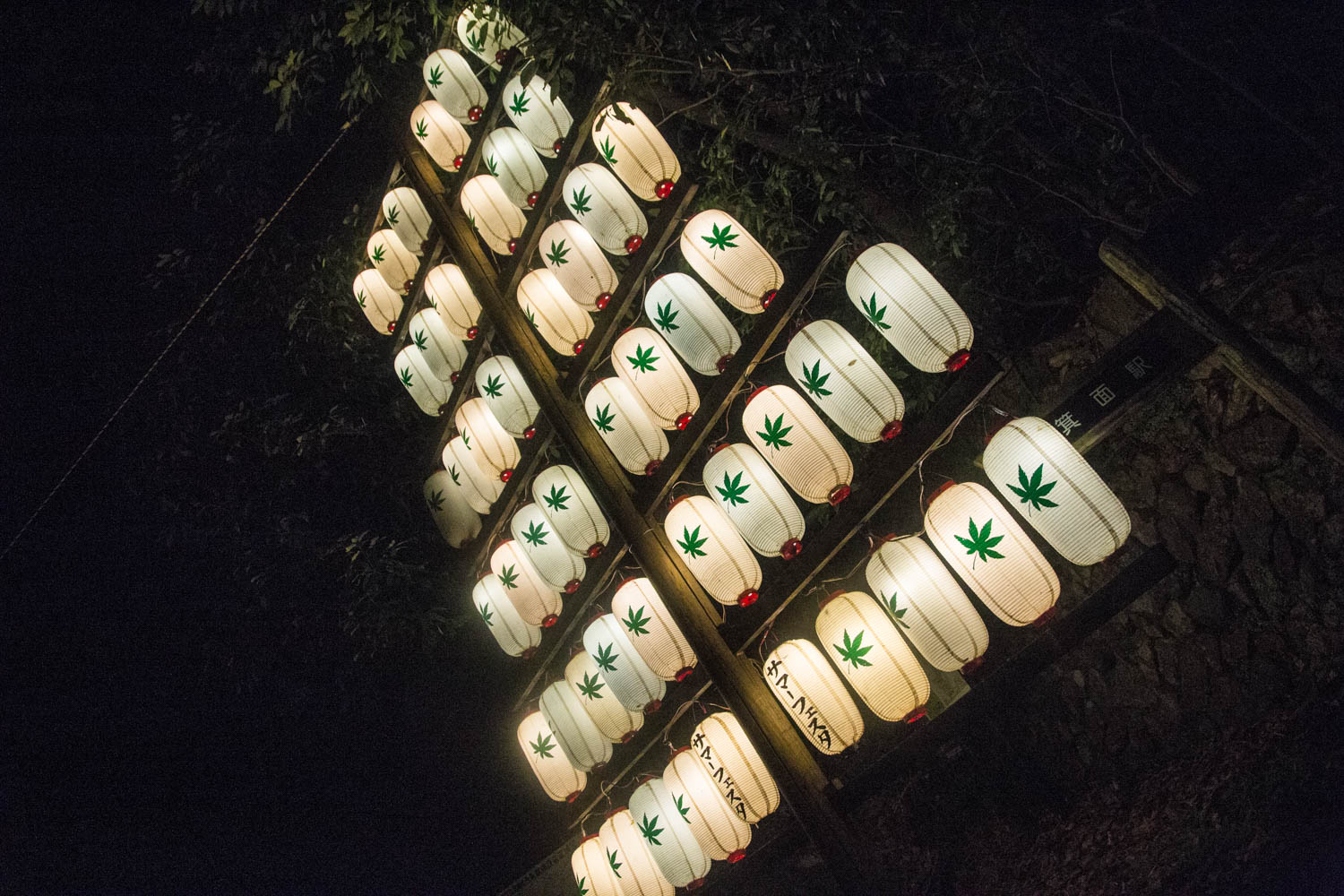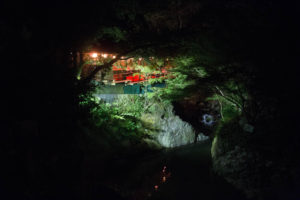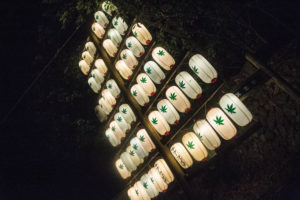 At night the park seemed like a whole new world with the way the buildings are illuminated. Kind of hard to put into words, but while the daytime gave off a peaceful feeling, the night time views kind of gave a mystical vibe thanks to the lights. My photos can't do the place justice, so I just decided to soak in the atmosphere as I slowly made my way back to the station.
Day 6: Sayonara Osaka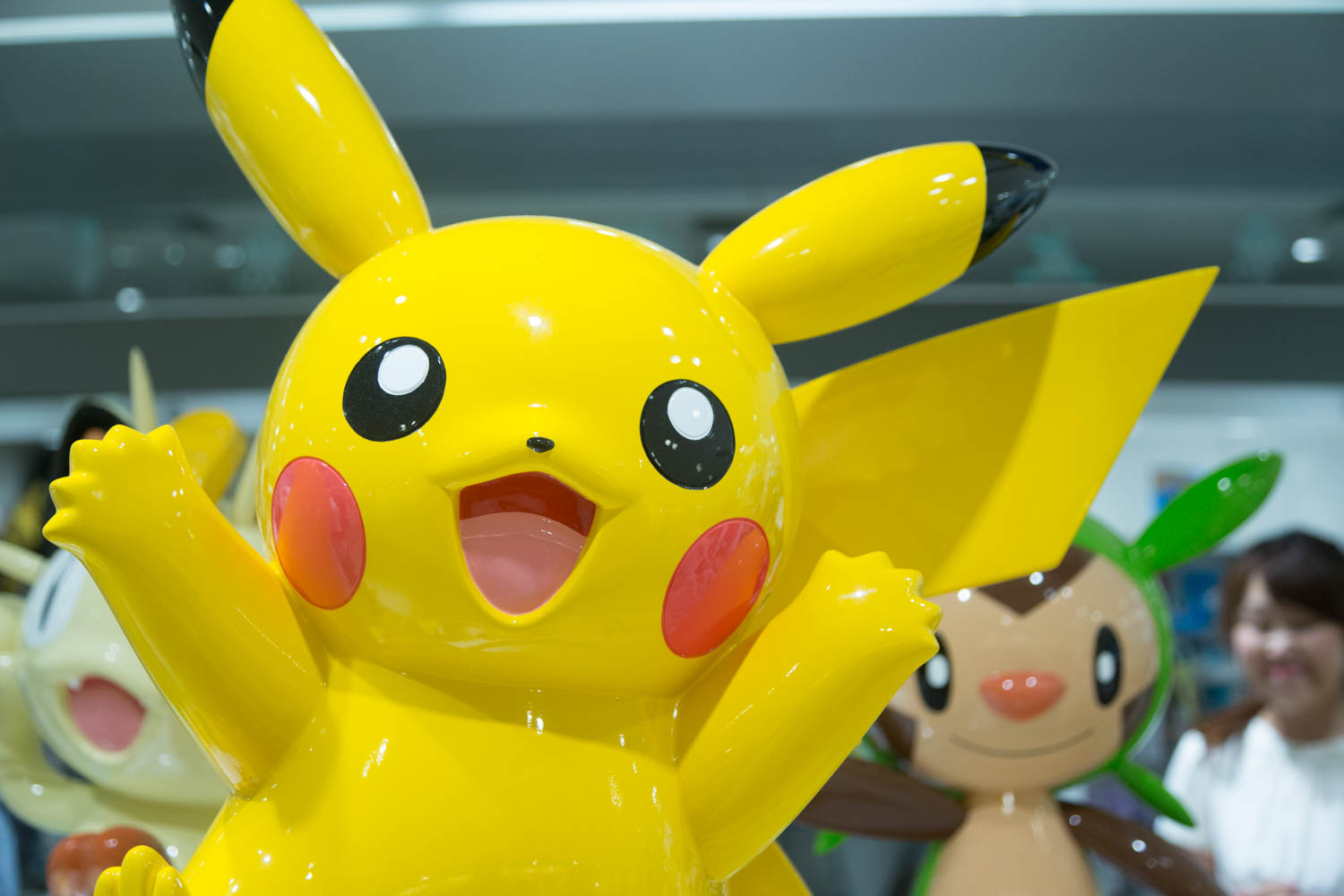 PIKACHU!!!
Approaching the halfway point of my Japan trip, and the end of my Osaka leg. My journey to Tokyo was via a night bus (much cheaper than other alternatives), so I still had a whole day to burn. Might as well go do a small bit of shopping.
Or rather, my shopping just comprised of a trip to ABC Mart to get the SCANDAL shoes, and a visit to the Pokemon centre. Comparing it to the Tokyo one I visited last time this one actually felt a bit bigger, this one occupied a greater area of the floor space and there seems to be slightly more stuff on sale (a pair of mini plushies I bought there were not found at the Tokyo store when I went there later on). The Tokyo one has more of those statues to look at though.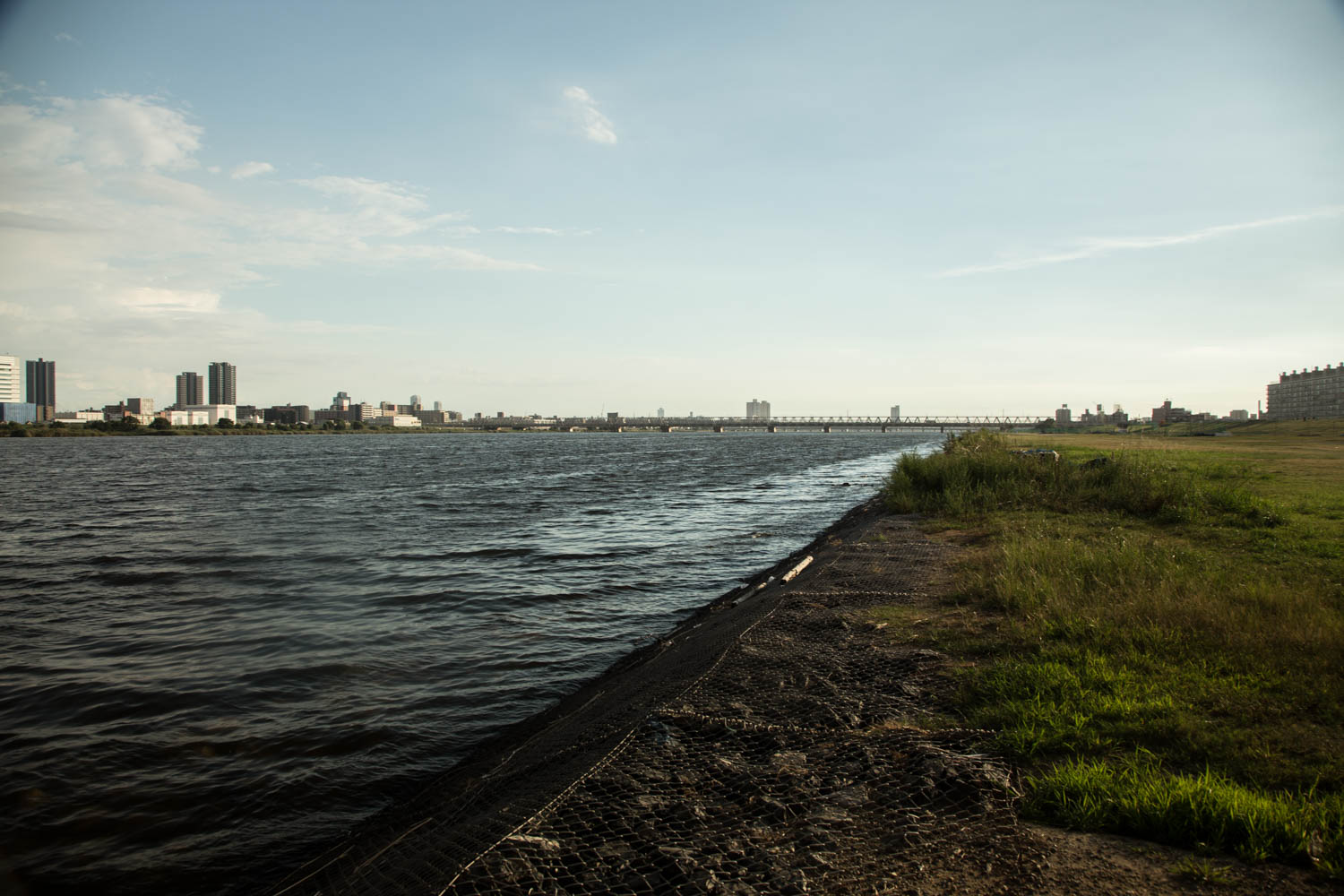 Chilling at one of the rivers. The view wasn't really what I had in mind.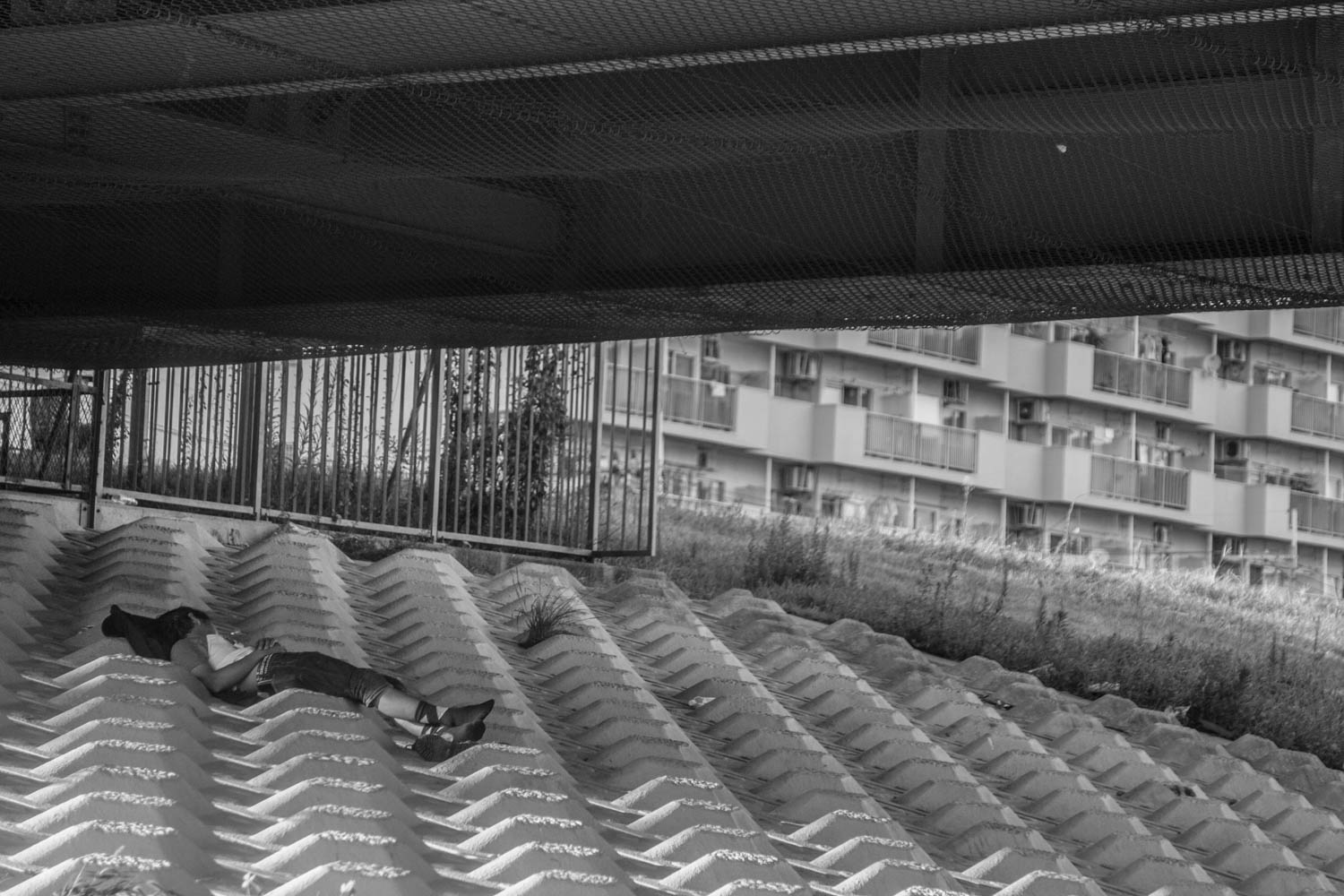 Like, really here to literally chill like him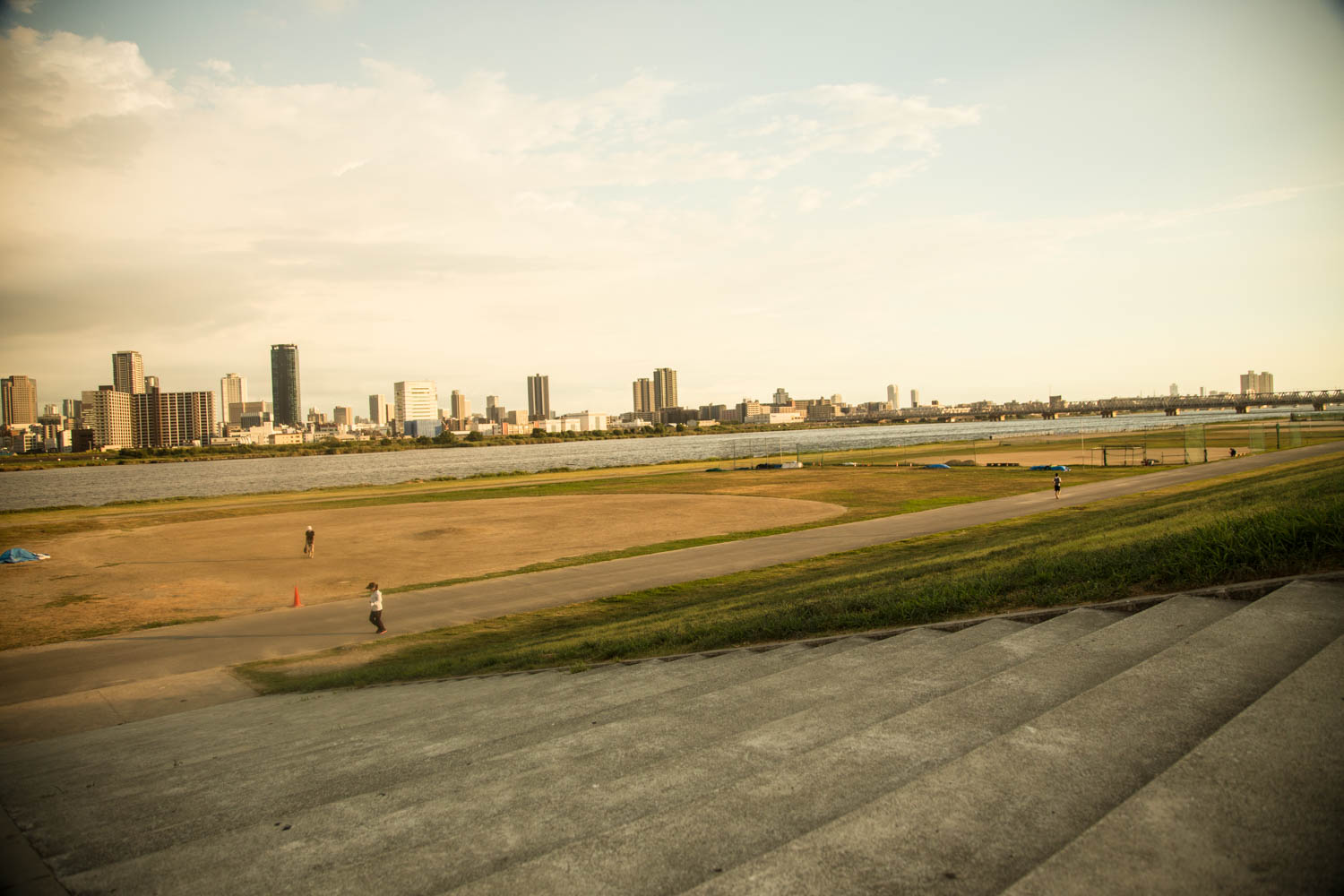 Irregardless of the view I had in mind, a good view nonetheless.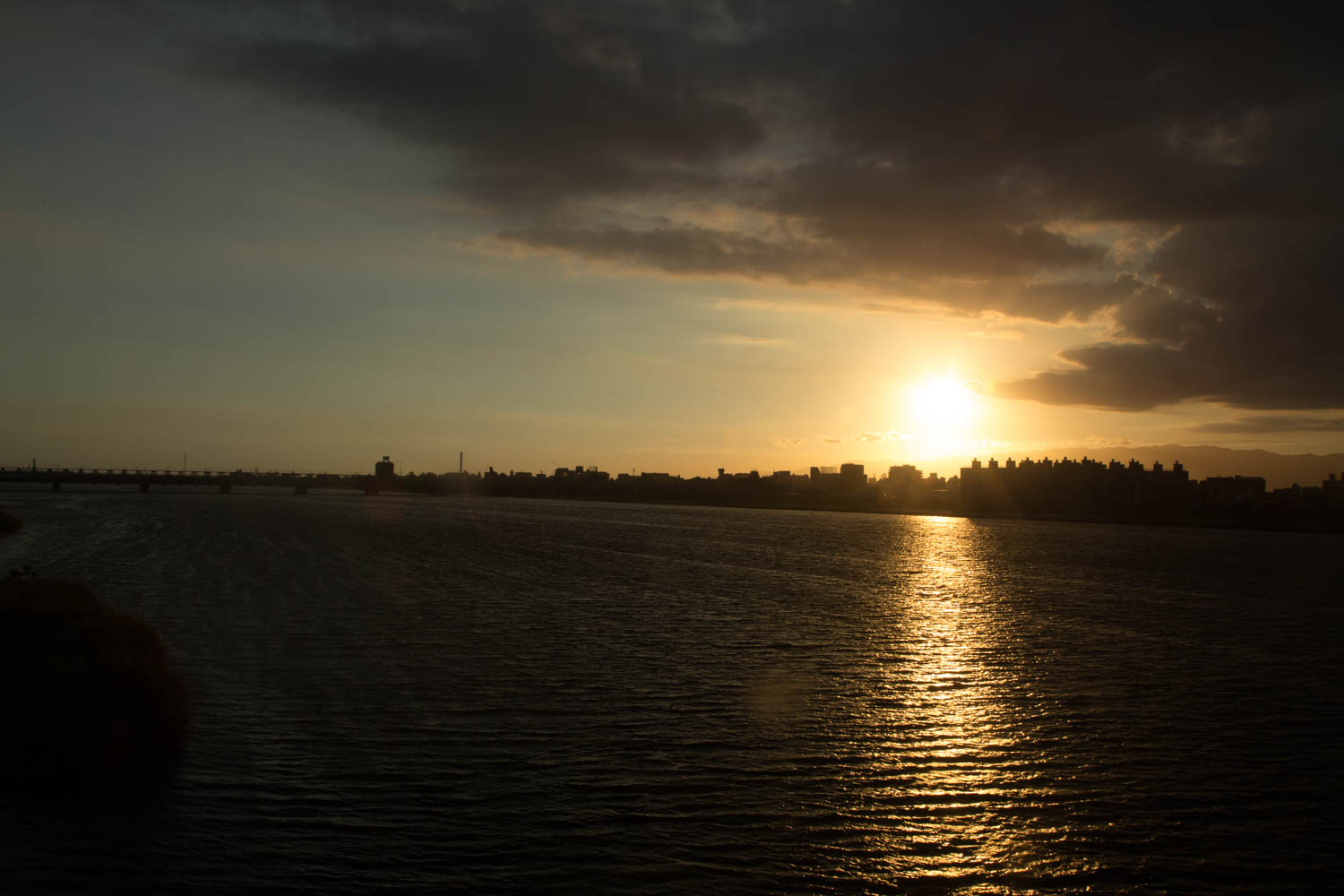 With a great sunset view from the bridge.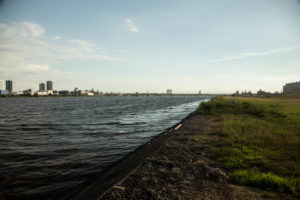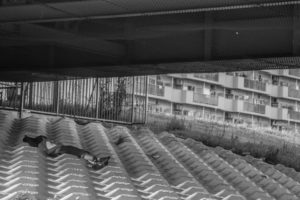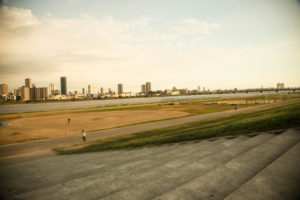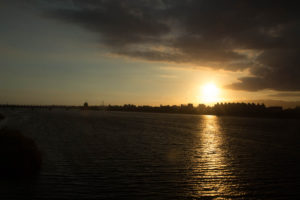 On the way into Osaka on my first day, I spotted quite a few rivers with those pathways running along it followed by a slope, much like those they always show in anime, so I wanted to see what those areas were like in real life. Since I had time to burn and there was a river in relatively walkable distance, I thought I'd go and take a look.
Not exactly what I thought it would be though, or maybe I just picked the wrong river. Between the river and the pathway there was also a huge patch of grass that plenty of kids seem to be using for baseball practice everywhere, I don't remember seeing those patches of grass in anime. Irregardless, I enjoyed my time away from the city for some peace and quiet in their local neighbourhood, I even managed pretty much an hour or so of relaxing under the bridge like the guy in the photo above to rest my body and legs. Plus it was also really windy which was a real nice getaway from the heat I've been experiencing for the past week. And I get a great sunset from the bridge as well! A great way to end off my time in Osaka.
Next post: a return to Tokyo, and further explorations beyond! Hopefully coming up soon (if I don't procrastinate)