Konnichiwa everyone. I'm back with part 2 of my August Japan trip (read part 1 here). My 2nd visit to the capital of Japan, and I have a companion with me this time, so at least I have one photo of myself this time.
A couple of the places I went this time are actually revisits from my previous trip, so I won't talk about those much unless I actually have something new to talk about. For details of places I revisited, please refer to the original post back in Jan/Feb
Day 7: Hello again Tokyo. Hello again Shibuya.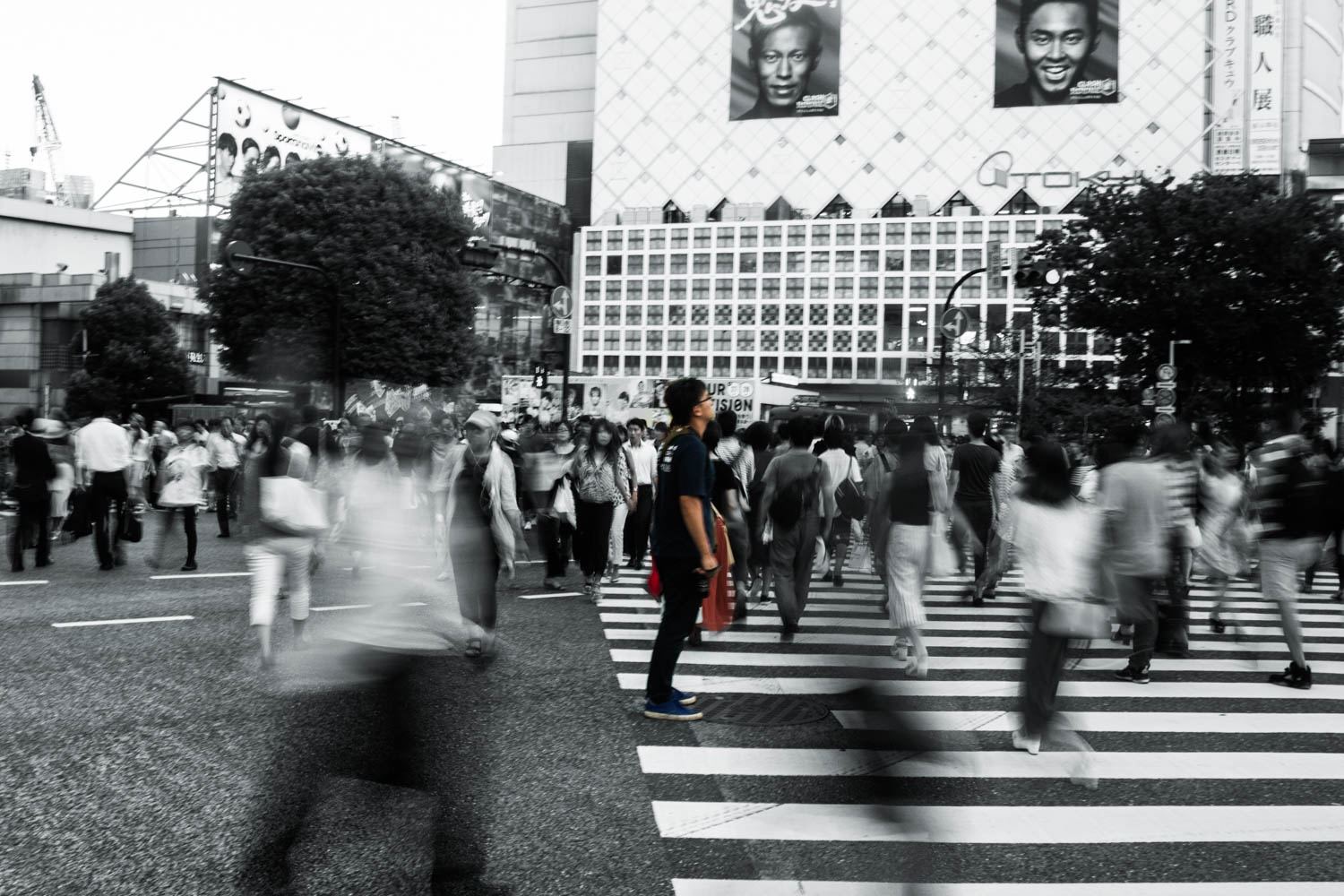 For once I have a subject for a Shibuya Crossing photo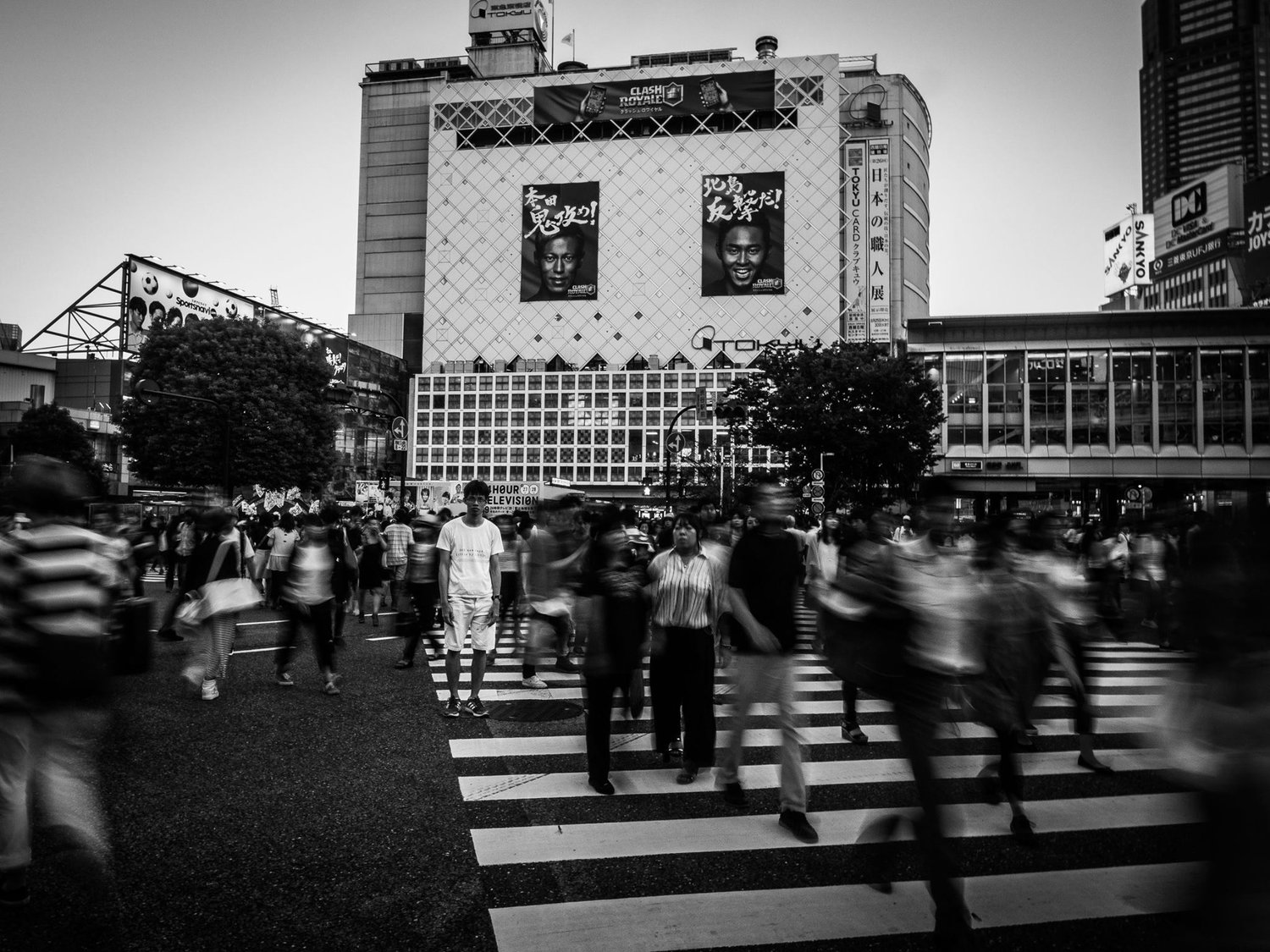 And for once I have my own photo at the Shibuya Crosssing. Credits to my friend the original photographer.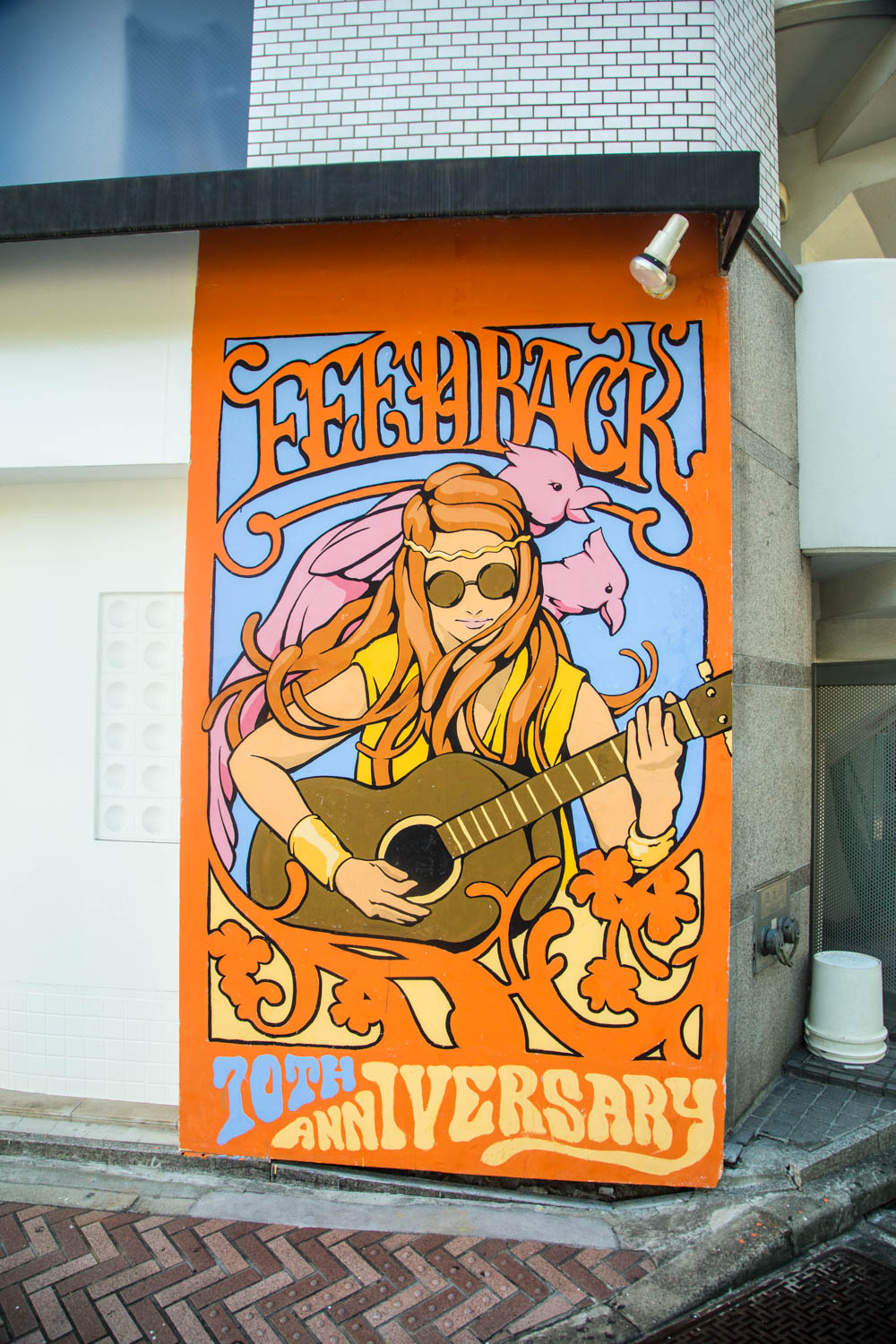 Obviously the only place where I will make a deliberate trip to, SCANDAL Shop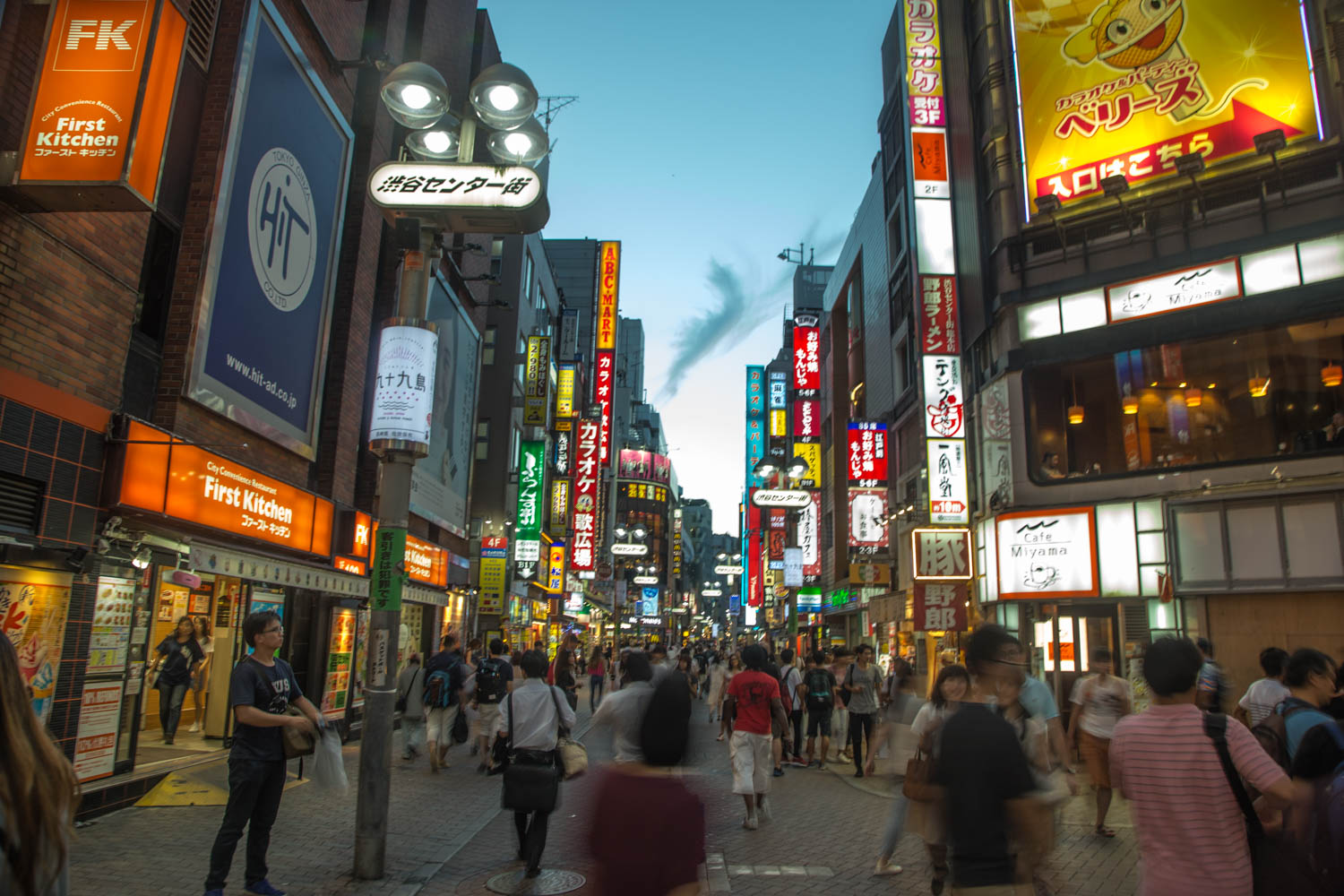 Shibuya area approaching nighttime, when all the lights start coming on.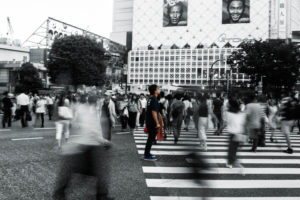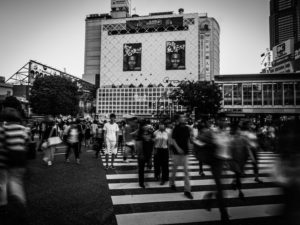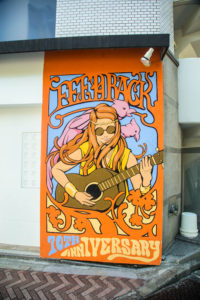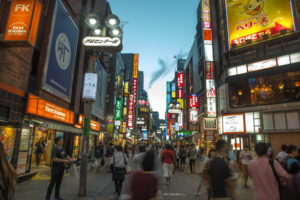 So I'm back in Tokyo, and back in Shibuya to get my shopping done ASAP, and of course by shopping I mean SCANDAL Shop. Even though we spent a whole day in Shibuya we actually spent a lot of time walking into random shops and doing window shopping, so there wasn't much to it. Though to be fair this time I manage to get my own photo at the Shibuya crossing courtesy of my friend, my companion for this leg of the trip, and I also got to see Shibuya in its nighttime lights, so it wasn't without its takeaways. For my pathetic little entry on Shibuya the previous trip, read the old post
Oh, and I guess I should mention my pretty awesome Airbnb host which I met that night. The name's Takashi, and according to my friend before my arrival he runs an underwear company and wears it around at home all the time, so I was like WTH before I arrived. Though to be fair after I met him he probably is fit to wear those all the time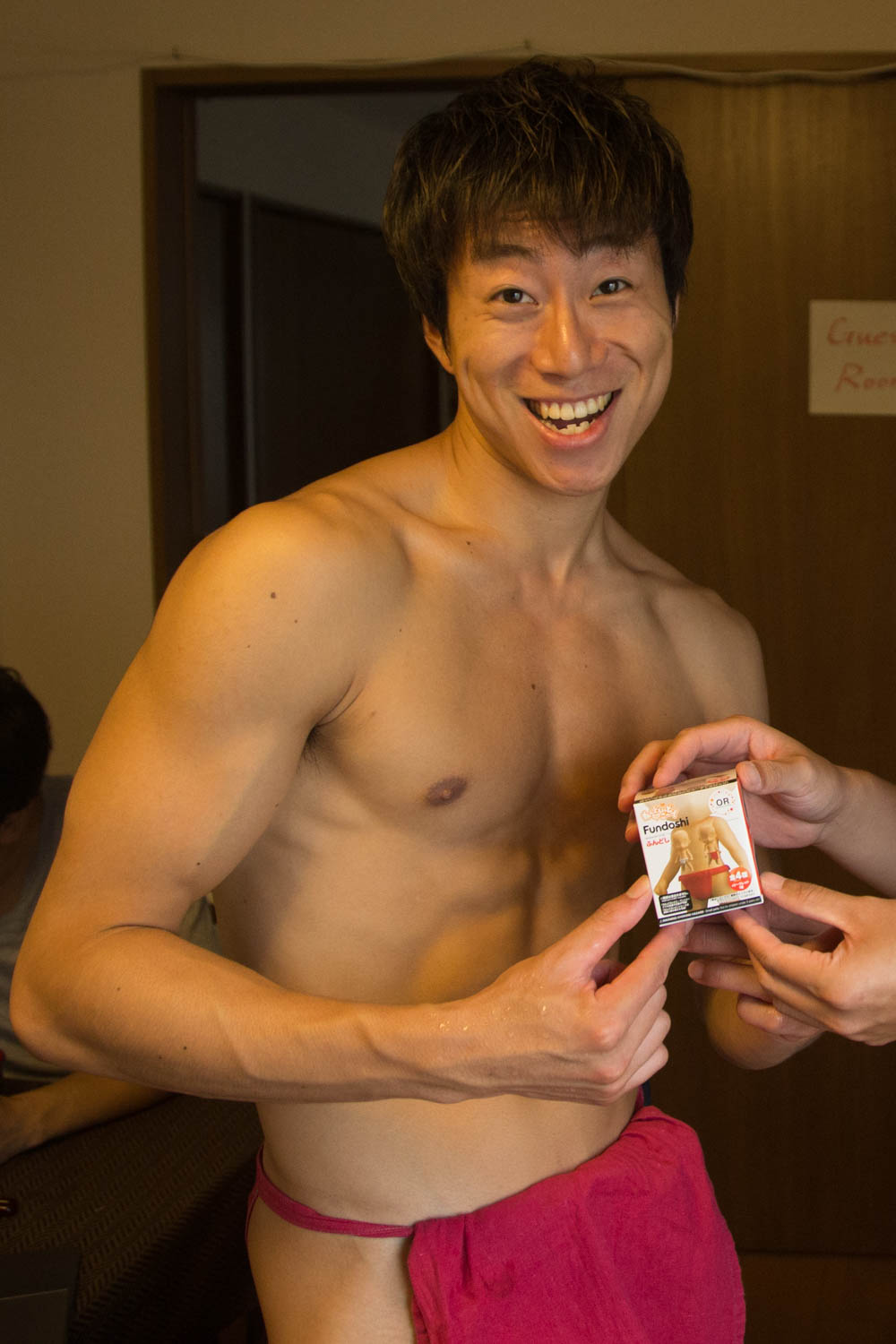 My really awesome Airbnb host Takashi
I mean, just look at that body, and he actually is pretty good looking as well. He totally looks really great wearing that. He wears this traditional undergarment called a fundoshi all the time, and he and a partner runs a company selling these. I remember seeing a sign around the house that said "Fundoshi Club", so I found it pretty funny that he has a club dedicated to this as well.
But that's beside the point. The night I arrived he brought me and my friend plus a couple other people staying there to this local bathhouse and his favourite ramen place after that (which was really good btw), and on several nights we ended up playing Super Smash Brothers with him and another roommate on his Gamecube (pretty retro stuff by this point). He made us feel really at home, kinda different to other Airbnbs I stayed in so far where the host mostly kept to themselves in their room. In fact, the only gripe I had was that he and his housemates had their month end house party on the day I went mountain climbing. I missed out on all the fun. But it was a good stay, totally recommend his place to anyone visiting Tokyo next time.
Day 8: Rainy Outdoors Concert Day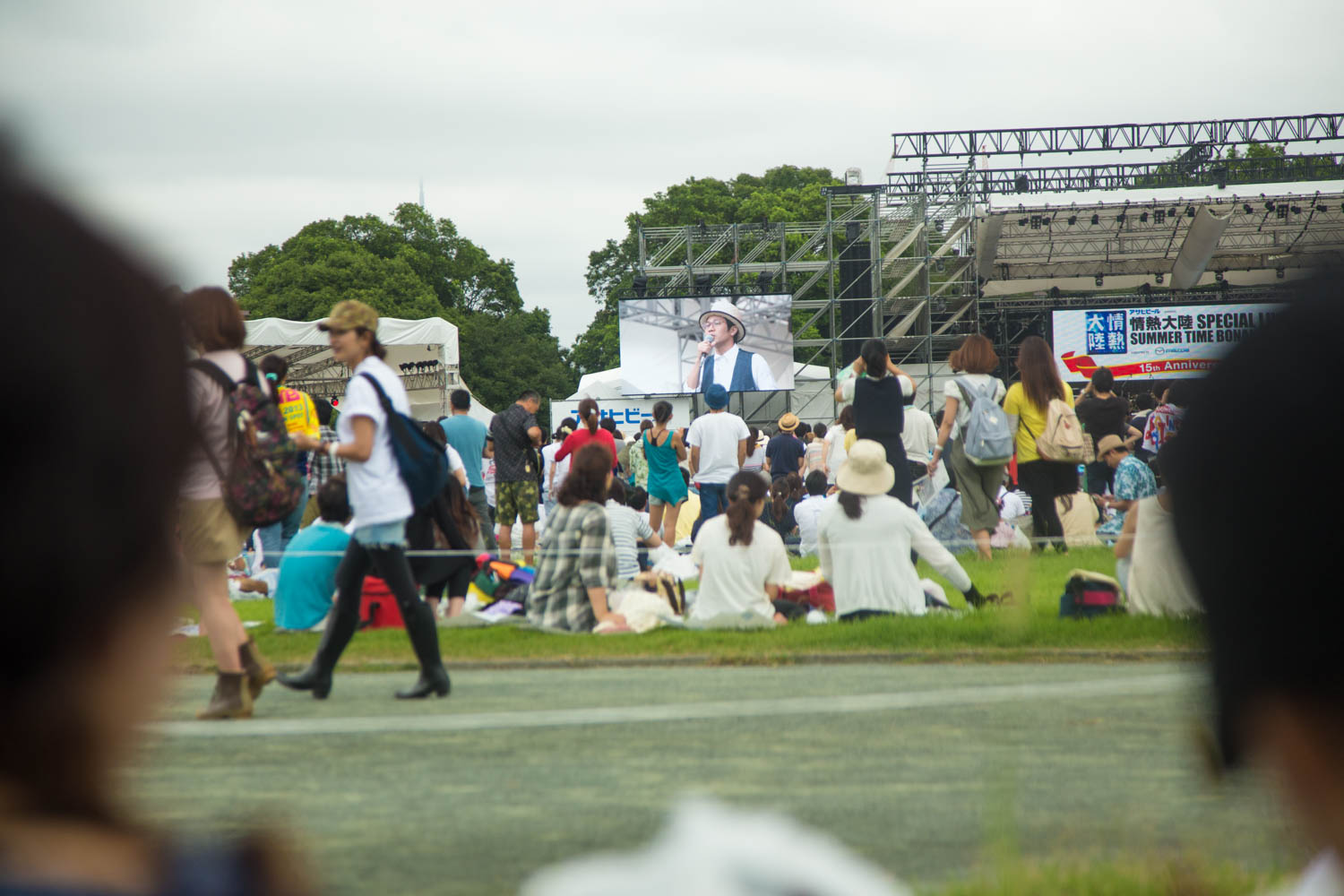 View all the way at the back. Basically there to watch the screen
My second concert of the trip, and it's yet another outdoor one, this time with multiple singers, probably about 10-12? This was much more relaxed than the first though, I was basically just hanging out in the back with the floor mat they were giving at the entrance. At least, until it started raining. Yes, for all the complaints about the outdoor heat almost a week ago, the weather decided to troll us this time and give us the worst possible weather for an outdoor live: rain. Umbrellas were useless because for some reason I forgot to bring mine and 2 of us were sharing one umbrella. Oh well, at least the shelters in front of us had a bit of space for us to squeeze into. Still, at least the rain stopped when it actually mattered, for I was there mainly to listen to one artiste – Ieiri Leo, my 2nd favourite Japanese singer and it's not because I share the same name.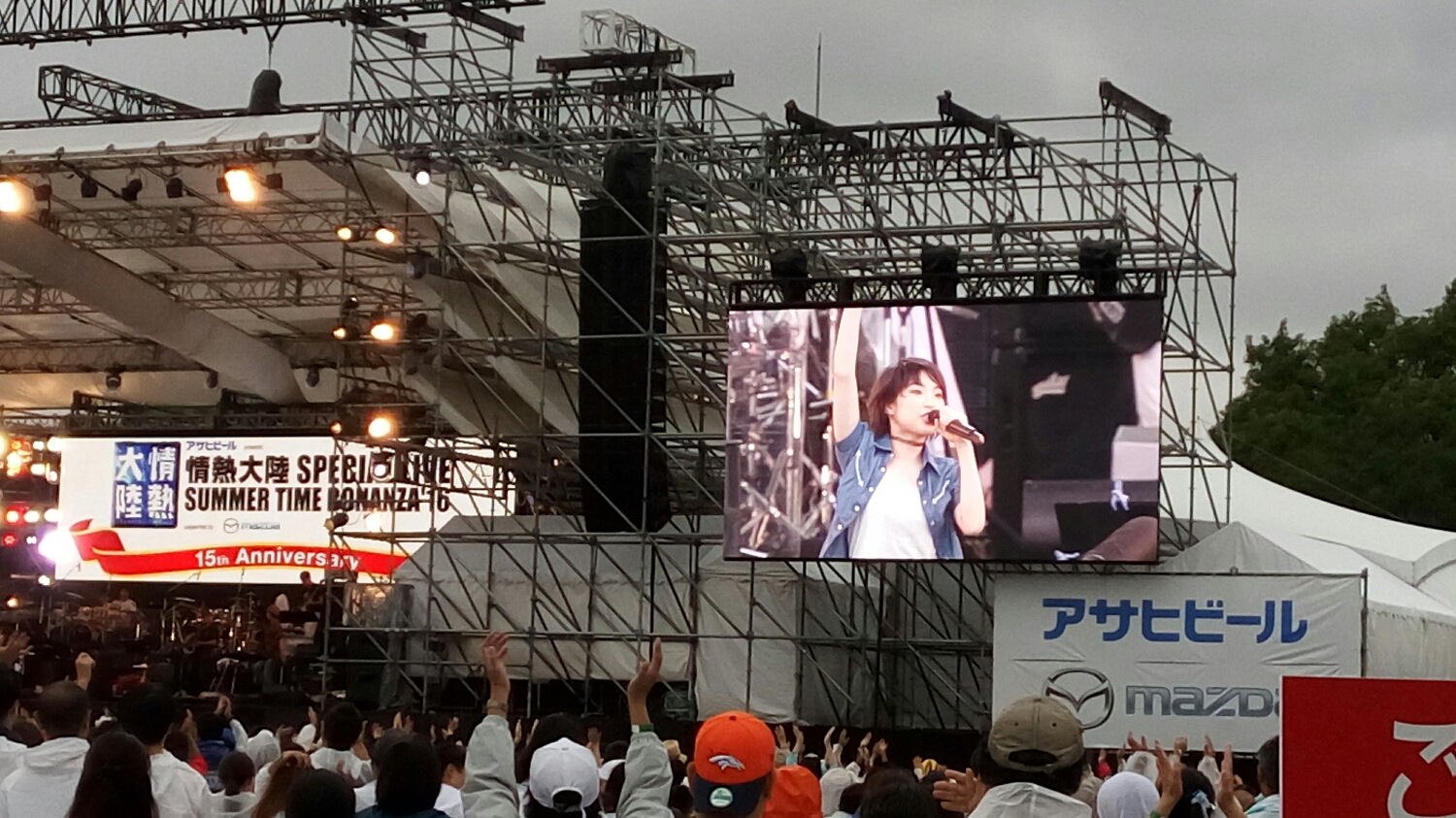 Ieiri Leo's performance. Moving front for a better view of the screen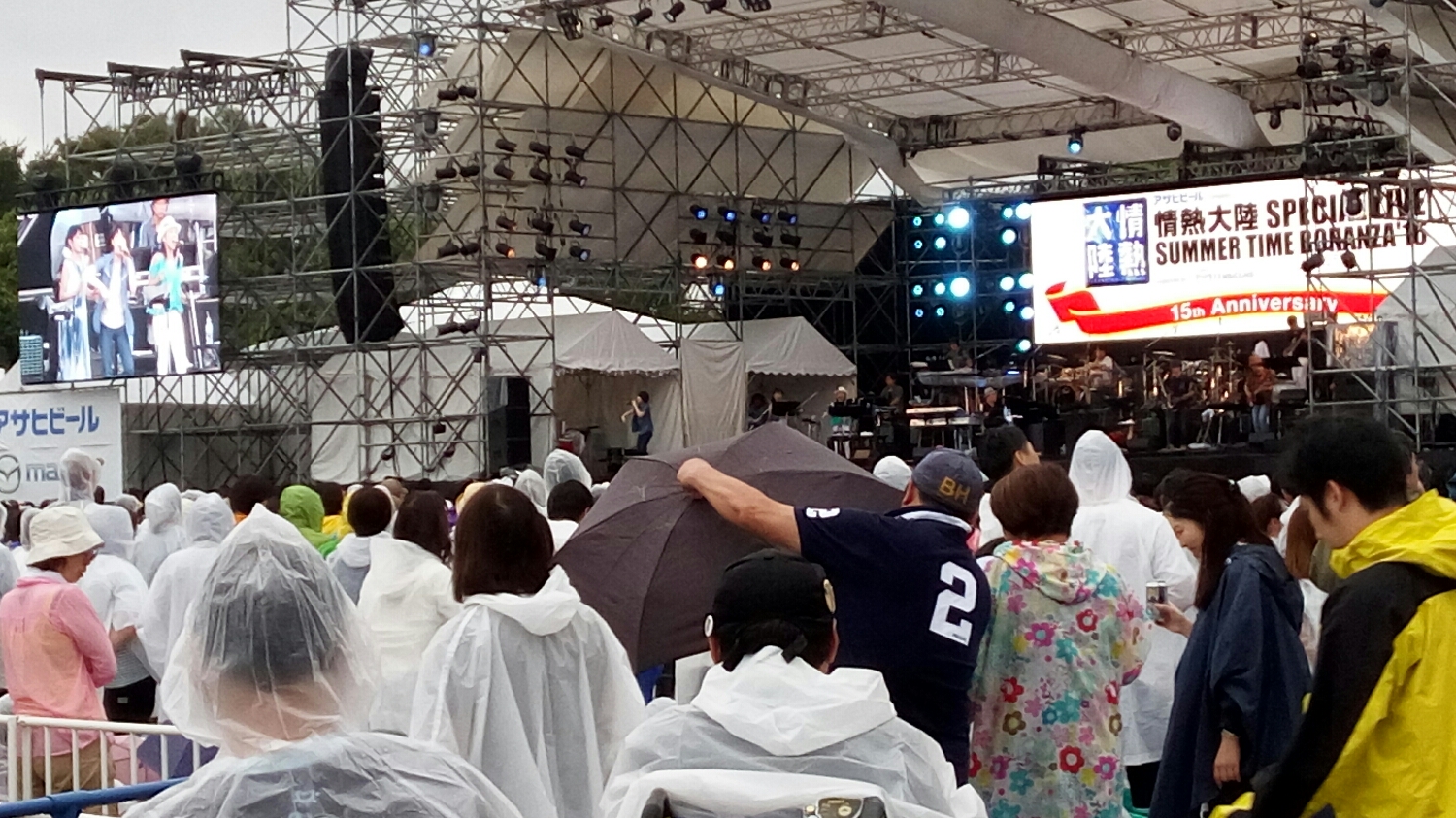 And where I can actually see the actual performance. Well, if you look hard enough...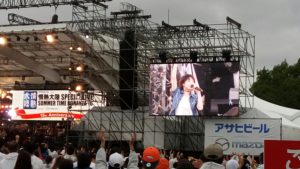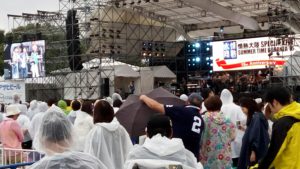 Luckily the rain stopped when she came on so I could fully enjoy her performance. There was plenty of space to walk around on the side though, so while my ticket was for the movie theatre views at the back I just casually strolled to the side and to the front, where I actually was able to see her moving around, and an even closer up view of the giant screen. The ushers weren't even doing their job properly, so lucky for me I didn't get chased away. One more singer to watch partially off the list – I need to watch her perform a solo live to be fully satisfied though.
Day 9: Of Summer Festivals and Concerts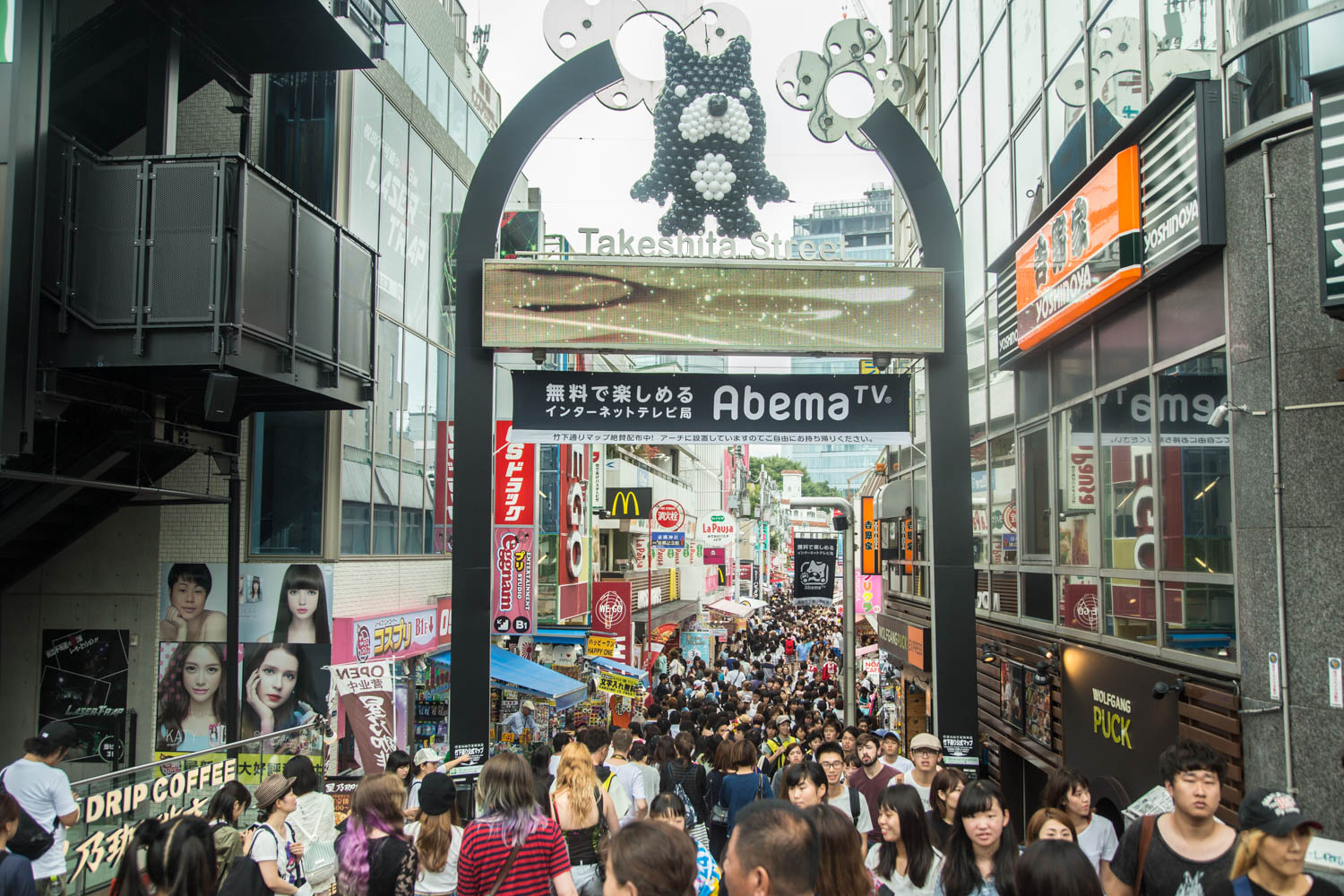 Made our way to Harajuku for our daytime exploratory trip this time. My original intention was to photograph people, especially those in those Harujuku style fashion that this place was so famous for, as I felt the weekends would be good for this due to more people visiting the place. On hindsight, I probably underestimated the crowd, as it was literally filled to the brim with people. Mission failed this time round, looks like I need more research on the best time to visit.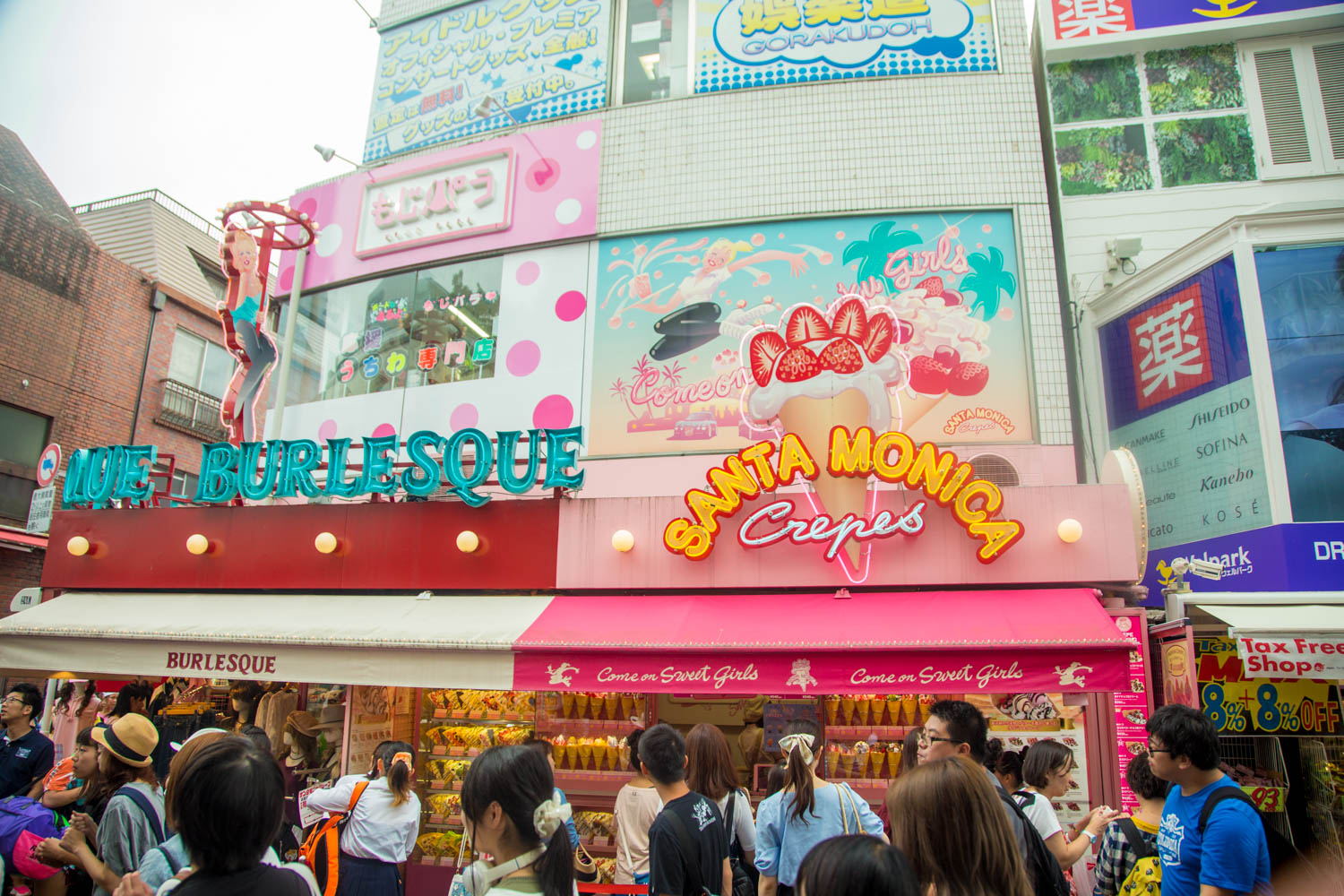 Pink everywhere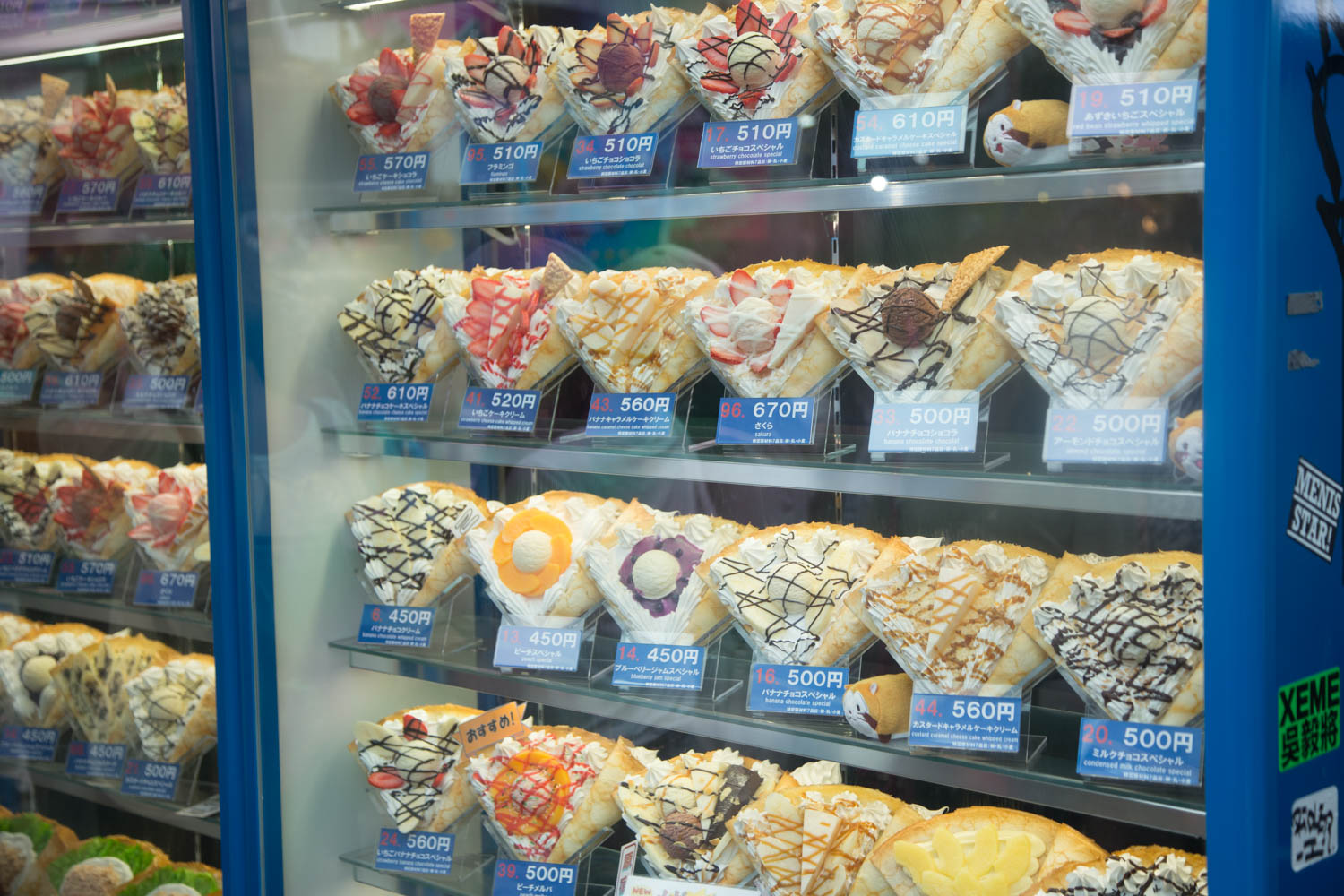 Crepes sold in all sorts of flavours. Really tempting actually.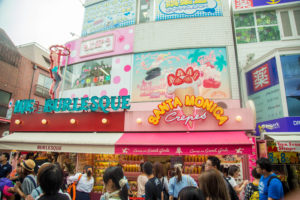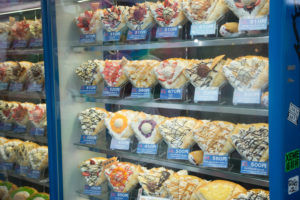 Still, this didn't deter us from squeezing through the crowd, because since we're already here we might as well explore it. The main crowded area, Takeshita Street, was a relatively short stretch, filled with cutesy clothing stores and an overdose of pink everywhere. Seriously almost all the stores had some sort of pink everywhere. And oh yea, a smattering of food stalls selling stuff like crepes. They actually look pretty appetising, and for a couple hundred yen I wouldn't have mind trying it if not for the fact there were too many people queuing for it as well. I also did manage to catch a couple people wearing some pretty outrageous fashion, but there were too many people around for me to get a shot of them.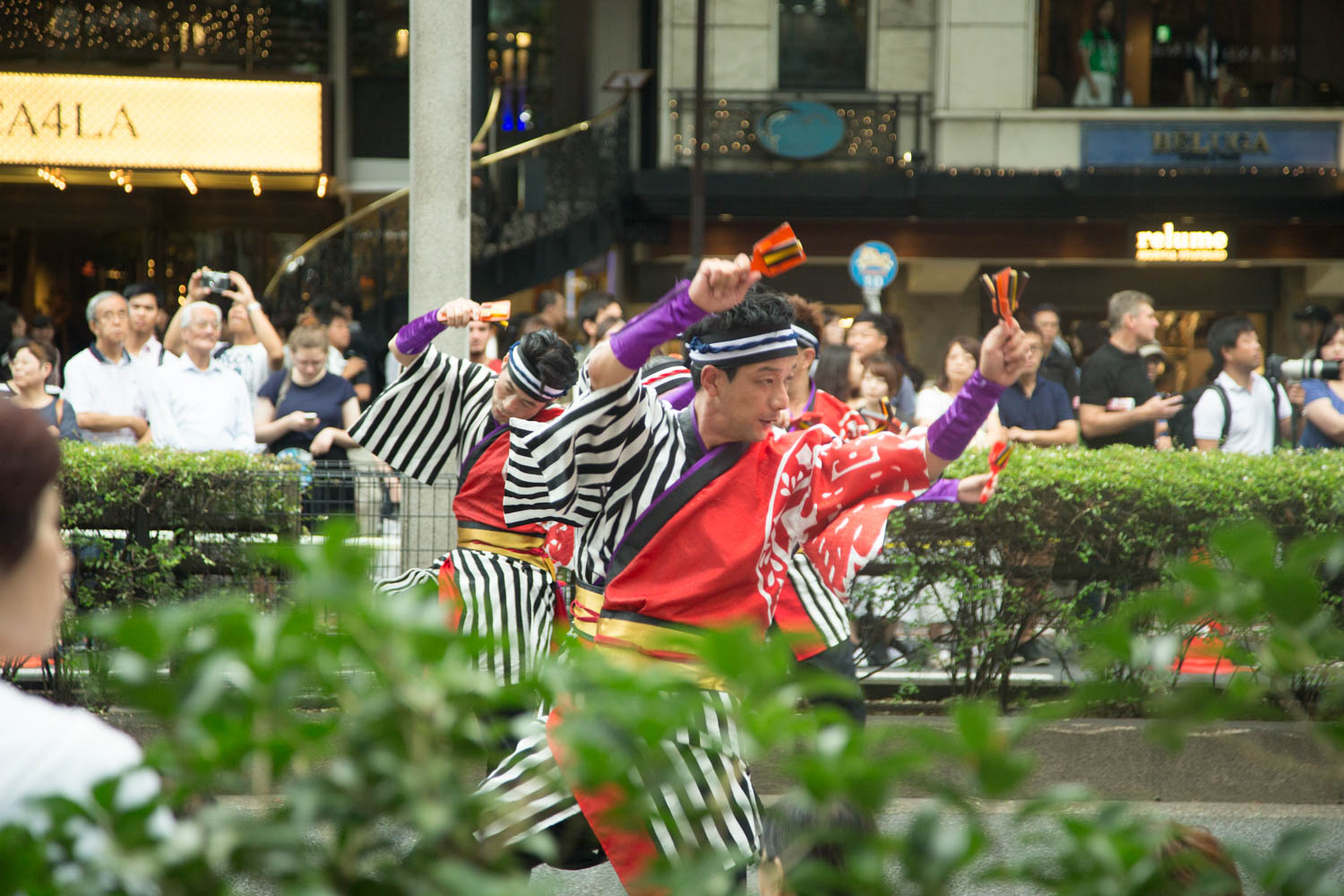 Harajuku Omotesando Genki Matsuri Super Yosakoi Festival. One of the many groups performing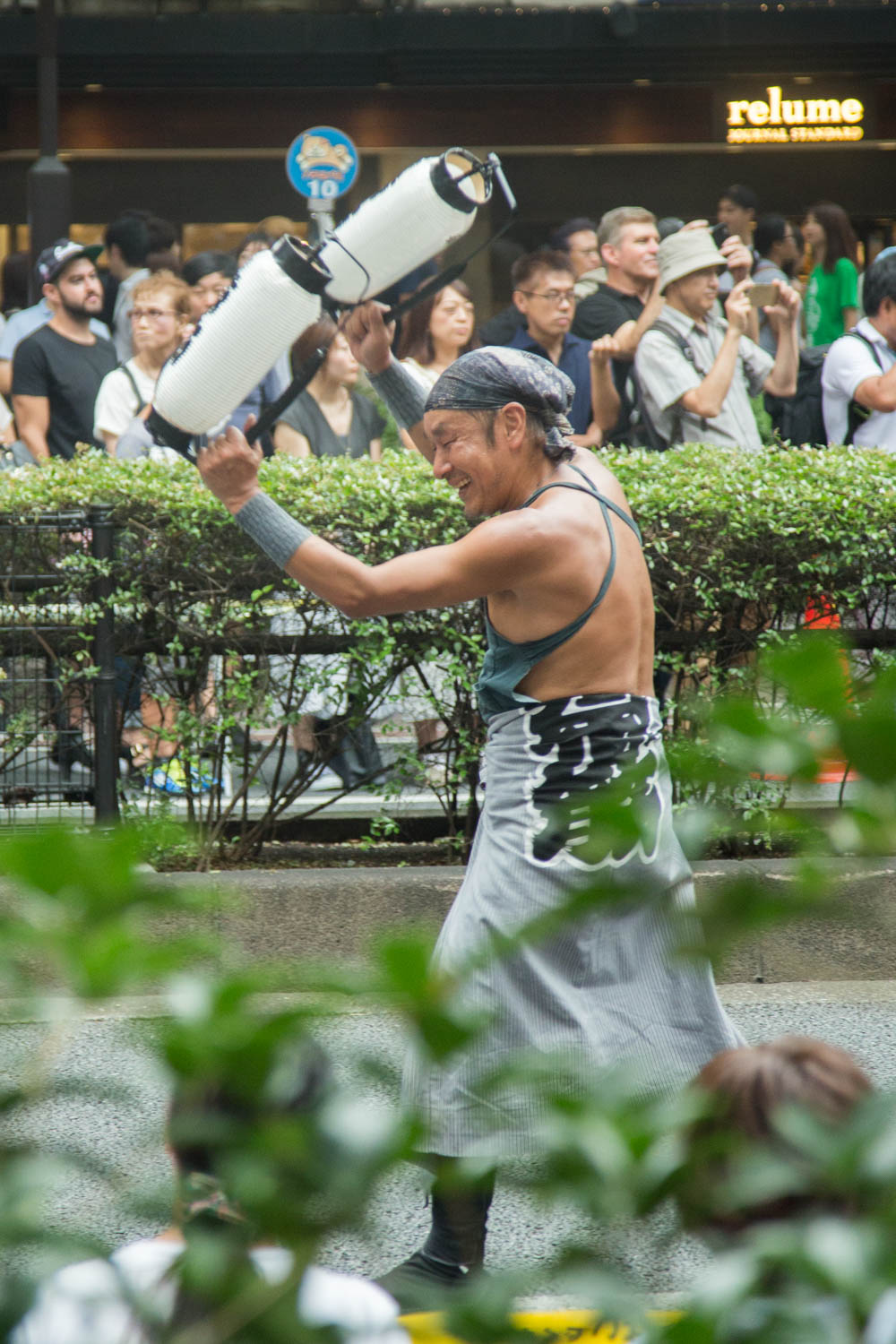 Performers coming in all genders and all ages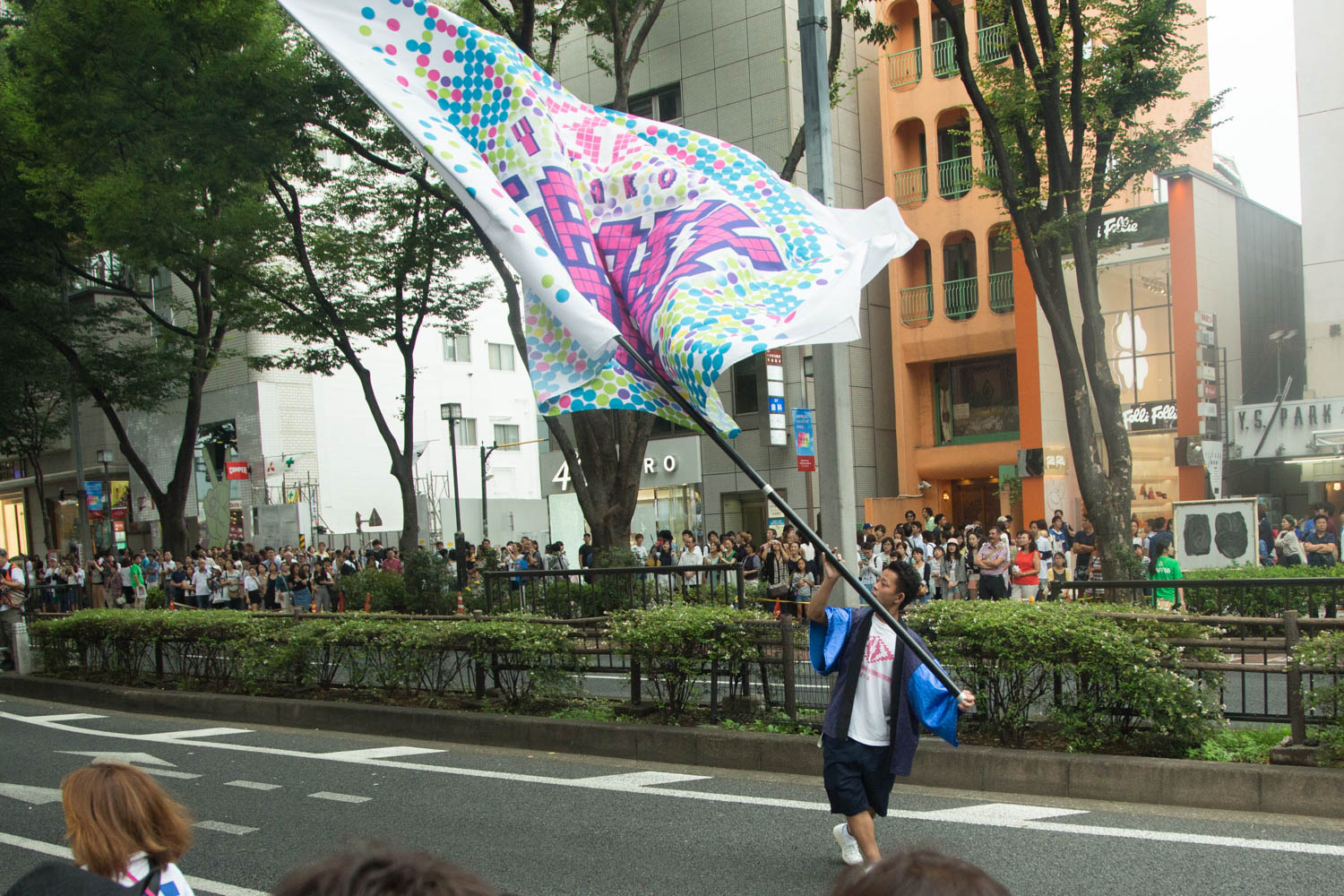 The flagbearer trailing the rest of his team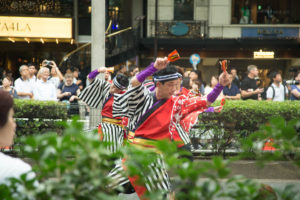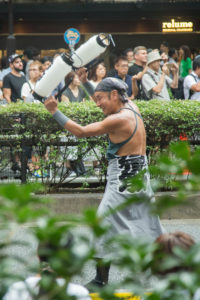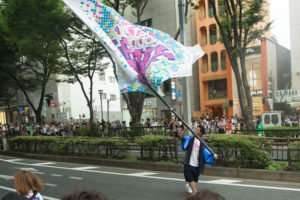 The shopping street extends further down into a larger area, and we would have continued shopping if we didn't chance upon this summer festival along the main street Omotesando. This apparently is the Harajuku Omotesando Genki Matsuri Super Yosakoi Festival (I plucked it from a website, didn't know the actual name was so long), where simply put, thousands of participants in hundreds of different teams dance along the street in costume. Each team also had an open-air truck leading it, with a few people dancing along on it as well, and a flag bearer at the end of the team. This kind of festival was exactly what I was hoping to see while visiting Japan in the summer, so to be caught off guard by this was really a nice surprise. Watching all these people dancing along the street and just generally having fun really brightened my day.. I just felt it was a tad unfortunate my camera views were strictly limited to the sides of the streets, I saw the official photos from past events taken from the performance areas and they were damn awesome.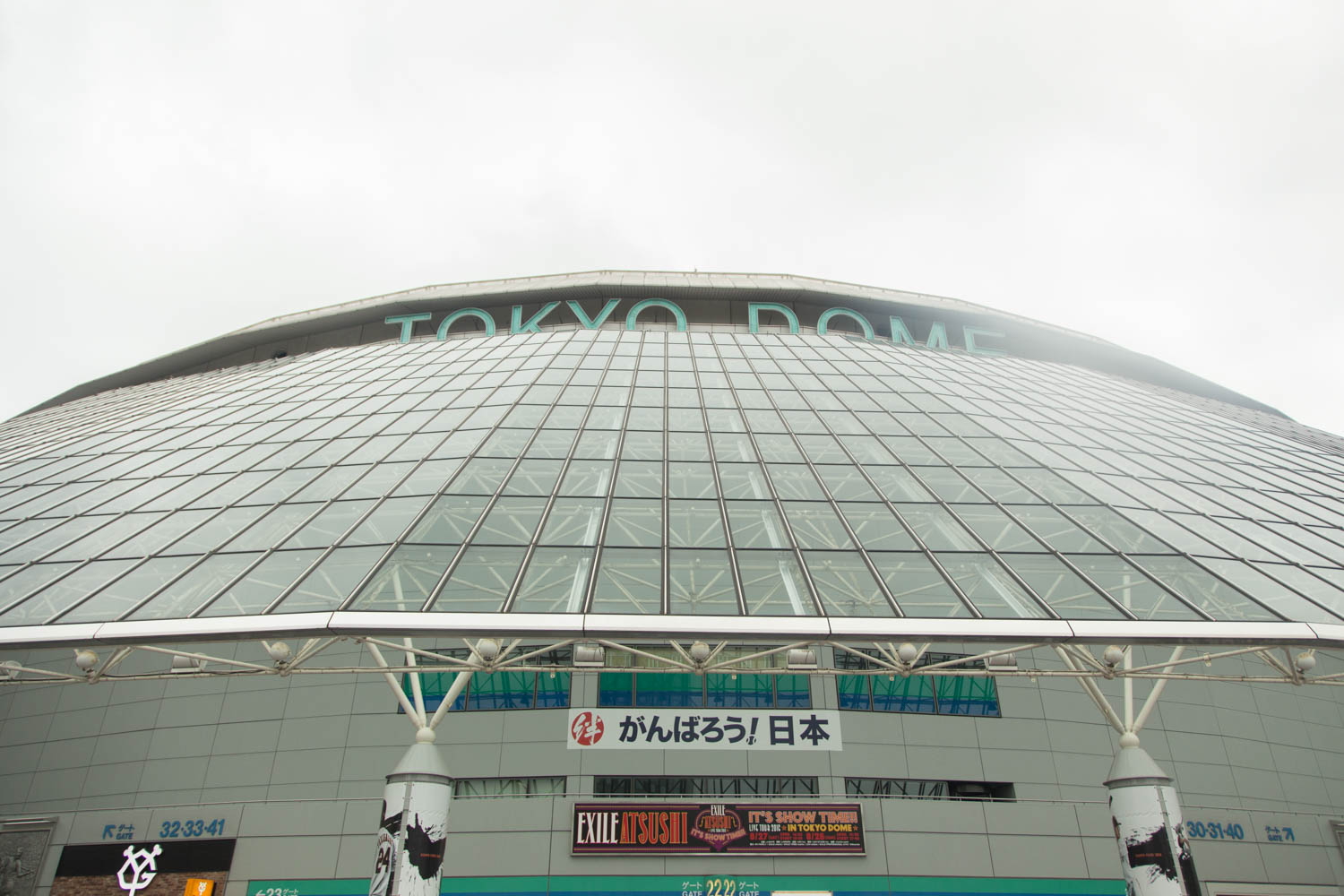 Tokyo Dome. Should have tried to capture the building name a bit better.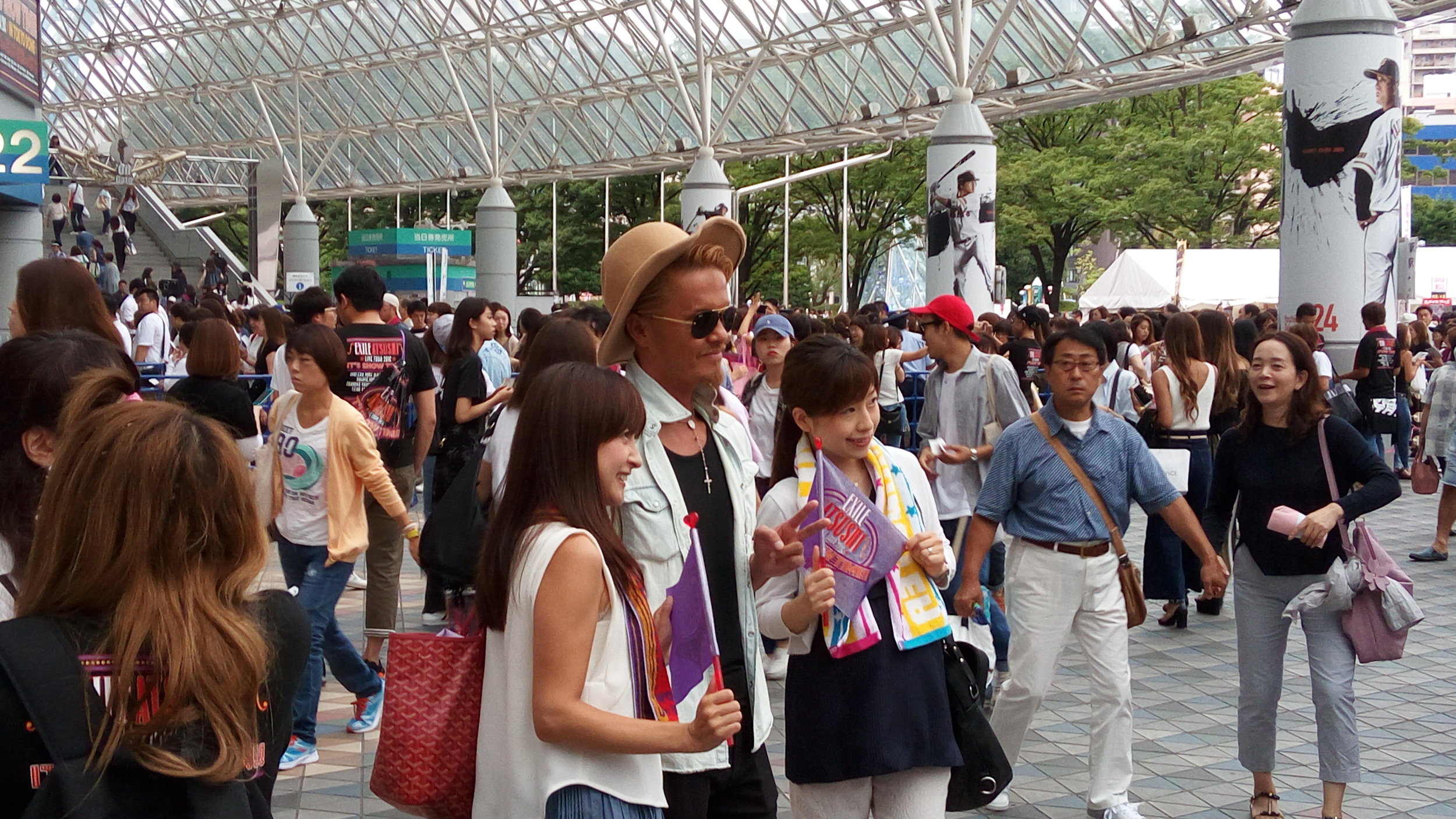 Pretty amusing to see people cosplay the performer, though pretty spot on.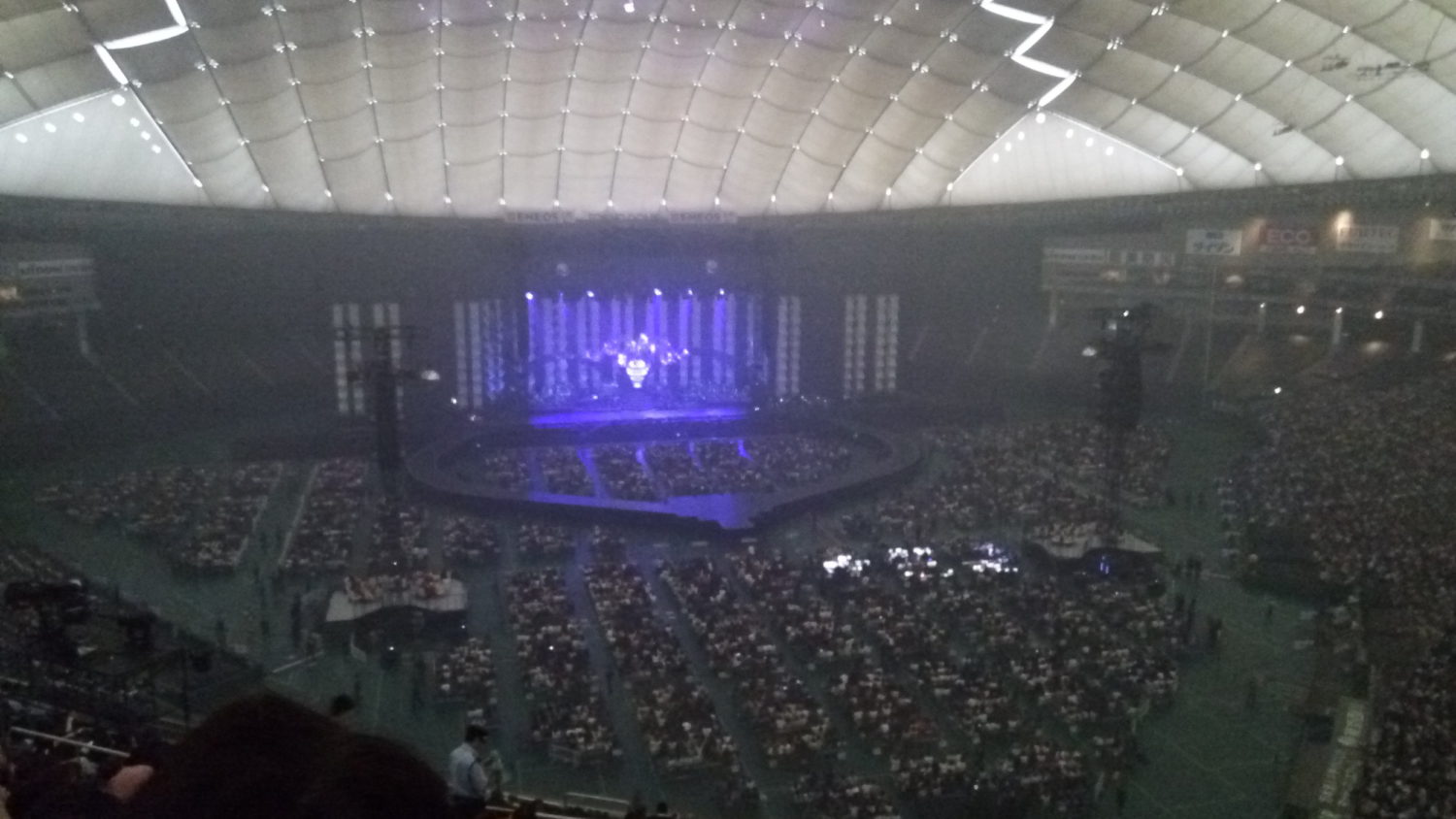 View from my celestial tier seat. Getting used to this kind of view actually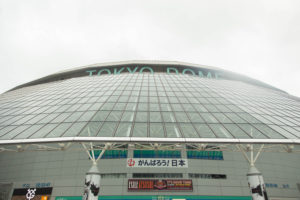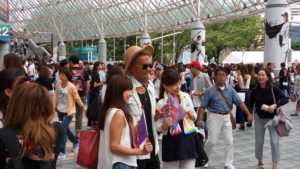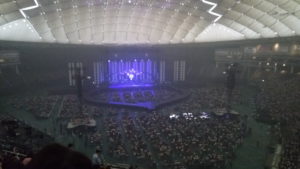 Unfortunately I couldn't stay longer to watch the performance, because I have another performance to get to at Tokyo Dome. My last for the trip, and the most expensive, for EXILE ATSUSHI. As part of one of Japan's most popular groups, I got to say his performance value was the best among all the concerts I've seen so far. The stage decorations were top notch, he had a live big band performing behind him, even the audience area was taken into account as there were two pretty obvious heart shapes, probably his theme for the tour, formed by the seats and the stage. And I found it pretty entertaining how there were even a couple people cosplaying as him around, though to be fair I don't think he is hard to cosplay after all. This was the most expensive concert so far, but I think it was worth it.
Day 10: Return to the Fish Market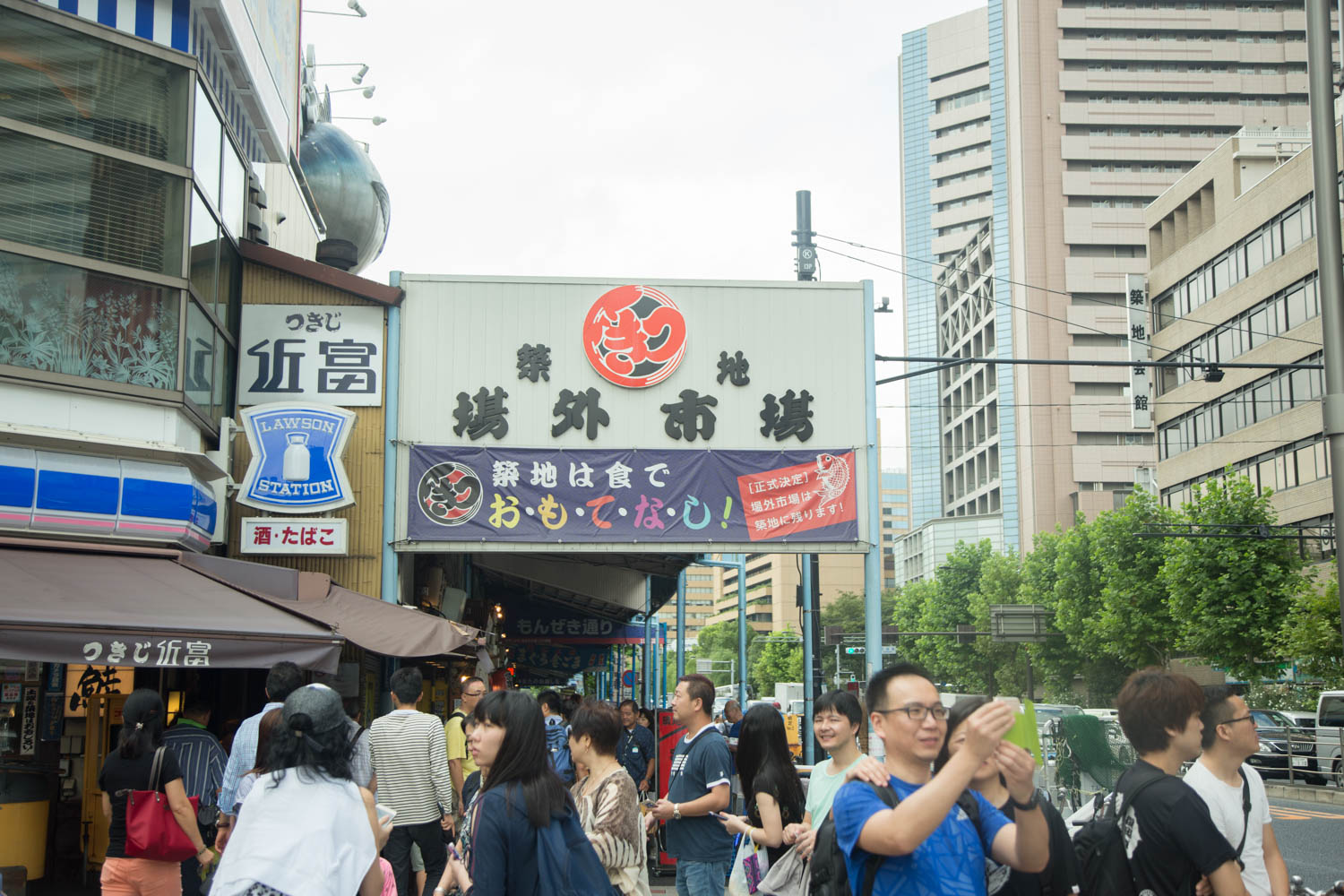 Return to the fish market!!
Concerts are now all out of the way, so all that's left is a week worth of walking and sightseeing. On this day it's back to a place I'd visited on my previous trip: Tsukiji Market
On the previous trip I only managed to explore the outer market area as I came late and I didn't explore further in to find the entrance to the wholesale area, so I just had to come back, especially considering this place is going to close down soon. I didn't bother with the auction though. As much as I wanted to see it, I couldn't convince my body that it was worth waking up early in the morning for.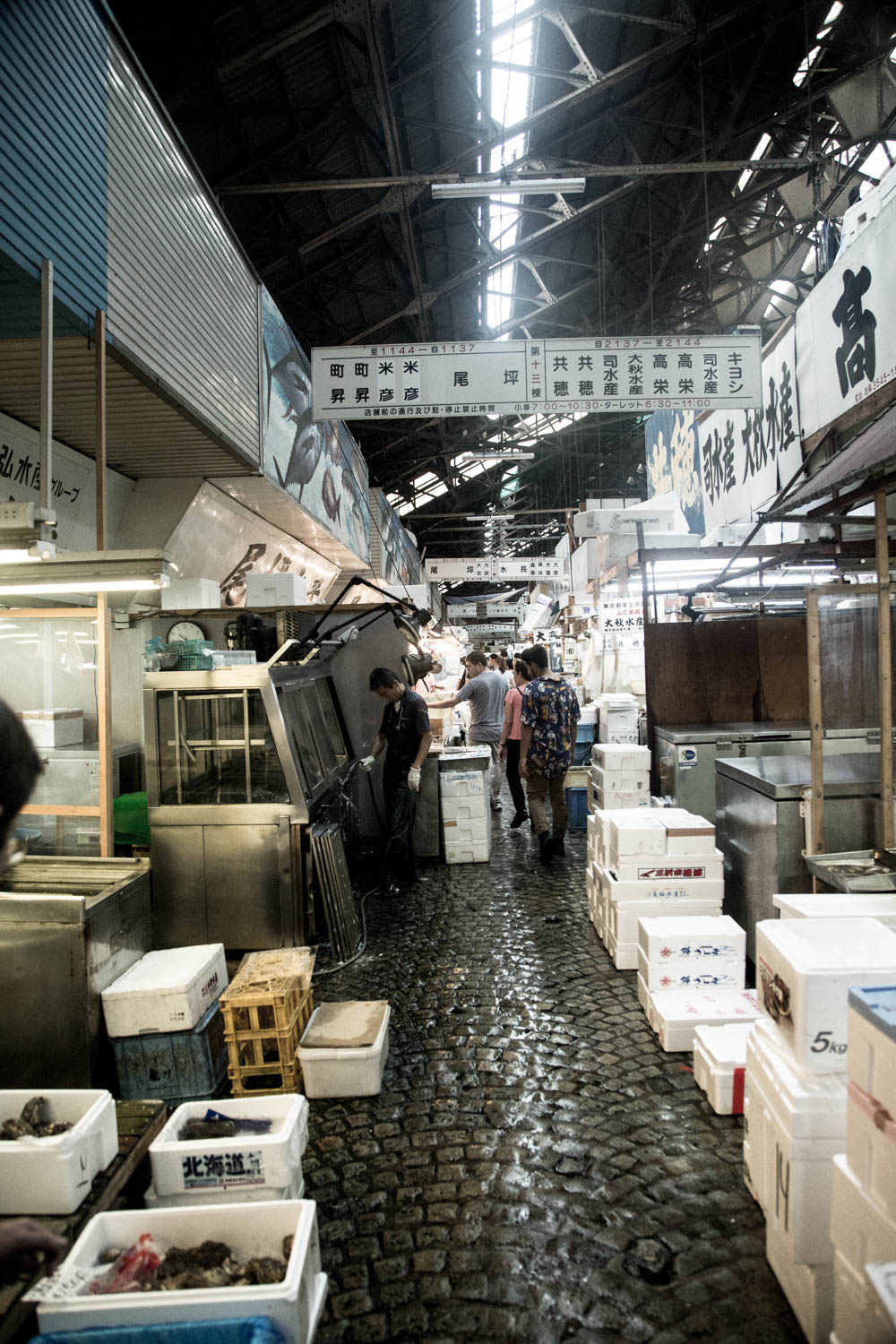 One of the many walkways inside the wholesale area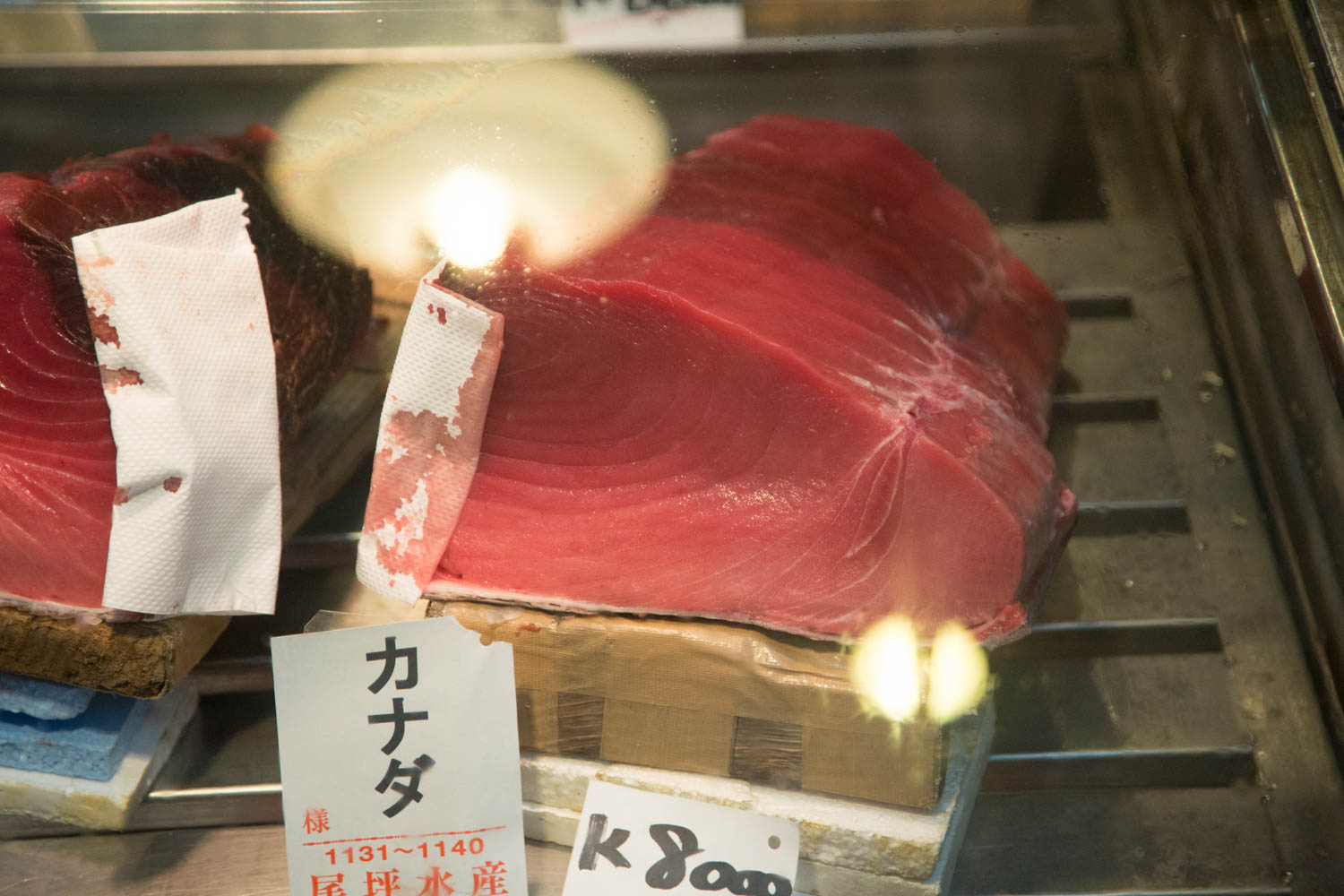 The largest slab of tuna I've seen in my whole life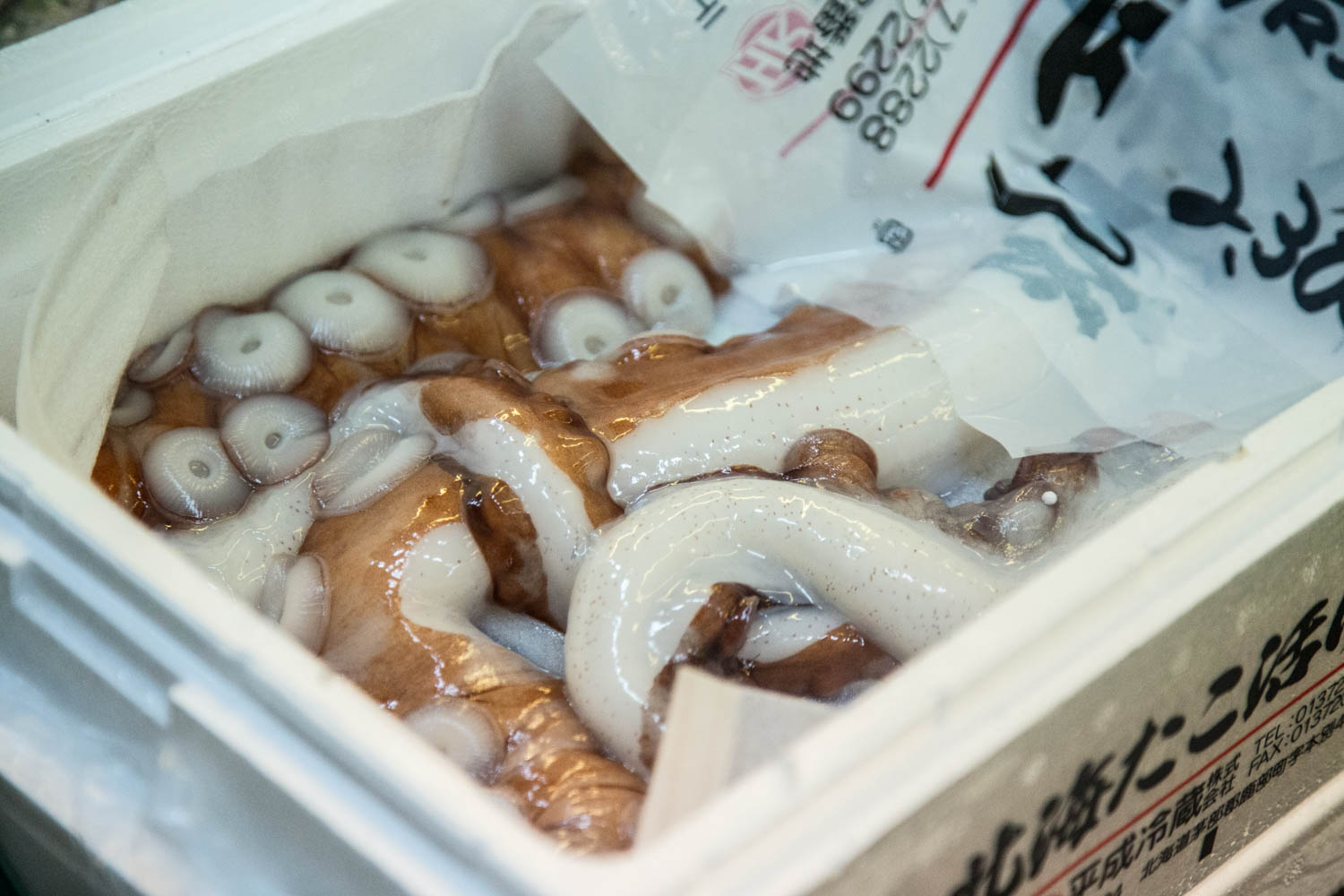 Scarily big octopus tentacles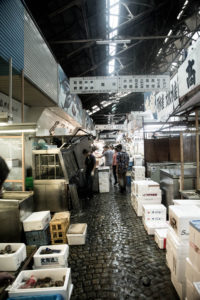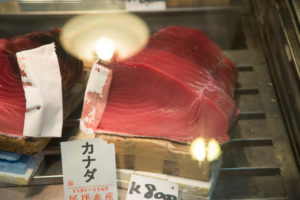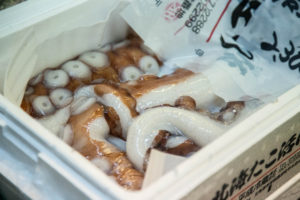 I think we went at a pretty good time, probably about 10am or so. The crowd had already mostly dissipated, so we weren't squeezing amongst a horde of people, but at the same time not all the stalls had stopped operating so we could see the things they were doing. The entire place was actually pretty big, there were countless numbers of those walkways in the wholesale area, and even after making turns everywhere we probably only explored only half the place. And not to mention the seafood on sale, which were really impressive to say the least. Partially because of its variety from whatever stalls that were still open, but also because of its size. I mean, just look at that slab of tuna at the top. And look at the size of those octopus tentacles. I've never seen any of those seafood in such huge portions before.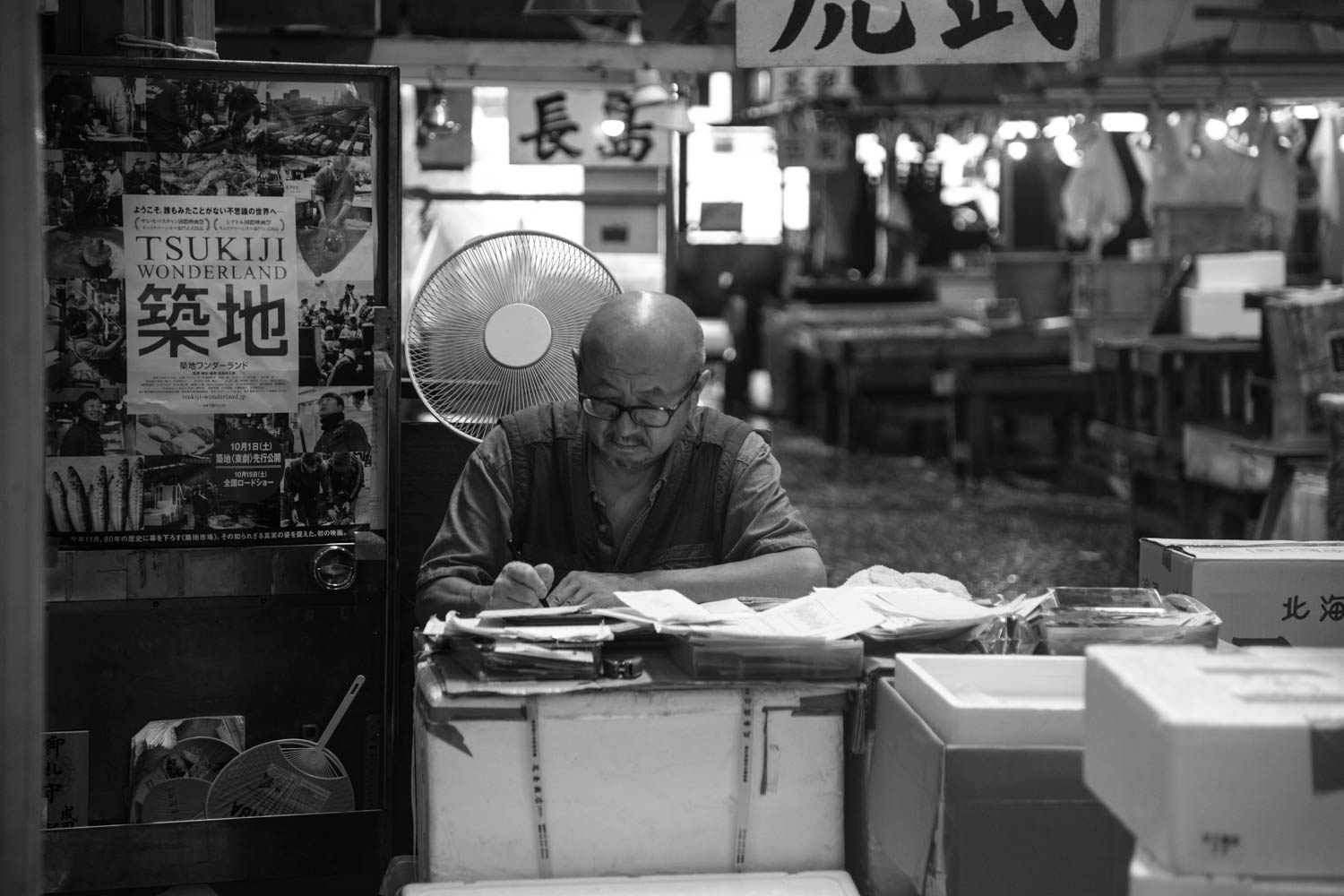 Daily lives of Tsukiji Market sellers: doing accounts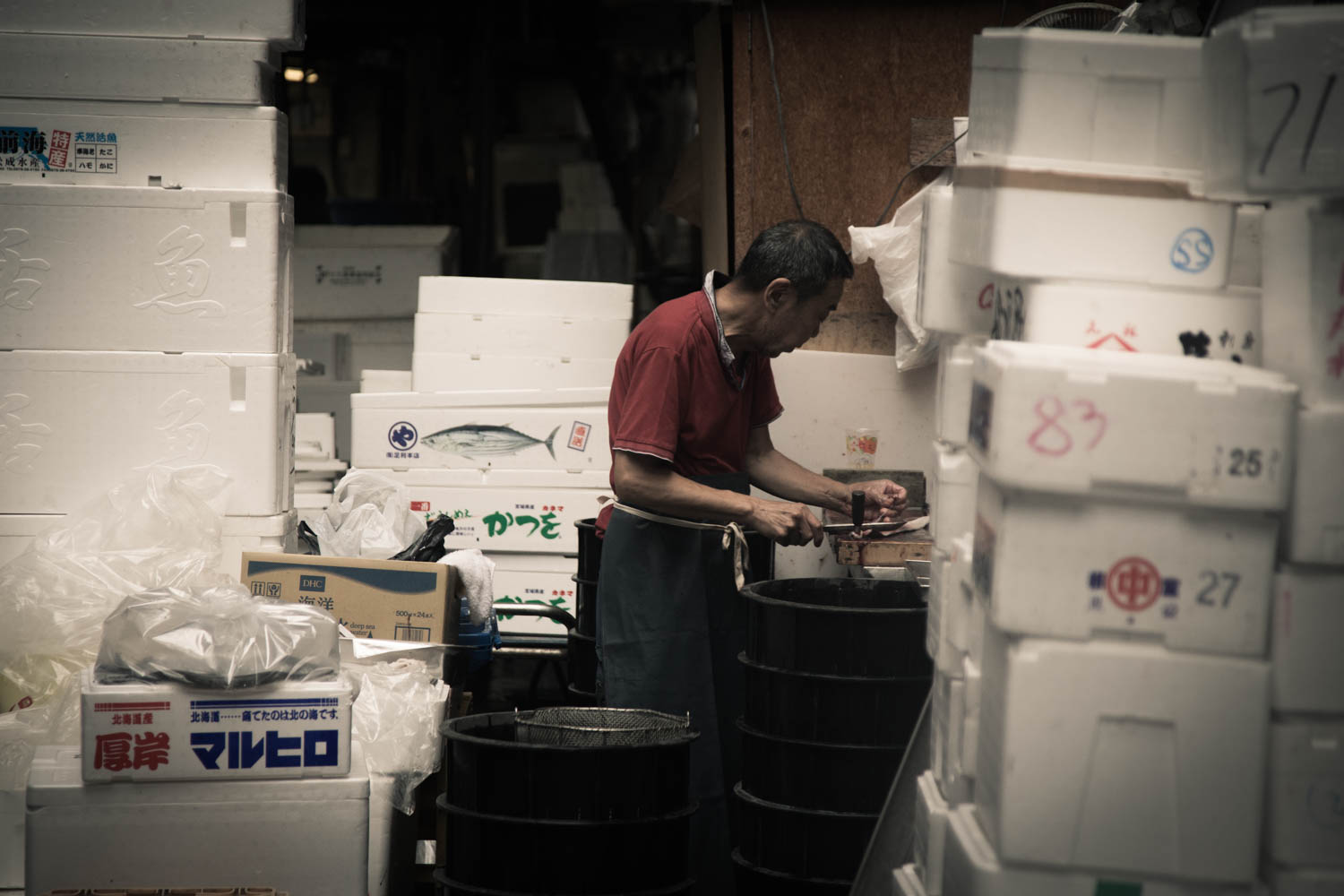 Daily lives of Tsukiji Market sellers: de-gutting fish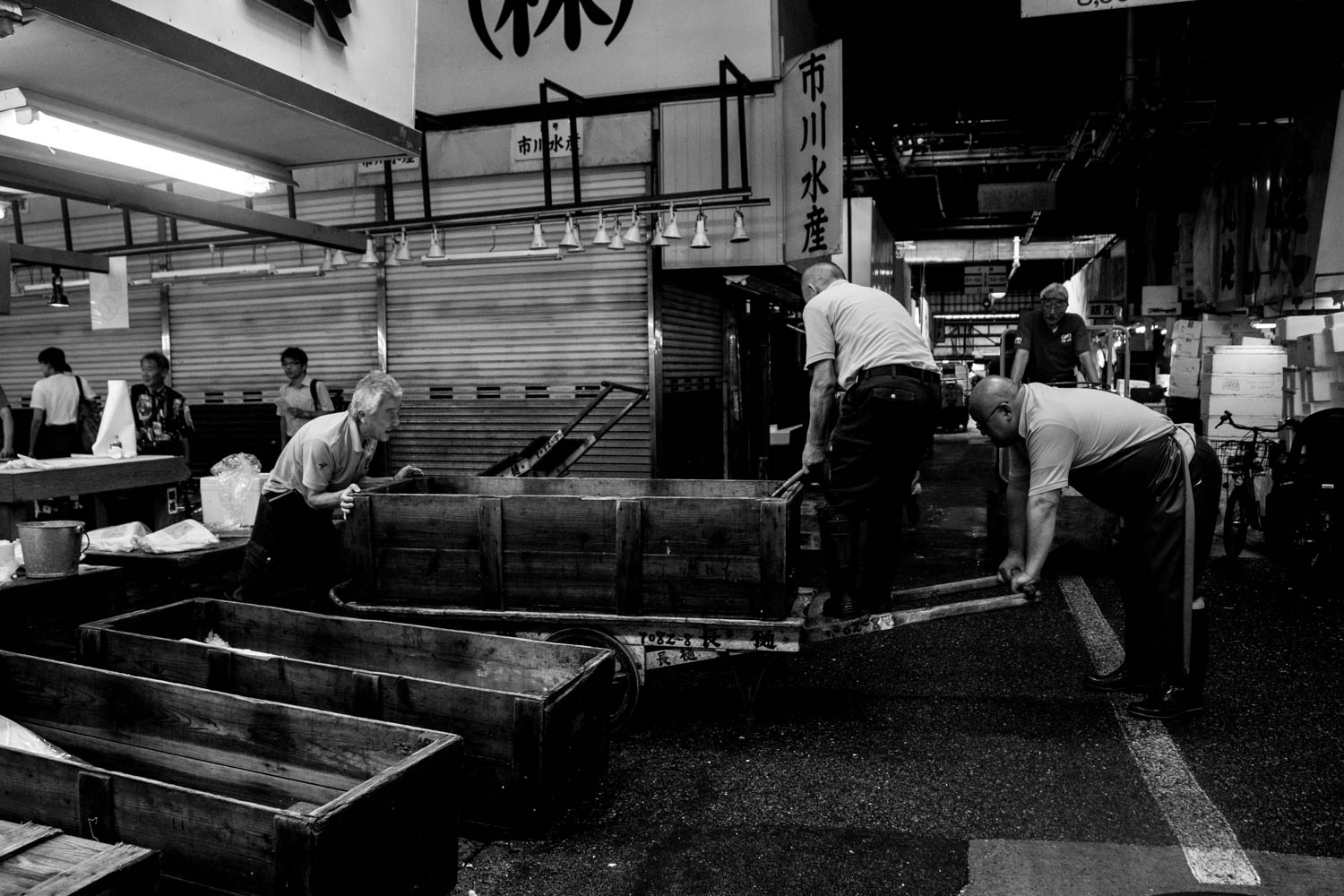 Daily lives of Tsukiji Market sellers: moving huge empty containers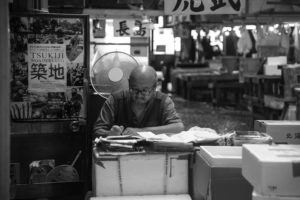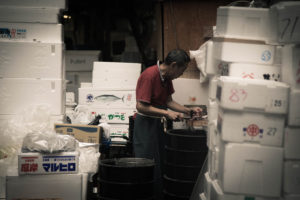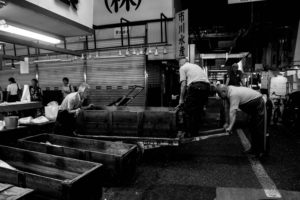 Apart from the seafood, we also got to take a look into the daily lives of these seafood wholesalers. All the seemingly mundane things they do, from doing accounts to slicing fish to moving crates, all suddenly just look more interesting simply by reason of being in Tsukiji Market.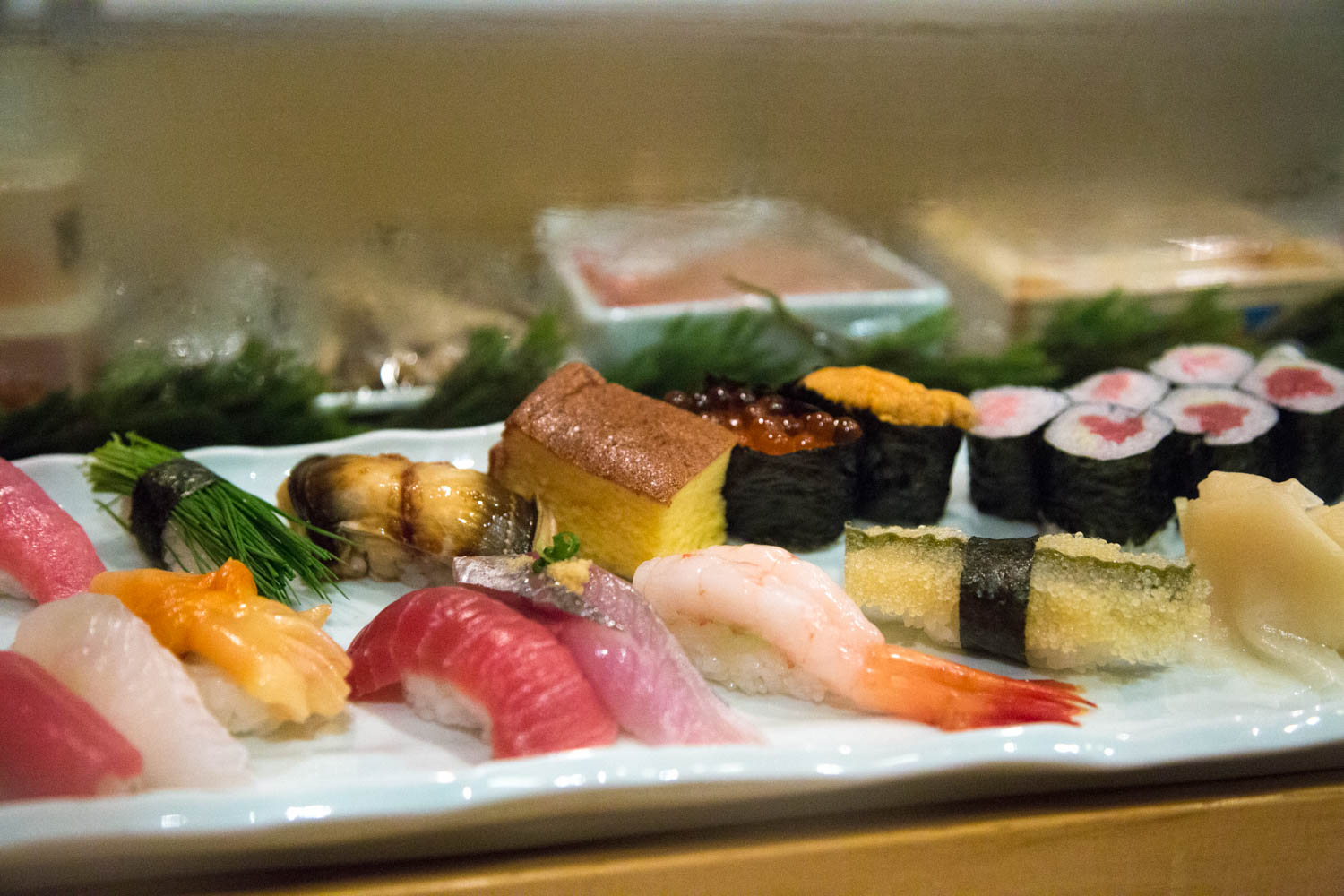 Sushi dinner at Sushi Katsura. Expensive but worth it.
We actually came back to the vicinity at night for dinner, because hey, what was a visit to Tsukiji without sushi? I revisited Sushi Katsura, which another one of my friends brought me to for lunch during my first visit. One thing that slipped our minds was how expensive dinner can be in this type of places, and the prices were really no joke. The above set was ¥3200, which rounds to about $40+, but we had agreed beforehand that we were going to splurge on a meal one time and it was definitely going to be sushi, so there were no regrets. Just look at the variety, there were 15 different types, and as we got the counter seat right in front of the chef, we got to watch the chef prepare all this right in front of me. This kind of set sold in Singapore would probably be much more expensive. It was a pretty long wait before it was all served (my friend meanwhile was happily gobbling it up as they were serving), but to see this kind of spread was pretty awesome to say the least. And the seafood were all really damn fresh, which was nothing less than I expected from this place. Highly recommended place, the lunch menu is particularly cheap too.
There wasn't much exploring of the outer market this time round, so please read the previous post for more. And while we spent the rest of the afternoon exploring Akihabara, it was more of a shopping trip where we were busy deciding what figurines to buy, so for more of the place itself, please read the previous post as well (which isn't much better content wise now that I realise)
Day 11: Ikebukuro and a short Todai Explodation
I actually spent a whole day exploring the streets of Ikebukuro, but unfortunately there's not really many new things to check out, so you can refer to my previous blog post. It was kind of a disappointment actually not to explore much new things here, considering I spent 3 hours the first time and an entire day this time round. Probably the only new place I explored is Otome Street, which is like a really poor man's version of Akiharaba catered to ladies, and there wasn't much to shoot anyway.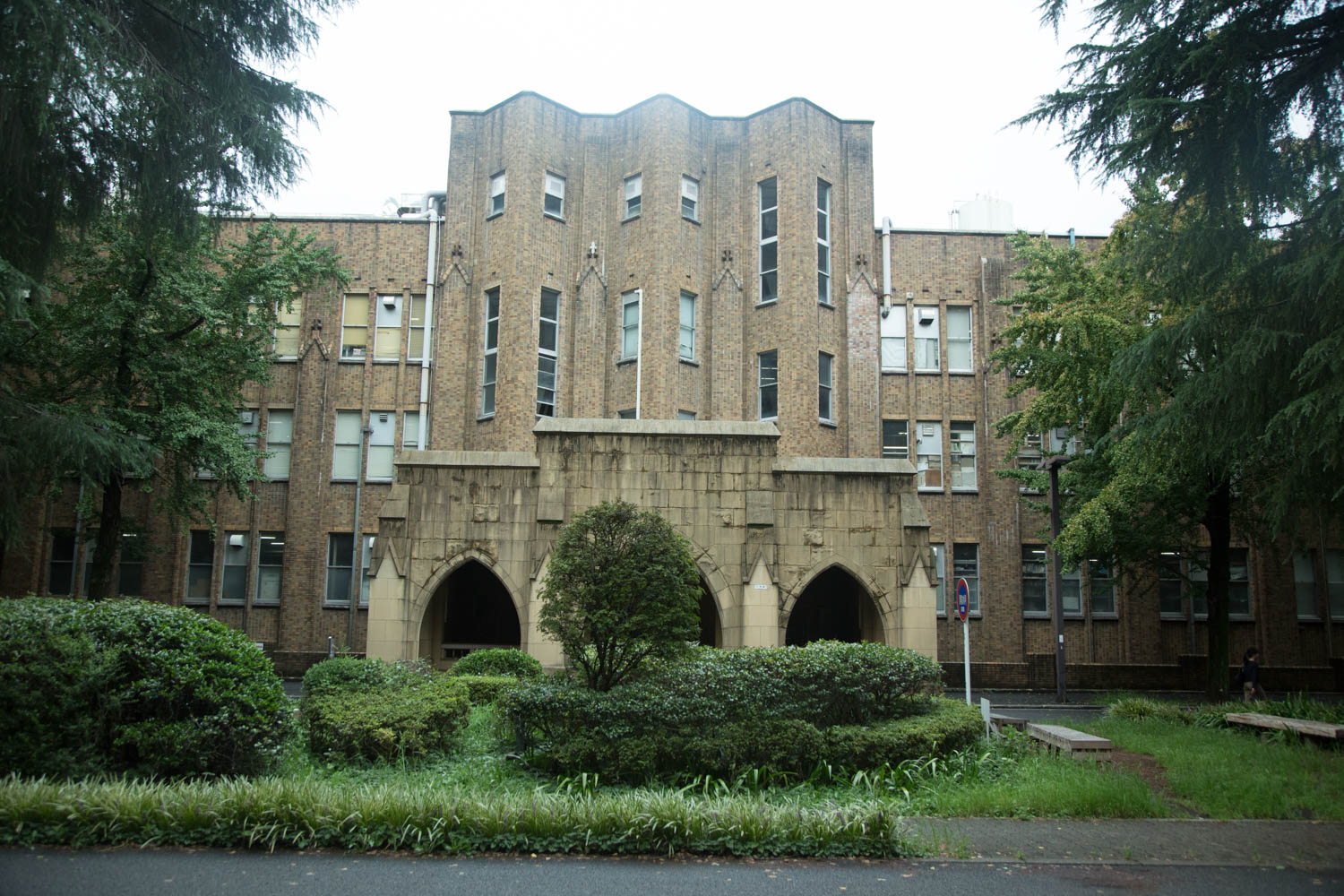 Buildings at Tokyo University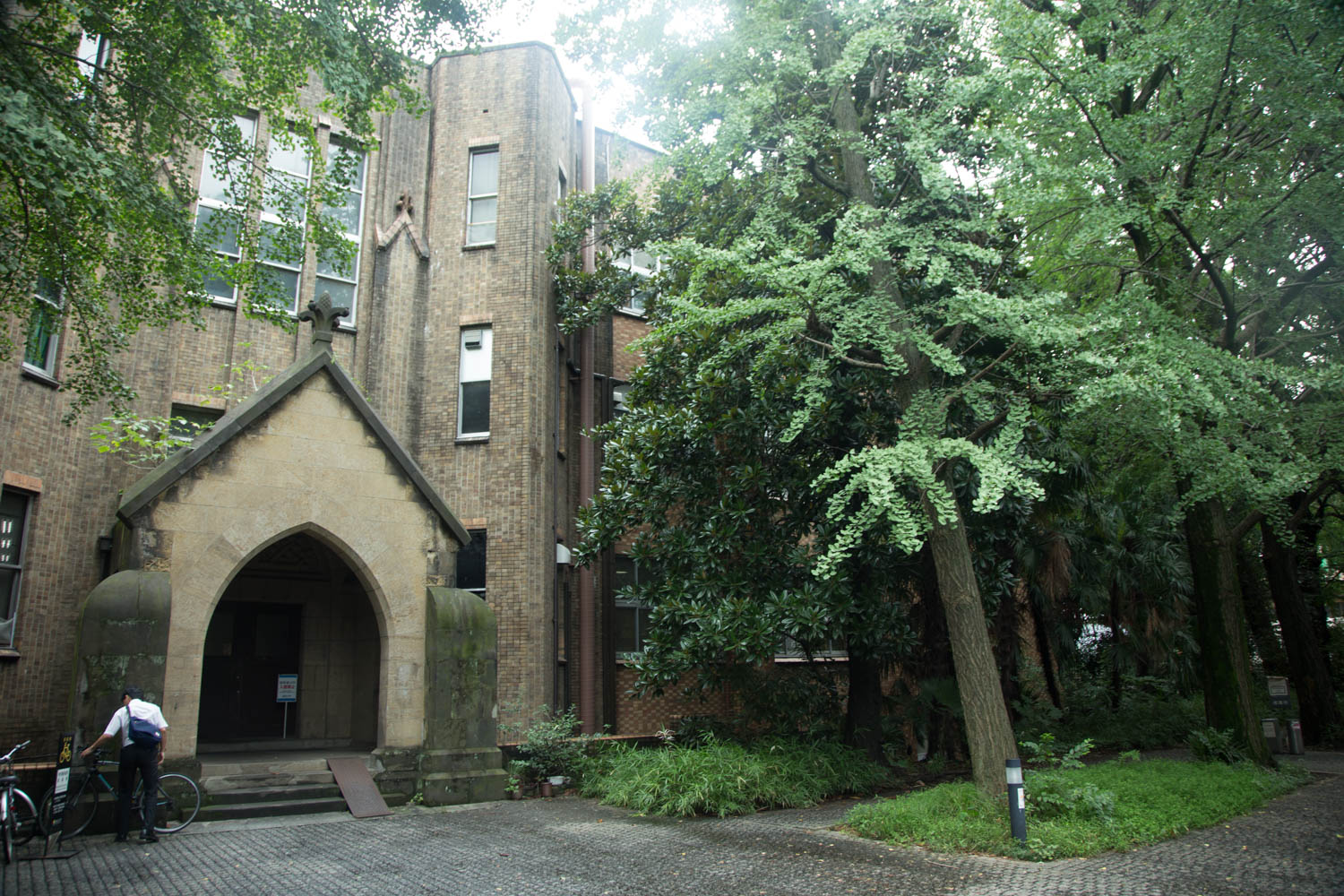 Surrounded by greenery everywhere. Such wonderful scenery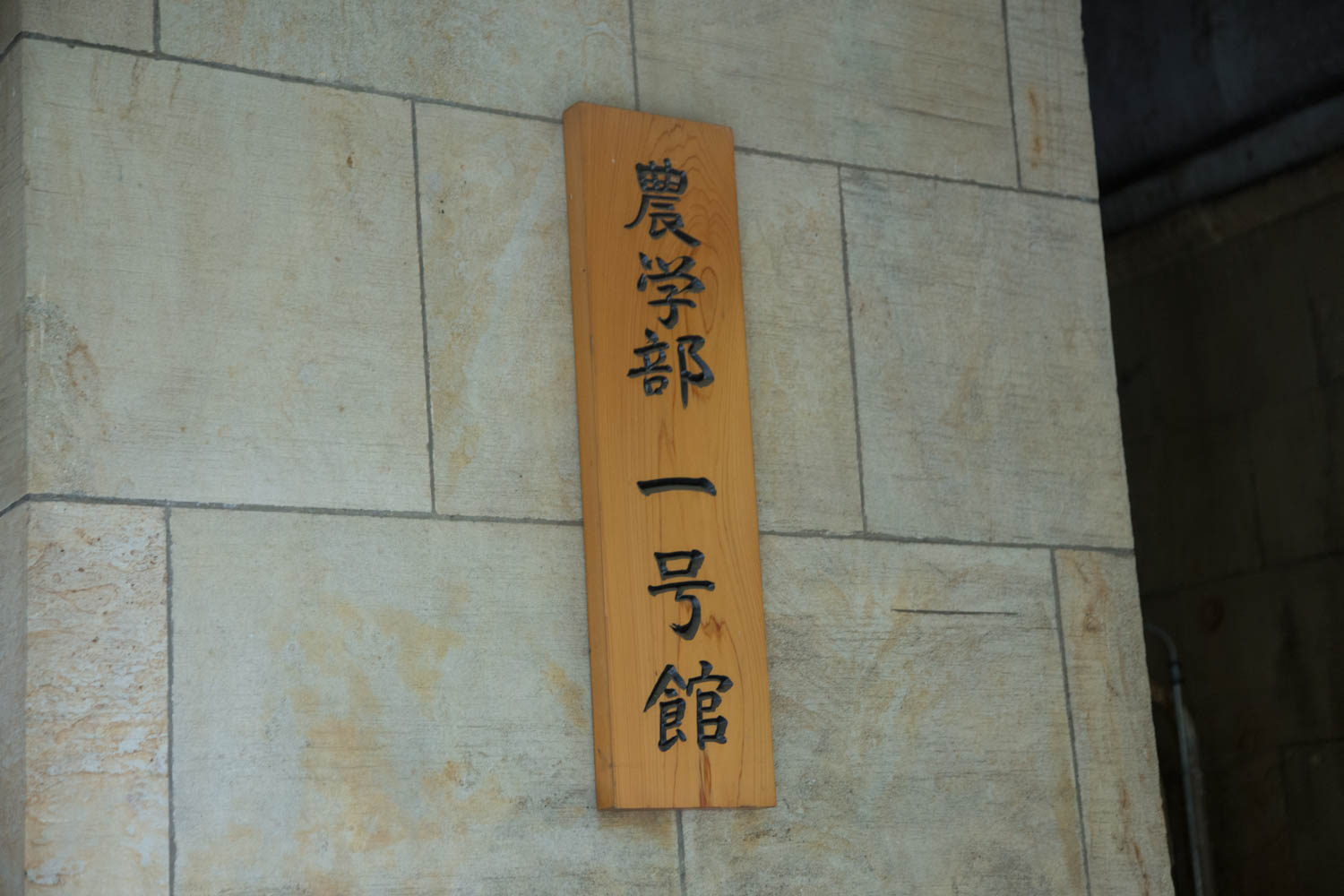 One of several Agriculture Faculty buildings at Todai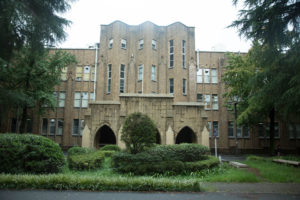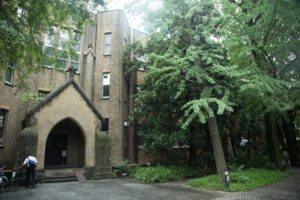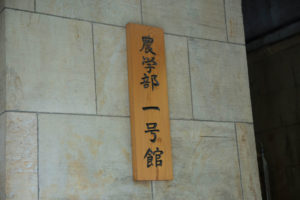 Other than that, before making our way to Ikebukuro, we decided to explore Tokyo University, as it was literally just outside where we were staying. Well, a small portion of it anyway, that part we explored can probably be considered the annex of the main university, think of it as the Todai equivalent of NUS UTown, the main campus was opposite the road across a bridge, which we didn't explore. We were behaving almost like a pair of tourists in there, so I didn't take too many photos in case we got chased out by security. Scenery wise NUS is nowhere close in comparison to Todai, just look at all those greenery everywhere. You could really feel the history of this place from its scenery and old style buildings.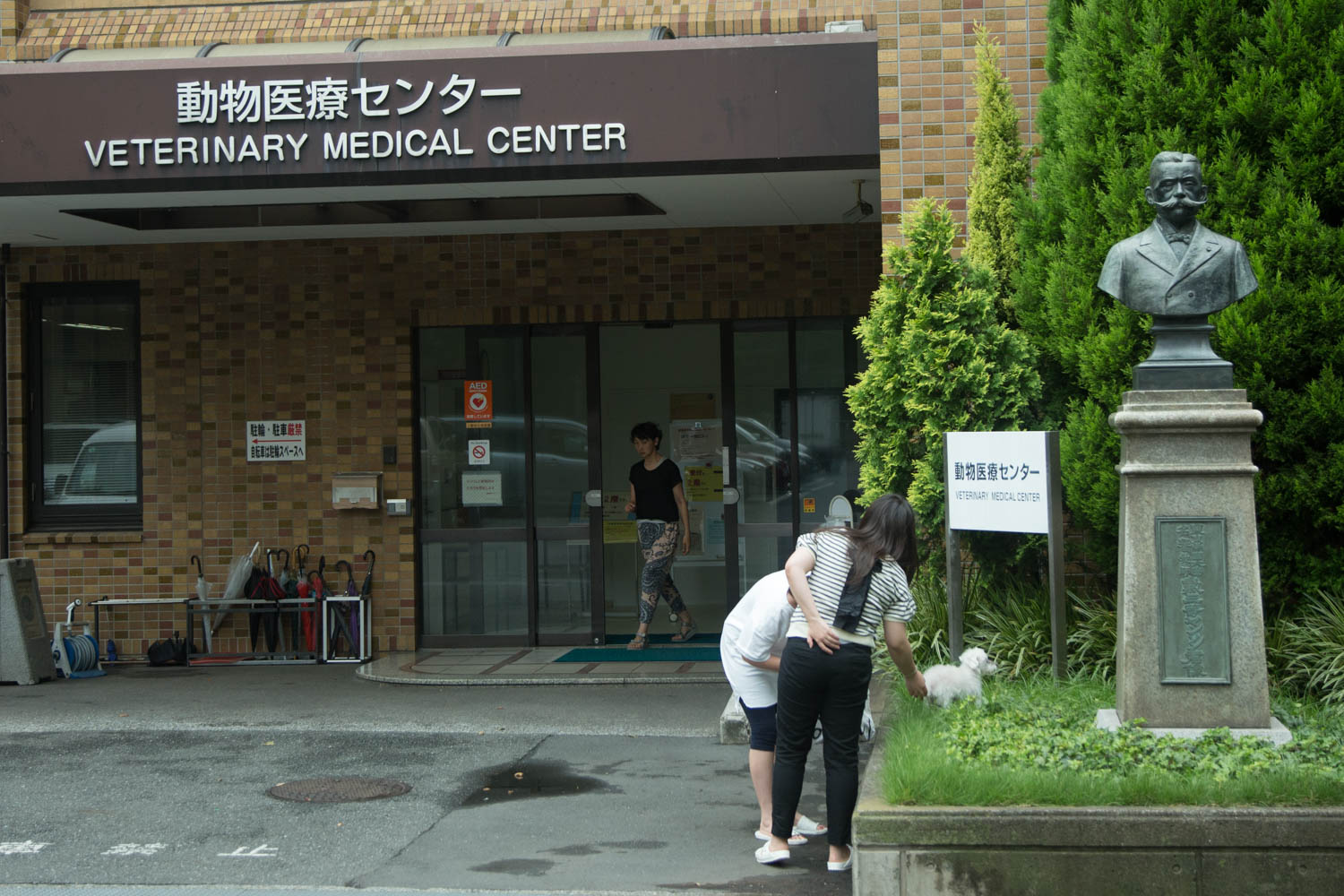 Todai's Veterinary Medical Center. Looks like the public actually brings animals here for treatment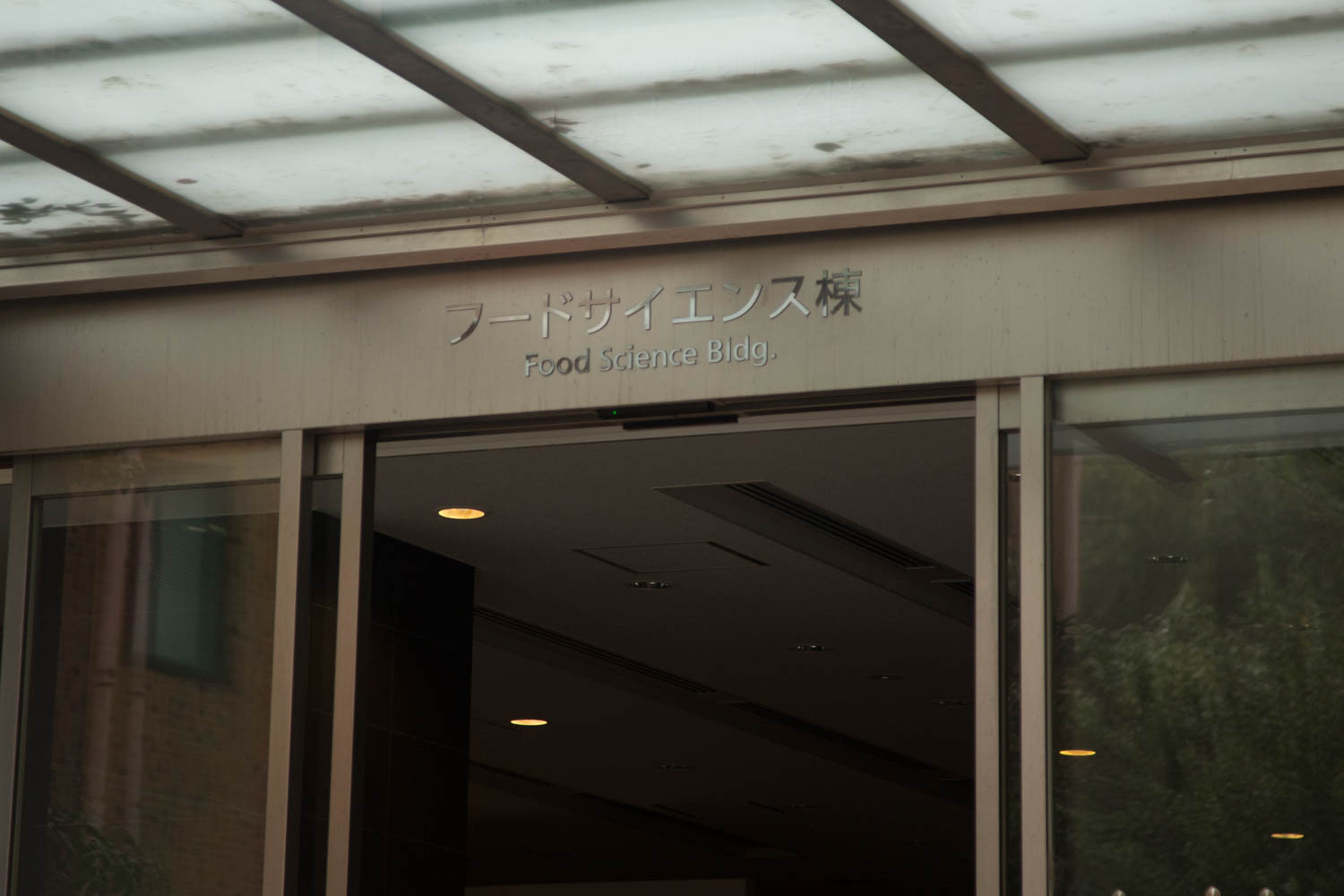 Food Science Building. Suddenly having images of myself studying in this building.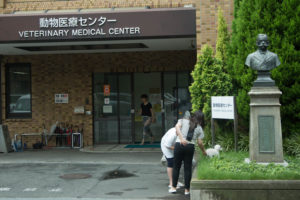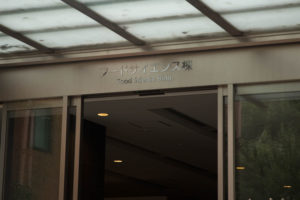 The part we were at consisted mainly of the Agriculture Faculty, there were a couple of buildings numerically labelled, but there were also a couple other buildings, like the Veterinary Science Building (would have been my first choice of course if I went the poly route), and even the Food Science Building!! Obviously as a food science graduate I had a photo with the sign, but it's with my friend and I didn't bother asking for it. It was really pretty cool to see an entire building dedicated to food science, when in NUS we have just 2 floors of labs.
Day 12: Out of Tokyo – Kawasaki & Yokohama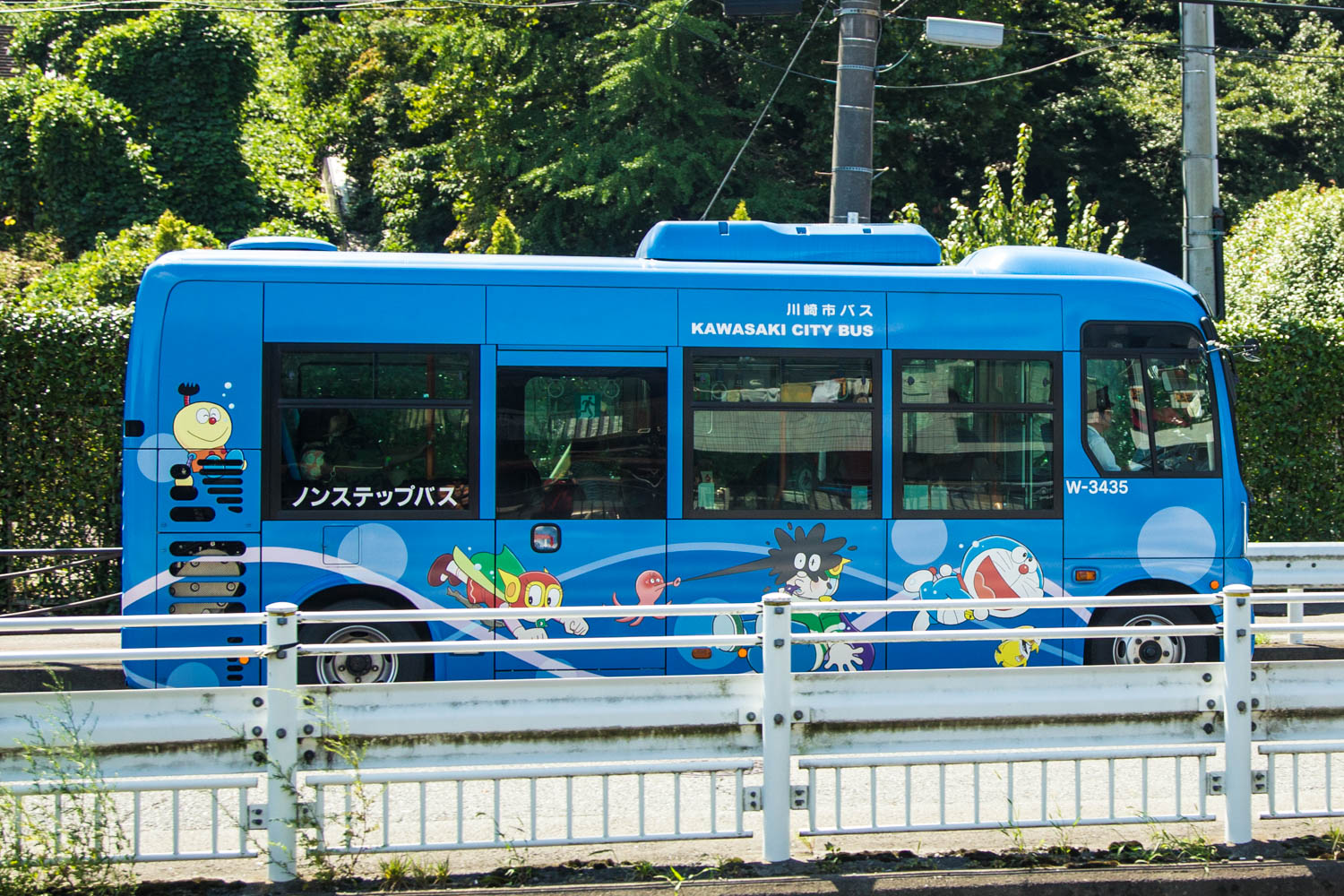 The shuttle bus to Doraemon Museum, cutely decorated with characters
Despite my time in Japan quickly coming to an end with many places in Tokyo still not visited, I still felt a need to get out of town, so we made the short trip down towards Kawasaki, to our main objective of the afternoon, the Fujiko F. Fuji Museum, or as I like to call it, the Doraemon Museum.
Rather than just a museum about Doraemon, this was more of a museum of its creator, hence the name. There were a lot of stuff about his works prior to Doraemon. Still, as a 90s kid who grew up watching Doraemon on TV every weekend, it's impossible for me to resist visiting that place.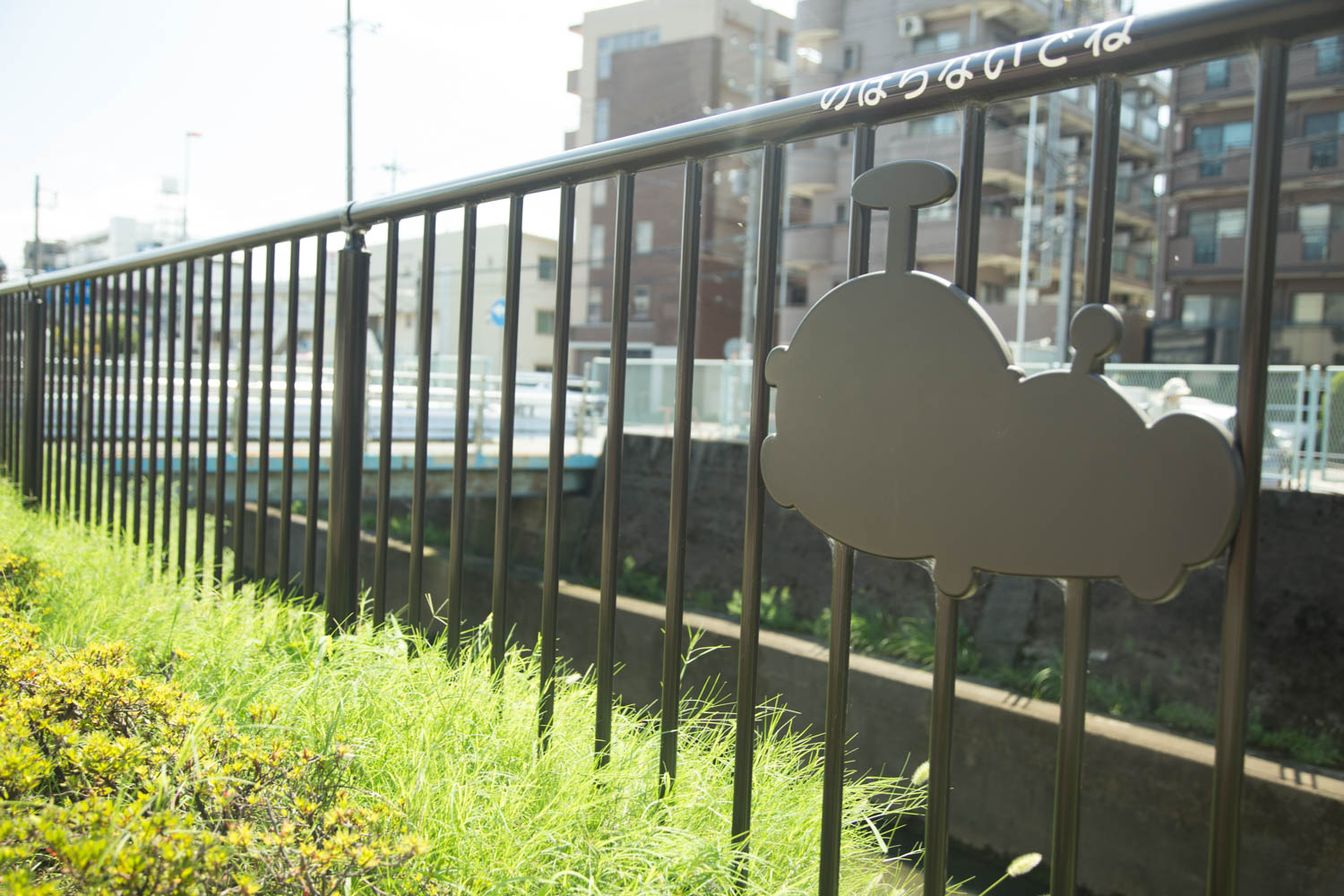 Railing decorations leading us straight to the museum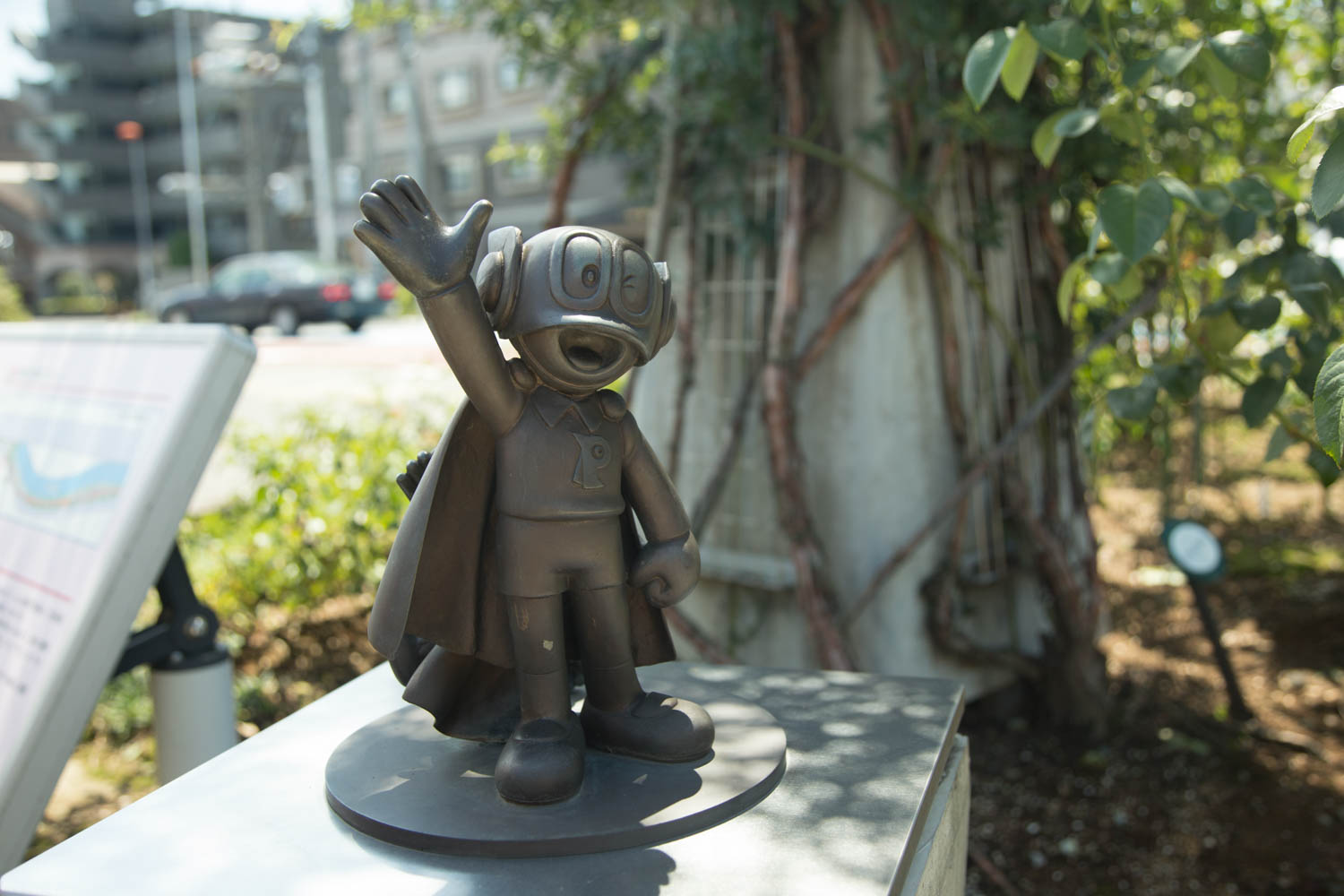 One of the artists characters, with an uncanny resemblance to Nobita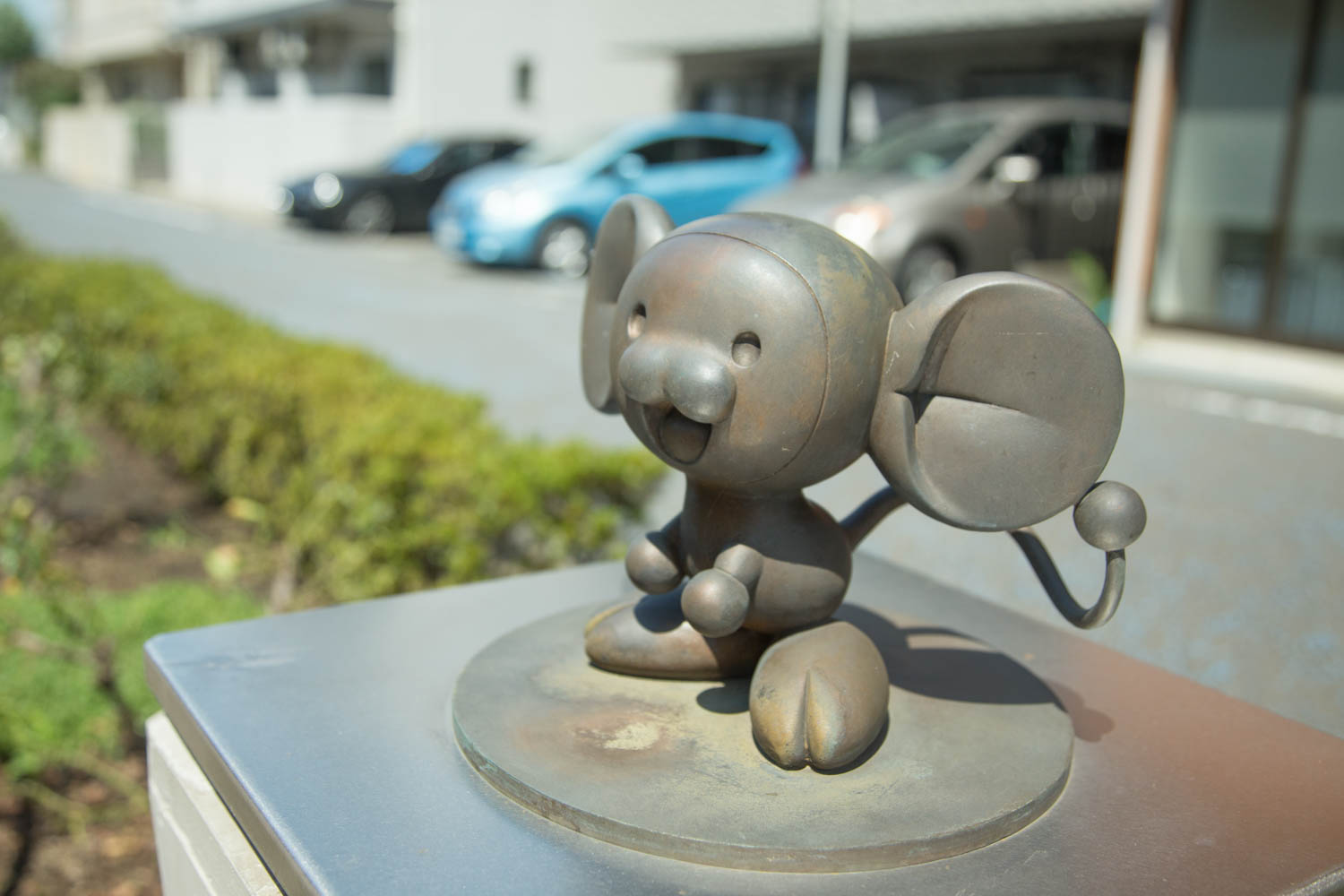 Another one of his creations, a mouse like character.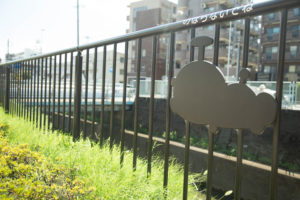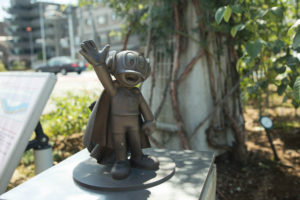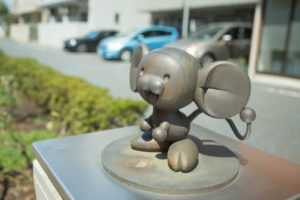 Even from the walk from the station to the museum, it was really obvious that this was the main feature of Kawasaki City. The railings had silhouettes of Doraemon in various poses all the way, and once in a while there would be small statues of some of the artist's characters. Unfortunately I didn't get to see the Doraemon statue, but I did see one of his sister when we left at one of the train stations.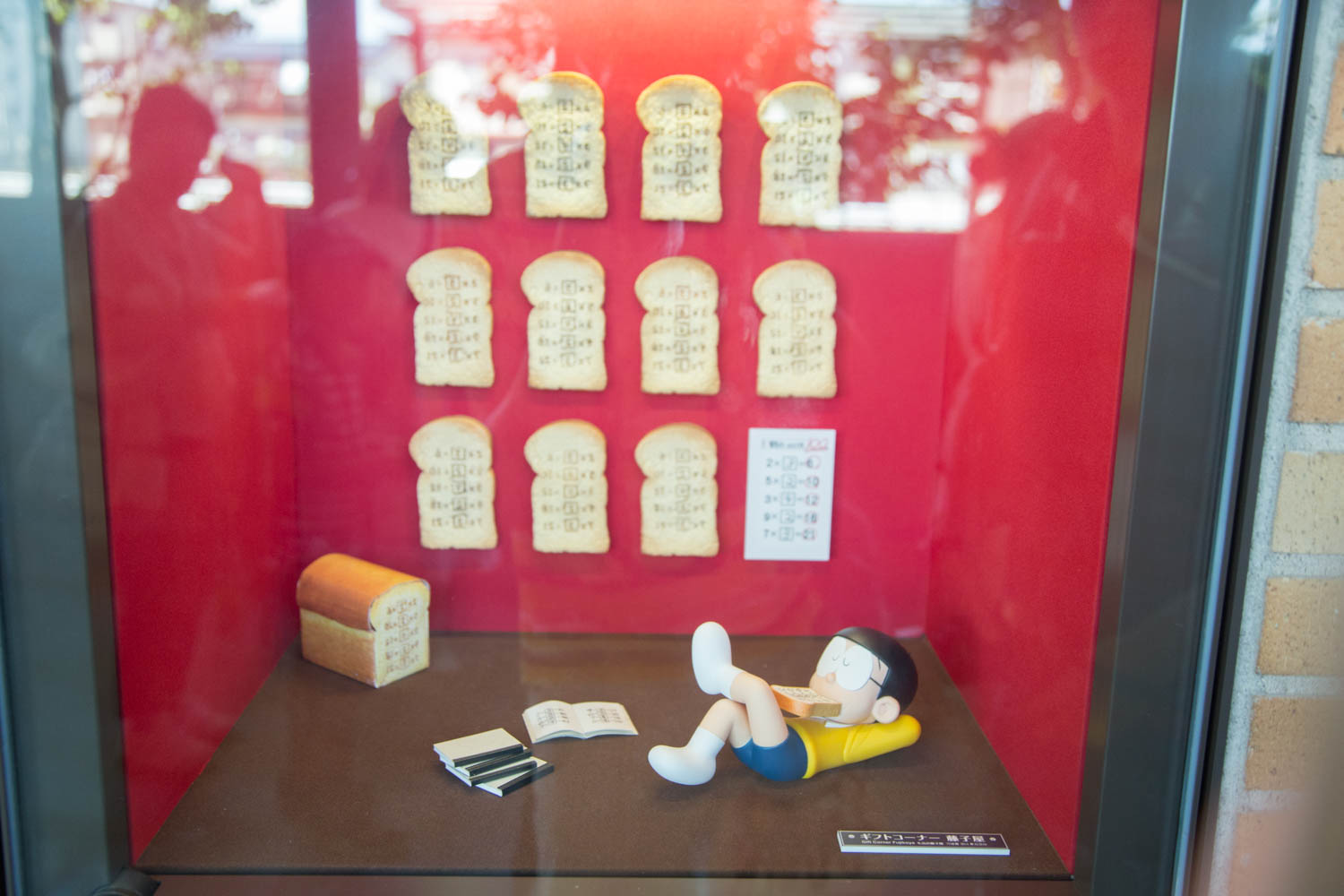 Memory bread, the one thing I really needed while schooling
At all times upon arrival there were always things to look at. While queuing to enter there were a couple of displays featuring dioramas of sorts, mostly based on Doraemon, and there were a lot of the artist's original artwork and related stuff inside. One of the coolest exhibits was this augmented reality scene featuring Doraemon and Nobita that explained how the artist drew and inked the comic. Really cool stuff. Unfortunately photos were not allowed, there were quite a lot of things worth shooting.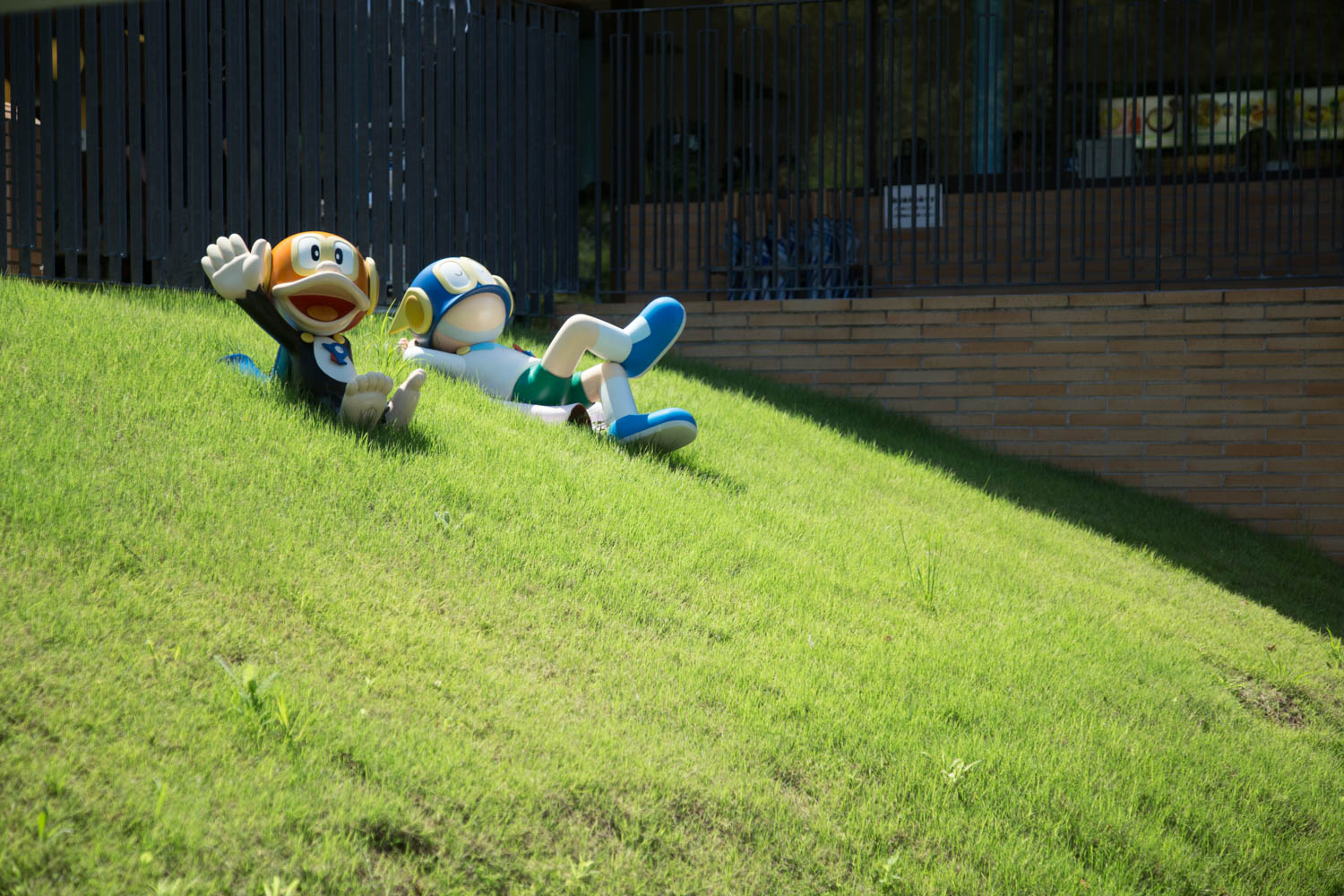 Outdoor decos of the artist's characters. Say hi!!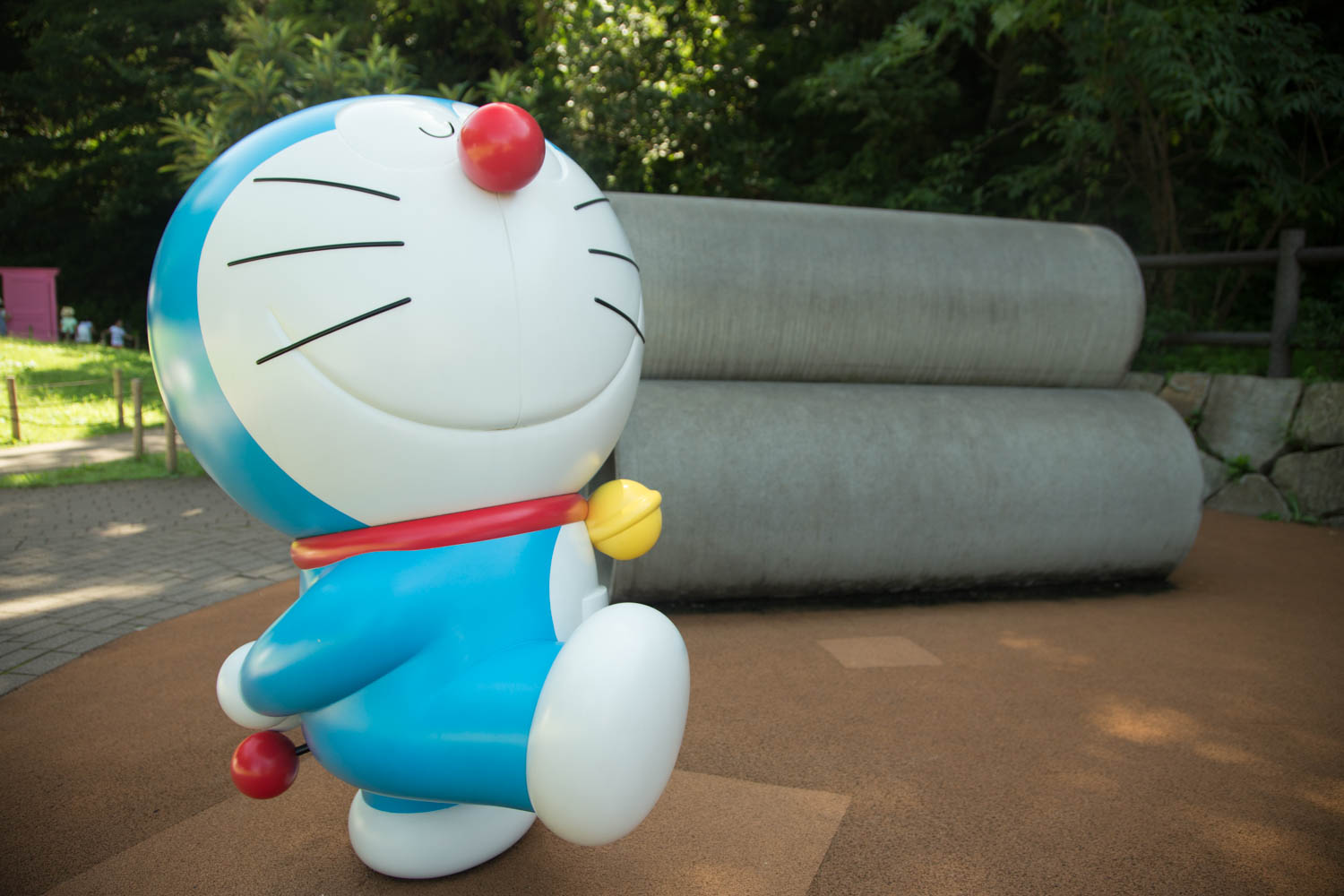 The rare occasion that the playground was empty. Doraemon's nose looks strangely too big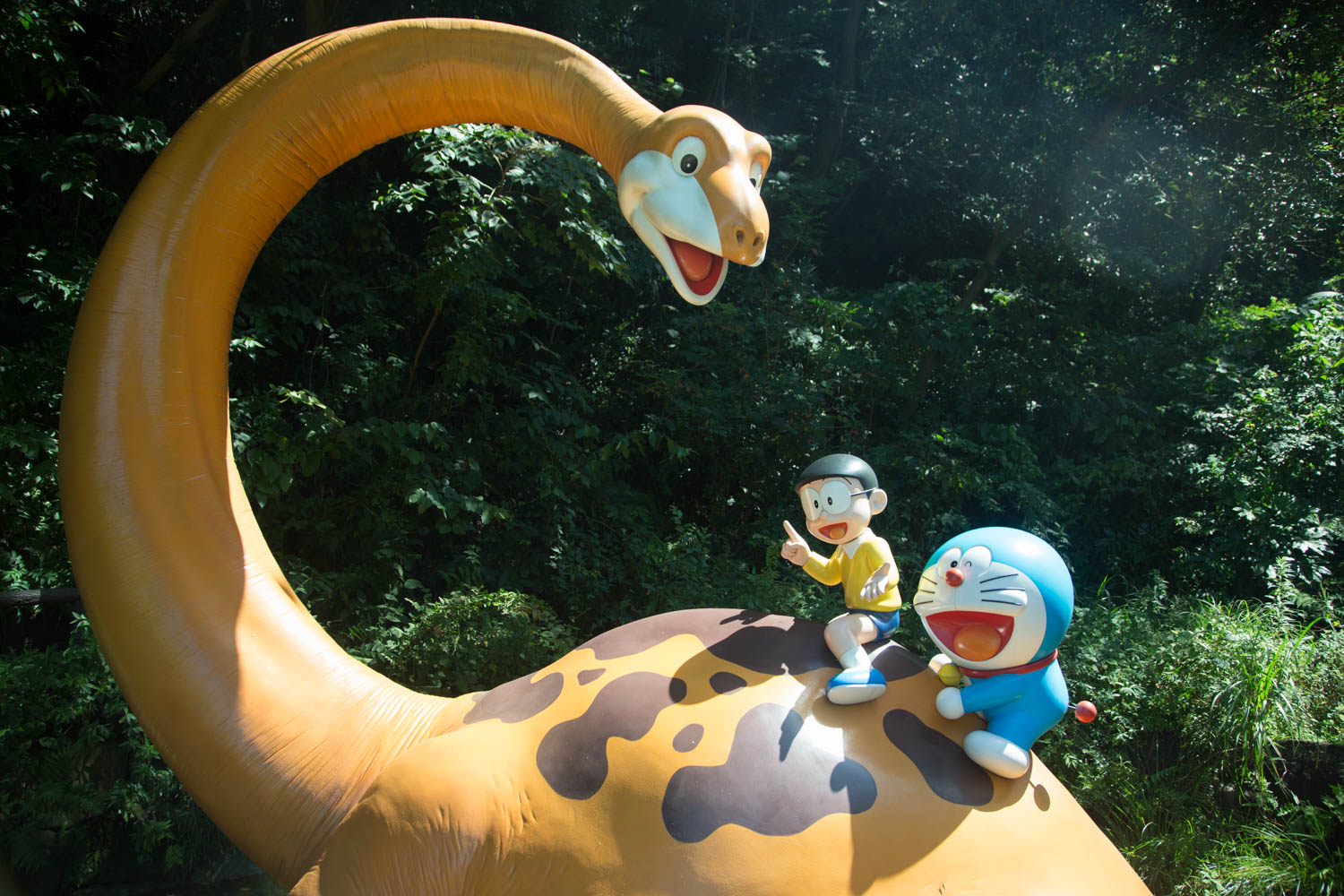 Doraemon and Nobita in dino land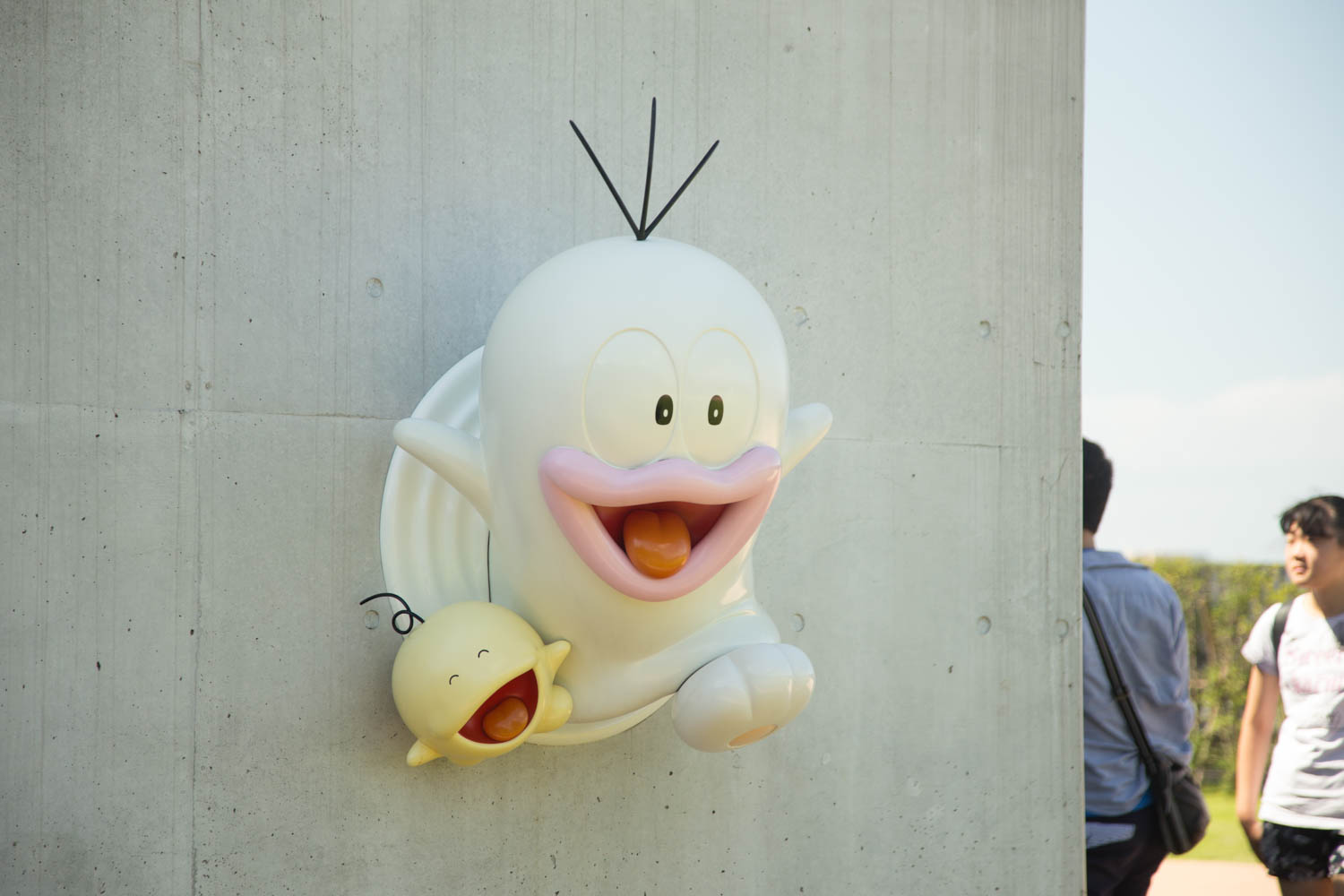 Some duck like character that I can't remember the name of. One of his earliest creations IIRC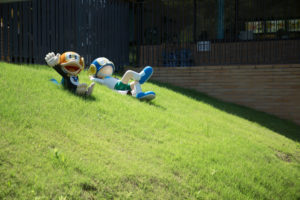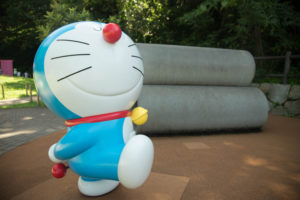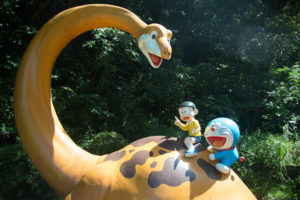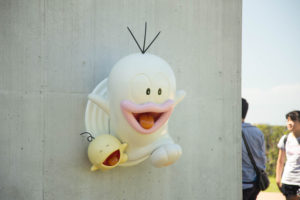 Once we're out of the exhibition area though, the cameras are free for use again. The outdoor areas in particular were literally my childhood dreams, to be able to walk in the world of Doraemon and hang out with life sized characters. The kids probably were living their dreams as well, just crawling in and out of the pipes that made up the playground the characters always hung out in (I still can't believe I forgot to take a picture with Doraemon on that extremely rare occasion the playground was empty).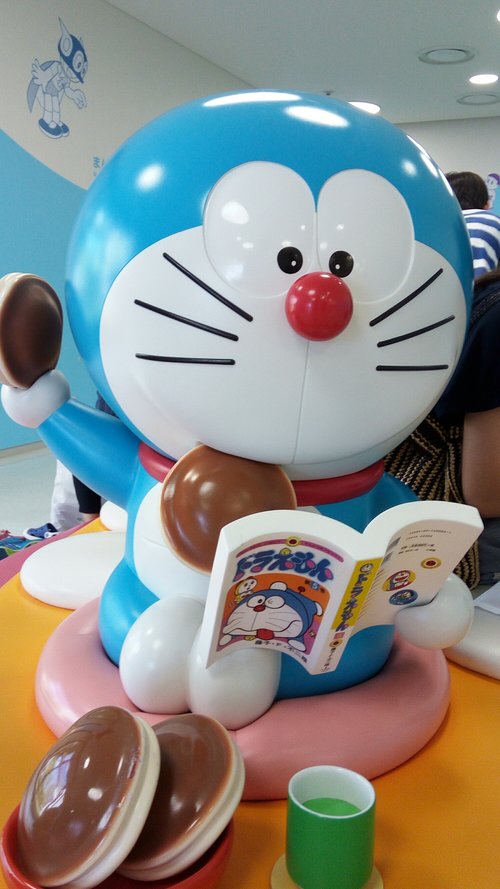 Doraemon reading manga. Kids around him reading manga too.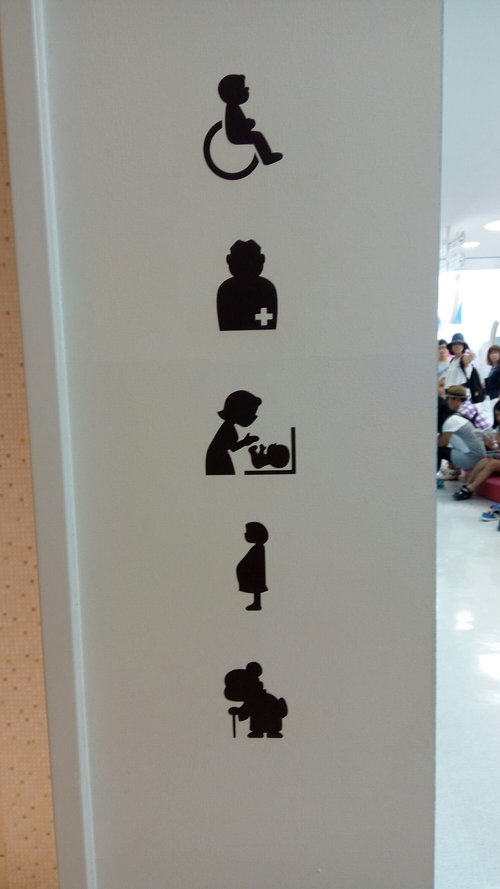 Even the toilet signs look cute, especially the granny.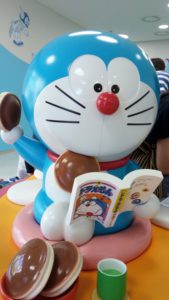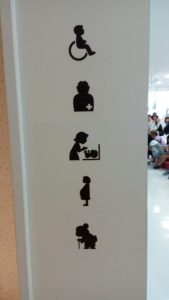 Apart from the outdoor area there was also the manga reading area where kids were reading manga around a huge Doraemon model, and also a movie theater that was showing a short animation with all of the artist's characters existing in the same world. Even the toilets were pretty cute. I didn't get a shot of the toilet itself, but I did get the signs, obviously styled in the style of the artist. And of course the gift shop, where I couldn't leave without getting at least something small, so I got a small Doraemon plushie-keychain of sorts.
Before we left Kawasaki to head to our next destination, we made a short detour to this themed arcade near the main station that is probably the most impressive arcade I've ever seen and deserves a mention as a tourist attraction.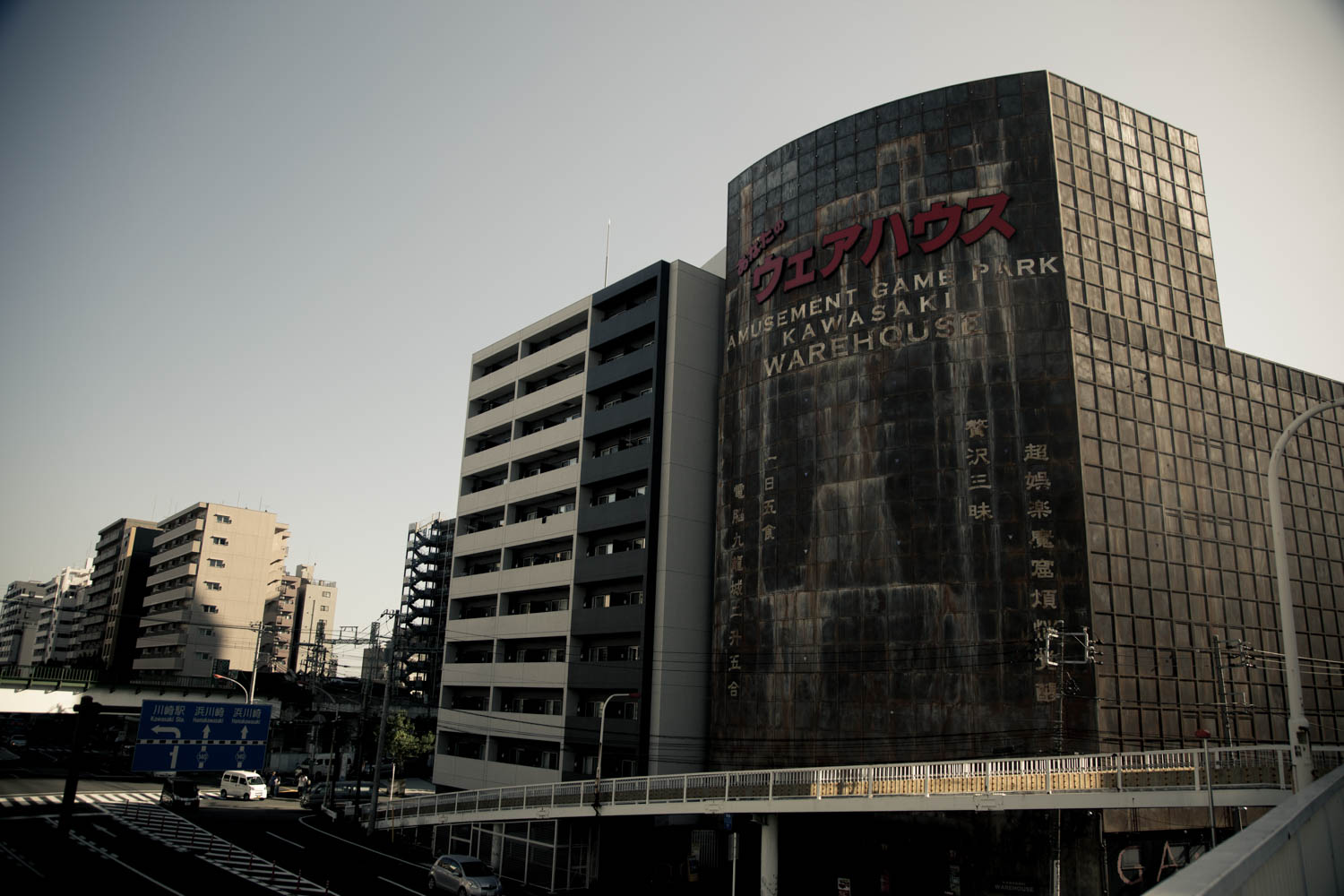 The exterior of Kawasaki Warehouse
This is Kawasaki Warehouse, located a short distance away from Kawasaki Station and generally being an eyesore amongst the clean structures surrounding it. But that's the whole idea, because this arcade is themed to Kowloon City's infamous Walled City, which from a quick google search can be seen as dirty, dark, damp (insert more negative adjectives), and even from the outside it already looks good. But the impressive stuff is what's inside. Hey, if even an arcade can be rated M-18 it's gotta be awesome.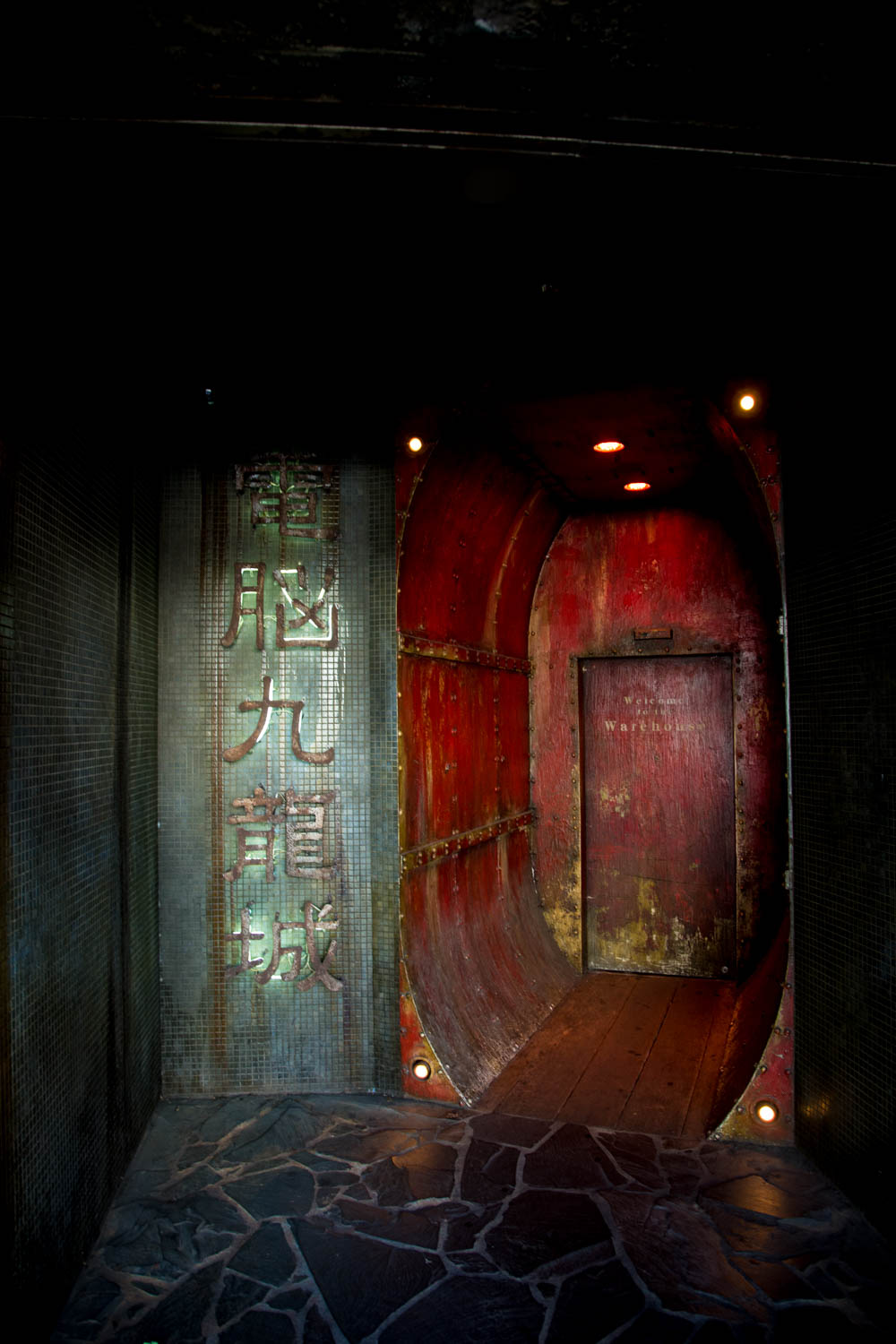 Entrance to Kawasaki Warehouse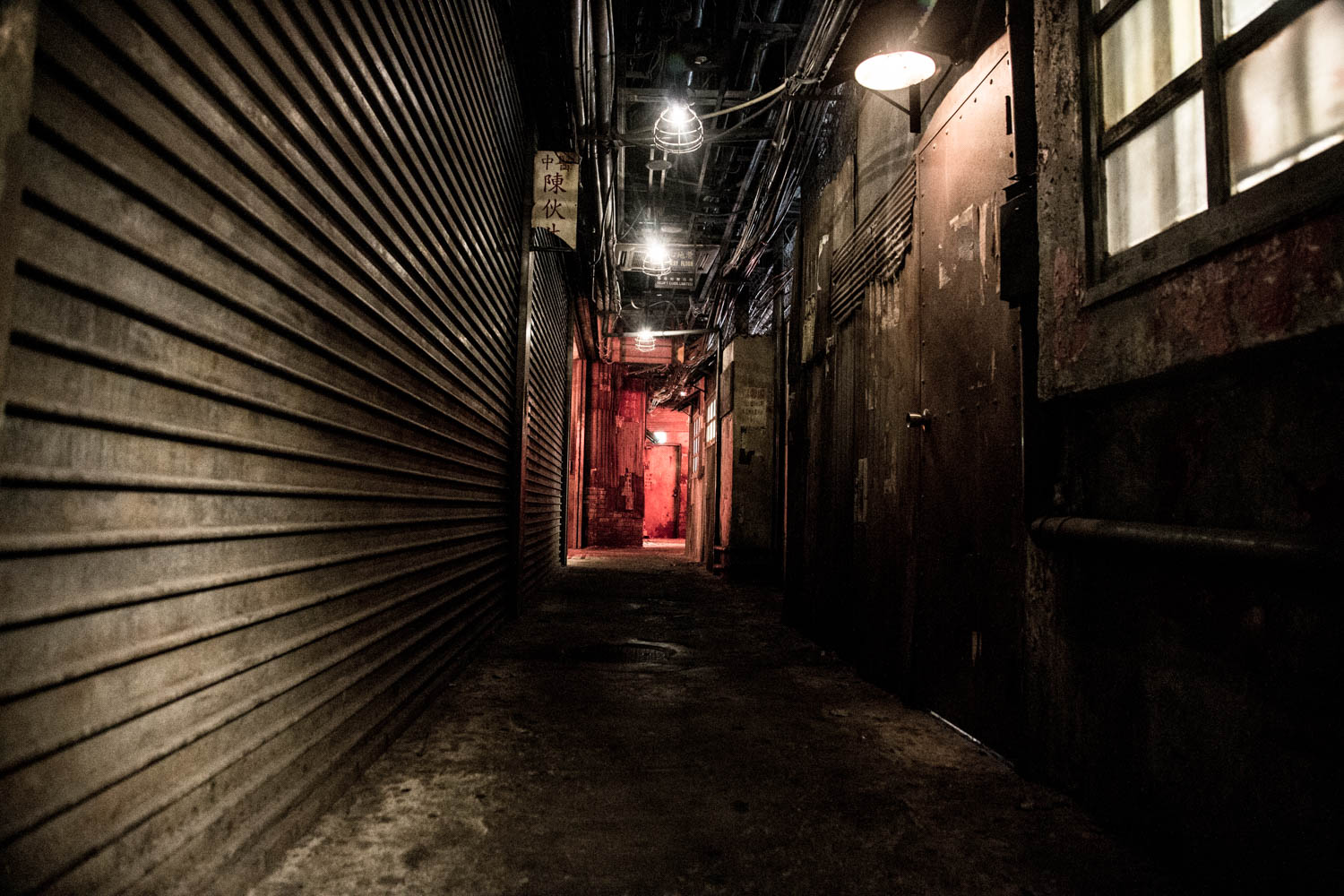 Corridor upon entering. The atmosphere is incredible!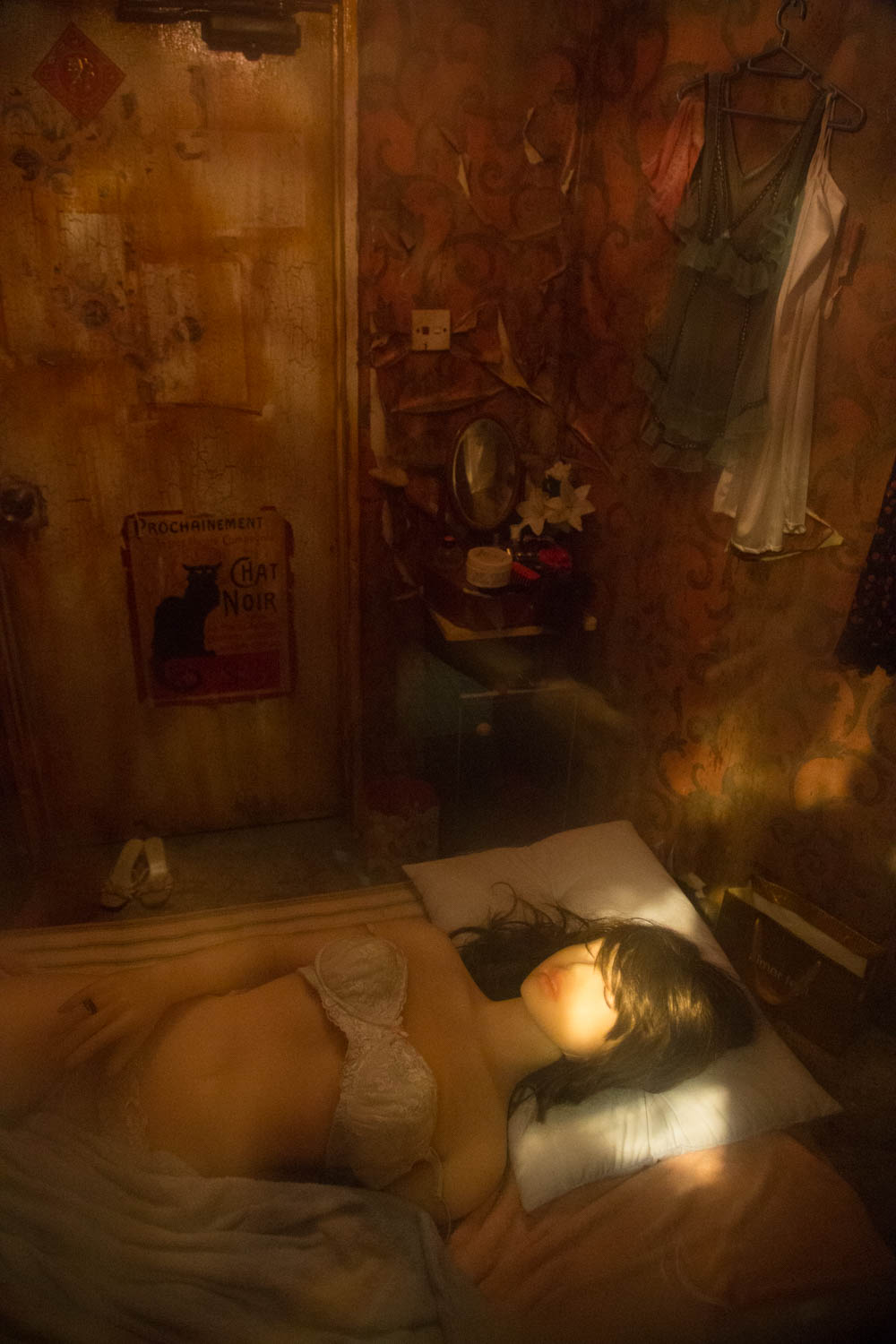 Replication of a prostitution den. At least they bothered to cover her up.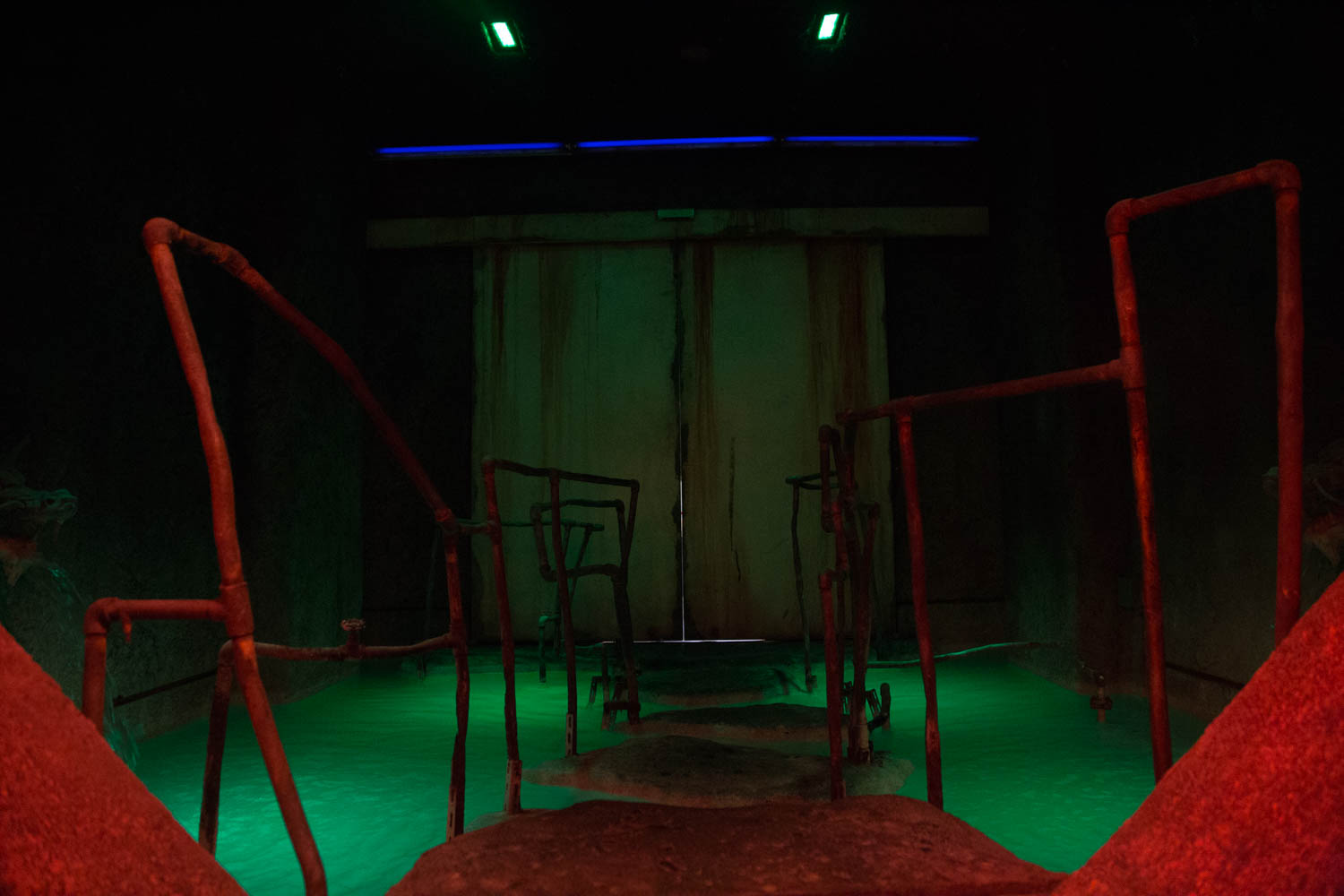 Some acid like pool that probably leads to the carpark. There were a pair of lion head fountains at the side.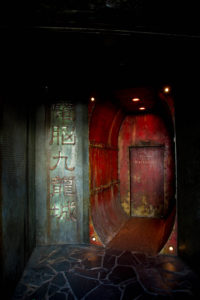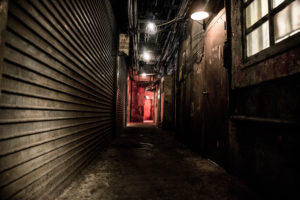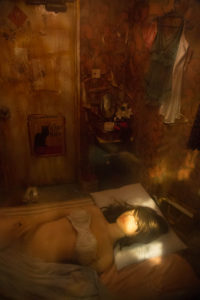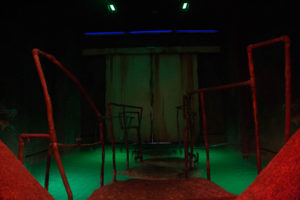 All I can say about the building is that the interior is really awesome and carried the atmosphere really well. It's cold, it's damp, it's dark, there are grimy windows, posters everywhere, with Cantonese music playing in the background, they even set up a replica of a prostitution den. The entire atmosphere really made me feel like I could be walking in a real life version of the actual Walled City. And this is just the first floor! The second floor gets even better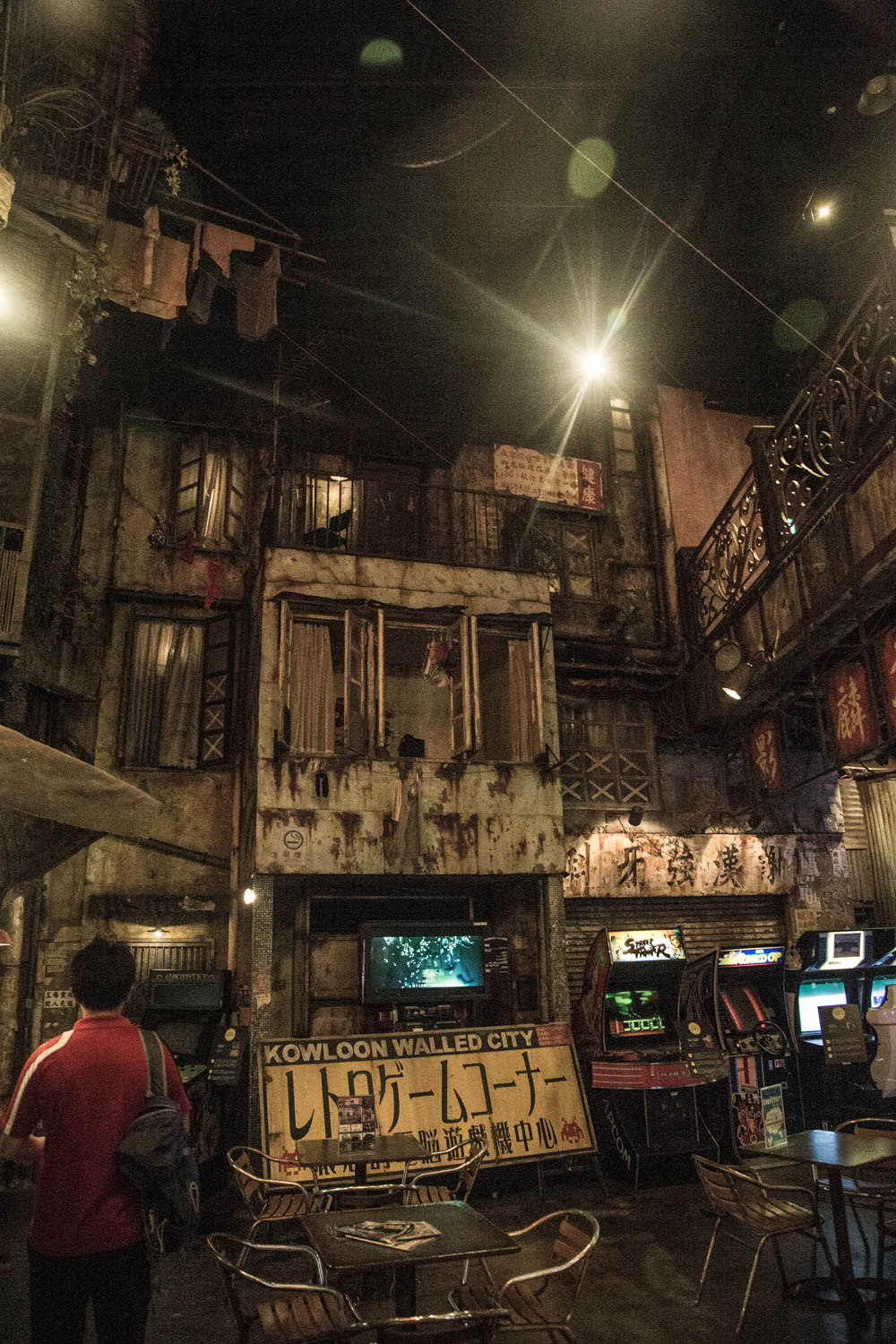 2nd floor, showing the closely stacked building design. Really impressive deco.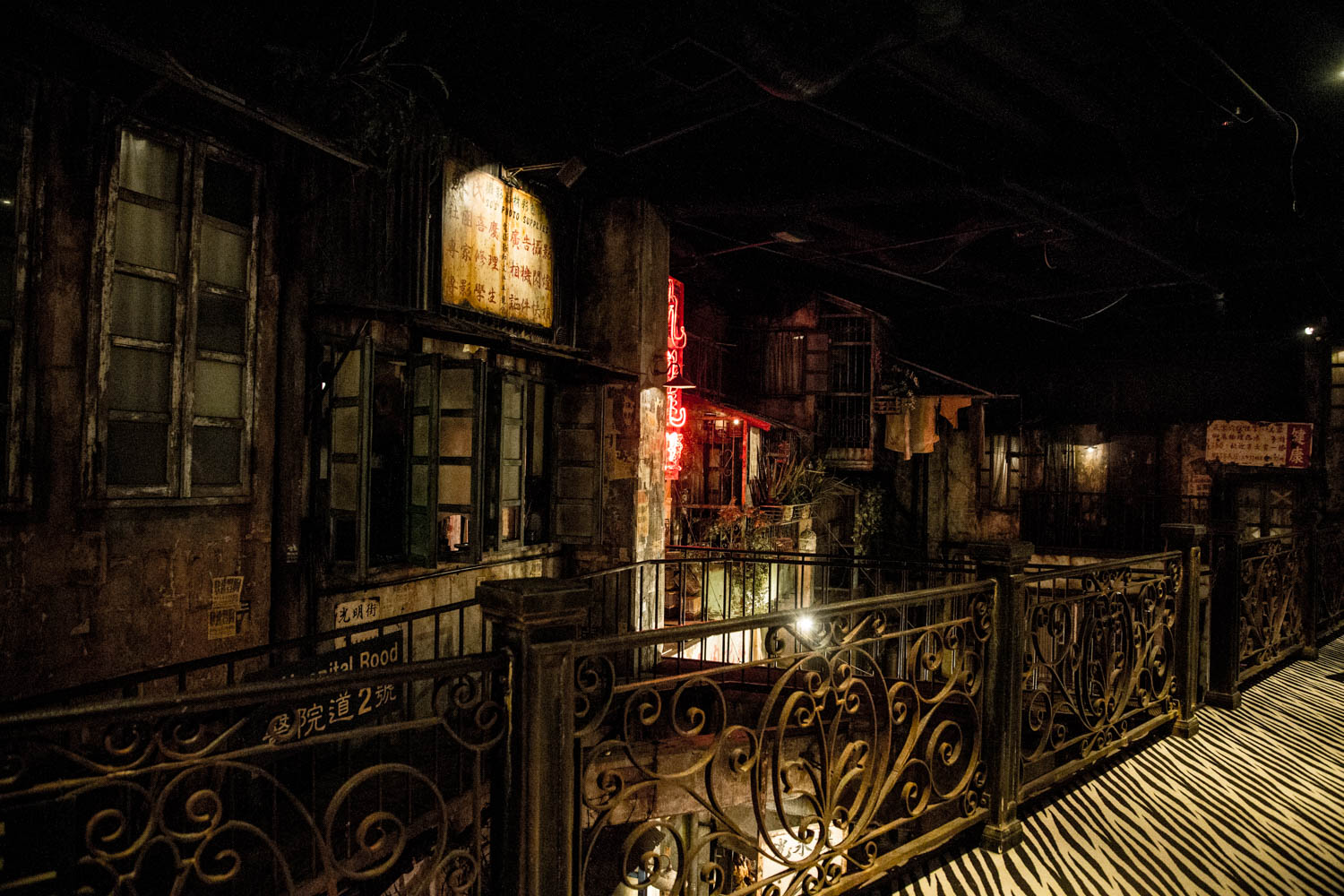 View of the upper portions of the deco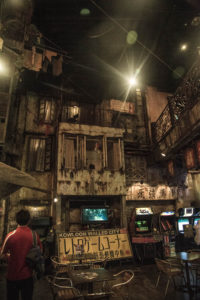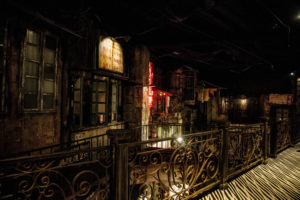 The second floor is where they show off the distinctive architectural features of the Walled City, which is just building after building built closely to or stacked on top of one another. Once again, the grimy walls are just really damn impressive, and there are business signs everywhere (I believe that was a dentist's business board in the first picture). They even have a mock up butcher stall where there was (fake) meat hanging and waiting to be sold. Heck, even their toilet had the same atmosphere, grimy walls and floors, and stickers on the mirrors etc. It was as clean as any other toilet in Japan though, so all this is just for deco. This area kinds of extends up to the 3rd floor where you can see some of the upper buildings in closer detail. I think the only things that kind of killed the entire feel are the arcade games behind it. So bright and so clean compared to the dark and dirty environments of its interior decoration.
Unfortunately I didn't take too many pictures as there was a no photography sign there and my camera wasn't exactly inconspicuous. But I snuck enough photos and I do have videos (check it out if you're interested). It's basically the coolest place I've visited during the trip, photos can't really do it justice, it needs to be seen to be believed. Go check it out if anyone is passing by, if only just to take photos. Damn awesome place.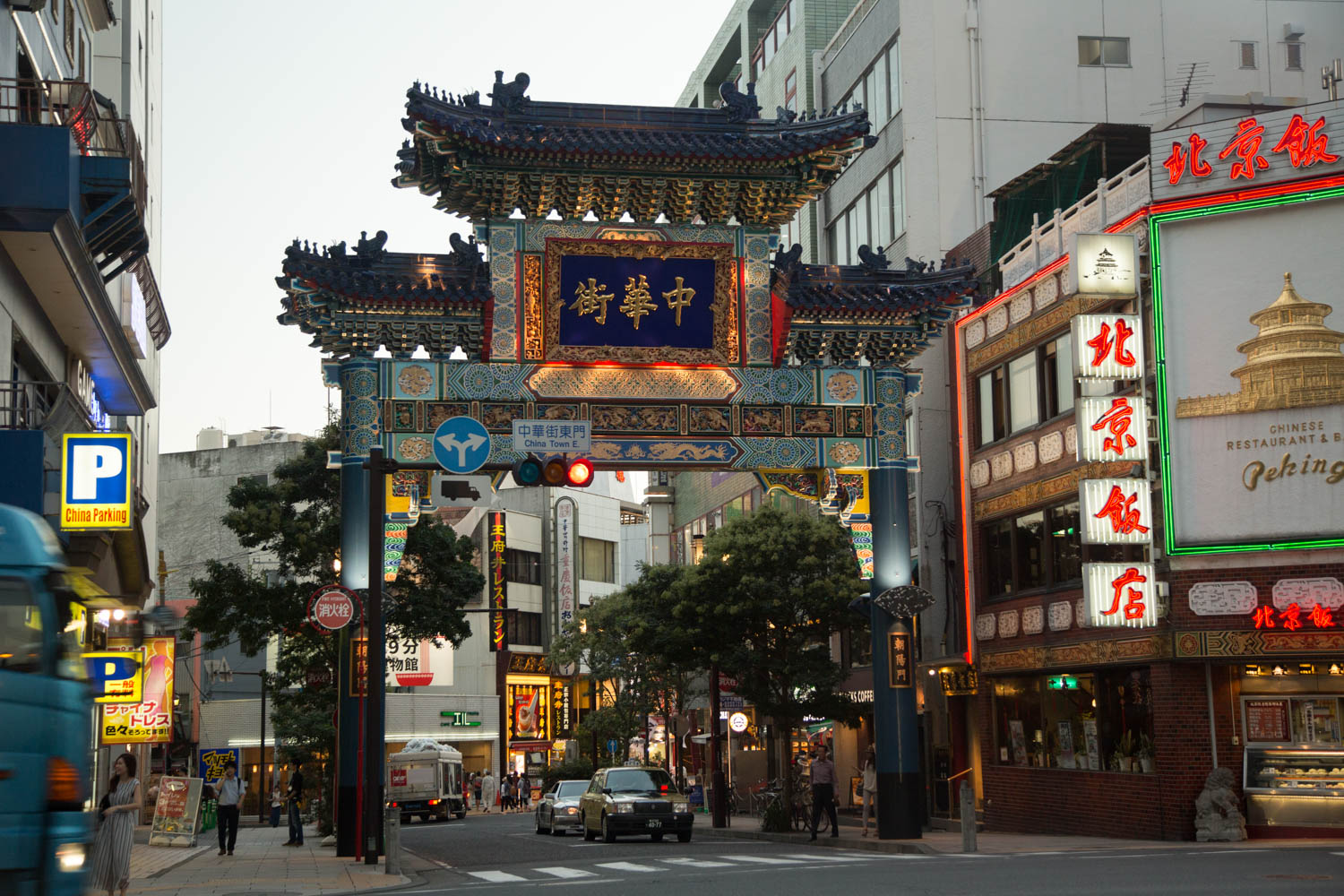 Yokohama Chinatown
We had time to spare after that, so rather than returning to Tokyo so early, we made the trip even further south towards Yokohama. In particular, we headed to their Chinatown for some temple hunting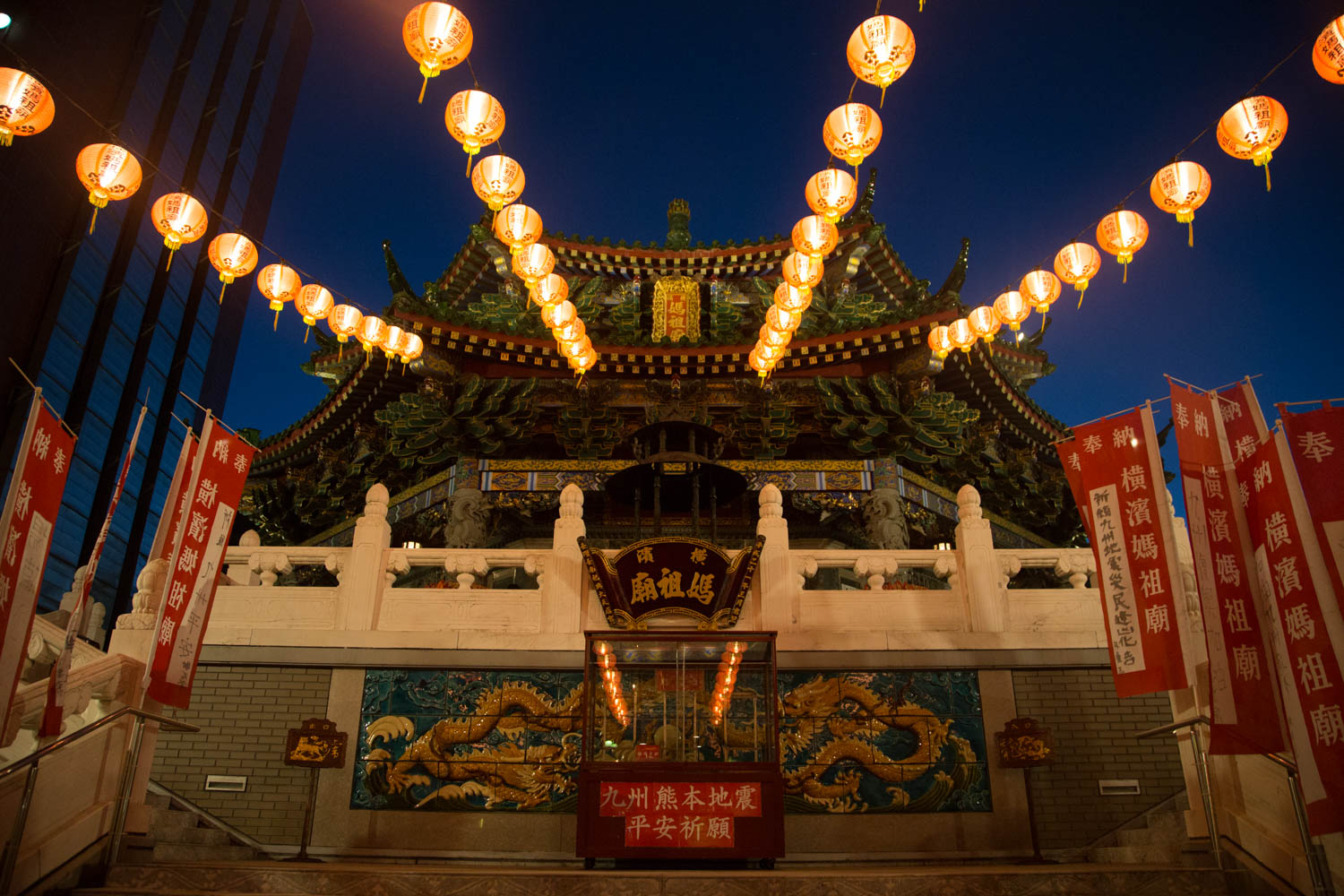 Mazu Temple. Really like how those lanterns are hung.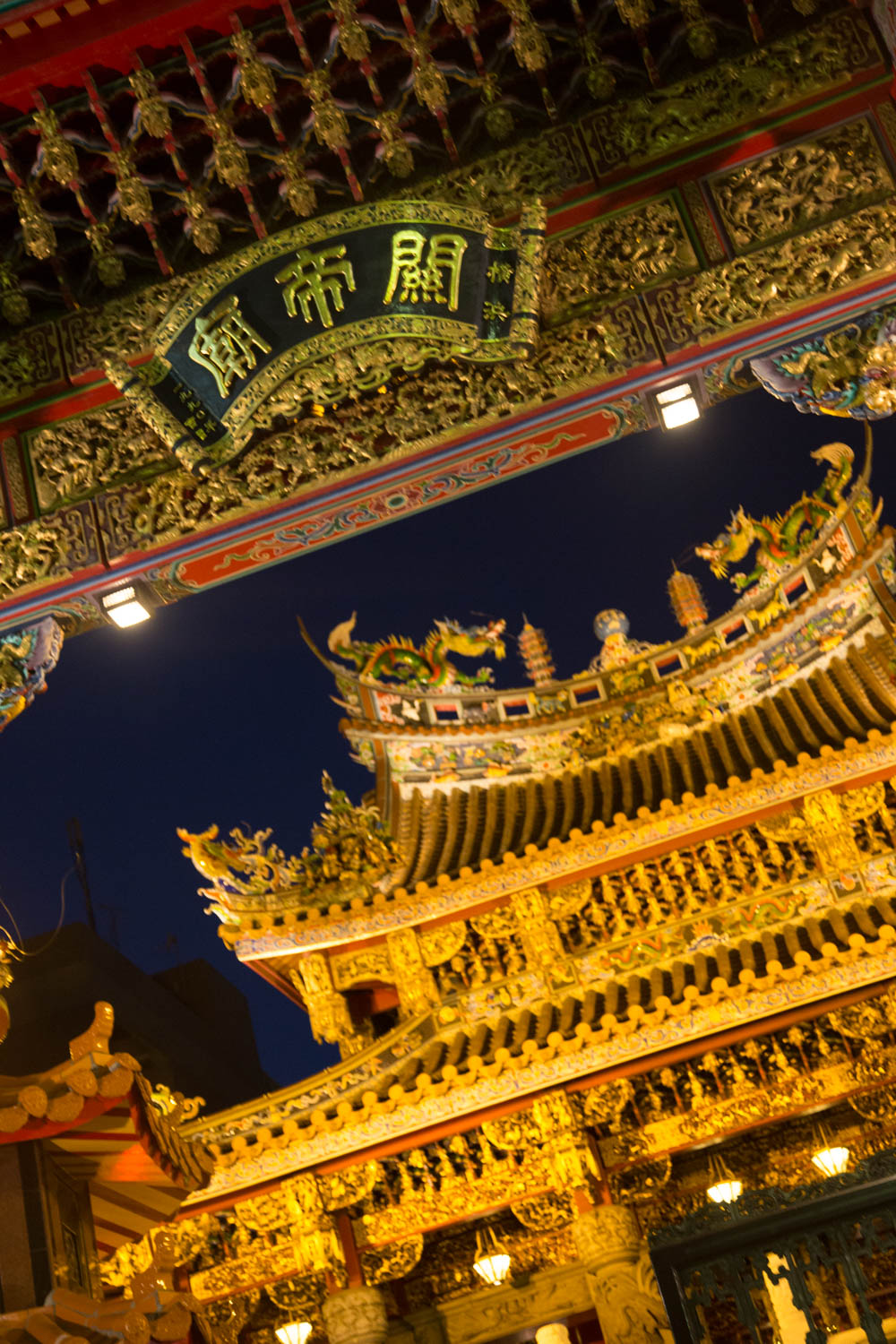 Guan Gong Temple. Some really elaborate gate designs there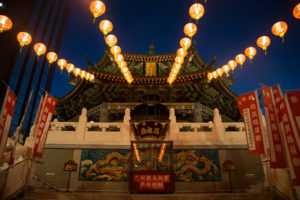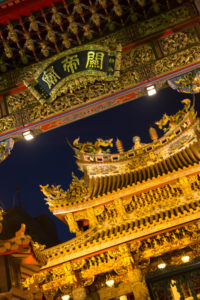 There are a couple of Chinese temples here, the 2 largest ones worshipping Mazu and Guan Gong. All of my photos were of their architecture only though, didn't feel good taking photos of the inside as usual. Coming at night was a pretty good choice, the illumination from the lanterns and lighting gave the temples a pretty unique feel to the temple.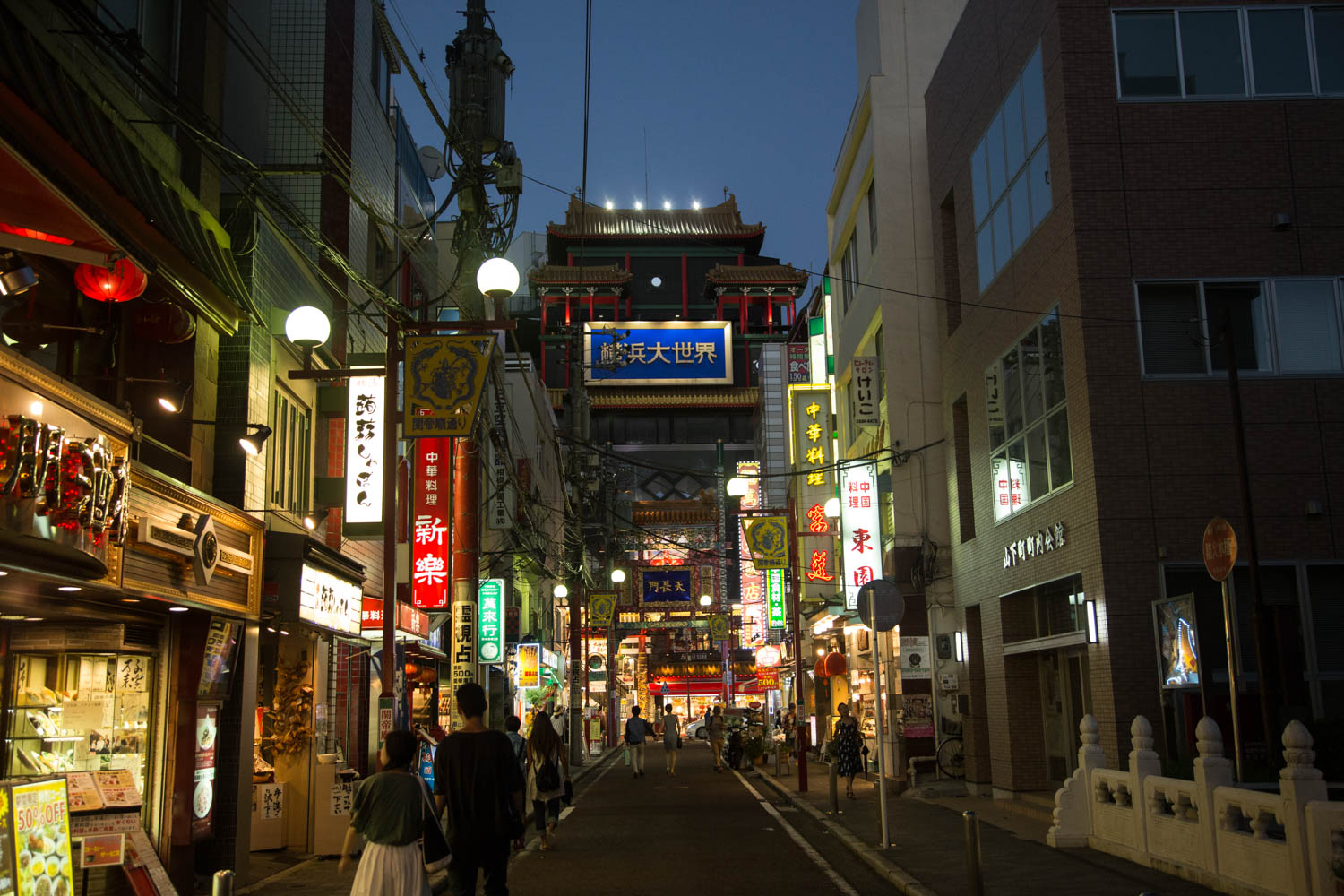 Streets of Yokohama Chinatown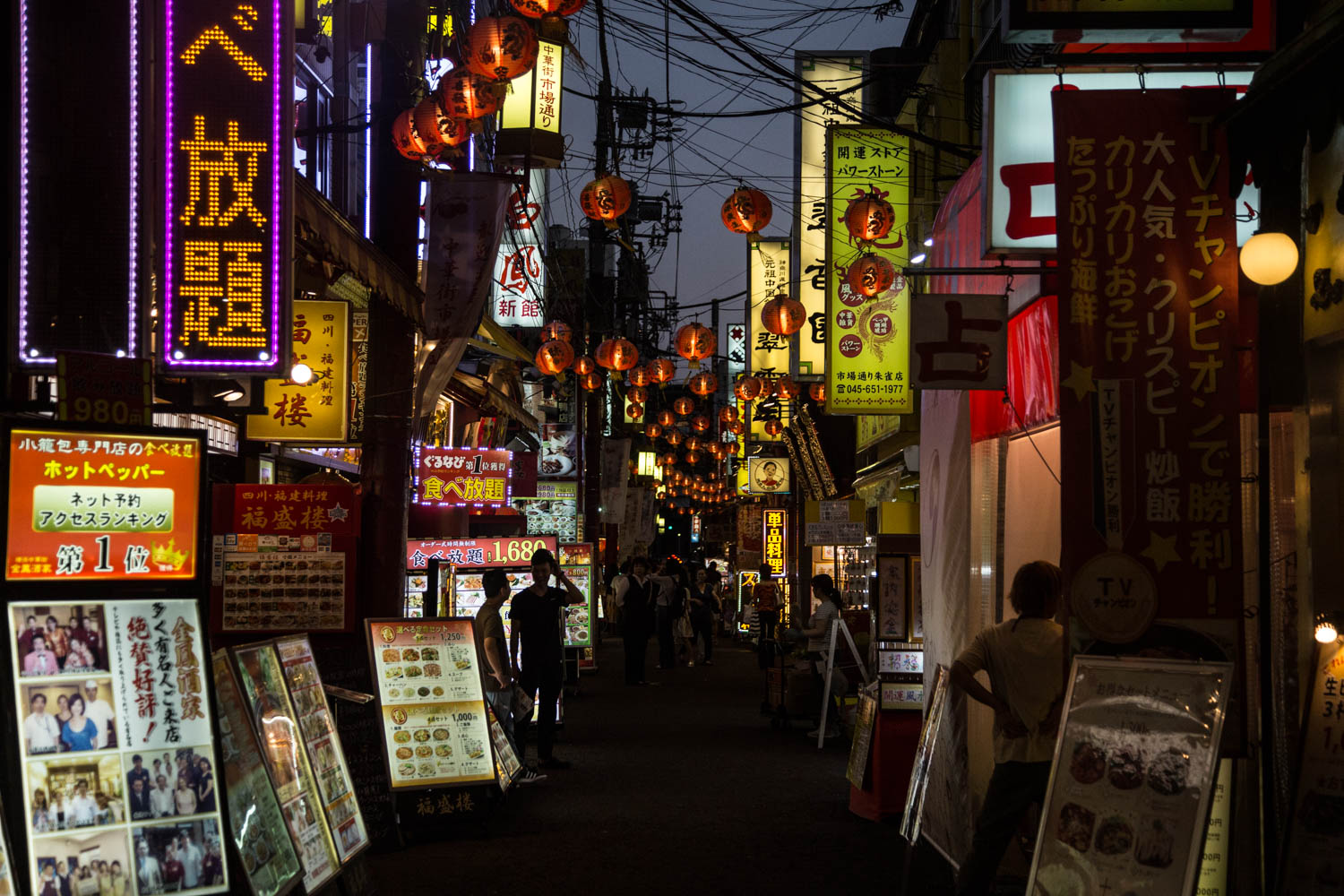 More streets of Yokohama Chinatown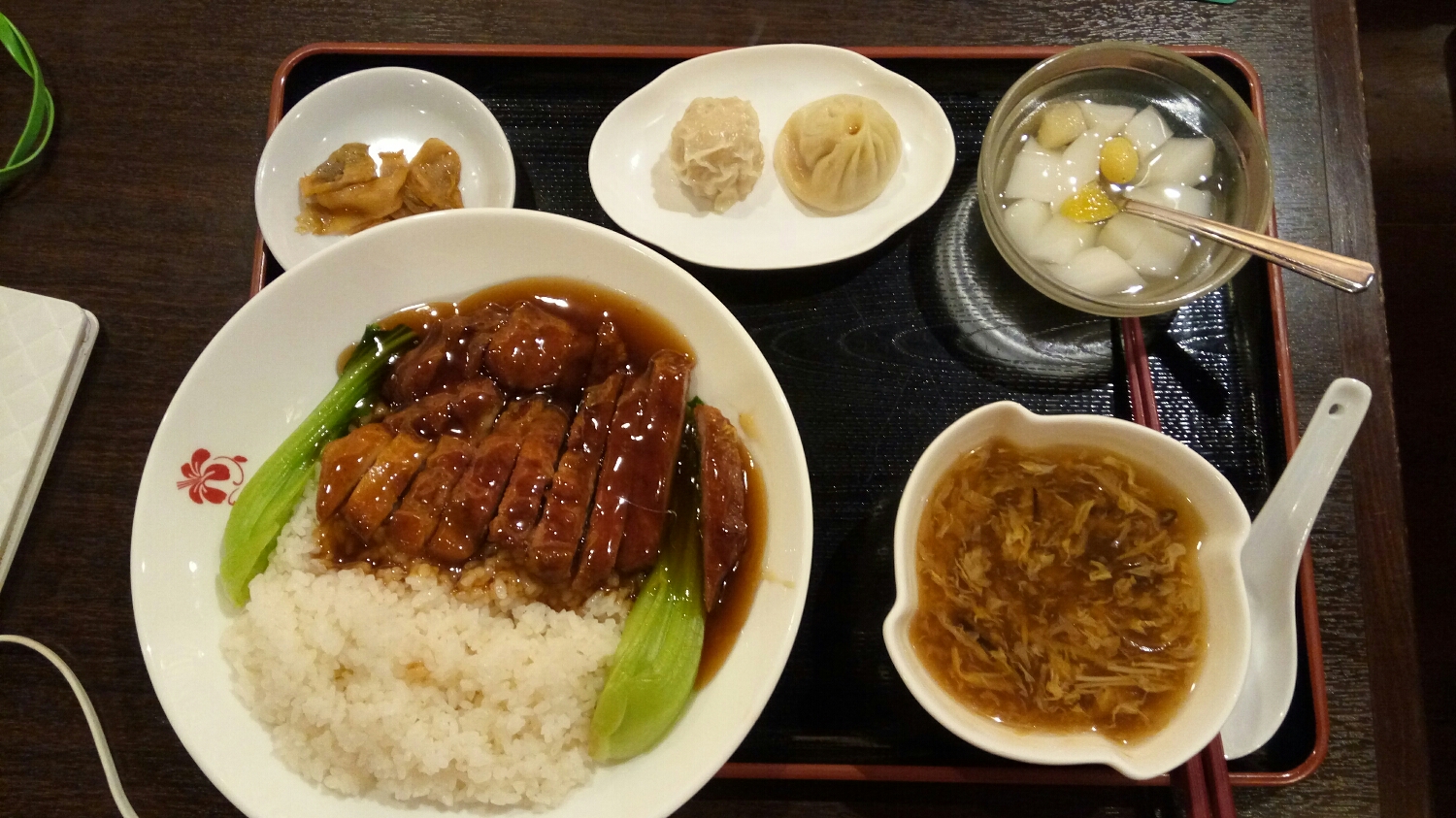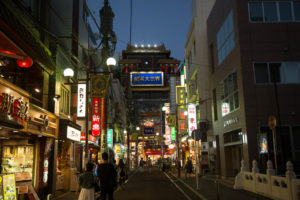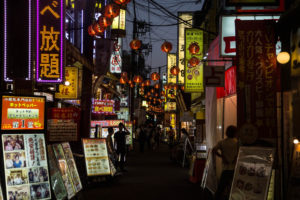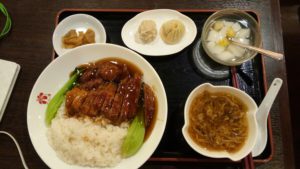 Apart from that, it's more or less a typical Chinatown IMO. Chinese style buildings and gates, shops basically selling Chinese stuff. It felt pretty good to be able to converse with the locals in Chinese though, after 1.5 weeks of smoking around in my lousy Japanese. And I gotta say, dinner was a pretty good deal for the portion. Along the street that we had dinner, about 3-4 shops had about the same type of deal – about 1000 yen for what you see above. It was actually pretty filling, worth dropping by if you're in Yokohama and have no idea what to eat.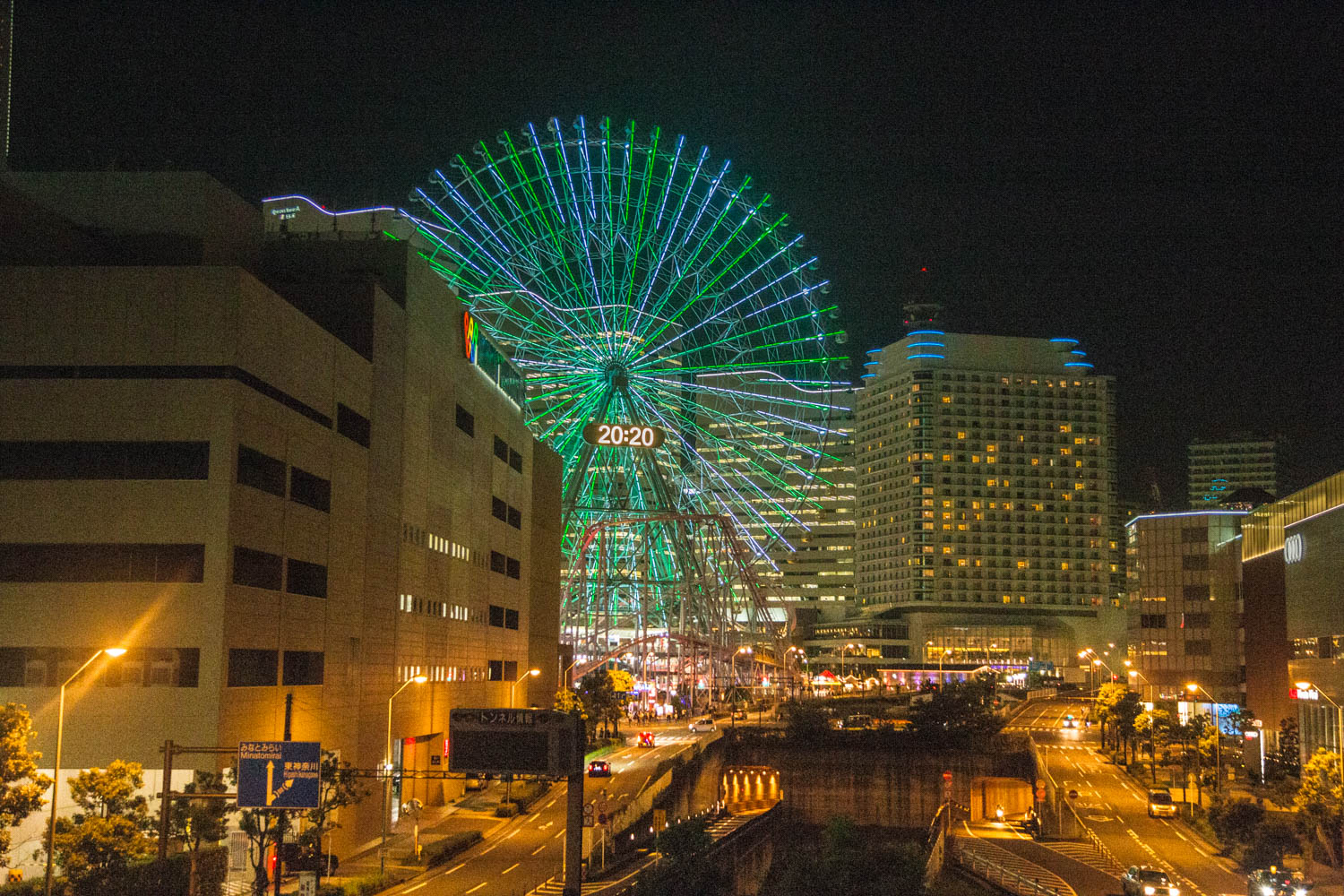 Impromptu visit: Cosmo World Theme Park!
And before leaving, a quick thrill at their amusement park, Cosmo World. We were there just to satisfy our random craving for an adrenaline rush, This place, unlike most other amusement parks, is free entry and pay per ride, so you don't need to pay a hefty entrance fee, and can just simply walk out after one ride without a hole in the wallet. Of course to satisfy that craving we had to go on their roller coaster, dubbed Diving Coaster for the way the tracks heads straight into a pool and water splashing outwards as you enter. 700 yen for 2-3 minutes of thrill, not very cheap but we agreed it was totally worth it!
Days 13-14: Testing my limits – Climbing Mt Fuji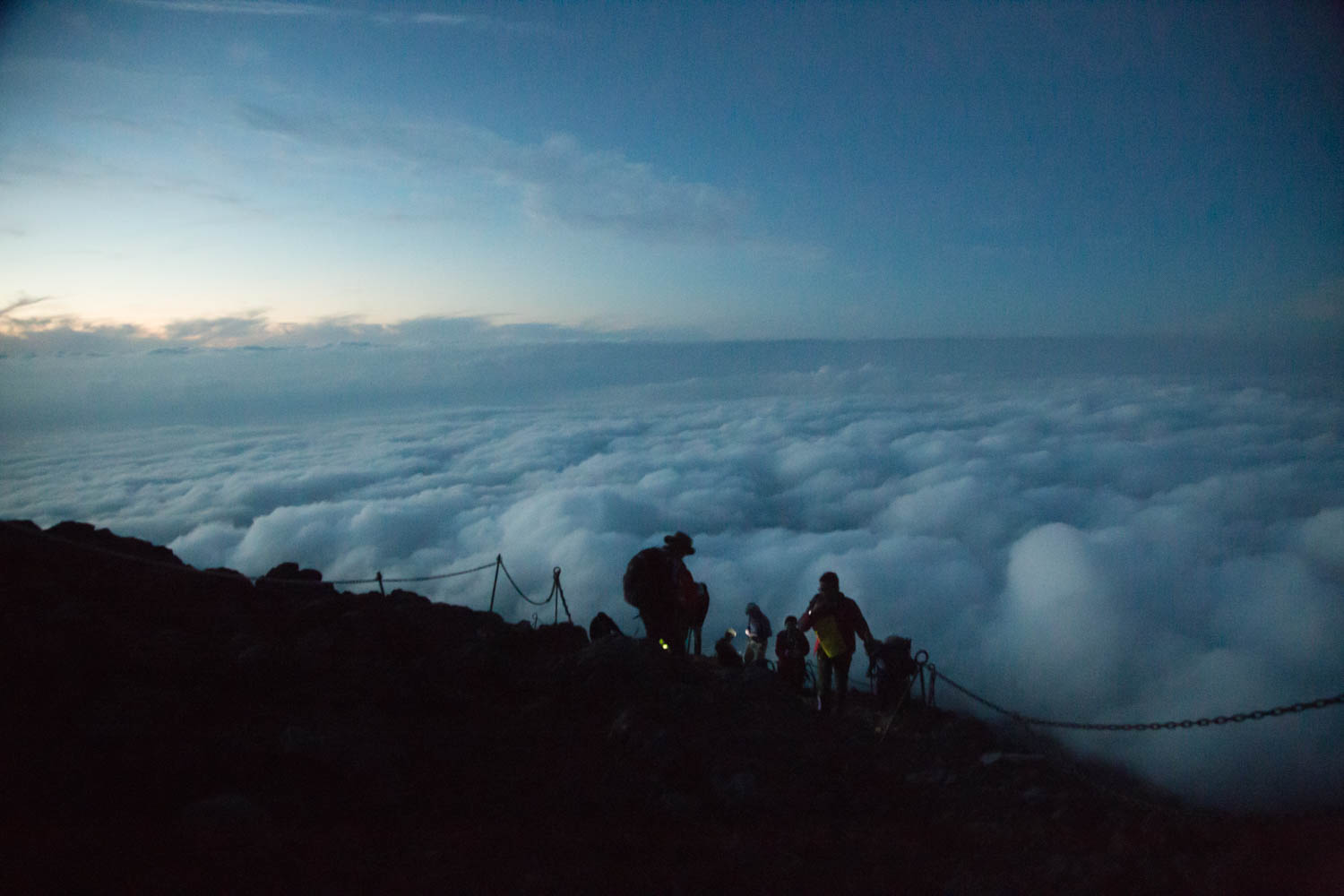 In the process of climbing Mt Fuji, tired AF by this point.
Probably the biggest highlight of the entire trip: climbing the most famous mountain in Japan – Mt Fuji. I had an earlier plan to climb that was scrapped due to the typhoon, but it passed before I returned so I had the luck to re-plan the trip, so it went on in the end. The entire climb is worth its own post, so I'm leaving it to part 3 where I recount my near death experience (physical condition wise) up the iconic volcano. Until next time!