Sup guys. I'm back with the last part of my 3 part August Japan trip post, this time covering my last activity and probably the most epic part, which deserves a whole post by itself – my Mt Fuji climb. This was probably the most physically challenging activity I have done in my entire life, and what made it even more torturous was the fact I had to brave the cold throughout the entire night as I didn't have a mountain hut booking, since this climb was really impromptu. I have no idea why I decided to do it despite knowing it would be really damn cold, maybe it was me thinking bringing all those stuff and not using it is a waste, but no regrets, the end was damn awesome, and it's one item off my bucket list.
Just a disclaimer before starting: a mention that I had absolutely zero training before this trip (unless you consider 2 weeks of walking around town as training), so whatever the internet says about not needing training to climb this is kind of accurate, just that it took a much longer time than if I had bothered to train even a little bit at all. I guess a decent bit of stamina to begin with is sufficient to attempt this.
So during my time in Tokyo from Fri to the following Saturday, my original plan was to climb the mountain on Tuesday through to Wednesday morning, but due to the typhoon wind forecasts were terrible for that day so I had to scrap the climb (lucky I only lose out on the mountain hut booking fees). I was still kind of disappointed that it had to be scrapped, so I kept checking the weather forecasts up till Wed night, when I saw the weather looks great for Thursday night (it wasn't even going to rain!), so I made an impromptu bus booking for the next day to Mt Fuji 5th Station, where I'll be starting my climb. Looks like it's still on!

Arriving at Mt Fuji 5th Station

If this kid can climb it, so can I!

2305m above sea level!!!



Though it all nearly fell apart even before I left Tokyo. I got lost at the train station and spent a whole 20 minutes looking for the bus station, and when I finally got there my bus had just shut its door and left. WTF! So I tried to get another bus there via Lake Kawaguchiko, since there were no more direct buses up to the 5th Station anymore, and I had to be put on a waiting list to replace the no-shows for that bus. More WTF! I was almost prepared to start heading back, but thankfully there really were no-shows for that trip so I managed to hop on. Lucky! The transfer from Kawaguchiko Station also was quick thanks to good timing, though the overall trip became 500yen more expensive thanks to that transfer.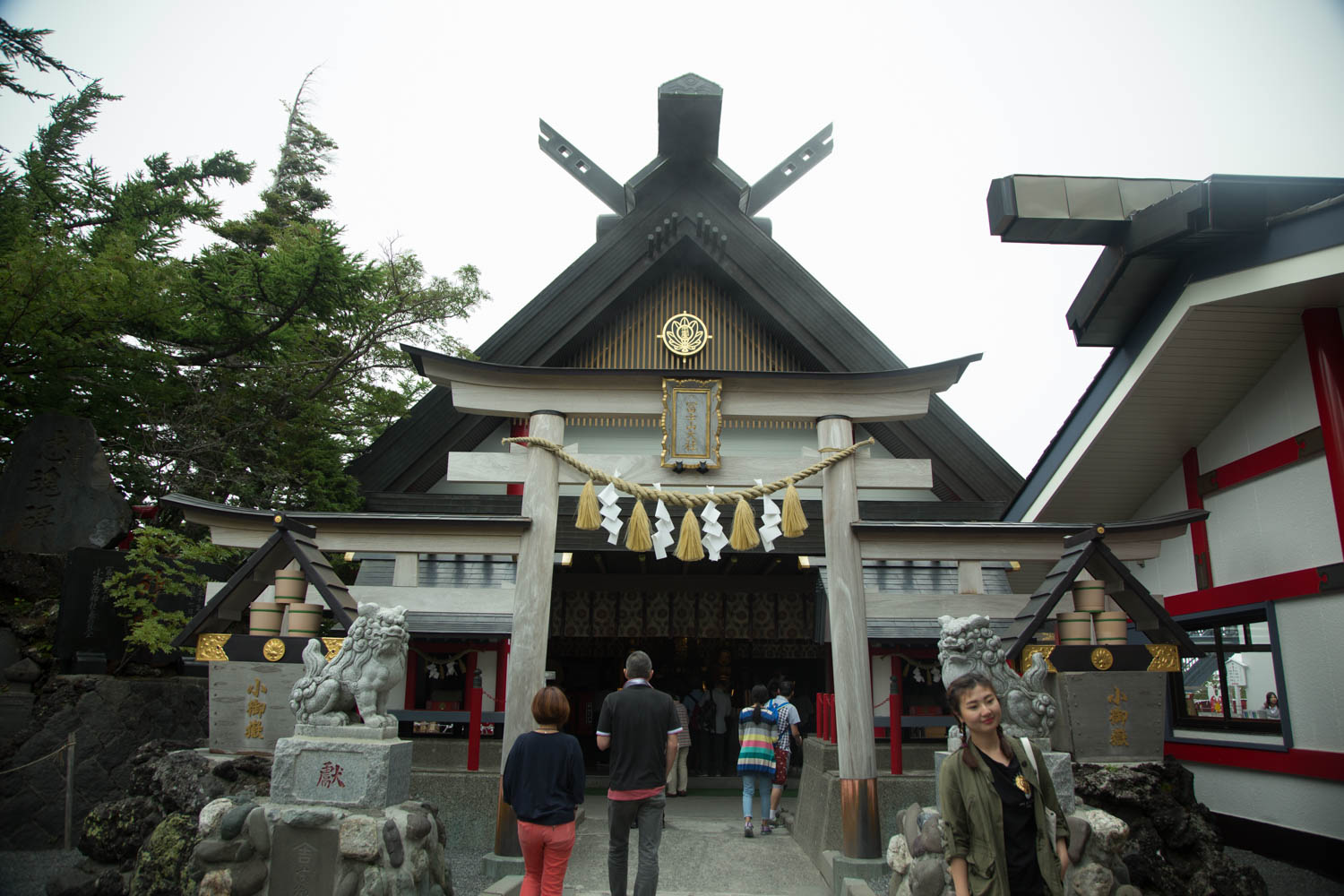 Komitake Shrine at the 5th station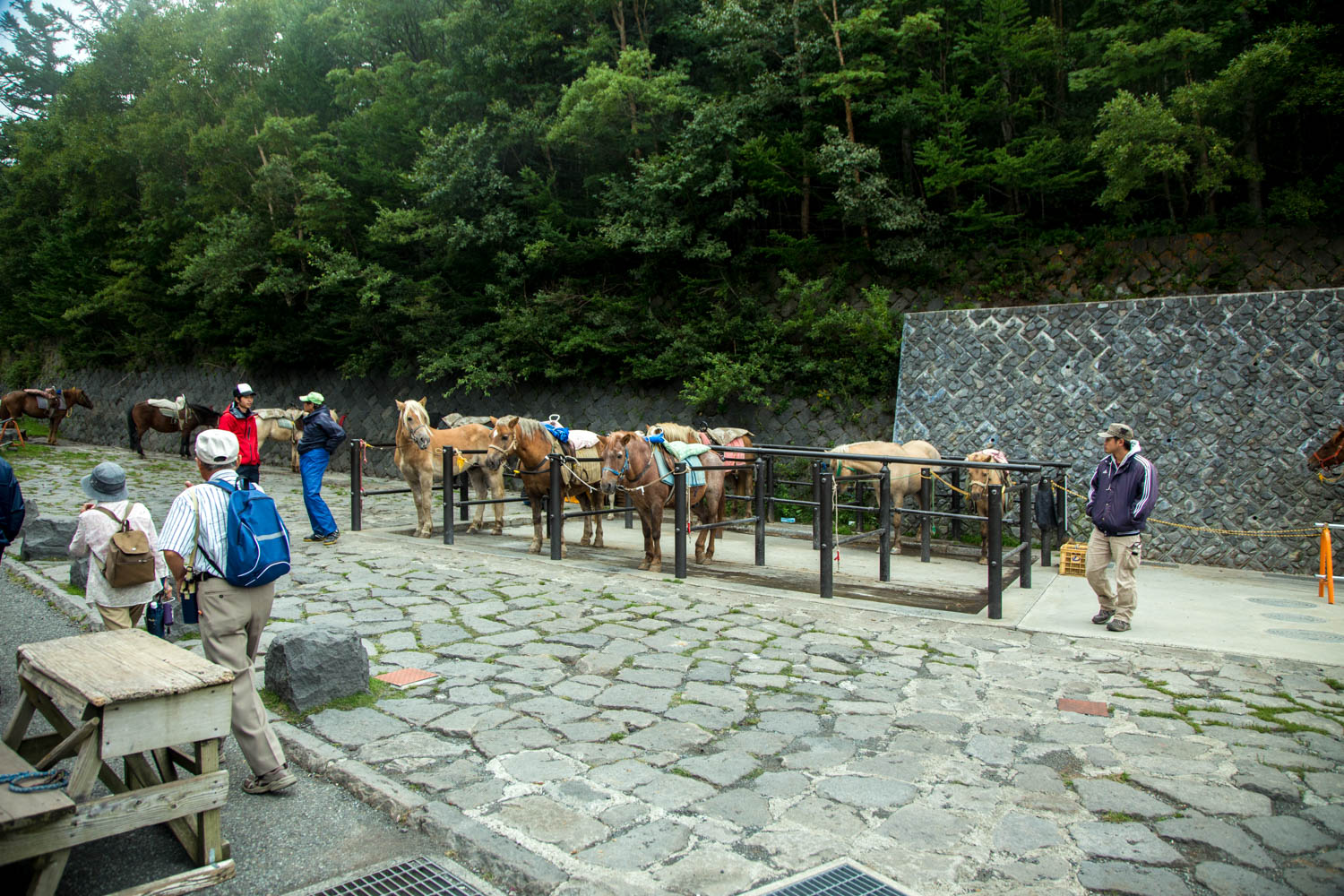 Horse rides at 10k yen a pop, rich people welcome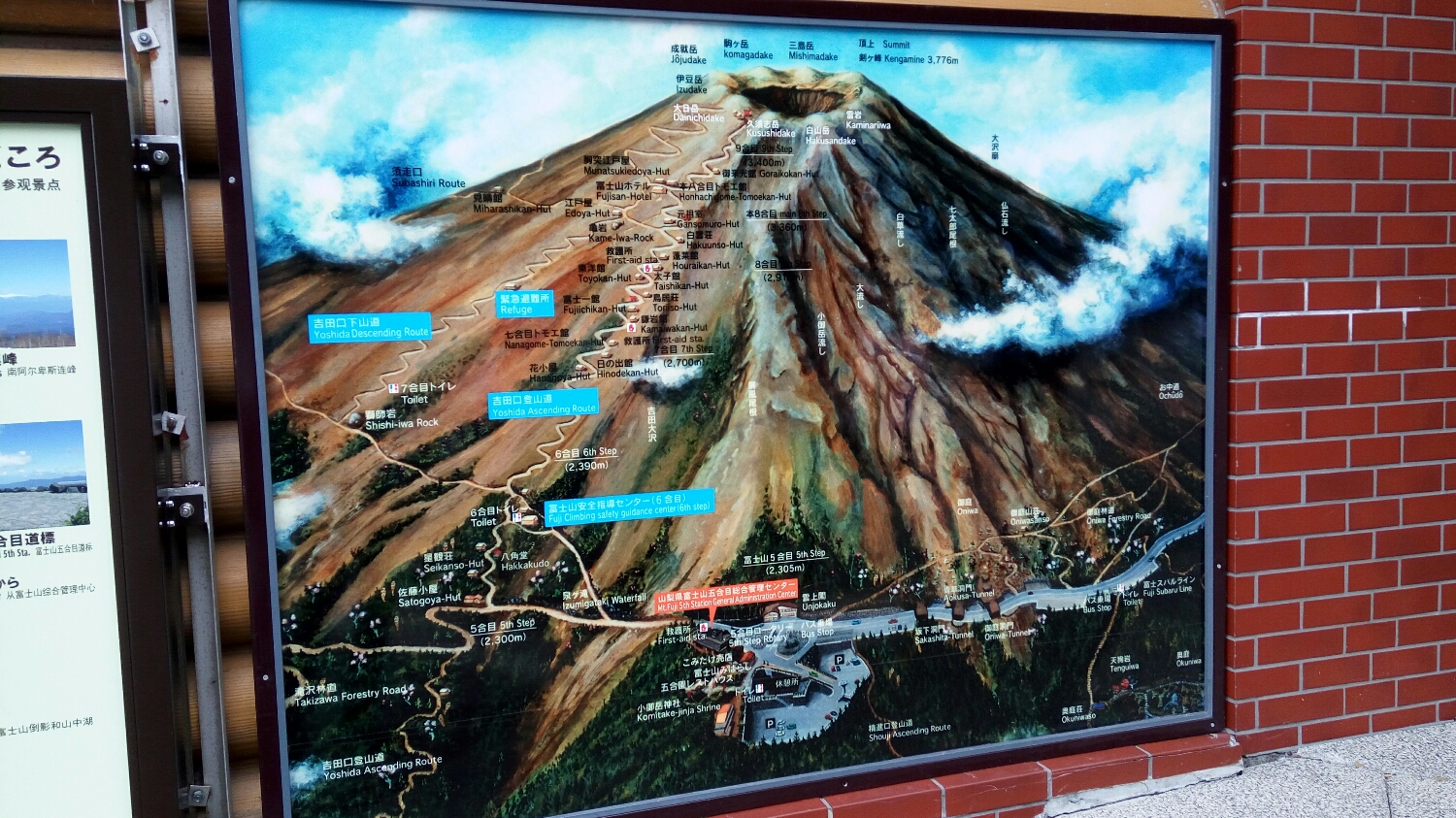 Map of the hiking trail for me to guide myself up.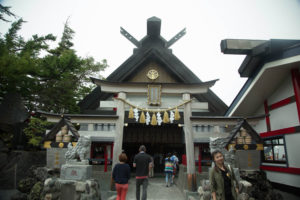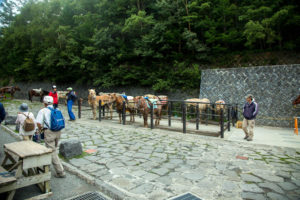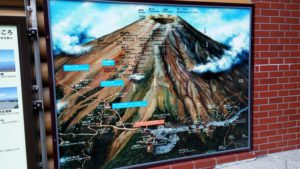 The weather was pretty great up there. Compared to the summer heat I'd been facing the entire trip this place was heaven (though I'm above the clouds so I guess that literally counts as heaven). Apart from gawking at the sight of being above the clouds, there was also Komitake Shrine, which was actually pretty small and didn't have much things to see. The shrine also had a viewing gallery, though with all the clouds around us there's pretty much nothing to see. What was funny was they even had horses up there, which offer riding services to the 6th station or somewhere else I can't remember for a fee. There actually were people riding them, which was a surprise since the prices were pretty much a huge scam.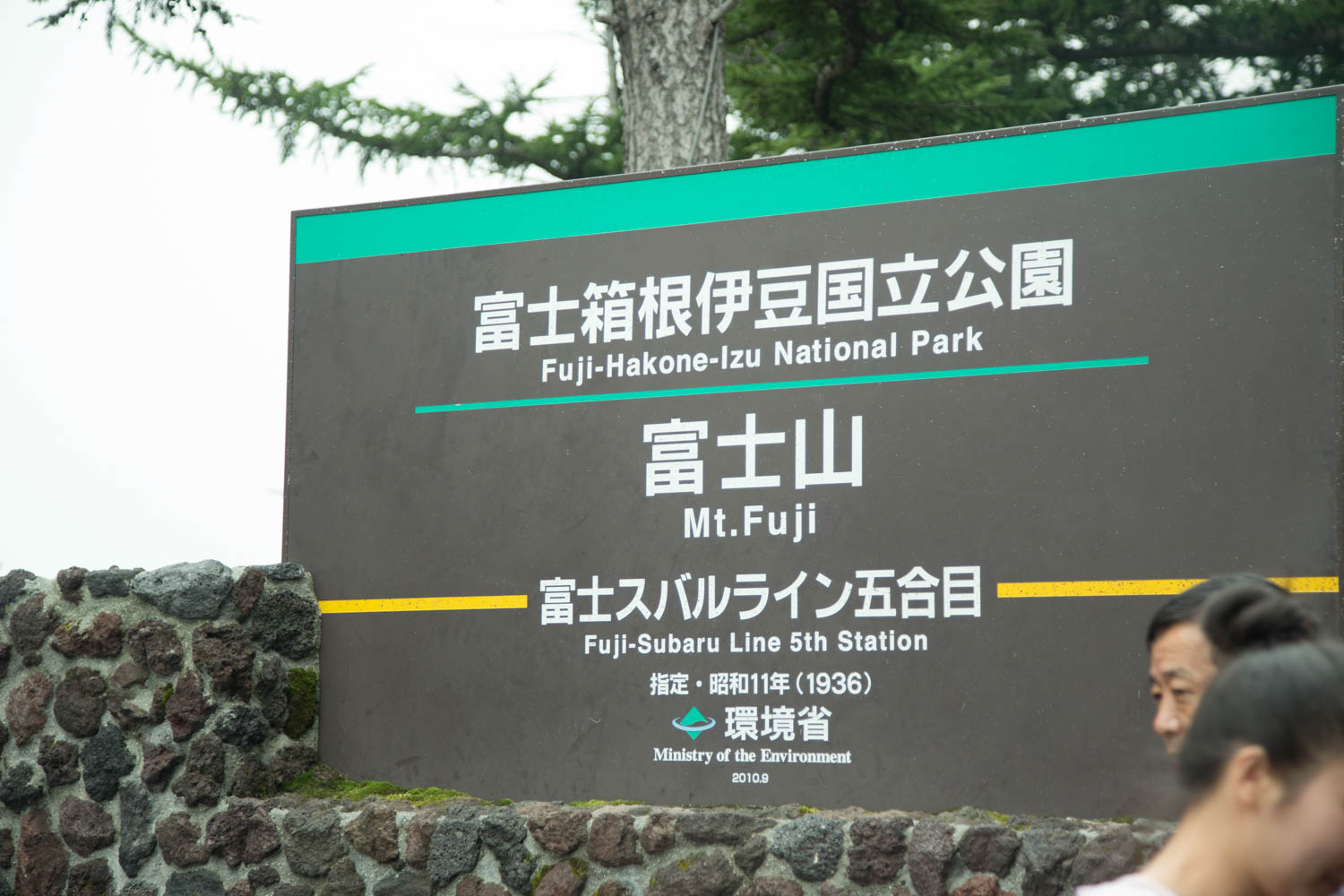 Welcoming us to the start of the Fuji ascent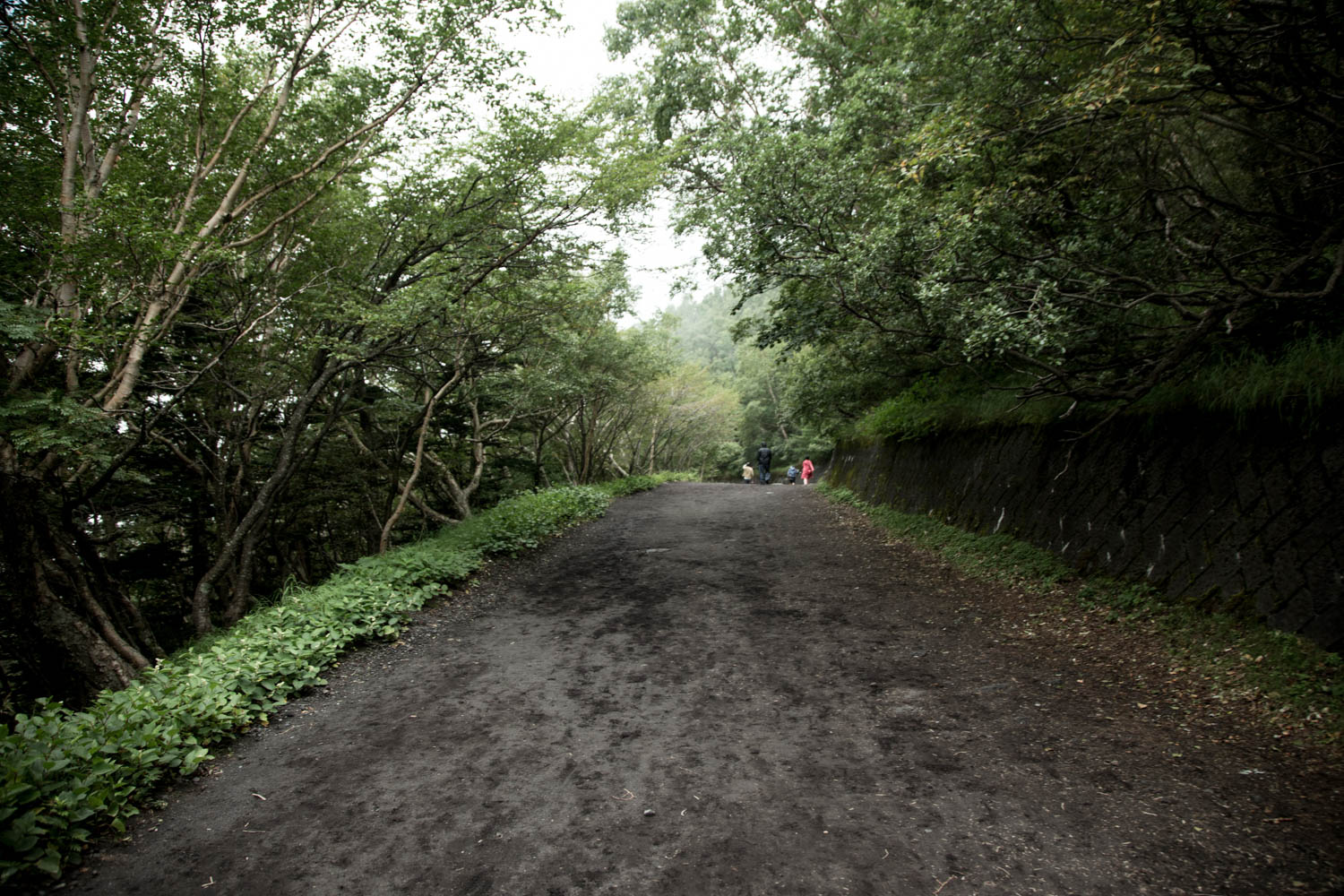 Trees greeting us at the start...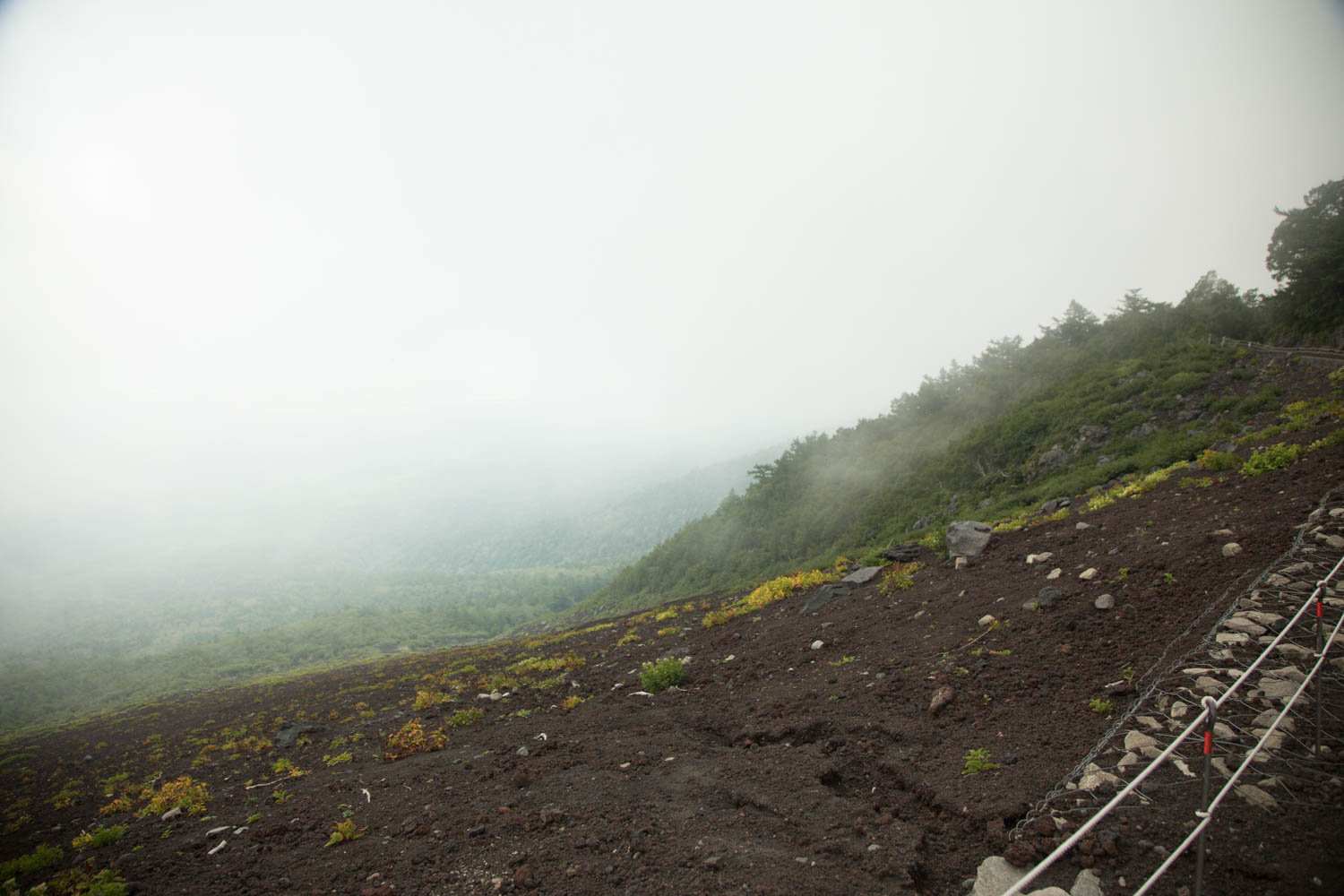 ... followed by rocks and volcanic soil.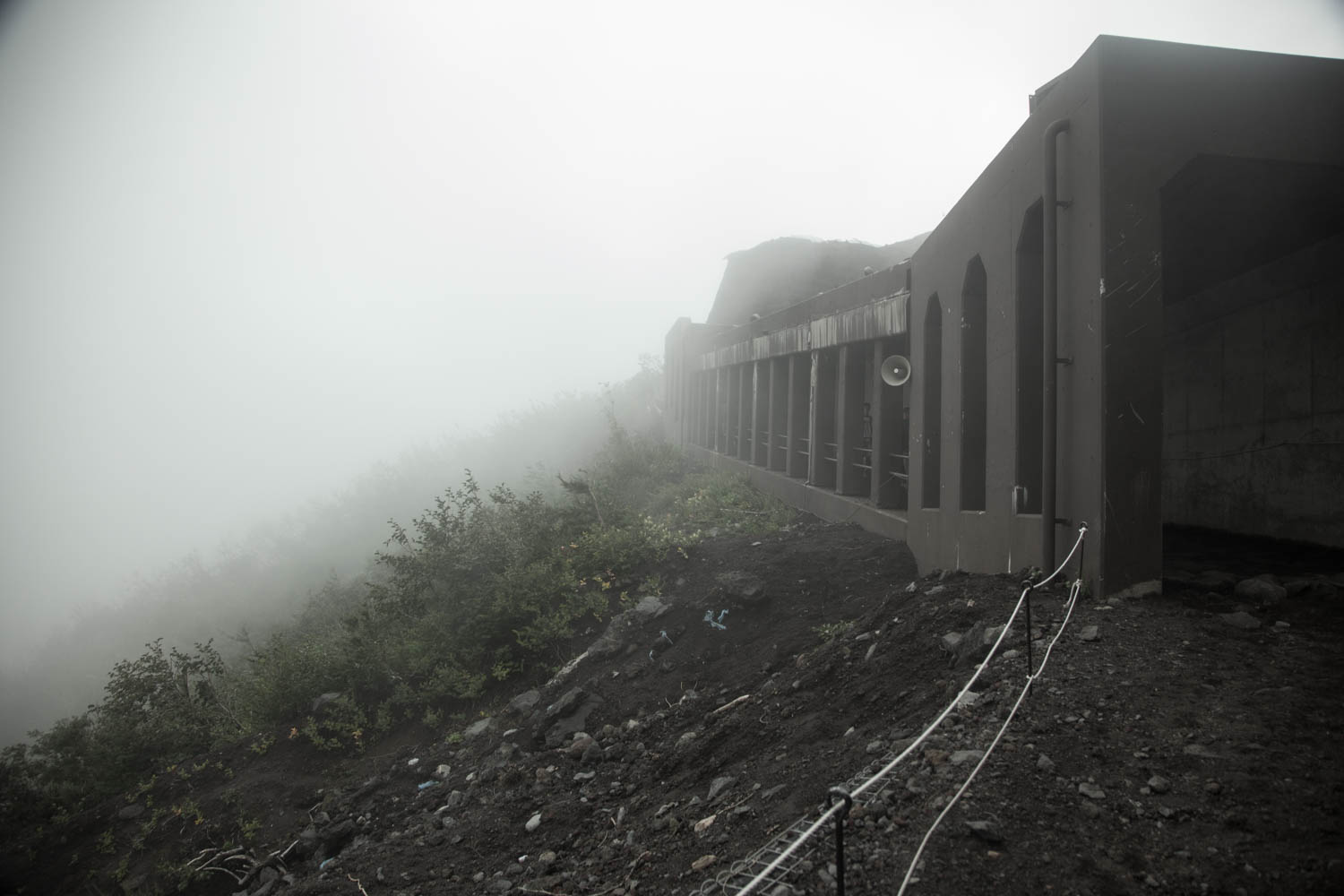 Looking like a scene straight out of Silent Hill (pretty apt considering my location)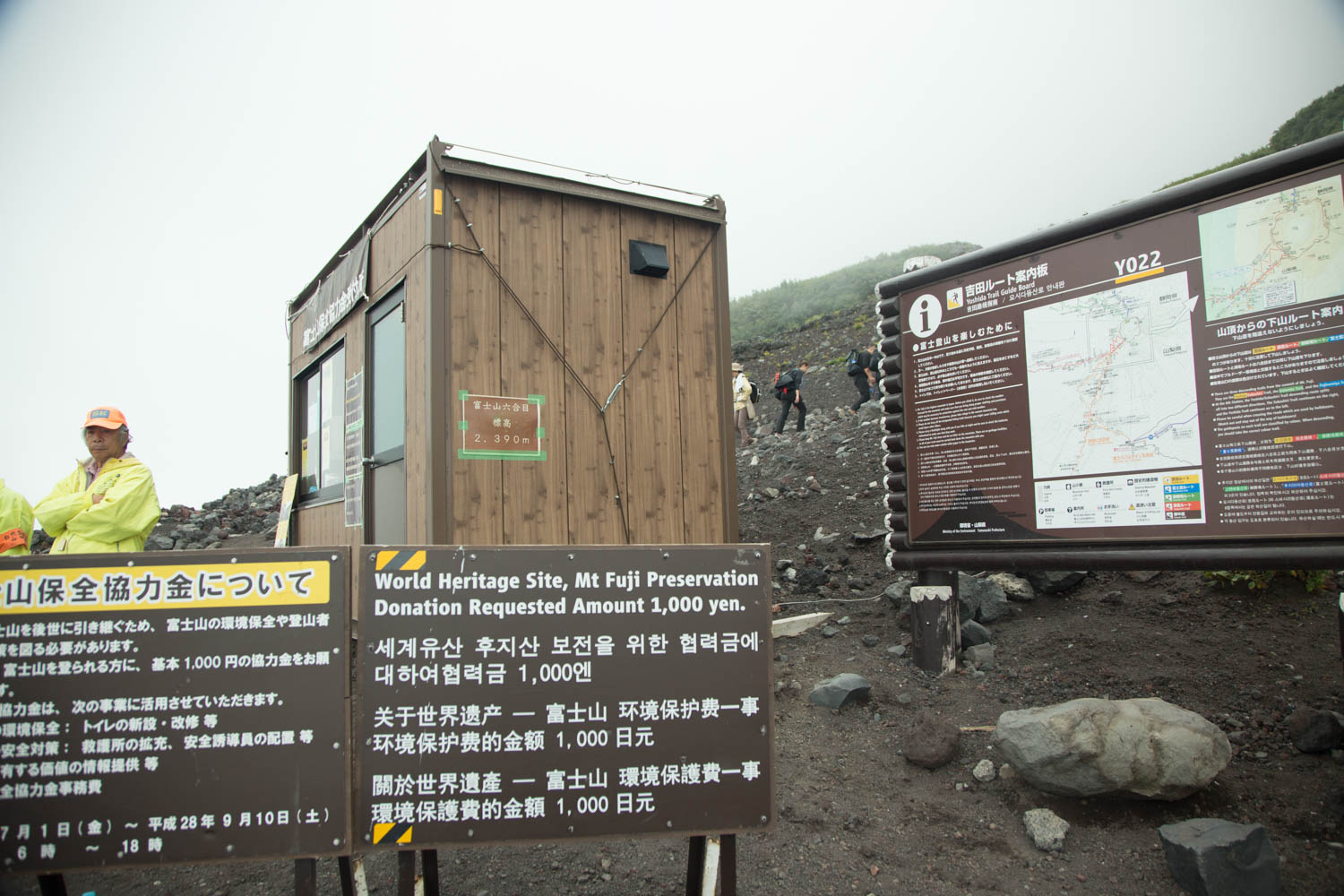 Arrival at the 6th station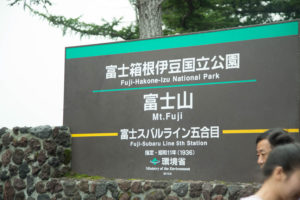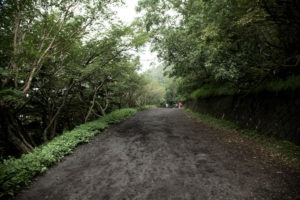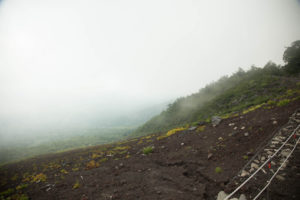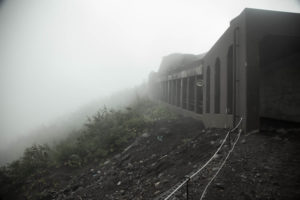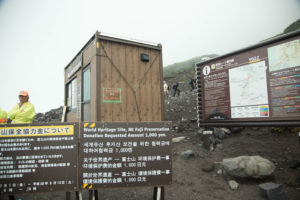 So after lunching and stocking up on water, sweets and snacks, I officially started this climb at about 2.30pm. No way I'm turning back. The climb starts out as a fairly straightforward walk, through some trees, then out into an open area where you can just make out a bit of what's beneath the clouds, through more trees in an upslope area, and to the 6th Station in 45 minutes. Pretty much a breeze so far except the final part which was tougher than the rest. If I relaxed and went at a comfortable pace I should be able to reach the 8th Station by 8pm. Or so I thought. What a mistake, the challenge has barely started.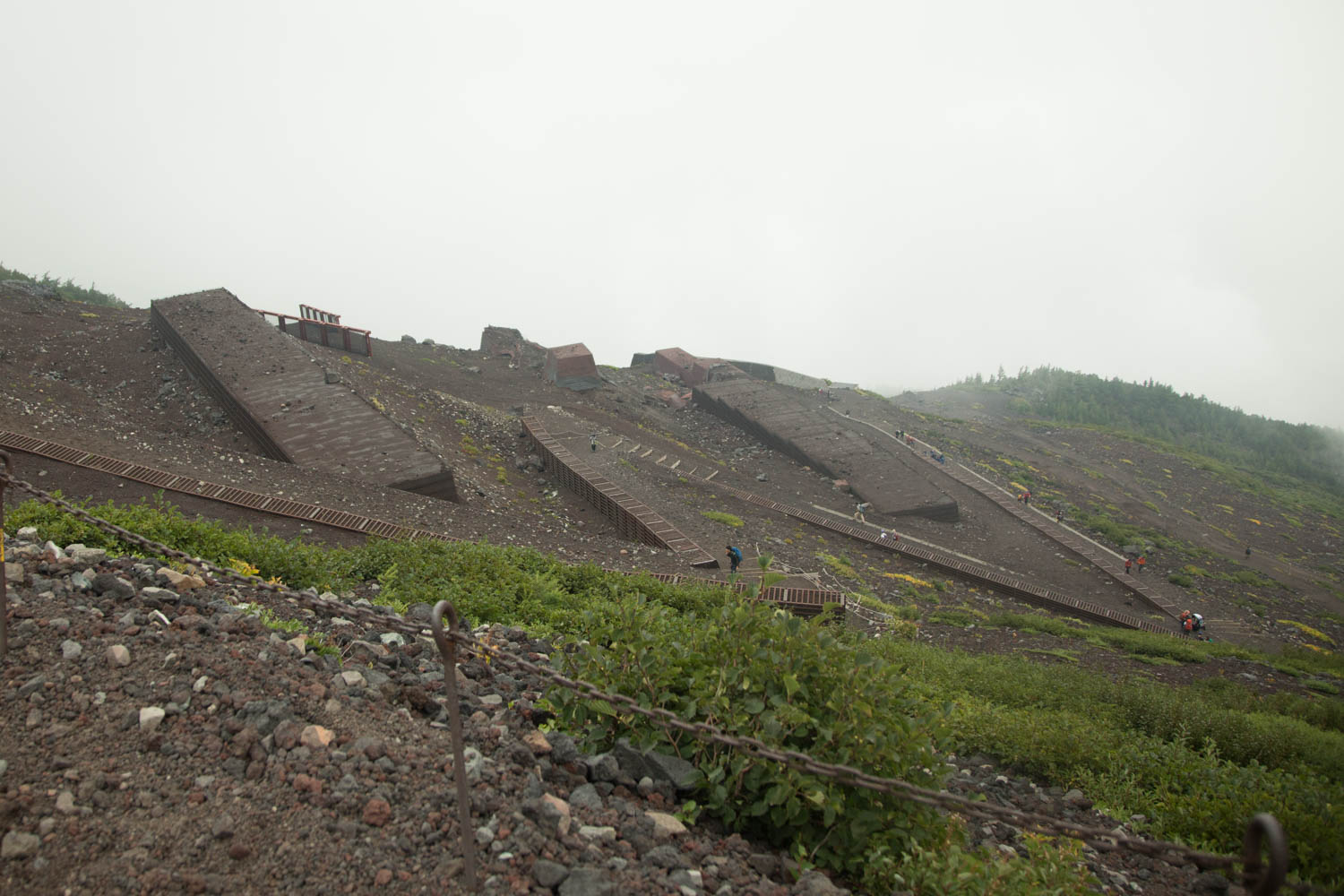 The zigzagging of the hiking trail. Starting to get tough at this point.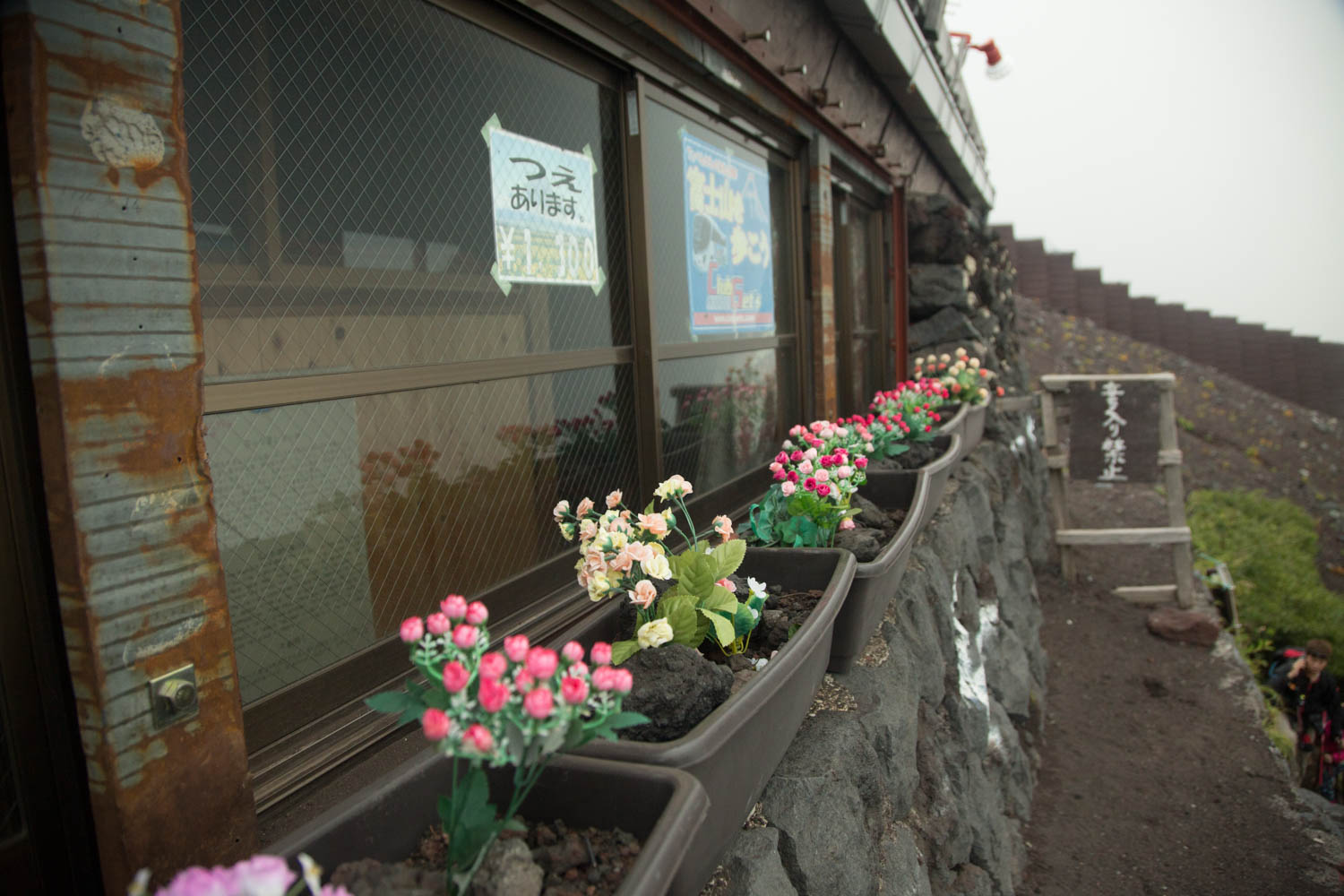 Bright flowers to energize us for the hell up ahead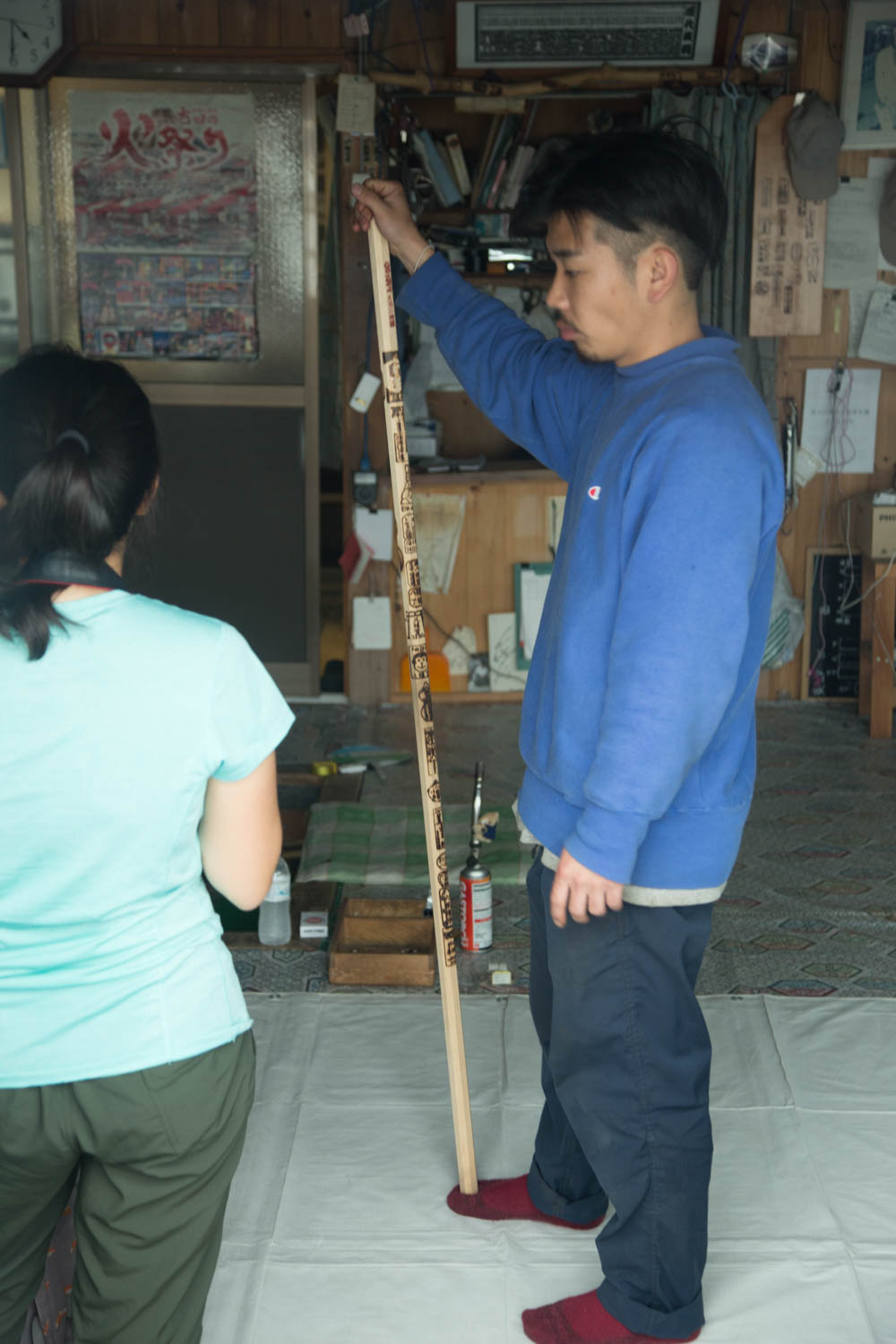 The wooden hiking poles filled with stamps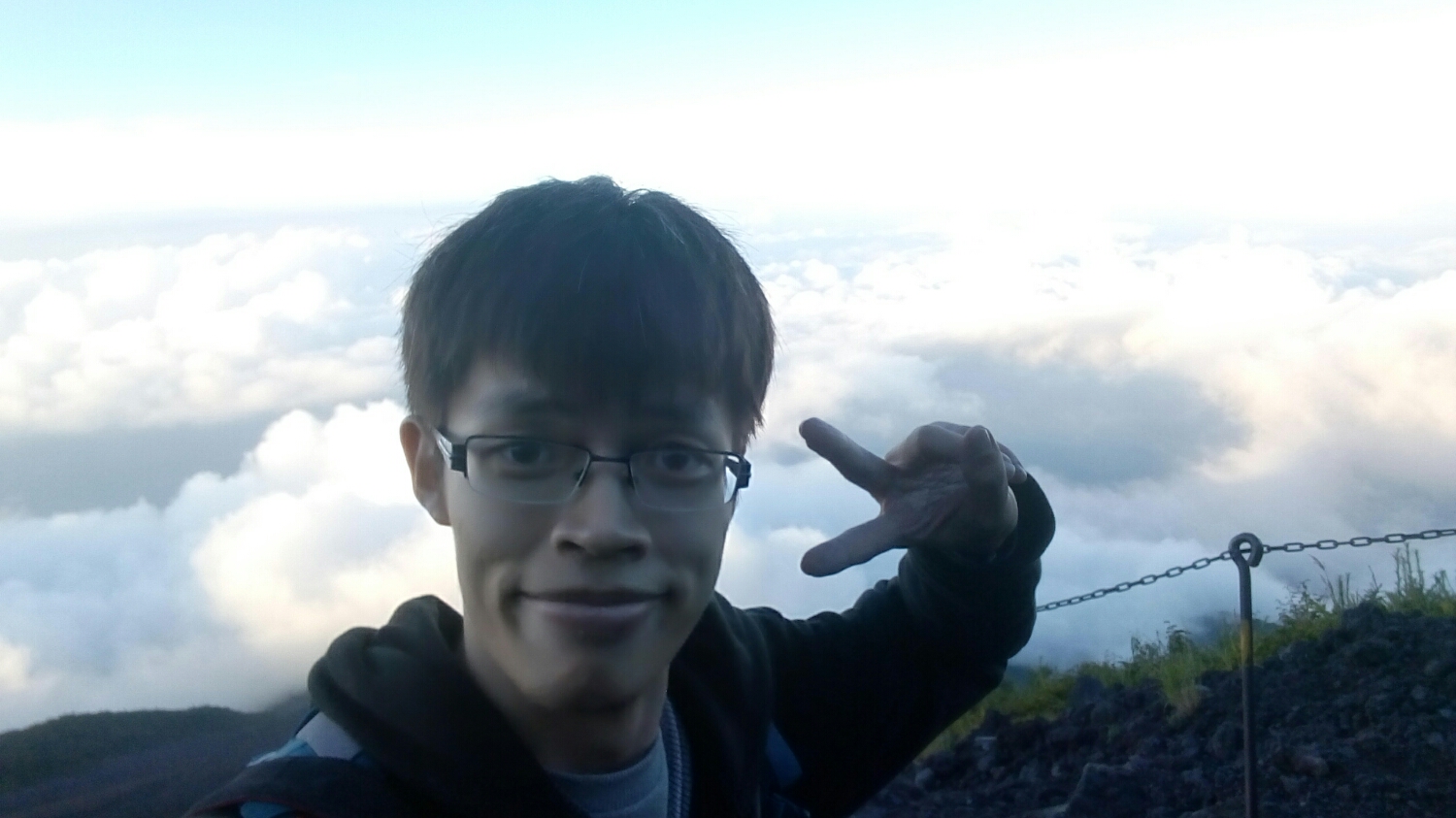 It's not often I get to be above the clouds, might as well get a picture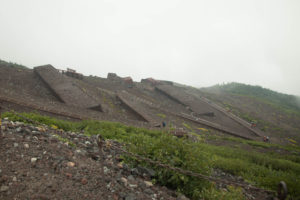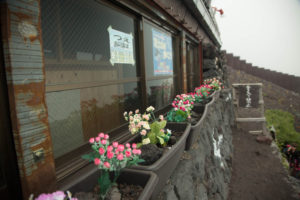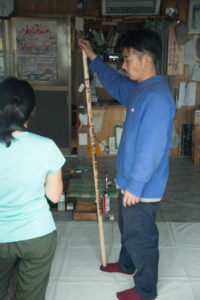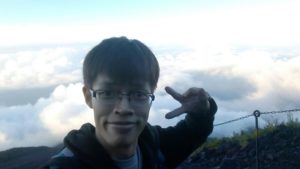 From the 6th station onwards, the general area was pretty much rocks everywhere, and the hiking trail was basically a zigzagging road of wooden-rocky steps all the way to past the 7th station, beyond which it gets worse. The worst part was that from the trail I could see the mountain hut up there, but it never seemed to get any closer. Before I reached the hut, slightly below the 7th station, I was already taking pretty regular 1 minute breaks every time I reached one of the bends. I never thought I'd be so happy to see a wooden house in the middle of the mountains when I reached the first mountain hut, where there were seats outside for me to take a much needed 15 minute break, and to snap some photos of myself above the clouds. I also managed to catch the mountain hut guys stamping the wooden walking sticks sold below the mountain, using a heated stamp to burn the pattern on the wood.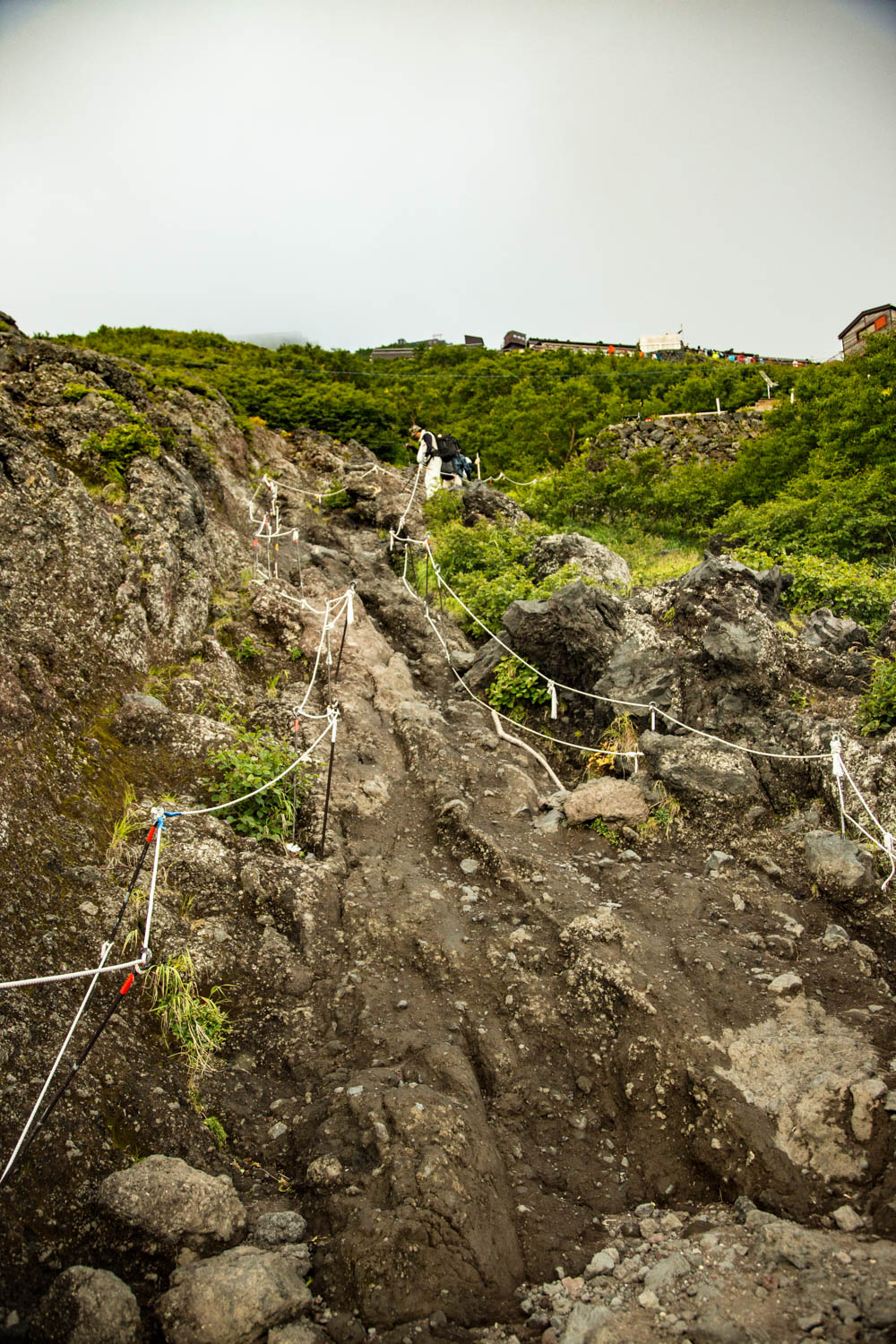 Rock climbing at its most literal meaning.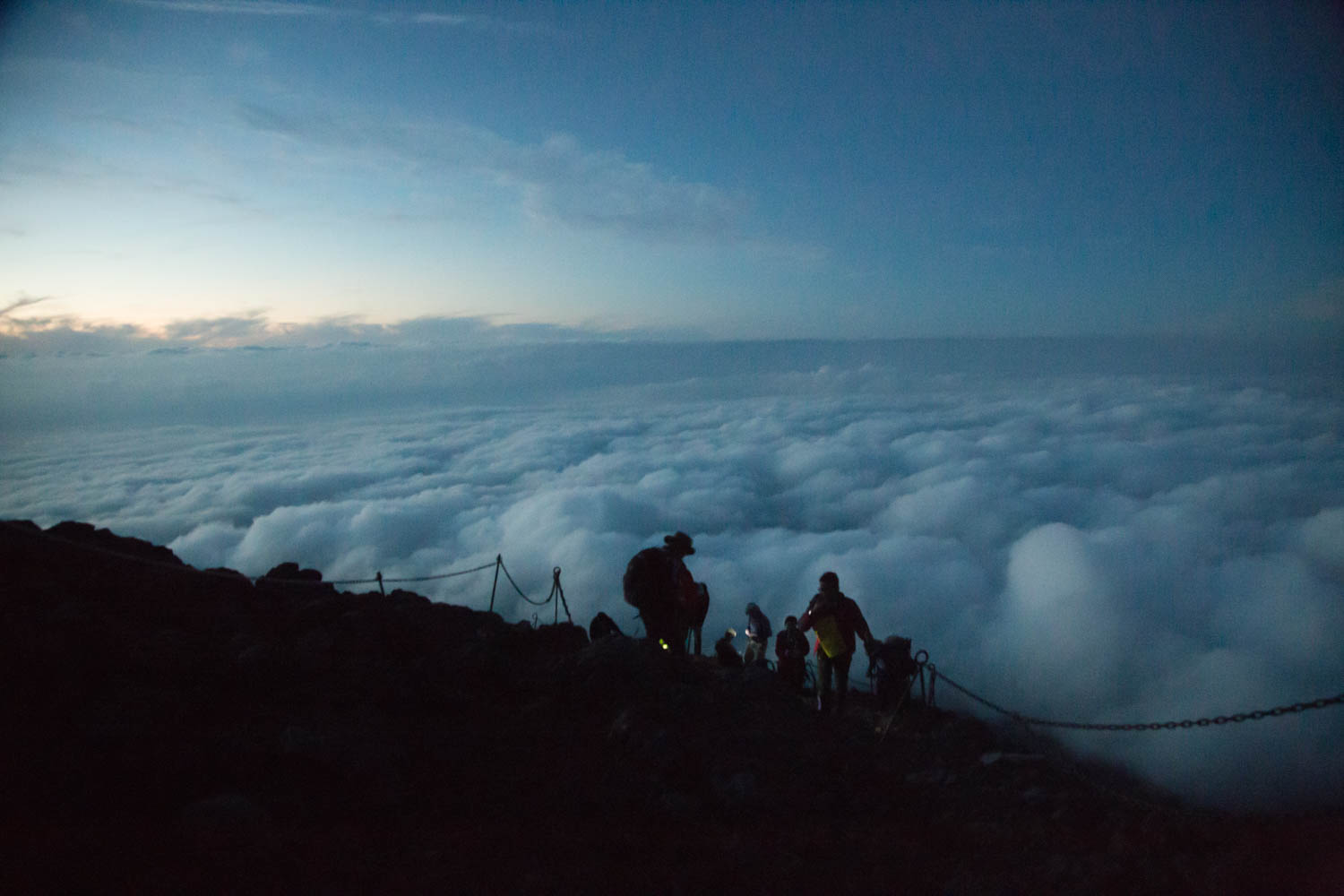 Hikers making their way up the mountain at dusk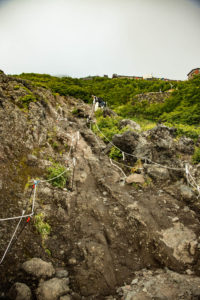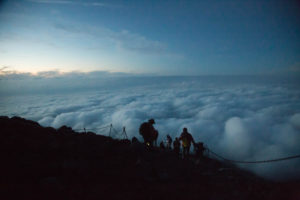 Unfortunately what greeted me after my break, and pretty much the rest of the climb, was some pretty literal rock climbing. I was really thankful for the ropes/chains that served as barricades for the sides, as I was using them a lot to pull myself up the tough parts. I talked to an American guy somewhere further up to pass time, but within 30 minutes he probably decided I was too slow and abandoned me lol.
And in no time at all the sky had eventually started turning dark, and I'm not even at the first hut of the 8th station. Without any street lamps I'd pretty much given up on touching my camera beyond this time, which was just as well since I was getting pretty damn tired by that time, and I probably won't be able to steady my hands for any proper shots, so I just focused my mind on the path and trudged on slowly.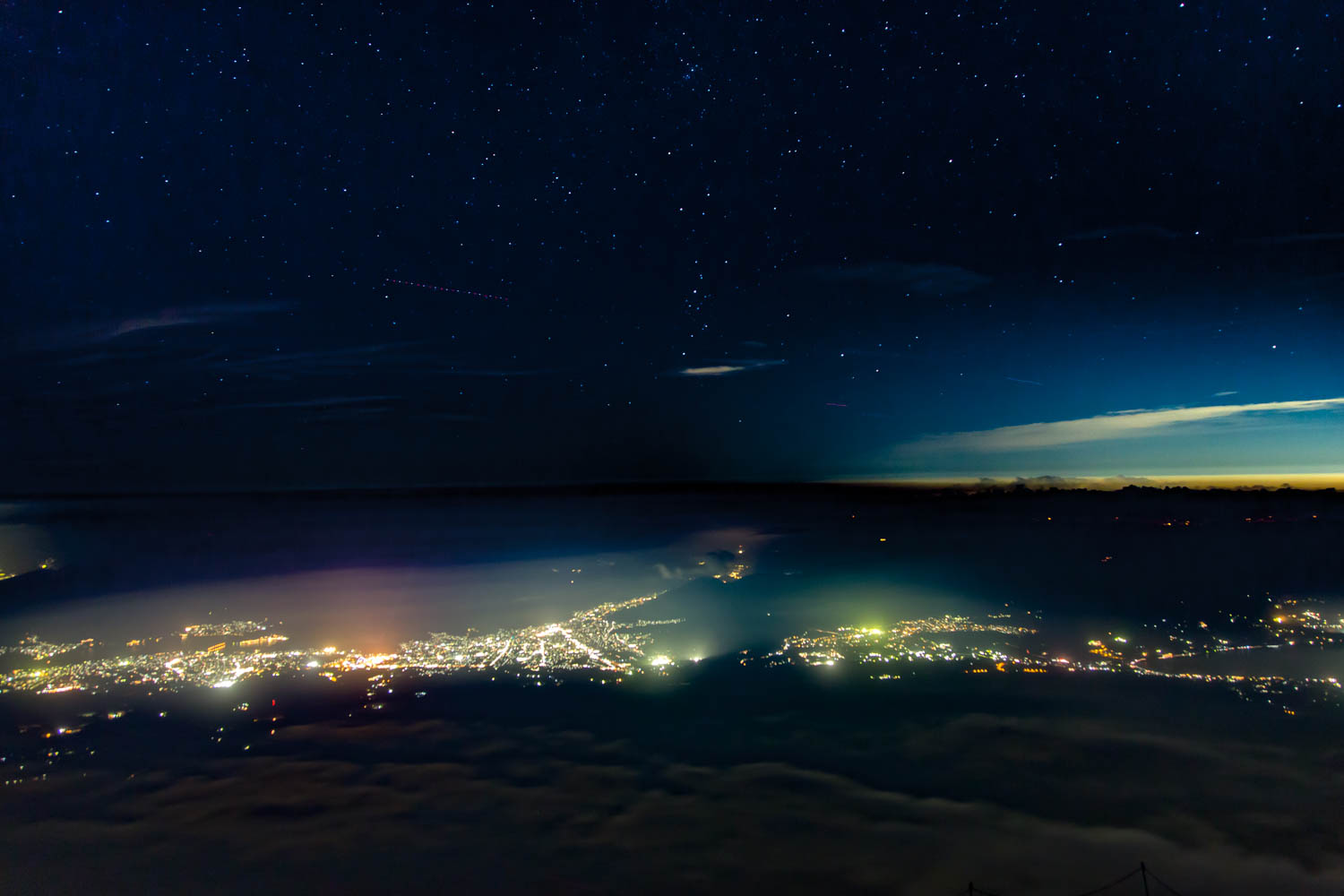 Lights from the stars and the town, best sight of the entire night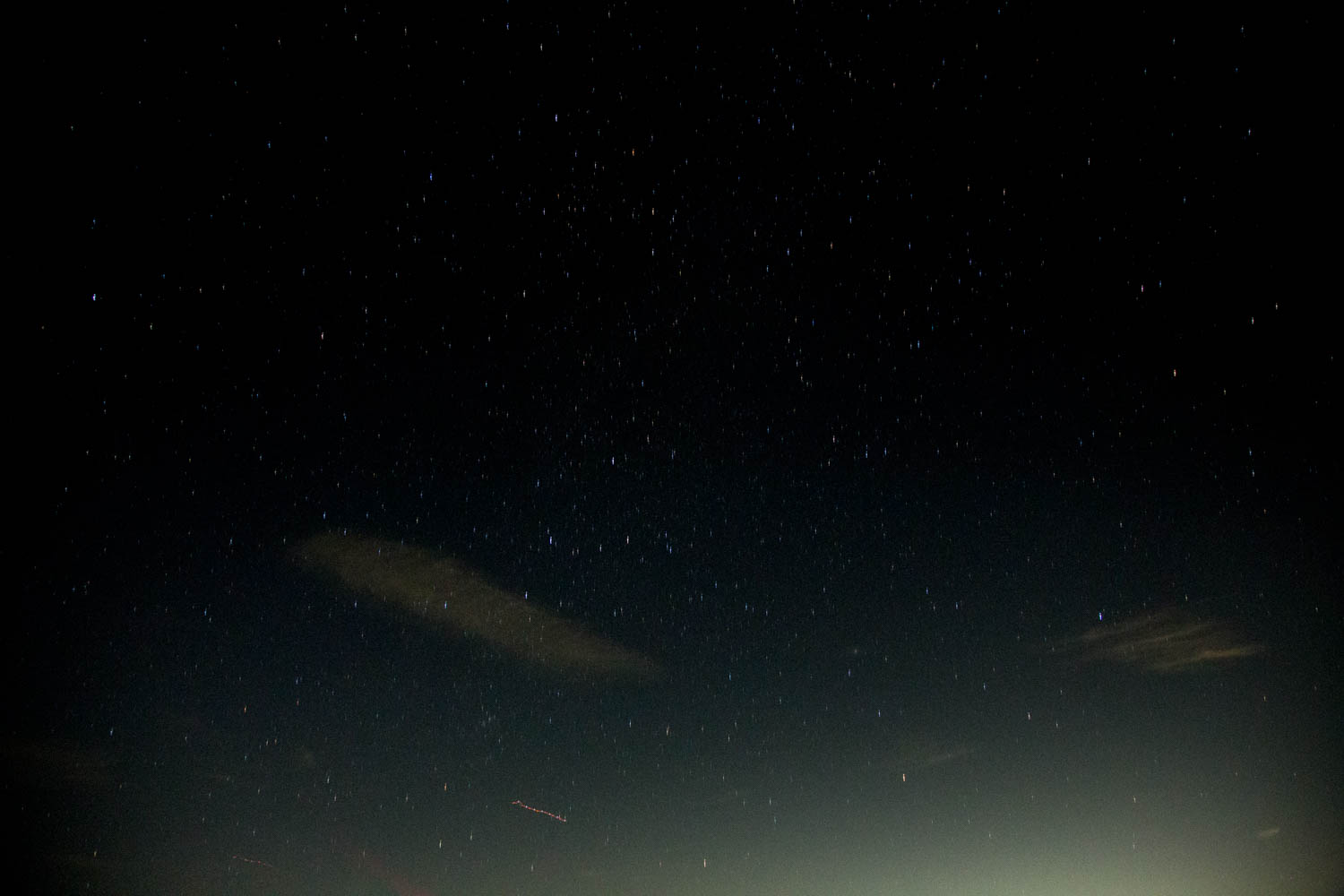 Stars just littering the entire sky.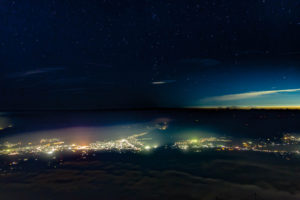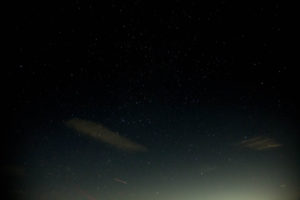 By the time I reached the 8th station it was already completely dark out, and everywhere was completely dark save for the lights from the occasional mountain hut scattered up the hill. Thanks to the lack of light the stars were completely visible, which was a really awesome sight, I haven't seen so many stars in the sky before in my entire life. While resting further up the hill I basically just laid down on some random rock away from the trail and just stared into the starry sky thinking about life and admiring the vastness of space.
By this time though, I started to face another huge problem: the temperature. It was 8pm, it was 7 degrees out there, and I had nowhere to stay for the night as this was a last minute trip and I didn't have any bookings at any of the mountain huts. I was wearing 5 layers of clothing including 3 pretty thick jackets/sweaters underneath my winter jacket, and I was still shivering non-stop. All the mountain huts do not accept any people sheltering from the cold unless they bought some stuff which were really expensive in comparison to normal prices. It doesn't feel as bad when I'm climbing as I'm generating heat, but once I stop the cold sets in almost immediately. By 10pm I pretty much caved in and bought a small cup of hot chocolate at 400 or 500 yen just to seek shelter inside one of the mountain huts for 10 minutes. I tried taking a one hour nap outside the final mountain hut at 11pm to recharge myself, but I barely lasted 30 minutes before deciding to seek shelter in the toilet for another 15 minutes. Still, even with the cold I guess I was lucky the weather was good, if it was raining it would definitely have been way worse.
Irregardless, I still had the climb to complete, figured I might as well start climbing to generate the heat. Taking the now-pretty-frequent short breaks and a 15 minute rest at the 9th station, I finally reached the summit at 2am, with a pair of statues and a shrine gate greeting me at the top, 12 hours after I started the climb. Sadly I have no photo of this moment of triumph as it was too dark for any photos, but the feeling when I made the final step up was really out-of-this-world. Finding a bench with a good front row view to rest, the final challenge now is surviving the last 3 hours before the sunrise view that I totally earned.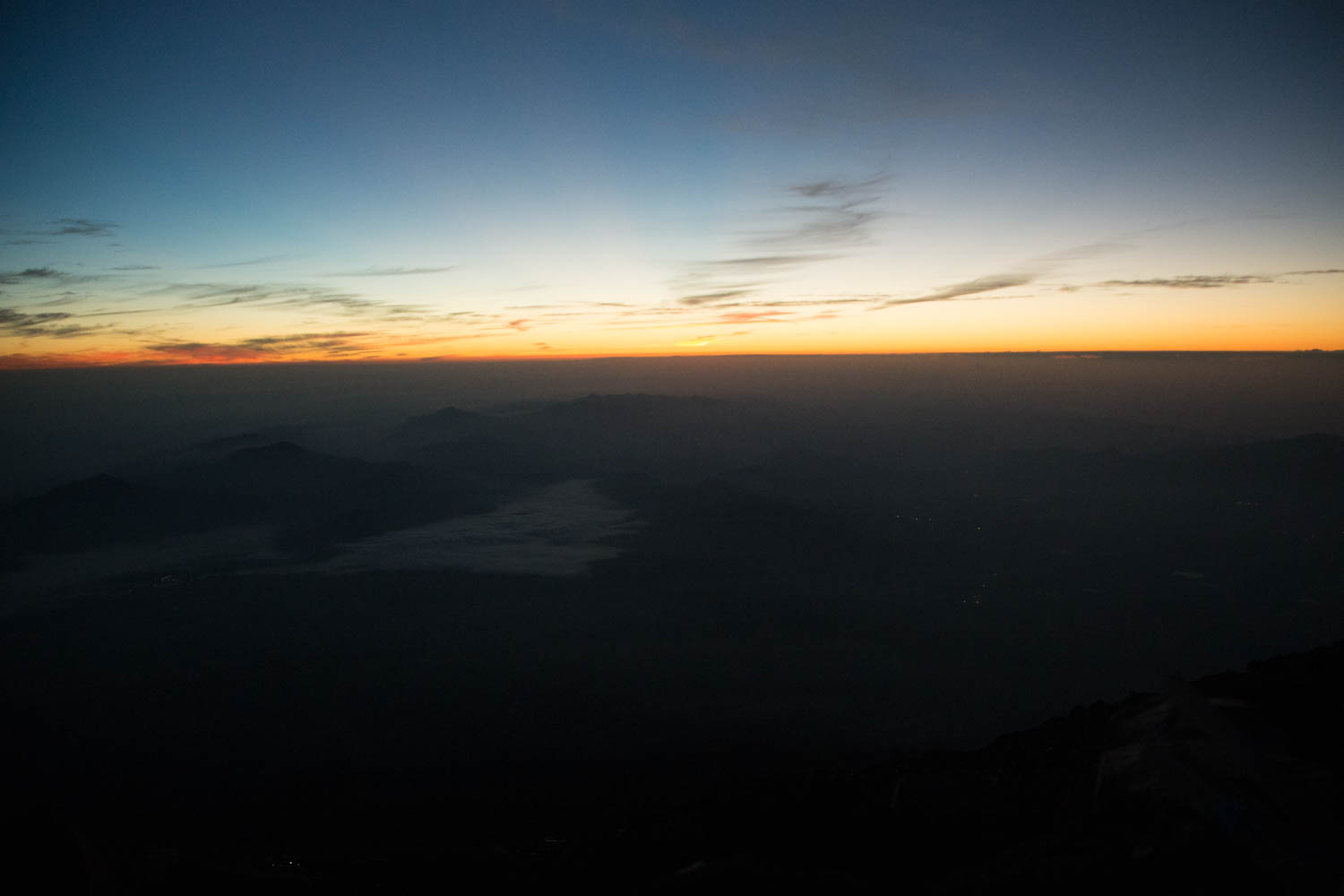 The approach of the sunrise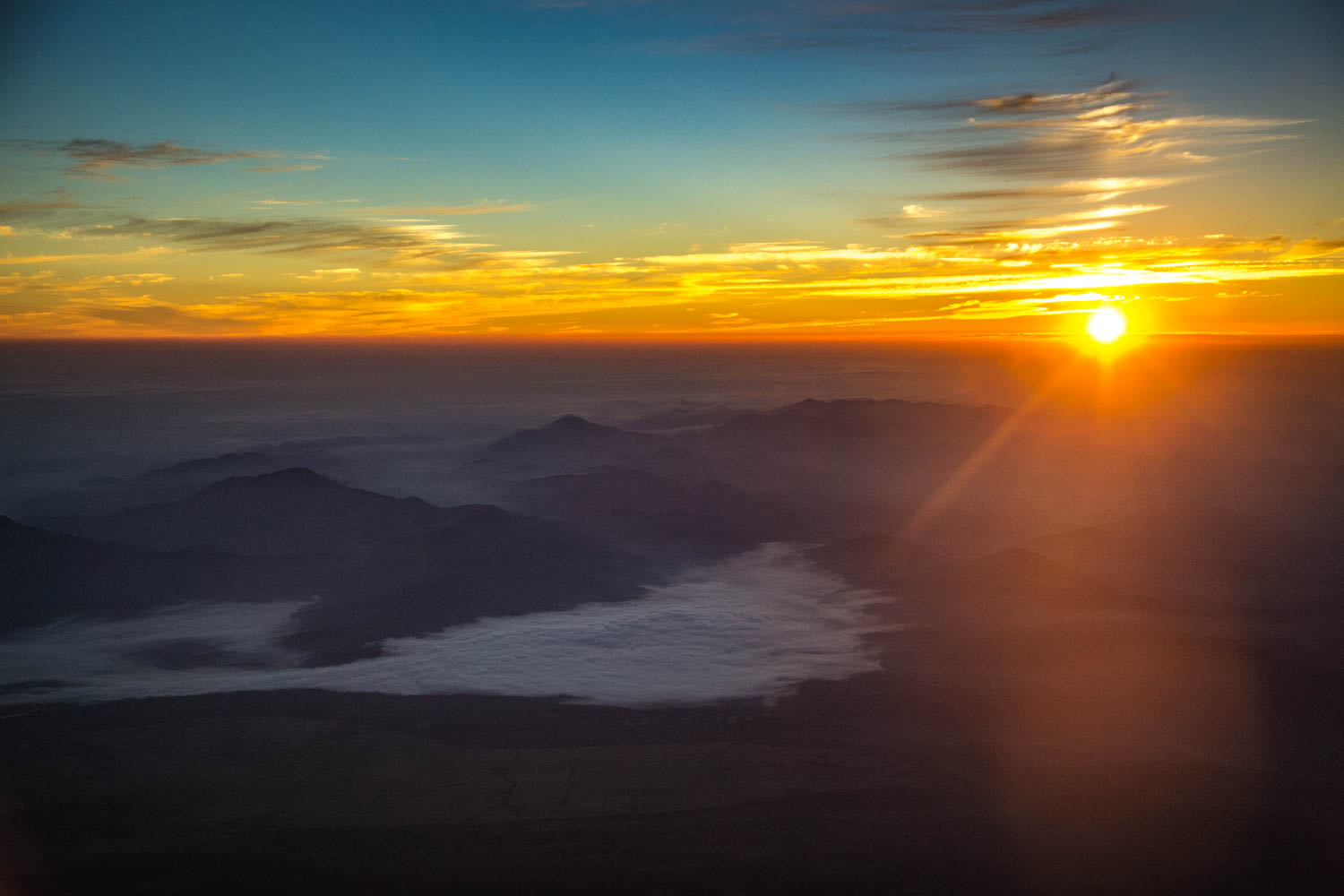 The sunrise overlooking Lake Yamanaka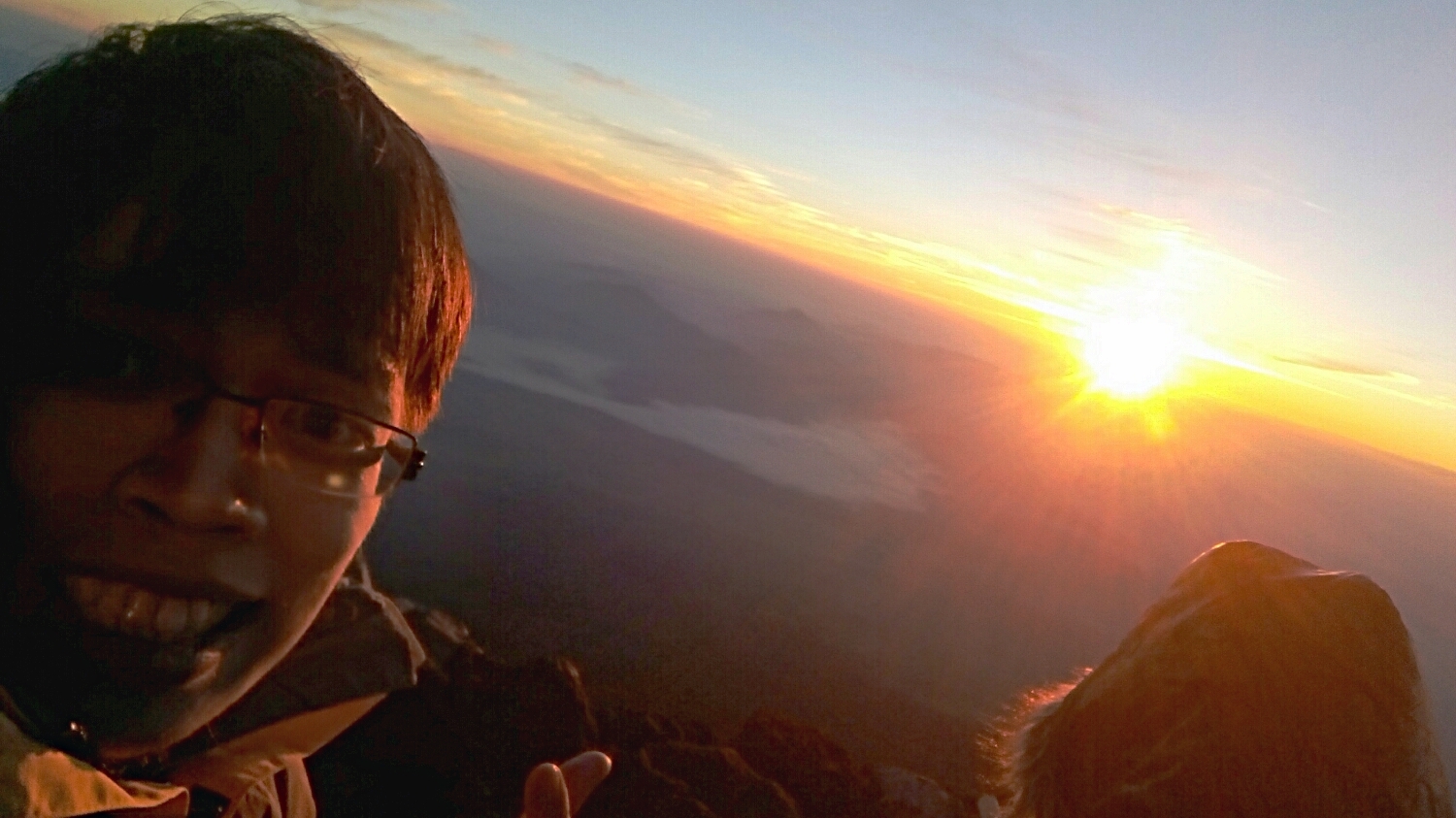 What's a Mt Fuji sunrise without taking a photo with it?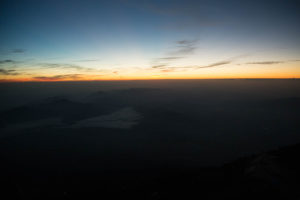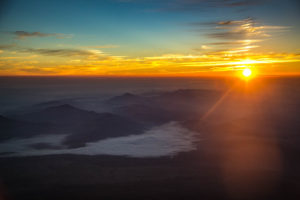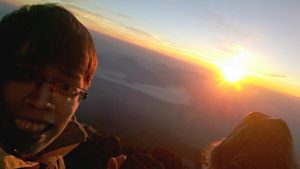 Basically the rest was just eye-shut, as it was too cold to get any proper sleep. I finally decided to get up at 4am after hearing all the crowd coming up behind where I was resting, and it was pretty amazing to see the human traffic jam that had formed at the trail below me. With all the headlights it really looks like a trail of fireflies, and since I'm already up there it didn't seem like such a bad idea to go without the mountain hut. I'm still kicking myself as I type this that I forgot to take a picture of this sight though.
As the hour passed, the sky eventually started to brighten with a pretty awesome orange hue, and almost sharp at 5am the first glimpse of the sun started peeking out above the horizon. Cue the cheers from a couple of westerners behind me and the snapping sounds of everybody's cameras. The clouds below us had also slightly dispersed so we could just make out the lakes below the mountain, as well as see the surrounding smaller mountains in the area. I've seen quite a few sunrises, but nothing beats this. The feeling of achievement was really at its greatest at this point. 12 hours of climbing, braving the wind and the cold through the entire night, having barely a wink of sleep, for this kind of view. Totally worth it.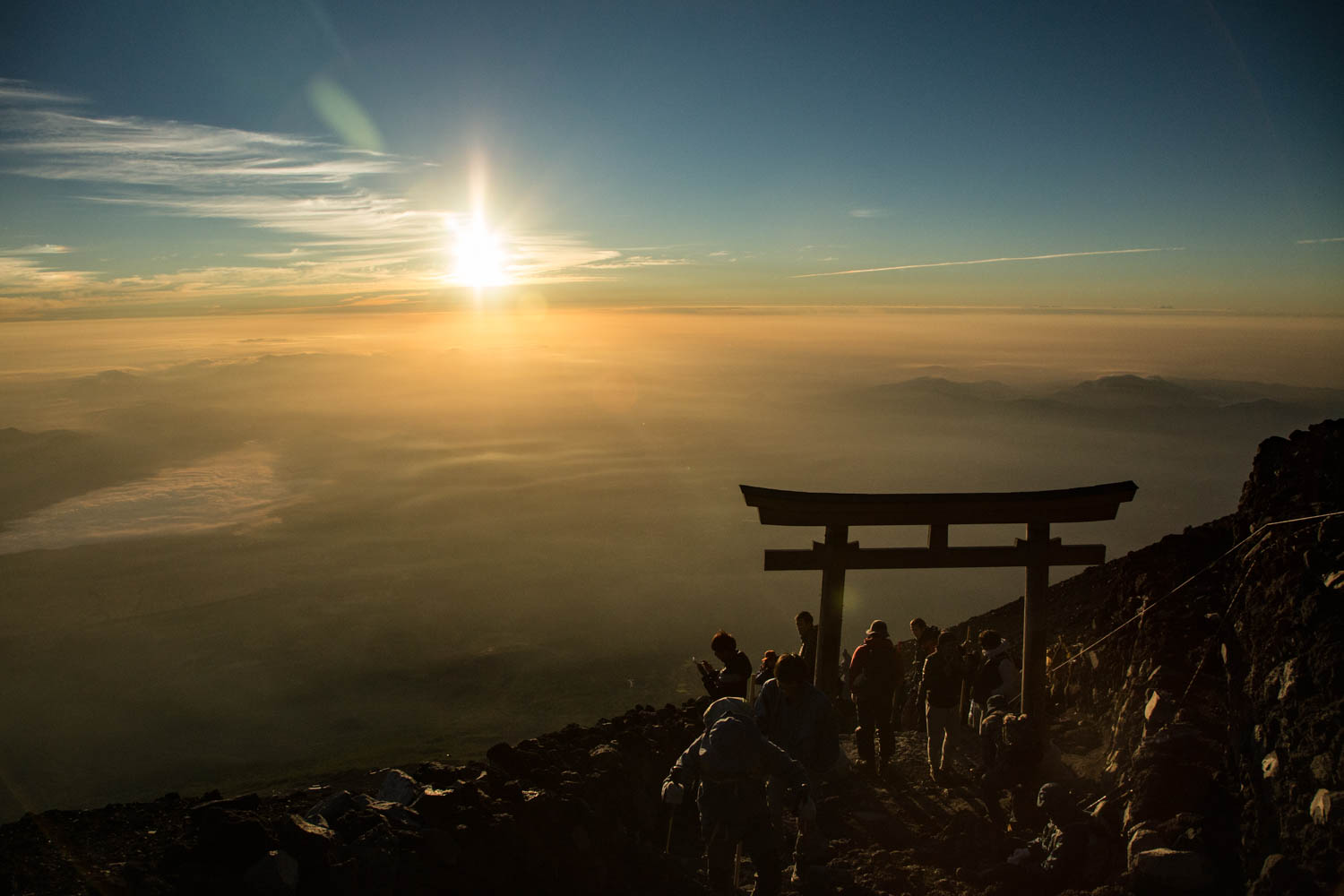 People making their way past the torii gate that marks the end of the climb, with the sunrise in the background.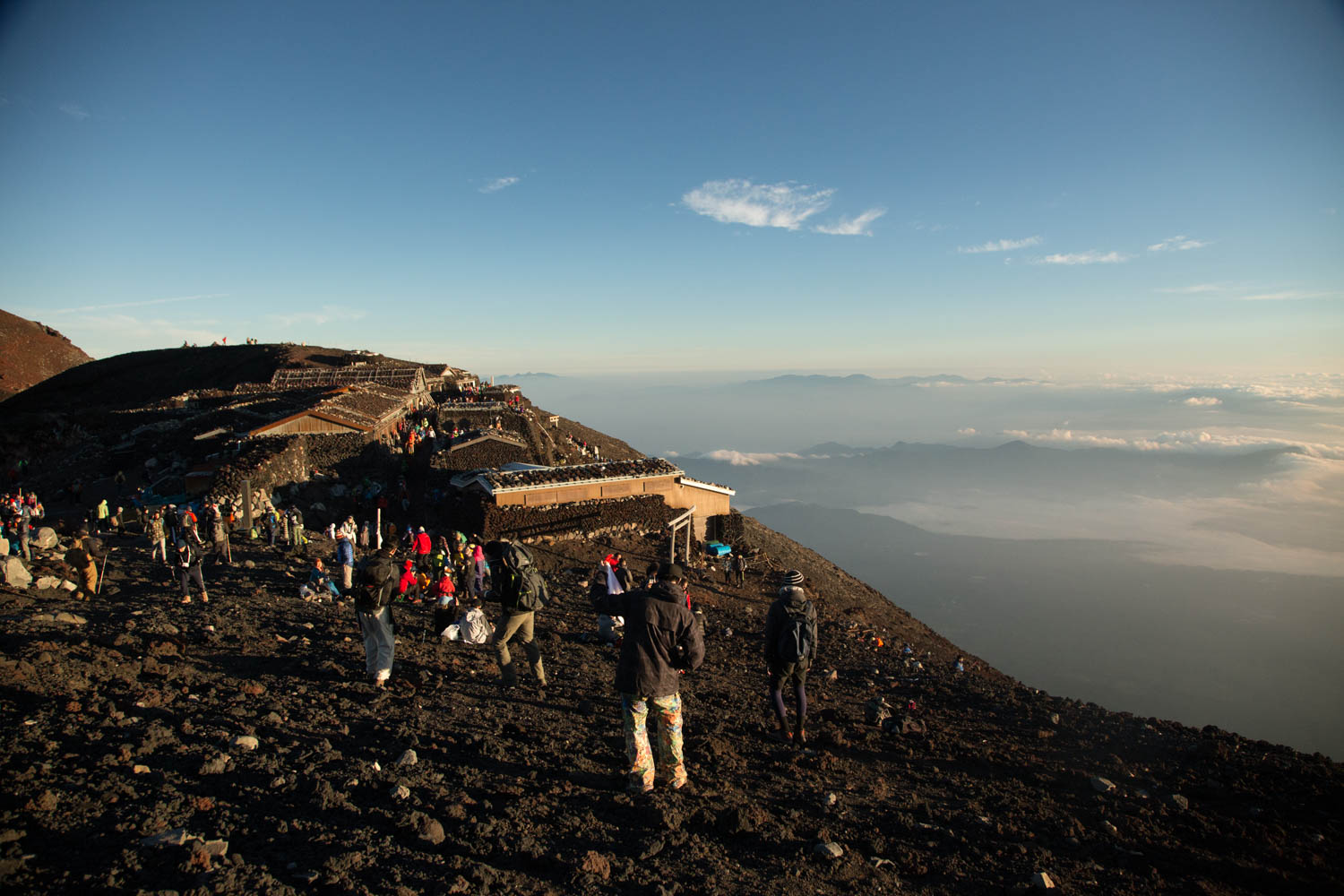 Crowds just hanging around and taking photos at the summit after sunrise.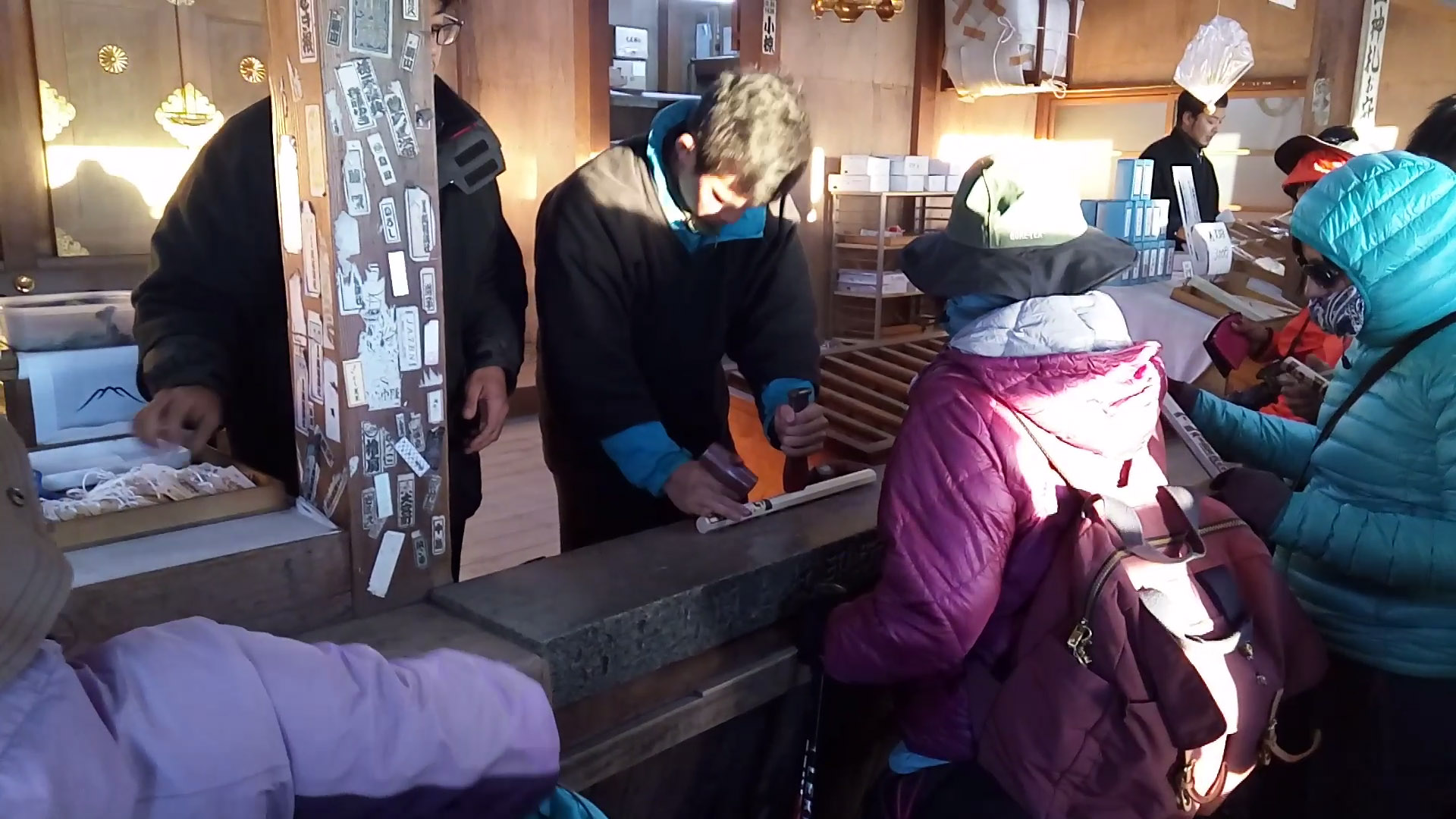 Hikers having their sticks stamped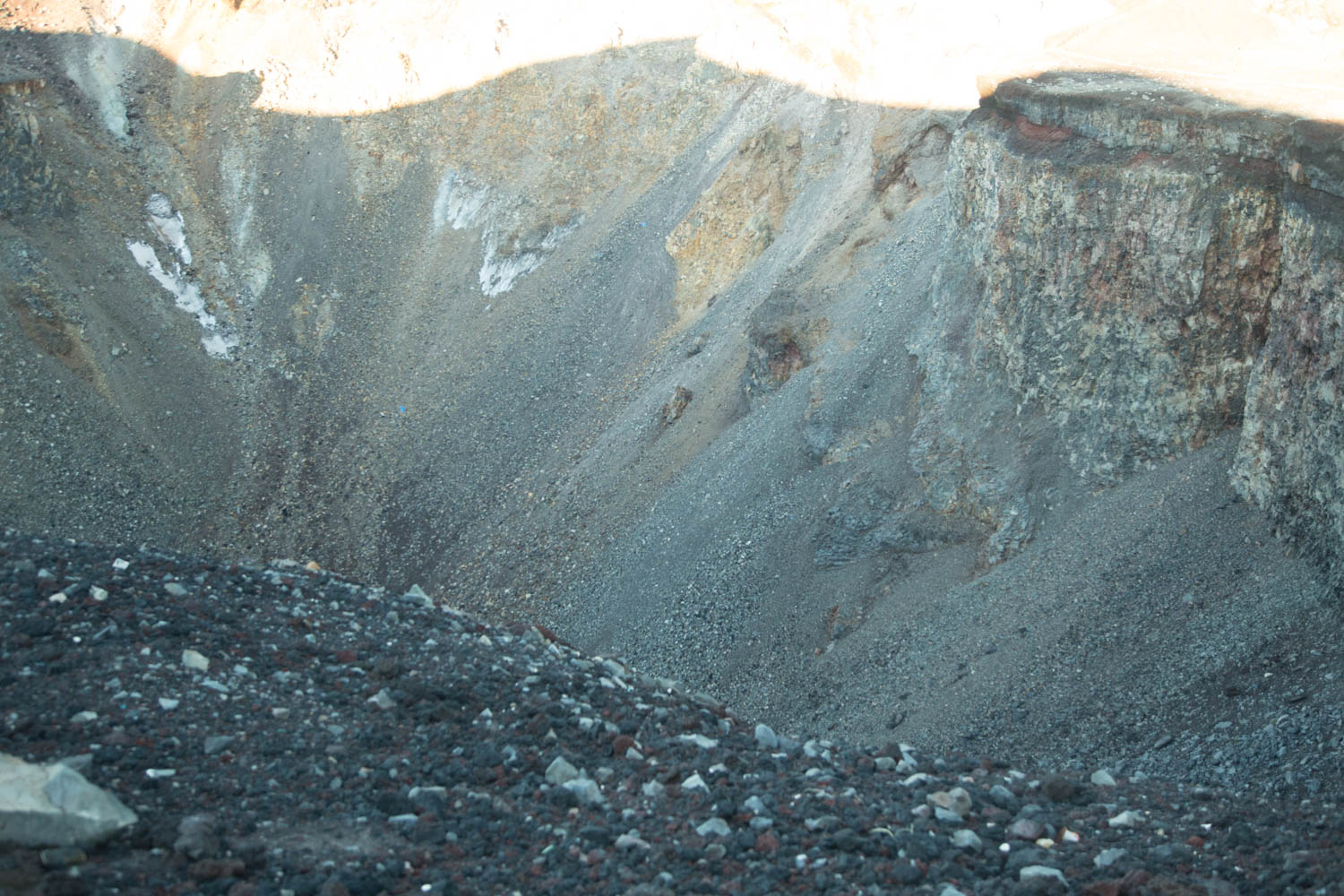 A quick peek at the volcano crater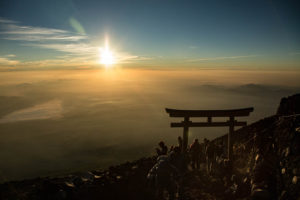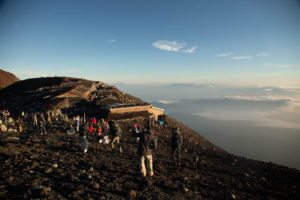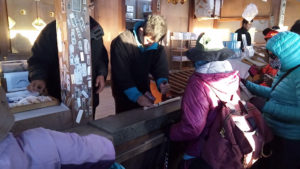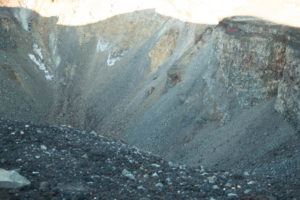 Show's over in 15 minutes though, and by that time plenty of the crowd had already dispersed, either to head to the mountaintop shops or just to explore the summit area. I wanted to try to catch the earliest bus back as I wanted to do some last minute shopping back in Tokyo, but I managed around 1 hour or so to explore my immediate surroundings. I went back for a photo of the gate that I missed out on that night, but there were hikers still making their way up so I settled for a scenic shot of the gate instead. The shops were already completely full at that time with people having breakfast and having their sticks stamped, so I could finally see how these guys handle crowds. It was also at this time I realised they actually sold shorter versions of those sticks, if I knew yesterday I would have gotten one as a keepsake, for some reason I only saw the long walking sticks at the shops at the 5th station. I also snuck down to the area just beside the crater (it was out of bounds) to take a quick peek inside, though it's just filled with rocks and volcanic soil as expected. I believe there were some other stuff to see on the other side of the crater, but I decided to skip out, as I'll probably end up forgetting about time and taking too long to explore. After hanging around the top a while I started to make my down. What goes up eventually must come down at some point.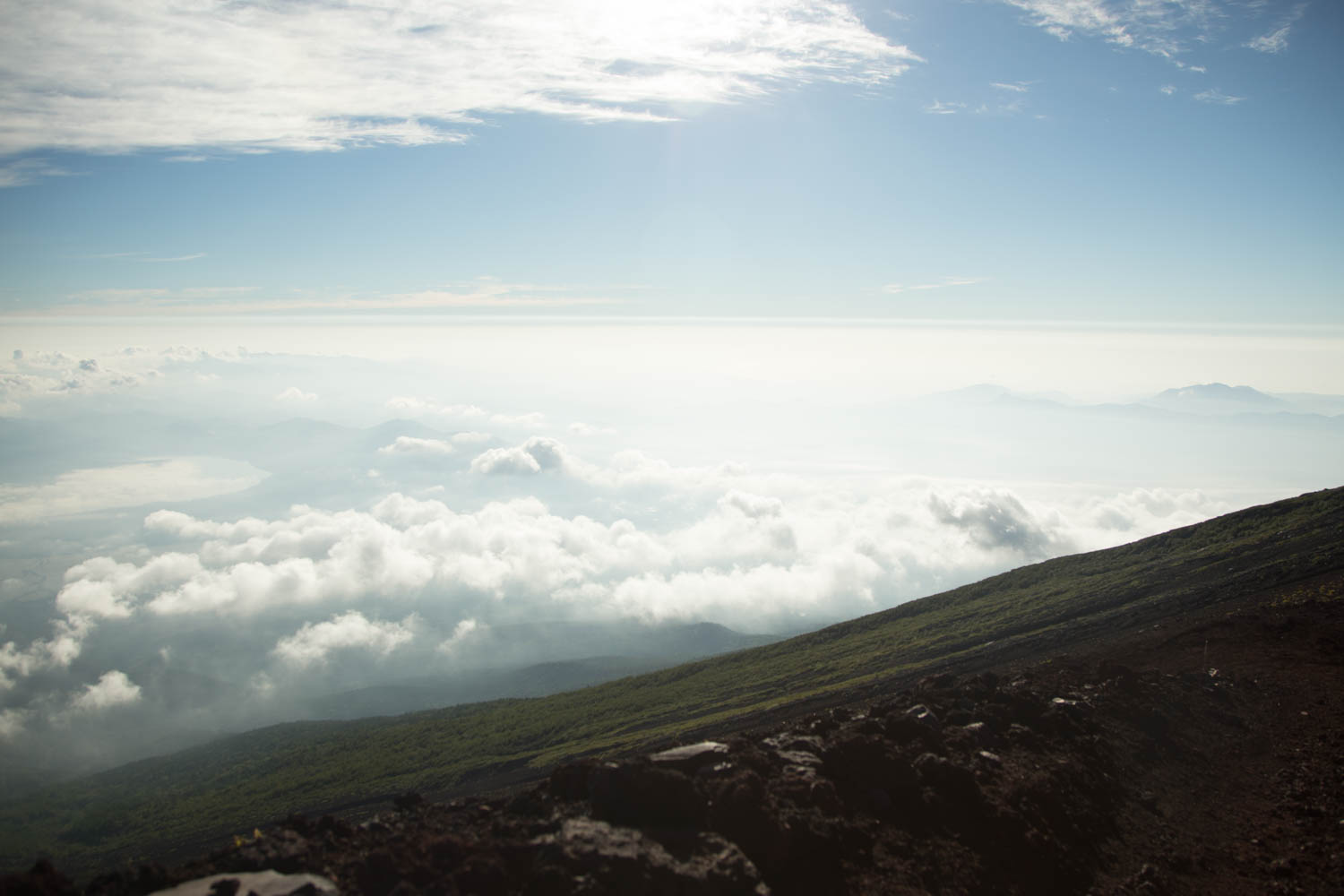 View from the downhill trail
The trip down was equally hellish in some ways. While the trip up was a test of perseverance, the road down was a lesson in self control, in terms of speed and balance. It was a different trail down, and this trail was simply plenty of loose volcanic soil the entire way, so it was easy as hell to slip and fall, in fact at one point the guy behind me actually fell and tumbled a small distance, cutting his lips and forehead in the process. And the journey back wasn't as fast as I thought. When I reached the bottom I thought I should reach the bus station within another 30 minutes. What I forgot to account for is the unbelievably long walk along the base of the mountain, which took me easily 1.5 hours and was almost as tiring as the trip up. Whoever thought it was a good idea to include uphill slopes on the way back is out of his mind. Good thing then I decided not to stay too long up there, as I only just managed to get my ticket for the earliest bus back to Tokyo, on which I just literally knocked out for the entire journey.
So this is the end to one of the most memorable days of the trip. While I had plenty of reservations about climbing all the way without any proper rest, which was something I had already been considering for my original plan due to the cost, it was actually survivable thanks in part to the good weather, and it comes with its perks as well. Apart from not having to squeeze with the rest of the world during the final stretch of the climb, the front row view of the sunrise was pretty much worth suffering for. The downside is the cold (unavoidable), and no proper rest and dinner, though I was too tired to even feel hungry; I bought 2 breads and ate only one the entire time. This climb also taught me a couple of things about myself. 1) I'm fitter than I thought I was (managing to make my way up). 2) I'm not as fit as I thought I was (so much for thinking the climb will be a breeze at the start). It sounds crazy, but if someone suggested doing it again I might just do it for the sake of it.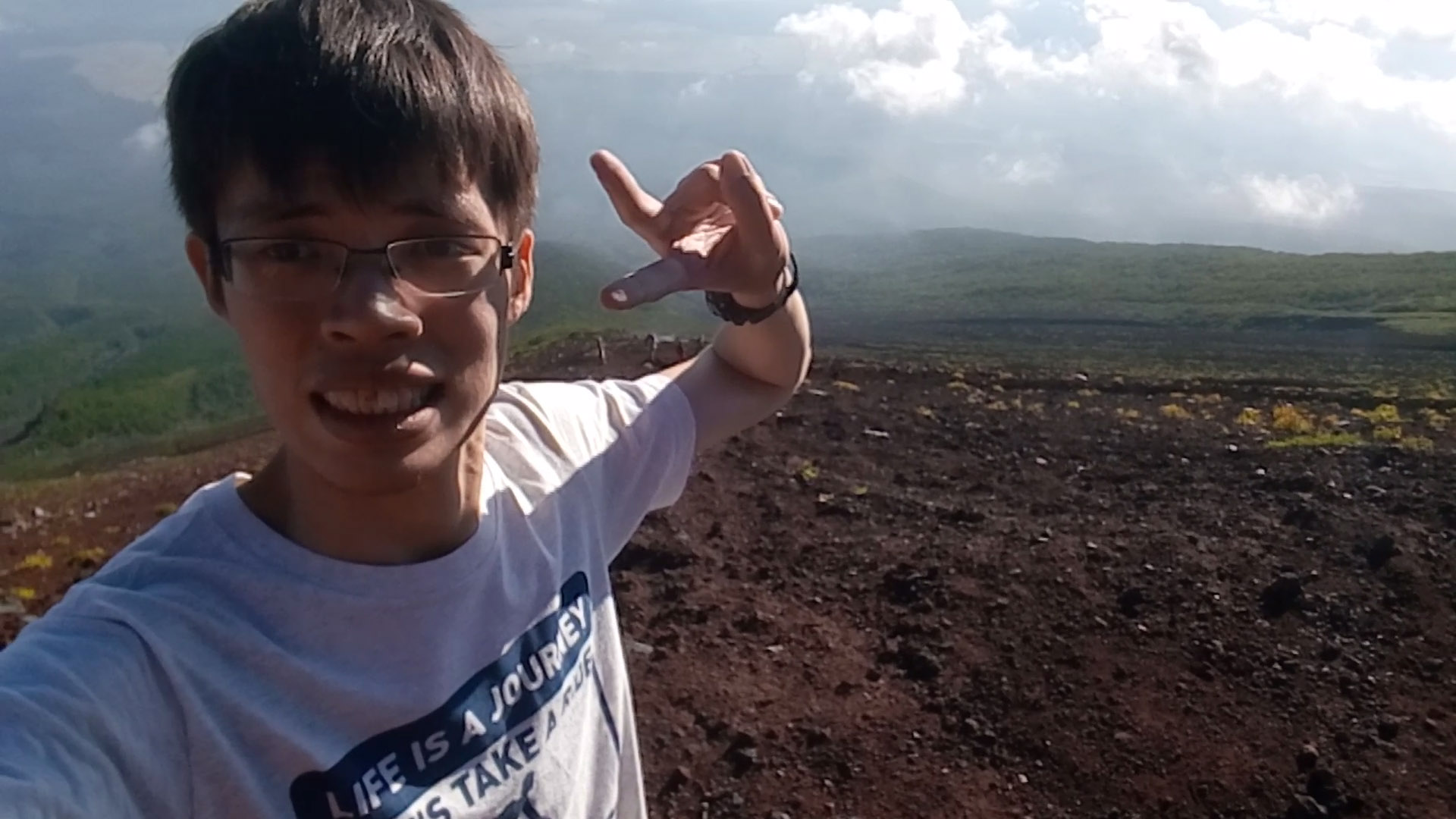 To end off, let me just throw one last shameless shot of myself
Life is a journey indeed.
Thanks for reading, this wraps up my series of Japan posts for the trip (and for the year). I realised it's been a year since I started this, and though this hasn't been as active as I'd like it to be, I still thank anyone (if any) who has opened up this blog to read whenever I post about it on Facebook. I'll try to keep this active for as long as I can. Thanks once again for reading.